California is filled with many places that offer an acceptable dose of fun activities and places to enjoy or visit.
There are quite some unique and fun things to do in San Bernardino (a hidden gem in California) that offers a unique experience to its guests.
San Bernardino is located in San Bernardino County and is also its county seat. The city lies alongside one of the most beautiful roads in the country, the famous 'Route 66'.
This fast-growing city is named after a priest from Italy known as Bernardino of Siena. It is also part of the Inland Empire region in the Southern part of California.
San Bernardino offers so much more with countless places to visit and thrilling and memorable activities.
One of these unique places where San Bernardino offers is the San Bernardino Mountain, where you can enjoy the soothing warmth of the Death Valley and still get an opportunity to ski on the mountain's top all in one day.
San Bernardino is so enormous that there cannot be a dull day. States like Delaware and Rhode Island are smaller than this county.
Some extraordinary fun things can't be done anywhere else except in san Bernardino. These activities include visiting the prime McDonald's, hiking the San Bernardino Mountains, and dining in the incomparable.
Visitors from around the world visit San Bernardino and cannot streamline the best way to have fun. Here is a list of fun things to do in San Bernardino, a perfect guide to the unique joy you will ever have in California.
Things to Do in San Bernardino
1. San Bernardino Railroad and History Museum
The San Bernardino Railroad and History Museum is a place where visitors worldwide come to learn about the long-lasting legacy San Bernardino has had for centuries.
The remarkable museum can be found within a renovated 1918 Santa Fe Depot, currently known as the Amtrak or Metro link depot station.
This visual testament of the city's transportation history is filled with an extensive collection of artifacts and memorabilia, which is fun and educative for people of all ages to browse through.
Some of these fantastic artifacts include a restored handcar, a restored 1910 railroad station, several large antique clocks, centuries-old horse-drawn buggies, and a centralized traffic control unit which was used in an old rail system,
Visitors also can feel old models and pictures of Old San Bernardino's trains and the more modern firefighting industry.
You'll also get to learn totally about the Santa Fe Railroad and communities around that region that were an integral part of the development of San Bernardino.
There are also old and modern San Bernardino trains displayed on exhibits held at the museum.
Address: 1170 W 3rd Street, San Bernardino, California, 92410.
2. Angeles National Forest
If you love camping or hiking in the woods, the Angeles National Forest is a big treat for both locals and visitors to enjoy.
The Angeles National Forest is located just west of San Bernardino
Tourists can easily find it by passing through the Rancho Cucamonga and keep heading towards Mount San Antonio, popularly known in the region as Mount Baldy.
Mt. Baldy Resort is a lovely place endowed with nature's masterpiece. Visiting this mountainous forest is worth it. However, getting there may sometimes be challenging. The route, as mentioned earlier, is the easiest way to get there in the winter.
Nevertheless, you can drive from San Bernardino, heading north towards Wrightwood for a fascinating view along the way to access the scenic 66-mile Angeles Crest Highway to Montrose.
3. California Theatre of the Performing Arts
One of the best things to do in San Bernardino is a visit to The California Theatre of the Performing Arts.
The California Theatre of the Performing Arts is the first entertainment hub to have existed in San Bernardino, and it has been around since 1928.
It was established as a vaudeville movie palace in the early 1900s
But was later converted into the California Theatre of the Performing Arts and has since featured the most amazing musicals, plays, concerts, and theater engagements.
This Theatre has also hosted one or more national shows each year, and the other entertainment shows are hosted every week.
The cities own San Bernardino Symphony calls it home and performs regularly at the theater.
The highlight of attractions here in this Unique Southern California entertainment hub is the original Wurlitzer Organ, played only during special events.
This makes what to do in San Bernardino for some theater experience, do add to your list of places to visit in San Bernardino, CA.
Address: 562 W 4th Street, San Bernardino, California
4. The National Orange Show Fair
The National Orange Show Fair is hosted at the National Orange Show Event Center annually,
For the past century, the National Orange Show Fair holds a festival celebrating all the goodness featured in the orange fruit and other citrus fruits grown in that region.
This five-day celebration is held in May, just after the spring season.
This fair features a lot of fun competitions ranging from baking, stunts to photography,
Some other fun attractions at the National Orange Show Fair include amusement park rides for adults and kids above 36 inches in height and an iconic carousel that offers a view of the entire venue.
The National Orange Show Fair also features a wide range of food vendors offering aromatic entrees and delicious bites if you are a foodie.
There are so many activities to participate in during the National orange fair, including visiting a petting zoo to see many kinds of animals.
Address: 689 South East Street, San Bernardino, California
5. San Bernardino National Forest
San Bernardino National Forest has grown in popularity over the years and is now regarded as one of the most visited tourist attractions in San Bernardino.
This forest is one of the largest in this region, with a mind-blowing landmass of over 680,000 acres.
It encompasses San Bernardino, San Gabriel, San Jacinto, and the Santa Rosa mountains.
The national forest was established in 1907. It has become a famous tourist attraction that is always open all year round.
Moreover, people from across the country visit this forest to enjoy recreational activities like hiking, camping, target shooting, fishing, picnicking, and horseback riding
Visitors can pick any hiking trail of their choice, whether pared or not, to explore the vast and magnificent scenery the forest has to offer.
Visitors interested in enjoying the quiet in the forest can decide to picnic in strategic areas in the woods or stay overnight at the well-equipped camping grounds.
This makes what to do in San Bernardino for a fun exploration time, a perfect addition to your checklist of fun things to do in San Bernardino, CA.
6. San Manuel Stadium
Amongst the fun things to do in San Bernardino, CA, is watching a game at San Manuel Stadium.
The San Manuel Stadium is the home ground of San Bernardino's Minor League Baseball team, popularly known as inland empire 66ers.
The Stadium was established in 1996 before being open to the public.
The Stadium was built as a replacement for the Fiscalini Field, which was the team's former home ground
San Manuel Stadium has a seating capacity of over 5000 seats and has one of the gigantic scoreboards known to the California League.
Would you happen to be in the area during baseball season, do not hesitate to stop by for a game.
Even if you're not a fan of baseball, the energetic atmosphere is enough to grant you some fun time with friends and family.
San Manuel stadium has a lot to offer, including hot dogs, popcorn, and tacos, with special promotions like "$2 Tuesday," which provides mouthwatering deals to its guests
The Stadium also features unique firework games, which are considered one of the largest fireworks displays of the Inland Empire
Address: 280 S E St, San Bernardino, California 92401
7. Original McDonald's Site and Museum
McDonald's is one of the largest fast-food businesses globally, and it cuts across many countries, delighting all its customers with its famed burgers and fries.
However, many people are unaware that this vast food franchise started as a barbecue restaurant in San Bernardino.
Currently, the site and building are still maintained as a museum and are located on Route 66.
The museum features a giant McDonald's signpost, an extensive collection of McDonald's memorabilia, old Happy Meal toys, pictures of McDonald's worldwide, old advertisements, and several souvenirs.
A large section of the museum is filled with both vintage and collectible Happy Meal toys worldwide.
Visitors can also bring their Happy Meal toys to the museum and have them added to the display.
Apart from the big Macdonald's signboard, the museum features other unique features like Ronald statues and the 'Hamburglar jail,' where visitors can take pictures with a nice pose.
The museum is the mark of Macdonald's permanent footprint, which he left the world. In addition, admission into this beautiful museum is free.
This is one of the unique things to do in San Bernardino, CA, one of San Bernardino CA attractions to add to your bucket list.
Address: 1398 N E Street, San Bernardino, California
Planning a California road trip? also, check out our list of things to do in Fresno, things to do in Santa Ana and things to do Fairfield in for a fun California trip
8. Big Bear Lake
For some things to do near San Bernardino, we have a visit to Big Bear Lake on our list.
Big Bear Lake is a mountain retreat location located within the boundaries of the San Bernardino national forest.
Tourists visit this popular destination regularly as it is open throughout the year. Accommodations have also never been a challenge for tourists as there are many hotels and cabins in the area to help visitors enjoy their travel experience.
Some activities enjoyed by the visitors during the winter season at Bear lake include Skiing, snowboarding, and ice skating.
During the warmer summer season, visitors can enjoy a wide range of activities including, hiking, mountain biking, fishing, wakeboarding, paddleboarding, water skiing, jet skiing, pontoon boating, and even kayaking.
You can rent boats here, and even Visitors can also take up water sports lessons from professional instructors or rent boats to enjoy a peaceful cruise of the lake.
The famous, country-spanning Pacific Crest Trail brings many hikers within the Big Bear Lake vicinity and heavy foot traffic.
9. Glen Helen Regional Park
The Glen Helen Regional Park is nearly just a 22-minute drive away from the downtown area, located northwest of the city's central location.
The park is endowed with many fun amenities that provide a fun time for tourists visiting the park.
The park features the Glen Helen Amphitheater, which is regarded as one of the largest in San Bernardino, with an unbelievable seating capacity of not less than 65,000 seats.
Visitors can also enjoy Motor races hosted at the amphitheater and enjoy the thrilling atmosphere created by the energy of thousands of spectators who came to watch both pro and amateur races.
Natural features like a lake are available in this beautiful park where tourists can plunge into the water and have a good swim. If you are with your family, you can easily find Disc golf as another fun activity at the park.
The Glen Helen Regional Park also features an averaged sized water theme park with a large swimming pool and various waterslides.
This is one of the best things to do in San Bernardino for some family fun time, do add to your list of San Bernardino attractions to visit.
Address: 2555 Glen Helen Parkway, San Bernardino, California
10. Joshua Tree National Park
Joshua Tree National Park is located just outside the borders of San Bernardino. However, it only takes a 1hr 30mins drive from downtown San Bernardino to get to the Joshua Tree National Park
The park's pseudo-desert scene makes it an essential place for an evening or overnight adventure.
Visitors can access this particular park through the Black Rock Canyon, which features terrific hiking trails like Panorama Loop and well-equipped reversible campsites.
A majority of this fun park's landscape is characterized by naturally arranged boulder piles and desert plants, including an entire forest of Joshua trees and teddy bear cholla.
Tourist attractions at Joshua Tree National park include Jumbo Rocks, Indian Cove, and Ryan Campground.
Visitors can also engage in fun activities like Hiking, Rock climbing, and taking pictures of the unique desert environment.
When you need to catch your breath, you can quickly locate an oasis, take cover under the fluttering palm tree leaves, and escape the hot afternoon sun.
Unlike many other parks, pets are not allowed on the trails at Joshua Tree National Park.
11. Santa Ana River Trail
The Santa Ana River Trail is still under construction, although this biking trail lies alongside the meandering Santa Ana River throughout the Inland Empire.
The Santa Ana River Trail is estimated to be over 110 miles long upon completion, and it will stretch from the San Bernardino National Forest to terminate at the Pacific Ocean through Huntington Beach
This designated national recreational trail multi-purpose trail allows bikers and joggers to get a good workout using the path.
There are also parking spaces available as you move along the trail.
These parking spaces will be of great assistance to tourists who wish to join the trail at any point. They can easily park their vehicles and use the beautiful course for whatever fun activity they desire.
12. Silverwood Lake State Recreation Area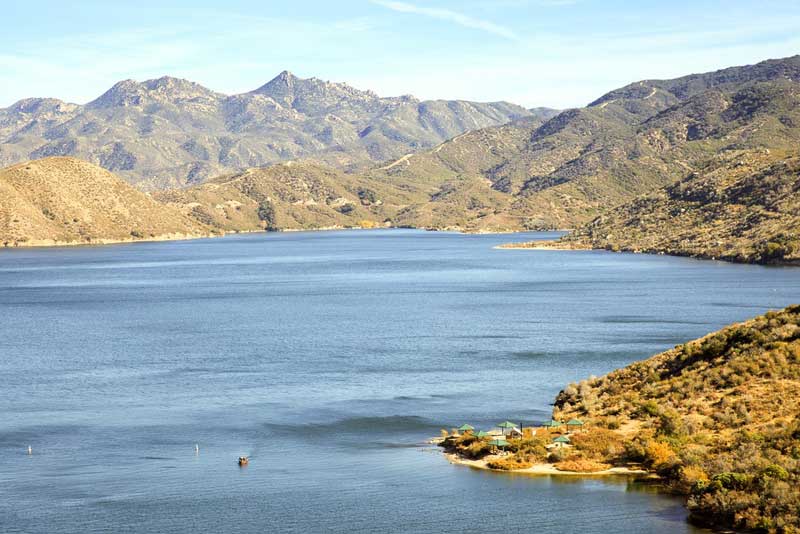 Silverwood Lake State Recreation Area is located in the San Bernardino National Forest and is only just an hour's drive from downtown San Bernardino.
This large body of water was formed due to Cedar Springs Dam circumstances and thus transformed the valley of a mountainous environment into an aquatic landscape.
The Silverwood Lake now acts as a popular attraction to birds, shoreline hikers, and boaters.
Silverwood Lake features a campground on its shoreline that is perfect for spending the night, fishing, and swimming, famous throughout the summer season.
13. Rim of the World Scenic Byway
The Rim of the world scenic Bywayoffers the most magnificent you have ever seen.
This route, popularly called the gateway to the mountains, is majorly along Highway 18, but it also encompasses parts of Highways 138 and 38 through the San Bernardino National Forest.
This stunning 100 miles route connects popular forest attractions, including Big Bear Lake, Lake Arrowhead, and Cajon Pass,
The Highway begins at a hotter valley floor. It then gradually ascends into the more chilly, higher elevations of the forest, where you start seeing panoramic scenes of the mountains, forests, and lakes.
It is open throughout the year. However, the route develops snow challenges, and you will need chains on your vehicle to go through this route.
Some other breathtaking scenes you should look out for include the towering San Gorgonio Mountain, Big Bear Dam, Lucerne Valley, and Running Springs.
During the sunset, driving down the Rim of the World Scenic Byway is way more impressive as a golden hue envelopes the landscape.
14. Deep Creek Hot Springs
The Deep Creek Hot Springs is a hidden gem located in the famous San Bernardino National Forest.
These natural hot springs allow visitors to bathe in refreshing, hot water as they have fun with friends.
The hot springs are dangerous despite being fun-packed. It is strongly advised not to drink the water in the hot springs.
This precaution is of great importance because there is a high presence of bacteria that can lead to various illnesses if ingested. Visitors also do not try to submerge their heads in the water.
Apart from the thermal springs, the Deep Creek Hot Springs also features a wide array of plant life, all very exotic.
To gain the quickest access into the Deep Creek Hot Springs, tourists have to pass through private property, and hence an entry fee is usually charged.
However, the only other way in the Deep Creek Hot Springs will involve taking an approximately 2-mile hike and a 900 feet drop in altitude from Arrowhead Lake road, so be sure to come prepared with your best-hiking boots.
Address: Pacific Crest Trail, Apple Valley, California, 92308.
15. Robert and Francis Fullerton Museum of Art
This Museum of Art was established in 1996 and is situated on the campus of California State University.
This accredited museum holds more than 1,200 objects of interest within its 7,500 square feet space.
Robert and Francis Fullerton Museum of Art's biggest and most popular exhibits come hails from ancient Egypt.
With over 500 artifacts on display, this extraordinary exhibit takes visitors on a journey through 4,000 years of natural Egyptian history.
The museum is easily accessible by the school, college students, and from time to time, high school students during school trips.
This is one of the cool things to do in San Bernardino, CA, for art lovers. Seldom, meetings, corporate events, and social gatherings are hosted at the museum's campus.
Address: 5500 University Parkway, San Bernardino, California, 92407.
For more taste of California attractions and activities, check out our guides on paces to visit in Simi Valley, Monterey, Pacifica.
16. Go Paragliding
If you desire an adventure that will keep your heart racing, paragliding is recommended to try out.
Paragliding can be done at the high altitudes of the mountains of San Bernardino, and you can look forward to an out-of-this-world experience.
When paragliding, you can enjoy the fleeting view of the mountains, forest, and the city
You will find different agencies in San Bernardino that offer fantastic paragliding packages. They even offer professional help to guide you through each session.
If you have conquered the fear of heights, then paragliding will become a pleasurable and exciting activity that will help you relax your nerves.
Paragliding San Bernardino is one of the recommended San Bernardino activities to add to your bucket list of fun things to do San Bernardino, CA.
17. BJ's Restaurant and Brewhouse
San Bernardino offers several dining options for visitors.
One of the highly ranked eateries in the City is BJ's Restaurant and Brewhouse, located on East Harriman Place.
This restaurant serves meals, snacks, and craft beer. The restaurant is well known for its deep-dish pizza, which is regarded as the signature dish of the restaurant
Some of the other popular dishes here are sweet potato fries, hot ham and cheese, Chocolate chunk pizookie, Margarita flatbread, Grilled chicken Alfredo and Jumbo spaghetti meatballs.
Tourists who are vegetarians are also invited to try out the restaurant's vegetarian and gluten-free menu
BJ's Restaurant and Brewhouse is also famous for its beer dinner, including gulping down fine seasonal ales.
BJ's Restaurant and Brewhouse is open from 11:00 am to 11:00 pm every single day annually. Therefore it doesn't matter which day you decide to visit.
18. Alfredo's Pizza and Pasta
Alfredo's Pizza and Pasta is the perfect place to end a fun-filled day of sightseeing and adventures, especially if you desire a taste of Italian food.
The family-owned restaurant has held on to its original recipes using locally sourced ingredients since its establishment in 1979, and this has made the restaurant a favorite among locals.
Some of the popular items on their menu are the baked ziti, Alfredo's 3-way combo, Fettuccini Alfredo, Chicken Parmigiana, Baked Tortellini, and homemade garlic butter, a hot favorite.
Alfredo's is open every day of the week from 11:30 am to 8:00 pm all year round.
Address: 251 West Baseline, San Bernardino, California, 92410
19. Norton Air Force Base Museum
One of the fun things to do in San Bernardino is a visit to Norton Air Force Base Museum.
The Norton Air Force Base Museum is situated on the air force base land, which existed in San Bernardino from 1942 to 1994.
This museum is named after Leland Norton, who led his men as a captain in World War II and was more than willing to sacrifice his life to survive.
The air force base was later shut down and then converted into a museum in 2013.
This museum of courage has a massive display of memorabilia and photographs of aircraft and military personnel.
The museum also offers guided tours to help visitors understand better the history of the air force base.
Norton Air Force Base Museum is situated on 3rd Street in San Bernardino and is open from 10 am to 2 pm on Thursdays and Saturdays only.
Address: 1601 E 3rd Street, San Bernardino, California 92408.
20. Glen Helen Raceway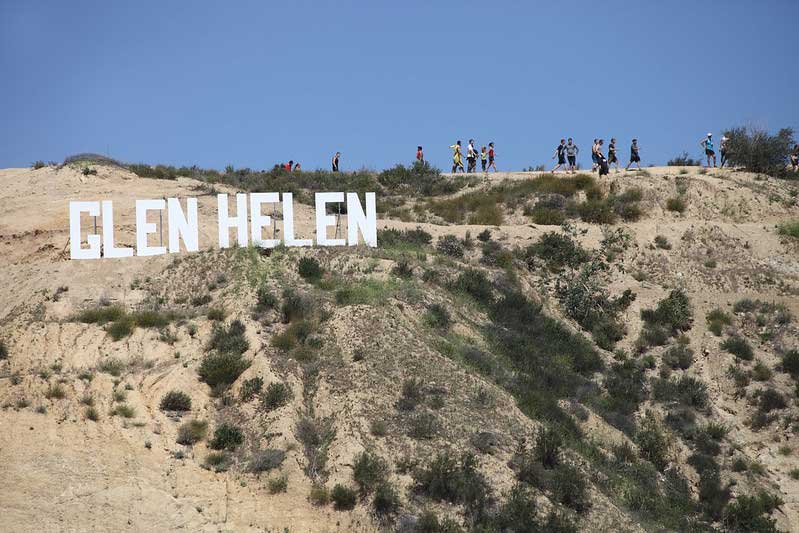 Glen Helen Raceway spans over 256 acres and has the most intriguing atmosphere to ensure all spectators have a great time.
This raceway was established in 1985 and has since hosted many Sand Drag and Motocross events before becoming very popular in the 1990s after hosting the United States World Championship Motocross early.
There are always thrilling events taking place at this raceway before every quarter of the year runs out.
However, if you prefer a more private atmosphere, you can easily rent out the whole raceway for yourself.
Address: 18585 Verdemont Ranch Road, San Bernardino, California 92407.
21. SB Raceway Indoor Karting
The SB Raceway is an indoor karting track that offers a unique, outstanding, and authentic race experience as you speed through on their gas-powered Sodi karts.
SB raceway also provides lessons to the young ones who can't handle the carts properly, starting with safety precautions and learning several brakes and lift techniques before heading onto the track.
There are also other attractions at SB raceway apart from the track, and some of them include pool tables, air hockey tables, several arcade games, and an array of drinks, snacks, and other refreshments.
This answers the question of what to do in San Bernardino for a fun family time, do consider an addition to your bucket list of things to do in San Bernardino, CA.
Address: 217 East Club Center Drive, San Bernardino, California, 92408.
22. CSUSB Leadership Challenge Center
The CBUSB Leadership Challenge Center is a state-of-the-art activity center established in 1965 to organize recreation and wellness programs designed to help people develop social and physical skills.
Here, you can be sure to gain more self-confidence as you will take risks and push your limits all within a safe environment.
Professional coaches will work with you through every step of the way. You engage in team support, warm-ups, problem-solving and communication challenges, and their Dynamic Course, which will make you better than you were.
Address: 5500 University Parkway, San Bernardino, California 92407
23. Black Mountain Fire Lookout
The Black Mountain Fire Lookout was built in 1934 so that visitors may get to enjoy the fantastic scenery of the forest even as they watch out for forest fire outbreaks.
The lookout is a single ten-foot tower that has been preserved since its construction.
The tower has a one-room lookout cabin that can house at most four people with amenities such as kitchen supplies, a small stove, a refrigerator, and many more.
Many types of activities at the Black Mountain Fire Lookout that offer an opportunity to participate in hiking, wildlife viewing, and stargazing are just the tip of these beautiful activities the lookout offers its Visitors.
24. Dark Ages
Dark Ages, one of the reputable stores in San Bernardino, offers a wide variety of merchandise you might not get elsewhere.
The items offered here are unique, and the most mind-blowing fact is that they are offered at an affordable cost.
You can shop for swords, knives, dairy & dragon statues, renaissance era pictures, shields, suits of armor, and other items.
There is a nice collection of plushies, figurines, anime merch, DVDs, and lots of buddha statues just next to the swords.
Address: 500 Inland Center Dr, San Bernardino, CA 92408, United States
25. Cajon Pass
This is a mountain pass in the center of the San Bernardino Mountains towards the east and the San Gabriel Mountains in South Carolina.
Cajon Pass was formed by the San Andreas Fault movements with a height of 3,777 ft. It is located in the Mojave Desert.
This pass is an essential link from the Greater San Bernardino region to the Victor Valley and from the northeastern part to Las Vagas.
26. Blair Park
Blair Park is an amazing 34-acre Park seated in San Bernardino, CA. It provides residents with fun experiences in an environment that fits people from different works of life.
The Park is nicely equipped with three baseball diamonds, basketball courts, horseshoe pits, a fitness trail, a skating floor, softball fields, a Racquetball court, three tennis courts, seven picnic tables, two playground areas, and restrooms.
Blair Park is the perfect option for you whenever you want to take your children on a wonderful outing.
Address: 1466 West Marshall Blvd, San Bernardino, CA 92401, United States
Want to check out more cities in California? here are guides on Burbank, Redwood City, Santa Barbara, and Solvang for a fun California exploration.
Plan a Trip to San Bernardino
San Bernardino offers every guest a taste of scenic mountain views and lush green vegetation to complement nature's beauty all around.
There is fun lurking around every corner you look at and a rich historical culture that attracts visitors from all over the world to San Bernardino.
Before embarking on this vacation to California, make a bucket list of things to do in San Bernardino using this guide for the best experience.