Michigan City is a shining city that lies along the southern shore of the fascinating Lake Michigan in Indiana.
Michigan City is one of the most exciting destinations for any nature enthusiast. It offers a wealth of exciting and interesting things to do, from arts and culture to dining out, shopping, and outdoor recreational activities.
There are quite some fun things to do in Michigan City, you will find here eclectic lake scenes and other impressive natural attractions. You will love the wine and beer connoisseurs in this city, and there are different trails to test your biking skills.
Check out the Lubeznik Center for the Arts, catch a show at the Uptown Center for the Performing Arts, enjoy local craft beers and wines at the Shady Creek Winery, and more.
Considering a vacation in Michigan City?, here are the top things to do in Michigan City.
Things to do in Michigan City
1. Visit Michigan City East Lighthouse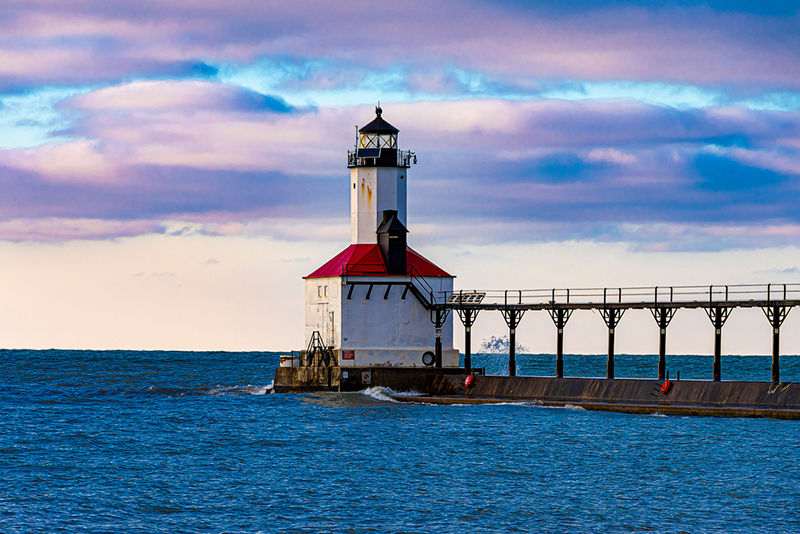 The Michigan City East Lighthouse is situated at the end of a recently expanded pier in the harbor of Michigan City. It is one of the top attractions.
Built in 1904, this lighthouse is an iconic symbol of Michigan City and exists as the only public operating lighthouse in Indiana.
The current Michigan City East Lighthouse was built in 1858 and replaced the Old Michigan City Light of 1837.
Known as the 'catwalk,' the original pier was used by keepers to access the light tower for more than thirty years.
This pier was almost demolished before its renovation and extension, and it still preserves the original iron walkway on its top.
The pier is a recognized spot for watching sunsets and fishing.
Address: City Hall & 100 E. Michigan, Michigan City, IN 46360
2. Biking at Heron Rookery
If you are an adventure lover, you would need to pay attention to this! Heron Rookery is one of the top attractions in Michigan City, and it is a great place to put your skills to test when it comes to biking,
Heron Rookery is a place loved by professional bikers for having some of the best views and smooth trails for you to ride your bike on. You would be in for a real treat if you arrive here in March.
You will catch amazing sights of Great Blue Herons that make their way to this region. This whole region gets covered with wildflowers, a beautiful sight to behold.
Another exciting thing is the Little Calumet River that runs around here, which provides one of the most serene places to sit and go fishing.
Or, you can relax on the banks, and enjoy the lovely moment!
3. See animals at the Washington Park Zoo
Located along the shores of Lake Michigan in Washington Park Zoo is the Washington Park Zoo.
This 15-acre zoo is an animal sanctuary that houses over ninety species from all parts of the world. These species dwell in their natural habitats with lovely tropical flora.
The zoo has a big otter area, and visitors can watch the otters playing and swimming while walking through a tunnel.
There is a walk-through aviary that has 250 brightly colored parakeets, all flying around freely. You will also see a petting barn with goats, donkeys, pigs, and domestic horses.
At the Discovery Center are enclosures with various cold-blooded creatures such as frogs, lizards, and snakes. The kids have a Safari Train ride for their enjoyment as well.
Address: 115 Lake Shore Dr, Michigan City, IN 46360
4. Enjoy the scenes at Central Avenue Beach
The Central Avenue Beach is originally inside the Indiana Dunes National Park and poses as one of the best places in Michigan City to have some quality time.
The best time inside the beach is usually during summers and spring as you would see beautiful migratory birds coming here and making their home, such as Bank Swallows.
There are plenty of trails to go hiking along. You should follow those on the map. There are also many dune slopes behind the beach; however, visitors are not allowed to climb them.
Before you enter the beach, go through other written safety notes here. Please, keep to those rules so that all forms of unnecessary danger could be avoided.
5. Do some shopping at Lighthouse Place Premium Outlets
Do you wish to do some premium shopping at an affordable price while in Michigan City? If your answer is yes, Lighthouse Place Premium Outlets has got you covered.
Chocking the Lighthouse Place Premium Outlet is one of the best things to do in Michigan City, as it is one of the top shopping inside the city.
It has many thrift shops for you to thrift some of the best outfits, and there are many branded outlets. The likes of Nike, Calvin Klein, Adidas, Michael Kors, and many other excellent stores made their way into this shopping center.
And if you've had a long day of shopping, you can take a break at the food court. It would interest you to know that there is a Beef Jerky Outlet here too, so you purchase souvenirs for your friends from this center.
6. Learn about the city: Barker Mansion
The Barker Mansion is a historical museum built in 1857 by John H. Barker. Visiting this museum is one of the top attractions in Michigan City.
Barker was one of the founding fathers of the railcar industry, and this museum is an English Manor–style house that used to be his home.
In 1905, this historic and well-defined house was expanded and featured thirty-eight rooms filled with art objects, paintings, and period furnishings.
As you would guess, Barker Mansion is listed on the National Register of Historic Places, and visitors can always explore the house on guided tours.
The mansion is also available for rentals on special occasions like weddings.
Address: 631 Washington St, Michigan City, IN 46360
7. Go fishing in Lake Michigan
You shouldn't get tired of one thing when you are in the Lake Michigan area, and that is fishing! Fishing is the staple activity peculiar to this region, and if you like to fish – Michigan City might feel like a tiny haven to you.
For Lake Michigan, the three recommended fishing seasons are Summer, Fall, and Spring. However, your experience would be a better one when you go on a charter fishing trip.
You will find plenty of companies that offer the best fishing trip arrangements. Get a booking of one of those, hunt for the whole trouts and salmons while you're out there.
Go and enjoy Michigan City like never before.
8. Spend some time at Trail Creek
If you are a lover of water bodies and other aqua-related elements, then Trail Creek is available for you.
This 7.3-mile-long creek is a tributary of Lake Michigan, and as it flows into the lake. It offers excellent salmon fishing options.
The creek features diverse natural habitats, such as wetlands and bogs. They attract a wide range of bird species, including the endangered bald eagle, the Eastern, the Indiana bat, and Mitchell's satyr butterfly.
Trail Creek also has a cold water habitat that aids the spawning of trout and salmon. Be sure to add Trail Creek to your checklist of things to do in Michigan City.
Address700 E Michigan Blvd, Michigan City, IN 46360
Planning a New York road trip, check out our guide on places to visit in Rochester and Old Forge for a fun trip.
9. Do sports at the Patriot Park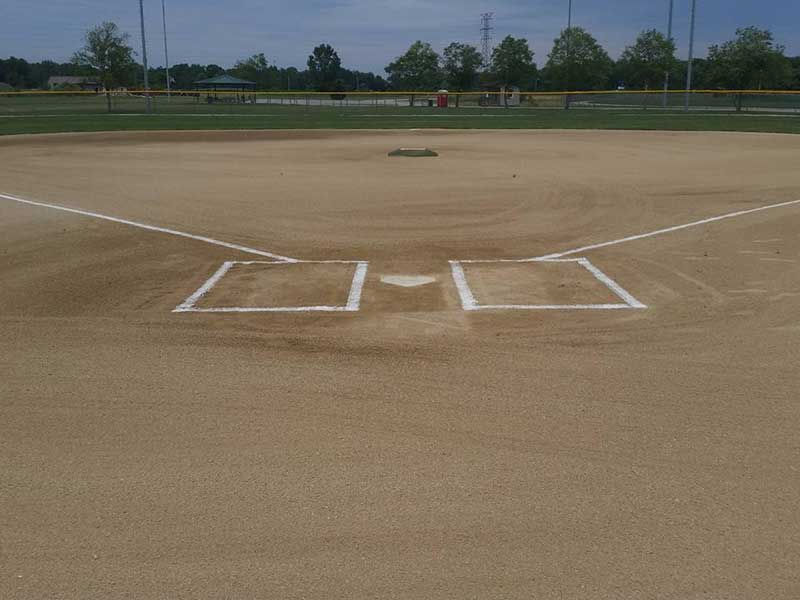 Located in the city is a popular community park called the Patriot Park – a lovely attraction and a top thing to do in Michigan City.
This park boasts many sports activities like baseball and soccer, and hence you can find distinct fields for each of these sports.
There are various foods and drinks available at the concession stand. You will find restrooms as well where you can rest for some time.
There are shaded picnic areas with tables where you can host your picnics and other small events. It also allows accessibility to disabled persons.
Other features include Electronic Scoreboards with two LED displays and a natural trail where you can hike.
Address: 2224 N 950 W, Michigan City, IN 46360
10. Visit the Friendship Botanic Gardens
The Friendship Botanic Gardens are lovely botanical gardens situated at the eastern edge of Michigan City.
These beautifully preserved gardens span 106 acres and feature a large flora from various parts of the world.
The gardens are just a mile from Lake Michigan beaches and were planted more than eighty years ago as the International Friendship Gardens and Music Festivals.
To date, these gardens still retain some of the original ethnic gardens. You will find other attractions in the preserve, including breathtaking rose gardens, hand-carved sculptures, and displays of lilies.
There is also a dedicated children's garden that fosters learning through sight, smell, and touch, and then a Symphony Garden that hosts musical events.
The garden is open for public visits from May through October.
Address: 2055 East, US-12, Michigan City, IN 46360
11. Michigan City must-visit: Footlight Players
The Footlight Players is a theatre established in 1931, and it makes the list of best things to do in Michigan City.
After its establishment, it was moved into its present location in an abandoned cotton warehouse in 1934, and since then has been in the business of organizing popular stage drama and play performances.
It is a well-known venue for local artists to exhibit their talent to the public. So, if you are interested in getting yourself involved in one of their drama productions, you should register for an audition here.
The principal aim of Footlight Players Theatre is to unravel the hidden talents of the region and offer people an opportunity to witness this talent. The theatre welcomes donations from individuals and organizations.
A visit to Footlight Players promises an incredible theatre experience for you. The theater is open from 08:00 pm to 11:00 pm for a visit.
This answers what to do in Michigan City for some theater time, do consider an addition to your list of places to visit in Michigan City, IN.
Address: 20 Queen St, Charleston, SC 29401, USA, 46360, Michigan City.
12. Appreciate great art at Lubeznik Center for the Arts
Checking out the Lubeznik Center is one of the best things to do in Michigan city, especially for art enthusiasts.
The Lubeznik Center for the Arts is a center dedicated to promoting the talents of artists at the regional, national, and international levels.
This center is located on the edge of Lake Michigan and is known for its organically designed building and striking curving wall.
The center contains four spacious galleries, which play host to a rotating schedule of exhibitions, and a permanent collection of outdoor artworks.
The Susan Block Gallery has big windows that frame nature's beauty as artworks. At the same time, the Hyndman Gallery is also used to host other forms of art exhibitions like dance and music performances.
There is a Gallery Shop in the center where visitors can buy handcrafted works made by local, regional, and national artisans. You'll see ceramics, hand-blown glass, jewelry, and pottery.
Address: 101 W 2nd St # 100, Michigan City, IN 46360
13. Museum Of Contemporary Photography
The Museum of Contemporary Photography started its collection in the early 1980s, and it now comprises over 16,000 objects done by over 1,500 artists.
Go past Diane Arbus and Ansel Adams at the principal photography museum in the Midwest. The museum goes on to search for new photographers, so each visit is an unveiling.
The show sees "Much Unseen is Also Here" is also here. This piece is a two-artiste show that includes wide-ranging views of people and places in contemporary American sculpture, landscape, animation, and drawings that look at femininity rendition elicited by monuments historically depicted.
Another is the Midwest Photographers Project, a rotating collection of portfolios by seventy-two established and rising photographers from Illinois and nearby states.
Consider taking a docent-led museum tour or book an appointment to see works from the museum's collection. It is free of charge! Opening hours: 10:00 am – 05:00 pm
Address: 600 S Michigan Ave., Chicago, IL 60605
14. Spend some time at Michigan City Public Library
The Michigan City Public Library is a 35,000-square-foot facility designed by the world-renowned architect Helmut Jahn.
This library is housed in a building of significant architecture, and it is one of the top attractions in Michigan City.
Inside the library is an extensive collection of materials, including magazines, fiction and non-fiction books, reference, newspapers, and research materials.
The library offers various services, including interlibrary loans, public computers with Internet access, and children's storytimes. Also, members can access different kinds of downloadable eBooks, audiobooks, music, videos, CDs, and DVDs.
Make sure you visit the Michigan City Public Library to expand your knowledge on key areas.
Address: 100 E 4th St, Michigan City, IN 46360
15. Krueger Memorial Park and Hall
Visiting the Krueger Memorial Park is another interesting thing to do in Michigan City. It features space areas for play, picnics, and other activities like relaxing, walking, and running,
In the park is the historic Krueger Memorial Hall. Having undergone extensive renovations since 2008, the hall is available for rent for community events and functions.
The hall is properly maintained with two-story log structure built from trees. The trees were fell from the area using W.P.A. funds during the Great Depression.
Krueger Memorial hall hosts gatherings ranging from weddings, family reunions, club meetings, classes, and showers.
Amenities here include a kitchen, bar, two fireplaces, and restrooms.
Opening hours: 08:00 am – 04:00 pm
Address: 801 Liberty Trl, 46360, Michigan City, United States
Illinois holds quite some breathtaking attractions and activities for fun exploration, do check out our list of things to do in Bloomington, things to do in Rockford, and things to do in Naperville for a memorable Illinois exploration.
16. Catch plays at Dunes Summer Theatre
Another interesting thing to do in Michigan City is going to the Dunes Summer Theatre – a community theatre that provides great experiences to both the locals and visitors.
The theatre was established by Nora Tully MacAlvay, an art and literature teacher, who had his training at the Art Institute of Chicago and Goodman Theatre School.
As a community theater, the Dunes Summer Theatre presents seasonal musicals, stages plays, and other performances. They also offer acting classes and workshops for both children and adults.
Beautifully sitting on a 20-acre wooded site in Michiana Shores, the Dunes Summer Theatre organizes summer camps and classes with eight basic cabins for summer interns and actors.
You can register your kids for the summer camp as it helps young actors improve their creative abilities while teaching and guiding them through a wealth of theatrical skills that would enhance their careers.
Address: 288 Shady Oak Dr, Michigan City, IN 46360.
17. See movies at AMC Showplace Michigan City 14
Here is something lined up for movie lovers – AMC Showplace Michigan City 14! It adds to our list of top things to do in Michigan City.
The AMC Showplace Michigan City 14 is a movie theatre formerly called the Kerasotes ShowPlace 14 – Michigan City (Kerasotes ShowPlace Theatres, LLC.).
A slight change was made again in 2021 when it became known as the AMC Classic Michigan City 14. However, this has not deterred their services of providing premium theatre services.
This theatre offers great categories of movies in a lovely building with comfortable seats and friendly staff.
There is also a stand where you can get Coca-Cola Freestyle and delicious menu items like annual refillable popcorn buckets, pretzel bites, and movie nachos, all at a great value.
You sure would want to have a share of this movie experience; head straight to AMC Showplace Michigan City 14 at your time!
Address: 100 Meijer Dr, Michigan City, IN 46360,
18. Get your fair share of entertainment at Blue Chip Casino Hotel Spa
Do you look for one of the most exceptional places to stay and at the same time get entertained? The service of Blue Chip Casino fully covers you.
So, it is one of the most interesting things to do in Michigan City and is the best option if you want to have an ideal vacation experience in Michigan City.
There is a casino inside that entertains and propels visitors to stay.
And if you get tired after a long day of the tour, revitalize yourself at the spa in the hotel. There you'll be treated to all kinds of body training and healing processes.
The hotel has a superb restaurant that offers excellent food services, and it is considered to be one of the finest in the city,
19. Go on an adventure of Mount Baldy
Though not exactly in Michigan City, Mount Baldy is an exciting place to visit. Situated in the north of the Los Angeles area, it is the tallest peak in the San Gabriel Mountains.
Mt. Baldy is famous for anglers, hikers, skiers, mountain bikers, and snowboarders. It offers magnificent views of the Los Angeles skyline, and it is globally one of the most photographed topographies in Southern California.
It also offers an opportunity to see many wildlife species that pass through the area for outdoor enthusiasts. You could find black bears, mountain lions, bobcats, mule deer, and rainbow trout.
Overall, it is one exciting in all spheres, and you'll not forget the memories.
This makes what to do in Michigan City for adventure lovers, a cool addition to your bucket list of attractions to explore if you are in the area.
20. Stop at Shady Creek Winery for great wines.
Located in the heart of Michigan City, Shady Creek Winery is such a place that will make you feel at home. Just like other tourists, you will love how homely the ambiance is inside.
They even have a restaurant that offers various appetizers that match well with the wine. What about their pizzas? It's worthy of note too.
When describing Shady Creek Winery, one thing that comes to mind is "cozy." During the winters, one can even warm up in front of the fireplace with a wine in hand.
Some of these wines are recognized as the best blends in the world, with each of them winning one or two awards.
These wine products are gotten from the local vineyards, so every wine you drunk is made locally in the city. The red wines on the menu list have got the best flavors you can imagine.
21. Walton Lake Dam
Walton Lake Dam is a well-known recreational reservoir located just 5.1 miles from Michigan City, in LaPorte County, in Indiana. It is another interesting place to visit if you are in the city.
The Walton lake dam has Westville, IN (5.1 miles SSW), Michigan City, IN (6.7 miles NNW), Trail Creek, IN (6 miles N), and Town of Pines as some of its nearby landmarks.
Built in 1957 for the purpose of stocking, fire protection, and creating a small fish pond, Walton Lake Dam is an earth dam with an elevation of 228 meters (748 feet).
If you are an angler, you'll find various fish, including rainbow trout and more, at Walton Lake. Whether you're fly fishing, spinning, or baitcasting your chances of getting a bite here are fantastic.
So while you see the dam, grab your fly fishing rod and reel, enjoy the lake.
22. Check out Shoreline Brewery
One of the most premium breweries in Michigan City is the Shoreline Brewery. This should be added to your list of best things to do in Michigan City for beer lovers.
Aside its glorious beers, the location of this brewery beats the mind. Shoreline Brewery overlooks the Michigan lake and has gone on to win the hearts of both the locals and tourists.
There is also a restaurant here, with quite a massive menu. The craft beers are unique and amazing, and you will hardly come across someone who has been to this place speaking ill of it.
Their beers have won awards for their name, and a special recommendation is Beltaine Scottish Ale.
Shoreline Brewery will offer you a different taste when it comes to beers, and you will definitely find something suited for you here.
23. Hammer's Restaurant
It is expedient that you have a taste of good food while in Michigan city, and that is why the Hammer's Restaurant is available to serve you well.
Hammer's Restaurant is a family-friendly and bar that offers unique relaxation to guests while serving casual American fares such as pasta dishes, burgers, steaks, and specialty wood-fired pizzas.
This family-owned and operated restaurant is located a short drive from Lake Michigan. They serve lunch and dinner daily, and house specialties such as hand-tossed pizza, fresh lake perch, and barbecue ribs hot off the grill.
The restaurant also has private banquet facilities to cater to special events and functions, including top-notch off-premise and carry-out catering services.
So, be sure that Hammer's Restaurant is included on your list of things to do in Michigan City, and do stop by to have a memorable personal experience,
Address: 2134 US-20, Michigan City, IN 46360
24. Nanni's Over The Fence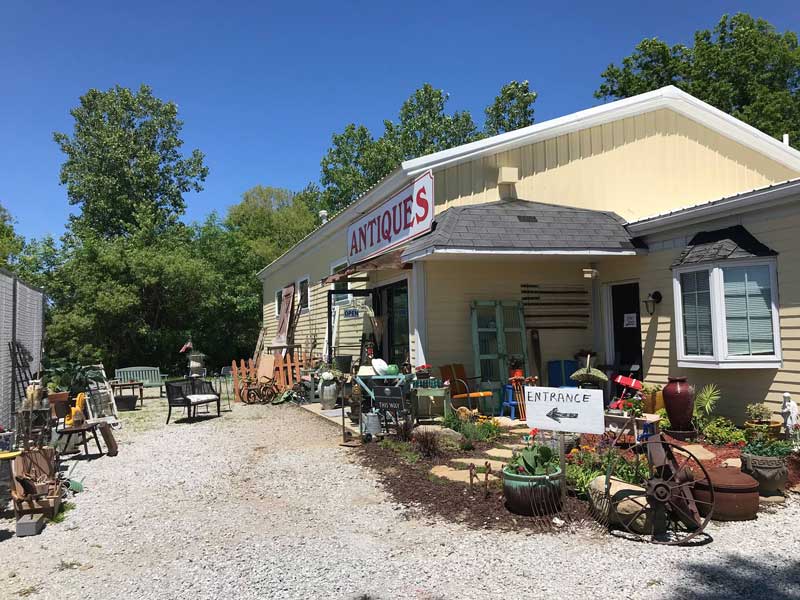 One of the things to do when you visit Michigan City is to shop at Nanni's Over the Fence, an antique store in Michigan City
The store has an interesting array of collections with eight vendors specializing in Art Nouveau, primitive/ farmhouse, Victorian and Mid-Century Modern, and lots more.
Not only does Nannie's Over The Fence sell items, but they can also buy items from customers.
Take an afternoon off and spend it browsing at this antique store while getting to know the owner and staff.
Address: 3747 Frontage Rd, Michigan City, IN 46360, United States
25. The Rising Phoenix Gallery LLC
The Rising Phoenix Gallery is a fabulous place to visit for art lovers.
The gallery offers different types of art classes for all abilities. Special guest instructors, who often are local artists, offer workshop teachings on drawing, needle felting, painting, and lots more.
The Rising Phoenix Gallery also has a gift shop where you will find quality items made by a local artist.
The items include jewelry, blown glass, books, ceramics, fiber art, painting, printings, and jewelry.
Address: 2817 Franklin St, Michigan City, IN 46360, United States
Indianapolis is a must-visit city in Indiana, after your exploration of Michigan City, take to visit this list of attractions in Indianapolis.
Plan your trip to Michigan City
Now, this is a wrap to our wonderful Michigan City trip. And like you've seen, this city does more than enough to give visitors and even the locals an absolute treat.
It is now time for you to experience this yourself by going on this splendid trip and having an overall great vacation!
This piece can always be a helpful guide to you planning your vacation, so pin it.
Happy travels!