Burbank is a city that bubbles with life's many attractions and activities, you will find so much fun things to do in Burbank as related to entertainment.
This part of the United State is more active in its entertainment industry hence known as a hub of entertainment.
Burbank became actively involved in the film industry in the year 1920 and since then have done it best, it's a city worth mentioning in that field.
You will find both urban and small towns in Burbank, some places still have the 20th century setting while others seem so be advance in future, all these make the city seem timeless and forever stuck in time.
This wonderful city is home to Disney Corporation and the Warner Brothers, two great entertainment companies.
The city will truly meet your expectations for it offers only the best, regardless of whether you are looking for a place to drink, eat, shop or be entertained.
Let's explore the best things to do in Burbank.
Things to Do in Burbank, CA.
1. Burbank Town Centre
One of the lovely places to visit while you are in Burbank is the Burbank Town Centre, it is a place for shopping.
The Burbank Town Centre happens to be one of Burbank center of attractions, they provide free parking lot, therefore you need not worry about parking tickets while you are shopping.
This center is large enough that you can spend the entire day shopping in it, apart from the standard shopping mall at the center, you will also find at the center one of the 4 IKEA locations in Los Angeles county.
There are also two movie theatres and a number of jump area right in the center court.
If you are not satisfied with the shopping, you can take a stroll outside the indoor mall and along San Fernando for more shopping experience.
Also as you walk from the mall to Angeleno street, you will find within the area lot of bars, cafes shops, eateries, cafes, and shops.
2. Gordon R. Howard Museum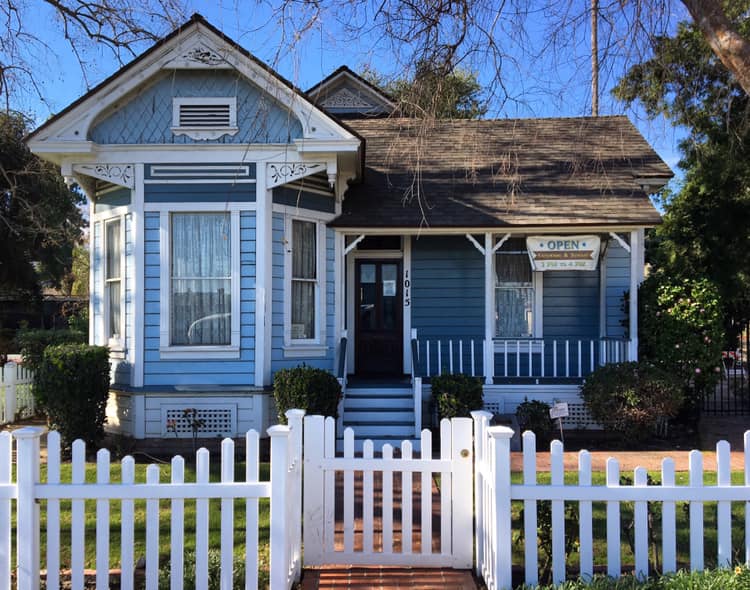 Are you interested in history then visit Burbank's Gordon R Howard Museum, and learn of its past and historical events, this museum is housed in a Victorian home that was built in the year 1887.
Inside the museum, you will find a large collection of fascinating historical information and artifacts about the city.
From these exhibits, you will learn a lot about the residents of Burbank, some of these men and women have various streets and landmarks named after them.
You will also find displays that pay homage to architectural monuments, fire brigade and the police force, among the items you will find in this museum includes a retro car and memorabilia from Disney.
Address: 115 Lomita St., Burbank, CA 91506.
3. Burbank Aviation Museum
Burbank Aviation Museum also known as the Portal of Folded Wings, is a non profit establishment whose aim is to help celebrate and preserve the aviation history of the Burbank region.
You will find this Museum just at the true corner of the Valhalla Cemetery, the museum's main landmark is an easily noticeable archway that is big and beautifully decorated with fanciful ornamentation and a large dome.
You will find information about engineers, mechanics, pilots and other pioneers of the flight industry highlighted on displays at the museum.
You will also find several airplanes and other aircraft in the museum, the most famous among them is a model of the Challenger Space Shuttle.
The museum has all it takes to amaze you, this should make the top on your list of fun things to do in Burbank, California.
Address: Valhalla Memorial Park, 1533 N Ontario St, Burbank, CA 91507.
4. Colony Theatre
The Colony Theatre is a small theatre that is located in Burbank, it is more than 40 years old, the theatre seeks out young people with talents from different area to perform in an intimate setting of quality performances.
Some of the theatre's works have earned them so much recognition, it is not surprising that the theatre company is among the 25 Notable US Theatre Companies compiled in the Encyclopedia of Britannica Almanac.
Check out their website to know the schedule of their plays, sometimes special performances by notable guests are showcased.
It's worth mentioning that the Colony has dedicated children's programs that your kids will truly love, you can also rent the venue for meetings and other special events.
Address: 555 N 3rd St, Burbank, CA 91502-1103.
5. Warner Bros Ranch
Located in Burbank is the territory that is now known as the Columbia Ranch Warner Bros Ranch is a place that is very important in the history of the American film industry, it covers a 40 acre plot of land which contains so many famous historical sets.
Some of the houses in this area is where the Waltons lived, while some of the locations were the settings of Bewitched and the Partridge Family.
You will also find the family home used in the film "National Lampoon's Christmas Vacation" in this area among other movie sets.
If you have seen "Friends", you can remember the fountain used in the opening credits of this Television show?, It sits right here at Columbian Ranch, the Ranch has so many open green spaces, a paved street area and different styled houses.
You are truly going to love the views making it one of the best things to see in Burbank.
Address: 411 N Hollywood Way, Burbank, CA 91505.
6. Martial Arts History Museum
Worth being on your checklist of fun things to do in Burbank is a visit to the Martial Arts History Museum.
The Martial Arts History Museum is a Burbank establishment that was built to teach kids about the martial arts tradition found in so many countries in Asia like Thailand, Japan, the Philippines and China.
It is a global exhibition and its focus is complemented with local stories that show how martial arts are portrayed right here in the United States.
In the museum, you will find interesting artifacts and other cultural and artistic elements like the anime prints, chinese lions, and the headband used in the movie karate kid.
The museum also holds an annual expo that focuses on martial arts, anime, cosplay and manga. The Expo is called the Dragon Fest.
Address: 2319 W. Magnolia Blvd., Burbank, CA 91506.
7. The Starlight Bowl
The Starlight Bowl is an event center you will love to visit, this event center happens to be what gives Burbank, California its fun time.
The Starlight Bowl is an open air concert and performance venue, this amphitheater styled venue can seat 5,000 people, it has 2,000 spaces in its lawn and 3,000 covered spaces.
The concert and performance venue was built in 1950 and since it was launch, it has been graced by the presence of popular musical groups and singers.
If you are considering attending any of their summer season concert, you are to book its ticket on time for it sells out quickly.
You are free to attend any of these events with your loved ones, there is also a space in the venue that is available for hosting picnics, there are also eateries situated at the venue, which offers concessions and drinks called the Canyon Grille.
There is also an option for recycling wastes and composting on the premises, this is because the Starlight Bowl is part of the City of Burbank Parks and recreation network which is dedicated to reducing waste.
Address: 1249 Lockheed View Dr., Burnbank, CA 91501.
8. Urban Press Winery
Urban Press Winery is among the top wineries in the city.
The winery has created a standard for other winemakers to follow, it's not surprising that Burbank is among the top ten wine producers in the country.
Urban Press Winery which can be located downtown of Burbank was established in year 2016, it started with her founder who began by making craft wine in his garage. Today, this winery makes most of the best vintage wines in the country.
You can check out their full menu of wines, for visiting this winery acts as a fun activity and is worth adding to your list of best places to visit in Burbank.
It's fun to visit during the period the Winery hosts their neighborhood-focused events, you can know when to visit the winery by checking its website.
Address: 316 N San Fernando Blvd, Burbank, CA 91502.
9. The Palm Coffee Bar
The Palm coffee Bar is a hip coffee shop at the heart of Burbank which was opened in the year 2018 by a couple named Ben and Joanna Heart Milliken.
Quite a unique coffee shop, the coffee bar strives to give an alternative to the normal traditional cafes which are in the neighborhood.
You will love the vacation themed decoration used in this place and also the Cafe serves innovative drinks, they crafts their beverages from beans which are sourced from Equator Coffee.
Here are some of the drinks on their menu like cappuccinos, cortados or any other innovative lattes infusing ingredient like matcha.
Check out other beverages from Tenzo and Mighty Leaf Tea alongside a selection of pressed juices, wellness drinks and locally produced kombucha.
There are options for all to choose from, you can order for vegans, vegetarian and gluten free sandwiches, pastries, croissants and muffins.
Address: 2922 W Magnolia Blvd, Burbank, CA 91505.
10. Griffith Park
Also in Burbank is the Griffith Park which is on a 4,310 acre land, it is one of the largest parks in the United States of America, it is in Los Feliz locale, the park has plenty to offer its visitors.
You will find in the Griffith park the very famous Griffith Observatory, this observatory is known for its spectacular view of the downtown of Los Angeles, Hollywood and the Pacific Ocean.
Since the park is so big, it's not surprising that it cut across boundaries, for it is also in this park that the popular Hollywood sign and the Los Angeles Zoo are in.
Some fun Burbank activities you can engage in while in the park includes hiking on the equestrian trails, you are going to love this especially if you are an adventurer.
Also check out some of the man-made attractions in the park, get a camera to save some of natures finest and beautiful display.
11. Johnny Carson Park
The name "Johnny Carson" is a household name in America, Johnny Carson usually appeared on the television screen every night to generate smiles and introduce special guests.
He was the initial host of the Johnny Carson Show, later on he became the very leading personality on the TV show which he hosted for 30 years that is called The Tonight Show.
One can say that the show business has given Johnny Carson a reputation and a kind of immortality in the heart of people, Johnny now has a physical monument which bears his name.
Johnny Carson Park which is named after him is an urban green space, you will find it in Burbank just across the NBC Studios (which is the very place that Carson recorded the Tonight Show), at the corner of Bob Hope Drive and Riverside Drive.
Don't forget to take a picture of yourself with the bronze plaque that is dedicated to him.
Address: 400 Bob Hope Dr, Burbank, CA 91505.
12. Market City Caffe
If you are looking for a Café with true Italian roots in Burbank, I suggest you stop by the Market City Caffe.
The classic recipe which makes up the menu of this wonderful Café was handed down to the owner by the members of his family that lived in Naples, Italy.
Among her wonderful dishes, it is the homemade ravioli that they serve, it holds a place of particular distinction in the heart of its customers.
You can get dinner, lunch and weekend brunch services from this Café, try out some of their special events like it's Red Sauce Sundays and Specially curated beer dinner.
The surrounding of the dining area of the restaurant gives off a feeling of relaxation, for it is a pleasant mix of rustic exposed brick wall trimmings and sleek furniture.
Visit the Market City with your kids and other loved ones today for a meal, you won't regret it.
Address: 164 E Palm Ave., Burbank, CA 91502.
13. Warner Bros. Studio Tour
The Warner Brothers is one of the most iconic names and logos of the entire television and film industry, they are makers of some of the best movies of the century.
Some of America's favorite shows which they produce include shows like The BigBang Theory and the award-winning series called Friends, they also made the hit movies like the Batman film Series and Argo.
During the Warner Bros. Studio Tour, you will be allowed to ride a cart around and as you do so, you will learn about the production ability and the history of the Warner Brothers.
You will also visit several different back lots and some of the special exhibits that are dedicated to the DC universe and the world of Harry Potter.
Lastly, you will be given a trip to a specialized soundstage which offers a peek into what goes on in the complicated TV and film production process which takes place every day at the studios.
Address: 3400 W. Riverside Dr., Burbank CA 91505.
14. Wildwood Canyon Park
Are you seeking out what to do in Burbank for some outdoor fun time, I suggest you add Wildwood Canyon Park on your list of things to do in Burbank, California.
The Wildwood Canyon Park emerges from Burbank's Harvard Road which leads to a series of hiking trails that have varying degrees of difficulty.
The average length of each of these trails is 2 miles, following these trails doesn't just feature views of the nearby Verdugo Mountains, it also gives a cool angle for sighting of beautiful native wildflowers to the area.
You can come with your dogs while walking these trails at the Park, but don't let them roam the area, do put a leash on them.
Apart from pathways, the Park also has open, grassy space within room for relaxing or hosting a picnic.
Check out the events hosted regularly at the park by Burbank Nature Program, you are going to love it here.
Address: 1701 Wildwood Canyon Drive, Burbank, CA 91501.
During your visit to Burbank, you can as well decide to tour other parts of California, do not miss a tour through Ventura, here are some of the best things to do in Ventura during a visit here.
15. Magnolia Park
One of the most popular places you need to visit in Burbank is the Magnolia Park.
Magnolia Park is not just a park as is name seems to imply, rather it is a name of a district that is situated around the main artery of Mongolia Boulevard.
It is more of a shopping area than of a park area, in the Magnolia Park, you will find some vintage clothing stores that sell quality vintage materials, they are materials like the ones you find in old style movies.
Thus, if you are a fan of old styled movies and you desire to own a 1950s apparel, then this is the place you need to visit.
Apart from shopping, sometimes events are held in the park within the year, you will truly love the live music nights which is one of the events held at the park.
In addition to this, you will find cafe cultures here and the area has strong internet connections.
Also, check out for coffee shops and quirky boutiques which are dotted around the neighborhood.
16. Burbank Farmer's Market
Even though there are so many Farmer's Market in the area, especially in the Los Angeles region, the Burbank Farmer's Market seems to be on a class of its own in comparison to these other markets.
You will find it behind the Burbank City Hall just at the center of the city, even though the market has a small town feeling, ware sellers and vendors from other towns do come here to sell their wares.
This means you can get or sample some of the best products in the region from places as far as San Francisco and San Diego.
You can also get Baked goods from local bakeries here in the market, these baked goods are highly recommended.
17. Woodbury University Nan Rae Gallery
If you are a lover of art, do not miss the opportunity to visit the Woodbury University Nan Rae Gallery when you are in Burbank, a visit to this quirky gallery is one of the best things to do in Burbank,California.
In this gallery, you will find wonderful works of art which are showcased in their displays, some of these arts run from highly experimental contemporary art pieces to classic traditional work.
The Woodbury University Nan Rae Gallery is an interesting place to visit, since the gallery is a part of Woodbury University, you will find in its exhibition a range of student's artworks.
There are also works from guest artist from around the region that is featured in its rotating galleries, you are truly going to love this place.
18. Animal Walk of Fame
So many know the Hollywood Walk of Fame which has the list of some of the best and famous stars that ever graced the screen, The Hollywood Walk of Fame is quite popular hence it is the goal of many to be in this list.
However, only a few know about another list which celebrates animals, it is known as the Animal Walk of Fame.
In the Animal Walk of Fame list, you will find display of the names of some of the industry's best known animal celebrities as well as their paw prints.
You will find the Animal Walk of Fame in the front of the Burbank Animal Shelter, the list is made on concrete tiles and it lists some of the most famous animal actors like Benji and Lassie.
Besides this list, there is a separate time that they immortalizes their unique paw print.
The animal walk of Fame was established alongside the PATSY Awards which is also dedicated to celebrating animals in Film, a visit to the Animal Walk of Fame is one of the best things to do in Burbank.
Address: 1150 N Victory Pl, Burbank, CA 91502
19. Blue Palms Brewhouse
A local Alehouse which Blue Palms Brewhouse is, it is specializes in bottled and tap craft beers which they serve alongside snacks and comfort food dishes.
You will find in Blue Palms Brewhouse a rotation that incorporates an updated list of 24 in-house creations regularly.
The brew types you will find in rotation ranges are from pale ales and stouts to ciders and pilsners, you are allowed to do a mini tasting of each of the beer to know the best which suits your taste.
Each beer served by the brewhouse is served using the proper glass at the proper temperature.
Check out the drinks in the Blue Palms Brewhouse's menu, you will find out that the menu complements each of their unique drink greatly with the perfect snacks that is most suited for it.
Some of these best snacks include nachos and salty pretzel balls alongside a long list of entrees which includes varieties of sausage sandwiches and burgers.
20. Verdugo Mountains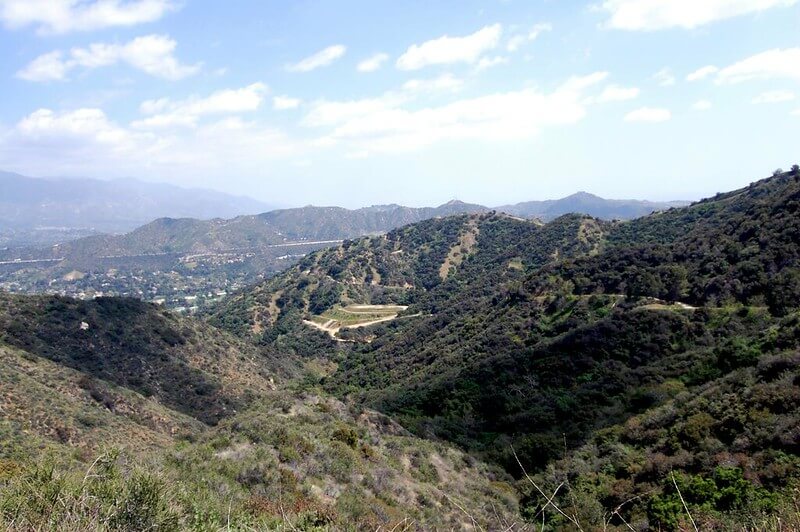 Verdugo Mountains is located within the borders of Burbank and Los Angeles county.
The mountain offers a breath of clean and fresh air, unlike what will be gotten from the very busy urban areas.
The open space which contains this wonderful mountain covers a large territory of 244 acres of land.
You will find in this area a lot of oaks, sycamores, big leaf Naples and so many other free species.
The area is also home to so many natural streams and springs which makes this preserve to be more diversified.
You will also find within this territory parts of park space that is owned by municipalities like Burbank, Los Angeles, and areas which surrounds here, it is a place for hikers because several hiking trails run through the preserve.
As you hike through these trails, you can get a glimpse of the beautiful vistas which was created by the Verdugo Mountains
21. Brace Canyon Park
If your reason for visiting Burbank is for a little adventure, then I suggest you go to Brace Canyon Park, a visit here answers what to do in Burbank today adventurous with kids.
Brace Canyon Park is one of the most exciting green space a in all of Burbank, what makes it special is that it's not just a park, it is also an activity center where you can enjoy outdoor pursuits such as tennis, jogging, running baseball, hiking, and zip lining.
The Park is quite a cool and airy place, it is surrounded by mountains and it is shared by large trees, all of which make it one of the best places to visit if you seek to cool off from the California heat.
It is also has a great spot for picnic and relaxation, this is because it has grassy lawns.
So, take out time from your busy schedule and visit this place for is worth adding to your list of things to do in Burbank, CA.
22. Downtown Burbank Arts Festival
Regarded as one of the Media Capitals of the world, it is not surprising that their arts festival is one of the most attended in the world.
Thus, Burbank is not only known for its vintage shops that supply clothing, her writing shops or even the big name movie studios that are based here.
The name of this grand Art Festival is the Downtown Burbank Art Festival, this art festival features more than 200 professional artists and some of the world's most famous animators from films.
This art event holds at the downtown of Burbank occupying more than four blocks of this area, a visit to the Downtown Burbank Art Festival will show you how much talents that reside in this wonderful town.
You will also find great works of art ranging from hand painted to succulents posters, there are also beautiful drawings of models and stores such as the Zamba and the Urban Outfitters.
23. Flappers Comedy Club
Located in Burbank California, is The Flappers Comedy Club, it is a one stop shop that offers everything humor related.
Quality food, educational comedy workshop and comedy performance are some of the things this lovely company brings together in so many forms since it was established in the year 2000.
During festival free days, the club normally holds performances in its three spaces, these spaces are the Yoo Hoo Room, the main room and the bar, you will love their full restaurant menu comprising of delicious dishes.
There are family friendly shows which your kids are going to love, you will truly have a wonderful experience in this place. A visit here makes a great addition to your fun list of things to do in Burbank.
Address: 102 E Magnolia Blvd, Burbank, CA 91502.
Planning a visit to France?, Lyon makes one of the best places to visit in France, here is a guide of some Best & fun things to do in Lyon to guide your trip.
24. Chandler Bikeway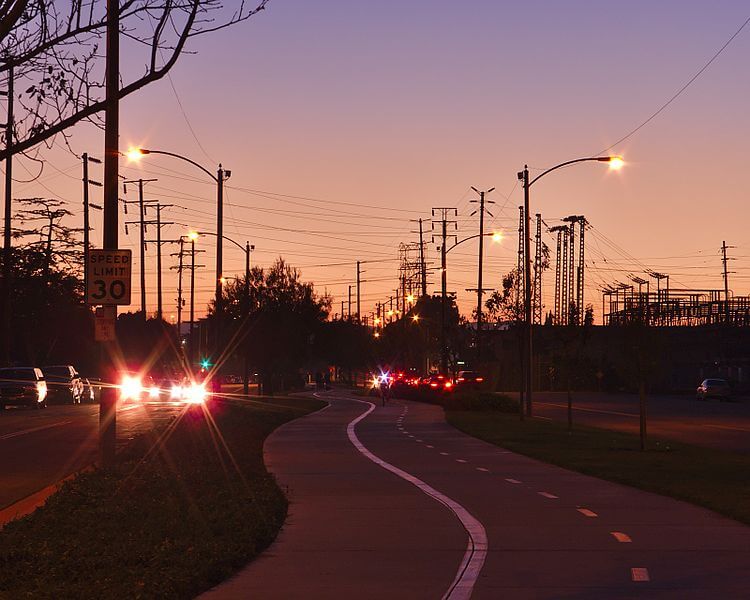 One of Burbank activities and a top on the list of place to visit in Burbank is the Chandler Bikeway which was once a railroad line, in 2004 this railroad line was transformed into a 2-mile biking trail.
Apart from its been used for biking, many active people living in Burbank jogs, stake, run and stroll along this trail.
The Chandler biking trail is also home to 3 art installations, these installations were made by the Burbank Art in Public Spaces.
You can ride a bike along this bikeway up to the North of Hollywood. As you do so, you will see some of the most beautiful murals you have ever seen along the way
You may find in the Sidewalk, astronomers who bring their telescope to the Bikeway as a means of educating the public all about Astronomy.
25. The Batcade
If you are a baseball lover and you are in need of what to do for sports in Burbank or you probably want to let off some steam after a long day work by mashing some baseball, then you need to visit the Batcade.
Being one of the best batting cages in the valley, the Batcade offers both fast pitch and slow pitch machines.
You are free to choose between paying a small fee for a set amount of pitches or a flat fee for a set amount of time.
The time maybe half an hour or an hour, but I assure you, it's going to worth your time, for truly, it is a stress reliever.
26. Los Angeles Equestrian Center
If you are seeking to experience Burbank from a different but vantage point, then you need to visit Los Angeles Equestrian Centre, this one of Burbank attraction center.
The Los Angeles Equestrian Centre is a place you can go for a horse riding expedition, you can ride the house around the local area, this will give you a sense of being in the middle of a movie shoot.
Check out some of the areas around town while you are on the horse, if you can't ride a horse, you may just relax while you watch any of the range of equestrian shows which is displayed right here throughout the year.
27. Walt Disney Studios
Walt Disney Studios
is located at Burbank and a visit here is a popular Burbank activity for tourists.
As popular as Warner Brothers in the movies and TV industry, Walt Disney Studios are makers of most popular the fairy tale movies.
As you take a tour around the Walt Disney Studios, you will learn so much about the history and movies of Disney, the studio offers tour guides, you can as well opt for a private tour.
These tours will fill you in on movie trivia and you will be shown the Walt Disney Archives which you will be memorable for you if you are a serious fan.
As you go through these archives, you will be taken back to the beginning of Disney's establishment and through its great history.
Things you will see through her periodic items are original songbooks, music sheets, and other memorabilia.
If you fail to visit this place of wonder, then you truly missed one of the most interesting parts of Burbank.
28. Sunnyday Scoot
How about you go on a unique city tour around Burbank with so many other people on a scooter, this is a very fun thing to do as well as meet you with some of the best Burbank tourist attractions.
If you desire this, join the Sunnyday Scoot excursion, this scoot excursion will have you drive along the city street, you will get to see various Burbank points of interest.
The tour members get to ride in pairs in the Scoots' three wheeled open air scooters, there is a switch at each side which allows the pair to switch off driving at each stop.
As you continue the tour, the trained guide offers you information about places in Burbank, especially the most interesting landmarks.
Apart from tourist rides, Sunnyday Scoot does offer a one hour adventure tours as well as specialty romance packages which includes a picnic, photoshoot and a private couples scoot.
You are going to love the LED night rides they also offer.
Address: 1 E Linden Ave, Burbank, CA 91502.
29. Porto's Bakery
This Bakery was opened in the year 1960 by the Porto family when they moved from Cuba to California.
The bakery is one of the biggest spots in Burbank, this is because it has a large selection of bread and pastries, it is truly a place a true baked food lover will love to visit.
You will find here interesting as you can make selections from the meat pies, sandwiches, tamales and empanadas which Porto's Bakery has to offers.
30. Another Broken Egg Cafe
One of the most popular places in Burbank, is Another Broken Egg Cafe, it is known for the fact that they make excellent breakfast and brunch, if you are in the mood for some eggs, then here is the right place to be.
They have other items in their menu such as the Lobster, Brie Omelette and the Southwest Scramble
You might have to wait for some time for you to get served, for it is an extremely popular destination for brunch in Burbank.
31. Bob's Big Boy
Known nationwide for their milkshakes and burgers, Bob's Big Boy is a legendary diner which is also registered in California as a historical site, this is because it is the oldest remaining Big Boy in all of America.
You will love the fact that this location still maintains it's 1950's charm, some of the things you could enjoy in this place include a milkshake that is served in a 1950's style large silver tin goblet, don't forget to take a picture with Mr. Big Boy.
32. The Castaway.
Even though The Castaway is a full service restaurant, I recommend you go during her happy hour, her food items are half off during happy hour, check out some of their special drinks like the Acai Margarita and the Maui Itch.
The spot also has breathtaking views of the surrounding mountains and valleys, this makes it perfect for hosting celebrations and parties
This is one of the unique things to do in Burbank and worth adding to your list.
33. Orbit Air
Orbic Air presents its client with an extraordinary opportunity to experience all the beauty of Los Angeles from the sky.
Orbic Air has a fleet of helicopters offering different services, including video recording, charter flights, aerial photography, helicopter tours, and helicopter training.
Orbic Air is located at Bob Hope Airport in Burbank, a suitable launching location for its several trip offerings.
Some tours include romantic lunches, dinners, mountaintop landings, and winery excursions.
Orbic Air provides charters to nearby cities, concerts, and important sporting events.
Address: 10750 Sherman Way, Burbank, CA 91505, United States
34. Hyaena Gallery
Hyaena Galley is famous for different grotesque and crude art and display.
The gallery is trendy for its permanent exhibition of horror movie-related objects and works of real serial killers.
Hyena Gallery was established by Bill Shafer in 2005 and has become incredibly famous since its Charlie Sheen exhibit in 2011, among other strange museum exhibits.
The gallery has received various awards, such as Best Dark Art Gallery and Best Spooky Emporium.
Address: 1928 W Olive Ave, Burbank, CA 91506, United States
Florida brings a lot of fun attractions and activities, Tallahassee makes one of Florida's most visited areas, here are some of the best things to do in Tallahassee if you find yourself in the area.
Plan a Trip to Burbank
Aside from Hollywood, no city is worthy to take the title, "the capital city of entertainment" apart from this lovely city, Burbank.
Quite a lovely city, it is as beautiful as dreamland, it is not surprising that the pillars of the entertainment industry like Warner Bros and Walt Disney made it their home.
Though it is a city that strives for perfection, it is not going to be perfect till it is graced by your presence. So make a date to visit Burbank today.
Before your visit, make a list of things to do in Burbank, this will give to an easy journey exploring the best of Burbank California points of interest.