Situated on the West Coast, Monterey is one of the best attraction areas in America and a top pick for tourists. It offers choice kinds of activities which include scenic parks, wedding venues, beautiful gardens, class wineries, engaging theatres, excellent museums, and restaurants.
Check out the popular Monterey Bay Aquarium, the Monterey Bay Coastal Recreation Trail. Fun, the historic Fisherman's Wharf, the Cannery Row Antique Mall, the Monterey Bay National Marine Sanctuary visitor's center, themed play park at El Estero Park, many more.
Relax as we explore the best fun things to do in Monterey, California
Top Fun Things to Do in Monterey
1. Take a Trip to Cannery Row
Cannery Row is a historic district in Monterey introduced to the world by the colorful stories of the renowned writer John Steinbeck. Since it came alive, the district has become one of the most famous vacation destinations on the Californian Central Coast.
This site used to be the location of a very active sardine canning industry, but today these former cannery buildings are full of shops, hotels, restaurants, and historical Monterey attractions.
Also, many privately owned fishing companies are hosted in Cannery Row. This is because of the many piers close to this district and the frequent visit of tourists.
Located at the bookend of Cannery Row are favorite kayaking and scuba diving spots, MacAbee and San Carlos Beach, while the Monterey Bay Aquarium is situated at the north end of the Row,
If you are thinking of what to do in Monterey, this is one place to start!
2. Sealife at the Monterey Bay Aquarium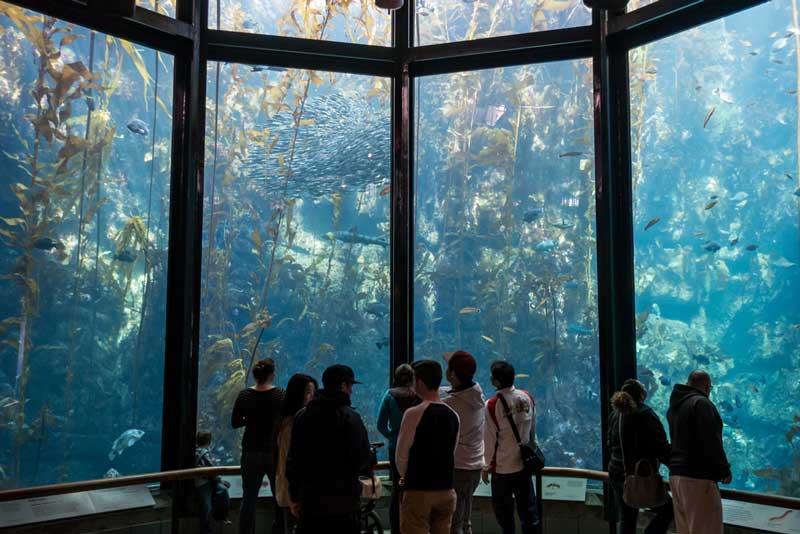 The Monterey Bay Aquarium was established in 1984 and is a public aquarium situated on Cannery Row, on the site of a sometimes sardine cannery. The Monterey Bay Aquarium is one of the best things to do in Monterey, California.
This aquarium has lots of sizeable pools and tanks that feature over 600 plants and animal species, as well as showcasing the marine life of the California coast.
The Ocean's Edge Wing is full of giant kelp forests, which you can view at a different level of the building, while the Open Sea galleries brims with diverse sea creatures, including stingrays, jellyfish, sea otters – the only sea mammal accommodated in the aquarium.
The Monterey Bay Aquarium is one of the few aquariums in the world to showcase certain species like the huge Bluefin, yellowfin tuna as well as sunfish.
You also see a special tank named "the Kreisel tank." It was constructed to contain the jellyfish, thereby creating a circular flow of water that suspends them.
Address: 886 Cannery Row, Monterey, California 93940
3. Adventures by the Sea
Adventures by the Sea offers you the opportunity to learn and explore Monterey by land and sea. With the provision of outdoor adventures that goes into the Monterey Bay area, Adventure by the Sea is one of the best things to do.
This recreational company is based in the Monterey Peninsula and includes bike and kayak rentals and tours, stand-up paddleboard lessons and rentals, and family bike rentals. They have five locations and shops spread across the area, making them the best place to start your adventure.
You can go mountain-bike the many trails around the peninsula or choose to kayak along the coastline of Monterey Bay. Another good thing is the availability of friendly and experienced staff at each shop which is helpful in fitting you with the best equipment and safety procedures before kicking off.
4. See Stunning Art Collection at Monterey Museum of Art
The
Monterey Museum of Art
was founded in 1959 and housed an assembly of artworks back from the nineteenth century up till this modern day.
The museum, which specializes in California Art, has a permanent collection of more than 14,000 objects cutting across diverse genres, photography, contemporary art, and early California painting. Here, you will find works by famous artists. Works of photographer Ansel Adams make highlights of the museum.
The museum also offers a wide base for community and educational programs, art classes, summer camps, and art lessons for educators and learners. There are so many docent programs.
This makes what to do in Monterey, CA, consider an addition to your checklist of things to do in Monterey, CA.
Address: 559 Pacific Street, Monterey, California 93940.
5. Join Wine Tasting Tours
One of the best things to do in Montgomery is wine tasting, and you have that in Ag Venture Tours. Though small, this tour company specializes in delivering various tours of the Monterey Bay region, from agricultural education to wine tasting to sightseeing tours.
There are diverse kinds of tours available, starting from half-day trips to full-day trips. You can even have them tweaked to soothe your specific requirements.
The wine tasting tours avail visitors of some of the most beautiful wine countries in Monterey, including the Carmel Valley, Santa Cruz Mountains, and Salinas Valley, while agricultural education tours go through the famous Pajaro and Salinas Valleys. Lastly, sightseeing tours explore the Monterey Peninsula and Big Sur or Santa Cruz.
These tours have friendly, professional, and knowledgeable guides with comprehensive backgrounds in the wine and agriculture industries.
6. Things to Do in Monterey: Cannery Row Antique Mall
With more than 100 antique dealers, the Cannery Row Antique Mall is the biggest antique and collectibles mall in all of Central Coast. It is accommodated in one of the remaining 1927 Steinbeck-era historic buildings.
If you are an antique-lover, you will be excited by what is in store. Also, Sunday strollers and market-goers will be delighted by ancient jetsam, the age-old flotsam, and vintage rarities, all for sale in this mall. Once you are satisfied with the antiques, relax with a slice of cake and a cup of coffee at Café La Strada.
You can enjoy a meal at Schooners Oceanfront Restaurant or relish tasting wine at the Pierce Wine Tasting Room, all close to the mall.
Address: 471 Wave Street, Monterey, California 93940
7. Treat your Appetite at Ike's Sandwiches
Though a small eatery in Monterey, Ike's place has quickly become an epicurean sensation for its impressive sandwiches, and if you are in town, head there for a taste.
Ike's place gained popularity for its waggishly-named sandwiches such as We're JUST Friends (halal chicken, avocado, zesty blaze, and pepper jack) and Ex-Roommate (chicken, bacon, provolone, and artichoke hears).
Enjoy the sandwiches with a secret sauce spread together to give a distinctive flavor.
Address: 570 Munras Ave, Monterey, CA 93940.
8. Be Adventurous at Monterey Bay National Marine Sanctuary
One of the most breathtaking marine protected areas is the Monterey Bay National Marine Sanctuary, as it has some of the best wildlife sights in the world.
Stretching from San Francisco to Cambria, this marine sanctuary spreads along the central coast and boasts beach displays, sparkling tide pools, steep canyons, thick kelp forests, and offshore seamounts full of marine life.
You would enjoy the excitement of this sanctuary with a wide range of adventure and outdoor activities all available. You could fish for salmon, go diving in the kelp forests, kayaking along the shoreline, explore the tidal pools, or watch for whales.
If you desire some fun things to do with kids in Monterey, then you must visit the Monterey Bay National Marine Sanctuary.
Don't forget to visit the interpretive visitor's center at Santa Cruz or San Simeon so that you can explore more informative programs and interactive exhibits about the sanctuary. They have well-trained volunteers who are ready to beef up your experience.
Address: 35 Pacific Ave., Santa Cruz, California 95060.
9. Gain Monterey's trade insight at the Custom House
Established in the 1820s, The Custom House was built by the Mexican government, not the American. Its purpose was to collect import taxes for rice, tolls, sugar, coffee, and other forms of goods that passed through Alta California to near and far places, including Russia, England, and American states.
During the American take over, the same duties continue, but this time for America. Up till now, the Custom House see to the same function, and it virtually still looks as though it was in the 1840s.
It is open for public access and viewing and makes a great option of what to do in Monterey.
Address: Monterey State Historic Park, 20 Custom House Plaza, Monterey, CA 93940, United States
10. Hike/Bike the Monterey Bay Coastal Recreational Trail
Clinging to the coastline is the Monterey Bay Coastal Recreation Trail – a famous paved path that follows the same course as that of the grand old Southern Pacific Railway.
It commences from northern Castroville and stretches 18 mikes to the southern Pacific Grove, making it a recreational trail for those looking to have a great outdoor experience and at the same time get some rest.
This goes through the waterfront trail, which includes the Monterey Bay Aquarium, Cannery Row, and Fisherman's Wharf, as well as different historical sites, beautiful beaches, and gorgeous beaches.
You can hike the trail or choose to grab an in-line skate, a bicycle, or the six-person shaded quadricycles. You may even prefer to rent a paddleboard, kayak, or surfboard. Definitely one of the top fun things to do in Monterey to consider for your bucket list.
Take to Exploring other cities in California, check out our list of things to do in Santa Ana , things to do in Fullerton, and things to do in Walnut Creek for a fun time.
11. Point Sur Lightstation
You will find the Point Sur Lightstation resting on a big lump of volcanic rock on the coast of California. For many years, it has dutifully sat 361 feet above the water, watching over the Monterey seas and beyond.
The Point Sur Lighthouse came as a suggestion sometime in the 1880s following a ship collision against the 1rock. Then, construction began in 1886, and three years later, it was opened.
If there were to be any habitats, they would live a quiet and lonesome life. The reason is its treacherous route caused the building to see only a few visitors. Incongruously, the lighthouse is automated (since 1972) and needs no minder; it is currently one of the most loved tourist attractions in Montgomery.
It is regarded as a historic landmark and is the only lighthouse in the state, starting from the time of its first public opening.
Address: Point Sur Lightstation, Monterey, CA 93940, United States
12. Get Busy at Fisherman's Wharf
The Fisherman's Wharf is a historic wharf that was previously used as a busy wholesale fish market. This market was active until the 1960s is now one of the most popular tourist attractions in Monterey.
The Old Fisherman's Wharf is used by locals to distinguish it from the present commercial wharf. Fisherman's Wharf is a lively hub of activity with an abundance of seafood restaurants. You will observe fine dining eateries and casual open-air clam bars offering outstanding views scenes of the bay.
There are some small gift and souvenir shops, candy shops, jewelry stores, and art galleries smuggled between the restaurants. Many tour companies also provide deep-sea fishing and whale watching trips for guests to enjoy!
Address: 1 Old Fishermans Wharf, Monterey, California 93940.
13. Learn of California's history at the Colton Hall Museum
California's status as the 31st state of America was realized in Colton Hall, so it's no surprise that this hall is one of the must-visit sites.
Colton Hall Museum was named in honor of Walter Colton for his accomplishments as the Chief Magistrate of the district of Monterey. It was the first of the American public building in the state.
This hall is historic because the first Californian constitution was drafted here at a convention and then signed on the 13th of October, 1849, before its approval in Washington DC.
Currently, it is a part of the city hall complex, with the first floor occupied by the Department of Planning and Building offices and the second-floor housing the Colton Hall Museum.
The Colton Hall Museum was established in 1949 and offered a wide range of artifacts and information linked to California's creation and its government affairs to date.
Visitation and tours are free of charge, and the attendants are always willing and ready to provide answers to your questions.
Address: 570 Pacific St, Monterey, CA 93940, United States
14. Monterey Must-See: Monterey State Historic Park
Delve into Monterey's history by taking a trip to the Monterey State Historic Park. This park is home to an assembly of important historic buildings and houses that were instrumental in the legacy of the region.
This interesting area is referred to as the "Monterey Walking Path of History" and has no fewer than twelve buildings. This includes the Custom House – one of California's oldest government buildings, and many other homes which stand as public museums and at the same time offer guided tours.
There is a path through the Monterey State Historic Park marked by yellow tiles, which unveils the history of California. You can explore the landing spot of Spanish explorers, walk the same as Robert Louis Stevenson did in 1879, or appreciate one of the country's remaining whalebone sidewalks.
This makes what to do in Monterey, CA, for a fun time, consider an addition to you list of best things to do in Monterey, CA.
Address: 20 Custom House Plaza, Monterey, California 93940
15. Kiddies Time at Dennis the Menace Playground
Do you have kids, or are you looking to relax in a park area, or are you a fan of the comic strip character of Dennis the Menace? Whatever it is you seek, the Dennis the Menace Playground is a top fun option in Monterey, California.
This exciting playground was built in 1956 as part of the El Estero Park. It came into reality following the approval and assistance of Hank Ketcham – Dennis the Menace creator, who lived in Carmel. He so much loved the childish joy and fun play.
This well-designed playground is an absolute delight, with a climbing wall, a suspension bridge, a gigantic adventure ship, and huge slides fitted on play structures. You would also see a steam engine dating back to 1924 and still in its originality from Southern Pacific.
Your kids would live with memories of this playground, and it is safe and full of thrills, so consider an addition to your bucket list of places to visit in Monterey CA.
Address: 725 Pearl St, Monterey, CA 93940, United States
For a fun time in California, don't miss our checklist of fun things to do in Solvang, Fresno, Daly City, and Fremont.
16. Kids fun time: Monterey County Youth Museum
Established in 1997, the Monterey County Youth Museum (MY Museum) aims at providing an environment for kids to discover, explore and learn through curiosity and creativity.
The museum is located on Washington Street and has an ideal surrounding of Dennis the Menace Park, and the Monterey Sports Center. This increases the variety of interactive exhibits and engaging displays built for children below age 10.
Your kids will love fun exhibits which include "MY Build a Home," "MY Day at the Beach," "MY Creation Station," and "MY Hospital," all of which permit children to learn through personal discovery.
The museum also hosts unique events throughout the year, and you can rent it for other functions like birthday parties.
Address: 425 Washington Street, Monterey, California 93940.
17. Enjoy a craft beer at Alvarado Street Brewery
Monterey and California, in extension, are known for their alcohol. Alvarado Street Brewery is just one of the top places to get such beverages as they serve some of the finest, smoothest craft beer in Monterey.
The Alvarado Street Brewery is a family-owned business situated in a sublimely renovated former theatre. The combination of an architect father and his beer-loving son propels excellent results and innovative brews.
You can drink their Mai Tai PAs and Delorean Dust while relaxing in the outdoor terrace beer garden!
They don't just serve drinks here, and you can check out their Thai-curry mussels, Vietnamese lamb burgers, pork belly pizzas, cheese, and truffle-crawfish mac.
A visit to Alvarado Street Brewery should be among the top things to do in Monterey if you are an alcohol-lover.
Address: 426 Alvarado St, Monterey, CA 93940, United States
18. Have Fun at El Estero Park
Wrapping around Lake El Estero is the recreational El Estero Park. This park hosts diverse outdoor activities for the visitors and locals to enjoy, with the inclusion of a children-themed play park.
There is the El Estero Exercise Course, a wide course meandering the edge of the lake, allowing visitors to hike or ride bicycles around by the water and relish the appealing natural scenery.
There is also a 1.2-mile 'parcourse' which has three exercise station groups around the lake. So, you can get a full-body workout too.
Monterey Skate Park is a family-friendly amenity mapped out by local skateboarders and is accessible by skateboarders and in-line skaters of all ages to test their skills. The bounty of blackfish, perch, and trout in the lake is so much delight to fishers. As an angler, there are fishing piers at the Pearl Street bridges for you to fish.
The kids are not left behind. The popular Dennis the Menace Playground is a favorite for children – with many slides, play structures, a giant adventure ship, a climbing wall, and a hedge maze to engage them for hours.
Address: 798 Del Monte Ave, Monterey, CA 93940.
19. Embrace nature at Point Lobos State Natural Reserve
If you don't mind leaving Monterey a little bit, then a trip to the Point Lobos State Natural Reserve should be in the line. It is only 15 minutes away and is worth that mileage while you're in California. This preserve is popular for its unusual, distinct granite cliffs and rock formations spread all over the oceanside, each of them in cacophony with the numerous cute animals living in its vicinity.
There are a lot of activities available for you to partake in, which include observing nature, taking photographs, scuba diving, and exercising on any of its 13 trails. Each trail has its unique level of difficulty.
The Cypress Grove is one of the most famous trails in the Point Lobos State Natural Reserve and is recognized for Monterey cypress trees spotted on the seaside cliffs and catchy panoramas of the coast. You can also try any of the ten different diving spots at this Natural Reserve, see lovely coral reefs, kelp forests (up 70 feet in height), the
One of the most popular trails in the Point Lobos State Natural Reserve is The Cypress Grove, known for Monterey cypress trees that dot the cliffs along the seaside and its stunning panoramas of the coast.
There are also ten different diving spots at the Point Lobos State Natural Reserve, which kelp forests reaching 70 feet in height, beautiful coral reefs, and the infrequent seal or whale if you're lucky.
Address: 62 CA-1, Carmel-By-The-Sea, CA 93923, United States
20. Attend Monterey Jazz Festival
Monterey is loved and popular for some special activities, and one of them is the Monterey Jazz Festival – the longest-running jazz festival in the world. This festival takes place in the center of the city and on 20 acres of impressive oak-studded grounds.
Fans are treated to seven stages of live jazz entertainment, an international shopping bazaar, exhibitions, films, food and beverages stalls, and meeting with the Festival's stars. This annual festival takes place every year for two nights and three days.
Monterey Jazz Festival features world-famous artists like Ambrose Akinmusire, Chick Corea, and Wynton Marsalis. It also includes a Jazz Legends Gala, where the honored Monterey Jazz Festival Jazz Legends Award is presented to the chief Jazz world contributor on the festival's eve.
This makes one of the top things to do in Monterey, CA, will make a great addition to your list of Monterey activities to engage in.
21. Visit Sloat Monument
The Sloat Monument is one of the best places to visit in Monterey because of its interesting history. Built in 1910, this Monument stands in memory of Commodore John Drake Sloat. You need to know him in order to appreciate the Monument at all.
Sloat was a key player in the 1846 war between America and Mexico. He the then commander of four vessels of the US Navy, and the thin spread of Mexico's military forces in Alta California assure him that American forces could take over the state.
He started advancing towards the state, and he arrived in early June that year. There were British ships already in the state, and Slot knew he had to be quick in actions. He first landed in the town of Monterey, and it was seized with no opposition.
As the state capital, this resulted in other parts of the state surrendering, which officially made it a US state three years later.
The Sloat Monument overlooks Monterey Bay and is one of the best things to do around this area. Though it is a closely controlled area, the Monument is accessible for public viewing.
This makes one of Monterey attractions to visit, consider an addition to your list of things to see in Monterey, CA.
Address: Ewing Rd, Monterey, CA 93944, United States
22. Enjoy a Top-Class Theater Experience at the Golden State Theatre
Located on Alvarado Street, the Golden State Theatre is a gorgeously restored movie palace, built in Moorish style with a great history for live and cinematic performances. This theatre is well placed in the center of Monterey's downtown area, with busy bars, restaurants, and nightclubs surrounding it.
Built in 1926, the Golden State Theatre was once the biggest theater in the area. It was, however, restored to its glory days following its dilapidation. Currently, it has a floating mezzanine level and grand lobby, ultra-modern sound systems, a thousand deluxe velvet seats, and a majestic, magnificent frescoed ceiling of a sky canopy, giving guests the feeling of an outdoor setting.
The theatre hosts film festivals and world-class concerts; it can still be rented for private events and similar functions.
Address: 417 Alvarado Street, Monterey, California 93940
23. Purchase Global Items at Old Monterey Marketplace
The Old Monterey Farmers Market was established in 1991 and held all through the year. It is situated on Alvarado Street just between Pearl and Del Monte and spans three blocks in the city.
This market is a busy, lively community of vendors who come to sell products ranging from arts and crafts, clothing, furniture, and handmade jewelry to fresh flowers, international food, and Organic Certified produce,
You can you the world in a day by simply browsing stalls selling items from all over the world and tasting dishes from kiosks serving local, Indian, Mediterranean, Italian, and Mexican BBQ.
There are some community events hosted by the Old Monterey Farmer's Market, such as adopt-a-pet or blood donation. You can also enjoy live music as you walk from one stall to another.
Address: Alvarado St, Monterey, CA 93940.
Map of The Top Fun Things to Do in Monterey, CA
Here is a map to aid your navigation through these fun Monterey attractions and activities
Have more time in California? you can take to visiting Burbank, Riverside or Chino Hills, for some fun time in this state.
Plan Your Trip to Monterey
Monterey is unique and a fun place to visit. Full of excitement, activities, and liveliness, there is no dull moment in Monterey.
There are historic spots, museums, parks, sanctuaries, restaurants, wineries which bustle with activities and are even recognized globally.
Not minding the age and gender, there is something for everyone. So, start now to plan your Monterey vacation, and don't forget, this piece can always come in handy for your list of things to do in Monterey, during your trip.