Fairfield is a bustling city in California with amazing attractions, this city is known to be between Sacramento and San Fransisco, all located in the Solano County, California.
Fairfield was founded by Robert H. Waterman in 1856, he was a clippership captain. Robert decided to name this city after the city of Fairfield in Connecticut, this was known to be his former hometown.
Things to do in Fairfield, CA cuts across it numerous tourist attractions of which the Travis Air Force Base and the Jelly Belly headquarters are worth a mention.
You could also spend some time at the American Armory Museum, the Budweiser Brewery Experience, and the Glashoff Sculpture Ranch which all promise lots of fun.
To give the best of a trip, let's explore the best things to do in Fairfield, CA.
Things to Do in Fairfield, CA.
1. Jelly Belly Factory Tour
For several years, jelly beans have been a choicest call of many. One of the best ways to spend your day is a tour through the Jelly Belly Factory.
Your day will be more delightful in Fairfield when you step your feet into their factory as you get to watch how these legendary jelly beans are being cooked.
Get to know why it takes more than a week to make one jelly bean and also observe the manner and procedure at which over 150 other sweet treats are combined in the factory.
Start your tour from their Visitor Center then you go out on your complimentary walking adventure. It would take just about forty-five minutes.
This makes what to do in Fairfield CA for a family fun time.
You can stop by the cafe, Retail Store, and Chocolate Shoppe to enjoy the hospitality and purchase some souvenirs which you can take home.
Jelly Belly Factory Tour is one of Fairfield attractions you should add to your checklist.
Address: 1 Jelly Belly Lane, Fairfield, CA 94533.
2. Glashoff Sculpture Ranch
Glashoff Sculpture Ranch is devoted to the transformation of reclaimed materials (mostly metals) into amazing artworks.
This sculpture ranch is located close to the rustic Suisun Valley and offers a wonderful sculpture roam.
Owned by world-renown metal sculptor, Phillip Glashoff who believes that when you drive around the wine country "loop," you will have great fun seeing his art marked on the pastoral landscape of the valley.
It's such fun and you will be surprised at the talent of the Glashoff's making sculptures out of old junk parts.
However visiting is on scheduled appointment, so you can call or send a mail across.
Address: 5402 Williams Rd, Fairfield, CA 94534, United States. Phone: (707) 427-8060
3. American Armory Museum
The American Armory Museum is situated at the crossroad between Suisun Valley Parkway and Abernathy Road. It was established to bring back the memories of the Armed forces of the United States.
The museum has an impressive exhibition of military memorabilia and vehicles dating over a century.
There are more than 60 vehicles displayed between the large yard and the indoor showroom. A good number of them were from the Korean War, the Vietnam War, and World War II.
Notable amongst the fleet is the Command Jeep used by General George S. Patton in 1943.
You will also find a World War II Achilles tank (it is one of only six remaining in the whole world), a 1942 Harley Davidson XA (one out of the remaining 30 from the originally produced 1,000), and a Marmon-Herrington tank (one of only three in the world). You can even take photographs of these large vehicles.
You will see lots of memorabilia and flags, including an original American flag. Also, mannequins are seen putting in the original or replica uniforms to give the visitor an awesome experience.
Address: 4144 Abernathy Road Fairfield, CA Chadbourne and Abernathy Roads, Fairfield, CA 94534-9791.
4. Paradise Valley Golf Course
Now, here is something to add spice to your day if you are a lover of golf.
The Paradise Valley Golf Course is situated between San Francisco and Sacramento. This golf course is easily assessed from the major Sacramento areas and the Bay Area.
It is an award-winning golf course lavished with well-deserved praise and acknowledged as "the number one golf course in Solano County" and as "the best value golf course in the North Bay Area".
You will be satisfied with the amazing layout which makes the game playable, challenging, and extremely pleasant. All these qualities including the meandering creeks and the oak-full fairways make the course to be golfers favorite.
There are many tournaments and events organized and held at Paradise Valley Golf Course all through the year, so you can be a direct part if it or indirectly as a spectator.
Address: 3950 Paradise Valley Drive, Fairfield, CA 94533.
5. Allan Witt Park
The Aquatics Complex at Allan Witt Park is a good place to cool off in the summer and swim indoors in the winter.
They've got nice amenities in the complex which include a natatorium which has a retractable roof, there is a lazy river current, a zero-depth entry play area, a therapy area, an exercise room, and a six-lane activity pool.
Your kids can also have some fun in the play area. Facilities to aid them include climbing structures, slides, water spray toys, and climbing structures. There is also a grass area where families can relax while basking in the sun.
There are two faint pool slides, 30 foot high, for both adults and children to enjoy themselves. You can also rent indoor rooms for your meeting and parties.
This makes what to do in Fairfield CA for some outdoor time, a perfect addition to your Fairfield CA things to do list.
Address: West Texas, Fairfield, CA 94533.
6. Chez Soul
One of the best things to do in Fairfield, CA is a meal at the Chez Soul.
Go for great tastes and groove the culture of Louisiana from one of Northern California's choice restaurants.
From the moment you step in, you are showered with the best of hospitality. The aroma you perceive, the sounds you hear, and down to the tasty meal you eat, will all take you to the clouds.
Chez Soul has a particular focus in giving southern comfort meals with flavors gotten from New Orleans, feast in the smothered pork chops, grilled chicken breast sandwich, and fried chicken.
Other special menu dishes include gumbo, fresh farm-raised catfish, pork spare ribs, and crawfish etouffee.
Do make space for the home-styled Daddy Reed's sweet potato pie, peach cobblers, and Big Mama tea cakes.
Address: 711 Madison Street, Fairfield, CA 94533, Phone: 707-427-3338
7. Budweiser Brewery Experience
Budweiser/Anheuser-Busch is on the most renowned beers in North America, famously admired for the refreshing taste and flavor. You can never miss out on it in almost all bars, restaurants, and liquor stores.
It is right just the best because of the perfection built by this award-winning brand over the years. So, going on a tour of their Fairfield brewery is one of the exciting things to do in Fairfield, CA.
The ultimate Budweiser Brewery Experience will expose you to the activities done behind the scenes to obtain one of the best beers in the country. This brewery opened and began operation in 1976 and it is their 'greenest' and most effectual.
In the course of your brewery tour, you will observe how they convert energy obtained from the sun and wind into good use for production. Learn in-depth, the kind of technology used, their impact on several historical events, and many others.
Address: 3101 Busch Drive, Fairfield, CA 94534.
8. Solano Town Center
The Solano Town Center Mall is a place you can purchase whatever you wish while in Fairfield. This mall hosts famous trade brands including JCPenney, Macy's department, Best Buy, and Sears stores
With over 150 malls and restaurants, a night of dining, a movie in the Edwards Fairfield Stadium 16 IMAX movie theater, Solano Town Center is worth a visit.
Address: 1350 Travis Blvd, Fairfield, CA 94533-3432.
9. Rockville Hills Regional Park
Would you want to go hiking? The Rockville Hills Regional Park is one of the attractions in Fairfield. It spans more than seven miles, hiking through this park proves to be one the most adventurous and exciting ways of spending your day in Fairfield.
This park is classified with difficulty at a moderate level, so it would not prove a really tough one for first-timers and experienced hikers alike.
You can choose to climb through some of the volcanic rocks of decide to meander through the remote grassy valleys.
Also from this park, you can get unique views of blue oaks, Mount Diablo, Elkhorn Peak, and Twin Sisters all standing afar. So, do come with your camera to capture wonderful views and moments.
This is indeed one of the fun things to do in Fairfield, CA, you should consider for your checklist.
Address: 2149 Rockville Road, Fairfield, CA 94534.
10. Favela's Fusion
Do you wish to have an authentic Mexican cuisine? Then, there is no better place than Favela's Fusion in Fairfield.
This restaurant is owned and managed by Veronica Favela-Diaz and it was birthed by the passion for tasty food which she and her father had.
You are sure to have mouthwatering, cheap Mexican-influenced meals and mix. They are always consistent and are poised to give you the best.
Check up first the battered veggies garnished with roasted pepper aioli, the shrimp stuffed avocado, or the street tacos just like you will see on Mexico City's streets.
More generally admired entrees are the Camarones Al Tequila (a jumbo shrimp fried in tequila cream sauce) or the Molca Jete which consists of sirloin steak, jumbo prawns, and charbroiled chicken breast smothered in ranchero sauce.
Address: 1500 Oliver Road, Fairfield, CA 94534.
Helsinki makes a tourist attraction spot in Finland, for a fun time in Helsinki, here is our list of things to do in Helsinki.
11. Jump Highway
Amongst the fun things to do in Fairfield is Jump Highway.
Enjoy the fun with your entire family when you visit this location. It is at situated barely 15 minutes from Napa, Vacaville.
Having more than 10,000 sq ft of trampoline jump areas, Jumps Highway entertains both adults and children. You can also host birthday parties too
This makes one of the fun things to do in Fairfield CA with kids, go in and spend your day jumping!
Address: 455 Lopes Rd Ste A, Fairfield, CA 94534-1796.
12. Travis Air Force Base Heritage Center
And here is something special to make the day especially for aviation lovers.
The Travis Air Force Base Heritage Center was established in 1986. It is an aviation museum where visitors allowed the privilege of taking part and understanding the history of Travis Air Force Base, the 60th Air Mobility Wing, the airmen who were designated there, and the relevance of strategic air mobility and humanitarian airlift operations.
You will see informative exhibits and artifacts which carry information that you capture the attention of your entire family.
There are over 35 aircraft display which you'll come across and they include the C-5A "Galaxy", A-26K "Counter Invader", the B-29 "Superfortress" and the F-86L "Sabre". The B-29 "Superfortress" was used to land the "Little Boy" atom bomb on Hiroshima and the next "Fat Man" atom bomb on Nagasaki.
Address: Building 80, 461 Burgan Boulevard, Travis AFB, CA 94535.
13. Cal Yee Farms
Cal Yee Farms can be seen as you travel along the country roads of Suisun Valley, Solano County. They are one of the oldest and actively running agricultural businesses in Suisun Valley.
It is a family-owned business and has over 40 years in the specialization of making dried fruits. Cal Yee Farms put in continuous efforts in providing the best quality of dried fruits and nuts to all consumers in and out of the United States.
They have a long history of farming, cutting, and drying fruits. Product varieties include local dried peaches, dried seeds and nuts, apricots and pears, flavored almonds, dried mixed fruit packages, and the highly- demanded "dried and salted squash seeds."
You will love their dried fruit and nut store, so do stop and shop. It is one of the attractions in Fairfield, CA you should not miss.
Address: 5158 Clayton Rd, Fairfield, CA 94534-9780.
14. Il Fiorello Olive Oil Company
The Il Fiorello Olive Oil Company was started by Mark and Ann Sievers even before they planted the olive groove of their own.
The foundation of this company is traced to their grandfather who had massive admiration for traditional agriculture and a passion for making his wine for home consumption.
Those values were transferred from generation to generation until the Sievers decided to take advantage of the skill by planting the olive groove on there already fertile land covered with varieties of fruits and vegetables.
Do visit the groove so you can gain an in-depth understanding of the company's history and how they operate. You can also learn the process of oil production.
Their olive oil is internationally acclaimed and has won numerous awards in that regard.
Il Fiorello Olive Oil Company is famously known for its single varietal oils from Italian, French, Greek, and Spanish varietals, so visiting them makes one of the fun things to do in Fairfield.
Address: 2625 Mankas Corner Road, Fairfield, CA 94534.
Florida makes one of the fun cities to explore, here is a guide on things to do in Ocala for a fun time in this city in Florida.
15. Scandia Family Center
Take your experience of fun to an entirely new level at the Scandia Family Center. Here visitors irrespective of the age are bound to have a memorable experience.
There are a lot of activities you can engage in while spending your day. They include taking a swing in the battle cages, trying your skills in the race car track, a superb time on the bumper boats, or experiencing the miniature golf course (they are award-winning courses).
There are two 18-hole courses and they have an array of features including ponds, obstacles, and gardens. This makes the play more challenging and fun.
For the kids, they can spend a good time at the playland which is filled with attractions appropriate for their age.
They can also try out a massive video game arcade at the center. It features both new age and classic games for your playing pleasure.
The Scandia Family Center makes for one of the fun things to do in Fairfield, CA, do consider for your checklist during your visit to the area.
Address: 4300 Central Place, Fairfield, CA 94534.
16. Vezer Family Vineyard
The Vezer Family Vineyard is known for producing the best wines in the region.
The vineyard and its winery is located in the California Suisun Valley, which has a very conducive climate and a combination of good soil to aid the growth of choice grapes.
The Vezer family vineyard is well known for its Petite Sirah and their Zinfandel have gone on to win numerous awards and accolades from across the country and also globally.
This is because they have gone ahead to transfer values of right practices and methods to the family thereby maintaining the standard of quality, complex and dynamic bottle.
Pay a visit to their public tasting rooms, the Blue Victorian or Manka's corner so you can engage in this activity.
Address: 2522 Mankas Corner Road, Fairfield, CA 94534.
17. Green Valley Country Club
One of the attractions in Fairfield is the Green Valley Country Club. Located in a picturesque environment, this is an 18-hole golf course that is also used for championship tournaments.
The Green Valley Country Club isn't popular only because of the challenging and beautiful course, but also because it has the perfect setting for corporate functions, wedding receptions, banquets, and a fantastic dining experience.
The banquet facility can accommodate 200 people.
You can also get all your golf needs from the Pro Shop. The course and show are both open to the public. There are also junior summer programs and privates lessons handled by two professional golfers
Address: 35 Country Club Dr 707-864-1101, Fairfield, CA 94534-1305.
18. Golden Gate Shuttle Inc.
The Golden Gate Shuttle Inc. is a luxury Private/Non Shared shuttles service operated in the Bay area. They serve numerous cities in California including Fairfield, Concord, Hercules, Sacramento, Benjcua, San Fransisco, and more.
Their vehicles are of luxury and good comfort, just waiting for a call from you to deliver amazing service.
Be it a ride to the airport, Napa wine tours, an important meeting, or city tours, they've got you covered and are available 24 hours/day all through the year.
Do not worry about traffic or driving, all you need do is relax and enjoy your ride. Their vehicle are all new and GPS-equipped.
Address: 4348 Pine Creek Cir, Fairfield, CA 94534.
19. Blue Victorian Vineyards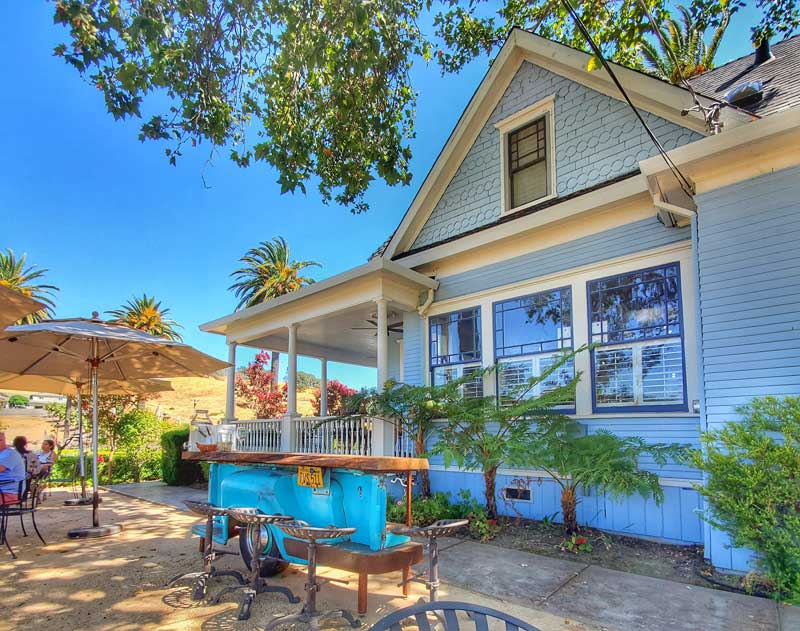 Many people describe the Blue Victorian Vineyards as simple, uncongested, and pure, hence it is a unique and tranquil place to spend your day while you till in Fairfield.
The vineyards are owned by the Vezer family and provide visitors with the opportunity of going on special extensive tours of this winery.
You can explore the vast acres of lush vineyard surrounding them and as well enjoy the sweet mix of wine in their tasting room.
You can also choose to relax in the barrel room of this winery or tasting room ( a very pleasant restored Victorian home).
Blue Victorian Vineyards gives you an experience of a list of award-winning wines from which you can choose while you enjoy the environment.
Address: 5071 Suisun Valley Road, Fairfield, CA 94534.
20. Suisun Valley Filling Station & Visitors Center
This has been a meeting point for both locals and travelers since the early 1800s.
Suisun Valley Filling Station proudly hosts a vintage gas station with an inspired tasting room.
Locals and visitors here come to sip a glass of artisan wine or craft beer made in the valley and further away.
It is a tradition in Fairfield you should participate.
Address: ​2529 Mankas Corner Rd Corner Clayton Rd, Fairfield, CA 94534-3135.
21. Sonoma Harvest Olive Oil & Winery
Let's move to a wine hub, it adds to our list of attractive places in Fairfield. The Sonoma Harvest Olive Oil & Winery began operation in 2004 with just a bottle of olive oil. They are family owned and have been a household name too.
Since 2004, they have been in the business of producing, bottling, and distribution of handcrafted oils, gourmet foods and fine wines form the enjoyment of the locals and visitors of Sonoma County.
They have a family-friendly tasting room, so you can come with your family & friends to have a taste of their four different wine varietals. These wines are produced using locally sourced ingredients and here is a perfect place for you to enjoy them.
They also served delicious dishes as a pairing for the wine or olive oil tasting as a compliment during your stay.
Address: 770 Chadbourne Road, Fairfield, CA 94534,
22. Wooden Valley Winery
Round up your tour with a place of great taste, the Wooden Valley Winery.
The Wooden Valley Winery started at the end of Prohibition in 1933 by two brothers, Salvador and Manuel Brea. Few years later, Mario Lanza moved over to Suisun Valley where he joined the brothers as a partner.
Ten years later, he became the sole proprietor of the winery, however he passed on the family-based values which he brought back from northern Italy.
Currently, the wooden Valley winery still entertains her visitors with the same pattern introduced by Mario Lenz many years ago.
They have a tasting menu and you will not only enjoy the specially-prepared blends of their wines there but also the meals served on their picnic tables.
You can also take exceptional photos of the environment and purchase all kinds of gifts and souvenirs which you would go home with.
Address: 4756 Suisun Valley Road, Suisun Valley, CA 94534.
23. Heretic Brewery and Distillery
Fairfield is home to an enormous commercial brewery which usually gets all the attention.
Heretic Brewery and Distillery is part of those to watch out for.
It has practically won the hearts of the locals and has become a favorite place for beer lovers.
There is a tasting room offering twenty-four beers on tap, including cocktails and other mixed drinks prepared from scratch.
Their beers vary from porters, pale ales, blondes, stouts, and more. You can join a free brewery tour, where you learn about the brewing process.
If you want to know the brewing process, you can take part in free brewery tours a few times a week.
To find out when the next one is, book ahead of time.
Address: 1052 Horizon Dr, Fairfield, CA 94533, United States.
24. Sonoma Raceway
An amazing location for car enthusiasts, Sonoma Raceway ought to be on your list of things to do in Fairfield, especially if you're one of them.
Sonoma Raceway is a premier motorsport center that is a location for world-class racing events.
It is a host of the AFM motorcycle racing, the NASCAR Cup Series, SCCA racing, the IndyCar Series, and so on.
Known as one of the most active racing centers featuring numerous events held throughout the year.
Sonoma Raceway also hosts other events, trade shows, corporate events, festivals, marathons, and lots more.
It features a good number of campgrounds offering fascinating views. You can book your ticket and get ready for an exciting show.
25. Benicia State Recreation Area
Benicia State Recreation Area is found exactly twenty miles from the city of Fairfield. It is a well-known tourist attraction featuring gorgeous hills, marshlands, diverse wildlife, charming greenery, nature trails, the Carquinez Strait, and beaches.
You will be enchanted by the beautiful verdant marsh and Carquinez bridge, which will make you appreciate nature's goodness.
Benicia State Recreation Area attracts different visitors, including roller skaters, cyclists, and anglers.
This place is perfect for birdwatchers as it is a refuge for several birds, including black rais, clapper rails, waterfowls, blue herons, and more.
The Recreation Area is an awesome place for fishing, with numerous campsites available for camping.
26. Suisun Harbor Theater
Suisun Harbor Theater offers exciting family-friendly activities, including theater performances. The theater serves as a creative setting for shows and several other events to be held.
It hosts comedy shows, plays, concerts, and musicals. The major aim of the Creative Arts Collective Group operating the theater is to create exceptional theatrical works which are available to all.
Suisun Harbor Theater is available for rental for various events like birthday parties, baby showers, weddings, and more.
The theater aims to create people's connections by using their talents in various ways.
Address: 720 Main St, Suisun City, CA 94585, United States
27. Six Flags Discovery Kingdom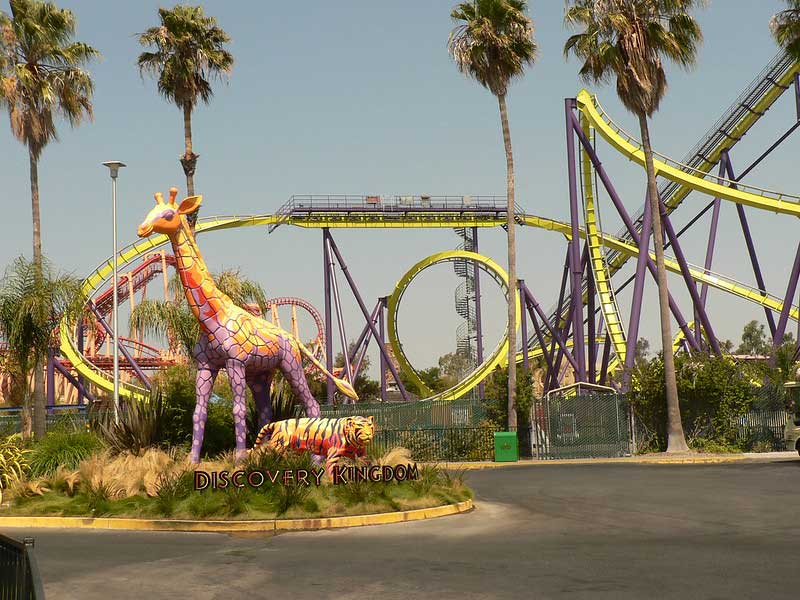 Six Flags Discovery Kingdom is nestled 14 miles away from Fairfield, and it is a well-known amusement park.
It features several enticing rides, exhilarating live shows, animal encounters, and great restaurants.
Home to giraffes, alligators, butterflies, snakes, walruses, cougars, penguins, otters, seals, tigers, lions, stingrays, and more.
Six Flags Discovery Kingdom offers you an opportunity to get close and intimate with the animals and touch and feed them.
You can also explore underwater by walking through the tunnel to watch fishes, sharks, and stingrays.
The amazing dolphin show is one to look up to, and it is one of the park's major highlights.
Six Flags Discovery Kingdom offers bumper cars, water rides, carousels, free falls, pendulum rides, miniature train rides, yo-yo rides, and more. Get to play around with African penguins and watch a Bengal tiger play and swim.
28. Western Railway Museum
If you're a car fanatic, visiting Western Railway Museum is one of the best things to do in Fairfield.
Western Railway Museum is a famous museum that showcases over fifty historic railroad trams and cars.
Most of the cars are functional, and visitors are allowed to explore the entire museum and view intriguing artifacts.
This is a popular place for train aficionados as they get to enjoy exciting rides on the streetcars and vintage trains.
Western Railway Museum comprises the original tracks of the Sacramento Northern Railway.
There are picnic areas where you can enjoy a delicious meal while you watch the trains.
Western Railway Museum offers a fifty-minute train ride with a streetcar ride that lasts fifteen minutes.
29. Rush Ranch Open Space
A perfect addition to your list of things to do in Fairfield is visiting Rush Ranch Open Space.
Rush Ranch Open Space is a beautiful location to explore with your loved ones as you're offered various activities.
This is an incredible place for tourists, hikers, photographers, and biologists. The space is a haven for every nature lover as it features gorgeous marsh and grasslands.
Rush Ranch Open Space features about two hundred and thirty bird species and several other kinds of animals.
This is your base if you're a fan of wildlife and bird watching with verdant hiking trails. You can explore the historical structures here and enjoy the captivating beauty of nature.
Rush Ranch Open Space features the habitat of a brackish tidal marsh that harbors helpless and endangered flora and fauna species, including the Suisun song Sparrow, California clapper rail, American white pelican, and more.
30. Vezer Family Vineyard's Mankas Gardens
How much do you think you know about your wines? Vezer Family Vineyard's Mankas Gardens would surely change your perspective about wines.
Vezer Family Vineyard's Mankas Gardens assure you a fantastic experience when you sip any of their award-winning wines.
The vineyards are known for their award-winning wines with gorgeous views of the area. Lots of wine lovers visit this place just to try out the Petite Sirah of the Vezer family.
Address: 2522 Mankas Corner Rd, Fairfield, CA 94534, United States
Take to exploring other parts of California, here is a list of things to do in Redwood City as well as things to do in Palmdale for a fun time in California.
Plan a Trip to Fairfield
Its no doubt that Fairfield, CA makes a great place for a vacation! this city has got everything it takes to give you an exciting vacation experience this summer.
From the bustling Suisun valley to the exciting Jump Highway, the amazing Glashoff Sculpture Ranch, and its wineries you will surely have a great time here.
Start planning for a vacation in Fairfield, pin this piece to guide your trip through this amazing city.