In search of the best and fun things to do in Brevard, NC?
Brevard is a small, calm city nestled in the heart of Transylvania County. It has a rich history and lots of things to keep visitors engaged and entertained.
The quaint downtown streets provide the opportunity to check art galleries, antique stores, and special boutique shops. You would also see various fascinating museums you can visit, including the Transylvania Heritage Museum and the WNC Military History Museum.
There also acts as access to the Pisgah National Forest, and you can spend some time outdoors if you desire.
There are lots of hiking and camping opportunities, and you can also visit the waterfalls! Let's explore the best things to do in Brevard, NC.
Things to Do in Brevard
1. Bike Transylvania County
Brevard is famous for its unique bike trails, so it's a great opportunity to go on that long bike ride you've always had in mind.
Biking the Transylvania county is one of the best things to do in Brevard, and with multiple established loops for bikers, it is the perfect way to experience a large portion of Transylvania County in such little time!
Why not try it out – go up the hills, race through the mountains, and relish the nature of Brevard.
2. Kayak in the French Broad River
The French Broad River is the third oldest river globally, even older than the mountains it passes through.
The name "French Broad" was given to distinguish it from other Broad River in North Carolina and because it drained into a territory held by the French.
This river has seen several years of history and is now popular for outdoor sports and water activities of all kinds. River clothier provides guided trips along the 200-mile-long waterway ranging from gentle canoe trips to whitewater rafting.
The French Broad River now contains a wide variety of fish, including catfish, largemouth bass, rainbow, and brown trout.
You can try kayaking along the river! There are different parts available for all skill levels to explore, ranging from a gentle float and wade to whitewater rafting.
And even if you are not a fan of water, the Asheville riverfront has been revived with artist studios, parks, and other businesses.
3. Slick Rock Falls
To enjoy some beautiful sites, add Slick Rock Falls to your list of things to do in Brevard, NC.
Slick Rock Falls, a stunning waterfall that reaches 30 feet, is located in the Pisgah Forest.
Its name comes from the slippery rocks at the top and bottom. Although it is located on a gravel logging road that leads to the falls, they are only 50 feet away from the road.
The waterfall's beauty is accessible all year round, although it is most spectacular in spring or after heavy rains.
A small camping area is just across the street from the falls if you wish to stay the night.
Address: Pisgah National Forest in Brevard (NC), United States
4. Art Loeb Trail
Hikers should add Art Loeb Trail to their checklist of things to do in Brevard, NC.
The Art Loeb Trail, which runs just over 30 miles from Haywood County to the Davidson River Campground outside Brevard, is widely regarded among the top hikes in North America.
It is generally hiked south to north and crosses the Black Balsam area and four 6,000-foot mountain peaks, including the Black Balsam Knob and Grassy Cove Top.
The trail is best walked in two to three days. There are many peaceful camping spots along its route.
5. Whistlestop Market
The Whistlestop market was established in 2003. It is a great place to go if you are looking for groceries or a wide selection of North Carolinian goods.
The original purpose of the market was to sell farm-to-table produce.
However, the main draw is fresh honey, dairy products and high-quality meats. Local wine and craft beer are also sold here.
Add Whistlestop Market to your list of fun things to do in Brevard, NC, for a memorable grocery shopping experience.
Address: 7825 Greenville Hwy, Brevard, NC 28712, United States
6. Transylvania Heritage Museum
The Transylvania Heritage Museum, which is housed in a historic house from the late 19th century, is an excellent resource for anyone interested in learning about Transylvania County's history.
Regularly, the main exhibit rotates. It covers everything from traditional handicrafts to the evolution of transportation over time.
The museum is open from Wednesday to Saturday, March through mid-December and April through October.
Once a month, the museum also offers guided walking tours in Brevard.
A visit to the Transylvania Heritage Museum is one of the top fun things to do in Brevard, NC, for some history time.
Address: 189 W Main St., Brevard NC 28712, United States
7. The Haen Gallery
The Haen Gallery, a contemporary art gallery, is located in the Lumberyard District. It focuses on large-scale sculpture.
Visitors are welcome to view the work of talented national, regional and local artists.
Visitors can visit the gallery from Wednesday to Sunday. However, they are also welcome to make appointments outside of normal hours.
The gallery offers a service for sculpture installation that will allow you to take any of the beautiful pieces home.
If you are an art lover, do not leave this attraction out of your list of things to do in Brevard, NC.
Address: 210 S Broad St., Brevard NC 28712, United States
Considering a vacation in South Carolina, do not miss out on these attractions in Summerville, Anderson and Spartanburg for a fun time here.
8. Silvermont Park
Silvermont Park, the former home of the Silversteen family, is an 8-acre park that includes an elegant Colonial Revival house.
A lovely wheelchair-accessible path leads through the park's well-maintained gardens, and visitors are also welcome to use the park's basketball courts, tennis courts, children's playground, and picnic areas.
Guided tours of this mansion are offered on Thursday evenings or Friday afternoons from May through October.
Every October, the park hosts the Pumpkin Festival, which includes local musicians, family-friendly activities and food trucks, and a spectacular display of carved pumpkins.
Address: 364 E Main St., Brevard NC 28712-38355, United States
9. Banff International Film Festival
Banff International Film Festival
Banff Mountain Film Festival is an annual film festival hosted by Brevard College. This festival is the world's premier showcasing of mountain culture films from various parts of the world.
Being a part of this festival is one awesome thing to do in Brevard as it attracts numerous tourists from various cities.
It is a film festival dedicated to mountain culture, possibly the essence of the small concentrating culture here in Brevard.
So aside from the astounding views every day, see the incredible films made by people (who love the mountains) everywhere!
10. Allison-Deaver House
The Allison-Deaver House was built in 1815 and is the oldest remaining standing frame house in the region.
The house and offers a fascinating look at the history of western North Carolina.
Although the original design was based on row houses in England, the building has seen many changes over the years. The most notable being the addition of double porches in the 1850s.
Visitors are invited to the house between May and October on weekends. If you wish to visit outside these times, you may be able to arrange for a special appointment.
Address: 2753 Asheville Hwy, Brevard, NC, United States
11. Brevard Little Theatre
For some theatre time, add a visit to the Brevard Little Theatre to your list of things to do in Brevard, NC.
The Brevard Little Theatre, which is located in the American Legion Building, has provided entertainment for the community since the 1930s.
Every season features a new production. Shows are held from Thursday to Sunday.
The theatre is completely run by volunteers. Newcomers are welcome to help build sets, distribute flyers and work the box office.
You can try acting by joining the theatre's "BLT To-Go" troupe, which provides entertainment for local non-profit organizations.
Address: 55 E Jordan St. Brevard NC 28712, United States
12. The Inn in Brevard
The Inn at Brevard was originally the home of a wealthy widow who came from Virginia in 1885.
Since 1940, it has been welcoming guests from out-of-town. Each room has beautiful antiques and period furniture.
Art lovers will love the collection of paintings throughout the inn. On request, the inn offers delicious homecooked breakfasts.
The inn also has beautiful event spaces available that can be booked for full-service weddings, meetings and other special events.
Address: 315 E Main St., Brevard NC 28712, United States
13. Hike the Looking Glass Rock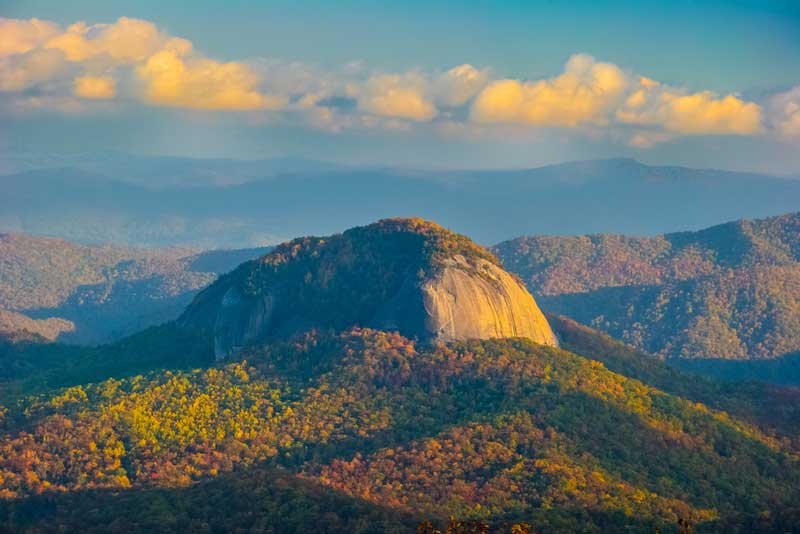 If you desire a hike with quite a bit of a workout but amazing scenery to make up for all the climbing, then head to the Looking Glass Rock.
Located off the Forest Heritage Scenic Byway, the Looking Glass Rock Trail is very popular and can be somehow crowded on warm-weather weekends. It provides the perfect winter hike.
The Looking Glass Rock Trail climbs about 1,700 ft. in more than three miles (6 miles round-trip). It is a long and moderately difficult climb, thanks to the many switchbacks (even a waterfall) along the way.
If you are strong, you can hike to the top in one hour, thirty minutes, and down in an hour. There is impressive scenery from the top, which is worth the effort.
The trail is easy to follow because of its yellow blazing.
Come with some snacks or lunch and enjoy a picnic with an awesome view at the top. Just like every hike requires, take plenty of water. There are restrooms and vending machines at the closeby Center for Wildlife Education.
14. Crystal Mountain Gem Mines
Crystal Mountain Gem Mines is a great place to visit if you are interested in mining your gemstones.
They bring the knowledge of digging through soil and dirt to find your own treasures in the heart of Brevard.
All the gems that you find are yours to keep. This is a popular activity among children, but it's also very popular with adults.
When you visit Crystal Mountain Gem Mines, you will find sapphires and emeralds as well as ruby.
You can visit the place from 10 am to 6pm, everyday day of the week.
15. Pisgah National Forest
If you are a lover of nature, add a visit to Pisgah National Forest to your list of things to do in Brevard, NC.
The pristine forest covers 500,000 acres and is a world-famous attraction, George W. Vanderbilt used to own the natural forest, and many consider this place to be the birthplace of modern American forestry.
Pisgah is also home to the highest mountain peaks east of Mississippi. Two of the Eastern United States' first designated forest areas in Pisgah are the Shining Rock and Linville Gorge.
The forest is divided into three districts. The Pisgah Ranger District is located south of Asheville, on either side of Blue Ridge Parkway.
The Appalachian Ranger District is located northwest of Asheville, along the North Carolina/Tennessee border.
Northeast of Asheville includes Mount Mitchell. Additional areas in the Grandfather Ranger District include Linville Gorge and other Eastern regions.
Hiking is possible on the trails of Pisgah Natural Forest. You will pass majestic waterfalls along the way and climb the highest peaks east of Mississippi.
Blue Ridge Parkway is one of the most beautiful driveways in America. Picnic lovers will find plenty of shelters in the natural forest.
Mountain bikers will love this forest, which has many trails that offer breathtaking access to the forest's depths.
Pisgah's natural forest should not be missed. There are so many things you can do that you might not want to go back when you're supposed to.
It is a good idea to have a plan and extra time before you go. You will feel refreshed and might want to return to the forest some other time.
Address: 1600 Pisgah Hwy, Pisgah Forest, NC 28768, United States
Planning a trip in Washington?, check out our list of things to do in Bellingham, things to do in Yakima and things to do in Tacoma for a memorable trip.
16. Brevard Music Center Festival
Are you still thinking of what to do in Brevard? The Brevard Music Center is a lovely destination.
Located on a beautifully wooded 180-acre campus in western North Carolina, Brevard Music Center exists as one of the major summer training programs and festivals.
Every summer, 500 gifted students come to the Music Center to study under the guidance of different professional conductors and with renowned guest artists and distinguished faculty.
This center organizes many concerts and events all through the year, capping off in a summer festival!
With its focus on classical music, the center still features diverse categories of concerts every year. This includes orchestras, fully-staged operas during the summer, soloist, and chamber music.
You can purchase tickets at very affordable prices, and it is a fantastic way to engage younger generations with classical music.
The 2200-seat, open-air Whittington-Pfohl Auditorium and the latest 400-seat Parker Concert Hall are the main BMC performance venues.
Address: 349 Andante Lane, Brevard, NC 28712
17. Connestee Falls
Transylvania County bought the Connestee Falls in 2008, and it has been open to the public every day of the week since.
Connestee Falls, an 85-foot waterfall, is where you can view the famous "Silver Slip".
The Silver Slip is the place where Batson Creek Falls meets Connestee over a ravine.
The stunning waterfall is not the only attraction in the area. There are beautiful lakes and a championship-level golf course.
You can enjoy the magnificent clubhouse, hiking trails and pickleball courts, as well as pool, tennis courts and a wellness centre to recharge your batteries.
Connestee Falls has become a popular area for those who wish to settle down in a tranquil, scenic place. Connestee Falls is well worth the effort.
18. Enjoy the waterfalls at Gorges State Park
One of the most thrilling places to visit in Brevard is Gorges State Park. A visit to this park should be on your bucket list of things to do in Brevard.
Gorges State Park is located in the midst of rugged river gorges, plunging waterfalls, rugged river gorges, a High concentration of rare species, and sheer rock walls.
If you didn't see a waterfall at any of the other places, you'd find a whole lot here, including wildlife and even long hikes around the beautiful area.
Exploring this unique environment starts from the expansive visitor center, where picnic grounds and shelters supplement museum-quality exhibits.
If you are feeling adventurous, there are opportunities to camping at the park. You can knapsack through the park, trout fishing, horseback riding, mountain biking, and more for a massive submersive experience!
Address: Frozen Creek Road, Brevard, NC 28712
19. The Veterans History Museum of the Carolinas
The Veterans History Museum offers a unique opportunity to learn more about those who served our country, as well as some historical moments in American history.
You will find unique artefacts, uniforms from service branches, photos taken overseas and at home, as well as other items related to the country's military history.
Emmett Casciato, a famous curator, looks after the museum.
Artefacts are from the first and second world conflicts and the Korean War, Vietnam War, and Gulf Wars. There are also some other special items.
It's an incredible educational experience that everyone can enjoy. A visit to the site might also spark curiosity in your child about the country's past and glory.
Address: 21 E Main St, Brevard, NC 28712, United States
20. Grab a bite at Rocky's Grill & Soda Shop
Brevard, as it were, may not really be a popular town, but if you have a clear direction of what to look out for, it has plenty of hidden treasures that may be the peak of your trip to North Carolina.
Rocky's Grill & Soda Shop adds to our list of top things to do in Brevard and a place you need to visit.
Obviously, they serve good food, but apart from that, Rocky's Grill & Soda Shop is one of the most visited spots in town.
Just the curb alone would send an appeal enough to capture every visitor's attention.
Rocky's Grill & Soda Shop is the definition of all-American, and the restaurant is dedicated to the same personal service, quality, and integrity as the old fountains of yesteryear.
You'll find an original fountain serving unique sandwiches and salads, scrumptious shakes, ice cream, and soda concoctions; fun and long-lasting memories.
They are open from Tuesday to Saturday, and the time is 11 am to 6 pm (closed on Sunday and Monday).
Address: 50 South Broad Street, Brevard, NC 28712
21. Log Hollow Waterfalls
Log Hollow Waterfall has a 4.0-kilometre back trail that is moderately used.
Tourists and hikers prefer to visit the area between May and September each year, as it can be difficult to get there during the other months.
However, this should not discourage you from pursuing your dreams. The rewards are well worth the small inconveniences.
If you follow the trail, you can see four waterfalls. Log Hollow and Logging road Falls are easy to reach and kid-friendly.
Upper Log Hollow Falls and Discovery are slightly more difficult to reach because the hiking trail isn't as easy.
You can still get there and enjoy its beauty and calm. Log Hollow Waterfalls is a great place for campers and experienced hikers.
Beginners can also visit the area to experience it firsthand and then return later with more preparation.
22. Brevard Brewing Company
If you are a lover of beer, Brevard should take you by surprise. You may have had little or no knowledge about this town until today, but one thing they're very proud of is Brevard Brewing Company.
Opened in April 2012, Brevard Brewing Company is a local business owned by a family. They were the first brewery in the entire Transylvania County.
Although they specialize in German-inspired lager beers, their American ales are also as popular as the former.
Be sure to visit this craft brewery and purchase bottled or canned beers. You can also take a piece of beer back home as a souvenir.
The brewery is open from Monday to Thursday: 2pm – 11pm; Friday to Saturday: 12pm – 12am; and on Sunday: 2pm – 10pm.
Address: 63 East Main Street, Brevard, NC 28712, United States
23. WNC Military History Museum
One of the best things to do in Brevard, NC, is visiting WNC Military History Museum, located in downtown Brevard.
The museum tells the stories and experiences of American veterans who served in the 20th-century military.
Many of the exhibits were donated by veterans and their families. Each room is dedicated to a different war.
The Special Exhibits Room features rotating exhibits on different war-related topics. The museum is open from Wednesday to Sunday, and admission is free.
Address: 21 E Main St., Brevard NC 28712, United States
Explore more cities in North Carolina, check out our list of things to do in Murphy, things to do in Asheboro and things to do in Cherokee for a fun time
Plan your trip to Brevard
As small as it is, Brevard does not lack in places or things to do. Just like you've learned, there are activities that would keep you engaged throughout your stay in the city.
So, start preparing towards making here your next place of vacation. Don't forget to include your loved ones in your plans!
If you need to explore the top things to do in Brevard, this piece can always be of help.
Safe travels!