In search of the best and fun things to do in Blairsville, GA?
Blairsville is a beautiful city and the county seat of Union County, located on the northern border of Georgia, United States.
Blairsville, Georgia, rests in 1832 on land ceded by the Cherokee Indians. The city was a center for gold-mining activities until 1910.
The exciting city lies in a great forested area, and it is headquarters for the adjacent Brasstown Ranger District of Chattahoochee National Forest.
Here are the best things to do in Blairsville, Georgia.
Things to Do in Blairsville
1. Explore Vogel State Park
Vogel State Park rests in the heart of the Chattahoochee National Forest, one of Georgia's oldest parks.
The park is one of the best destinations for tourists that share an unending convention with its Civilian Conservation Corps builders by providing swimming, fishing, hiking, and enjoying a family fun time in a diverse mountain landscape.
The Vogel State Park features a well-kept area for a nice walk around the lake with your friends and loved ones. The staff in the park are nice and friendly. The 223-acre lake features campsites and primitive backpacking sites, cottages that provide overnight accommodations.
The park is the second oldest state, situated at 2500 feet above sea level. Park is open to non-motorized boats, and visitors can relax and enjoy the air and mountain-view beach during summer.
In Vogel State Park, annual events take place there: the springtime Wildflower Walk, Independence Day flag-raising ceremony, CCC Reunion, Kids Fishing Rodeo, Mountain Music, Arts & Craft Festival, and many others.
The park offers outdoor activities like camping, backpacking, and picnic shelters for picnics. The park has 103 tents, trailer and RV sites for camping, 18 walk-in campsites, and 35 cottages.
Address: 405 Vogel State Park Rd, Blairsville, GA 30512-7643
2. Lake Nottely
Blairsville is home to Nottley Lake, which is not only one of the most picturesque spots in the area but it also aids in controlling floods.
It is located at the Southeastern end of the Georgia River. The Chattahoochee Forest, with its mountains and valleys, surrounds the reservoir.
This location also features a beach and camping sites, making it ideal for extended family picnics. You can also view wildlife.
Visitors can also fish in the Nottely Lake for rainbow trout, striped bass, and several other fishes.
Additionally, The facility has a museum and a recreation center for visitors to enjoy.
3. Trackrock Campground
Trackrock Campground is the right place to visit if you love horses and horse riding, and it is worth adding to your list of things to do in Blairsville, GA.
The campgrounds offer many options for their guests. There are 95 campsites, all uncrowded and shaded.
Pop-ups, tents, and R.V.s with a maximum of 40 persons are allowed in the area. You can rent a cabin with one or two bedrooms and enjoy a relaxed couple of days.
Each cabin is fully furnished with modern amenities, including a kitchenette and a bathroom. The area is surrounded by the Chattahoochee Forest, which offers a beautiful view and atmosphere.
They offer horseback riding lessons, riding lessons as well as swimming, fishing, and other lessons. They are also open to Boy Scouts and Girl Scouts as well as church groups and camping in a group.
Address: 4887 Trackrock Camp Rd, Blairsville, GA 30512, United States
4. Union County History Trail
Blairsville is rich in both historical and cultural history, as mentioned. It's fascinating to learn about the region, the community, and their origin.
It can be a rewarding experience to follow the history trail. Seventeen locations are more than 50-years-old.
These are great places to learn more about the locality. You can visit two museums along the trail: the Vogel State Park and the Mountain Life Museum.
You can also pay tribute to Civil War soldiers who are buried at Old Blairsville Cemetery.
Sunrise Grocery or Alexander's Store will give you a real taste of everyday life in the county.
5. Helton Creek Falls
Helton Creek Falls features a gorgeous waterfall and excellent trails for hiking. You will find a small stream on your way up then a short route to get to the bottom of the falls.
Visit Helton Creek Falls for an exciting adventure and an enjoyable hiking experience. The Helton Creek consists of two enormous waterfalls within the Chattahoochee National Forest in Union County, Georgia.
The two sets of waterfalls slide down in tendrils through a beautiful, hemlock-filled creek valley. The trail that leads to the beautiful waterfalls is not a long hike, making it fun for families or friends to view the beautiful mountains and waterfalls.
The hike starts at a trailhead south of Vogel State Park; the trail then takes a gradual curve as it gently descends into a forest filled with mixed coniferous trees, hardwoods, and rhododendron.
As the trail goes down into the valley, the hike catches through-the-trees views of the upper and lower falls on the tumbling creek leading into the mossy, rocky valley below.
Have fun hiking and watching the waterfalls with your friends and family in Helton Creek Falls.
6. The Meeks Park
One of the best fun things to do in Blairsville is visiting Meeks Park, located on Highway 515 just west of Blairsville.
The Meeks Park was established in 1992, and it is an excellent spot for those who want to enjoy the outdoors and get some sun.
You can also take your children to Meeks Park, which has a playground, basketball courts, and batting cages.
This place is perfect for romantic picnics with your partner if you love nature. You can also enjoy a meeting at the Disc Golf Course if you're on a business trip.
Address: 490 Meeks Park Rd, Blairsville, GA 30512, United States
7. Byron Herbert Reece Farm and Heritage Center
Byron Herbert Reece was a notable poet and novelist who tended his family farm in a steep valley beside Wolf Creek in southern Appalachia.
Byron Herbert's farm has been preserved as a monument to his literary achievements and to aid people to learn about how life was like on a farm in the first of the 20th century. Visitors get to learn about the hardships and rewards of farm life in Appalachia through lots of educational displays.
The farm features a chicken house, restores barns, smokehouses, petting farms, barns, con crib, and spring houses. The Stats of the art displays tells the story of Byron Herbert Reece, a writer, a poet, and a farmer who lived on the site.
As the exhibits showcase the Appalachian style of farming in the early 1900s, it is also a gift shop, visitor's center, theater, and picnic tables.
Address; 8552 Gainesville Hwy, Blairsville, GA 30512-7638
There are quite some tourist attractions awaiting your exploration in Iowa, check out this list of things to do in Iowa City, and fun things to do in Des Moines for a memorable exploration
8. Georgia Mountain Research and Education Centre
The best thing about traveling is all the knowledge you can gain from your surroundings.
Blairsville is the perfect place to do just that at the Georgia Mountain Research and Education Centre.
This place was established in 1930 and covered an area of 445 acres. With their extensive research, they primarily assist local farmers.
There are also educational seminars and interactive workshops hosted in this attraction.
Their campus has a beautiful public park.
Every week, guided tours are offered. The center also features the Woodland Medicine Trail.
This is the place to go if you or your kids are interested in learning more about native herbs and how they are used.
Address: 195 Georgia Mtn Exprmnt Sta, 5928 30512, Hollow Hill Rd, Blairsville, GA 30512, United States
9. 7M Family Farms
7M Farm is a family-owned business that combines greenhouse and hydroponic operations and naturally grown open-field farming to produce a year-round bounty of pesticide-free fruits and vegetables.
7M Family Farm operates in North Georgia's Mountains which grows 125-row acres of fresh produce. The produce is grown naturally through summer, fall, and spring seasons; it also grows vast greenhouses year-round.
Products in 7M Family Farm have colored bell peppers, seedless cucumbers, tomatoes, min Persian cucumbers, eggplants, Romaine Lettuce, Kale, Grape Tomatoes, hydroponic Bibb Lettuce, and others.
In 7M Family Farms, products can be in retail packages according to each customer's requirements.
You can also have lunch in the area as the farm offers weekly side attractions, the Peak Cafe with unique and tasty foods prepared by a good and friendly chef.
Address: 596 Crump Creek Rd, Blairsville, GA 30512-4769
10. The Brasstown Bald Trail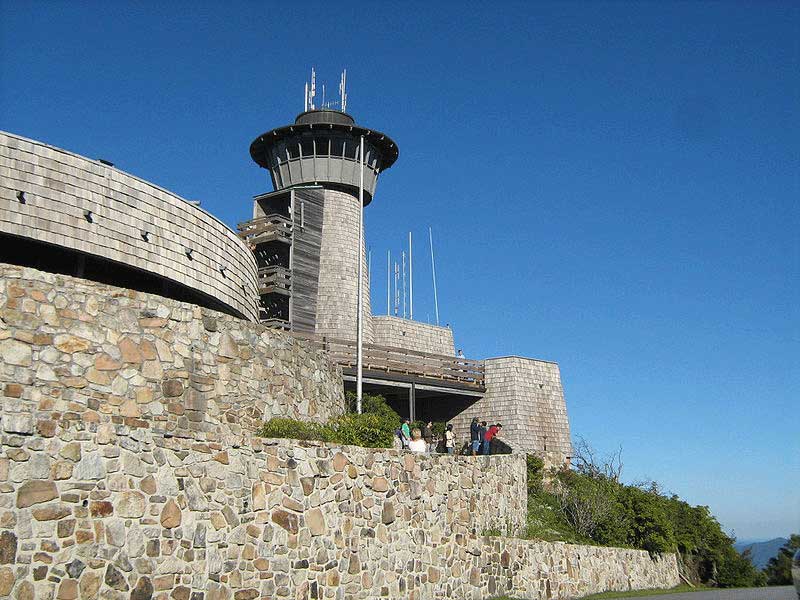 One of the best ways to explore Blairsville is through The Brasstown Bald Trail, and it is worth adding to your list of things while in the city.
The trail leads to the highest point of Georgia. If the sky is clear, it is possible to see all of Georgia, North Carolina, and South Carolina simultaneously.
The trail's visitors center has a variety of historical and geological exhibits.
A shuttle service is available that runs all day until 4:30 p.m., with a brief break between 12 noon and 1:30 in the afternoon.
There are also options to hike up to the top, but you should start earlier as it closes at 5 p.m.
11. Hiking to waterfalls
Blairsville, GA, is home to many beautiful waterfalls, and these can be visited with your family, depending on your level of expertise.
You can visit Helton Creek Falls and the Minnehaha Falls if you're an amateur. You can also visit Hurricane Falls or Hemlock Falls if you're a little experienced in hiking.
Last but not least, the Raven Falls and Panther Creek Falls are great options for adventure seekers who want to experience real adventure.
These falls are great for families, and they're filled with scenic beauty and greenery.
12. The Hole In The Wall
Blairsville is home to many trails, parks, national parks, and also restaurants.
The Hole In The Wall in Blairsville, which is one of the most sought-after restaurants in Blairsville. This restaurant was established in 1931 and should be on every tourist's must-see list.
The menu is compact and straightforward. They offer breakfast all day. Try their Country Fried Steak with sausage gravy or brown sauce if you're looking for dinner ideas.
You can also visit the Hot Mess for breakfast before you go on a long hike or trek. It has everything from potatoes to sausages.
Eating in this restaurant is one of the best things to do in Blairsville for a memorable dining experience.
Address: 12B Town Square, Blairsville, GA 30512, United States
13. Desoto Falls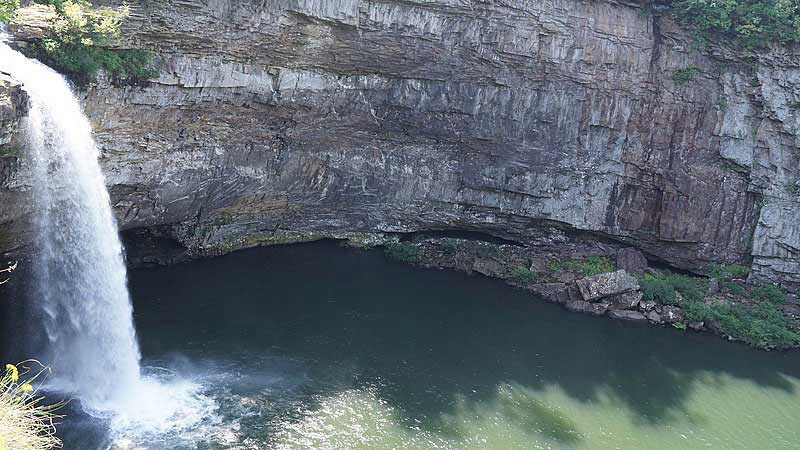 The DeSoto Falls is a Recreation Area off Highway 129 inside the National Forest boundary. The campground in the area is a scenic spot with easy access for either a camping weekend or a fun hike to the falls with your friends or family.
You will discover two waterfalls as you can quickly view them along the DeSoto Falls trails.
Enjoy hiking with your friends and family in the two-mike Desoto Falls trail near Helen to a pair of waterfalls there, and you will learn a legendary story of how a piece of armor from Desoto's expedition in the mid-1500s.
The beautiful forest is full of gnarly leathery-leaved rhododendron and tumbling creeks. The hiking trails are relatively short, kid-friendly distance, and the moderate elevation change is what made it one of North Georgia's most famous waterfall hikes.
14. The Historic Town
Blairsville is home to several fine boutiques, grocery stores, and shops that sell specialty goods.
For a memorable shopping experience, add shopping at The historic town to your list of things to do in Blairsville, GA.
Shop Rustic Mountain Decor for home decor items to decorate your home or the home of a friend.
The Origami Owl is a great place to fine jewelry. Victoria's Antiques is the right place if you love antiques.
Blairsville also boasts a thrift shop called S.A.F.E. Thrift. You can now indulge in a sustainable fashion by buying locally grown flowers from The Flower Garden.
15. Odom Springs Vineyard
This is the perfect place to go on a romantic getaway for you and your partner. It is a family-owned winery and is about 2 hours from Blairsville.
Odom Springs Vineyard is an ideal spot to plan a surprise proposal or an anniversary celebration.
A lodge is also located in the vineyard, which is actually the family home where the owner was born.
The home has a master bedroom, two additional bedrooms, and a deck. There is also a kitchen and laundry room.
An entire group of 12 people can stay together in the lodge. Their bestseller is the Earl's Reserve, an award-winning wine that is available only occasionally.
Address: 637 Odom Rd, Blairsville, GA 30512, United States
Planning a Texas road trip? also, check out our list of things to do in Rockport, things to do in Abilene, and things to do Odessa in for a fun Texas trip
16. Union County Historical Courthouse
The Union County Historical Society was initiated in 1976 to promote and preserve the history and culture of Union County.
The Union County Historical Society maintains three historic heritage structures within Union County: the Courthouse, the Grapelle Butt Mock House, and the John Payne Cabin.
The Union County Historic Courthouse was built in 1899 and designed by a notable courthouse architect named J.W. Golucke.
The Union County Historical Courthouse opens from January through April from Monday through Friday from 10:00 am to 4:00 pm. Also, in May through December from Monday through Friday by 10:00 am to 4 pm & Saturday from 11 am to 3 pm.
Visit The Union County Historical Courthouse to discover fascinating histories and architectural buildings as admission is free.
Address: 1 Town Square, Blairsville, GA 30512
17. Grumpy Old Men Brewery
This micro-brewery was opened for the first time in 2012. Their motto is "If we don't like it, we don't drink it, and If we don't drink it, we don't sell it."
This motto ensures that the beer you buy here is of high quality.
You can visit the brewery to get some local beer, and while you're there, pick up some cool merchandise at their shop.
Jeff's Hot Dogs is an excellent option if you're looking for something to eat while enjoying their beer. They complement the extremely smooth beer served in the Grumpy Old Men brewery.
Address: 1315 E Main St, Blue Ridge, GA 30513, United States
18. Blairsville Pickers Barn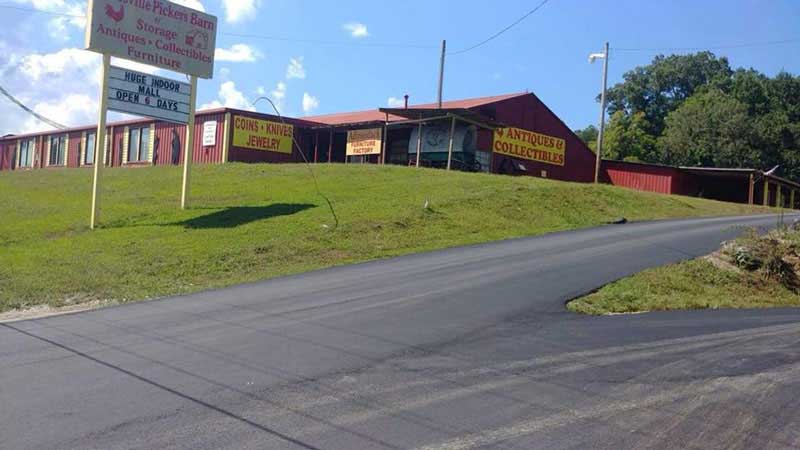 Blairsville Pickere Barn is the perfect spot for antiques, collectibles, handcrafted items, arts, crafts, furniture, coins, and gold.
Blairsville Pickers Barn is a 27,000 square foot indoor mall where you will find unique antiques, lovely jewelry, glassware, silver, pottery, DVDs, custom-made Adirondack furniture, and lots more.
Visit the Blairsville Pickers Barn, as it offers excellent selections of local antiques and goods to select and purchase.
The Blairsville Pickers Barn features unique booths with lots of vendors. The barn opens every Monday through Sunday from 9:00 am to 5:00 pm except Tuesday.
Address: 27 Orbit Dr 1.75 miles South of the Square, Blairsville, GA 30512-4549
19. Lasso the Moon Alpaca Farm
Technology has alienated children from nature and its flora, one of the worst effects on them. Blairsville offers many wildlife viewing opportunities. However, the Alpaca Farm is also available.
Bring your children to the farm for an unforgettable experience with the sweetest alpacas.
Children and their families can enjoy guided tours that take them around the alpacas' natural habitat. This activity can enrich the social and emotional experiences of children of all ages during vacations.
A visit to the Lasso the Moon Alpaca Farm is one of the best things to do in Blairsville with kids.
Address: 106 Agape Dr, Blairsville, GA 30512, United States
20. The Herb Crib
The Herb Crib is a peaceful haven away from all the hustle and bustle of the city. This attraction is located in the middle of exotic greenery and will provide you with the ultimate rustic vibes.
Learn about herbs and their history, as well as their medicinal uses while in the Herb Crib. You can also buy herbs and learn how to grow them yourself.
The Herb Crib offers a variety of workshops, including soap-making and herbal medicine-making.
This is the right place to be if you believe in nature's healing power.
Address: 2998 Trackrock Church Rd, Blairsville, GA 30512, United States
21. Union County Farmers Market
Are you interested in agriculture? If yes, add a visit to the Union County Farmers Market to your list of things to do in Blairsville, GA.
Blairsville is a significant agricultural community. The county's residents consider farming not only an occupation but a way of life.
You will learn a lot about agriculture and farming while you are in the area.
Union County Farmers Market is where you should go to see the products proudly displayed by the community.
Not only will you have fresh produce, but you will also meet the people who make it. To be truly grateful for the hard work of those who feed us throughout the year, everyone must go through this experience.
Address: 290 Farmers Market Way, Blairsville, GA 30512, United States
22. Blairsville festivals
Blairsville's ga community is passionate about celebrating festivals. You can find many festivals in the city while you visit, so plan your trip around these to have more fun.
You should not miss the Sorghum Festival, held in October, and the Spring Arts and Crafts Festival, held in May. The Green Bean Festival takes place during the last weekend of July.
The various mountain parks also host a variety of mountain festivals. Other than that, the Fourth of July and Memorial Day Parades are important parts of community life.
Participate in these activities to better understand the people and place.
Blairsville, Georgia, is accessible throughout the year.
Spring is the best season to visit. It is warm and inviting and is the best time to experience everything without worrying about rain or snow.
23. The Mountain Life Museum
The Mountain Life Museum features several historic structures such as the Mock House and the Civil War-era Payne Cabin, a barn, a corn crib, and a smithy.
In 1906, the Mock House rested on a 1.8-acre site at the Union County Historical Society's Mountain Life Museum situated on a block south of the Square. The Mock House was donated in 1994 by the Grapelle Mock Estate to the Historical Society.
The Mock House, after its restoration, the expansive lawn is now the location for different events like the Labor Day Weekend, the Mountain Heritage and Marketplace Festival, which celebrates the mountain community's lifeways, history, and folk traditions. The site also includes two 1800's log cabins and several other historic farm structures.
Built in 1861, The John Payne Cabin stands behind the Mock Home. The Payne family, members of the Pvt. David W. Payne Camp, Sons of Confederate Veterans, and others bought, moved, and restructured the cabin.
The works of the Payne family and others created an entire historic village.
Visit the Mountain Life Museum for a guided tour and discover historical buildings, cultures, lifestyles, and other exciting things. The museum opens in May through December.
Address: 25 Veteran's Memorial Parkway Corner of Cleveland Street and School Street, Blairsville, GA 30512-3561
24. Pappy's Trading Post
Pappy's Trading post is situated on the outskirts of Blairsville. It has been an essential part of the community for several years.
Additionally, this attraction is conveniently situated alongside a flowing River, making it perfect for guests to go tubing in the water. This small, welcoming shop is filled with furniture, antiques, and treasures.
Spending an afternoon tubing down the river and hunting for treasures in the shop is a fantastic thing.
At this shop, you can find a great selection of cards, gifts, and other pretty trinkets you can use as home décor or buy for a loved one.
Pappy's Trading Post is an ideal and fun place for all ages.
Address:50 Pappy's Plaza, Blairsville, GA 30512, United States
25. Blairsville-Union County Chamber of Commerce and Welcome Center
The Union County Community Center houses the Blairsville- Union County Chamber of Commerce and Welcome Center.
When you visit the Chamber of Commerce's office, you will be offered a friendly welcome and helpful assistance.
At this place, guests can gather tons of materials in a comfortable setting while preparing for their visit or fantasizing about relocation and retirement within the area of the stunning Union County.
Additionally, you can acquire information about Union County's geography and demographics.
Address: 129 Union Co Rec Rd, Blairsville, GA 30512, United States
Want to check out other cities in Georgia? here are guides on Gainesville, and Valdosta for a fun Georgia exploration.
Start Planning your trip to Blairsville
Blairsville is a lovely city filled with family fun, beautiful mountains, exciting hiking trails, restaurants, swimming beaches, parks, gardens, and many other fun recreational centers to visits.
Blairsville, a gem in Georgia, features picturesque areas and scenic drives from high peaks to green valleys to verdant forests, bubbling creeks, and streams.
Blairsville, Georgia, is a perfect spot for your plans if you need a place to get away, plan hangouts, family and friends picnics, a get-together, and other fun outdoor activities. So why don't you start planning your next vacation to the lovely city as it is worth your visit