Located in the Oconaluftee River Valley, Cherokee is a small town in North Carolina, near the southern entrance of Great Smoky Mountain National Park. It is named after the early settlers -Cherokee people- who have more than 10,000 years of history in this great location.
It is popular for accommodating the remnants of tribal history and is the base of the Eastern Band of Cherokee Indians. You can learn of the Cherokee tribe, historical sites and interesting cultural spots.
There are outdoor activities to add to your bucket list of things to do in Cherokee, NC, as well as various restaurants, museums and parks.
For a fun vacation, Let's explore the top things to do in Cherokee, North Carolina.
Top Fun Things to Do in Cherokee
1. Appreciate Nature at Mingo Falls
Mingo Falls is situated on the Cherokee Indian Reservation, very near to Great Smoky Mountain National Park. These Falls are more than 120 feet in height, making them not just the tallest but one of the most interesting waterfalls in the southern Appalachian Mountains.
If you are mobile, you can get to half a mile of the falls while driving along Big Cove Road, which in turn leads to the Mingo Falls Campground. From this point, you would take the Pigeon Creek Trail on foot, which leads you to the base of the waterfalls, where you can get the best views.
Although this trail is not more than a mile in distance, it is steep and has 160 steps for you to climb. Nevertheless, the general conclusion is that seeing the falls are worth the effort
Address: Mingo Falls, Eastern Cherokee Reservation, Cherokee, NC 28719
2. Relish the Moment at Unto These Hills Cherokee Theatre
Since 1950, the Unto These Hills Cherokee Theatre has been in the business of entertaining visitors at Mountainside Theatre. Here, the drama department of the University of North Carolina and the local tribe coalesce to tell of the Trail of Tears tale.
The Trail of Tears started in 1780 and stretched to the 21st century. This historical event involves 16,000 Native Americans who relocated to the Mississippi River's west from the regions against their will.
From June to August, the Mountainside Theatre, which a 2,800-seat capacity, presents a production of Unto These Hills every night. This theatre features dance performances, traditional music and more, which adds to the production.
Being an outdoor amphitheatre, this theatre is situated on a beautiful hillside, allowing you and other guests to watch the show with a forest stage. It is simple to decipher why this is one of the best Cherokee NC attractions.
3. Enjoy yourself at the Great Smoky Mountains National Park
Great Smoky Mountains National Park covers more than 800 square miles of exceptionally beautiful natural beauty and variety, and it is the most frequented national park in the US
This park straddles the border between Tennessee and North Carolina, and the best way of seeing a great extent of this park is by setting off on a picturesque drive. There are more than 300 miles of roads leading to various historic sites and viewpoints and passing through miles of lofty forests.
There are several biking and hiking trails, horseback riding trails, numerous campsites and campgrounds and great opportunities or excellent wildlife watching and year-round fishing.
4. Qualla Arts and Crafts Mutual, Inc
One of the top things you can do in Cherokee is taking a trip to Qualla Arts and Crafts Mutual, Inc., Located east of Mississippi; it is the largest spot for authentic native arts and crafts. It is also the chief and oldest Native American Arts Cooperative in America!
Every salesperson at Qualla Arts and Crafts Mutual, Inc is Cherokee, and they are all knowledgeable and very friendly, giving you information of each sold craft to the very detail. There are masks, jewellery, baskets, jars, pottery and more, all hand-made authentic and unique as it gets.
Opened in 1946, the Qualla Arts and Crafts Mutual, Inc has been promoting over 350 artisans and their beautiful work. Every item has the name of its native artist tagged to it, such that you can feel and hear their story.
Address: 645 Tsali Blvd, Cherokee, NC 28719, United States
5. See Soco Falls
Are you in search of some of America's most beautiful places? Then, you have one in Soco Falls. It is one of the most beautiful spots in this town, and a trip here is an awesome option of top things to do.
Surrounded by lush greenery, this native waterway is in a secluded, private location which adds to the gushing water's magic. Soco Falls is a double waterfall, and it's higher Fall measures 120 feet; and you can easily climb to its observation deck if you want to capture nice views of the rush from above.
In the 1700s, natives used the Sock Gap as an entrance point to their settlements, so you learn of more historical relevance by visiting here.
Address: US-19, Maggie Valley, NC 28751, United States
6. Cherokee Must-See: Mountain Farm Museum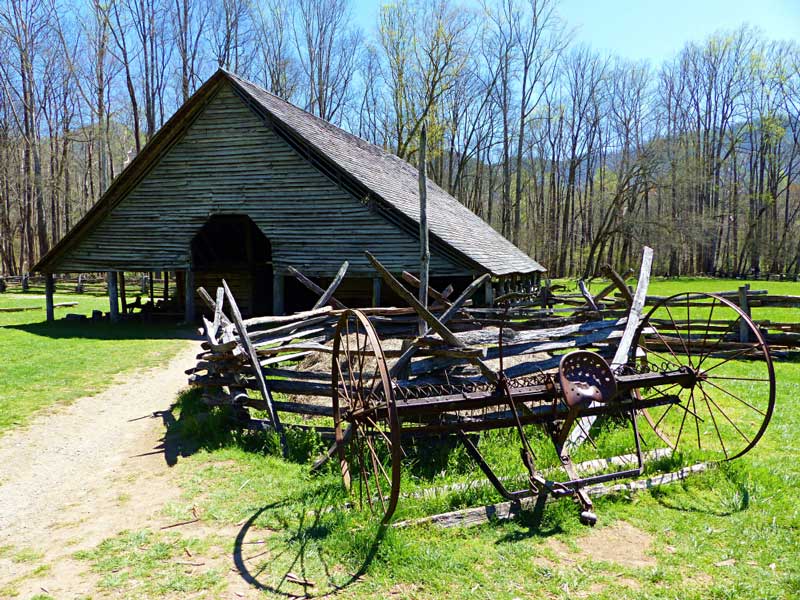 The Mountain Farm Museum is situated in Great Smoky Mountain National Park, just next to the Oconaluftee Visitor's Center. This museum contains historic log buildings, which includes a barn, a house, a smokehouse and more.
This collection had must of the structures originally set up in the 19th century, and we are moved to this current site from all parts of the National Park. You can take a walk down the outdoor museum, so as to gain knowledge of the people's lifestyle 100 years ago – you'll even see a working blacksmith shop.
When you are done touring the museum, you can as well exercise by hiking on the Mingus Trail and the Oconaluftee Trail – great hiking trails of this area.
This makes what to do in Cherokee, consider an addition to your checklist of things to do in Cherokee, NC.
7. Mingus Mill
Situated near the Mountain Farm Museum is Mingus Mill, one of the most historic locations in North Carolina. It is surrounded by many stunning hiking trails and other landmarks. This site dates back to 1886 and has all kinds of cornmeal placed for sale in its shop.
Being all about native history, Mingus Mill is something intrinsic and ravishing that you need to see to understand it's appeal. This mill is still in operation and is powered by water to grind corn.
You will see the sluice, turbine and other components which are still in full working conditions.
Address: Mingus Creek Trail, Cherokee, NC 28719, United States
How about a visit to California, don't miss our checklist of fun things to do in Fresno, things to do in Monterey, and things to do in Solvang.
8. Learn of History at the Museum of the Cherokee Indian
If you are interested in learning of the culture and history of Cherokee, you have that opportunity at the Museum of the Cherokee Indian. This museum displays more than 12,000 years of the people of Cherokee and their history using current computer-generated animation and special effects in bringing about an interesting and entertaining journey into the strides of the Cherokee tribe.
In other to make the mind of young visitor come alive in history, there are special graphic panels and pop-up books as well. The museum also offers a series of annual workshops and seminars where you can learn orthodox basket making and pottery skills. And informative lecture is normally presented as well.
The museum store boasts a vast range of crafts, clothing and books, including academic colouring books for the kids.
Address: 589 Tsali Boulevard, Cherokee NC 28719
9. Hike/Bike Fire Mountain Trails
Fire Mountain Trails are a recent source of adventure and excitement in Cherokee and makes the list of top fun things to do in Cherokee. These trails are a multi-use network of more than 10.5 miles, available for hiking, biking and running.
The Fire Mountain Trails are situated close to Oconaluftee Indian Village and are popular because of the diverse road, boasting of features like easy deviation, rock grades, quick tables, berms, blinds and more.
It is interesting because they all have different difficulty levels. You'll see single-track roads, with bumpy and challenging trails, and more quick, smooth and easier trails. The Fire Mountain Trails is free to use, and passing through the Great Smoky Mountains makes it fun too!
Address: State Rd 1361, Cherokee, NC 28719, United States
10. Oconaluftee Indian Village
The moment you step into the Oconaluftee Indian Village, you just put away any biased propositions about stuffy museums to acquire more knowledge about the lifestyle of the Cherokee with specifics to the 16th century.
There is an expert in Cherokee culture who take you through this realistic village where you can see Cherokee working areas, homes, and some of their sacred sites. You will have the opportunity to watch traditional basket weaving, cultural dancing, canoe building, and other crafts numerous to mention.
One of the high spots of this visit is watching a repeat of the tribe getting ready for war. This act includes a blowgun demonstration.
This makes what to do in Cherokee, NC, a perfect addition to your list of Cherokee NC attractions to visit.
Address: Oconaluftee Indian Village, 218 Drama Rd, Cherokee, NC 28719
11. Visit the Cherokee Bear Zoo
Though the Cherokee Bear Zoo may be regarded as just a niche, this characteristic makes it one of the most interesting places to visit in all of North Carolina!
This delightful location is full of many different bear species, ranging from black bears to grizzlies. You'll be able to watch the play, eat and go about their normal daily lives.
There are other animals living in this zoo also; the lemurs, tigers, are amongst the animals you'll observe here. It is such a calm, relaxing and beautiful place where you can meet animals in a close but easy and safe way!
Address: 1204 Tsalagi Rd, Cherokee, NC 28719, United States
12. See Animals and Have Fun at Santa's Land Fun Park and Zoo
Santa's Land Fun Park and Zoo is situated only three miles coming from the southern entrance into Great Smoky Mountain National Park, and has been an awesome delight to generations and families since the year 1966.
It is a seasonal park, active between mid-May and October ending, so you would need to plan your visit around this time. The kids and even adults can get to meet Santa in his mountain hideout through a miniature train or enjoy a Santa's sleigh ride on the Rudicoaster,
There is also a petting zoo for you to see diverse exotic animal breeds from all parts of the world, and the children would love to play a part in the magic show.
Address: Cherokee, NC 28719, Phone: 828-497-9191
13. Things to Do in Cherokee for Golf Lovers: Sequoyah National Golf Club
The Sequoyah National Golf Club can be located in Whitter, only about 3 miles away from the town. Though not in Cherokee, it is one good thing to do when in town. It is a must-see in North California painting, especially for green lovers.
Designed by Robert Trent Jones II, the Sequoyah National Golf Club is an aesthetically pleasing course that proves the magnificent style and talent of this great designer. For every single hole, there is a historical twist. The surrounding land is a wonder – 6,057 yards, with bentgrass and bluegrass fairways, offering an enhanced experience.
The Sequoyah National Golf Club has a little complex course, with a combination of 5 par 5 and 5 par 3 areas. The terrain makes it a bit more difficult sometimes, so you may want to come with lots of golf balls. You may opt for some range instead!
Nevertheless, this golf club is one of the greatest in America.
Address: 79 Cahons Rd, Whittier, NC 28789, United States
14. Take a Treat at Sassy Sunflowers Bakery and Cafe
One of the most popular bakery/cafes in Cherokee is Sassy Sunflowers. It is an interesting pick for every lover of baking delights and meals and is one of the too things to do in this area.
Sassy Sunflowers Bakery and Cafe offers a lovely menu of delicious snack and meals to visitors. The cafe boasts of an enticing menu that features several traditional favourites with a characteristics "Sassy" twist.
They have many healthy options like gluten-free vegan, salad, soup, and vegetarian options. You may still add their well-rated cookies and desserts. Drinks include juices, coffee, smoothies, and flavoured teas (sodas are absent).
Have a good day enjoying lunch while sitting outside; it's just cool.
Address: Sassy Sunflowers Bakery and Café, 655 Acquoni Rd, Cherokee, NC 28719
Take to Exploring cities in Alabama, check out our list of things to do in Decatur and things to do in Montgomery for a fun time.
15. Cruise the Blue Ridge Parkway
The Blue Ridge Parkway provides amazing vistas with lots of scenic views. It is one of the most visited attractions in the National Park Service alongside the Great Smoky Mountains National Park.
So, while in Cherokee, ride in this unique route and experience a rollercoaster ride of impressive views. They change with the season, though, so you can admire the wildflowers in the spring.
Just ready yourself, pack a picnic, unwind the windows and take in fresh air from the mountains!
16. One of the Best Things to do in Cherokee: Smokemont Riding Stables
If you are an Equestrian, there is something interesting for you in Cherokee. Smokemont Riding Stables provides horse-riders with happiness by offering various horseback trail rides around the beautiful Great Smoky Mountain National Park. This park is only five minutes north of Cherokee.
They have a handful of well-trained friendly horses in the stables to match all skill levels of riding, even learners get saddled up, and in no time, they are riding already. The majority of these trails take you through fantastic landscapes along the Oconaluftee River banks, and the time duration varies from two to four hours.
The rides are available for children too, but they have to be from 5 years and above to enjoy that. However, families with younger kids can go for a moderate wagon rode as an option.
This makes what to do in Cherokee for some exploration time, consider an addition to your list of Cherokee NC attractions to visit.
Address: Smokemont Riding Stables, 135 Smokemont Riding Stable Rd, Cherokee, NC 28719
17. Purchase Local Crafts at Bearmeats Indian Den
Bearmeat's Indian Den was established with the aim of offering only the best local arts and crafts made by the local people of Cherokee in their homes. They also organize several weekends of "practicable" demonstrations during both summer and winter. These activities feature some local artists.
Bearmeats Indian Den has their lovely shop open at any time of the year, so you are sure to get some stuff. Summer hours are 9 am – 6 pm, while winter hours are 9 am – 5 pm.
Address: 4210 Wolfetown Rd, Cherokee, NC 28719-8741
18. Dig out Precious Stones at Smokey Mountain Gold and Ruby Mine
Smokey Mountain Gold and Ruby Mine present you with an opportunity to hit it hard by following the footsteps of gold miners who early settlers of this area. Your children will have hours of excitement and fun as they dig out for gemstones or gold – and freely get dirty and wet.
It's very easy and fun because whatever is required to find your own precious stones is available, and you can get your gemstones to be polished on site after identification. You know what it means having an enduring reminder of your Cherokee trip – you can take home your very own gemstones fixed into a lovely jewellery item.
There has also an on-site where you can purchase a variety of jewellery, panning equipment and jewellery.
Address: Smokey Mountain Gold and Ruby Mine, Highway 441 North, Cherokee, NC 28719
19. Take a Trip to Cherokee Veterans Park
The Cherokee Veterans Park occupies 149 acres in northeast Cherokee County. It is one of the biggest parks in the park system of the county and a visit here makes one of the top fun things to do in Cherokee, NC.
This park has a monument devoted to the sacrifice and service of all those who served America in the military. The design keystone is a big United States Flag with plaques and granite walls honouring the names and mottos for each uniformed branch.
Amenities here include one Artificial Turf Athletic Field, two Natural Grass Athletic Fields, two Tennis Courts, two Pickleball Courts, a Pavilion, Playground, Skate Park, a large open meadow, concessions and restrooms.
Ther are possible future park additions which would include a large community pavilion, baseball/softball complex, a recreation centre, additional tennis and pickleball courts,
Address: Us-441, Cherokee, NC 28719
20. Take a Ride in Cherokee Transit
At first, Cherokee Transit started transportation services in 1997, mainly for medical appointments. Then in 2000, the regular, public routes on the Qualla Boundary – Cherokee Indian Reservation commenced with crosstown Cherokee loop routes added in 2004.
You would need to enjoy this public transportation as it promotes Cherokelmmunal sharing and adequately fits the region's need. Drivers of Cherokee Transit are well trained to provide safe, reliable transportation to passengers.
Address: Hwy. 441 North, Cherokee, NC
21. Take Some Chills at Harrah's Cherokee Casino Resort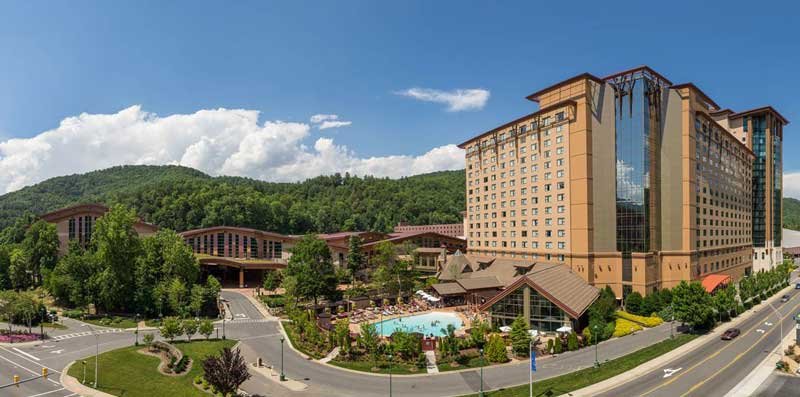 Harrah's Cherokee Casino Resort is snuggled in an adorable mountain setting and is the perfect base for exploring the Blue Ridge Parkway and the Great Smoky Mountains National Park. It makes the list of top things to do in Cherokee.
This resort contains more than a thousand guest rooms occupying over 21 floors, with a proud selection of impressive facilities to ensure you have a relaxing stay. Aside from enjoying the gaming machines and popular table in the casino, there are two golf courses in this vicinity.
You can also have a treatment session at the spa, relax beside the outdoor or indoor swimming pools or exercise in the on-site gym. There are even regular concerts hosted by this resort hotel involving big-name musicians
Address: Harrah's Cherokee Casino Resort, 777 Casino Drive, Cherokee, NC 28719
22. Shop at Saunooke Village
Located on the Cherokee Indian Reservation, Saunooke Village is a special shopping village in Cherokee. It makes the list of top things to do here in the city.
There is interesting stuff to purchase from the shopping village, including Cherokee Indian arts and crafts, homemade candy and even other structures housing restaurants, and more.
You can also buy fresh ground cornmeal at the water mill in Saunooke Village.
Address: Big Cove Road, Cherokee, NC
23. Take Cherokee Rapids Tube Rental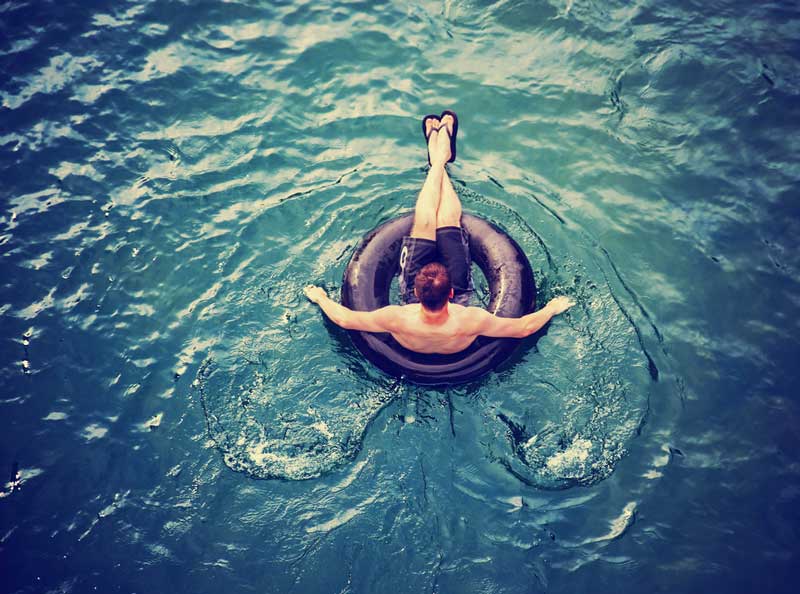 Your vacation in Cherokee will not be complete if you don't spend a few hours of your time staying afloat in the gorgeous Oconaluftee River and also swimming in its natural pools as you advance. If you are wondering about some fun things to do with your family in Cherokee, renting rapids tubes to spend some river time is definitely one.
This family-fun activity accommodates everyone, including children (from five years and above). It is great means of spending some take admiring the breathtaking scenery on the river borders. Join others in floating over the gentle grade I/II rapids by a 2-mile section of the river.
It is simple, park your car close to the Little u Restaurant, and the Cherokee Rapids team will transport you by bus upstream, where they'll get you kitted with a lifejacket and tube. Floating back downstream is yours to enjoy; you can even stop to relax and swim along the way. Just take your time!
Address: 1681 Acquoni Rd, Cherokee, NC
24. End of the Trial Riding Stables
Spend some fun time with your pals riding horses in End of the Trail Riding Stables while in Cherokee, NC.
It is only about 5 miles outside of Cherokee, and getting there from Downtown Cherokee takes only 15 to 20 minutes.
Whether you are an absolute beginner or an expert, this attraction is a place for you. You do not need any form of experience before riding the horses here.
Particularly if you're a rookie, they have kind, well-trained personnel on standby to hold your hands and guide you on what to do.
End of the Trail Riding Stables offers one-hour guided trail rides with breathtaking views of the mountains. In addition, the horses at the facility are skilled and knowledgeable about the trail.
This area offers an exceptional hiking opportunity to take in the stunning natural environment. You will certainly experience the best time at the end of the Trail Riding Stables, so don't miss out!
Address: Goodlow Bark, 103 Guy Bark Rd. Cherokee, NC 28719, USA
25. Cherokee Rose
Before visiting other parts of Cherokee, step into Cherokee rose, an in-store shopping center, to pick up some intriguing tourist souvenirs.
It's a great little gift shop where you can buy handmade things like jewelry, leather goods, moccasins, and other souvenirs.
They offer a good variety of reasonably priced tourist souvenirs manufactured locally and with authenticity for sale.
Despite its small size, the facility is spotless and well-organized. Additionally, the owner and employees of this facility are incredibly welcoming and helpful.
Address: 440 Winding Way Bryson City, NC, 28713-5306, USA
Map of The Top Fun Things to Do in Cherokee
To get around easily during your visit, here is a map of the top fun things to do in Cherokee, with markers of Cherokee NC attractions.
Plan to explore other cites of Nort Carolina, here are the top things to do in Charlotte and things to do in Raleigh for fun exploration.
Plan Your Trip To Cherokee
Cherokee is a town that offers plenty of attractions in North Carolina. Youll have the chance to soak up yourself in history, see natural attractions, museums, parkland, and more.
Why not start preparations towards enjoying the marvels of the comfortable location? This piece can be of great help in adding the right vacation spots to your program.
Create your bucket list of things to do in Cherokee, You'd definitely love your trip here.