In search of the best and fun things to do in Atlantic Beach, NC?
Atlantic Beach is in Charlotte County, North Carolina, United States of America. The Atlantic Beach, North Carolina, is a town bordered in the south by the Atlantic Ocean, from which her name how was gotten.
The beautiful town has a rich history, and it is the oldest beach town in Bogue banks. It is also called the "Crystal Coast" because of its connection to the Atlantic Ocean. The town is known for its abundance of public beaches and friendly people. It is situated on a beautiful barrier island bordered by the Atlantic Ocean and Bogue Sound and is known for the lots of beaches and friendly people.
Not only does the Atlantic Ocean make the Atlantic Beach a tourist attraction, but the significance of the town to American history also adds to its savor as a tourist attraction to many.
The Atlantic Beach is an excellent place for a coastal vacation. Enjoy that romantic getaway at Atlantic Beach, North Carolina, with your loved one, friends, and family.
Here are the top things to do in Atlantic Beach, NC.
Things to do in Atlantic Beach
1. Explore Fort Macon State Park
The world-renowned Fort Macon, where the Battle of Fort Macon was fought in 1862, is now proudly restored and rebuilt to its former splendor.
The State Park, though comparatively more minor in terms of area compared to the other State Parks, is still the second most frequented State Park in the entire North Carolina, with a considerable amount of visitors and tourists throughout the whole year.
It is situated close to Atlantic Beach and was made accessible to the public in 1936. There isn't an admission cost or parking fee, and it's accessible to the public all year round.
You can enjoy a range of things to do like swimming and guided tours, surf fish, hiking trails, and the bathhouse.
The park is beautiful and has grassy lawns that are all over. It is also important from a historical viewpoint, thereby attracting a large number of tourists.
Address: 2303 E Fort Macon Rd, Atlantic Beach, NC 28512, United States.
2. AB Watersport Adventures
Embrace the beauty of the Atlantic Ocean through AB Watersports Adventures. It is one of the top fun things to do in Atlantic Beach, North Carolina.
There is a variety of on-the-water activities to engage in with your loved ones and family. They are; jet skiing, boat cruising, kayaking, and paddleboarding. You can decide to paddleboard alone, kayak or jet ski with your friends, or go on a boat cruise with your family at the crystal coast.
You can choose to go on a half-day or full-day excursion with the family on the beautiful crystal coast while enjoying the waterways.
AB Watersports Adventures offer rental services for boats, kayaks, jet ski, and paddles.
Address: 612 Atlantic Beach Causeway, Atlantic Beach, NC 28512, U.S
3. Beaufort Historic Site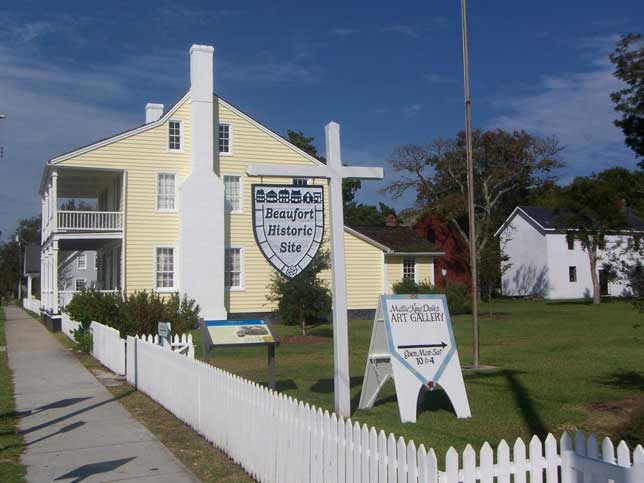 Explore the many historical sites such as the old jail, as well as the John C. Manson house, and much more.
At this site, you are able to enjoy the trip on a double-decker bus, where you can ride on a classic 1967 English double-decker bus.
There are also narrators on the bus that keep providing details and sharing tales from the past while you visit.
Another attraction worth a visit is the apothecary shop as well as the doctor's office, which has artworks of medicinal and pharmaceutical art that were utilized in the past and date back as far as 1857.
There are three other buildings on the tour of historic buildings, which have staff dressed in period-appropriate attire and guide visitors through.
Address: 130 Turner St, Beaufort, NC 28516, United States
3. Cedar Island Bay, or the Whitehurst Creek paddle
In Cedar Island Bay, you can pick two places for paddling to start, that is Driftwood campground or The Lola roadway boat launch.
While you paddle, take a look around the numerous marshlands, which houses numerous marine animals and sea creatures, as well as other birds.
It is also possible to look at the semi-wild cattle that are grazing on the grasses that are in the region.
At Whitehurst Creek, you can explore various marine birds such as egrets, seagulls, shorebirds, herons, and pelicans.
It starts at the straights landing boat ramp, and it continues to the east. If you go during the winter months, you will be able to gaze at the typical bird species such as ducks.
5. Memories Beach & Shag Club
Enjoy the nightlife of Atlantic Beach, NC, with drinks and good music at the Memories club.
The Memories Beach and Shag club are a must-visit for the young at heart. It gives both the young and old a memorable nightlife experience.
It is a place to relax, listen to Beach Music and Shag with your friends on the dance floor in beautiful Eastern North Carolina. The club has plenty of tables surrounding the dance floor.
Get ready to get on the floor while vibing to the lovely music and drinks at Memories Club.
Address: 407 Atlantic Beach Cswy, Atlantic Beach, NC 28512-7326
6. The Rachel Carson Reserve
For horse lovers, a visit to The Rachel Carson Reserve is a splendid idea.
In the 1940s, horses began growing in these marshes. They are now one of the most popular tourist attractions, and people flock to see horses in their wild natural surroundings.
Keep a safe distance when you are with them because they're not trained. Additionally, in order to visit the reserve, you need only use a private boat or a ferry for passengers.
Have fun while you Bob on the boat to explore the area. Motorboats are also accessible. It is also possible to use kayaks or canoes.
Hunting is a regulated game that can be played in this area. In addition, the marshes are home to various natural plants and animals.
It is possible to observe a variety of plant species, including submerged aquatic vegetation, beaches on the ocean, and even the maritime forest.
Birdwatching is a different pastime that everybody enjoys, and there are over 200 species of birds to observe on this flyway that migratory birds use.
Plovers can also be seen abundantly here, as they're a vital feeding spot in estuaries. Some of the animals you may see include river otters, Marsh rabbits, raccoons, and the grey fox.
Be sure to take the whole day to visit this park, as it's enormous and there are numerous activities you can take advantage of.
Address: Front St, Beaufort, NC 28516, United States
7. North Carolina Maritime Museum
The museum has great flavor, and the exhibits are both historically significant and culturally significant.
The bigger exhibits include motorboats and sailboats. The huge heart of a whale is also displayed.
There are guided tours that explain different aspects related to marine life like commercial fishing and a Fresnel lens.
The species that have models on display include sea monsters such as sharks, dragons as well as a section with Mermaids.
Address: 315 Front St, Beaufort, NC 28516, United States
8. Beach Wheels Bike Rentals
As a tourist arriving at Atlantic Beach, North Carolina, specific arrangements make for an enjoyable experience. The Beach Wheels Bike Rentals is the one-stop-shop to set up everything you might need.
The Beach Wheels Bike Rentals has an excellent location that is easily accessible to tourists; it is in the heart of the barrier island shoreline. At Beach Wheels Bike Rentals, there is a wide array of bikes for riders of all sizes and ages. There's a bike for everyone to have fun and engage in the fun in the area.
Other necessary beach types of equipment at the Beach Wheels Bike Rentals are beach chairs or peruse the variety of jogger strollers, toddler trailers, and child-tag-a-long bikes for adventures with the little ones.
Also available at the store are baby needs including, high chairs and baby cribs. The Beach Wheels Bike Rentals is well equipped to ensure parents have everything they need for a comfortable and memorable vacation.
The Beach Wheels Bike rentals are open from 10:00 am – 6:00 pm, Monday to Sunday.
Address: 1420 Salter Path Rd, Atlantic Beach, NC- 28512-5921
Considering a road trip through Connecticut? here is a guide on things to do in Hartford, things to do in Milford  things to do in Danbury for a fun time
9. Hoop pole Creek nature trail
Among other cool things to do in Atlantic Beach for outdoor time, the Hoop Pole Creek nature trail is worth your time.
A mile-long hike. This nature trail is stunning and provides a relaxing stroll through nature.
The majority of the trail is well-paved, and there are some boardwalks that make it simple to walk on.
On both sides, there are estuaries and salt marshes that can be watched while they move by. Tall trees can also be found.
If you're planning to visit during summer, be sure to bring the appropriate bug repellent products as it can be very exhausting.
It's a refreshing break from the crowds and beaches. Also, it has stunning panoramic views, and you can also take some photography in the natural surroundings.
Address: Atlantic Beach, NC 28512, United States.
10. Crystal Coast Brewing Company
Crystal Coast Brewing Company is a great place to be for lovers of freshly brewed beers. Have quality and unique beers with your friends at the crystal coast brewing company.
The beers from the crystal coast brewing company come from genuine, high-quality ingredients from the coast. The exquisite taste of the craft drinks attracts tourists from different parts of the world.
The crystal coast brewing company has a taproom where guests are served fresh unbranded drinks from taps. The Brewing company was established in 2017 and is entirely a family-owned craft brewery.
Address: 219 W Fort Macon Rd, Atlantic Beach, NC 28512-5303
11. Cape Lookout National Seashore
The beach has everything you could want into one. The most enjoyable thing you can take part in is to scale the tall and huge Cape Lookout lighthouse.
It's thrilling, and the views from the top are stunning. You can view the thrilling view of the expanse of turquoise blue waves as they strike the shores.
Bring along that DSLR and take some stunning photos for your IG. Apart from that, you can also take part in various other sports such as boating, fishing, camping, horse watching, and shelling. There are historic villages close by, and you can take some time to explore.
For those who love birds, birding is a wonderful activity, and there are more than 250 kinds of various species that are seen on the shoreline at times. The majority of them are endangered and rare to see.
If you plan to camp on any of these beaches, be aware that they're in remote areas, and therefore, you should bring food, water and any other essentials you may require, and garbage bags.
Address: Outer Banks, Carteret County, North Carolina, United States
12. Core Sound waterfowl Museum and Heritage Center
For a memorable artistic experience, add a visit to Core Sound waterfowl Museum and Heritage Center to your list of things to do in Atlantic Beach.
It is essentially a Heritage Center that exhibits diverse artifacts dating from the mid-18th century that were used for hunting waterfowl.
Carving is an art that was traditional and was extensively employed by various locals, including hunters and fishermen, and they would carve quite a bit.
The museum displays a variety of carve-outs and styles from the time in a wide range of collections.
The exhibit has beautiful objects on display, such as geese, swans, and a variety of other birds.
The Gathering room is beautifully decorated and well maintained, and filled with a variety of items that are related to hunting.
The library is where there is a range of books that cover a variety of subjects, including hunting, birding, commercial fishing, waterfowl, folklore, community life, among other things.
Decoys and aesthetic art are also on display throughout. It is a great place to lay back and relax in the chair with a book in your hand as you look around and absorb the history.
Address: 1785 Island Rd, Harkers Island, NC 28531, United States.
13. Captain Stacy Fishing Center
Take a fishing tour with the very experienced Captain Stacy Fishing Centre. The Captain Stacy Fishing Center has been in the business of fishing for over 50 years.
Like many oceans of the world, the Atlantic Ocean features many fish and other sea creatures. The beautiful deep blue waters of the Atlantic Ocean are a fishing ground for many and are called A fisherman's paradise.
The thrill for fishing gets more exciting when the fishing tour reaches the Gulf stream. The Captain Stacy Fishing Centre has a unique boat for every time.
Going on a fishing tour with your family and friends is an intriguing adventure, from shark fishing to overnight bottom fishing trips. The fun continues in different levels and forms. The beautiful deep blue sea of the fishing source in North Carolina
Address: 416 Atlantic Beach Causeway, Atlantic Beach, NC 28512
14. Battle Works Tactical Laser Tag
The Battle Works Tactical Laser Tag is worth adding to your checklist of fun things to do in Atlantic Beach.
It's not the traditional glow-in-the-dark arena or even a traditional game with lasers.
However, it's a modern version that blends elements of video games and utilizes laser tags.
With electronic weapons that are stimulated and battlegrounds that are set in urban settings, It's a fantastic spot to spend time with your children and release some of that energy.
The lighting and sound placement, and arrangement are fantastic. If you're in a small group, then you can walk around in play. If you are in a larger group, it is possible to book in advance.
15. Atlantic Beach Town Park
This is the ideal spot to take your kids on vacation and makes our list of things to do in Atlantic Beach, NC. It has a myriad of choices, including a traditional play area or a skate park, miniature golf courses, and even a splash pad. It's stunning.
It also offers a wide range of things that can be done, such as walking or hiking along the trails of nature.
It is designed and has some difficult places as well. In summer, drive-in films are also shown in the parking lot at times.
There's also a half-court basketball court. The bathrooms are tidy. It is also possible to pack a picnic lunch and enjoy an informal lunch with your loved ones in the picnic shelter or tables with shade.
The park is open seven working days. Mini golf is charged at the cost of five dollars per person. The rest of the course is absolutely free.
Address: 915 W Fort Macon Rd, Atlantic Beach, NC 28512, United States.
Georgia makes one of the top vacation spots in the United States, check out our guide on things to do in LaGrange , things to do in Valdosta, and things to do in Blairsville for a memorable vacation.
16. Savanna Leigh Sports Fishing
Still on fishing tours on the Atlantic Ocean, the Savannah Leigh Sports Fishing offers fishing opportunities along the Crystal Coast of North Carolina.
Savanna Leigh Sports Fishing also specializes in trips aimed at targeting Swordfish.
The Savanna Leigh Sports Fishing has a Captain with over 15 years of experience in the field. Captain Troy will guide you and your loved ones to the best locations where you can catch blue marlin, sailfish, dolphin, wahoo, tuna, and various bottom fish.
The Savanna Leigh Sports fishing embarks on Atlantic beach trips from January to August and November to December.
This makes what to do in Atlantic Beach, NC, for some fun, a perfect addition to your list of Atlantic Beach activities
Address: 416 Atlantic Beach Cswy Atlantic Beach, NC 28512
17. Beach Tavern Bar and Grill
Another well-known restaurant that tourists and travelers love is Beach Tavern Bar and Grill. The food is fantastic and extremely delicious.
The seafood that is used in dishes is fresh and locally sourced.
The most popular dishes include the Clams. The usual menu items like fries and chips, and the chicken nuggets, accompanied by juicy burgers, are delicious too.
Address: 413 W Fort Macon Rd, Atlantic Beach, NC 28512, United States.
18. NC Aquarium at Pine Knoll Shores
The huge aquarium is an amazing location to visit to discover a range of fish and view the creatures.
There are even the remains of a ship, which has been recreated and modeled after an actual wreck, that is available to explore. Encourage your kids to study and unleash their inner pirate.
With thousands of aquatic animals in the exhibit, It's a vibrant and beautiful experience. River otters are also housed in an enclosed space.
The rarest species you can see include sea turtles as well as Stingrays.
Tortoises' care and feeding are practiced here. You are able to witness a loggerhead sea tortoise hatch from eggs, and a cute chick turns around and swims to the shores.
A play area for children is also set up, known as the Alice Hoffman Nature Trail.
Alice Hoffman nature trail, has a treehouse as well as a climbing net, a swinging bridge, and even slides for the kids to play on.
Address: 1 Roosevelt Blvd, Pine Knoll Shores, NC 28512, United States.
19. AB Ice Cream and Candy Shoppe
Enjoy a special ice cream treat with your loved ones and family at the AB Ice Cream Shoppe. There are enticing ice cream menus, fudges, mouth-watering toppings, and unique ice cream treats.
An ice-cream fix from AB Ice Cream and Candy Shoppe is enjoyable to relax after spending hours touring the Atlantic beach.
AB Ice Cream Shoppe has everything to satisfy your sweet cravings. AB Ice Cream and Candy Shoppe offers more than 40 flavors to choose from, and there are different varieties of Ice cream flavors for everyone.
Some ice cream flavors available at the AB Ice Cream Shoppe are; Banana Pudding, Coconut, cotton candy, dark chocolate raspberry truffle, Cookie doughlicious, chocolate moose tracks, cappuccino crunch, and so many more.
Milkshakes, Sundaes, Iced Coffee, Frappes, and many more are also available at the AB Ice Cream and Candy Shoppe.
Address: 1010 W Fort Macon Rd Atlantic Station, Atlantic Beach, NC 28512-5318
20. Game on Escape Rooms
Amongst the top fun things to do in Atlantic Beach, NC is an escape room adventure. Escape rooms are the perfect way to spend time with friends or family members and boost the spirit.
Escape room games are another top escape room that is among the most popular fun activities that you could do while in Atlantic Beach.
The room for the doctor is particularly loved by visitors and is challenging. It's a particularly enjoyable and engaging experience for children. There are many different themes available.
Address: 2302-F, Arendell St, Morehead City, NC 28557, United States
21. Oceanana Pier and Pier House Restaurant
Enjoy a stroll along the ocean boardwalk, and then take it off with a great meal and lunch in The Pier House restaurant that serves delectable seafood at affordable prices.
It's the perfect way to conclude your day with a relaxing walk after spending time with your loved ones.
Give the grilled shrimp a try since it's cooked to perfection, and the sauces and glazes are delicious. Their Cheeseburgers are also great, and make sure to try that bacon-flavored cheeseburger.
This answers what to do in Atlantic Beach, NC, for some good meals, consider an addition to your bucket list of things to do in Atlantic Beach, NC.
Address: 700 E Fort Macon Rd, Atlantic Beach, NC 28512, United States.
22. Wings Beachwear
For the best beachwear, Wing beachwear is the brand for you.
The brand is famous for its resort clothing and beachwear. Wings beachwear has produced and sold fantastic products since 1978. The clothing is offered to all age groups.
There's also a swimming suit section that has stunning bodysuits. The souvenir section houses chairs and umbrellas as well as other essential accessories for the beach.
Choose a few Cool stylish sunglasses and funky beachwear to create the perfect beach outfit.
Address: 200 W Fort Macon Rd, Atlantic Beach, NC 28512, United States.
23. Family Time Fishing Charters
Take the family for fishing tours with Family time fishing Charters. Fishing trips with family, friends, or loved ones is an exciting adventure activity.
The Captain in charge will teach you how to fish and make your first catch.
The family Time fishing Charters specializes in beach tours, outdoor activities, boat tours, and water sports. There are different packages to engage in at the Family time fishing Charters. They are; half-day fishing trip, full days fishing trip, and full-day gulf stream trip.
The gulf stream fishing trip is one of the most exciting and thrilling fishing trips, and there are lots of fish species at the gulf stream, such as the mahi-mahi with some yellowfin tuna, blackfin tuna, and wahoo.
Embark on a fishing trip at the Atlantic Beach, North Carolina, for an unforgettable adventurous tour.
Address: 509 Atlantic Beach Causeway, Atlantic Beach, NC 28512, U.S
Explore other parts of North Carolina, check out our list of things to do in Surf City, things to do in Brevard and things to do in Cary.
Plan your trip to Atlantic Beach
Start planning your trip to the magical coast of Atlantic Beach, North Carolina.
The Atlantic Beach North Carolina is a great location for summer vacation. The gorgeous city is bordered on the south by the Atlantic Ocean. Bask in the cool sun during summer and enjoy the view of the wide sandy beach with its waters.
Fishing, kayaking, paddling, strolling, jet skiing, surfing are some of the most enjoyable things to do in Atlantic Beach, NC.
There are lots of other activities to try out with your friends, family, and loved ones. Start planning your next trip to Atlantic Beach with your friends or family; to create beautiful memories.