Incorporated on December 7, 1860, Valdosta is a small city that has a population of 54,000 people according to the 2019 census.
This city is the seat of Lowndes County in southern Georgia and indeed a destination worth visiting by travelers and tourists from around the world as there is no lack of things to do in Valdosta.
Also known as the "Azalea City" as a result of the plants that profusely grows around the town, Valdosta is a charming city with several unique attractions.
The city features various intriguing museums and art galleries as well as thrilling roller coaster rides and fun water parks all of which make it an exciting place to be.
Valdosta is also a town of sport dubbed as the ESPN's Title Town and Winnersville as the Valdosta State University and Valdosta High School has popular excellent sports team recognized nationwide for its spree.
Are you planning a trip to this part of Georgia, here are the best things to do in Valdosta for a fun time.
Things to Do in Valdosta
1. Freedom Park
One of the fun things to do in Valdosta is some outdoor recreational time at Freedom Park.
This is a 250-acre green spot in Valdosta which provides the community with lots of recreational options. These cuts through golfing, hiking, picnic, and many more.
For golfers, you will find here an 18-hole disc course, Freedom Park also features lots of hiking trails, picnic spots, a soccer field, playgrounds which are all well fitted in a beautifully landscaped environment.
Its nature trails bring you an escape from the bustle and hustle of the city.
Are you visiting with friends or family, Freedom Park I perfect to enjoy the towns weather as you host a picnic, you can as well bring your dog along as it also features a dog park.
This is a well-maintained environment for some outdoor fun, take to relaxing or enjoying any of your favorite sport here at Freedom Park during your trip to Valdosta.
Address: 3795 Guest Rd, Valdosta, GA 31605
2. Lowndes County Historical Society and Museum
For museum lovers and those interested in the rich heritage of Lowndes County as well as Valdosta, Lowndes County Historical Society and Museum is a must-visit.
This is a non-profit organization aimed at preserving the historical heritage of Valdosta and Lowndes county in general.
This organization was founded in 1967 and can be found in a building that was once the Carnegie Library in the downtown area of Valdosta.
During its early days, this was known to be just a small museum, visiting here today, you will meet a museum with two floors of art galleries, a military museum, a research library, lots of outdoor exhibits, and many more.
These are well arranged by knowledgeable curators all aimed at introducing the history and culture of this area through informative and fascinating exhibits, memorabilia, artifacts, and photography.
A visit to Lowndes County Historical Society and Museum makes what to do in Valdesto for art lovers as well as museum lovers, do consider for your Valdesto bucket list.
Address: 305 W Central Ave, Valdosta, GA 31601
3. Stroll Around The City
Amongst the best things to do in Valdosta is a tour through the city, and one of the best ways to go about that is by walking or biking.
Valdosta is not a large town, hence you will find walking through this town quite easy.
As you stroll, you get to discover amazing places which are just jaw-dropping, its beautiful streets will meet you with astonishing scenic glory.
During your tour, get to pick out its amazing cafes and restaurants which serve delicious local foods.
Also, have your checklist in hand as you pick out its numerous hidden gems, this will bring quite an adventure during your visit.
You will enjoy an outdoor time exploring this city, do consider adding a walkthrough Valdesto on your itinerary.
4. Turner Center for the Arts
A remarkable place to visit in Valdosta for art lovers is the Turner Center for the Arts which is about 17,000 square feet large and has six galleries.
The galleries of the center are home to different kinds of arts old, new, international and local, some of which include a small collection of European porcelains and also a vast collection of East African art.
Every year, there are about 30 exhibits put on display by the Turner Center some of which are changed annually making visitors always expect something new.
The center also features a vast gift shop where you can stop by before leaving to get a souvenir for remembrance. Some of the items sold in this shop include pottery, CDs, jewelry, books, art items, and lots more.
This is one of the best Valdosta GA attractions, you are in for a fun time here as you meet the best of arts.
Address: 527 N Patterson St, Valdosta, GA 31601
5. Raisin' Cane
Located in Valdosta at the Lowndes County, Raisin' Cane is a produce market and agri-tourism center which offers fresh local produce, casseroles, newly baked breads, and many other food items.
This produce market enables its visitors to "experience agriculture" as they get to have a tour through a real working farm, learning more about crops and how the food is produced.
Raisin' Cane also features lots of fun activities for visitors or families to enjoy some of which include hayrides, Little-Ville, farm animals, corn maze, and more.
Visit this site if you have any questions concerning agriculture in Valdosta.
Address: 3350 Newsome Rd, Valdosta, GA 31606
6. Austin's Cattle Co.
One of the best steak restaurants in Valdosta, Austin's Cattle Co. is a unique steakhouse that offers delicious ribs, seafood, steaks, cocktails, and lots more.
This restaurant is customer friendly with excellent services for its customers aimed at satisfying them all round as they visit.
Some other delicious cuisine available in the Austin's Cattle Co. menu includes grilled shrimps, filet mignon, prime ribs, and loaded baked potato.
Visit Austin's Cattle Co. with your family one loved ones to get a perfect dining time.
Address: 2101 W Hill Ave, Valdosta, GA 31601
7. Dosta Playhouse
Located in downtown Valdosta, Dosta playhouse is a small one-screen theatre opened in 1941.
This theatre is a historical center and is one of the two surviving theatres from the Martin Theatre chain right in the city of Valdosta.
In time past, Valdosta was home to many Martin Theatres, unfortunately it was closed in 1966 for several years but later reopened briefly from 1977 to 1979.
Thereafter, the center became a furniture warehouse after all the interior was gutted. This wasn't for long as funds were raised by a group of thespians and the local arts center for the restoration of the building to its original state.
After it was restored the center became a beauty again with an exterior lined with tiny blue glass mirrors and attractive Chinese Red doors.
The theatre was purchased by The Guild in the 90s and it is currently known nationwide as the Dosta Playhouse.
Dosta Playhouse is the venue used by The Guild to host about 6 shows on annually with four major shows featuring Dinner on some nights.
Check their website to get the date of their next show to effectively plan your visit as they have lots of entertainment in store for you.
8. Wild Adventures
Among other fun things to do in Valdosta is a visit to Wild Adventures, a theme park filled with exciting features to entertain visitors of all ages.
The park recently added a new attraction called Ohana Bay, which also makes up their Splash Island water park as it has about seven water slides.
Wild Adventures also features roller coasters, Ferris wheels, carousels, an arcade, go-kart racing, mini-golf, and a zoo that contains varieties of animals and birds.
The Park is closed in January and February making it open for visits only from March through December.
While in the area, you can visit wild adventures for shopping, dining as well as participating in their various live shows and concerts, this makes what to do in Valdosta for a fun time, do consider for your checklist.
9. Kinderlou Forest Golf Club
Opened in April 2004, Kinderlou Forest Golf Club is part of typical golf and residential community established as a secondary objective with a primary intent to sell houses.
Nevertheless, the golf course was constructed first with the home sites crafted evenly around the course at a reasonable distance that would not affect play giving a perfect and beautiful view.
This remarkable golf course was professionally designed by Davis Love III Designs and has been a host site to six PGA Nationwide Tour events and two PGA Web.com events in 10 years.
Though the area is known for its flat topography, Kinderlou Forest has a golf friendly landscape with quite an unusual topography for the region.
The course features series of Undulating hills unlike any other found in southern Georgia and has about five tee boxes on each hole.
The signature #4 with an all-natural and deep ravine is one of the most challenging holes in the course which might be difficult to hit even for experienced golfers.
Add this to your list of fun things to do in Valdosta if you are a golf lover.
Address: 4005 Bear Lake Rd, Valdosta, GA 31601
10. Steel Magnolias
Located right on Patterson Street in Downtown Valdosta, Steel Magnolias is a classy restaurant that offers delicious southern cuisines prepared using carefully selected fresh ingredients.
The restaurant menu features handmade appetizers like Fried Green Tomatoes, Tomato Bruschetta, Ahi Tuna Tartare, Pulled Pork Deviled Eggs, BBQ Pork & Pimento Cheese Wontons, and Crab Cakes.
Steel Magnolias has different salad types to choose from as the menu features varieties of salad which includes Kale & Butternut Squash Salad, Charred Grilled Caesar Salad, Farmhouse Salad, and Poached Pear Salad.
Also, the restaurant offers special entrees you can try out some of which are, Crispy Breaded Eggplant, Seared Sea Scallops, Apricot Glazed Game Hen, Braised Beef Short Ribs, Colorado Lamb Meat Balls and lots more.
Try visiting Steel Magnolias to get a wonderful meal while having a gorgeous view from their beautiful rooftop setting.
Address: 132 N Patterson St, Valdosta, GA 31601
Visit some of the top cities of the United States, here is a list of things to do in Clermont as well as things to do in Salem for a memorable vacation.
11. Bazemore–Hyder Stadium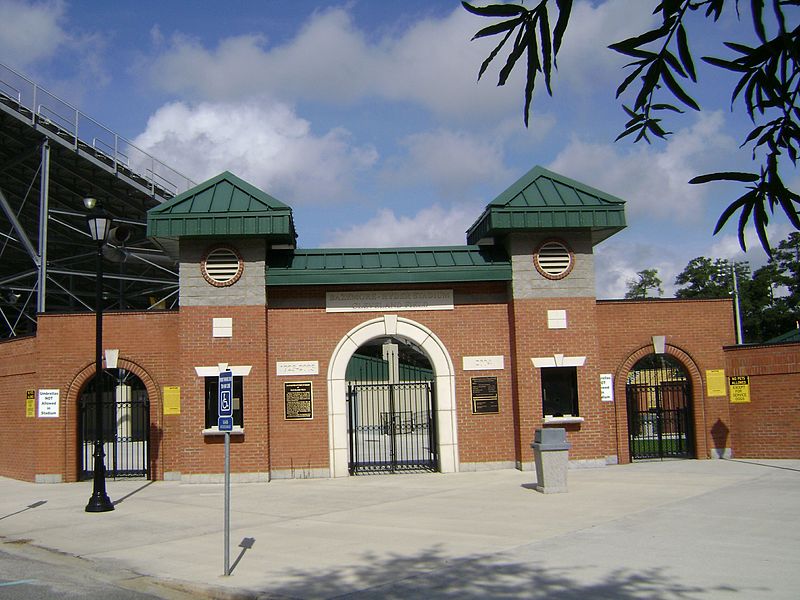 If you are looking for things to do in Valdosta for sport lovers, a visit to
Bazemore–Hyder Stadium
at Cleveland Field should be added to your list.
This Valdosta historic stadium is the home field to Valdosta Wildcats football & soccer and Valdosta State Blazers football, it is primarily used as a venue for American football.
Constructed and opened in 1922, the stadium was initially named after late Dr. A.G. Cleveland, who was once Valdosta City Schools superintendent from 1919 through 1949.
However, it was renamed in the spring of 1996, in honor of two legendary coaches from the Valdosta area namely the late Wright Bazemore and Nick Hyder.
Also nicknamed "Death Valley" the stadium is currently able to hold about 11,249 people after undergoing major reconstruction in 2004 which costs about $6.5 million, this was paid for through SPLOST funds.
Visit the Bazemore–Hyder Stadium to watch any ongoing match while you are in Valdosta.
Address: 1204 Williams St, Valdosta, GA 31601
12. Grand Bay Wildlife Management Area
If you want to witness the wonders of nature, head down to Grand Bay Wildlife Management in Valdosta, a 2,623 acres space of forested areas and natural swamp.
This area is a remarkable exhibit that opens visitors up to greenery nature and also enlightens them on wetland habitat.
The area also features lots of neatly connected natural and hiking trails that you can exercise on while enjoying the presence of nature.
Just at the end of the trial is a tower of about three-story where you can get a perfect scenic view of the entirety of the park's available nature.
The park also features shelters along its trails perfect for having a picnic with your family or loved ones.
To complete its perfection of nature, the park is habitat to several animals which includes different species of birds, beautiful butterflies, alligators, snakes, bullfrogs, and lots more.
Take a walk through the Grand Bay Wildlife Management Area while you are in Valdosta to appreciate the beauty and perfection of nature right in Valdosta.
Address: 4649 Knight Academy Rd #4641, Valdosta, GA 31605
13. Cottonwood Market & Boutique
Cottonwood Market & Boutique is a shopping center located in the gorgeous Historic District of Valdosta, which offers an attractive market blend of unique furnishings, boutique clothing, crafts, art, decor, jewelry, gifts, and artisan goods.
The market is made up of promising local merchants who gather together in a shared space to display and sell various handmade items.
Focused on giving customers a unique shopping experience, the center has limited quantities of each item and a fresh selection.
Also, Cottonwood Market & Boutique has a large studio space at the back which is used for hosting weekly Canvas Parties and Arts & Crafts.
The studio space is also available for rent to host Paint Nights, Kids Birthday Parties, and other Private Events.
Address: 123 N Ashley St, Valdosta, GA 31601
14. Georgia Beer Co.
If you a fan of beer, then Georgia Beer Co. is a perfect place for you, a great local brewery right in Valdosta which offers different flavors of innovative and traditional crafted beers in a sophisticated taproom.
There is no place to buy food in the brewery, nevertheless, you can come with food or get food delivery from restaurants around to enjoy with the finely crafted beer of the brewery.
In the collection of beer in Georgia Beer Co. includes Field Party beer and Southern Isles beer. Visit this brewery to have a peaceful relaxation time as you enjoy your selected beer.
This makes what to do in Valdosta for a relaxation time enjoying a fine beer, definitely one of the unique things to do in Valdosta, GA.
Address: 109 S Briggs St, Valdosta, GA 31601
15. La Quinta Inn & Suites by Wyndham
Start having fun and an exciting time on your arrival in Valdosta by lodging into the La Quinta Inn & Suites by Wyndham, one of the best hotels to stay in the city.
This fun-filled hotel features various intriguing facilities which include an outdoor pool, fitness center with gym, highchairs, Aerobics, bowling, racquetball, complimentary breakfast, and lots more, all aimed at giving visitors a perfect and satisfying stay.
With nice customer service, the hotel has very spacious and conducive rooms with comfortable beds.
Added to that, the hotel's location is a profitable one as it is surrounded by many of the town's restaurants where visitors can drop by to have different kinds of delicious cuisine.
Address: 38 2 Bridges Rd, Fairfield, NJ 07004
For a fun time in Maine, spend some time in Bangor, this will meet you with amazing attractions, here are the best things to do in Bangor to give you the best of a vacation.
16. South Georgia Pecan Company
Would you love to buy the best of pecans grown in this area, South Georgia Pecan Company is the place to visit.
This is a family-owned company in Valdosta which dates back to 1913, they are well known in the area for selling the finest of pecans in the area.
They as well take to processing harvested pecans to ensure the best quality of their products. They also sell other types of nuts, these includes, peanuts, Brazil nuts, snack mixes, and almonds.
Additionally, hot sauce, BBQ sauce, jams, relishes, chutneys, jellies, and several other commodities are also sold at the store.
The company's staff are customer-friendly and always ready to answer your questions. Try visiting the South Georgia Pecan Company while in Valdosta to have a taste of the best pecans around the area along with hospitable customer services.
Address: 309 S Lee St, Valdosta, GA 31601
17. The Azalea City Trail
For those seeking to tour the city of Valdosta, following Azalea City Trail will profit a lot. The 2.63-mile paved urban trail is Ideal for biking or walking through the city.
Check out the city's website to get a detailed map of the trail to guide you as you take on a journey through this continuous trail route exploring the perfection of this wonderful city.
This is one of Valdosta tourist attractions to explore, brings the best of an outdoor time as you meet with natures beauty in Valdosta, Georgia.
18. Miss Kate's Tours
One of the best things to do in Valdosta,
Miss Kate's Tours
is a fun-filled lively tour which takes the participant through different locally-owned restaurants trying out samples of different kind of delicious cuisines.
Miss Kate's Tours is quite an adventure, combining food and drink with history and culture.
A list of the tours offered by Miss Kate includes day tours, evening tours, cooking classes, wine tours, and private tours,
Try getting a ticket to participate in this tour while in Valdosta as this is an entertaining and delicious way to explore this amazing city.
19. Peach State Summer Theatre
One of the best things to do in Valdosta is a visit to Peach State Summer Theatre, a professional summer theatre on the campus of Valdosta State University in Valdosta.
The theatre features a company of about 60 actor-singers, managers, dancers, creators, and technicians who have resided in Valdosta for an interval of ten-weeks, rehearsing, building, and presenting three musicals in repetition.
Since 1990, the Valdosta State University is known to have produced several professional summer musical theatre.
With aim of providing quality theatre in Valdosta and the state of Georgia in general, Peach State Summer Theatre has gone a long way in helping the city be a perfect tourist destination.
Furthermore, the Peach State Summer Theatre also assists in promoting and educating individuals of all ages on the advantages of good theatre.
This makes what to do in Valdosta, GA for theater lovers, one of the best ways to spend the evening in Valdosta.
Address: 1500 N Patterson St, Valdosta, GA 31698
20. The Crescent
Built in 1898 by Senator William S. West, The Crescent is a 23-room Southern mansion that got its name as a result of its front porch that has a crescent-shape.
In 1980, this historically significant structure was added to the National Register of Historic Places.
The Crescent has beautiful surroundings made up of spectacular good landscaped gardens, perfect for hosting events like receptions, weddings, club meetings, and parties.
It is the meeting place for many area garden clubs and also an arena where several events including antique sales and flower shows are hosted all through the year.
This is one of the best tourist attractions in Valdosta, do check it out during your visit to Valdosta.
Address: 904 N Patterson St, Valdosta, GA 31601
21. Valdosta Wake Compound
Amongst the top things to do in Valdosta, GA is a fun time at a place made for the benefit of riders, Valdosta Wake Compound is a cable park built with very strong tested, and trusted cables for the sole safety of its visitors.
The park is perfect for experienced riders as well as beginners and also has friendly experienced knowledgeable instructors who are willing and always ready to help you have an enjoyable ride.
Visit the park to use the cable which is quite cheap starting with a price as low as $20 per hour.
The park is open for visitors from 11 in the morning to 7 in the evening every day and if you want to have an extended stay, the park has suitable and affordable accommodation.
This makes what to do in Valdosta, GA for a fun time, do consider for your itinerary.
Address: 2314 Old Clyattville Rd, Valdosta, GA 31601
22. Cain's Creekside RV Park
Located north of Valdosta, Cain's Creekside RV Park is a family-owned and -operated RV Park where customers are considered first and treated with much honor.
This RV park is filled with customer-friendly staff who work hard to ensure your comfort and that everything works accordingly.
Among the features of this RV park includes a shower house, picnic tables, fire rings, and a pull-through site which is 95ft long and 42ft wide.
The RV park also has a front pond available for fishing with a catch-and-release option. There is an on-site manager ready to attend to you throughout your stay in the park.
Cain's Creekside RV Park is an excellent home base for families who intended on exploring the wonders of Valdosta like the Wild Adventures Theme Park and Motorsports Speedway.
Address: 6143 US-41, Valdosta, GA 31602
23. Thrift Shopping In Valdosta
There are lots of thrift shops in Valdosta where you can get the best deal for different kinds of valuable items and if you are good with them, you can easily acquire the items.
Among other items you find in the thrift shops include books, clothes, clothes, vintage things, and many valuable antiques.
Some examples of the best drift shops you can visit while in Valdosta to get perfect deals are Rethink It Odds & Ends Consignment and Collectibles, Salvation Army Thrift Store, Restored Treasures Upscale Thrift Store, and Lucas Country Flea Market.
Are you planning a road trip through California? here is a guide on things to do in Fairfield  and things to do in Palmdale for an amazing time.
Plan a Trip to Valdosta
Were you in thoughts of where to spend your vacation? Valdosta is indeed an amazing place to visit.
With all the beautiful attractions waiting for you to explore, plan a trip to Valdosta today for a fun time with family or loved ones.
Do well to pin this article as a guide for you to easily fall back to while making your checklist of things to do in Valdosta.