Looking for the best and fun things to do in Lagrange, GA?
Lagrange is an exciting city and the county seat of Troup County, Georgia, United States. Lagrange is the central Georgia Micropolitan Statistical Area in the Atlanta-Sandy Springs-Gainesville, Georgia-Alabama (part) Combined Statistical Area.
Lagrange is approximately 60 miles (97km) southwest of Atlanta and situated in the foothills of Georgia Piedmont.
The lovely city LaGrange, incorporated in December 1828, got its name from the country estate close to Paris of the wife of the Marquis de LaFayette.
Here are the top things to do in LaGrange, GA.
Things to Do in LaGrange
1. LaGrange Art Museum
One of the best things to do in langrage, GA, for art lovers is visiting LaGrange Art Museum, and it is worth adding to your checklist.
The LaGrange Art Museum is a small non-profit art museum that exhibits amazing artwork of internationally and locally well-known artists.
The museum is housed in a famous building that was the former Victorian Jail from the 1890s and features a sculpture park as well as four galleries, office spaces, collection storage, and more.
The museum aims to educate visitors by providing the best exhibits, displays collection, and programming.
The artists whose work is on display at this museum are Lamar Dodd, John Lawrence, Larry Walker, Howard Finster, Benny Andrews, and many more.
Self-guided tours are available in the museum to see the amazing contemporary art.
Admission to the museum is entirely free. However, it is suggested to make a donation to help maintain the museum's condition is greatly appreciated.
Visit the amazing LaGrange Art Museum to see the work of established artists as well as to support local Georgian artists in the area.
Address: 112 Lafayette Pkwy, LaGrange, GA 30240, United States
2. Troup County Archives and Legacy Museum on Main
The Troup County Historical Society runs Troup County Archives and Legacy Museum on the Main. The Archive provides a genealogy library containing items related to Troup County, Georgia, and most southeastern states.
The Legacy Museum on Main is home to an exhibition gallery that features West Georgia history and a rotating spotlighting collection varying from the nationally recognized travel exhibits to the archives collections.
The Legacy Museum on the Main usually opens every Saturday, while the archive collection is open every first and third Saturday, starting 10 am to 4:00 pm.
Stop by the Troup County Archives and Legacy Museum on the Main to discover fascinating historical items and other information, including the LeGrange history from Native America, the Civil War, industries, etc.
Address: 136 Main St, LaGrange, GA 30240-3218
3. The Lafayette Square
In the Downtown section of the downtown area of Lafayette Square is a beautiful fountain square that is worth adding to your list of places to visit.
The square boasts The statue of Marquis Lafayette, who was a French Aristocrat or military officer and an American Revolutionary War hero.
The statue is the property belonging to the LaGrange College and was placed there in the year 1976.
The square is a favorite to both tourists and locals to relax and admire the beauty of the gorgeous Downtown LaGrange.
Go to Lafayette Square and enjoy the Downtown scene as well as the stunning panoramic views the square has to offer.
Address: E Lafayette Square, LaGrange, GA 30240, USA
4. Southbend Park
For some fun time with the kids, add a visit to Southbend Park to your list of things to do in LaGrange, Ga.
Southbend Park is a beautiful park that has been beautifully landscaped, located just a few minutes walks from Lafayette Square.
The park was officially opened in the spring of 2019 and swiftly became a popular destination for locals and visitors.
The park is brand new and has large playgrounds for youngsters to play in. It also has a dog park where it is possible to take your dog to play with other dogs.
The park's most renowned attraction is its modern skate park. It's extremely well-known and has received praise from skaters.
The park is a perfect place for all types of skateboarders and in-line skaters. BMX bikers, scooter users, and many others.
If you aren't a fan of skating or jogging, you can enjoy the wide green spaces in the park while enjoying the stunning views of the park.
When you're done with the park, have a bite from one of the nearby Downtown eating establishments that are just a few steps from the gorgeous Southbend Park.
Address: 309 Pierce St, LaGrange, GA 30240, United States
5. Callaway Memorial Tower
Memorial Tower is a monument to honor the great textile magnate Fuller E. Callaway, and it is worth adding to your list of places to visit in LaGrange, Ga.
Also called the Callaway Monument, The tower was constructed in 1929. The breathtaking Callaway Memorial Tower is inspired by the Venice Italian Campanile of St. Mark's Square.
This is the ideal spot to take the best photos with an amazing background. It is surrounded by gorgeous and expansive green lawns and stunning views of the beautiful surroundings. It's the perfect spot to unwind and have a picnic.
There is also the option to play catch or throw a frisbee and fly kites through the vast green space.
After you have visited The Callaway Memorial Tower, you are able to visit the brewpub Beacon Brewing Co, located near the tower, to have an alcoholic drink and delicious food.
Address: Cypress St, LaGrange, GA 30240, United States
6. Sweetland Amphitheatre
If you are looking for some entertainment while in the city, add a visit to the Sweetland Amphitheatre to your list of things to do in LaGrange, GA.
Sweetland Amphitheatre is the LaGrange's personal event space, which hosts a variety of events like shows, musicals, plays conferences, and many more.
The outdoor space can hold more than 2,500 people simultaneously. There's always some kind of music or another performing at the venue for you to enjoy, particularly in summer.
It also provides a selection of delicious beverages and food to enjoy while you watch shows.
With such a wide range of top-quality amenities and settings, once you enter the Sweetland Amphitheatre's gates, you'll forget you're in a town of just a few hundred people.
The amphitheater is situated in the Downtown LaGrange area. Feel free to enjoy a musical or concert after you have explored the amazing restaurants, unique shops, and amazing attractions in Downtown LaGrange.
Also, make sure to see one or two shows on the Sweetland Amphitheatre when you visit this charming Georgian town in LaGrange.
Address: 110 Smith St, LaGrange, GA 30240, United States
7. Explore LaGrange On Foot
LaGrange is a small city with a population of around 30,000 residents.
But, this town has almost all the amenities found in larger cities, which makes it ideal for visiting.
Enjoy the charm and atmosphere of a small town, but with all the amenities and comforts of a large town.
Because of the city's size, it's perfect for walking around my feet. The town was established in 1828 and is awash with its rich past, which is evident throughout the town's small size.
It is possible to stroll through the town and discover all the corners and crevices and uncover hidden treasures, which that are only known to residents.
The Downtown region, which has some of the most impressive buildings and sights of the town to take a look at while strolling.
The long walk through the picturesque streets of this city is definitely worth adding to your list of things to do in LaGrange, Georgia.
8. Water Wiz
Water Wiz is a place you and your family or friends will enjoy the ultimate camping experience. Water Wiz is open year-round and offers fun and recreation for all ages.
The Water Wiz offers relief from the sun as a result of its excellent water slides and pool. If you do not want to swim, you can relax on one of the beach chairs.
You can also host birthday parties and picnics in the area. Your kids will love this place as they will love playing on the slides and pool and in the clean waters. Water Wiz is one of the best places to relax and enjoy summer.
In Water Wiz, there are amenities like tent sites with power, a clean bathhouse, on-site catfish pond, 30 Amp/50 Amp hook-up, golf cart rental, WiFi, and others.
Address: 305 Old Roanoke Rd, LaGrange, GA 30240-8205
Washington holds quite some breathtaking attractions and activities for a fun exploration, do check out our list of things to do in Bellingham , things to do in Tacoma and things to do in Yakima for a memorable Washington exploration.
9. Hogg Mine
Do you love embarking on an adventure? Do you love to explore amazing things? You can discover fantastic stuff in the Hogg Mine as you enjoy digging your gems at Hogg Mine.
Hogg Mine is a fantastic and fun place to visit. It offers an excellent opportunity to its visitors to discover unique gems by digging them; they also provide public and private digs.
Hogg Mine is a family-friendly business that features knowledgeable and pleasant staff who will welcome you kindly and brief you of what you can find and where to find it in the Mine. They are sure to answer your questions if you have any.
You can also take your kids to enjoy digging with you as there are things to do for everyone in the Mine. Do not forget to wear clothes you don't mind getting messy.
Also, come with your shovels and buckets as you get ready to have a great day. Hogg Mine is an excellent place for a fun family or friend's outing.
Address: 2408 Whitesville Rd, LaGrange, GA 30240-8402
10. Visit Bellevue
Bellevue is an elegant antebellum house, an interesting attraction located in the Historic Downtown area, and worth adding to your list of things to do in Lagrange, GA.
Benjamin Harvey Hill built it between 1852-1855 to honor Caroline Holt Hill, his wife.
The house was built of Greek Revival-style construction and is an excellent example of a temple that was built for a family of that time.
In 1942, this historical building was the residence of the LaGrange Woman's Club.
The two-story estate, which was built in the 1920s, was declared a National Historic Landmark in 1973.
You can join an organized tour of the property to find out what the house is about and some local history guided by experienced tour guides, a group comprised of a husband and a wife who manage the estate.
Guided tours can be reserved by contacting their website prior to the tour with no additional cost.
Address: 1916 Hills and Dales Dr, LaGrange, GA 30240, United States
11. Wild Leap Brew Co
Wild Leap Brew Co. is the very first brewery in LaGrange, which is located within the Downtown.
The brewery brews and serves delicious Georgian hand-crafted craft beers.
The brewery has an open tasting room, as well as an outdoor beer garden where customers can relax and enjoy the delicious beer.
The brewery also provides a tour that is led by staff members who are knowledgeable and answer all questions of visitors on the process of making beer.
The brewery does not offer food; however, it does permit bringing food with you, and there's a food truck that is parked near the brewery almost at every moment.
From there, you can purchase food items to go with your drink. Go to Wild Leap Brew Co. for some delicious Georgian craft beers.
Address: 308 Main St, LaGrange, GA 30240, United States
12. The Fields Golf Club
The Fields Golf Club consists of an 18 hole, links-style golf course located amongst rolling hills and stunning scenery.
The Fields Golf Club welcomes the public while serving LaGrange, Troup County, western GA, and eastern Alabama.
The naturally beautiful Fields Golf Club features wide-open fairways, excellent greens, good tee boxes, and firm and fast conditions most times in the year. Modeled after some of the classics across the pond are many holes in Fileds Golf Club.
The Fields Golf Club welcomes everyone that loves playing golf; whether you're a beginner, an expert, a single league, or an outing, the player, you will find the golf course enjoyable, challenging, and scenic.
The Fields Golf Club opens every Monday through Sunday from 8:00 am to 7:00 pm; you can also purchase their affordable Fields Cards to kick start your enjoyable experience.
Address: 257 S Smith Rd, LaGrange, GA 30241-9687
13. Nutwood Winery
The Nutwood Winery rests among the rolling hills of the Georgia plains. The gorgeous Nutwood Winery has a ten-acre farm and an exceptional 6,000 sq feet tasting room.
The Nutwood Winery also features the historic manor home and a 200-year-old pecan tree, giving Nutwood Winery its name.
The Nutwood Winery Wine Club offers quarterly wine choices, favored part valuing, complimentary tastings, VIP winery access, solicitations to individuals just occasions, and select admittance to the Nutwood Winery experience.
Nutwood Winery consists of an outdoor and indoor seating area that provides its visitors a relaxing and delightful environment to enjoy good company alongside the great wines and delicious food they serve.
The entire wine bar, fantastic wine pairings, and the outdoor activities in Nutwood Winery entertain for its guests to enjoy.
Address: 1339 Upper Big Springs Rd, LaGrange, GA 30241, United States
14. Great Wolf Lodge
Situated just 3 miles from Callaway Memorial Tower, Great Wolf Lodge is a natural-themed resort featuring an indoor water park and an outdoor recreation space.
The resort offers a variety of activities for families to enjoy throughout the day, like bowling lanes and pools, a 93,000 square feet water park, and many more.
There are four restaurants, three cafes, three bars, and many shops to take a break and spend time eating or shopping without the distraction of kids.
The resort also has accommodations within the resort. The gorgeous suites at The resort have spacious, clean rooms and come with various amenities, including mini-fridges and flat-screen TVs., balconies, lounge areas for chilling, decor inspired by the jungle, and more.
If you're traveling with the entire family, you are able to stay in the family quarters, which can accommodate up to 13 guests.
Great Wolf Lodge is a spectacular attraction that you shouldn't miss out on if you are in Lagrange, Georgia.
Address: 150 Tom Hall Pkwy, LaGrange, GA 30240, United States
15. Taste of Lemon
Another award-winning restaurant in the city, eating at Taste of Lemon, is definitely worth adding to your list of things to do in LaGrange, Georgia.
Taste of Lemon is a delightful restaurant located set in an old, rustic church that serves mouthwatering southern-style local food.
The restaurant serves meals in a meat-and-3 style, which is the main course is served that comes with two sides.
The menu has a wide selection of fantastic options, such as country-fried steak, poppy seed chicken salmon croquettes, vegetable side dishes, and more.
Don't forget to taste the restaurants' pineapple casserole, as well as the mac and cheese.
Address: 204 Morgan St, LaGrange, GA 30240, United States
Planning a Maryland road trip? check out our list of things to do in Hagerstown, for a fun and memorable Maryland trip
16. Biblical History Center
Biblical History Center is a cultural museum located in LaGrange which focuses on the past of the ancient world via exhibits, displays, objects, artifacts, occasions, and much more.
The museum's goal is to allow visitors to experience the history and culture of the biblical age by presenting elaborately curated exhibits as well as lectures, displays, and other interesting occasions.
Previously named Explorations at Antiquity Center This archeological museum teaches visitors about the early period of the biblical age.
It includes meal-themed presentations, everyday objects, the most authentic replicas of ancient artifacts, and more.
The Biblical Life Artifacts Gallery is one of only seven of these galleries that exist in the world. It exhibits more than 250 artifacts.
The Replica Garden is home to the Roman Step Theatre, tombs, as well as a home, goat hair tents, and real-sized replicas of excavation sites.
You can join an interactive tour around the estate to learn more about the property from knowledgeable and helpful tour guides.
You don't have to be a Christian to explore this wonderful attraction as it has something in store for people of all religions.
Address: 130 Gordon Commercial Dr, LaGrange, GA 30240, United States
17. Ye Olde Red Door Antiques
If you are in LaGrange, Georgia, you need to visit the Ye Olde Red Door Antiques as it merits your time. The Red Door Antiques sells quality collectibles at reasonable costs.
Ye Olde Red Door Antiques is an antique store conveying fine collectibles, European imports, and natives.
The Ye Olde Red Door antique staff is amicable and helpful as they will inform you of the things you need to know about the place.
The owners of the store, Larry and Bobbie, are friendly and nice. You can buy unique gifts wrapped for your friends and family in the antique store.
Address: 33 S Lafayette St, LaGrange, GA 30240-3243
18. The Splendid Hills & Dales Estate
Tourists who are interested in architecture should add a visit to the Splendid Hills & Dales Estate to their list of things to do in Lagrange, GA.
Hills and Dales Estate is a historic landmark that is an integral aspect of the city's rich heritage.
Built-in 1916, the estate was the residence constructed for Fuller E. Callaway, the owner of the textile business, and his spouse, Ida Cason Callaway.
The 13,000 square-foot home is stunningly designed and comprises well-worn paths, elegant gardens, and gorgeous terraces.
Pre-Civil War Ferrell Gardens are one of the most maintained and well-maintained gardens in the nation from the nineteenth century.
The Georgian-Italian home that forms the mainstay of the estate is among the most beautiful homes of the period.
The home is well-preserved and beautifully maintained. It is decorated in its original style and furniture.
Be sure to go on an informative tour around the house to get a better understanding of the estate's history during your visit to the breathtaking Hills & Dales Estate.
Address: 1916 Hills and Dales Dr, LaGrange, GA 30240, United States
19. Ice Days
Ice Days is a locally family-owned and operated Ice Rink Company in Conyer, Georgia, and Ice Days is an excellent place to have fun on natural ice.
Enjoy skating with your friends and family at Ice Days. Are you ready to have a fun skating experience with your loved ones? Please visit the Ice Days.
Ice Days is affordable and focuses on family fun and entertainment, especially during the winter holiday seasons.
If you're on vacation with your loved ones, make sure to explore Ice Days with your family or friends to go for a spin on one of the Real Ice rinks and create memories that will last a lifetime.
Address: 110 Smith St, LaGrange, GA 30240-2742
20. Mare Sol
For a memorable dining experience, add a visit to Mare Sol to your list of things to do in LaGrange, GA.
Mare Sol is a fantastic restaurant located in Downtown LaGrange, which offers Mediterranean American cuisine in a relaxed and modern setting.
It also has over 15 specially crafted beers right off the tap, as well as an impressive selection of wines.
They also offer vegan and vegetarian options and gluten-free choices to satisfy the requirements of everyone.
The varied menu includes a variety of tasty delicacies. Be sure you try their Greek Hoagie of chicken, Shrimp, and Grits, and top it all by eating Butterfinger cheesecake.
Address: 124 Main St B, LaGrange, GA 30240, United States
21. Timberwolf Axe Throwing
Timberwolf Axe Throwing is a family-friendly establishment that offers 14 lanes of ax-cellent ax-throwing excitement for both young and adults.
The Timberwolf Axe is both functional and attractive with a heavy, thick, full-tang construction. If you love exploring new things and you are adventurous, you will love this place.
There are lane coaches in the establishment to guide you and brief you on the safety tips and fun games to play. The coaches in Timberwolf also demonstrate how to throw the axes to its guests. If you would love to host your event in the place, Timberwolf provides lane rentals for any occasion, such as birthday parties, business events, private functions, etc.
Timberwolf Axe Throwing is open to the public every Thursday from 4:00 pm to 10:00 pm, Friday & Saturday from 12:00 pm to 11:00 pm, and Sunday from 3:00 pm to 8:00 pm.
Address: 1300 Lafayette Pkwy F-1, LaGrange, GA 30241-2612
22. Combat Zone
If you are searching for adrenaline-pumping outdoor fun, head to Combat Zone.
Combat Zone is a top-notch destination for tactical laser tag, an ideal activity for your loved ones or group gathering.
The missions are appropriate for different ages and create an exciting and engaging experience.
Combat Zone is 100% safe, and you won't need any protection for your eyes.
So go to Combat Zone and have a fantastic time with your friends and family.
Address: 605 Old Hutchinson Mill Rd, LaGrange, GA 30240, United States
23. Long Cane Park
Among the best things to do in LaGrange is to bask in nature at Long Cane Park.
Long Cane Park is a fabulous place you must visit during your vacation in LaGrange.
The park has a boat ramp open all through the year for recreation.
Additionally, the park has nature trails, picnic sites, camping sites, parking, and bank fishing.
Address: LaGrange, GA 30240, United States
24. Beacon Brewing Co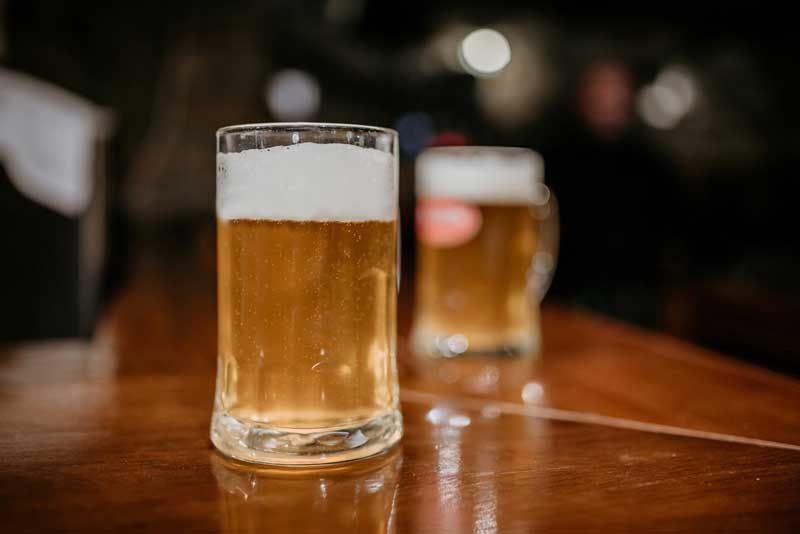 Beacon Brewing was inspired by a passion for creative innovation in drinks and food while providing the community with an opportunity to toast, taste, and partake in it.
Beacon brews unique and modern beers in traditional and technical fashions. Additionally, it enhances Asian Cuisine with a southern panache.
At Beacon Brewing Co, you will be shocked by the blend of local flavors. Their indoor tap room provides a table setting, bar seating, and four dining areas.
Their lounge area offers a relaxing environment with small side tables, couches, and a projector for televised occasions.
Furthermore, the area presents special late-night hours on Friday and Saturday nights from 10 pm to midnight and includes a late-night snacking menu.
Their screened-in patio has table seating and is furnished with fans in the summer and a heater in the winter to make guests comfortable.
Address: 700 Lincoln St, LaGrange, GA 30240, United States
25. Lamar Dodd Art Center
Lamar Dodd Art Center, situated on LaGrange College Campus, hosts rotating art collections.
The three-story 32,000 sq ft facility is home to the art department of the Methodist and liberal art college.
The Lamar Dodd Art Center, completed in 1982, has two floors of galleries. The attraction is named after the famous Lamar Dodd, who had his first formal art class at the school.
The center is home to a retrospective collection of Dodd's paintings provided by the artist and Mary Lehmann, his wife.
Regardless of the exhibit on display, visiting this gorgeously crafted center is something you should do when you visit LaGrange.
Address: 310 Panther Way, LaGrange, GA 30240, United States
Want to check out more cities in Georgia? here are guides on Gainesville, Blairsville, and Valdosta for a fun Georgia exploration.
Plan a Vacation to LaGrange
Are you ready for your next vacation with your family and friends? For a fun and memorable vacation, plan your trip to LaGrange, Georgia.
LaGrange is a beautiful city that welcomes visitors to discover unique galleries, fun parks, delicious foods, and sweet wines. You will also find unique antiques, arts and crafts, music performances and exhibitions, theatres, restaurants, experiences, fun outdoor activities, water fun activities, playgrounds, and many more.
It would be fantastic if you explored LaGrange with your family and friends for a memorable vacation, so start planning your next trip to be in LaGrange, Georgia, United States.