Danbury, CT is located just some 50 miles in the northeast of New City. This city, though small is lauded by the USA as one of the most lively and most liveable areas in America, hence you will meet lots of fun things to do in Danbury CT.
This city is popularly remembered for being a home to the train station in one of the movies written by Alfred Hitchcock.
But there is more to this city, you will find the Candlewood Lake, a beautiful natural body to behold, specially reserved nature spaces where you can hike, fish, horse ride, and boat.
During your visit take to exploring Danbury CT attractions and activities, do not miss the thrills of Escape Room 101, the beauty of Squantz Pond State Park as well as Ives Concert Park, fun and games at Jumpz Trampoline Sports and lots more Danbury has to offer.
To help plan your trip, here are the best things to do in Danbury CT.
Things to Do in Danbury, CT
1. Tarrywile Park & Mansion
Spanning through an expanse of over 700 acres of land, the Tarrywile Park is popularly known as the largest park in the state.
The park is city-owned and is full of beautiful features including forests, some rocky hills and meadows, all summing up to make a wonderful scenery.
You would also enjoy the hiking trails where you can bike or walk with your family over 20 miles.
Visitors have a lot to see in the park. Yes, there is a beautiful lake situated in the forest, the gorgeous and varying natural terrain captivates the eyes.
You also have the luxury of picnic sites for your family and acquaintance to enjoy.
In addition to these, the park houses quite some historic buildings. A Shingle Style mansion (built on a 12 acres land) has some other outbuildings and a gatehouse.
You will also meet the Hearthstone Castle, built in the 19th century. Access is granted to visitors on appointment.
Address: 70 Southern Blvd, Danbury, CT 06810,
2. Jumpz Trampoline Sports Danbury
Would you love a place to tire the kids with fun activities, you can as well join in the fun, then Jumpz Trampoline Sports Danbury is the place to stop by during your visit to Danbury.
This is an indoor fun space which features quite a lot of attractions to keep everyone busy with a sport or another, activities you can engage in includes laser tag, wall to wall trampoline, volleyball, dodgeball, basketball, foam pits, swing, super slide and lots more.
Its laser tag arena can accommodate as many as 25 players at a go, players could play different game types which cuts across Zombie Infection, Free-For-All, Team Deathmatch, and lots more.
You are in for a fun time with Jumpz Trampoline Sports Danbury, do add to your checklist of fun things to do in Danbury, CT during a visit.
3. Squantz Pond State Park
The Squantz Pond State Park is an awesome spot located close to the west shore of the Candlewood Lake and just about some 9 miles in the north of Danbury.
This water body was created in the 1920s as a result of reservoir filling and occupies 270 acres.
It is a beauty treat especially in the summer, as you can enjoy activities like motor-boating, fishing and swimming.
You can hire kayaks and canoes to enjoy the water. There is also a picnic space coupled with the views from the nature center in the park.
You can choose to walk the trails too. On the west,a trail leads to the Pootatuck State Forest while the blue trails direct your view to the scenic beauty if the Candlewood lake and beyond.
4. Danbury Museum & Historical Society
For anyone who has an interest in knowing about the history of Danbury, you've got it on a platter here at the Danbury Museum & Historical Society.
The museum is located at the Main Street and it is an assembly of five different historic buildings.
These historic structures include the John Dodd Hat Shop (1790), the Marian Anderson Studio, the Little Red Schoolhouse (18th century), the John Rider House (1785), and finally the Huntington Hall (1963).
The last, that is, Huntington Hall was built to accommodate the library, the offices, and the gift shop.
You will find most of the exhibitions and displays arranged in the hall. There you learn about the culture, attributes, and history of Danbury.
Also, the Marian Anderson studio was established in memory of Marian Anderson (1897-1993). She was a world-famous American operatic contralto and resided in Danbury for over 50 years.
She performed a vast range of music, From the spirituals to classical music. She had her concerts with well-known orchestras in and out of the United States.
One popular exhibition held was in 2019, the "Driving Danbury Forward". The exhibition explained how cars and other transportation media helped shape the lives and activities of the city.
Also, there is an open bar with good music and food. Do well to show up anytime in the spring, summer, or autumn.
Address: 43 Main St, Danbury, CT 06810,
5. Danbury Fair Mall
Boasting one of the largest (specifically, the fifth largest) shopping malls in the entire New England and the second-biggest in Connecticut, the Danbury Fair Mall is just at the top.
The mall was first launched in 1986 and is located at off I-84, across the Danbury Municipal Airport. This site is a historic fairground and it covers over 1.2 million square feet in area.
The mall has about 200 different stores and offers various services. There you would find well-known upmarket, massive department stores, and midmarket retailers like Michael Kors, H&M, Macy's, L.L. Banana Republic, Sears, Bean. JCPenny, Abercrombie & Fitch and Gap. There are also exquisite restaurants in the mall.
As part of keeping history alive, they also host the SummerStage event, this is a program that features arts and crafts, outdoor concerts and realizes some funds for children.
This event rekindles that feeling and runs through July and August.
Visit to enjoy the food court and carnivals.
Address: 7 Backus Ave, Danbury, CT 06810.
6. Danbury Railway Museum
One of the fun things to do in Danbury is a visit to The Danbury Railway Museum, It is the old Union Station of the Metro-North Railroad which functioned from 1903 until 1993, its stop in usage was because of a new station which was built.
Then, there is the Danbury Railway Museum built to keep the story of how the railroads faired in Danbury and its surrounding areas.
The building is built in Richardson Romanesque style and beautified with model train layouts.
If you are enthusiastic about trains, you would be attracted to the station and the event the railyard (about 6 acres).
More delight is in the historic equipment around -exceeding 70 pieces- and some artifacts.
You would notice the Boston & Maine 1455 Steam Engine and even recent train sets. In the museum is an array of old photographs.
Increase your excitement by taking on a train ride, it's about half an hour!
Address: 120 White St, Danbury, CT 06810
7. Danbury Ice Arena
The Danbury Ice Arena was built in 1999 and is a 3000-capacity venue which offers a vast range of skating programs and other public sessions. There was a massive expansion in 2004 following its establishment.
This arena accommodates people of different age brackets through the skating lessons which are dished out all year round.
Students gain complimentary admission for public skate sessions with classes held in the semester.
Their professional trainers brush up the students in puck-handling and skating skills and even the organization of youth leagues.
This arena has hosted a handful of professional teams and games over the past 20 years. The Danbury Whalers, at a time, was based in Hartford ( during their spell in the NHL) and until 2015. they played 5 solid seasons here.
Other recreational activities for you include the entertaining DJ skate nights and personal hockey coaching, this makes what to do in Danbury for sports lovers.
Address: 1 Independence Way, Danbury, CT 06810
8. Danbury Sports Dome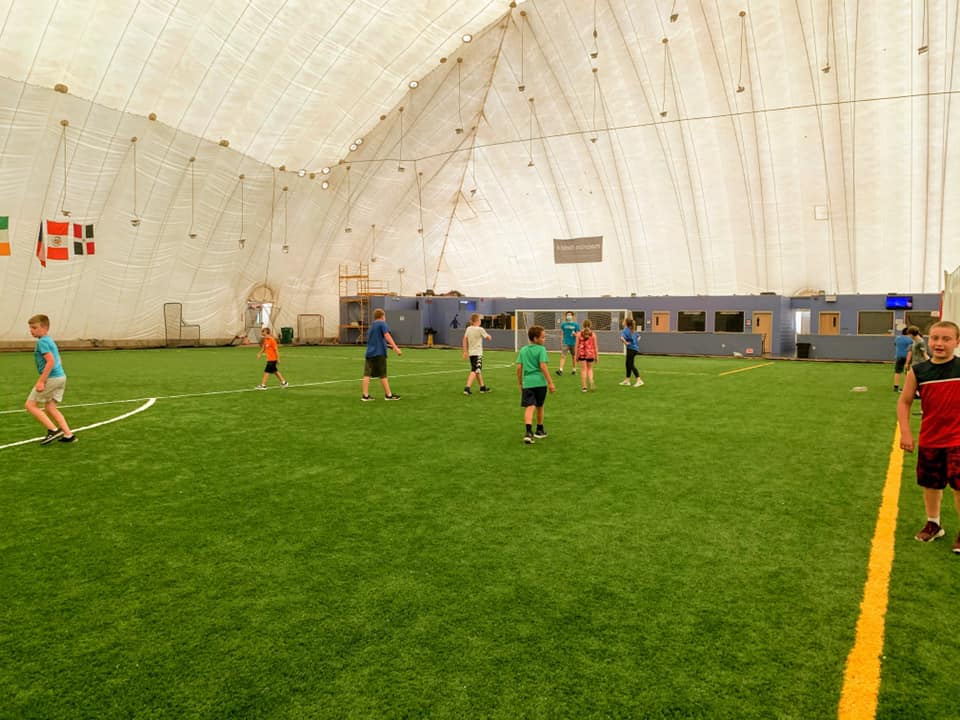 One of the fun things to do in Danbury for sports lovers is the Danbury Sports Dome. It is the largest dome structure on the East Coast.
This facility is host to a good number of events and activities all through the year.
Games such as the drop-in soccer, pick-up lacrosse and lawn bowling are available for visitors to participate in.
One can still rent the indoor fields and the battle balls is also open for that too. You can enjoy some good food and drinks at the concession stand just close.
They also cater for special events such as birthday parties.
Address: 25 Shelter Rock Ln, Danbury, CT 06810, Phone: 203-778-3663
9. Bear Mountain Reservation
Located in the North of the city, the Bear Mountain Reservation is a 140-acre site that offers numerous exciting trails for your pleasure.
These trails are looping and connect beautifully with one another. They can be easy and to hike through while some has some bit of difficulty.
The Orange Trail however is a steep one and leads to the shore of Candlewood Lake.
You would enjoy the wonderful water scenery there and the 1.7-mile Red Trail, the longest of the color-coded trails in the area.
There are also some shady picnic areas for you to relax yourself, You can come with your car as there is a parking lot available
Address: 17 Bear Mountain Rd, Danbury, CT 06811
10. Ives Concert Park
The Ives Concert Park was named after the well respected modernist composer, Charles Ives (1874-1954). He lived in the city at the time.
It is a beautiful 40-acre pond-side park more like an amphitheater which plays history to a lot of events. This park is decorated with lush gardens and forests adding to the aesthetics.
Music concerts and various theatre productions going on here during the year.
The likes of Shakespeare plays, country harvest hoedown, classical shows, and reggae concert all pull through. Some other unique events like sip nights and auto shows are held here sometimes.
The park is very admirable, do plan a visit.
Address: 43 Lake Ave Ext, Danbury, CT 06811.
11. Wooster Mountain State Park
This park was built in 1920 and is situated in the city boundaries. It is 444 acres in area and with hunting as its most its major activity.
You can also practice target, trap, and skeet shooting in the Park's shooting range. Yeah, it's about 50 yards and that's if you don't love hunting.
The Wooster Mountain State Park is also a nice for hiking because the Ives Trails and Greenway cross through.
It's free to visit so do well to avail yourself of this opportunity.
Address: 30 Sugar Hollow Rd, Danbury, CT 06810
12. Shelter Rock Winery
This is on record the first urban winery in the entire Connecticut.
The Shelter Rock Winery is unique because it is a club that allows her members to produce their wine to their desired taste. The environment is very social and friendly.
The grapes for the production is sourced from up California. And with the owner, an Italian, is very experienced in the business of winemaking grants members the privilege of choosing their preferred grape varieties.
The winery offers a lot to visitors and for those who can't make theirs (probably time constraints), enjoy the dinners, tours, or wine tasting.
Address: 5 Shelter Rock Rd, Danbury, CT 06810
13. Lakeside Watersports
The Lakeside Watersports is a boating company that is owned and managed by two friends who are enthusiasts in watersports.
Though still a small company, they offer lessons to interested persons using the Candlewood Lake.
One can choose from a wide range of water sports to engage in. The water skiing, wake surfing, and kneeboarding are all there to try out with all the needed equipment very much available.
The operation time varies and is dependent on the time of season.
Your entire family can be accommodated on board, as there is space for the driver, instructor, and extra 9 persons. You would love the waves, so plan to have a fun time with Lakeside Watersports.
Address: 16 Forty Acre Mountain Rd, Danbury, CT 06811
14. Monster Mini Golf
I love this game, golf, who else does?
The Monster Mini Golf is an 18-hole golf course, It is a classic facility designed with entertainment and fun activities for your enjoyment and family in extension.
Decorated with black lights around the course with a lot of glow-in-the-dark constituents and even some animated monsters bossed to bring in reality experience.
You will also find the laser tag course. It is a 2500-square-foot area designed for both individual and team take-on.
You can host your birthday party any of the sections of the arena (mini or laser tag) and experience a memorable occasion.
Address: 13 Stony Hill Rd, Bethel, CT 06801.
15. Veterans Walkway of Honor
The Veterans Walkway of Honour is a pathway built-in 2012 in remembrance of those who served the nation through the American Military. It is located at the Danbury War Memorial.
This pathway is beautifully designed with bricks and on these bricks, you'll find the names, service areas, and ranks of these veterans.
You can find the pictures of these humble men and women on the website. Profits generation is directed to veteran-related activities and charities.
Address: 1 Memorial Dr, Danbury, CT 06810,
16. Richter Park Golf Course
Yet another excellent golf course and is hailed as the best in Danbury.
Located close to the West Lake Reservoir, just by the shores, the public golf course was designed by Edward Ryder, a golf architect.
It has 18 holes par 71. a tricky one though, and amazingly 14 of them have water features with the green efficiently protected by 49 bunkers.
Although the course is open, one has to be on a complete golf attire to gain access. You can rent those there.
They also offer some private lessons for players irrespective of skill level with the availability of about two practice greens, where you can polish your skills.
Address: 100 Aunt Hack Rd, Danbury, CT 06811.
17. Escape 101
How about being locked in a room with lots of puzzles to crack for an escape, Escape 101 brings the thrills of an escape room to Danbury.
This is a type of entertainment where friends and families as well as team members (usually 4-10 persons) go into a themed room full of puzzles, the room is locked shut and a timer activated to 60 munites.
This gives players the time to solve a series of puzzles by collecting clues inside the room, these puzzles are such that they lead towards obtaining a key to unlock the room.
At Escape 101, you have the opportunity to engage in this fun activity with friends and family members, rooms here are thoughtfully designed with aim to give a thrilling expirence as well as an unexpected twist.
Time to think outside the box, plan a visit to Escape 101 during your visit to Danbury, makes what to do in Danbury for a fun time.
18. Candlewood Lake
This is one natural body you can't miss in Danbury. In the 1920s, a hydroelectric dam was created just between The Rocky River and Housatonic River, resulting in the formation of the Candlewood Lake.
This lake is the biggest in the entire Connecticut as it covers over 5,300 acres, with Danbury city on its northern border
The lake is a majestic body, its beauty radiates that which attracted some of the most dear estates to be established by its shores
As a tourist, you will find golf courses, marinas, and beaches spread on the shoreline. And like we've discussed already, by the south of the shore is the Candlewood Town Park, with lots of attractions for you.
19. Hemlock Hills
So beautiful a sight, from the east going through Bennett's Pond State Park to the Pine Mountain to the Wooster Mountain State Park Preserve and heading to the west, is the Hemlock Hills. They are connected naturally in a string.
This area is a wooded landscape with its peaks above 300 meters just at the base of the Berkshire Mountains.
These parks have connection of walking trails, the Pine Mountain and Hemlock Hills are linked by the Red Trail and Yellow Trail.
They are both very much friendly for you to enjoy with your family, though steep. You can also enjoy mountain hiking and fishing at the base of the hills.
20. Blue Jay Orchards
Hey, do you love orchards? I guess you do. Well, Blue Jay Orchards is one unique setup for fruits.
You would see about 15 distinct species grown on the farm, including the Galas, sweet Braeburns or the Granny Smiths.
The orchard is 140 acres in area and you could spend the whole day picking apple of your own.
Between September and late October, the sumptuous apples are ready for picking and you could join in selecting from any of the varieties.
Check up their website to enhance your time of visiting. You can ask well purchase jams, cookies, jellies, pies, and pastries. Did I forget the cider?
21. Collis P. Huntington State Park
Named after Collis Potter Huntington, a railway influencer in the 1970s, the state park (1,000 acres in space) is built on a land which was donated by his descendants.
The park is beautified with some landscaping done during the 20 century. Five ponds were created too, trail systems and a lighthouse sited on one of the islands.
You would be greeted by sculptured wolves and bears at the entrance. These works were done by Anna Hyatt Huntington. She lived from 1876 to 1973 and had her studio in this place.
Enjoy the activities such as mountain biking, hiking, horse riding, canoeing amongst many others
22. Ives Trail & Greenway
This is a 20-mile trail that cut Hardy terrains and starts from Bennett's Pond, Ridgefield meandering through some unguarded paths of Danbury, runs through Bethel, and then ends at Redding Open Space.
The trail cuts across four towns, passing through private and public lands. Alternating terrains like some smooth rolling hills to notable glacial erratics, to rugged precipices to some deposited boulders caused by ice age.
It requires some bit of experience to go tour through this trail. So visitors are advised to turn back when they meet a point that looks unsafe or risky.
Mountain bikes and horses are permitted but any form of motorized locomotives are not welcomed.
Address: 36 Sugar Hollow Rd, Danbury, CT 06810.
23. Thrillz High Flying Adventure Park
Thrillz High Flying Adventure Park provides an excellent venue for fun activities for residents and tourists, including corporations and groups.
The Park has a broad selection of fun-filled activities such as their two-story wipe-out inspired obstacle course, ninja courses, spacious rotating sweepers, rock climbing walls, and trampoline launch pads.
The Park also has an incredible virtual reality roller coaster, an Esports gaming space for Xbox and other amazing games, an ax-throwing range, a laser tag space, zip lines, and trapeze hoops.
Thrillz High Flying Adventure Park can assist you in organizing your birthday party, team-building events, and group tour.
Address: 9 Prindle Land, Danbury, CT 06811, USA
24. Charter Oak Brewing
If you are a beer enthusiast, Charter Oak Brewing is an ideal place to check out when you visit Danbury, CT. This mini brewery is dedicated to making varieties of good handmade craft beer.
To ensure that all of their beers have their flavors intact and fresh, they produce their beer in small batches of 250 to 289 using the best locally sourced ingredients.
Their beers are available in various styles, such as their premier Brown Ale, Stubborn Yankee Lager, Wadsworth IPA, and others.
You can check out their taproom to select from their ten fresh brews. There is a food truck outside the brewery. In addition, brewery tours are available.
Address: 39B Shelter Rock Road, Danbury, CT 06811, USA
25. Xtreme Play
If you want a place to enjoy a fun-filled adventure, look no further, as Xtreme Play has got you covered. This destination is a 30,000-square-foot multi-purpose facility that features different fascinating recreational amenities.
There is something to do for everyone, no matter their age. The Park features virtual reality games, ropes courses, ninja warrior courses, bumper kart trucks, a three-level ballistics play area, a wide gaming arcade, laser tags, climbing walls, and XD motion theater.
Xtreme Play offers video and audio services throughout the whole facility, together with installed UV LED lighting effects to create a more immersive laser tag experience.
If you get famished, you can refill your stomach with their fabulous gourmet menu prepared by local chefs. You can also have Xtreme Play plan your upcoming event, including birthday parties and group/corporate events.
Address: 38 Mill Plain Rd, Danbury, CT 06811, USA
Florida brings lots of fun attractions and activities, here are the best things to do in Ocala as well as fun things to do in Lakeland to give a fun exploration of these parts of Florida
Plan Your Trip to Danbury
As you have noticed there are a whole lot of fun things to do in Danbury.
Its landmarks, waters, museums, sports centers, shopping malls, the pleasant parks, monumental sites, the reserved areas, and lots more all am to give you a fun time here.
I'm sure you would be planning your vacation now or later, You can always fall back on this piece as a guide to your checklist.
Also, check out other cities in Connecticut during your visit to Danbury, here is a guide on things to do in Hartford to give a fun exploration of this area, do have a fun vacation!