Milford is a city filled with wonders of nature located within coastal Connecticut and New Haven County, United States.
The city has the longest coastline in Connecticut and is by the Housatonic River, this amazing feature makes it bird-rich, featuring different species of birds.
There are lots of fun things to do in Milford especially for outdoor fun activities like swimming, hiking, biking, fishing, sunbathing, bird watching, lots of sporting activities, and more.
It is also a festive city where the famous Milford Oyster Festival is celebrated, drawing crowds as well as big-time musicians, vendors, and a lot of artisans. For a fun time here, let's explore the best things to do in Milford.
Things to Do in Milford, CT
1. Silver Sands State Park
Amongst the top things to do in Milford is a visit to Silver Sands State park.
Located on Long Island Sound, Silver Sands State Park is an outstanding park which occupies about 300 acres of natural land space.
This amazing park has several interesting features which include a swimming beach, forest, dunes, a saltwater marsh, and a diverse range of terrain.
It also has evenly connected trails or boardwalks which cuts across the park where visitors can easily take a comforting stroll and lots of available comfortable areas to host picnics.
Silver Sands State Park is also an ideal place for interested bird watchers as it has 14 -acre bird sanctuary which is home to several wading birds like herons and egrets.
Address: 1 Silver Sands Pkwy, Milford, CT 06460, United States
2. Milford Historical Society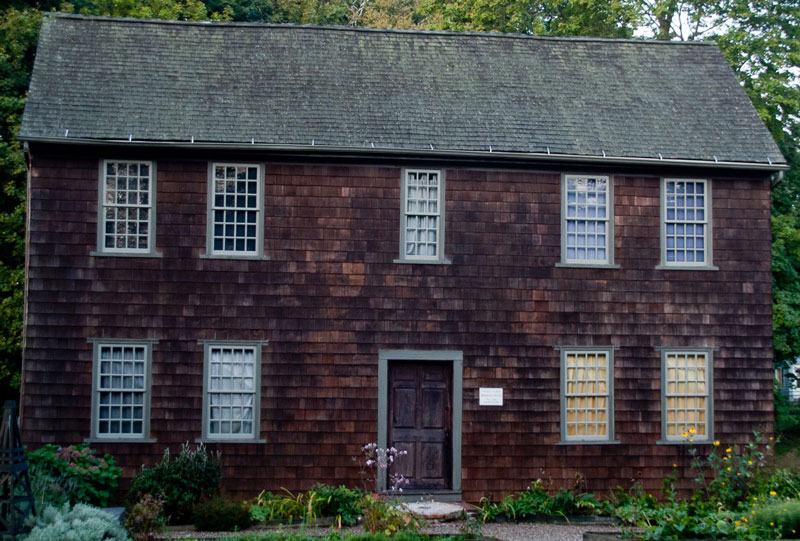 If you are looking to know the history of this exciting town, Milford Historical Society is the perfect place for you.
This historical society is known for preserving ancient valuables that connect to the history of Milford which includes three historic houses.
In the summer of 2019, the society has a series of remarkable displays from the Moger Collection archive photography given the title "Our Town – Our Story".
Some of the features of this historic society include ancient Milford furniture which once belonged to prominent local families, and also Native American clay pots and arrowheads which predates about 10,000 years ago.
Some of the historical structures in this society are the Bryan-Downs House of 1785 though later relocated in 1977 to the Historical Society property, the five-bay Clark-Stockdale House established in 1780, and the Eells-Stow House from 1700 believed to be the oldest in Milford.
There is a herb garden beside Bryan-Downs House later expanded in 2013 which is planted in the style of an 18th-century formal garden.
Address: 34 High St, Milford, CT 06460, United States
3. Boothe Memorial Park and Museum
One of the fun things to do in Milford for history and art lovers is a visit to Boothe Memorial Park And Museum.
Though not located right in Milford, Boothe Memorial Park And Museum is situated at the west bank of the Housatonic River in Stratford which is effortlessly close to Milford, about 8mins-10mins drive.
This historical museum takes you on a journey through history to the early years of Connecticut's.
Boothe Homestead building foundation was built in 1663, however the building was reconstructed later in the year 1840.
This structure is surrounded by about 32 acres of land space, which entirely was owned and the home to the Boothe family for several generations until 1949 when it was handed over to Stratford.
Moreover, before it was bequeathed to Stratford, it had been already opened for summer tour by visitors in the early 1910s by the two brothers of the Boothe family Stephen Nichols Boothe and David Beach Boothe.
Presently, there are about 20 historically significant structures in the Boothe Memorial Park and Museum for visitors to explore.
Some of the historical structures in this museum include a chapel, windmill, trolley station, carriage house, miniature lighthouse, Americana Museum, blacksmith shop, and the last standing Connecticut's highway toll booth.
Along with the above-listed masterpiece is a rose garden which features a fountain and pergola.
4. Stonebridge Restaurant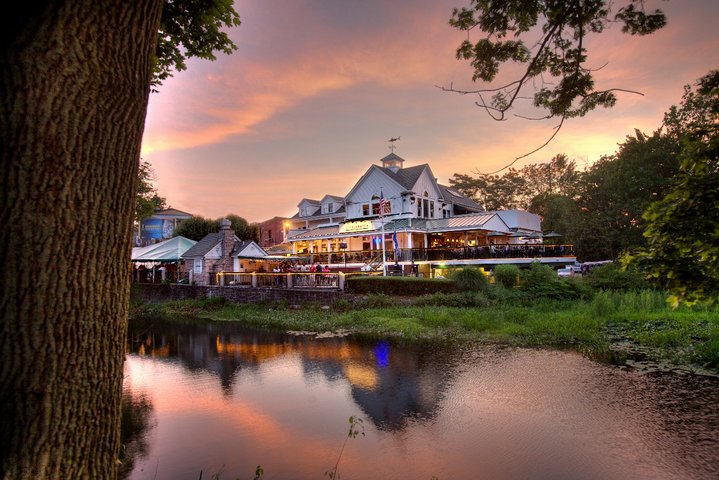 Stonebridge Restaurant is a classic restaurant in Milford that offers varieties of delicious seafoods and American cuisine served in a comfortable environment.
The restaurant menu consists of various yummy welcoming appetizers which include hearty pub, tuna tartare, chips, and fish.
There is also a special Prix fix menu with about ten entree choices made available for customers between 3 p.m. and 6 p.m. every day.
In the restaurant are a multiply dining environment to choose from which includes a casual pub section with a mahogany bar, a comfortable dining room beside a fireplace, and a nice arranged outdoor patio that gives a scenic view of the Wepawaug River.
Address: 50 Daniel St, Milford, CT 06460, United States
5. Milford Oyster Festival
Among other fun things to do in Milford is attending the Oyster Festival, hosted in memory of oystering of the 19th and early 20th century which was a key source of living in Milford at that time.
Milford Oyster Festival was celebrated first in 1975 and thereafter, it became a norm for the people of Milford who celebrates it annually on the third Saturday of every August.
If you are a fan of rock music, the festival should interest as it has a record of featuring different popular rockstars in the last 20years which includes The Marshall Tucker Band, Blue Öyster Cult (twice!), the Blackhearts, and Jefferson Starship, and Joan Jett.
However, the most important feature of this event is the oysters, and 2019 recorded about 30,000 harvested in the waters of Milford.
Other features of this event aside from oysters and rock music are craft beer and premium wine, a canoe and kayak race, 200 arts and craft stands, SoundWaters Schooner cruises, a children's stage, and Main Street USA which comprise of stalls of different local businesses.
6. Bin 100 Restaurant
Bin 100 Restaurant is a unique restaurant in Milford that focuses on delicious Italian and Mediterranean cuisine.
They offer different kinds of Italian standard dishes which include pasta, pizza, meat, and seafood entrees.
They also have a suiting wine collections and beverages from around the world which goes with any selected befitting dish of your choice
The restaurant menu is filled with different promising cuisine to choose from aimed at satisfying both locals and tourists.
Bin 100 Restaurant is open every night for dinner and offers a prix fixe menu specially for Sundays through Thursday.
The restaurant also welcomes dinner events and private lunch for customers, with special catering services.
Address: 100 Lansdale Ave, Milford, CT 06460, United States
7. Connecticut Audubon Society Coastal Center at Milford Point
Connecticut Audubon Society Coastal Center is a nature endowed environment made up of barrier beaches, dunes, tidal salt marshes, and tide pools which are habitat to lots of shellfish as well as about 315 species of birdlife.
This beautiful center was established with the sole aim of protecting the wildlife and land of Long Island Sound.
The center is a place where you can visit to witness and learn about the wonders and beauty of nature.
The Connecticut Audubon Society Coastal Center at Milford Point is highly frequented during the summer period by American oystercatchers when lots of shorebirds gather here, piping plovers position on the beach, and ospreys nest in the marsh.
Among other beauties are significant interpretive exhibits and also cams are positioned for purple martins and ospreys. Other features of this center include a unique tide pool replica and also a boardwalk with several lookout points that offers a thorn view of the property and vicinity.
Finally, there are four observation platforms with scopes, structured along the center's beaches for bird-watching. There are over 300 different birds species available in this park including rare species, so this a perfect place to visit while in Milford if you are a bird lover.
Address: 1 Milford Point Rd, Milford, CT 06460, United States
8. Walnut Beach
Walnut Beach is one of the most famous summer destinations in Milford, it has the longest boardwalks in the state and also suitable platforms for fishing.
The beach is perfect for visitors with intentions of sunbathing and also those who come to relax as it has a pavilion and many covered picnic tables which provide very comfortable shades from the sun.
This beach is also frequented because of it's link to Charles Island, which can be easily accessed just by taking a stroll across a sand bar if there is low tide.
Using the beaches designated parking lot for non-residents attracts a fee, however visitors can easily park on-street which is free of charge.
9. Roosevelt Forest
Though exactly not in Milford, Roosevelt Forest is a 400-acre land space of mixed forest in Stratford which is just an 8 minutes drive from Milford across the Housatonic River.
The forest was developed by FDR's Works Progress Administration to kick-start the town's economy which had initially suffered Great Depression.
However, the special attribute of the Roosevelt Forest, and why it was developed was as a result of its amazing features of nature.
The forest is made up of spruces, oaks, pines, and maples which are habitat for birds, reptiles, and small mammals of different species. During the early summer, it is saturated with beautiful wildflowers.
Also, there are long hiking routes that cut across the forest to different locations and also few cooking pits and picnic shelters.
10. Milford Green
A practical example of nature's beauty is the Milford Green, the longest green in New England with a smoothly organized landscape shaded with beautiful trees.
Milford green also features significant little monuments which include a flagpole, a war memorial surrounded by a circular flowerbed, and a bandstand.
At the east end and along the green there are several local amenities, welcoming dining spots, and family-run shops.
Try attending The Memorial Day parade while in Milford which is hosted in the green at the end of May or the annual lighting tree ceremony which takes place in late-November and features sleigh rides, hot chocolate, and cookies.
Address: Milford, CT 06460, United States
11. The Corner Restaurant
Known to be one of the busiest restaurant in Milford, the Corner Restaurant is a customer-friendly restaurant which offers diners with varieties of delicious breakfast along with a befitting customer service.
The restaurant's dishes are prepared using fresh, high-quality ingredients which include real butter and real maple syrup.
Among other delicious breakfast available on the restaurants menu is the decadent Stuffed French Toast which they are famous for and also other cuisines like Malaysian pulled pork, blackened eggs, and Cuban tacos.
The Corner Restaurant is opened every day of the week for breakfast and brunch and on weekdays they are open for lunch.
Address: 105 River St, Milford, CT 06460, United States
Granada makes one of the top vacation spots in the world, check out our guide on things to do in Granada for a fun vacation.
12. Tour New Haven
A fifteen minutes ride from Milford, New Haven is a city where the spectacular Yale University with historical features is located.
The Yale University in New Haven has a different world-class museum that is open to the public making in journey into history not far from your reach while in Milford.
The Yale University Art Gallery houses special ancient antiquities and masterpieces crafted by Gauguin and van Gogh.
The Peabody Museum of Natural History also at Yale University, is welcoming for kids as it has mounted dinosaur fossils that will interest kids.
The Yale Center for British Art features remarkable paintings by Reynolds, Constable et al, Turner, and Gainsborough.
There are also Gothic monuments worth beholding in New Haven like the Harkness Tower.
You can also sign up for a tour at Yale University where you get to see the interior designs of Beinecke Rare Book & Manuscript Library, where the Gutenberg Bible is stored.
13. Robert Treat Farm
The Robert Treat is a vast 30-acre working farm located a few miles away from Long Island Sound. It was established in 1948 by the Roberts family who has operated it ever since.
The produce of the farm is available for sale and can be bought at a close-by farm store which has valuable food items like honey, pie, bread, and several locally produced food items.
They also have a garden center which consists of beautiful flowers and shrubs, whimsical planters, and lawn ornaments all available for purchase by interested customers.
Robert Treat Farm is open every Wednesday through Sunday from April to October, try going during these intervals of you plan on visiting.
Address: 1339 New Haven Ave, Milford, CT 06460, United States
14. Connecticut Post Mall
Connecticut Post Mall in Milford is known to be the largest mall in Connecticut, having about three stories which hosts over 215 stores.
The mall was initially established in 1960 as an open-air shopping center but later in 1981, it was enclosed to be an indoor mall, and ever since it has gone through series of expansions with the last being in the mid-2000s which cost about $118m.
The mall features stores for popular nationwide and international brands like Boscov's, Dave & Buster's, Dick's Sporting Goods, H&M, Victoria's Secret, Macy's, American Eagle, Target, Abercrombie & Fitch, and Hot Topic.
For a dining time, they have different available eateries to choose from like Starbucks, Charleys Philly Stakes, Johnny Rockets, Chipotle and Charleys Philly Stakes, and several others.
Also, visitors can enjoy movie time in the 14-screen Cinemark multiplex, which also features an IMAX theater.
Address: 1201 Boston Post Rd, Milford, CT 06460, United States
Are you considering exploring California?, here is a list of things to do in Pacifica as well as things to do in Chino Hills for a fun exploration.
15. Eisenhower Park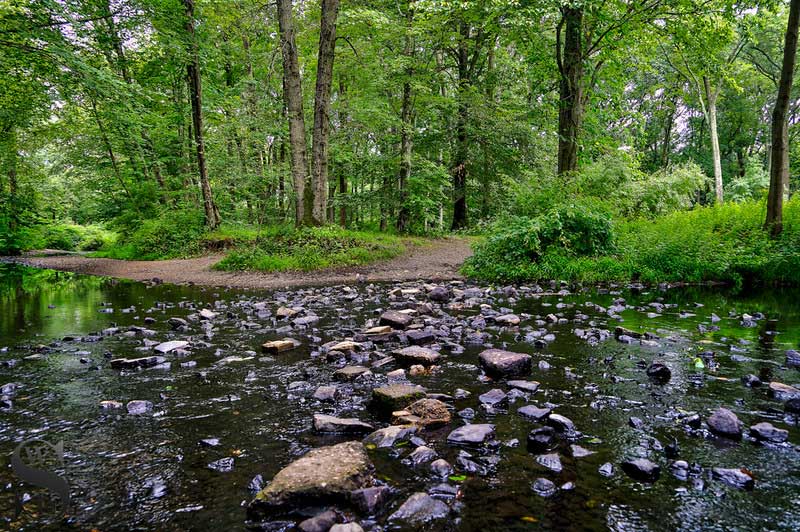 Are you are looking for things to do in Milford for outdoor time?, try visiting Eisenhower Park, located at the north of Milford while visitors can peacefully exercise.
The park features walking trails, soccer fields, a baseball field, horseback riding trails, a baseball field, tennis courts, and a dog park that was expanded recently.
Visiting Eisenhower Park can also be added to your list of things to do in Milford with kids as it has an accessible playground, a big splash pad, and a Bodie's Place where kids can have fun.
During summer, the park grounds are used to host different kinds of events which a perfect example is the Milford Food Truck Festival & Open Air Market, a popular event in may be attended by lots of vendors.
Also, there is a public Orchards Golf Course located across North Street of the park where you can play mini-golf while in the area.
Address: 780 North St, Milford, CT 06461, United States
16. Tribus Beer Co.
Beer production industries made waves for a long time in lots of areas before Milford finally got into the trend in 2017 when it's first brewery called Tribus Beer Co. was established.
Nevertheless, the brewery is now popularly known widely as a peaceful and friendly environment that is open to everyone including children and pets.
A special attribute of this brewery is its proximity to try out new recipes carrying out experiments to update productions and add to beer collections worldwide.
A total of 11 types of rear beers were gotten from the brewery as of 2019 among which includes Called Quest (robust porter), Surgo (Kolsch), Brick (IPA). Tribus Beer Co., Ilford (sour IPA), and True Story (blonde).
Tribus Beer Co. has a busy event schedule and is opened on Thursday through Sunday hosting events like trivia nights and food trucks.
Address: 100 Raton Dr, Milford, CT 06461, United States
17. Wilcox Park
Located at the head of Milford Harbor, Wilcox Park is a small beautiful urban park that is filled with several fun-filled facilities.
Among several features of this urban park are tennis courts, baseball fields, and basketball courts all of which are available for use by interested visitors.
Other features include a large pavilion where events like the Milford Oyster Festival and also public boat launches (permit needed) are hosted, as well as a jetty where Schooner SoundWaters are boarded for fun purposes.
Wilcox Park is connected to Milford's main dining district by a small pedestrian bridge that goes over the North River.
18. Scoot & Paddle
Among other fun things to do in Milford is the Scoot & Paddle which offers varieties of high-quality bicycles, stand-up paddleboards, scooters, and kayaks for rent making it easy for tourists to explore the wonders of nature in and about Milford.
There are suitable equipment for adults and children of all ages or different levels of experience, however, to be able to hire the motor scooters you must possess a valid driver's license.
They host different kinds of events and group paddles during the summer period ranging from scavenger hunts to sunset paddles with beachside yoga, all of which require early reservations to be able to participate.
Scoot & Paddle are open for rentals between May and October. They also have a retails section for holiday shopping open in December.
Address: 28 Naugatuck Ave, Milford, CT 06460, United States
19. All In Adventures Escape Rooms
How about experiencing the fun of an Escape Room in Milford? All In Adventures Escape Rooms is the place to visit.
This lets you groups engage in problem-solving challenges as they try to escape a room, these centers feature escape rooms with quite a range of difficulty.
Try out the Sherlock's Library room which gives you the opportunity to play detective, you can also take on the Zombie Apocalypse room to play a scientist who prevents an apocalypse.
Featuring seven escape rooms, All In Adventures Escape Rooms have something fun for every visitor.
This makes what to things to do in Milford, CT for a fun time, do consider for your Milford itinerary.
20. Spirits of Milford Ghost Walks
If you are a history lover or have intentions to know the history of Milford and you are as well not scared to visit some awkward places, Spirits of Milford Ghost Walks is the perfect activity for you.
Taking about 90-minute, the walk takes participants on a lantern-lit walk through the town in an approximately 1.2 miles route.
Along the route are stops in historical landmarks like the cemetery and some of the oldest structures in Milford.
To be a participant in the walk, tickets are required and are bought in person or online on their website. However, there is a limited spot therefore interested personnel are advised to purchase a ticket before time.
The tour is open for individuals of all ages and gender with a free spot for children below the age of four, this makes one of the best things to do in Milford.
Address: Hotchkiss Bridge, Factory Ln, Milford, CT 06460, United States
21. Sports Center of Connecticut
One of the best places to visit during your trip to Milford for sport lovers is the Sports Center of Connecticut, this center is located in Shelton, which is close to Milford, it is a center filled with remarkable and safe facilities for different kinds of sports and activities.
Among the sporting facilities featured in this center includes a basketball court, paintball arena, skating rink for hockey lessons, batting cages, laser tag arena, bowling alley, a driving range, and a state-of-the-art 100-game video arcade.
The center also features an 18-hole course landscaped with a waterfall and River in which the whole family can play mini-golf.
Sports Center of Connecticut also have waterproof poncho available for you if it begins to rain while you play.
Lastly, there is a Happy Hands Pottery Studio where visitors can mold, paint, design, and glaze their desired masterpiece, you can as well go in groups.
22. Saint Mary Church
Dedicated in 1995, Saint Mary Church is a remarkably good looking red brick church which is one of Precious Blood Parish two churches.
The church features varieties of architectural creativity which includes the carefully crafted oak pews, the beautifully painted ceilings in the sanctuary, and the building's large oak doors with about ten made up with colorful glass windows marked with different biblical scenes.
The church host services every day in the morning by 7am and on Sunday's about four different masses are held all through the day.
Saint Mary Church is open for marriage ceremonies but requires advance notice, they also carry out baptism by appointment every Sunday afternoon.
23. Bowlero Milford
For fun time with kids, add Bowling to your list of places to visit in Milford.
Bowlero Milford is a bowling, dining, and nightlife center in Milford, Connecticut. Get to experience the fun of backlight bowling, interactive arcade games, cocktails, and great meals.
Bowlero Milford makes what to do in Milford for those seeking for a couples fun time or a family fun time.
Are your kids in anticipation of fun? this makes one of the fun things to do in Milford, CT.
Bowlero is opened every day of the week, Mondays to Fridays sees opening time set at 3am and closing time at 10pm, whereas on Saturdays and Sundays, opening time is 10am and closing time 10pm.
Com have a fun time here bowling, gaming, and dining at Bowlero Milford.
Address: 1717 Boston Post Rd, Milford, CT 06460, United States
Explore other cities in Connecticut after your tour through Milford, here is a list of things to do in Danbury and some cool things to do in Hartford for a fun time.
Plan a Trip to Milford
Milford is a fun-filled city sophisticated with the beauty of nature. A trip to this wonderful city will be worth it as it has lots of fun things to do.
Plan your trip now, you can as well visit with family or loved ones, this article will serve as a perfect guide, pin it so you can easily fall back to while planning your trip.