At the north side of USA, is the state, Maine, originally a part of Massachusetts before it's residents broke off, gained independence and formed a state near the Canadian border in the rugged wilderness.
Bangor is a city in Maine, it is an exciting place to visit, Bangor is located on the Penobscot River at the central part of Maine.
Also known as the "Queen City of the East", there are lots of things to do in Bangor Maine as this small jewel city contains some of the best lodging options, excellent diners, and shopping malls.
There are also, many Bangor Maine attractions and activities which will give you a great time in this part of the world.
Let's explore the best things to do in Bangor, Maine.
Things to Do in Bangor, Maine.
1. Acadia National Park
Amongst Bangor Maine attractions is this rugged wilderness located just off the coast of Maine, a visit to Acadia National Park makes one of the best things to do in Bangor, Maine.
The park contains Mount Desert Island and so many other smaller islands, It's worth noting that this park is the oldest in the East of the Mississippi River.
Some of the top Bangor attractions you will find in Acadia National Park includes Bass Harbor Head Lighthouse, Cadillac Mountain, the Schoodic Peninsula, and Isle au Haut.
You will also find the tallest peak about the eastern seaboard in this Park.
Fun activities that you can enjoy in this park include camping, horseback riding, bicycling, boating, and fishing.
During winter, you can engage in activities like snowmobiling, skiing, and ice fishing. Note that some attractions and roads in the park are usually closed down during winter season.
2. Collins Center for the Arts
You will find Collins Center for the Arts in the University of Maine campus, this is a cultural hub that is sought after by locals and also visitors of Bangor.
In this center, you will find the Minsky Recital Hall, the 1435-seat Hutchkins Concert Hall, and the Bodwell Lounge Area.
The center also plays host to events such as films, lectures, shows, and concerts.
It is also used by the University of Maine School of Performing Arts for some performances and events.
There is also the Miller's Cafe right on the first floor of this center, you can visit there for some food and refreshments when you are done exploring the Center.
Miller's Cafe provides lots of performances alongside the food and refreshment.
You can check out their website to know which show will be on the display on a certain day, you can purchase tickets online, using a device or even at the center's box office.
Address: 2 Flagstaff Road Bangor, ME 04469.
3. Hudson Museum
Would you like to know what to do in Bangor Maine for museum lovers, visit Hudson Museum, you will find Hudson Museum right inside the campus of the University of Maine.
Here you will discover a wide range of content that cuts across historical items and artifacts obtained from cultures all around the world.
Under the permanent exhibits, you will find more than 2,000 Pre-Colombian ceramics, 900 objects gotten from the Maine Indians, Northwest coast area, and ceramic items which were gotten from other culture in Native America.
From time to time, the museum hosts traveling exhibits, host lectures, and field trips for students in high school and elementary.
You can visit the Museum between Monday and Saturday, from 9 a.m. to 4 p.m, admission into the museum is free of charge.
Address: 5746 Collins Center for the Arts Bangor ME 04469.
4. University of Maine Museum of Art
The University of Maine Museum of Art which was founded in the year 1946 was established to help the public develop an appreciation for contemporary art.
In the museum's permanent collection you will find over 3,800 works of art which were made in the 20th century.
You will also find lots of photographs and original prints in this museum.
Some of the notable artists whose works you will find displayed in the Museum include Richard Rates, Pablo Picasso, Andrew Wyeth, Andy Warhol, and Diego Rivera.
Within the year, the museum host traveling workshops and exhibits, they also help in providing class resources and visits to schools in the Bangor Area.
Address: Harlow Street Bangor, ME 04401.
5. Cole Land Transportation Museum
One of the best things to do in Bangor, Maine is to visit the Cole Land Transportation Museum.
During the shaping and clearing of the land that is becoming the state of Maine, Land Vehicles such as trucks, cars, and trains played a very important role.
What Cole Land Transportation Museum seeks to do is to preserve all the vehicles used for these jobs and that of the history of businessmen and pioneers who settled in this land.
With all these, Cole Foundation believes that through these stories they will be able to inspire future generations to achieve greatness by working hard.
You will also find in this museum early versions of cars, snowplows, trains, trucks, fire engines, and a lots more.
You will also find memorabilia and exhibits therein which are dedicated to men and women from Maine currently in the military.
You can visit the Museum daily from May 1st to November 11th of every year, for its open during this period, this brings some of the best things to see in Bangor Maine.
Address: 405 Perry Rd Bangor, ME 04401.
6. Timber Kitchen and Bar
Located in the heart of Bangor, worthy of its name is Timber Kitchen and Bar, this is a trendy casual restaurant that showcases a wooden décor giving it a quite stunning design.
The restaurant makes very tasty and hearty local cuisine, you will find its walls and the ceilings very interesting, for they are all made of unpolished wood.
The floors are made of smooth woods, all these harmonize with the marble table tops creating a scene that is both interesting and comfortable.
Some of the favorite choices in their menu which you can pick from include burgers, pizza, seafood, cheeses, breads, and handmade pastas.
There are other dishes on the menu, but it is worth noting that they are all made using fresh veggies, local produce, artisans cheeses, and sustainably sourced meats.
Check out also the drinks in their well-stocked bar, you will love the wine and beer collection they have there.
Timber Restaurant is open during the week from 11 a.m. to 11 p.m, on Friday's and Saturday's, they are open till midnight.
Address: 22 Bass Park Blvd, Bangor. ME 04401.
7. Mount Hope Cemetery
This Cemetery is listed in the National Register of Historic places, the reason for this is the fact that Mount Hope Cemetery is the second oldest "garden Cemetery" in all of the United States.
As the city's population increased, the residents of Bangor requested for areas beyond the city's limit where they could bury there dead.
In 1836, this Cemetery was developed, it was about 300 partially wooded acres.
In Mount Hope Cemetery, you will find in the landscaped grounds Trees, shrubs, flowers and monuments.
You will also find paved roads which you can walk or drive through while you cross this peaceful resting place.
The cemetery is very close to the Penobscot River and it is open every day all through the year, though it's opening hours may vary depending on the season, this is one of Bangor Maine attractions you will love to see during your visit.
Address: 1048 State Street Bangor, ME 04401.
8. Paul Buyan Statute
Every child who grew up in America must have been told the tales of the legendary folk hero known as Paul Buyan.
Stories have it that Paul Buyan cleared massive amounts of forest to create space for farms and settlements, it is said that he did all that with his double-sided ax, his big blue ox, and a towering lumberjack.
Well, Bangor is just one out of six towns in the United States that claim Paul Buyan and his tales as their own, from the size of the statue of Bryan in Bangor, you could say that Bangor has a better claim.
Made using fiberglass which is placed over metal, the statue weighs 3700 pounds and is about 31 feet in height.
Don't forget to take a picture of your self with Paul Buyan, that makes a prove you visited Bangor, you will find this awesome statue in Bass park which at the front of the Bangor Civic Center, it is one of the most visited Bangor Maine attractions.
9. Bangor Farmer Market
Visit the Bangor Farmers Market during your trip to Bangor, this market is an open-air gathering of merchants, It is held every Sunday afternoon from May to November.
You will find local growers and farmers who offer fresh vegetables and fruits for the public to purchase.
There are also cheese, coffee, breads, baked goods, and meats from animals that are locally raised in this market.
The venue for the market is the space across from the library in Bangor, the market is opened from 11 am and its close by 2 p.m.
During the winter months, the market is moved indoor into the Sea Dog Brewing Company space.
Credit cards, debit cards, cash and SNAP benefits can be used to purchase any goods from the market vendors.
10. Maine Discovery Museum
Your list will be incomplete if you do not add the
Maine Discovery Museum
on your list of things to do in Bangor Maine, especially if you a visiting with your kids, this museum is a place where your kids can have lots of fun.
Dedicated to inspiring innovative learning, a sense of wonder, and creativity in children, Maine Discovery Museum Is Bangor's treasure.
You will find in the museum hands-on exhibits that will teach you and your kids about animals, plants, and nature as a whole.
The museum has exhibits which emphasis on world cultures, human body, and technology, check out there weekly clubs and programs which are dedicated to math, science, arts and fitness.
Also, you can take your kids to the special camps which the museum host during the school holiday.
You can as well decide to rent the Museum to host events such as birthday parties.
Times to visit this discovery museum is from Tuesday's to Sunday, starting from 9 a.m. to 5 p.m. Admission into the museum is $7.50. You will get to pay less if you are in a group.
Address: 74 Main Street Bangor, ME 04401.
California is a state worth exploring during a visit to the United States, here are some of the best things to do in Burbank as well as things to do in Ventura to guide your visit through this part of the United States.
11. Fork and Spoon Downtown Eatery
Are you seeking for a place in Bangor Maine where they make some of the best dishes, I recommend you visit Fork and Spoon Downtown Eatery.
Fork and Spoon Downtown Eatery is a very nice place to meet up with someone, converse, and also eat.
Before checking out some of the dishes in their menu, try out their fruit and vegetable smoothie, move on to their delicious salads, sandwiches, and soups.
With perfection at heart, all the entries you will find in their menu are made from fresh produce in combination with cheese, delicious meats, and seasons.
What they serve for dessert include baked goods and ice cream, all of which were made by local artisans.
Fork and Spoon Downtown Eatery also have vegetarian, vegan, and gluten-free meals on their menu you can make use of the free WiFi on their cafe.
Visit the eatery any day for breakfast, lunch and/or dinner.
Address: 76 Main Street Bangor, ME 04401.
12. Penobscot River Walkway
Would you like to know what to do in Bangor Maine for some outdoor time?, admire the beauty of nature as you walk through Penobscot River Walkway, the Penobscot River Walkway stretches up to half-mile along the Penobscot River in Bangor.
Things you could do along this trail include bicycling, walking, jogging, in-line skating, and so on, It is also wheelchair accessible.
The walkway is also a part of Bangor's Waterfront Park which contains restrooms, picnic tables, and boat shops for water traffic.
The walkway's scenery is quite interesting, come along with your headphone and your camera as you explore this area.
13. Stephen King House
Stephen King is known for his masterful works of horror like 'It', 'Pet Sematary', 'Carrie', and 'The Shining', other works include 'The Green Mile', 'Rita Hayworth', and 'Shawshank Redemption' which were first novels before they became movies.
One of the best things to do in Bangor Maine, especially if you are a Stephen King fan, is a visit to his house right here in Bangor, this house is amongst Bangor Maine points of interest and it is visited by many.
You will see other fans of Stephen King who came on a pilgrimage to this house.
For a better experience, you could hire the services of Stuart Tinker, who was a former bookstore owner and also a great fan of Stephen King who resides right here in Bangor.
He will take you to Stephen Kong's former and current residences.
You will also get to be shown some of the filming locations and landmarks of movies inspired by Stephen Kong's stories. For instance, you will get to see the cemetery used in 'Pet Sematary'.
14. Bangor City Forest
Bangor City Forest is worth visiting in Bangor, Check it out especially if you happen to be in Bangor during the Summer.
This makes one of the best Bangor Maine attractions you will love to explore during your visit to this area, take a ride on a bike or walk through this peaceful and quiet place, this makes one of the best things to do in Bangor Maine.
If you are in search of a place where you can escape from the noise of the city and the traffic without having to travel so far from the city, then you need to get down to Bangor City Forest.
There are plenty of benches along the trail in the forest where you Could relax as you admire nature.
If you are a bike rider, you could try riding the East-West trail which is five miles long.
15. The Rock and Art Shop
During your tour, do get a nice souvenir which will remind you of Bangor at The Rock and Art Shop, you can as well get a gift for someone at home who is special to you from this little shop.
Some of the things on well here include a large selection of crystals and rocks, bugs, books, jewelry, and so many other items which can interest several age groups.
You will also find air plants and other unique beautiful works of art therein.
Check out the work of local artists that are displayed every month in the shop.
You will love your visit to this shop, it is like a visit to a natural history museum which has a touch of anthropology.
16. Bangor Waterfront Pavilion
Bangor Waterfront is where most of the big concerts in Bangor are held.
Bangor Waterfront Pavilion is a clean, accessible, and well-organized area, It also has a good security system.
There are seats in the pavilion, but you may not need them when you attend most of the concert held here, you are most likely to be up dancing.
Some of the Big artist who has performed in this place include Imagine Dragon, Ed Sheeran, and Kid Rock, the list goes on.
17. Bangor Mall
If you are looking for a place where you could go for a little shopping in Bangor, visit the
Bangor Mall
.
In Bangor Mall, you will find goods from popular brands such as Hollister, Bridal Shops, Victoria's Secret, JC Penny's Sephora, and Rock's Sporting Goods.
You will find, in the mall, a lot of places where you can sit down, or take a load off in a situation where you get tired from walking around.
There are also nice areas in the mall where you can have a drink and eat.
18. Penobscot Theatre Company
Penobscot Theatre Company as the most professional non-profit theatre in the Northeast of America.
The theatre host so many varieties of high-quality musicals and play within the year, to watch any of their shows, you will have to pay a little token.
You will love their plays for their actors are both professional and passionate and when they perform, they deliver very amazing performances.
There performances and plays are performed with amazing costumes and stage settings, which aids to drive home the theme of the play.
Check out this place during your visit to Bangor, it is a place for the whole family.
19. Hollywood Casino
The Hollywood Casino is not exactly like the Vegas Casino, nonetheless, you will still find lots of tables and slot machines here.
Try out your luck on those slot machines, fortune might smile down on you for a big win.
When you are done playing, take a break and clear your mind as you listen to the music playing in the background, you can as well watch a game playing on the T.V.
The casino has an in-house restaurant, visitors go there to have a meal.
A part trying out your luck on the slot machines, you could try playing poker, blackjack, or roulette as they have these games covered.
What makes the Hollywood different from other casinos is the fact that it is never noisy or crowded.
Also, smoking is not allowed inside the casino, feel free to ask the staffs here any question, they are both professional and friendly.
20. 2 Feet Brewing
2 Feet Brewing is a local restaurant which serves very delicious food alongside freshly brewed beers.
There are so many self-brewed beers you could try out, also all the dishes they serve are made on the spot, you can also try out their pepper beer.
In case you need to verify anything or you want to learn about any type of beer, you could ask the staff, they are all knowledgeable and friendly.
21. Thomas A. Hill House Museum
At
Thomas A. Hill House Museum
, you will get to learn a lot about the history of Bangor and the area which surrounds this museum, it's worth an add to your checklist of things to do in Bangor, Maine.
The building which houses this museum is a private residence of historical importance, It was the home of Thomas A. Hill.
Some of the things you will find in this museum include old furniture, paintings, antique clothes, photos, decoration, and lots more.
If you have a question, you can ask any of the guides around, they can guide you through the items on display.
You can be a part of the wind events which the museum host every year, this is one of the many Bangor Maine attractions you should not miss if you are a history lover.
22. Cascade Park
Cascade Park is one of the best parks in the city, a visit to this park is one of the best things to do in Bangor.
In this park you will find plenty of trees, alleys, benches, fountains, waterfalls and lots more.
It is truly a location where you could relax and probably have some reflection.
Quite a large area of landmark, it will take about two hours to take a walk right around the trails of the park.
You will love the neatness, beauty and the peacefulness of this place, also, it is a dog-friendly park
23. Brewer
A region in Bangor is known as Brewer, If you are a lover of fine beer, you may decide to make this place your home.
It's an open secret that the reason why there are so many breweries in this place is the clean water in this area.
Places at the Brewer you should visit include Bangor Beer Co. here, you could pair the latest releases with Asian fusion fare.
Check out also the Sea Dog Brewing Co. which is one of the state's pioneering breweries, Geaghan Bros Brewing Company, Orono Brewing's downtown, and Mason's Brewing Company.
24. Bangor Police Department Museum
One of the best places to visit in Bangor is the Bangor Police Department, not saying you should let yourself be hauled down to the station for committing a crime.
However, It may surprise you to know that the Bangor Police Department has a very big fan base which even goes beyond the city of Bangor.
The police department manage to achieve that, all thanks to Detective Lt. Tom Cotton.
Detective Lt. Tom Cotton is known for his infectious Facebook rants and ramblings which are informative, folksy, and humorous.
To get the joke better, I suggest you follow their page before you go on your trip, this will inform you on things going on in Bangor before you arrive.
If you want to get a photo on the Duck, be sure you call ahead on weekdays.
Don't forget to Check out Bangor Police Department Museum, there you will find news clippings and some artifacts which date as far back in the 1700s.
You will also get to see a one-person jail cell on the display, this makes one of the best things to see in Bangor Maine.
25. New Hermon Mountain
Would you like to know what to do in Bangor Maine for some sports time?, go skiing or snow tubing at New Hermon Mountain.
Located just 10 minutes from Bangor in Hermon Maine, is this family-owned ski area. This ski area can make and retain snow for a long time.
Thus, you are very much assured of having so much fun along the slopes during the long winter season which is common to the northern part of Maine.
You find in this place about 20 ski trails, some can only be used by expert skiers for they are a bit steep, whereas others can be used by both beginners and experts.
The ski area also provides night skiing under the lights in all days except Sundays.
If you don't know how to ski or snow, this is a perfect place to learn regardless of your age.
If you are averse to the whole idea of skiing, you may just engage in snow tubing on New Hermon Mountain's 600-foot, life-services till, a section will cost you 15 dollars.
26. Bangor City Parks
One of the many fun things to do in Bangor is to tour through parks in the area, It may take a day or more, but I assure, it will be worth it.
Bangor does have a lot of recreation space, there is the 680-acre Bangor City Forest which has a lot of trails, you can engage in activities like snowshoeing, biking, and hiking here.
There is also the Riverview Park which just overlooks the lovely Cascade Park and the Penobscot River as well as the Broadway Park.
Before you go on a park tour, pick up a Paul Buyan Italian Sandwich and other picnic fixings at Legacy Sandwich which is located at state street a mile away, having a picnic on one of this places will make it all memorable.
27. Bangor Drive-In
Probably, close to the end of your stay in Bangor, you may decide to spend the evening at the movies, If you find this idea fanciful, you could try out Bangor Drive-In.
Bangor Drive-In is a cinema in Bangor, it was resurrected in the summer of 2015.
Right now, every night, the latest Hollywood movies and retro films are shown on their two big screen, starting from the beginning of spring to the end of fall.
If you can't make it on time to the cinema, you can tune your FM radio to the movie frequency, that way you won't miss so much.
You will find a concession stand just outside where you can get Movie munchies and Maine treat like whoopie pies, red hot dogs, and more.
There is a playground here where you could keep your kids amused till the movie starts.
28. Orono Bog Boardwalk
Bango Orono Bog is a 600-Acer bog that is truly a haven especially for those who love to birdwatch.
It is also home to so many bird species like the double-crested cormorant, ospreys, white-breasted nuthatch, and lots more.
You could walk on the one-Mile boardwalk which goes through the bog, among other things, you will get to see so many wonderful wildlife and plant species even as you admire the birds in the area.
This makes what to do in Bangor for bird lovers, you can add that in your checklist of things to do in Bangor if this interests you.
29. Open Farmer Day
Maine's annual Open Farm Day is not just a day, it is an experience, It does not matter if you are a country dweller or you are a city slicker, you will find so much to enjoy on this day.
Open Farm Day is a day when all the farms across the state open their doors for visitors to come in.
On that day, you could try your hand at milking a cow, or even taking a barn tour to see what it takes to run a farm.
Depending on how large the farm is, you could climb aboard a tractor for a hayride, or even try cuddling a sheep at their pen.
Don't forget to purchase some of the farm-grown products like beef and other produce, for that is the essence of open farm day, joining this Bangor activity brings some of the things to see in Bangor Maine, so you could consider this for your checklist.
30. Bangor State Fair
Bangor State Fair is the largest fair in all of Maine, the fair lasts for 10 days. In those 10 days, you will engage in fun activities like enjoying amusement rides, watching firework, eating down-home food, watching agricultural competitions like steer and oxen show, and lots more.
If you don't like the agricultural competitions, you could stop by one of the other family-friendly competitions like demolition derby and Lobster roll eating contest.
Try to stay for the evening concert, this is the climax of the event, this will meet you with acts from the Grammy Award-winners like John Fogerty.
31. Chamberlain Freedom Park
Would you like to know what to do in Bangor Maine for park lovers, visit Chamberlain Freedom Park, you will find a bronze sculpture on a small hillside in this area.
Called North to Freedom, this monument is dedicated to the Underground Railroad, this makes the only official memorial in all of Maine.
In previous times, this tunnel was hidden under the historic Holyoke House which was torn down in 1995.
It is said that the house and the tunnel were ways in which slaves escaped into Canada from the South of America during the 19th century.
The statue is also a tribute to slaves who do use the Underground Railroad as a means to hide from their oppressors as they ran.
Mind you that, in those times, even as Maine was a free state, it was still illegal for anyone to help a runaway slave.
You could take a picture of this significant memorial which was added to the Chamberlain Freedom Park in the year 2002. Chamberlain Freedom Park is named after Brigadier General Joshua Chamberlain who was a Civil War Hero from Maine.
You will find his statue at the top of a small hill in his hometown.
Try parking your car at the far station that is adjacent to the park and walk down to this historic place.
32. Hannibal Hamlin Death Couch
At Bangor Public Library which in Maine, you will find an Old Couch, this is one of the things to see in Bangor Maine during your visit.
Though you will find this Old Couch inviting, you are not meant to sit on it, you are free to peruse through the stacks of books that are kept on top.
This couch is a thing of reverence because the last person who used it was a dying US vice president, Hannibal Hamlin, he was vice to President Abraham Lincoln.
He was once a United States Senator, a diplomat to Spain, a congressman from the state of Maine, and served as governor of Maine for about a month.
Some of the great things which he did during his tenure include placing a ban on alcohol consumption on the congressional floor.
He was also one of those who was in support of signing the Emancipation Proclamation.
After serving as VP, he returned to the legislative branch and served two more terms before his death.
Currently, the couch is on the second floor of the library in the lobby facing directly towards the library's reference desk.
33. Thomas Hill Standpipe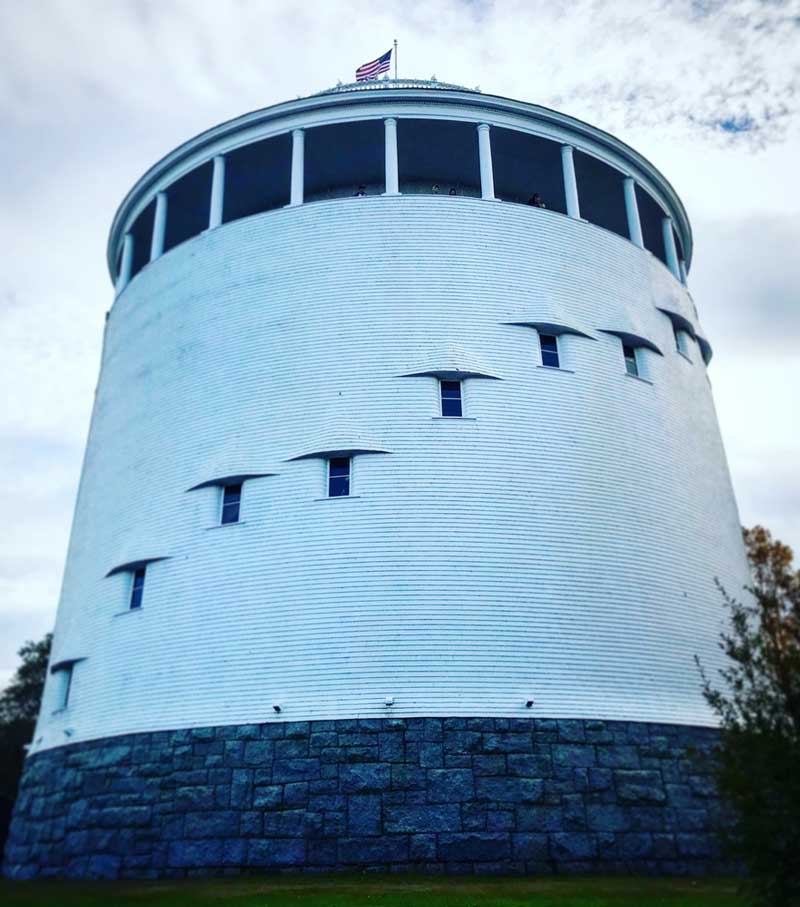 The Thomas Hill Standpipe contains 1,750,000 US gallons with about 6,600,000 liters of water. It is a riveted wrought iron tank with a wooden frame jacket situated on Thomas Hill in Bangor, Maine.
The tank has an elevation of 50 feet and was constructed in 1897 as a medium to store water used in firefighting operations and to assist in controlling pressure in downtown Bangor.
This place has been functioning ever since it was built completely. It is an outstanding architectural marker in this part of the country. In 1974, it was listed on the National Register of Historic Places.
The Thomas Hill Standpipe is the oldest in this district. It has a lot of history and is a must-see during your visit.
Address: 41 Thomas Hill Rd, Bangor, ME 04401, United States
34. America Folk Festival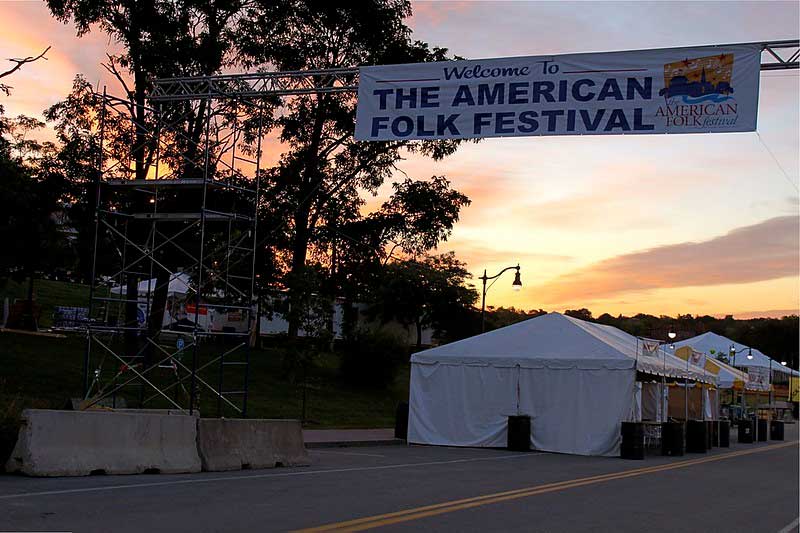 The American Folk Festival was established in 2005. It is a yearly festival celebrated at Waterfront Park in August.
The festival is quite popular and recorded a massive success in 2008 when it generated a revenue of 9.8 million dollars for Bangor.
The American Folk Festival features various types of creativity and performance from native cultures worldwide in the Waterfront Park. The festival's major highlights include history telling, dance, food, and music.
With each year that comes and goes, the festival becomes even more exciting and entertaining for everyone. It is a fantastic place to have a great time outdoors with lots of things to keep you entertained.
Address: 85 Texas Ave # 305, Bangor, ME 04401, United States
You can as well add exploring Rhode Island as part of your exploration of the United States, Providence brings lots of attraction and activities, this guide on the best & fun things to do in Providence, will aid your exploration of this part of the United State.
Plan a Trip to Bangor
Bangor, Maine is truly a significant city, the tale of the United States' journey to greatness won't be completed without mentioning its impact.
It has produced best writers like Stephen King, has a freedom symbol like the North to Freedom statue and it has a claim to one of the pioneers of American, Paul Buyan.
From its fair to her open Market and other attractions and activities, there are lots of fun things to do in Maine, and Bangor is no exception, hence it is without a doubt to say that this is a place worth spending some vacation time.