Clermont is a city with a population of 30,000, It is located just west of Orlando in central Florida's Lake County.
It is quite a beautiful city, surrounded by a lot of lakes with varying sizes and shapes, you will get to see residents and guests to Clermont using the lakes for recreational purposes.
There are lots of things to do in Clermont FL, this area offers a lot than expected for a small town, it is a highly rated place to visit as being home to a lot of cultural, historical and natural attractions.
Furthermore, It has one of the most extensive park systems in all of the areas.
You will find Clermont a midway between the Gulf Coast and the Atlantic Coast, here are the best things to do in Clermont during a visit.
Things to Do in Clermont, FL.
1. Presidents Hall of Fame
Once called a national treasure by Ronald Regan, the Clermont's Presidents Hall of Fame, which has been in this city for up to 60 years is one of the best place to visit in Clermont.
Formally, the Hall of Fame was a wax museum that is dedicated to the country's presidents for much of its existence.
You will still find inside, wax replicas, It also has quite a wide range of presidential memorabilia which includes stuff like the popular robotic version of Abraham Lincoln.
Other things which you will find in this museum's exhibits include artifacts and original documents which were gotten from previous presidents.
The museum also has a lot of historical plaques, all of which you will find interesting and educational. A tour through this museum will as well give you great insights on the history of the United States of America.
2. The Citrus Tower
One of the most interesting locations in Clermont, and a place worth being on your list of things to do is in Clermont is visiting the Clermont's Citrus Tower.
This Citrus Tower stands tall, and is more than 200 feet above its surrounding landscape.
It's height makes it noticeable, hence it is an icon on the town's skyline since the year 1956.
The tower was built as a monument to Florida's citrus industry for the very large part they play on the state's total economy.
The Citrus industry is in charge of providing oranges, grapefruit, and so many other citrus fruit to the United States and other parts of the world.
You don't need to spend up to an hour on this site exploring all it has to offer you just need to take pictures, you will be missing an opportunity to take a picture of your self with the tower behind you if you fail to come with a camera.
Among other things you will learn here, you will also get some interesting and unique historical context into how Florida grew into the big state it is today.
3. Lake Louisa State Park
Lake Louisa State Park is a natural wonderland that is frequently visited by nature lovers, bird watchers, and sportsmen.
Its land space is more than 4,000 acres, though it is not the largest parks in the state, it is one of the well-known parks visited by tourists in the area.
Things you will find in this park include swamps, lakes, stands of cypress, palmetto trees etc.
The park is also one of the most visited places by hikers and backpackers who are looking for a way to get away from the crowd.
You will also find anglers whose purpose of visiting the park is to catch fishes from the water bodies around.
Lake Louisa State Park can get crowdy sometimes, however, if you seek a quiet time, it's best if you visit during the early evening as it gets fewer visitors then.
Be on the lookout for the variety of wildlife found at the park, these include foxes, snakes, turtles, rare birds, and lots more.
You are sure to find them if you decide to wander deep into the park, this is one of the Clermont, FL attractions you should see during a visit to Clermont.
4. Museum of Osteology
A visit to the Museum of Osteology is one of the fun things to do during your visit to Clermont
Located in Orlando, The Museum of Osteology is a one of kind attraction spot which was opened in the year 2015.
In this museum, you will find more than 500 actual skeletons which are remains of both extinct prehistoric animals like the dinosaurs and animals which still swim, roam and fly around the earth.
Watching these skeletons are amazing, you will as well get to see the skeletons of rear animal species.
The museum is operated by a company which is situated right in Oklahoma City.
The Museum, amongst other things, provides research facilities for schools around the world.
You will obtain a better understanding of how the inside of an animal body works, as you explore this museum as their exhibits teaches as well as entertains you.
The Museum of Osteology is situated very close to the Orlando Eye Ferris Wheel, visiting this place makes up what to do in Clermont FL fun for history lovers.
5. Orlando Cat Cafe
Situated in Orlando is The Orlando Cat Cafe, for cat lover, it happens to be one of the best places to visit in Clermont, Florida.
This is a place that gives you the chance to hang out with cats, you need not worry about cleaning the litter boxes, it is the staff responsibility to do so.
Apart from playing with the cats, you can also get tasty food at this café at a very reasonable price, you get to enjoy them all in a sanitary and relaxed setting the café provides.
If you want to adopt a cat, there is an adoption center close by where you can spend a little time with the cats before you finally take them home.
6. Showcase of Citrus
Another free local attraction center that you should add on your list is visiting the Showcase of Citrus.
Showcase of Citrus is known to draw large crowd to Clermont, it combines a large variety of recreation and entertainment options into one location.
It is a very convenient place to spend your day and being a part of it, its entertainment is of less cost.
You will find 4×4 mammoth vehicles here, which you can use to tour around the facility.
As you ride on this vehicle, you will get to see amazing sights, you will also learn so much about the citrus industry and how they got to become one of the most important industry in Florida as far as the economy is concerned.
Showcase of Citrus has its market too, there you can buy the locally grown and produced items that are on sale.
Items here include salsa, jams and so many Vitamin C packed juices
7. Withers Maguire House
Withers Maguire House is on the East Oakland Avenue in Winter Garden, It is an easy drive from Clermont.
This house is one of the most well preserved homes in the area.
Inside, you will find furniture, period art, housewares and so many other stuff that tells you about the lives of those that lived in the building and the area 100 years ago, this makes the period this area was undeveloped.
The House was originally built in the 1880s, it is today owned by the city.
You can visit the house for some sightseeing, they are opened every Saturday to Sunday between the hours of 2pm to 4pm, you need not worry about the entrance fee, for admission into the house is free.
8. Crooked Can Brewing Company
Just outside of Clermont, you will find one of the best Brewing companies in the state, the Crooked Can Brewing Company.
Nothing beats a cold beer on a cool evening, if you are seeking for an amazing experience like this, there is no better place to check out.
Aside from the fact they have a large selection of craft-brewed beers, they also offer to their customers a tasty selection of food too.
Some of the dishes they serve include favorites like sushi, wings, and burgers. If you are vegan, you can choose from any of the options on the vegan list.
The company allows tours, but these tours should be scheduled. Check out their website to know when next a tour around the plant would be opened to the public.
9. Clermont Performing Arts Center
Clermont Performing Arts Center is located downtown near the South Highway 27, this answers the question of amazing place to visit in Clermont for some fun time.
This Arts Center always releases a schedule every year which consists of nearly 20 performances and shows.
All of these shows are presented in the Black Box Theatre and their Main Hall. At your leisure time you can watch the shows.
Each year or season is given a theme, for instance, 2019-2020 was given the theme "Impressions in Time'.
The events included in this season are a unique array of contemporary pop culture and traditional classics icons.
This way, everyone's taste of performances is covered. Check out their website online to know the performance you will like to attend, this will help you plan your visit to Clermont.
The seasons starts in early fall, during this period, Florida's weather is very conducive for outdoor shows.
10. Legends Golf and Country Club
Legends Golf and Country Club is a unique golf destination, there is no other golf club like it in the country as it features more than 1,000 courses.
Most people in Clermont and the area around it who have a desire to play golf, spends their time here and a set of clubs likes spending their morning or afternoon at Legends Golf and Country Club.
If you don't know how to play, you need not worry for there is always someone available willing to teach you how to play.
If you got playing golf all figured out, head straight to the par-27 18-hole course that is just at about 7,000 yards away from the gd tees.
This golf course is quite scenic, you may find this course a bit challenging if you are not a pro golfer.
Aside from the par-72, you will find most of the course's hole within the surroundings of the scenic Lake Louisa, these holes feature distinct changes in elevation, therefore different levels of difficulty.
A visit here is worthy to be added to your checklist of things to do in Clermont if you are a golf lover.
The Galway Cathedral, The Galway City Museum, and Eyre Square make some of the best places to see in Galway, Ireland. Here is a list of fun things to do in Galway if you are considering an exploration of this part of the world.
11. Sky Zone Trampoline Park
Sky Zone Trampoline Park is situated at South Highway 27, It is a place where the whole family can exercise and also get entertained, it is a fun place for kids.
The park has a lot of trampolines, you will find one appropriate for kids of various ages.
Among other things in the park, You can engage in fun and safe activities like the freestyle bouncing, dodge ball, and so on.
You can as well enroll in the instructional programs which helps remove bulging figures using trampoline exercises if you find it useful.
Note that it's not safe to visit the park at night or when the weather isn't conducive as you might get mobbed in the area.
The best time to visit the park is on a weekday or in the morning during the weekend. Regardless, visiting Sky Zone Trampoline Park is one of the best things to do in Clermont.
12. Champions Splash Park
Champions Splash Park tries to live up to its name, it treats it's visitors with care as one who is a champion, offering fun activities, with comfort as her watchword.
If you are seeking for a place where you can beat the summer heat at its own game, then you have to visit the Clermont's Champions Splash Park.
The park has every amenities and activities which you can expect from a splash park, the park also has an area where the little ones who are not old enough to play with the older kids can play.
There is also a covered seating area some distance away from where the kids play, such that you won't be disturbed by their play while yet still close enough to keep your eyes on them.
Your kids will love it here and appreciate every second spent here. Admission into the park is free.
13. Downtown Clermont
You will be missing the fun part of Clermont, Florida if you fail to visit her downtown area. Most part of Florida is without hills, but Clermont has quite some hills, especially at the cities downtown area.
The downtown area of Clermont is worth visiting not just because of the quaint shops but so many eateries where you can get everything food, from baked goods, coffee, burgers and seafood.
You will find the downtown area close to Osceola Street and West Avenue, It was recently transformed, this transformation was influenced by the forward-thinking business organizations and the local historical society.
Another reason you should visit this area, especially in the cool morning and afternoon hours is because provides an excellent place for a leisurely.
14. Palatlakaha River Park
The number of distinct parks in the city of Clermont number about 22, these parks are visited by anglers, boaters, borders, and so many other outdoor enthusiasts.
Among these parks, most are particularly fond of the Palatlakha River Park, this is because of its very convenient location which is quite easy to access and also it has varied natural habitats.
Amongst other things you will find in the park, you will find a boat ramp, the river is connected to so many other lakes and rivers.
Due to this, the park is a fascinating place to explore, especially in a kayak or a canoe, admission into the River Park is free.
Other things to enjoy in the park aside from water centered activities include treed areas, shaded nature trails, wide open spaces etc, every picnicker, sunbather, and hiker is going to love some outdoor time here.
15. The Crooked Spoon Gastropub
You will find The Crooked Spoon Gastropub on the Citrus Tower Boulevard of Clermont, the chef and owner of this restaurant originally hail from New Jersey.
He believes dining to be an experience to remember which should not be hindered with huge prices this is reflected in how he makes great meals at affordable prices.
In the restaurant menu, you will find a lot of dishes, including traditional classics and so many contemporary offerings.
Aside from the taste of their meal, you will love the way the restaurant is perfectly designed and decorated, it is also a good place to hang out with the family as well as loved ones.
You may decide to visit there for just an appetizer or a drinks, if you like seafood, check out seafood entrees in the menu, you will be given a Florida twist.
16. Kings Ridge Golf Club
If you want to go on a golf outing while you are in Clermont, another place to check out is the Kings Ridge Golf Club.
This Golf Club features up to 36 holes of challenging golf, It is a par 71 course and spectacular as expected from top golf clubs in the state of Florida.
You will love the way nature beautified this club course, Kings Ridge Golf Club host so many tournaments within the year, If you are good at golf you are free to register for this challenge.
For those who are unskilled but with a desire to learn, there is an opportunity for you to learn in this great golf club.
17. Waterfront Park
Waterfront Park is truly a great place for thinking and also enjoying the calmness which the serenity of nature offer, This wonderful park is situated directly at the waterfront.
One of the things that make the park one of the most visited in Clermont is the fact that the park offers both locals and tourists full access to a public fishing pier.
At Waterfront Park, you will find a paved walking trail, enjoy the clear sky and the beautiful weather of the area as you walk the trail.
It is a family friendly destination, even the kids are going to love Waterfront park for it has a playground where your kids can play.
Some other fun activities which you can engage in while in the park include swimming, jogging, fishing, and lots more.
Check out the park's website to know when next they will be hosting one of their several triathlons, as well as the unique water competitions which they host.
One of these water competitions is the Champions' Dragon Boat Festiva, you will enjoy this festival.
18. Revolution Off Road
Revolution Off Road helps you act on your thrill-seeking, they offer you an opportunity to participate in fun and thrilling activities such as archery, clay shooting, ATV riding, fishing etc.
What they offer is more than just a chance to prove yourself a master of the outdoors, you can enjoy all the fun they have packaged for you at an affordable price.
One interesting thing about Revolution Off Road is that they allow you to take control of your day.
That is to say, you decide whether you will be shooting arrows on their archery range, simply waiting for your next fish as you relax on the dock or gassing up an ATV for some off road exploration.
Revolution Off Road also allow their customers to rent the venue, especially for special events, try them out today, what they offer is just more than fun.
19. Lake Hiawatha Preserve
Lake Hiawatha Preserve is an Inland Groves Property located adjacent to Lake Hiawatha and Lake Minneola, both of which are lakes in Clermont.
The preserve is a 220-acre passive nature park which consists of the Lake Minneola to Clermont Scenic Trail and so many other amenities like its two dog parks. One of the dog park is for dogs which weigh more than 25 lbs, while the other is for smaller dog.
It also has a playground with a working old-fashioned water tower, there is also a picnic pavilion and a biking trail in the Preserve.
You will find this fun spot on the west of the roundabout on 12th street and CR 561 just north of the bridge, over the Palatlakaha River
20. Crooked River Preserve
Crooked River Preserve is a significant landform that stretches from Lake Okeechobee up towards Minneola, you will find it at the northernmost end of the Lake Wales Ridges.
The preserve is just a short hike, however, you will find a wide variety of habitats in this short hike.
It is truly one of nature's last strongholds in Clermont, the preserve got her name from the crooked way of the Palatlakaha River which forms its boundary.
Some of the fun activities which you can engage in right here include fishing, jogging, hiking, sightseeing etc, it is also a great place to think, away from the noisy streets of the city.
Would you love a trip to Canada? Windsor presents fun activities to keep you engaged in this part of the world, here is a guide on the best & fun things to do in Windsor during a visit.
21. Southern Hills Farm
Southern Hills Farm is a family operated and owned farm which is located off one of the main highways in Clermont.
This farm offers U-pick Blueberries during the peak season which is generally between March and May, the farm consist of 40 acres of land, the first crop obtained from this farm came in 2010.
If you are looking for a place to get some family fun, the family could stop by in this farm, especially when they offer hayrides, host food trucks and open their market and covered playground.
You will love their Weekly U-pick services which allows you to pick something from the farm by yourself.
Make sure you check the Farm's event calendar for details before you visit the farm, for these services they offer are seasonal.
22. Explore Lake County Waterways and Blueways
Clermont, Florida have so many lakes to explore.
The Lake County's waterways and Blueway's are managed by the Lake County Water Authority, exploring them is a wonderful way to spend the day.
Because so many of these lakes are connected by waterways, you can explore all the lakes in the area within a day using a motorized boat.
Also, check out one of Lake County's Blueways which have been designated to be explored by human powered crafts.
23. The 10-Mile Loop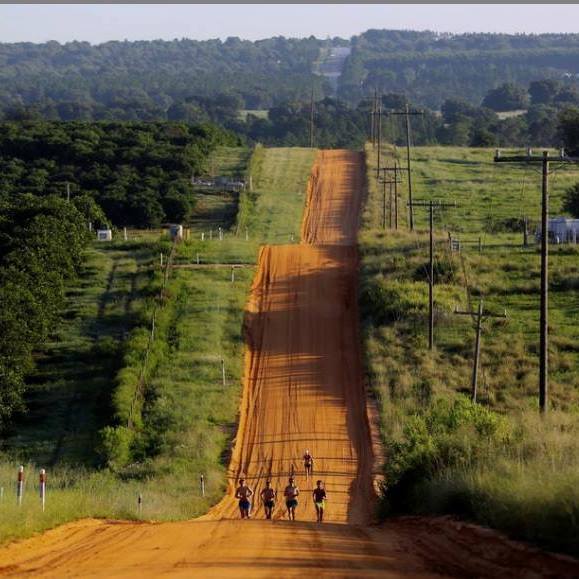 The 10-Mile Loop is a 10-mile clay loop that borders Lake Louisa, It is a favorite among athletes and runners, you may stumble on one or two Olympians who are on training.
The 10-Mile Loop is nature designed, with rolling hills and soft footing, It offers something different from root riddled trails and paved roads.
If you are a new runner, and you wish to up your game, you will find fellow runners like you on the loop who will be willing to motivate you.
Don't forget to start on time, to avoid the heat of the midday, this is one of the activities you should engage in during your visit to Clermont, Florida.
24. Al-Marah Arabian Horses
Al-Marah Arabian Horses have been in business in Clermont for more than 73 years now, their goal is to bring the dreams of horse lovers to reality.
You can as well get to learn horse riding from the best here as their instructors will guide you to become the best in a short while
Will you like to participate as they paint, groom, train and ride some of the finest horses in the city, then you need to be at Al-Marah Arabian Horses.
This makes what to do in Clermont fun for horse lovers and will make a great addition to your list of things to do in Clermont, Florida.
25. Ride around the City with Hertz Rent A Car
In Clermont, you will find the Dollar, Hertz and Thirty vehicle rental brands, these brands can be found in different locations in North America.
The company in charge of the vehicle brands is the Hertz Company and its subsidiaries, all these are under the Hertz Global
In case you need a car with which you can tour around the town, then rent a vehicle from Hertz.
26. The Townsend House
One of the best things to do in Clermont, Florida is to visit the Townsend House, this was the home of the first black natives to reside in Clermont, they go by the names James and Sally Townsend.
It was the Townsend's who established the area's first black school, they also founded the St Marks African Methodist Episcopal Church.
Though the house is not where it was originally located, it was moved and restored to its current state. Today, the Townsend House serves as a museum that features the history and artifacts of the city's early residents and settlers.
27. Florida Scrub-Jay Trail
Near Clermont, you will find the Florida Scrub Jay Trail, this is an effort made by the state to identify Scrub Jay habitat still in existence either in private or in public lands.
They also try to create a conducive environment for these birds hence It's not surprising that you will find beautiful birds like the Scrub Jay and others in the area.
Along the trail, you will find the Trail house which is situated in an Old Florida Cracker style home, the trail house overlooks the Flag lake which is surrounded by citrus trees.
If you are seeking a place to bird watch, come down to this area especially during Fall and Winter when thousands of migratory birds arrive into the marshes and the upland habitat.
During Summer, the area is covered with wildflowers which is so beautiful to behold.
28. Lakeridge Winery and Vineyard
Lakeridge Winery and Vineyard is the largest winery in Florida, this winery offers a complimentary tour which is fun and interesting, they also allow their visitors to taste the wines they make.
The whole tour lasts about 45 minutes to one hour, It starts with a brief video which tells the wine making process.
After that, you will be shown where the bottling and fermentation takes place, this area leads to a terrace which overlooks acres of vineyards.
You will also be then taken downstairs to the rating counter where you will be offered different Lakeridge Wines to taste and rate them.
29. Bob's Balloon Rides
Bob's Balloon Rides offers its customers an opportunity to soar through the air on a hot air balloon.
Hot air balloon was the first means humans traveled by air, this is a wonderful experience as you behold the beautiful view of the sky and land beneath.
This flight is available for areas near Kissimmee, Davenport, Disney, Windermere, Deland, Polk City, Apopka, Clermont, Central Florida, and so on.
You are also free to host weddings, advertising, and promotions on the air balloon, this is one of the many Clermont activities you should not miss during your visit.
30. Dreamcatcher Horse Ranch and Rescue Center
You will find Dreamcatcher Horse Ranch and Rescue Center between the beautiful lakes and hills in Clermont, Lake County, Florida.
This ranch is a full-service Equestrian Facility, It has fun activities of different range for all ages, these activities are of different levels of difficulty.
Some of these fun activities include riding a horse, horse racing, and swordplay while on the horse.
If you don't know how to ride a horse, you can enroll in their riding lessons, it doesn't take so long to learn how to ride a horse like a pro.
Apart from riding horses, the ranch can be rented to host corporate events, birthday parties and summer camps.
Visit the site or call the number below to book an appointment to visit.
31. Clermont Historic Village Museum
Visiting Clermont's Historical Village is one of the best things to do in Clermont. Clermont Historical Village Museum features artifacts from the days of old.
Besides the artifacts showcased, you can find several exhibits in their original historic buildings.
As a result, you will have the opportunity to see the items in their natural state, making them more intriguing than expected.
Furthermore, you will find several memorials that narrate the events of the Second World War.
Clermont Historical Village Museum is unique because it maintains the historical memories passed down through the family.
You can also get something good to read at the library.
Address: 490 West Ave, Clermont, FL 34711, United States
32. Painting with a Twist
Another best thing to do in Clermont is to enjoy the fun at Painting with a Twist.
Painting with a Twist brings art, wine, and fun together in an extraordinary experience.
This location, situated in Clermont Landing Shopping Plaza, allows everyone to join in on the fun.
There is a selection of wines, beer, and non-alcoholic beverages that you can buy here, so as you paint, you sip.
With your drink selection, your instructor will teach you how to create a unique painting that you can use to decorate your house or gift to a loved one.
Painting with a Twist allows you to free your inner artist to create a stunning work of art. Painting With a Twist is not only for professionals; beginners and even experienced painters are accepted.
If you have never painted before or have never attended a paint and sip class before, an instructor will be around to direct you throughout the class.
So come here, get a glass of wine, pick up your paintbrush, and enjoy a unique experience.
Address: 2411 S Hwy 27, Clermont, FL 34711, United States
Would you love to explore other parts of Florida during your visit to the area, this guide on the best things to do in Tallahassee, as well as the best things to do in Gainesville, will give you a wide scope of exploration of these areas.
Plan Your Trip to Clermont
Even though this wonderful city is smaller than its metropolis neighbor, it presents quite a lot of fun attractions and activities.
From unique museums, numerous lakes, rolling hills and a quaint downtown, there are quite a lot of things to do in Clermont for any visitor.
Make plans today to visit this wonderful city, So much fun awaits you.