Naperville is a city located in DuPage and Will counties, Illinois, and a suburb of Chicago. The city was founded in 1831 and has been developed to be the third-largest city in Illinois.
Filled with many spectacular attractions, there are lots of things to do in Naperville which makes it a perfect tourist location.
Visitors can engage in several fun activities like visiting gardens, museums, or adventure parks, fishing or taking a swim in any of the many rivers, there is also the option of having a fun tour around the city with a tour organization, dining at any of its many restaurants, and lots more.
Some of the popular attractions that can be found in this city include Cypress Cove Family Aquatic Park, Naper settlement, The Morton Arboretum, DuPage Children's Museum, and lots more.
Are you visiting Naperville?, here is the tourist checklist guide on the best things to do in Naperville, IL.
Things to Do in Naperville
1. Springbrook Prairie Forest Preserve
Another beautiful site of nature right in Naperville, Springbrook Prairie Forest Preserve is a grassland bird community that sits on about 2,000 acres of land space.
This nature preserve was initially meant to be a 200-acre dragon-shaped lake which features a beach and a campground. However, it was transformed to be a home for several significant species.
Among other features of the Springbrook Prairie Forest Preserve include lots of trails which are perfect for walking, dog-walking, cycling as well as horseback riding.
Always pay attention to signage before using any of the trials as some of them are steeper and more narrow, which makes it not suitable for some activities.
This is amongst the best Naperville attractions to see during your visit to this part of Illinois. Additionally, there is a specially carved out model aircraft area in the park for visitors to explore.
Address: Naperville, IL 60540
2. Millennium Wall
Millennium Wall is a historic structure that recognizes the sense of pride and togetherness of Naperville.
The wall is inscribed with names of several Naperville businesses and individuals in tribute to their contribution to a Naperville festival, called Celebration 2000.
Millennium Wall is situated at the top of the Riverwalk Amphitheater where various free performances can be watched throughout the year.
This makes one of the top things to do in Naperville, do consider an addition to you bucket list.
3. Wentz Concert Hall
Wentz Concert Hall is an entertainment arena located within the North Central College and is used for different kinds of musical performances which include jazz, contemporary, and classical music.
Designed by the exact consultants who assisted in the creation of the Pritzker Pavilion at Millennium Park, this concert hall has spectacular world-class acoustics which makes it unique among several other concert halls.
The Hall is highly customized and can be tuned using the sound-absorbing curtains inside the hall.
Furthermore, Wentz Concert Hall had featured several popular stars some of which include Herb Alpert, Yo-Yo Ma, Colbie Caillat, Elizabeth Futral, and more.
Address: 171 E Chicago Ave, Naperville, IL 60540
4. Knoch Knolls Nature Center
For an outdoor experience, visit the Knoch Knolls Nature Center, an amazing place that has lots of fun to offer its visitors.
This nature park has cycling and hiking trails, which cut along spectacular rivers, creeks, bridges, ponds, and lots more.
Among other amazing features of the park includes a nature-themed playground where kids between the ages of 2 and 12 can comfortably play and have lots of fun.
The center also features a boat launch for visitors to use during boating or kayaking and also designated picnic areas designed with fire rings, tables, and grills for a fun time with family or friends.
This makes what to do in Naperville, IL for a fun family time, do consider for your checklist of things to do in Naperville during your visit.
Address: 320 Knoch Knolls Rd, Naperville, IL 60565
5. Benedetti-Wehrli Stadium
For a sports time, visit the Benedetti-Wehrli Stadium, which is a field used mostly for soccer games and football.
Having a total capacity of about 5,500, this stadium has been used as a host venue for many popular events over the years, some of which include the 2000 Lamar Hunt U.S. Open Cup as well as the 2000 NCAA Division III Men's Outdoor Track and Field Championship.
It was all used as a host venue in 2002 and 2003 by the Chicago fire and every year, during the summer period, Benedetti-Wehrli Stadium HD hosts a competitive drum corps show.
Visit this stadium to catch an interesting game or check out their upcoming events to help plan your visit.
Address: 455 S Brainard St, Naperville, IL 60540
6. Naper Settlement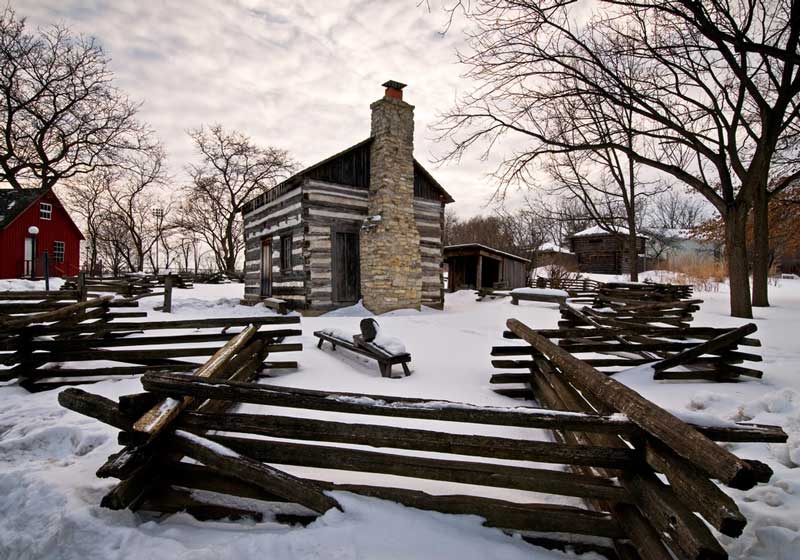 Naper Settlement is an outdoor history museum, covering about 12 acres of land space which takes visitors down memory lane showcasing the way of life during pioneer times, and also how Naperville developed to its present state.
The settlement has been in existence since 1969 and portrays this fact clearly to its visitors.
In this outdoor museum are lots of significant historic exhibits one of which is a 3,500-square-foot which features many artwork, photographs, artifacts, and interactive displays.
There is also a rotating fine display of temporary exhibits in The Heritage Gallery with some collected from different prominent local artists.
Also, there are three tours offer by the Naper Settlement where they take participants through the older commercial and residential neighborhoods showing them different Historical structures.
This is one of the top Naperville tourist attractions you should not miss during your visit to this part of Illinois.
Address: 523 S Webster St, Naperville, IL 60540
7. Lou Malnati's Pizza
Lou Malnati's Pizza is known to be one of the best pizza restaurants in Naperville that serves the best Chicago deep-dish pizza.
This restaurant is a family-owned and operated pizza joint which serves very yummy pizza to its customers.
The pizza tastiness ranges from its crust to the sauce used and if added melty cheese and gooey the taste becomes extraordinary. Visit Lou Malnati's Pizza to have a taste of their delicious deep-dish pizza.
Address: 131 West Jefferson Avenue, Naperville, IL 60540
8. Blackwell Forest Preserve
Covering about 1,266-acre land space, The Blackwell Forest Preserve is a popular Illinois preserve tagged to be among the best in the western suburbs.
The preserve features perfect grounds for camping, designated areas for picnics, and fishing spots which has catfish, largemouth bass as well as rainbow trout.
The designated picnic areas have beautiful grassland with tables scattered around.
Additionally, Blackwell Forest Preserve also features amazing trails perfect for walking, hiking, horseback riding, cross-country skiing, or cycling.
Other places like the Silver Lake and the DuPage River can also be accessed from this preserve and visitors are invited from April to September to rent canoes, rowboat or kayak explore the waters.
Address: Butterfield Rd, Warrenville, IL 60555,
9. Naperville Century Walk
Established in 1996, Naperville Century Walk is a non-profit organization with the sole aim of bringing public art to Naperville to add beauty to the city.
It initially began as a public art initiative with mosaics, murals, sculptures, and other artworks spread across the downtown area.
During that time, there were about 30 pieces of art made to represent the development of Naperville in the 1900s. However Presently Naperville's Century Walk comprises of over 40 pieces of public art.
The arts represented in the century tell a story about the community in which it is found, as the community also has a hand in the creation of the art.
To adequately plan your exploration around the Century Walk, check out the interactive map on their website and choose the route that will best suit you.
Address: 34 Chicago Ave # B2, Naperville, IL 60540
Considering a road trip through Florida, here is our guide on things to do in Boca Raton and things to do in Gainesville to aid you meet the top attractions in these parts of Florida.
10. BrightSide Theatre
One of the best things to do in Naperville for theatre lovers, BrightSide Theatre is the only professional theatre in the historic downtown district.
[the_ad id="3875″]
The theatre offers a variety of displays on different occasions, so check out their schedule and get a ticket ahead of time for the display you wish to watch.
Bright Side Theatre has presented all kinds of theatre classics including Hairspray as well as the popular youths early 2000s hit High School Musical.
The theatre gives a new theme for each year's season an example is the 2016-2017 season with the theme "Classic Broadway" featuring popular productions like Beauty and the Beat, Guys and Dolls, Thoroughly Modern Milli, and Moon Over Buffalo.
Before that however, was the 2015-2016 season given the theme "Farce" and featured hilarious Comedy's like Spamalot and Legally Blonde.
Address: 31 S Ellsworth St, Naperville, IL 60540
11. Riverwalk
Among the things to do in Naperville for an outdoor time is visiting the Riverwalk, an amazing place for an enjoyable stroll with a serene and tranquil atmosphere.
Along the brick path which is about 1.75 miles long close to the DuPage River, are lots of beautiful fountains, outdoor artwork and sculptures, bridges, recreational facilities, celebratory memorials, and event spaces.
Some of the famous attraction site along this path includes the Dandelion Fountain, the landmark clock tower in Fredenhagen Park and the Paddleboat Quarry.
The Riverwalk consists of fixtures and decors which reflects the historic pasts of Naperville as DuPage County's oldest settlement.
Address: 400 S. Eagle Street, Naperville, IL 60540
12. Naperville Bites and Sites Food Tours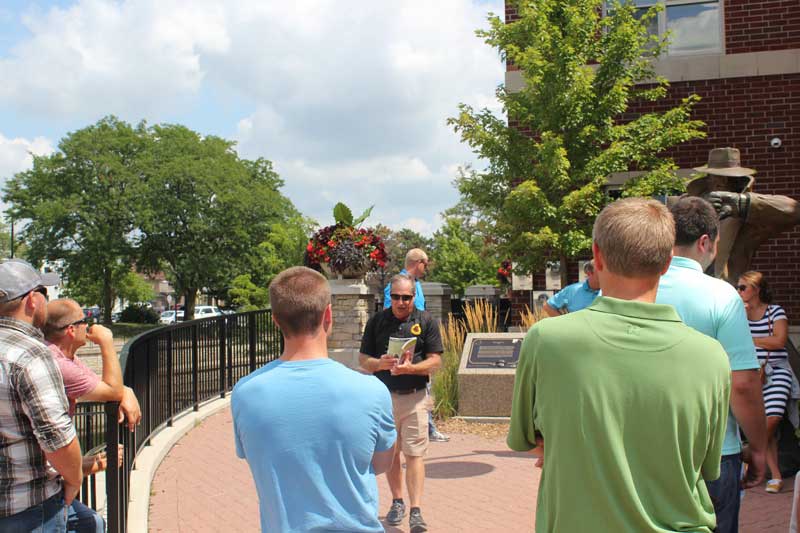 Known to be one of the best things to do while in Naperville, the Naperville Bites and Sites is a walking food tour which takes participants through the history, architecture, culture, and people of Naperville city while tasting varieties of delicious foods and drinks from different locally-owned restaurants, pubs and shops.
Among the attractions visited during this tour is are historic buildings, hidden parks, and offbeat paths all of which enlightens you on the city's past and present.
The tour accepts individuals of all gender and ages costing about $46 per person. The tour starts from 11:30 a.m every weekend from April through November.
13. Cypress Cove Family Aquatic Park
For some family time visit the Cypress Cove Family Aquatic Park, a perfect place for relaxation with the family during the summer period, this park is located in Woodridge which is close to Naperville.
The park is suitable for individuals of all ages including kids and features amazing attractions that almost everyone will love.
Some of the attractions include Crocodile Isle, Tabasco Falls, Cajun Creek, and many others.
The Mud Bug Beach in this park is a perfect area for kids to play as it has a sand play area children will enjoy.
Other features of the Cypress Cove Family Aquatic Park include Alligator Alley where visitors can have a relaxing swim, and the Swamp Shack Cafe for a snack dining time.
Address: 8301 Janes Ave, Woodridge, IL 60517
14. Hotel Arista
On visiting Naperville, start making your vacation wonderful just on arrival by staying at the Hotel Arista, a luxurious boutique hotel in the city.
This hotel features many spectacular amenities that ensure lodgers comforts and enjoyment.
Some of the amenities include a full-service spa, free shuttle service, fitness center, three different restaurants, and lots more.
Lodge into the Hotel Arista to have an amazing luxurious experience on your visit to Naperville.
Address: 2139 City Gate Ln, Naperville, IL 60563
15. Naperville Yard Sports Complex
The Naperville Yard Sports Complex is a newly established centrally-located indoor sports complex which covers about 103,000 square feet.
This sports complex is beautifully designed and features amazing sport facilities, the floors of the upstairs offers spectator viewing while the downstairs features rubber infill turf with sidelines which brings up the option for players to play without boards.
Some other features of this sporting center include a concession stand for in-house snacks and drinks, a daycare for younger children, Acceleration Training, a Playroom and lists more.
Naperville Yard Sports Complex is also available to use for birthday parties as well as s field rentals for soccer leagues, sports camps, and other events.
Address: 1607 Legacy Cir, Naperville, Illinois 60563
Connecticut have quite some amazing cities to explore, here is a list of things to do in Milford as well as things to do in Danbury for a fun time.
16. Morton Arboretum
To witness the beauty of nature, visit Morton Arboretum near Naperville, a living museum that covers about 1,700-acre of land space featuring a large array of trees, plants, and shrubs from different parts of the world.
This nature museum is open for visitors every day of the year for interested individuals to explore and appreciate the gift of nature.
The Morton Arboretum also serves as grounds for many entertaining events some of which include the Craft Beer Festival, Art of Bonsai, and the Mystery Dinner.
The museum is also the hosting arena for the popular event Illumination: Tree Lights at the Morton Arboretum which involves a one-mile walking tour through the winter woods, all brought to life using innovative projections, music, and light.
Check their website for the next event on this museum if you wish to attend one to help plan your visit.
Address: 4100 Illinois 53, Lisle, IL 60532
17. Cantigny Park
For some adventure time, visit Cantigny Park, a 500 acres of nature park located in Whaeaton where many events are hosted all through the year.
Two notable interesting events hosted in this park are the "Artistry in Wood", where woodworks made by artist from different parts of the state are finely displayed and another called "a Date with History", which takes visitors through significant artifacts and photographs from the local history of the area.
Other fun events worth attending in this park include the annual Spring Bulbs Festival where you have fun walking through the budding gardens and also Family Kite Night a spectacular event to attend with the family where you fly your best kite.
The park also features a golf course in its beautiful garden, four restaurants for dining time, and also two historic museums to supplement the wonderful experience.
Address: 1 S 151 Winfield Road, Wheaton, IL 60189,
18. Herrick Lake Forest Preserve
Another gift of nature close to Naperville, Herrick Lake Forest Preserve is an 887-acre preserve ideal for outdoor time with family or loved ones.
The park is filled with many beautiful flora and fauna as well as about 470 different types of plants and over 250 migrating wildlife species.
Among the features of the park includes fishing areas which consist of fishes like flathead catfish, largemouth bass, sunfish, and carp.
It also features many picnic sites and amazing trails for hiking, horseback riding, cycling, and horseback riding.
There are lots of things to do while in the park, visitors can also rent canoes, kayaks, and rowboats to explore the waters from May to September.
Address: Wheaton, IL 60189
19. Pinot's Palette
If you are an art lover a visit to Pinot's Palette should be added to your list of things to do in Naperville.
Pinot's Palette is a painting class where interested individuals get to have a painting lesson and at the same time enjoy their favorite wine or beer.
The painting classes are updated on their website where individuals can visit to see the list of painting that is about to be thought at a given time to enable visitors to better plan their visit.
Added to that, Pinot's Palette features open studio painting days, for individuals to visit and paint whatever they intend without any instructor.
Pinot's Palette is a perfect place for painting newbies as they help bring out the painting perfection in its visitors.
Address: 175 Jackson Ave Suite 123, Naperville, IL 60540
20. Hidden Key Escapes
For a game-time visit Hidden Key Escapes where you get to participate in the Hidden Key Escapes room escape challenge which helps develop your problem-solving skill.
The challenge involves getting locked in a room where you get a total of one hour to solve puzzles and locate clues that will help you escape during the given time interval.
Hidden Key Escapes has two different challenge options to choose from which are "The Storage Room" and the, "The Hideaway."
The Storage Room seems harder having an escape rate of about 37 percent while The Hideaway is quite easier with an escape rate of about 40 percent.
"The Hideaway" can be played by a single person or two people but "The Storage Room," has a high recommendation of having an average number of at least four people in a team.
Address: 24W500 Maple Ave #108, Naperville, IL 60540
21. Moser Tower and Millennium Carillon
Moser Tower and Millennium Carillon is a musical tower, which contains about 253 steps that leads to the top where visitors can enjoy beautiful scenic views of the surrounding area.
The tower is quite tall, even taller than the statue of liberty, and at the pick point, you get a wonderful view of areas like Centennial Beach, Naperville, the riverwalk, and even as far as the Chicago skyline.
Moser Tower and Millennium Carillon is open to visitors only during the weekends and added to the gorgeous views, they get to learn more about the tower's history and unique features.
Address: 443 Aurora Ave, Naperville, IL 60540
22. Centennial Beach
Centennial Beach
is a relaxing environment where locals and visitors alike visit to swim and have a fun time during summer.
It's is the perfect place to visit with family or friends on a hot summer day for easy relaxation.
Take a cool-off swim in Centennial Beach's historic stone quarry which is considered to be better than most lakes or pools.
Among the features of this park includes a deep-water area, diving boards, Adirondack chairs, an open grass area, floating rafts, a centennial grill, and bag toss areas.
The beach can also be accessed using a wheelchair and has other features like a waterslide, picnic tables, lockers, family washrooms, a sand play area, and lots more.
Address: 500 West Jackson, Naperville, IL 60540
23. Le Chocolat de Bouchard
Le Chocolat de Bouchard is a dining shop in Naperville that offers its customers delicious chocolate, wine, and desserts as well.
[the_ad id="3875″]
This wonderful eatery also has yummy croissants and gourmet pastries available for order in the spectacular patisserie.
The Le Chocolat's Espresso Bar features about 40 special lattes, cappuccinos, and several other drinks for visitors to enjoy.
This shop is a must-stop for chocolate lovers as it has many delicious decadent custom cakes and varieties of chocolate treats.
Address: 127-129 S Washington St, Naperville, IL 60540,
24. Naperville Community Concert Center
One of the best things to do in Naperville for an entertaining time, a visit to Naperville Community Concert Center is worth adding to your checklist.
This venue is filled with lots of fun and is home to the Naperville Municipal Band, and several other community groups performances.
The center is always open to the public for every show or event hosted therein and does not allow for private events.
Visit this beautiful concert arena in June-August to witness the Naperville Municipal Band perform live on stage.
This historic band has been in existence for about 150 years with over 100 talented members currently, who all together play good music.
Address: 55 concert Ln, Naperville, IL 60540
25. Paddleboat Quarry
Paddleboat Quarry is an accessory rental venue located on the riverwalk close to Centennial Beach.
The venue is open for rentals of paddleboat or kayak from may through October, visit with family or loved ones to engage in a fun activity with these facilities.
You can as while purchase admission at the Riverwalk Cafe Yo stop buy after having a fun time enjoying the waters.
This makes what to do in Naperville for a fun time, do consider for your list of Naperville activities to engage in during your visit.
Address: 441 Aurora Ave, Naperville, IL 60540
26. Solemn Oath Brewery
A spectacular place to visit for beer lovers, the Solemn Oath Brewery produces special crafted beers inspired by their passion for West Coast, Belgian and barrel-aged beers.
Established in 2012, the brewery's taproom is open for visit by interested individuals every day of the week.
Just very close to the Taproom is the actual brewery where all the delicious crafted bears are produced, you can hear the sounds coming from the brewery and also have a perfect view of it.
The collection of drinks produced by the Solemn Oath Brewery includes Death by Viking, Punk Rock for Rich Kids, White Van, Snaggletooth Bandana, and many others all available in the taproom.
Address: 1661 Quincy Ave, Naperville, IL 60540,
27. DuPage Children's Museum
One of the fun things to do in Naperville with kids is a visit to DuPage Children's Museum, a spectacular museum worth visiting while in the city.
The museum features interesting exhibits that help children learn in an interactive experience as fun is brought into math, science, and art.
DuPage Children's Museum hosts a total of 9 fun-filled neighborhoods some of which include Young Explorers, Creativity Connections, Make It Move and The Studio filled with arts and crafts materials where children can manifest their creative ability.
The entrance fee into the DuPage Children's Museum is about $12 per person and it is open almost throughout the week.
Address: 301 N Washington St, Naperville, IL 60540,
28. Naperville Historic District
To explore some of the history of Naperville, stop by Naperville Historic District made up of about 613 buildings that portray the heritage and history of the town.
Naperville Historic District is a fine neighborhood with buildings having professionally designed architectural patterns.
The district also has cafes and remarkable restaurants which offer memorable dining time.
Take a stroll or bike around this beautiful neighborhood to witness and appreciate the uniqueness of this area.
This makes what to do in Naperville, Illinois for a fun time admiring historical building, take a walk through the historical district during your visit to Naperville.
29. Commander Dan Shanower September 11 Memorial
Solely Dedicated to the Dan Shanower, a Naval Commander who was killed at the Pentagon attack, take a moment of silent time at this memorial on the 11th of September.
In the event site, there is a 48-foot retaining wall which features over 140 faces are molded on its surface.
The memorial sculpture also contains an internal flame alongside about pounds of rubble from the Pentagon, granite from the crash ground of Flight 93 in Pennsylvania, and twisted steel from the World Trade Center.
The sculpture which can be found in downtown Naperville between DuPage River and the Naperville Municipal Center also contains an outline of Shanower's boot print.
Also, the memorial theme was gotten from an article which Shanower wrote himself given the title "Freedom isn't Free."
30. Naperville Trolley & Tours
Opened in 1995 by Don Wehrli, Naperville Trolley & Tours is an organization that offers private and group tours on different topics which includes bar hops and historic tours.
It is presently managed by Don Wehrli's daughter by name, Annette, and is considered part of the community as it is used by locals as a means of transportation and also by tourists as a way to travel around and learn about the history of the area.
There is also a holiday-themed tour for Halloween and Christmas all of which is also fun as participants ride in the trolleys.
The most notable of all the tours is the Historic Trolley Tour which offers 30 minutes of fun as you learn about the history of the city.
This makes what to do in Naperville to get to know the city more as well as meet amazing sights, do consider for your Naperville itinerary.
31. Ball Factory Indoor Play and Cafe
Among the fun things to do in Naperville with kids is a visit to the Ball Factory Indoor Play and Cafe where children as well as adults can have fun.
This venue features activities that enable children and parents to learn together, developing their mental skills, social skill, and also the children's imagination.
Visit the factory's cafe after having a fun time with the kids and get a healthy grub at the cafe which also has varieties of perfect options for kids on the menu as well as different flavors of coffee.
Address: 864 Illinois Rte 59, Naperville, IL 60540
32. First Division Museum
Located close to Naperville in Wheaton, First Division Museum is a place worth visiting for some historical time.
The museum is made up of war exhibits and artifacts from the First Division during World War I as well as from several wars in the later years.
Among the features of this war museum includes a Tank Park situated outside the museum and consists of the largest collections of tanks and artillery pieces around the entire region.
Visit this park and get a picture of what war is like as you are allowed to climb the various tanks in this museum.
Address: 1s151 Winfield Rd, Wheaton, IL 60189
33. Funtopia
Are you looking for a fun and thrilling place during your holiday in Naperville? If yes, head over to Funtopia.
Funtopia believes in being physically and mentally active while appreciating what you do and having fun.
This entertainment center features fun walls, rope courses, ninja courses, and toddler areas for kids.
You are guaranteed an amazing and fun time when you visit Funtopia. The Funtopia experience is even better when you share it with your loved ones.
You can celebrate your birthday party here or hold a team-building session. You can also come to stretch your muscles and burn some energy.
Having a fun day at Funtopia should be one of your top things to do in Naperville.
Address: 2639 Aurora Ave, Naperville, IL 60540, United States
34. Chaser Lag Tag
Another top thing to do in Naperville is to take your kids to Chaser Lag Tag. Whether celebrating your kid's birthday party or your birthday, you will have an amazing time at Chasers.
Although their specialty is birthdays, Chaser Lag Tag provides a fabulous family fun day and team-building night. Chaser Lag Tag offers two various styles of Laser Tag.
Kids of ten years and below will have fun playing their classic laser tag in their large two-level arena and playing Xbox and PlayStation in their free arcade.
Teens and adults can have a blast in the arena with their tactical-style laser tag, also called Combat Action Tag Packages.
Address: 1811 High Grove Ln, Naperville, IL 60540, United States
35. Bowlero Naperville
Bowlero is an immersive, interactive, and fun destination that allows you to forget everything and enjoy the moment.
You will discover an amazing distraction in every part of this hipster-influenced and vintage avenue when you come in.
You can have fun on the interactive arcade or bowl on blacklight lane, partake in a laser tag battle, or their rope courses.
Additionally, Bowlero offers guests an over-the-top menu of unbelievable culinary creations.
It offers guests a hip substitute for traditional bowling. The place is perfect for dates and parties.
Address: 1515 Aurora Ave, Naperville, IL 60540, United States
Washington brings quite some amazing attractions and things to do, here is the tourist checklist guide on things to do in Tacoma and things to do in Spokane.
Plan a Trip to Naperville
Naperville is an amazing city with lots of fun things to do which makes it a perfect vacation spot.
Start planning your trip to have a taste of the excitement this city holds, do well to pin this article as a perfect guide to refer back to while making your checklist of fun things to do in Naperville.