Looking for the best and fun things to do in Saugatuck, MI?
Saugatuck is a lovely city in Allegan County, Michigan, United States of America. The beautiful city was first known as the Kalamazoo Village when its first settler William C. Butler resided there. The name Kalamazoo came from the Kalamazoo River in downtown Saugatuck.
Saugatuck is a native American name signifying a stream outlet; it is the name given by the town's first postmaster.
Saugatuck is an excellent summer weekend getaway destination for people staying in Chicago, Grand Rapids, and Detroit. However, tourists from many other parts of the world are also attracted to the beautiful city.
Here are the top things to do in Saugatuck, MI.
Things to Do in Saugatuck
1. Oval Beach
Oval Beach is one of the most popular attractions in Saugatuck, and it is worth adding to your list of things to do while in the city.
The beach is spread over a huge area, and visitors are attracted to the beach to unwind and enjoy their afternoons.
The beach, however, is not crowded and kept clean. This is the ideal spot to soak in the sun while unwinding.
With a stunning backdrop, it is also an ideal spot to take Instagram photos.
2. Clearbrook Golf Club
Book a tee time for you & your spouse at the Clearbrook Golf Club.
The Golf club is a beautiful, neat, and serene area to play with your friends or family. You will find different good courses to play in and meet professional golfers who are willing to assist you as you play.
Do you also wish to get trained in golf during your stay in Saugatuck? Good news! Clearbrook takes golf lessons with experts.
Clearbrook Golf is the Home of Championship Golf, Wonderful Food & Genuine Hospitality.
The golf club also has a pro shop where you can shop for golf equipment like gloves, clubs, bags, Cart, etc. You can always spend time browsing through their items if you do not wish to golf, or you can as well have an excellent time trying out tasty dishes at their restaurant.
Due to how convenient and beautiful the Clearbrook Golf Course is, it is home to many events in Saugatuck.
Clearbrook Golf was founded in 1926 and has undergone several changes and updates to its current state. Clearbrook Golf opens every Monday through Sunday from 7:00 am – 9:00 pm. The Clearbrook Golf Club also offers easy online bookings of Tee time.
Address: 6495 Clearbrook Dr, Saugatuck, MI 49453-9617
3. Saugatuck Dune Rides
A visit through the Saugatuck dunes is one of the best fun things to do in Saugatuck.
A highly sought-after event in the town is Saugatuck Dune Ride. Saugatuck Dune Ride is an enjoyable family-friendly event.
While on the ride, which takes about 40 minutes, you'll get to witness the rural lifestyle of Saugatuck.
They are also packed with fun and entertainment; you shouldn't miss out on these amazing excursions.
The guide will reveal the most interesting information about the city. It's an entirely different kind of trip, one that you'll be able to remember for years.
This makes what to do in Saugatuck, MI, for a fun time, one of the top things to do in Saugatuck for your bucket list of places to visit.
Address: 6495 Blue Star Hwy, Saugatuck, MI 49453, United States
4. Santa Fe Trading Company
Santa Fe Trading Company is a unique southwestern theme lifestyle store. You will find a unique blend of southwestern jewelry, art & decor, men and women comfort shoes, and boots in the special store.
The Santa Fe Trading Company specializes in colorful Native American wear. You will learn so much just from browsing through the items. The Santa Fe Trading Company is truly a hidden gem.
There are varieties of items and even gifts to buy. The Santa Fe Trading Company also has Sweden shoes, best known for their warmth in winter.
The extraordinary store was established in 1989 and has since then sold Native American wear. The attractive store is known to have gotten its inspiration from Santa Fe in New Mexico. Korry and Doug Hoeksema own Santa Fe Trading Company. Opens everyday from 10:00am -9:00pm
Address: 325 Butler St, Saugatuck, MI 49453-9499
5. The River Cruise
One of the best ways to explore the waters of Saugatuck is through the Saugatuck River Cruise, and it is worth adding to your checklist of things to do while in the city.
There are many tour companies in the city, including the popular ones such as The Star of Saugatuck, that provide the most lavish cruises.
It is recommended to take one of the morning cruises or one of the sunset cruises since they give you the most stunning view of downtown.
There are also drinks and snacks on board, and the cruise along the calm water of the river provides an overall enjoyable trip.
6. Fenn Valley Vineyards
Do you enjoy wine tastings? Are you looking to discover the true flavors of wine? If yes, add a Visit to the Fenn Valley Vineyards to your list of things to do Saugatuck.
Sample the vineyard's selection of top wines featuring the best of both worlds and also a new collection.
You can also take one of the guided tours of their vineyards. They give visitors the chance to learn about the entire winemaking process.
The tours last 2 hours and are ideal for wine enthusiasts or those who are looking for a fun day out.
Address: 6130 122nd Ave, Fennville, MI 49408, United States
7. Mount Baldhead Park
Mount Baldhead Park is one of the most popular spots for recreation throughout the entire region.
The park is known for its serene environment and its walking and hiking trails. It is also one of the most visited places in Saugatuck.
There aren't any specific activities within the park; however, it is possible to relax at the top of the mountain by yourself.
The park is beautiful, and you can take beautiful photos there. The viewpoint of the park gives a stunning view of the city.
8. The Flying Dutchman Adventure Company
Enjoying a boat cruise with family is such a beautiful way to spend quality Family time. Do you also want to explore the water bodies in Saugatuck in style? The Flying Dutchman has everything you might need to have that wonderful adventure cruise.
With Captain Rich (Father) and Captain Nic (son), be sure to relax and enjoy the adventure and fun.
The Flying Dutchman Adventure Company, shortened as TFD, provides a new clean boat with bathroom facilities onboard.
TFD offers public cruise, private charter, sunset cruise, special events such as weddings, business charters, bachelorette and bachelor parties, family outings, and sponsored cruises with 25 guests onboard. They also offer boat rentals.
A Father and Son, who are also the boat Captains, run Flying Dutchman Adventure Company. While coming for this memorable experience, bring along your beverages and appetizers. Music is also available to add more fun to your experience.
The Flying Dutchman Adventure Company is open from Sunday to Saturday from 10:00 am – 10:00 pm.
Address: Douglas Michigan 49406
Planning a Michigan road trip? check out our bucket list of things to do in Kalamazoo, things to do in Cadillac, and things to do Bay City in for a fun Texas trip
9. The Butler's Street
If you're a shopping fan and love to shop, Butler Street is your spot to find the most desirable items.
A charming and classic area, it boasts more than just a memorable Shopping experience.
You'll be able to take some amazing street photos of your own while looking through the endless selection of gift and souvenir items to take to your home.
The vibe of the street is lively and quirky. The streets are always buzzing with activity. In addition to acquiring the finest shopping products, You can also sample the delicious street food.
It's an underrated place within Saugatuck, and you should visit there in the middle of your leisurely afternoons.
Address: Butler St, Saugatuck, MI 49453, USA
10. Roan & Black Inc
The Roan & Black Gallery is a premier contemporary art gallery in the Art Coast of West Michigan.
The first thing you would notice about Roan and black is its beautiful architectural design and serene environment.
Aside from the artworks inside the building, the Roan and Black gallery have a sculptural garden. There are artworks both inside and outside to seduce your eyes.
The beautiful contemporary art gallery has over twenty artist collections displayed. Not only would you find paintings in Roan and Black, but you can also purchase home accessories, art furnishings, gifts, and so many more.
Doug McIntosh and John Newland run the Roans & Black gallery, and it started in 2012. Whether you are a first-time visitor or buyer, seasoned collector or designer, ROAN & BLACK has many creative artworks from emerging and established artists across the United States.
Address: 3315 Blue Star Hwy, Saugatuck, MI 49453-9724
11. Kalamazoo River
Are you a traveler who carries an e-book every time you travel? The docks and green spaces at the Kalamazoo River is the right spot where you can finish the book.
The area surrounding that of the Kalamazoo River is quiet and peaceful. It's a perfect spot to relax and anticipate an enjoyable time, soaking in the sun on the rocks while reading your most-loved novel.
Take a packed lunch or snacks, and you can create a whole day of this experience. It is said that the Kalamazoo River flows swiftly and doesn't make any sound.
The only sound is that of birds singing and leaves rumbling. We guarantee you'll never find the same peaceful ambiance anywhere else at any time.
The Kalamazoo River is one of the best places to visit in the area for some quiet and alone time.
12. Saugatuck Chain Ferry
Saugatuck Chain Ferry Saugatuck Chain Ferry can be considered to be one of the more popular attractions within the town.
The ferry is an old-fashioned method to glide across the water and remains impressive and entertaining.
The prices are low, and the trip takes its passengers on a quick journey to the transportation system in the past.
This is why this is among the most sought-after experiences in Saugatuck.
The operators offer informative information regarding the location as well as the history of the waterways and ferry of the region.
It is possible to visit the ferry early in the morning in order to avoid the crowds that are growing and the afternoon heat.
If you're a little old school, you'll be awestruck taking a river ferry trip.
Address: 528 Water St, Saugatuck, MI 49453, United States
13. The Laffing Glass
The Laffing Glass is an art store for custom-made glass art. At Laffing Glass, you will find Garden art, custom work, glass pet portraits, custom flowers, handmade art, and so many more.
The fascinating thing about the Laffing Glass is the creative work the owner has put into making every piece found in the store.
Leslie Fitzell, the owner of Laffing Glass They specializes in using glass to make artworks. She specializes in local handmade glass art of flowers, birds, fish, custom pet portraits, and many more.
The Laffing Glass also takes classes for people who would love to learn glass art.
The glass art store started in 2010 and has grown from a hobby to an actual store.
Address: 125 Mason St, Saugatuck, MI 49453-5103
14. All Saints" Church
The All Saints Victorian-style Episcopal Church is a well-known spot for worship in Saugatuck.
The Church is open to people of every religion. The ambiance that surrounds the Church is quiet and peaceful.
You will be able to feel a boost of positive energy in the Church. You can also join the Sunday Service held in the Church.
Address: 252 Grand St, Saugatuck, MI 49453, United States
15. Saugatuck Brewing Company
Do you want to stir or make yourself a beer? This is your opportunity to try it. This is the Saugatuck Brewing Company that will help you make your first beer on visiting.
Each pint is made in a traditional manner, and the resulting beer is as smooth and fresh as can be.
The refined menu is classy and caters to all. They also have mouthwatering dishes for your meal; the focaccia sandwiches are among the best.
Saugatuck Brewing Company may get busy during peak times, so ensure that you make reservations in advance.
Address: 2948 Blue Star Hwy, Douglas, MI 49406, United States
Iowa makes one of the top places to visit in the United States, check out the list of things to do in Iowa City, and things to do in Des Moines for a fun time.
16. Country Store Antiques
If you enjoy collecting vintage objects, add shopping at Country Store Antiques to your list of things to do in Saugatuck.
The Country Store Antiques has got unique and vintage pieces that provide a lasting memory of your time in the city.
There are many products – made mostly locally which you can pick from. It may take a while to browse through the items, but you'll find an item that is exactly what you want.
Address: 120 Butler St, Saugatuck, MI 49453, United States
17. Coral Gables
Are you looking for an ultimate summer resort experience? The Coral Gables resort is just what you need to create that memorable experience in Saugatuck, Michigan.
Coral gables feature good food, good music, and also a beautiful scenic view waterfront. The Coral Gables resort is known to have hosted a lot of tourists and is very popular in Saugatuck for its exquisite service.
Try their boat, paddleboard, kayak, and jet ski rentals if you want to have a complete fun experience at Coral Gables. They also offer a beautiful marina and a yacht brokerage.
Mike Johnson owns the Coral Gables, and he is the sole surviving son of the founder, Tom Johnson. The Coral Gables resort opens every Sunday to Saturday from 11:30 am to 2:00 am.
Add to your list of things to do in Saugatuck for a memorable time.
Address: 220 Water St, Saugatuck, MI 49453-8300
18. J Petter Galleries
J Petter Galleries is a famous gallery in Saugatuck. It is home to fine art pieces that are worth looking at while sipping exquisite wine.
The gallery is filled with the finest items and exclusive arts that cannot be found anywhere else.
There are more than 1000 works displayed, and all of them have been selected to create the best collection. It's an experience in the arts that you do not want to miss.
Alongside the artwork and other things in the store, they also sell wine. If you enjoyed the wine, you tasted you could purchase a full bottle while leaving.
This is a perfect place to add to your checklist of things to do if you are interested in art or wine.
Address: 161 Blue Star Hwy, Douglas, MI 49406, United States
19. Saugatuck The Douglas Historical Museum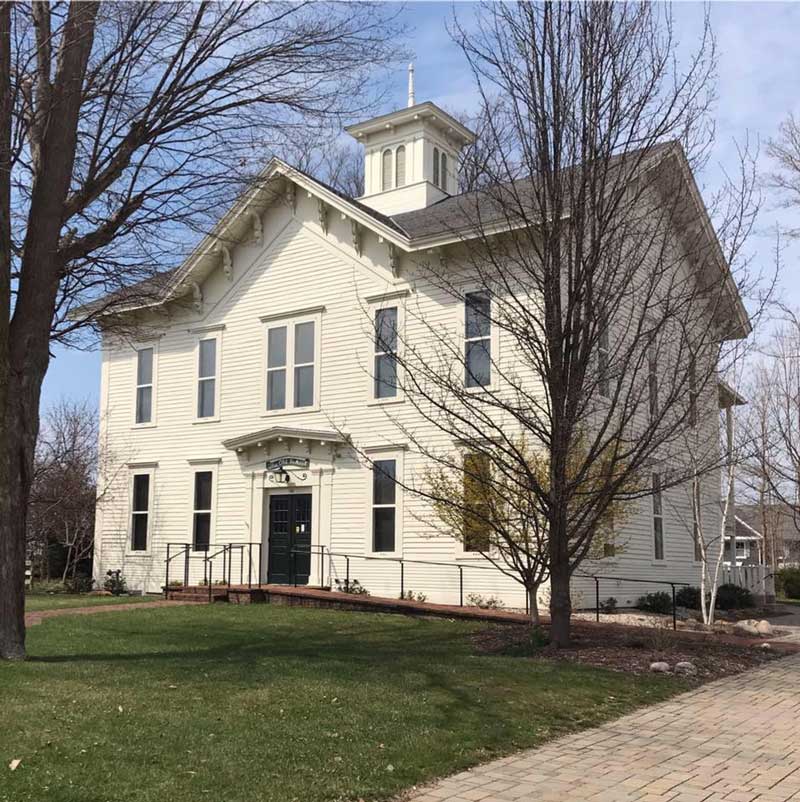 Saugatuck Douglas Historical Museum is the city's single-stop shop for history lovers visiting the city.
The museum is small in size, but it is quite an impressive one. Beginning with old photos to archive material on the past of the city and interactive exhibits that explore the life of the region and how it has changed through time, the museum has a lot of history to offer.
The local museum is just equally fascinating as the major city attractions, and provides a unique look into the history of the area, and is certainly worth the visit.
There are a variety of activities to take part in and learn while at the Saugatuck The Douglas Historical Museum.
The museum is close to Downtown Saugatuck and is easily reached by ferry, so be sure to squeeze in some time from your schedule to go to this spot.
Address: 735 Park St, Saugatuck, MI 49453, United States
20. Satya Yoga
Being on vacation shouldn't stop your yoga classes. Start your beautiful mornings in Saugatuck with Satya Yoga. Satya Yoga offers Yoga classes, private group yoga, special events, and yoga teacher training. Indoor and outdoor classes are both held on-site, and walk-ins are welcome at Satya Yoga.
Satya Yoga takes different classes on Oval Beach, summerhouse Lavender Farm, and paddleboard yoga on Goshorn Lake.
Pricing options include; single class walk-ins, non-expiring class passes, visitor passes, and memberships. For your convenience, Satya Yoga also offers home services.
In Satya Yoga, there is also a boutique stocked with athletic and leisure wear, yoga mats and props, jewelry, candles, crystals, sage, skincare, and many more.
Teresa Van Eyk owns Satya Yoga, and you will love to explore the place as it offers breath-centered yoga classes for beginners and more advanced students, as well as retreats, workshops, and immersion programs, are also available.
Address: 439 Butler St, Saugatuck, MI 49453, United States
21. Coghlin Park
Coghlin Park is one of the best places to go picnicking in the city, and it should be added to your list of things to do in Saugatuck, MI.
It's a vast park with lush greenery and a picnic area. The park is situated over the Kalamazoo River and makes for an ideal setting for your spontaneous day trips.
This park offers a break from the bustle of the city and provides peace and tranquility. You can come along with snacks to enjoy while in the park.
The ambiance is serene and cool, making it a perfect escape from the hustle and bustle of the city.
You can visit this park during the evening to avoid hot temperatures. It is also a perfect spot for families, so do consider for your bucket list of things to do in Saugatuck, MI.
Address: 60 Griffith St, Saugatuck, MI 49453, United States
22. Saugatuck's Centre of Arts
The Saugatuck's Center of Arts is a thriving location. It's a gorgeous venue that is filled with creativity and art.
There are many exciting events for the creative all through the year. Make sure to check the calendar prior to making your plans for your trip.
The Centre also provides short-term workshops for visitors who are looking to learn something new and exciting.
There's also a live theater that performs live shows and musical performances during evening hours.
Their goal is to inspire cultural values in everyone and protect the art. They have a growing group of art lovers that gather to attend these occasions.
It's a fantastic occasion for you to make new friends and engage in fascinating discussions with them.
Address: 400 Culver St, Saugatuck, MI 49453, United States
23. Wine Sellers of Saugatuck
Are you a wine lover? Are you fascinated by the production and history of wines? If yes, then it would be best if you visited the Wine sellers of Saugatuck.
Wine Sellers of Saugatuck is a wine store with a great selection of sweet wines.
Mike G owns the Wine Sellers of Saugatuck, and he is an accomplished Sommelier (Court of Master Sommeliers Level III/Advanced). He has extensive knowledge of wine from all wine-producing regions, including Argentina, Australia, Canada, Chile, France, Germany, Italy, New Zealand, Portugal, South Africa, Spain, and the United States of America.
With his expertise, Mike offers both great wines and facts about the wines he has in stock. Visit the tasting room as free wine tasting is available.
Wine Sellers in downtown Saugatuck is a gem that is worth visiting. You can purchase good wines at an affordable price.
If you would also love to package a wine gift for a loved one, wine Sellers Saugatuck is readily available.
Address: 247 Butler St, Saugatuck, MI 49453-9493
24. Peterson Mill
Peterson Mill is nestled amidst the Kalamazoo River and is surrounded by water. This place offers an unforgettable experience that is unmatched anywhere. It is also an ideal place for couples wanting to enjoy a peaceful and serene environment.
Guests can check out their patio, where they can unwind and enjoy views of the beautiful Kalamazoo River as well as the sounds of water.
If you enjoy golfing, you can check out the Clear Gold Club, which is 20 minutes away from Peterson Mill. Peterson Mill is part of the prime destinations in Saugatuck.
Peterson Mill is part of the many areas in the city that receive plenty of photographers due to its beautiful setting. This place still has an operating mill and has continued to churn water just as it was operating years back when it got constructed.
25. Ox-Bow School of Art
If you are an art enthusiast and want to know more about art, one of the best things to do in Saugatuck, MI, is to check out the Ox-Bow School of Art.
The Ox-Bow School of Art was founded by two Chicago artists named Frederick Fursman and Walter Marshall in 1910.
The School of Art provides a vast range of opportunities for different artists, no matter their skill level. It is available to all and sundry from different parts of the world who have a keen interest in arts.
They offer programs throughout the year for successful artists, students styling for art degrees, and emerging artists. The school of Art receives plenty of young and upcoming artists who want to study and hone their art skills.
Ox-Bow School of Art holds different events and activities for students to indulge in throughout the year.
Address: 3435 Rupprecht Way, Saugatuck, MI 49453
26. Wickwood Inn
If you are searching for a place to stay the weekend during your tour of the city, then the one place to visit is the Wickwood Inn. It is a historical deluxe Inn in downtown Saugatuck, MI.
Wickwood Inn offers its guests an amazing hospitality experience, which is obvious in its stylish designs and delicious dishes.
It has eleven beautiful rooms that are well-equipped with all you need to enjoy your stay. It offers excellent customer service with a super friendly staff.
The rooms have King-size Vi-Spring beds decorated with beautiful Matouk linen to give you that upscale feel. Wickwood Inn is such an incredible place, and if you happen to be around town, do well to check in.
Address: 510 Butler St, Saugatuck, MI 49453, United States
27. Good Goods
Good Goods stands in for many North American artists who work tirelessly to ensure unique handmade art is distributed to all who care for it.
This simple one-room art gallery was founded in 1989 by its owner, Sandra Randolph. It is located in an old Italianate building formerly used as a boarding facility.
Good Goods currently occupies the whole building after years of renovations and construction. It also has a beautiful garden space. The art gallery has been offering its patrons the very best of handcrafted art for over 30 years.
Via the many unique handcrafted products from 150 artists on display, be rest assured you will find that particular piece that will pique your interest.
Address: 106 Mason St, Saugatuck, MI 49453,
28. The Mitten Brewing Company
If you love great beer, an ideal place to check out when you visit Saugatuck, Mi, is this vintage baseball-style mini brewery known as the Mitten Brewing Company.
The Milton Brewing Company is popular for its unique beer styles, gourmet pizzas, and cozy setting, making it ideal for hosting your friends and family members.
This place features a wide selection of beers that you can try out. You can stay in their outdoor beer garden and enjoy your beer bottle while enjoying views of the beautiful surrounding.
They offer excellent staff service, and if you happen to be around town, stop by the Mitten Brewing Company.
Address: 329 Water St, Saugatuck, MI 49453,
Want to check out other cities in Michigan? here are guides on New Buffalo, Ludington, and Gaylord for a fun Michigan exploration.
Start Planning your Trip to Saugatuck
There are many attractions in Saugatuck that is worth visiting. These include art galleries (over a dozen), small independent shops, restaurants, beautiful scenic views, and so many more.
Saugatuck has so many boat cruise companies with specific uniqueness that helps visitors create that beautiful experience.
The Kalamazoo River and the Mount baldhead is also must-visit when you get to Saugatuck.
Get your visa to Michigan ready as you plan your trip to Saugatuck city with your friends or family; to discover the beautiful artistic city and engage in breathtaking adventures.