Created on the 21st of January 1839 by an act of Legislative Assembly of the Iowa Territory, Iowa City is a tourist-friendly city in Johnson county.
Fun things to do in Iowa City cuts across its many interesting attractions which go across various areas of life ranging from history to entertainment, outdoor recreations and lots more.
Tagged a UNESCO City of Literature, Iowa City has been a home to many famous and accomplished authors.
Among several significant attractions in Iowa city tourists can visit include, Amana Colonies, University of Iowa Museum of Natural History, Herbert Hoover Presidential Library and Museum, Iowa Avenue Literary Walk, Iowa Old Capitol Building, and lots more.
Are you planning a trip to Iowa City? Here are the best things to do in Iowa City for a memorable vacation time.
Things to Do in Iowa City
1. Hancher Auditorium
Originally opened in 1972, the Hancher Auditorium is a world-class center that has featured artists from different parts of the world since its inception.
The auditorium was also the performing center for University of Iowa students as well as community events and lots more.
The Hanchers Auditorium has gained recognition over the years as an enhancer and promoter of new works in lots of artistic disciplines.
Unfortunately, in 2008 the auditorium faced an incident of flooding and as result was closed for a while.
Notwithstanding, on the 9th of September 2016 the Hanchers launched a new facility after many renovations and added features.
Hancher's new facility, designed by architect Cesar Pelli, opened its doors to the public on September 9, 2016.
visit this center while in Iowa City to experience the wide range of entertainment in this auditorium.
Address: 141 East Park Rd, Iowa City, IA 52242
2. World's Largest Wooden Nickel
Iowa City is home to the World's Largest Wooden Nickel, built in 2006 by Jim Glasgow as a local political protest and he still maintains it to date.
The wooden nickel is situated between two telephone poles which face the road in a farm field.
It is about 16 feet tall, 3 inches in diameter with a weight of about 4,000 pounds, constructed to protest the decision of the Johnson County supervisors' who intended to raise speed limits on three streets.
The site also features electricity though not always used except for security cameras or on Christmas if a neighbor wishes to place a lighted snowman above the nickel.
It's a fun and quick pit stop while in Iowa City or passing by the city, it is one of Iowa City tourist attractions you should definitely take a selfie with to mark your visit.
Address: 3246-3248 Iowa River Corridor Trail, Iowa City, IA 52240
3. Riverside Theatre
Another fun-filled theatre in Iowa City,
Riverside Theatre
is an exceptional theatre that brings life to stage performance by connecting artists and audiences through engaging, entertaining, and intimate productions ranging from new works to classics.
The theater was Established in 1981 by Bruce Wheaton, Jody Hovland, and Ron Clark, providing an artistic home for regional theatre professionals.
Having about 39 seasons so far, Riverside theatre produces a full season of work each year from September through April.
Also in June and July of every year, the theatre produces a summer season focused on the classics.
Address: 213 N Gilbert St, Iowa City, IA 52245
4. FilmScene
For some theatre time, visit FilmScene, a compact movie theater that displays classic movies, first-run films, movie series, and workshops.
Located at the downtown pedestrian mall, this unique theatre has a rooftop patio and a cafe for some dining time.
The FilmScene is a non-profit business and shows over 200 featured films on its small, single-screen throughout the year.
Aside from showing movies, the theatre also displays a variety of shows some of which include, panel discussions, dialogues with filmmakers, and lots more all aimed at giving theatre lovers a wonderful theatre experience.
Additionally, FilmScene acts as a host to lots of community events all through the year and is also involved with different organizations.
Address: 118 E College Street, Iowa City, IA 52240
5. Amana Colonies
Occupying about 26,000 acres of land space, Amana Colonies is a highly frequented tourist attraction site which comprises of seven villages.
This tourist attraction area was discovered and built by a group of persecuted religious Germans who fled and sort refuge in the area.
The dwellers then indulged in crafting and farming which made them almost independent and self-sufficient.
Presently, the villages have lots of craft shops and restaurants making them a popular tourist attraction area.
Amana Colonies proudly features spectacular hotels, restaurants, independent shops, and lots more.
While in the area, visitors get to gain important information that pertains to the colonies' history, agricultural operations, traditional arts, and crafts.
Additionally, the villages occasionally hosts various seasonal celebrations and special events that are quite entertaining.
Address: 622 46th Avenue, Amana, IA 52203,
6. St. Mary of the Visitation
Also known as St. Mary's Catholic Church, St. Mary of the Visitation is a church of the Diocese of Davenport situated right in Iowa City.
In 1980, the church rectory and building were among those listed on the National Register of Historic Places, and in 2004 they were also recognized in the Jefferson Street Historic District as contributing properties.
The church structure is spectacular, constructed using red brick on a stone foundation, and also has stone trim.
There are traces of Romanesque Revival style in the construction mostly at the entrance portals, bell tower elements, and the windows which are embedded with a round arch.
Also, the church has an 1883 Moline pipe organ located at the back of the church in a gallery-level case.
The pipe organ is made up of an attached key desk en fenêtre and a traditional style console with a keyboard cover capable of being lifted to become the music rack.
Address: 228 E Jefferson St, Iowa City, IA 52245
7. Hawkeye Tennis and Recreation Center
For some sports and recreational time, visit the Hawkeye Tennis and Recreation Center, located just by the west of the famous attraction, Hawkeye Hall of Fame.
Among the features of this recreational center include 12 outdoor and 8 indoor tennis courts, two indoor turf fields, 6,000 square feet of fitness space, Outdoor Rental Center, and locker rooms.
The outdoor tennis courts is called the Klotz Tennis courts, named in honor of Don Klotz, a former Tennis coach.
The Hawkeye Tennis and Recreation Center is also home to the University of Iowa Men's and Women's Tennis, Women's Field Hockey, Hawkeye Marching Band, and Women's Soccer.
Additionally, the facility features metered parking and also a 2,700 square foot fitness area, a 3,500 square foot Touch The Earth Outdoor Rental & Resource Center as well as an Indoor Turf Area for intramural and club sports teams, all open to public use.
Address: 2820 Prairie Meadow Dr, Iowa City, IA 52246
8. Nile Kinnick Stadium
Located right in Iowa City, Nile Kinnick Stadium is a remarkable arena initially known as the Iowa Stadium.
The stadium was first opened in the year 1929 and is the 7th largest stadium in the Big Ten having a capacity of hosting about 69,250 guests at a go.
The stadium was called Iowa Stadium until 1972 when Gus Schrader the Cedar Rapids Gazette sportswriter successfully convinced the UI athletic board after much persuasion to rename it after Nile Kinnick, the 1939 Heisman Trophy winner who died in service during World War II.
Also, the 20 largest university-owned stadiums in the nation, Nile Kinnick Stadium is the only college football stadium named after a Heisman Trophy winner.
furthermore, Nile Kinnick Stadium is the home stadium of the University of Iowa Hawkeyes, which belongs to the sport of college football.
Visit this arena to catch a fun-filled game while you are in Iowa City.
9. Silos and Smokestacks
An interesting place to visit while in Iowa City for agriculture lovers, The Silos and Smokestacks National Heritage Area is specially dedicated to agribusiness and farming.
This area portrays the past and present lifestyle of most rural communities as well as an ideal farm life.
Silos and Smokestacks occupies about a third of Iowa state cutting across 37 counties as well as about 100 privately and publicly owned interpretive sites, which all make up this agricultural region.
The sites features variety of museum, dairy farms, tractor assembly plants, the Living History Farms, Brucemore and the Amana Colonies.
Address: 604 Lafayette Street #202, Waterloo, IA 50703 11.
Arkansas meets you with some amazing tourist attraction spots, check out our guide on things to do in Jonesboro and things to do in for a fun trip to Arkansas.
10. Iowa Avenue Literary Walk
For literature lovers, do visit the Iowa Avenue Literary Walk, which portrays and celebrates the lives as well as the works of 49 accomplished novelists, poets, journalists, and playwrights connected to Iowa City.
The walk features a series of bronze panels embedded with different authors names and quotes from various notable literary works. It also comprises of quotes gotten from books and writings, along its sidewalk.
Additionally, you also get to see the author section which shows information's concerning the biography of authors as well as their connection to the city of Iowa.
Get a copy of the booklets about the Literary Walk from the Prairie Lights Bookstore or the Iowa Book & Supply to know more about this work.
Address: 123 S. Linn Street, Iowa City, IA 52240
11. Coralville Lake
Coralville Lake is an important Iowa City attraction that helps control water flow and prevent floods in the city while also offering lots of recreational opportunities for visitors to indulge themselves.
The encompassing area of the lake has three campgrounds which consists of about 500 campsites distributed across them.
Among many recreational activities, visitors can indulge in while in this area include fishing using boats or from the available pier.
Added to that, visitors can as well take on biking or hiking on the lake's trails, play volleyball in the sand volleyball courts, swim in the lake, and have a picnic time in the designated areas.
Add a visit to this lake to your checklist of things to do in Iowa City, to have some recreational time with your family or loved ones.
Address: 2850 Prairie Du Chien Road NE, Iowa City, IA 52240
12. Carver-Hawkeye Arena
Opened in 1983, Carver-Hawkeye Arena is a multi-purpose indoor arena filled with lots of fun sporting activities.
This center is home to the Iowa Hawkeyes gymnastics team, volleyball team, wrestling team, and also their men's and women's basketball teams.
Carver-Hawkeye arena was named after the late industrialist Roy J. Carver of Muscatine who died in 1981 after having donated a sum of about $9.2 million to the University of Iowa.
Stop by this arena on your visit to Iowa to experience the wonders of sports.
Address: 1 Elliott Dr, Iowa City, IA 52242
Are you considering a road trip through Michigan? here is a list of things to do in Cadillac as well as things to do in Bay City for a fun time.
13. Plum Grove Historic House
A significant historical structure in Iowa city, Plum Grove was the former home of Robert Lucas, the first Governor of Iowa, and also the birthplace of the popular author Eleanor Hoyt Brainerd.
Research has it that the historic house was given the name Plum Grove because of the large orchard of many plum trees that were close to the house during the time the Lucas family resided there.
The structure presently occupies about 4 acres of the original property and is designed in the 1840s–1850s home style like when the Lucas family lived therein.
Plum Grove Historic House is open for free tours by visitors as well as its historical flowers and vegetable gardens.
Address: 1030 Carroll Street, Iowa City, IA 52240
14. Terry Trueblood Recreation Area
Among other fun things to do in Iowa City, a visit to The Terry Trueblood Recreation Area should be added to your list of things to do in Iowa City for an outdoor time.
Covering about 152-acres of land space, the park is filled with many amenities and fun activities visitors can indulge in.
The park has several trails that are perfect for hiking, walking, or biking. Visitors can also take to fishing or bird watching while in the park.
Among other features of the park includes amazing picnic shelters and also available rentals of canoes, kayaks, ice skates during winter, and more.
The park has a vast lodge nearly 6,000-square-foot large capable of hosting about 150 guests and features necessary amenities like chairs and tables, a kitchen, and a patio that gives a scenic view of the lake.
The facility is also open for rentals for occasions like weddings, birthday parties, and other private events, it makes one of the best places in Iowa City to check out, do consider a visit.
Address: 579 McCollister Blvd, Iowa City, IA 52240
15. Hickory Hill Park
One of the fun things to do in Iowa City, Hickory Hill Park is a place worth visiting while in the city.
This large park is located at the northeast of Iowa City with about 190 acres of abandoned fields, wetlands, prairie, forests and also surrounded by the Ralston Creek and other streams.
The park features several notable amenities some of which include water fountains, grills, multi-use trails, picnic shelters, as well as picnic tables.
The Hickory Hill Park is a perfect fun destination for lovers of nature and is open to the public to indulge in various recreational activities like hiking or running, studying nature, enjoying the outdoors, and lots more.
The park is open throughout the year and during winter it features activities like cross-country skiing, sledding, and several other winter activities, you can also bring your pets along with you while coming.
Are you considering some outdoor time in Iowa City, do not miss this amazing attraction in Iowa, consider an addition to you Iowa city bucket list if you are one to enjoy some nature time.
Address: 800 Conklin Street, Iowa City, IA 52240,
16. Iowa Old Capitol Building
The Iowa Old Capitol Building is an important landmark known to be the state of Iowa's former main government building.
The building is located right on the University of Iowa campus and is now used as a remarkable exhibit area for educational programming since it was beautifully restored.
Some areas of the building that is worth exploring on a visit include the Hansen Humanities Gallery, the Supreme Court Chamber, and the Senate Chamber.
Iowa Old Capitol Building also features a variety of events and temporary exhibits. The building is open for free tours by the public or private group whose times are accompanied by guides.
Moreover, Prior reservations are required for free tours or using the building as a venue for hosting special events.
This makes one of the top things to do in Iowa City, it is one of the best Iowa City tourist attractions you should check out during your visit.
Address: 21 N Clinton Street, Iowa City, IA 52242
17. University of Iowa Museum of Natural History
For some historical time, visit the University of Iowa Museum of Natural History located right on the University of Iowa's campus.
Established in the year 1858, the museum is home to a vast collection of birds, mammals, and also significant Native American artifacts.
The University of Iowa Museum of Natural History has exhibits that touch different disciplines including geology, ecology, and culture.
Holding about 500 million years of Iowa's history, the museum's Mammal Hall portrays the evolution, adaptation, and diversity of the majority of the mammal species.
Likewise, the museum Hall of Birds showcases over 1,000 bird exhibits.
The museum has available guided tours that require early reservation and also visitors can indulge in self-guided tours when the museum is open.
This makes what to do in Iowa City for science lovers for a fun time.
Visit the museum on Tuesdays through Saturday from 10a.m.-5 p.m. and on Sundays from 1p.m.-5p.m. to behold its remarkable exhibits. The museum is closed only on Mondays.
Address: 17 N Clinton Street, Iowa City, IA 52240,
18. Johnson County Historic Poor Farm
Established in 1885, Johnson County Historic Poor Farm was a facility of treatment and housing of mentally ill and poor individuals.
Record has it that the farm was created by leaders who thought that hard work and fresh air would bring a positive impact to the mentally ill subjects as they tended to crops and dairy production.
Some of the farm properties and grounds including buildings, as well as a cemetery, are among those listed in the National Register of Historic Places.
Johnson County Historic Poor Farm occupies 160-acre of land space and about 116 acres of the land is currently used by a local commodities farmer for agricultural production.
Moreover, few of the other land space is used by a hunger relief organization called Grow: Johnson County, to grow fruits and vegetables for residents of the county who has limited food supply.
Address: 4811 Melrose Ave, Iowa City, IA 52246
19. The Englert Theater
Amongst the top things to do in Iowa City is some fun theater time.
Englert Theatre is a renovated vaudeville-era playhouse which is currently used as a 725-seat performance venue and a community arts center.
The theater is a non-profit art organization owned and operated throughout the year by the Englert Civic Theatre.
Opened on the 26th of September, 1912, the Englert Theater serves as host to various shows and events some of which include live music, plays, film screenings, comedy, civic events, and dance.
The theatre is also open for ceremonies and private events such as birthday parties, anniversary celebrations, wedding ceremonies, and lots more.
Address: 221 E Washington St, Iowa City, IA 52240
20. Jimmy Jack's Rib Shack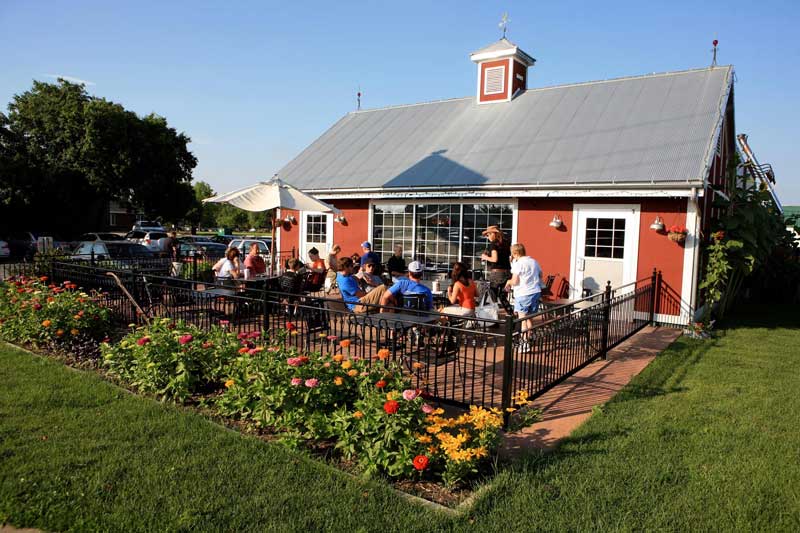 For some dining time stop by Jimmy Jack's Rib Shack, tagged one of the best barbecue restaurant with two locations, Iowa City and North Liberty.
Established and operated by two childhood friends namely Jimmy Adrian and Jack Piper, the restaurant tries its best to adapt to the classic barbecue styles of Kansas City.
The restaurant offers delicious sandwiches and meat prepared using the homemade barbecue sauce recipes of the restaurant.
Available on the restaurant's menu are dishes like smoked chicken and turkey, pulled pork, beef brisket, vegetarian smoked portobello options, sampler platters, and Supreme sandwiches.
Other Classic Southern-style options prepared in the restaurant include coleslaw, signature honey-buttered cornbread of the restaurant, and baked beans.
Address: 1940 Lower Muscatine Rd, Iowa City, IA 52240
21. Iowa City Farmer's Market
A practical summer market, The Iowa City Farmer's Market has two destinations of operation in Iowa city where it holds on several days a week.
The market features a wide range of products including seasonal, local, vegetables, fruits, home-made baked products as well as locally crafted goods.
There is also an available space in the market for customers to learn more about the locally grown products sold in the market.
Also, the Iowa City Farmer's Market host several events all through the year some of which include tasting events, live musical performances, and kids' days.
In holiday periods, indoor holiday markets and events are hosted by the farmer's market.
Address: 410 E. Washington Street, Iowa City, IA 52240
22. University of Iowa Stanley Museum of Art
Amongst the best things to do in Iowa City is a visit to this Museum of Art. Also located in Iowa City on the campus of the University of Iowa, the University of Iowa Stanley Museum of Art is home to one of the best university art collections in the United States.
This spectacular museum features about 15,500 arts and artifacts with different origins.
There are varieties of exhibits in the museum including paintings, drawings, sculptures, ceramics, silver-working, textiles, and photographs.
Among several other popular exhibits collection found in this museum includes the Stanley Collection of African Art containing over 2,000 African art exhibit, and the Elliot Collection which is made up of exhibits from post-impressionist European art.
This makes what to do in Iowa City for art lovers, the museum is open for tours by visitors, special group and class tours are also accepted.
University of Iowa Stanley Museum of Art is open for visitors on Tuesday through Saturday from 10 a.m.–5 p.m., on Thursdays from 10 a.m.–9 p.m., and Sundays from 12–5 p.m. The museum is not open only on Mondays.
Address: 125 N Madison St, Iowa City, IA 52242
23. University of Iowa Athletics Hall of Fame
If you want to know more about the history of sports in Iowa, visit the University of Iowa Athletics Hall of Fame, located in the Roy G. Karro Building.
Opened in October 2002 and directed by Dale Arens, the Museum gives honor to the past significant Iowa Hawkeye sports heroes.
Among other exhibits in the museum includes major trophies and awards like the National Football Championship Trophy of 1958, Nile Kinnick's Heisman Trophy, and twenty-three NCAA wrestling titles.
Other exhibits showcase the significance and history of famous Iowa Hawkeye teams, coaches, and players.
If you are a sport lover and would want to visit some historic sports exhibits, this hall of fame should be on your bucket list of fun things to do in Iowa City.
Address: 2425 Prairie Meadow Dr, Iowa City, IA 52242
24. Veterans Trail
The Veterans Trail is a wheelchair accessible ¼ mile trial, constructed without barriers primarily for people with walking disabilities and also able-bodied users.
The trail was completed in 1988 and in 1989, it was dedicated as The Veterans Trail in honor of all Local Johnson County Veterans who have served in the military.
This asphalt trail or boardwalk is constructed through trees like mature oak, maple tree, and hickory, featuring alongside it a bird observation area, an 80-foot bridge, and also many rest areas for quiet reflection.
The Veterans Trail is a remarkable and significant trial in Iowa as it provides an independent, perfect outdoor experience for individuals with walking disabilities.
Individuals with disabilities as well as able-bodied people can have a view of wildlife like squirrels, deer, chipmunks, and different species of birds from the bird observatory along the trial.
This is a perfect place to visit for a quiet reflection time and to get a view of nature's beauty including flora and fauna.
Address: 2850 Prairie Du Chien Rd NE US Army Corps of Engineers, Iowa City, IA 52240-7820
25. Devonian Fossil Gorge
Devonian Fossil Gorge is one of the unique Iowa City tourist attractions, it which hosts a former seafloor that dates as far back as 375 million years.
This geological site was once covered with many fossils and a warm shallow sea many years ago, the site still holds evidence of this occurrence.
In 1993 and 2008, several layers of the rock and soil was washed away by a flooding incident, leaving the fossils in the bedrock exposed.
There are 17 notable areas in Devonian Fossil Gorge which includes the entry plaza where there are displays relating to the nearby dam, the floods, and the fossils.
This makes what to do in Iowa City for explorers, a detailed Map of the area that will help you navigate around the park is available online and at the entry plaza of the park.
Address: 2850 Prairie Du Chien Road NE, Iowa City, IA 52240
26. Lake Macbride
Occupying about 2,180 acres of land space, Lake Macbride State Park is known to be the largest park in the state of Iowa.
This recreational area is perfect for various outdoor activities including fishing, swimming, boating, hiking, and camping.
The park features a lodge and reserved picnic shelters as well as a beautiful beach along a suitable swimming area and concessions.
The lake is surrounded by a 5-mile trail crushed with limestone though there are other limestone paths and six permanent trails for any Volkssport.
For visitors interested in exploring the waters, there are available boat ramps where the lake also provides boat rentals.
Address: 3525 Highway 382 NE, Solon, IA 52333,
27. Gaslight Village
Amongst popular Iowa City tourist attractions is Gaslight Village, this is one of the historic landmarks in the city situated on 2 acres of hilly woods and consists of lots of rentals and apartments.
This beautiful village was established to make available unique and exciting living experience at a low cost.
Gaslight Village is made up of four buildings all situated in a quiet and peaceful environment.
Two of the buildings are Victorian buildings one of which is the Charles Berryhill Mansion, built in 1860. The other two buildings, however, are simple 1940's California-style structures.
The Gaslight Village has hosted many popular individuals including Kurt Vonnegut who had lived nearby.
Address: 426 Brown Street, Iowa City, IA 52245,
28. The Field House
The Field House is an amazing sporting arena in Iowa City which is about 334,000 square feet.
The facility features varieties of sporting amenities which include 8 Basketball/Volleyball Courts, 5 Badminton Courts, 16 Racquetball Courts, 2 Squash Courts, Cycling Studio, Olympic Weightlifting Room, Boxing Room, Swimming Pool, and more.
The arena also has a Recreational Services Offices, Men's and Women's Gymnastics Practice Facility, Indoor Track, table tennis, and Saunas.
The Field House is a membership access facility, therefore aspiring visitors are expected to have a Recreational Services Membership or pay a daily fee to be able to make use of the facility.
This makes what to do in Iowa City for some recreational time, you can also go here to watch some great sports games
29. Oakland Cemetery
One of the historically significant areas in Iowa City, the Oakland Cemetery is burial territory deeded to the people of Iowa City in 1843, by the Iowa territorial legislature.
The cemetery was originally one block square, nevertheless, over the years it has been expanded and currently covers a land space of about 40 acres.
Supported solely by city taxes, the Oakland Cemetery is a non-perpetual care City cemetery.
Since its inception, the Oakland cemetery has been a burial arena for many individuals significant in the history of the University of Iowa and the city in general.
Also, the cemetery is home to an 8.5-foot tall legendary monument erected in the year 1912 in honor of the Feldevert family called Black Angel.
30. Wilson's Orchard
If you want to witness the beauty of nature, visit Wilson's Orchard, situated at both ends of the Rapid Creek valley.
The orchard comprises lots of different apple trees all of which include almost all types of apple and also varieties of pumpkins can be found in the orchard.
Wilson's Orchard is opened to visitors to collect apples and pumpkins but visitors are to go first to the barns to get maps of the orchard, receive instructions and sample the varieties of apples
Also, this is an amazing nature-filled area that also offers several activities such as tractor rides and different freshly made foods including fresh apple cider and apple turnovers.
A visit to Wilson's Orchard should be added to your list of top things to do in Iowa City, it is one of Iowa City tourist attractions you should not miss.
Address: 4823 Dingleberry Rd NE, Iowa City, IA 52240,
31. NewBo City Market
Located very close to Iowa City, NewBo City Market is a Cedar Rapids market right in the New Bohemia District.
Among the features of this market includes different local and homegrown food, arts, and also special events.
The Newbo City Market is situated in an old industrial site that was initially destroyed and abandoned in 2008 due to a flooding incident.
Focused on promoting food access, healthy eating, and education, the market has a Learning Garden with a conducive space that is accessible by wheelchair where interested visitors are thought about gardening.
In addition, the market hosts a variety of events some of which include film showings and exercise events.
Visit their website today to get more information about the event's date to help you plan a visit.
Address: 1100 3rd Street SE, Cedar Rapids, IA 52401,
32. Herbert Hoover Presidential Library and Museum
The Herbert Hoover Presidential Library and Museum is a historic museum that should be added to your list of places to visit while in Iowa City, it is located in West Branch close Iowa City.
The library/museum was the burial site of Herbert Hoover, the 31st President of the United States, and is also the presidential library.
Located at the Herbert Hoover National Historic Site, the library and museum is home to papers, objects, and photographs that relates to the Hoover family and entire administration.
The materials in the library are adequate for proper research of some previous events and the museum has a temporary gallery with changing exhibits.
Visit the Herbert Hoover Presidential Library and Museum to know more about Herbert Hoover's life as its surrounding areas contains President Hoover's birthplace cottage, gravesite, and other structures that go way back.
Address: 210 Parkside Drive, West Branch, IA 52358
33. Pagliai's Pizza
Pagliai's Pizza is the oldest and most devoted pizza restaurant in Iowa.
The Pagliai family own Pagilia's Pizza, and it has existed in the town for over 50 years in1957
Paglia's Pizza is situated north of downtown Iowa.
Walking by the restaurant, you can spot workers producing pizza through the windows.
Paglia's Pizza also manufactures and sells frozen versions of the pizza for people who can not come to Iowa to taste it.
The pizza is delivered with a traditional Paglail family recipe passed from one generation to another.
The restaurant uses fresh garden produce and authentic meat products to make the pizza.
At Paglia's Pizza, orders are served in 15 minutes; it doesn't matter if you want to go inside or if you want takeout.
Once you eat at Pagliai's Pizza, one of the most fabulous restaurants in the town, you will want to come back for more.
Address: 302 E Bloomington St, Iowa City, IA 52245, United States
34. Ped Mall
Ped Mall extends from Burlington Street to Washington and Clinton Street to Linn Street near the University of Iowa.
Ped Mall is one of the favorite gathering places for locals, students, and tourists.
This center comprises bars, restaurants, stores, and other ventures.
Ped Mall also has a children's park, a stunning fountain, and covered trees scattered all over the place.
This vibrant place gets even more lively at night as music, light and the mouthwatering aroma of food fill the air.
This lively place gets even more vibrant at night as lights, music, and the delicious smell of food fill the air.
Ped Mall attracts an enormous crowd for its summertime events, such as the yearly Iowa City Jazz Festival, Friday Night Concert Series, and Iowa City Arts Festival.
Address: 210 S Dubuque St, Iowa City, IA 52240, United States
Explore Des Moines, Iowa after your visit to Iowa City, here is our list of things to in Des Moines for a fun time.
Plan a Trip to Iowa
Iowa City has lots of fun places to visit, its museums, historic landmarks, amazing restaurants, beaches, arts centers, and more.
Make this city your next vacation destination. Start planning your trip with family or loved ones, do pin this article to always easily refer back to while making plans on the best things to do in Iowa City during your visit.