Kalamazoo, famously known for being home to Western Michigan University is an eclectic town in Michigan. This city is on the seat of Kalamazoo County in southern Michigan.
There are a good number of things to do in Kalamazoo, MI, you will find featured here a downtown filled with options for dining points, art galleries, shops, and entertainment. Also Check out the history, science, and technology exhibits which the Kalamazoo Valley Museum offers, the planetarium inclusive.
The town is not shy of outdoor recreation, unique scenery and lakes and beautiful scenery such as the Kalamazoo Nature Center, the Kalamazoo River Trail, Markin Glen County Park, to mention a few.
Explore the Kalamazoo Institute of Arts for a collection of American and European art. To the south is the AirZoo museum which features flight simulators, vintage aircraft, and rides.
In this article we have put together the best Kalamazoo tourist attractions, let's explore the best & fun things to do in Kalamazoo.
Things to Do in Kalamazoo
1. Kalamazoo Nature Center
A nature preserve graced with over 1,000 acres of rolling woods and hills, the Kalamazoo Nature Center is situated to the north of Kalamazoo, am exploration makes one of the best things to do in Kalamazoo, Michigan.
Are you a lover of nature and want to just wrap yourself in nature's arms?, then you have to visit Kalamazoo Nature Center.
This nature center is loved by many and has its primary attraction to be the miles of walking and hiking trails.
There are 10 miles of walking and hiking paths from 10 different trails, crawling through forests, ponds, prairies, and other wildlife habitats in the center.
The diverse wildlife habitats here are just fitting for individuals of any ability level. Taking a look at the Habitat Haven, this trail is a 0.6-mile trail that features a variety of overlooks. It is rated "easy" and is even accessible by the physically handicapped.
At the opposing end of the spectrum is the moderately rated 2.7-mile Bluebird Trail which is as well the longest trail in the park and the Fern Valley Trail which is difficult-rated.
Address: 7000 N. Westnedge Avenue, Kalamazoo, MI 49009.
2. Miller Auditorium
Positioned on the Western Michigan University campus, the James W. Miller Auditorium is a highly rated performance venue in Kalamazoo.
The Miller auditorium can seat an audience of close to 3,500 persons, it is the fifth-largest in the state of Michigan.
This auditorium is specially designed and has three internal seating tiers: the Balcony Level, the Grand Tier, and the Orchestra Level.
It has played host to a variety of acts and performance types which include: comedians, movie showings, and speakers; countlessly, this auditorium had the Kalamazoo Symphony Orchestra play several shows in a year.
Generally, Broadway shows are hosted each year in this auditorium also several popular acts like Bruce Springsteen, Dave Chappelle and Bob Dylan have performed here.
Miller auditorium is as well the venue for Western Michigan University's graduation ceremony.
Address: 2200 Auditorium Drive, Kalamazoo, MI 49006.
3. Kalamazoo Valley Museum
The Kalamazoo Valley Museum is a family-friendly museum with an emphasis on science, technology, and history. The museum is exceptionally designed with exhibits and artifacts, hence it is quite an interactive museum.
It is run and managed by the Kalamazoo Valley Community College and has over 50,000 artifacts featured. Some of them include the Mystery of the Mummy exhibit which has a complete 2,300 year old Egyptian mummy in addition to the artifacts gotten from ancient Egypt.
You will also find exhibits which tell of the many branches of science as well as the local history and industry of the area.
Aside from these exhibits, the museum has a planetarium of 109 seat capacity. This planetarium shows a vast range of presentations with too class video and audio equipment which gives visitors the complete captivating experience of the planets and stars.
Kalamazoo Valley Museum is one of the free things to do in Kalamazoo, so do well to visit.
Address: 130 N. Rose Street, Kalamazoo, MI 49003
4. Ballet Kalamazoo
If you are looking for an academy that teaches ballet efficiently and effectively, you have that in Ballet Kalamazoo.
This school center their teaching of ballet on the National Training Curriculum of the American Ballet Theater.
They are a studio that inculcates high-level ballet in a sustainable welcoming and friendly environment for learners, dancers, family, and friends. Classes in Ballet Kalamazoo are for students between the age of 3 and 17.
The purpose of this school is to promote traditional ballets and this they have followed consistently. They however integrate recent dance trends in the drills, developing team spirit amongst the students and also teaching them good character skills.
Ballet Kalamazoo is dedicated to maintaining the family-friendly environment which they have through appropriate and persistent performances, musical numbers, and costumes.
Yes, every season, they perform several performances at different venues across town.
Address: 169 Portage Street, Studio 1, Kalamazoo, MI 49007
5. Kalamazoo Institute of Arts
Here is a non-profit art school and museum located in the Kalamazoo's downtown. The
Kalamazoo Institute of Arts
hosts around twelve temporary exhibits which are installed annually.
The museum works in conjunction with local schools and the community at large. They are quite in a collaborative stint which produces yearly exhibits including recurrent shows from young artists, high schools, and other locals.
The other exhibits are a combination of pieces lent by other museums, private collections, and galleries.
The Kalamazoo Institute of Arts has over 4,500 pieces in its permanent collection and this is in addition to the temporary exhibits in here too.
Working to assemble arts from the United States, the collection does promote artists such as Norman Rockwell, Ansel Adams, Andy Warhol, Mary Cassatt, and many others.
Address: 314 S. Park Street, Kalamazoo, MI 49007
6. West Michigan Glass Art Center
West Michigan Glass Art Center, alternatively called the Glass Art Kalamazoo, is a local non-profit establishment saddled with the task of providing glass art classes and experiences to the community.
The center exposes guests to a hands-on experience with glass art and glass making by offering different glass making classes. These classes take place in the Hot Shop, the Lampworking Studio, and the Kiln Fusing Shop.
There are single-class sessions or multiple-class sessions all depending on the subject matter. Their classes span across glass lamp making, Make a Beer Mug, bead making, Learning to Blow Glass, and others.
This is one of the top things to do in Kalamazoo for a fun time, do take to engaging in the art of glass blowing.
Address: 326 W. Kalamazoo Avenue #100, Kalamazoo, MI 49007
7. Kalamazoo Farmers Market
The Kalamazoo Farmers' Market is the town market where one can purchase locally grown produce and diverse sorts of handicraft.
This market is mainly in operation during the summer months, that's beginning from the first Saturday in May down to November.
The market is quite a busy one as it features over 100 businesses weekly and also the night market which gathers farmers, food trucks, and local artisans at night.
As a supplement to the summer market, winter markets are offers in various locations of the town.
You want to experience the unique local culture of the town, then shop in the Kalamazoo Farmers' Market; it will boost your support and appreciation of the artisans, local farmers, and other creatives here.
These markets offer unparalleled opportunities for shoppers. As a shopper, you get to learn about the person who grew or created the products they sell.
Address: 1204 Bank Street, Kalamazoo, MI 49001
8. Milham Park Golf Course
Milham Park Golf Course is a par 72 course is positioned on 130 acres just close to Milham Park. Created in 1933, this is a long-standing 18-hole golf course loved by many for being a challenging one.
This course after its creation went through expansion in 1936, which took it from 9 to its current 18 holes, it answers what to do in Kalamazoo for golf lovers.
It is regarded as one of the most outstanding golf courses in Michigan as a whole and is properly maintained.
Milham Park Golf Course often plays host to top competitions and tournaments also Tee times in this park are available every day, including weekends and holidays.
Facilities found in this course include a snack bar that sells a variety of concessions, a big well-stocked pro shop, practice areas, and power golf carts.
Address: 4200 Lovers Lane, Kalamazoo, MI 49001
9. The Henderson Castle (Inn)
The Henderson Castle (Inn) is a place you can never miss out on while in Kalamazoo, the reason being it one of the most impressive and popular inns in the town.
Occupying a castle of the 1895 Queen Ann-style, this hotel is situated in the historic West Main Hill neighborhood.
This appealing castle used to be the home of Frank Henderson and has modern amenities fitted in the residence.
Henderson was one of the most successful early businessmen in Kalamazoo and his historic home features amenities such as heated marble floors, a hot tube, steam room, a sauna, lots of old-fashioned charm, and much more.
The Henderson Castle offers a nice option of staying over the night and also there is a vineyard, a restaurant, a day spa, and an organic garden.
The restaurant in this inn is open for public access, so go enjoy yourself.
Address: 100 Monroe Street, Kalamazoo, MI 49006
10. Lawson Ice Arena (Western Michigan University)
Lawson Ice Arena is located on the Western Michigan University campus and is the home of the university's synchronized skating team as well as the Western Michigan Broncos men's hockey team.
This arena is a multi-purpose arena with 3,667 seat capacity and also has a natatorium attached.
In this attached natatorium is an Olympic-sized swimming pool where the university's diving and swimming teams do have their trainings.
Visit here during your trip to Kalamazoo, the ice arena and natatorium provide open-swim open-skate hours for members of the community.
The Lawson Ice Arena, aside from the hosting of sports events, plays host to a variety of events, these include concerts, ice shows, and professional boxing matches.
Address: 2009 Howard Street, Kalamazoo, MI 49006
11. Farmers Alley Theatre
The Farmers Alley Theatre is a home base of a non-profit community theater group in Kalamazoo.
This theatre provides a community-focused, discreet and family-friendly environment so you can enjoy every performance.
You can watch the theatre group perform cabaret shows, classic plays, kids' programs and also some new and upcoming acts.
You will enjoy these performances in a seating area, though small, it gives you a close-up view when you are seated for the show.
You can as well quench your thirst or satisfy your hunger at any point as this theatre sells drinks and some light snacks.
On an annual basis, a holiday show is organized by the theatre and includes coffee, holiday desserts, hot chocolate as part of admission for the event.
If you wish to see many shows just some guests, then you can get a season ticket for the annual season.
Address: 221 Farmers Alley, Kalamazoo, MI 49007
12. Markin Glen County Park
The Markin Glen County Park is at the former location of a private estate and had undergone development to its current state as a public recreational land.
The park has nice features which include a lake (which one can swim in), a beach, sports fields and hiking trails.
There are several playgrounds which the kids can play in as well as a multi-use well-paved trail. Significantly, from one of the topmost point of the trails, you will get picturesque views of downtown Kalamazoo.
If you wish to stay overnight, the park has a campground with campsites (38 in number), with each of them having a picnic table and a fire ring.
These campsites are recent with electric, water hookups, a dump station, sewer and modern restrooms well fitted with showers.
Address: 5300 N. Westnedge Avenue, Kalamazoo, MI 49004
13. Kalamazoo Growlers Baseball
Kalamazoo Growlers Baseball is a baseball team that competes in the Northwoods League and has their home ground at the Homer Stryker Field.
There is something special about this team as it brings back thoughts of a myriad of microbreweries in and outside Kalamazoo.
Also, the team has a bold mascot called Porter; a black bear that puts on a Growlers jersey with the number 64 on it.
There is a seating area also referred to as the Miller Lite Party Zone, positioned in the Homer Stryker Field. Its buffet food, picnic seating, and free-flow water and soda.
You can as well enjoy the Bell's Bear Cave (an indoor/outdoor suite) and also the Home Plate Club, which features individual tables and wait staff who serve you thereby giving you quality game-viewing experiences.
Premium concessions which you can enjoy at the ballpark include specialty barbecue and classic ballpark food.
Address: 251 Mills Street, Kalamazoo, MI 49048.
Florida presents breathtaking attractions and activities, explore some of its fun cities, here is a guide on things to do in Lakeland as well as things to do in Punta Gorda.
14. Ballet Arts Ensemble
Just as established already, the Ballet Arts School of Dance is a dance institute that guides students through classical ballet moves in a kid-friendly environment.
That being known, Ballet Arts Ensemble is a non-profit dance performance group consisting of about 13- 20 teenage dancers.
Here, dancers are expected to take two ballet sessions in a week in addition to the 4-hour rehearsal classes in which they are to partake in.
On few occasions in a year, the ensemble makes available nice performances for public attendance and they are hosted in various locations in the city.
Some of their past performances include the Nutcracker and Hansel & Great, seeing these shows makes one of the fun things to do in Kalamazoo, plan to attend.
Address: 2018 Rambling Road, Kalamazoo, MI 49008
15. Verhages Fruit Farm & Cider Mill
Once exciting place you should visit while in Kalamazoo is the Verhages Fruit Farm & Cider Mill.
This is a functional farm and as well a very friendly Kalamazoo attraction for you and your family. They offer diverse experiences for visitors with the farm's attractions open mostly in the fall.
It's more interesting because every week, a variety of tours are hosted here. These tours take place each hour of the day and usually consume 30 to 60 minutes. They include a demonstration on making cider, picking apples, a hayride, and a walk through the animal barn.
There are lots of treats to enjoy from the cider mill, the donut shop, and the country store with wares you can take home.
The farm and the cider mill are easily accessed even by the handicapped and this includes the hayrides.
Address: 8619 W. MI Avenue, Kalamazoo, MI 4900
16. Centerpoint City Church
Centerpoint City Church is a lovely church in situated in W Cork Street, Kalamazoo. Centerpoint though young at heart has been around for over 100 years.
They are a unique assembly that profess God's love to people. Go and experience passionate worship, hear an encouraging message, and be empowered to face another week persistently following Jesus Christ.
The church has one service every Sunday by 10 am and you can participate in two different ways. There is the on-presence service in the Worship Center and the online service through a Livestream. Choose the options that suit you best.
Centerpoint City Church spreads God's love by reaching out to the community through events and projects. Here, you will always find someone to help or provide an answer to your questions.
So, while in Kalamazoo, do well to join this wonderful family.
Address: 326 W Cork St, Kalamazoo, MI 49001-4706
17. Confections with Convictions
A visit to Confections with Convictions is a visit to a fine candy and chocolate shop which specializes in making handcrafted truffles, fair trade chocolate with organic and recipes created by chocolatier Dale Anderson.
This shop sells a nice selection of fair-trade chocolates, organic and gourmet from different parts of the world and this is in addition to their hand-crafted chocolates. So, you are sure to see choice chocolates and confections here.
This store came to be a means of giving troubled youths an opportunity of channeling their lives towards some productive venture.
The name of this store was coined from the fact that the business is established to support and employ young people caged in the court system thereby providing a better future.
Confections with Convictions uses the most salubrious ingredients in their production process, very sustainable it is.
This makes one of the best things to do in Kalamazoo, consider an addition to your Kalamazoo bucket list.
Address: 116 W. Crosstown Pkwy #101, Kalamazoo, MI 49001.
18. Garden House Vintage Market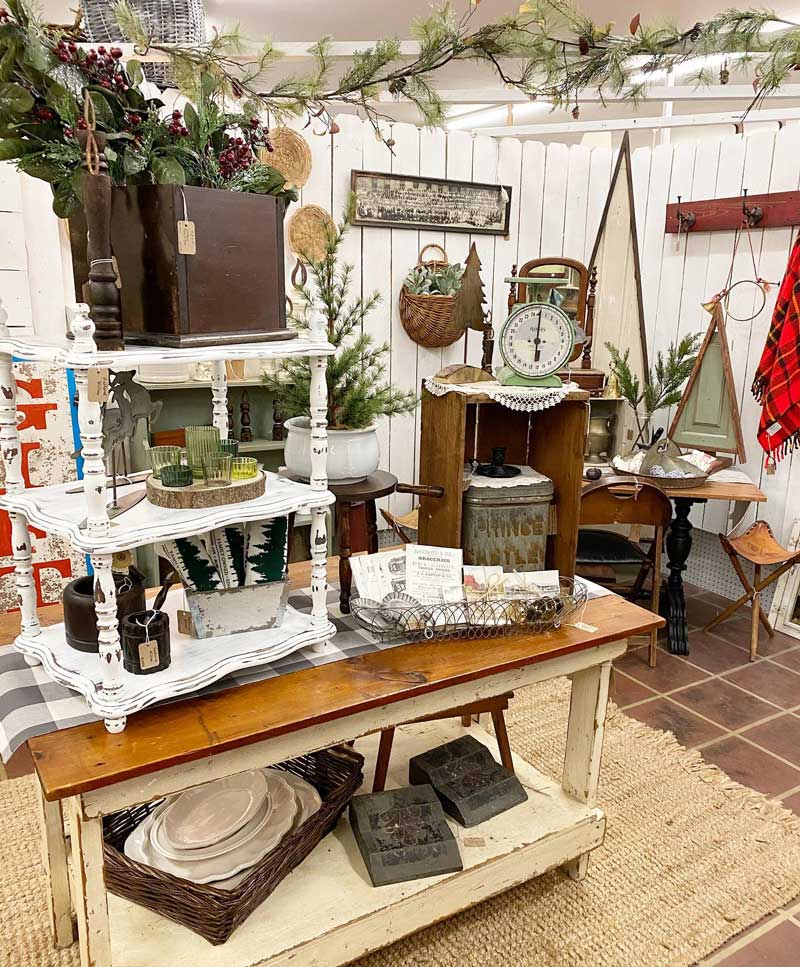 You should not miss the Garden House Antiques while in Kalamazoo. This place is a massively nice multi-vendor mall and makes the list of unique things to in Kalamazoo.
Occupying more than 9500 sq ft of space, the mall has a variety of vintage goods, antiques, cottage-style furniture, and artisans who specialize in up-cycled vintage style items and handcrafted goods.
You can purchase these items for your home or as a gift. Moving to the "Potting Shed" room, you enter a space with a specialization in vintage gardens.
Situated a few meters (less than a mile) off US 131, Exit 44 West, some 30 minutes from Grand Rapids and only 15 minutes from downtown Kalamazoo. It is an awesome way of enjoying your afternoon.
They are open open Monday – Saturday (10am – 6pm) and on Sundays (12pm – 5pm).
Address: 6187 W D Ave, Kalamazoo, MI 49009-9013
19. Boatyard Brewing Company
The Boatyard Brewing Company is a brewery in Kalamazoo. This brewery is works in a traditional style with a food menu, though small but rich.
Here, you will enjoy a nice indoor and alfresco seating where live Celtic music is often hosted in their space. They also have other events like open mic nights and dance parties.
Explore the food menu which consists mostly of snacks and light food. Inclusive on the menu is donut and beer pairing which is the most popular; they also have free popcorn.
The extremely nice staff offer hand-selected donuts with beers to complement each other.
As a visitor, you can tour the brewery if you wish to have a close look at the production process, and even get to taste some of the beers.
Address: 432 E. Paterson Street, Kalamazoo Township, MI 49009
Considering exploring California? here is a tourist guide on the best things to do in Irvine and things to do in Fullerton for a fun time.
20. Lillian Anderson Arboretum
Owned by Kalamazoo College, the Lillian Anderson Arboretum is a private facility setup to preserve natural trees in the area, this is one of the best Kalamazoo tourist attractions.
The Arboretum was established in 1998 for residents and visitors of the Kalamazoo-area as a resource for the Kalamazoo College community.
It occupies 140 acres of space comprising of pine plantation, meadow, marsh, and second-growth deciduous forest settled in Oshtemo Township of Kalamazoo County.
Between the early-19th and mid-20th centuries, several families worked in this land thereby turning the Arboretum to a community love.
This came to be in 1982, after Lillian Anderson donated 100 acres (in approximation) of her family's farm to the College. Then in 2000, Dr. and Mrs. H. Lewis Batts, out of generosity added 32 acres to the initial Anderson property.
The Arboretum welcomes members of the public and groups who share the same delight commitment towards protecting the natural qualities of this place.
This makes what to do in Kalamazoo for outdoor lovers, definitely one of the fun things to do in Kalamazoo to add to your Kalamazoo bucketlist.
Address: West Main Street, Kalamazoo, MI 49009
21. Lawton Ridge Winery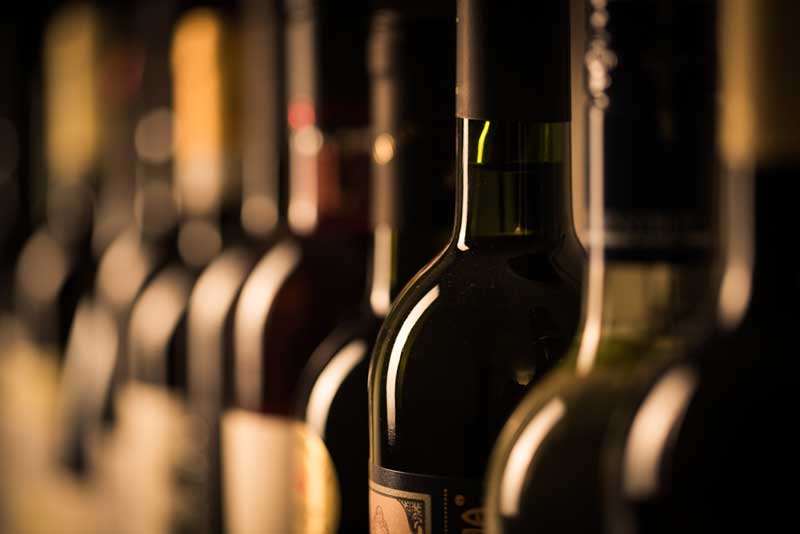 Since 1974, the Lawton Ridge Winery has been in the business of growing grapes. However, in 2008 they opened their production facility and have gone ahead to wines from grapes.
Here at the Lawton Ridge Winery, every wine produced is made from the grapes harvested from their vineyard and some other local vineyards around.
This winery has won awards for creating nice wine selections that pair well with food and are designed for all-purpose, from the sweet dessert wines to the classy red wines.
Lawton Ridge Winery has a tasting room that offers visitors the opportunity to taste as many as six different wines for a little token. If you desire group accommodation, they can prepare reservations of up to 30 people for group tours and private events.
Address: 8456 Stadium Drive, Kalamazoo, MI 49009
22. Kalamazoo Curling Club
The Kalamazoo Curling Club was established in 2008 and is simply a group of people who like to curl, want a place to curl, and want massive other people to curl with? Visit the Kalamazoo Curling Club.
Situated at 3600 Varick Drive, Kalamazoo Curling Club is a five-sheet club housed in the Wings Event Center.
Kalamazoo Curling Club has played host to two U.S. Curling National Championships (2010, 2015, & 2019), and has had her member teams medal in past Arena.
This makes one of the top things to do in Kalamazoo for Curling sport lovers.
Home to their clubhouse, sliding rocks, hog lines, and a social & fun in ice, the Kalamazoo Curling Club welcomes and treats the Kalamazoo area and southwest Michigan in extension. Come, join and play this awesome great Olympic sport!
Address: 3600 Vanrick Dr, Kalamazoo, MI 49001-0805
23. Kalamazoo River Valley Trail
The Kalamazoo River Valley Trail a multi-use trail by the Kalamazoo River. This trail is non-motorized with a distance of 22 miles and plans are in place to take this trail to a total length of 35 miles.
The trail is a good width -10 feet- and offers bikers, joggers, walkers, and other non-motorized users a nice time.
This trail is part of a bigger network designed to link over 140 miles of trails, thus providing an almost endless opportunity for exercise, fun, and other activities.
You have the chance to explore Kalamazoo's downtown because this trail goes through it.
Visitors also have massive opportunities of visiting cafes, restaurants, and shops. This route is popular and loved by families, as a means of taking a walk together.
Visitors who are fitness-minded do get in for a great cardio workout.
24. Gene the Pumpkin Man
Popularly known as the land of orange and the pumpkin people. It all began like many others as the Rhodes family farm, Kalamazoo during the late 1800s.
In 1882, Myron Henry Rhodes bought 40 acres of land only ¼ miles from where he was raised.
On the land already was a house (built in 1882) and a barn set up some few years back. Currently, the farm is owned and manage by Myron's grandson, Gene Rhodes.
Do check up the pumpkin mailbox and also the orange play pumpkin – it's six feet in diameter and has a door access. Tour around the farm and observe the tractors, orange barns, trucks, and cars.
They are open every day of the week from 10am – 8pm
Address: 22637 W M 43, Kalamazoo, MI 49009-9208
25. West Michigan Beer Tours
West Michigan has a vast selection of top-quality breweries and taking a tour will do no bad.
West Michigan Beer Tours gives beer lovers the opportunity of experiencing these breweries uniquely. They provide both private and public tours to several breweries (both small and large) in Kalamazoo.
Visitors and tour groups have the chance of meeting the employees, managers, and owners of these breweries. While on this tour, some breweries will offer you the opportunity to be part of the brewing process.
The beer tours are dependent on the area or type of tour chosen and can be by bus, bike, or even on foot.
Also, private tours come with options of customization. A group can state-specific needs and wants such as length of tour, band experiences, stop points, and the likes and have them included in their tour.
Address: 210 Farmers Alley, Kalamazoo, MI 49007
26. The Heritage Company
The Heritage Company was established in 1986. Its is a family-owned business which is run and managed by Rodger Parzyck, and his daughter, Elyse Parzyck.
This company has been in business for 32 years and is a huge asset to the homeowners in Kalamazoo and it's environs.
The company retail store occupies 17,000 sq ft and houses a constantly changing display of architectural treasures. You will see salvaged doors, windows, sinks, hardware, millwork, clawfoot tubs, sinks, and any more.
It's open from 11am – 4pm on Tuesdays,Wednesdays, Thursdays and Saturdays, this makes one of the best places to see antiques in Kalamazoo, do make it a date with them.
Address: 150 N Edwards St, Kalamazoo, MI 49007-3802
27. The New Vic Theatre
One institutional landmark in Kalamazoo is the New Vic Theatre, a visit here makes one of the top things to do in Kalamazoo for theater lovers.
This theatre was established in 1966 by some residents and since then has occupied a special place in the theatre scene locally. The theatre is loved and has gained popularity because of the yearly Christmas concerts and performances hosted here.
The New Vic Theatre features comfortable cabaret-style seating in a discreet space. This venue serves diverse hot and cold beverage to match your taste, except alcohol.
Proudly, the theatre has more than 320 production tied to their history, of which many of these performances were debuted in Kalamazoo.
This makes one of the top things to do in Kalamazoo for theater lovers, you can visit this theatre on weekends, that's when they are open, except for special occasions where they sell out only 100 tickets for every performance.
Guests are therefore advised to purchase their tickets ahead of their visit.
Address: 134 East Vine Street, Kalamazoo, MI 49001
28. Brook Farm General Market
The Brook Farm General Market was established in 1978 and had proprietors in Kent M. Fisher and Deborah D. Fisher.
This market specializes in the buying and selling of quality used items, mostly antiques, collectibles, and solid wood furniture.
This market is sheltered in a dairy barn which was part of the Kalamazoo State Hospital system in the 19th century.
It was on the land upon which the barn is situated that patients worked to raise food for themselves and the hospital system. It was so until Kent Fisher and his owned the site and established this market.
The market buys from and sells to the local community and a lot of tourists and dealers who pass by make here a favorite destination
They are open Friday: 11:30 am – 5 pm and Saturday: 11 am – 3 pm but some on occasions, they are closed
Address: 3006 Douglas Ave North of Business Route 131, North of Kalamazoo, Kalamazoo, MI 49004-3307
29. Al Sabo Preserve
One of the best things to do in Kalamazoo, MI is an exploration of Al Sabo Preserve, this is a distinguished nature preserve in Kalamazoo which occupies 741 acres of space.
Beautiful a thing, it features two boardwalks and boasts of several hiking trails. Some of these trails bear names such as Lookout, Moab, Mandala Two, and Atwater.
One popular activity in this park is mountain biking, with the nature preserve containing 7 miles of cycling trails.
Both the mountain biking trails and the hiking trails present you with panorama views and picturesque scenes of the nature preserve and the west side of Portage Creek.
Portage Creek flows through the Al Sabo Preserve where it catches up with the Kalamazoo River.
There is sufficient wildlife in this preserve which will catch your attention. Species found here include coyotes, deer, fish, muskrats, and turtles.
If you are a bird enthusiast, you will be delighted as there are over 150 species of birds that inhabit this preserve.
Take to exploring this area, this makes what to do in Kalamazoo, MI for a fun outdoor time, do consider for your bucket list.
Address: 6310 Texas Drive, Kalamazoo, MI 49009
30. Mountain Home Cemetery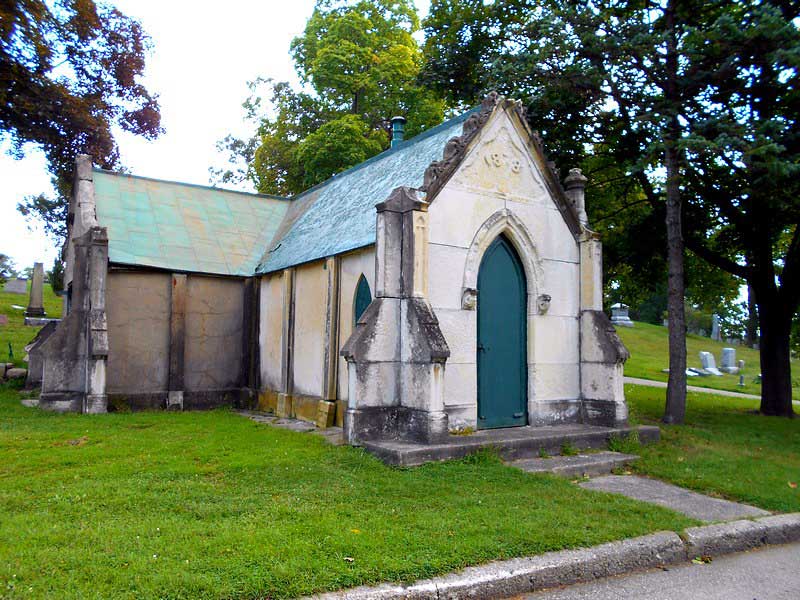 Mountain Home Cemetery is one of the oldest and most impressive cemeteries in Kalamazoo. It is situated just west of Douglas Avenue, nestled on the north side of West Main Street and Forbes Street across from Henderson Castle.
Trustees of Mountain Home Cemetery include Luther H. Trask, Isaac Moffat, Epaphroditus Ransom, Nathaniel A. Balch and were founded as an official entity in 1849 while the City of Kalamazoo took over in 1940.
This cemetery has massive character and beauty – from the diverse monuments and stones to the gently rolling landscape.
You can try comparing the names of Kalamazoo City streets to those you will see at Mountain Home. It leaves you knowing that the cemetery is not only rich but in history.
Visitors can also pay their respect to those who have served in the armed forces and are since passed. Usually designated by a small marker and new flag each spring
The cemetery is open every day from 9am – 5pm
Address: Main St., Kalamazoo, MI
31. Kalamazoo State Theatre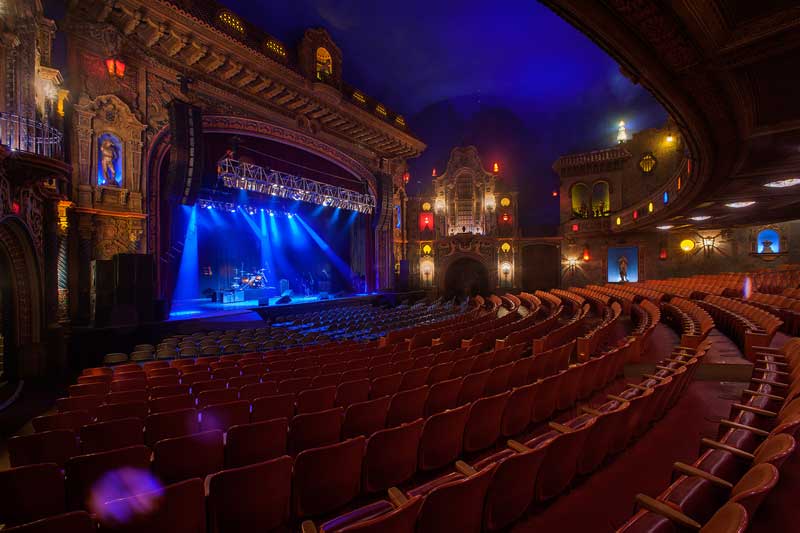 Opened in 1927, the Kalamazoo State Theatre is a performance venue and grand theatre. Since its establishment, this historic theatre has been a landmark in Kalamazoo.
Kalamazoo State Theatre is a part of the League of Historic American Theatres and despite undergoing renovations, this theatre is still a gem of originality.
This theatre hosts events, top touring bands, and other shows.
Before and during each of their performance, the theatre makes ready full-service concessions and this includes draft and bottled beer, water, liquor as well as soft drinks. This makes their guests comfortable and more relaxed.
Also, they have quality candy and nice popcorn and a handful of restaurants situated nearby to provide a more appreciable meal for guests who desire such.
This makes what to do in Kalamazoo for some fun time, plan to visit.
Address: 404 S. Burdick Street, Kalamazoo, MI 49007.
32. Bronson Park
Bronson Park is the oldest park in Kalamazoo and is named after Titus Bronson, the city's founder.
Its location makes it an ideal spot to hold events and gatherings, a role it has carried out throughout its history.
Bronson Park is occasionally referred to as Kalamazoo's "front porch" because of its importance and location.
This park is a suitable place to hang out with friends at any of the events taking place there.
Several shades cover tables and benches, sculptures and memorials, and paved walkways to walk/ stroll on.
The park also has outdoor table tennis for anybody interested in a friendly competition. Every summer, this park holds weekly events known as Lunchtime Live.
This event features food trucks, vendors, live music, vendors, and games on Fridays during lunchtime.
Bronson Park holds the yearly Tree Lighting Ceremony during the holiday season, where everyone gathers together to light up the park and celebrate the season. You can also rent this park for other special events.
Address: 200 S Rose St, Kalamazoo, MI 49007, United States
33. Bow in the Cloud Preserve
However, there are other natural treasures patiently waiting for you to explore all through the Great Lake State.
When you are looking for an adventure spot that feels like a hidden gem hiding in plain sight, check out this secret nature preserve in Michigan.
Bow in the Cloud Preserve is a 60-acre preserve ideal for nature lovers visiting Kalamazoo.
Bow in the Cloud is an example of a hidden gem located a stone's throw from several local businesses but still hidden and peaceful.
There are 60 amazing acres to explore here, whether you are visiting in the hot summer months or enjoying a lovely stroll.
When the weather is cold, you can even try some snowshoeing. Although Bow in the Cloud stretches for only one mile, it provides a never-ending enchantment.
You will start on a gravel loop before exploring a gorgeous Boardwalk and dirt trails.
While at Bow in the Cloud, enjoy the marsh view, marvel at wetlands, look at the tall forested spaces, and watch out for birds and other wildlife.
Regardless of the weather or season, there's something to admire here.
If you have dogs, you can bring them along as long as they are always on a leash.
You can also bring your camera if you can take pictures of the greenery, wildflower, meadowlands, and others.
Although Bow in the Cloud Preserve may not be the city's most popular or largest natural attraction, it is exceptionally spectacular.
Address: 3401 Nazareth Rd, Kalamazoo, MI 49048, United States
Do you have time for more exploration of Michigan?, here is a list of things to do in Bay City & things to do in Cadillac for a fun time.
Plan a Trip to Kalamazoo
Kalamazoo is wrapped in magnificence and full of glamourous attributes, there is something for everyone here.
With lots of activities to keep you engaged all through your vacation here, you are in for a fun one.
From the captivating theatres to the superb restaurants, the thrilling galleries to the busy and bountiful markets and the historical landmarks, this makes a place worth the visit.
Start now to make plans for a trip to Kalamazoo, this piece can always be an aid in your preparation so pin it. Have a fun trip!