Looking for the best & fun things to do in Ludington?
Ludington is the most famous town and the county seat of Mason county, western Michigan, in the United States.
The city is on Lake Michigan at the mouth of the Pere Marquette River, approximately 60 miles (100 km) north of Muskegon.
Ludington is an exciting city initially named "Pete Marquette" and renamed James Ludington, an industrialist whose village's logging operations developed around.
Are you planning a trip to Ludington? Here are the top things to do in Ludington, Michigan.
Things to Do in Ludington
1. Explore Ludington State Park
Ludington State Park covers an immense 5,300-acre area and seven miles of Lake Michigan shoreline.
The park is located between two great lakes, Lake Michigan and Hamlin Lake. It park houses a Great Lake and sand dunes as well as a river, dam, and forest.
Ludington State Park is the region's ecosystem nucleus. You can enjoy boating, fishing, and swimming at the lakeside park.
Additionally, you can rent cabins or RV sites if you need to spend the night. There are also excellent wildlife viewing opportunities on the area's hiking, biking, and ski trails.
Volunteer lighthouse keepers can also enjoy a personal experience at the Big Sable Point Lighthouse.
A visit to Ludington State Park is one of the best things to do in Ludington for some fun time.
Address: Lower Peninsula, Mason County, Michigan, United States
2. S.S. Badger: Lake Michigan Carferry
One of the best ways to explore the waters of Ludington is through the S.S. Badger: Lake Michigan Carferry, and it is worth adding to your list of things to do while in the area.
The S.S. Badger, named after the Wisconsin Badgers, is the largest passenger and car ferry to sail the Great Lakes.
The ferry operates daily, from mid-May through mid-October, from Ludington, Wisconsin to Manitowoc (Wisconsin).
The ship, measuring 410 feet, can carry 600 people and 180 vehicles. Its maritime heritage is reflected in the entertainment options onboard.
Badger Bingo is available, as well as watching movies and enjoying a meal at one of the restaurants.
Locals love to watch the ship arrive at port from the North Breakwater Lighthouse, with a stunning sunset as a backdrop.
Address: 700 S. Williams Street, Ludington, Michigan, United States
3. Ludington Waterfront Park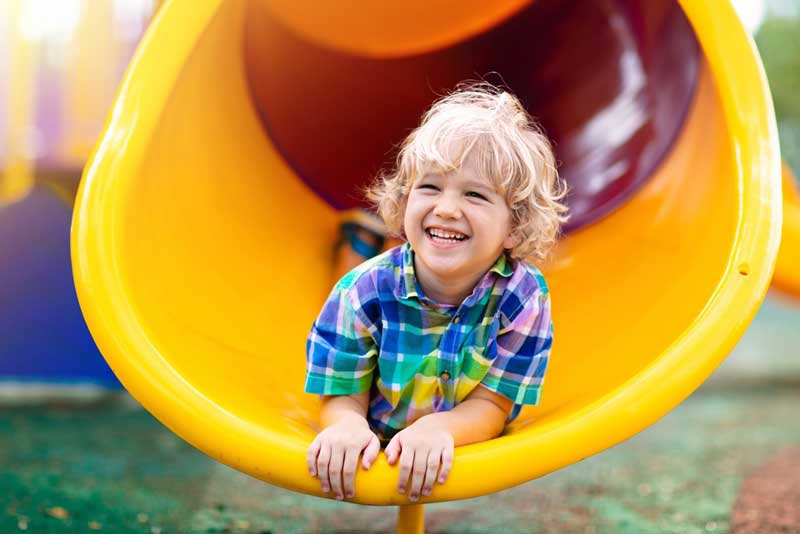 Ludington Waterfront Park rests between two marinas with a view of the car ferry dock. Since it began in 1999, the park has been a significant area in Ludington & a fantastic backdrop for a perfect picture.
Friends and family will love to spend fun time together in the Waterfront Park. There is a playground and other amenities like picnic tables available in the park for an enjoyable experience.
The playground in Waterfront Park is significant, and it keeps kids busy and entertained. Parents can then relax on a comfortable bench as they watch the S.S. Badger car ferry sail into the port,
Take a nice walk on the picturesque pathways to learn a bit of history from the nine bronzed sculptures positioned throughout the five-acre park.
If you need some time off from work or a break, you to relax and calm down. Visit Watertown Park to view nature's beauty while relaxing in a comfortable seat to watch the sunset or watch the S.S. Badger enter the harbor.
4. Red Door Gallery
The Red Door Gallery is committed to highlighting the finest contemporary fine arts and unique crafts by local and western Michigan artists. The gallery also offers art exhibitions, advisory/ consulting, restorations, private and public valuation, and art classes.
Red Door Gallery is owned and run by talented ceramic artists named Nathan Grubich and Amanda St. Hilaire. Featured in the gallery alongside about 15-20 regional artists are most of the craftworks of the owners are featured.
Red Door Gallery offers its famous art camp for kids with different program sessions and age categories alongside interior design services in the summertime.
Red Door Gallery offers a platform where artists can express their creativity with societal boundaries as they believe that art is the ultimate form of expressing man's inner thoughts.
The owners are pleasant and helpful. You will discover beautiful furniture, crafted lamps, fish sculptures, items for house decor, and others. The Red Door Gallery is a perfect place to stop to discover incredible local arts and crafts.
Address: 416 S James St, Ludington, MI 49431-2159
5. Big Sable Point Lighthouse
This historic and beautiful lighthouse is an integral part of the Ludington community. It is one of the most impressive lighthouses in Michigan and offers stunning views of the surrounding area.
The lighthouse is open from 10 am to 5 pm every day, May through October. However, you will need to be prepared to walk 1.8 miles and climb 130 stairs.
In the original Keeper's Quarters, you will find a gift shop selling souvenirs. Follow the M-116 route north to Ludington State Park. Then, hike to the beach to see the black-and-white lighthouse.
This is one of the best fun things to do in Ludington for some sightseeing adventure.
Address: 5611 N Lighthouse Ludington MI 49431, USA
6. Buttersville Park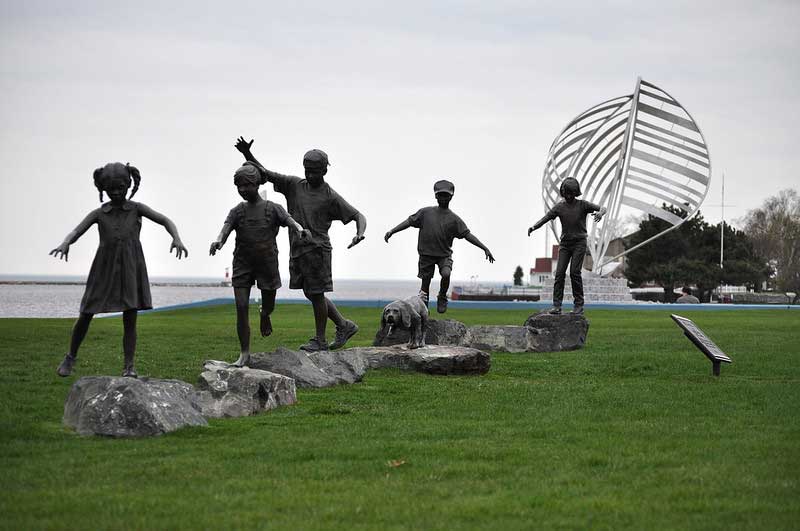 Do you want to have fun in a park or by the beachside with your pet? Are you in search of a nice park to explore with your dog? You would need to visit Buttersville Park as it is a dog-friendly park.
There are plenty of spaces for dogs to jump, run, sniff, play, and explore up and down the beach. If your dog loves to get wet, the still water is excellent for a spot of canine splashing and frolicking.
You can also plan hangouts, get together and picnics as there is a picnic area with grills in the park. You will also find a playground, deer, well-maintained restrooms, and a pavilion.
Buttersville Park is also a romantic spot to enjoy a scenic view of the sunset and a charming view of the Lake Michigan shoreline with the North Breakwater Lighthouse in the distance.
Buttersville Park is a great place to enjoy swimming and other outdoor activities with your friends or family.
Address: 1100 S Lakeshore Dr, Ludington, MI 49431-8352
7. Ludington North Lighthouse
Another lighthouse that is worth adding to your list of things to do in Ludington.
The North Breakwater Light, which is the centre of Ludington, is a historic attraction like the Big Sable Point Lighthouse.
It is located at the northern breakwater pier, near the junction of Lake Michigan's Pere Marquette River.
This lighthouse provides a fantastic vantage point to view the S.S. Badger car ferry or the sunset. The mile-long path from the break wall to light is a favourite spot for people who love to walk.
Three decks, lantern rooms and many windows make up the pyramid-shaped tower. There are also several pictures available for those who wish to explore.
The reward for reaching the top is stunning views of Ludington harbour. Ludington North Lighthouse is definitely worth adding to your list of things to do in Ludington.
Address: Stearns Park Beach, Stearns Park Outer Drive, Ludington, MI 49431, United States
8. Ludington Area Center for the Arts
The Ludington Area Center for the Arts (LACA) is an exciting community facility and arts organization that features regional arts such as performances, Dance, Music, Visual Arts, Culinary, Literature, and a lot more.
The Ludington Area Center for the Arts Gallery offers a variety of free visual arts exhibitions year-round. It also provides a wide variety of art workshops and programming and musical and theatrical performances and exhibitions.
The gallery consists of a 250-seat performance hall accessible with a stair climber lift. With the replacement of movable chaos in the performance hall, it is now a much more versatile venue.
Discover the Art library on the gallery's second floor, named for Bill and Jane Carpenter with John and Marion Riedl. The great library provides 1,000 interesting books of artists, art history, and instructional materials.
The main gallery is the center for the arts, and it features several exhibitions all year-round. Additionally, the second gallery space is in the Performance Hall Lobby area & a news exhibit area.
Visit the Ludington Area Center for the Arts Gallery as all exhibitions are accessible, and you will learn a lot of fascinating histories.
Address: 107 S Harrison St, Ludington, MI 49431-2109
Planning an Arizona road trip? do not miss our guide on Show Low, Flagstaff and Yuma for a fun road trip in Arizona.
9. Sandcastles Children's Museum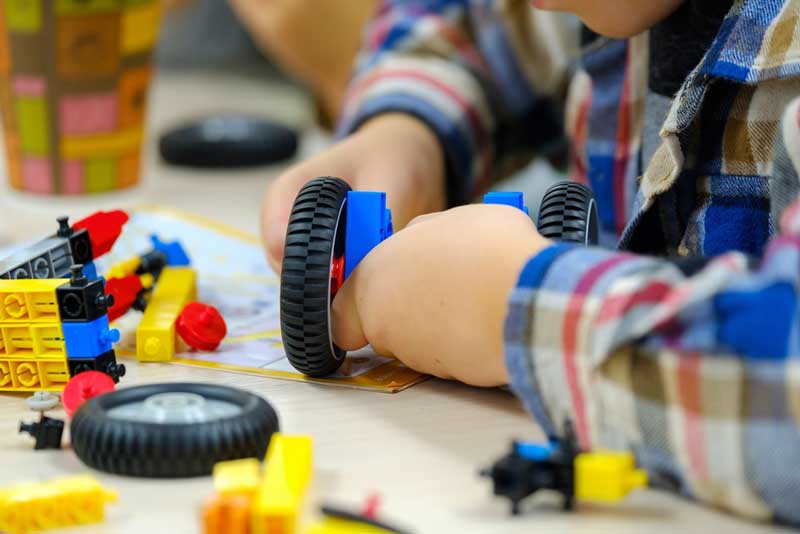 Are you looking for things to do in Ludington with kids? If yes, add a visit to Sandcastles Children's Museum to your checklist.
Sandcastles Children's Museum began its journey in 2006 as a "summer sampler museum".
Since then, it has grown to be a wonderful learning and play centre. This is evident in the museum's growing popularity, which attracts over 20,000 visitors annually.
The museum organizes workshops and projects for children thanks to regular donations from various organizations and volunteers.
Children can participate in interesting events such as Stop Motion Animation, Remotely Operated Underwater Vehicles (ROUV), Mud Painting Campfire Stu, Puppet Show and many more.
There are many stations available for pretend play, dress-up, crafting, and other activities. Children will also love the mini pizza place, Play-Doh table, as well as the grocery store.
Visiting Sandcastles Children's Museum is one of the best fun things to do in Ludington with kids.
Address: 129 E. Ludington Avenue Ludington, MI, 49431, United States
10. Hemlock Golf Club
Hemlock Golf Club is a fantastic and natural beauty golf area where visitors enjoy Michigan's unique golf experience. Raymond Hearn, a notable golf course designer, was hired to design the award-winning Hemlock Golf Club.
The designer's plan for the area is to create golf courses that are visually pleasing and function harmoniously with the natural environment.
Golf lovers will love to play in the Hemlock Golf Club. The golf holes are the Top O' The Hill, Dune Beast, Mighty Oaks, Northern Beauty, and Peninsula.
The golf club offers other golf outings and group outings. The golf club provides other amenities like space for large group outings, a short-order grill, a putting green for practice, mentored instruction, and lessons.
Address: 5105 W Decker Rd, Ludington, MI 49431-9452
11. PereMarquette River
PereMarquette River is a spectacular nature attraction that should be added to your list of things to do in Ludington, MI.
The River stretches for sixty-six miles from the junction of the Middle & Little South Branches to Pere Marquette Lake.
Because it is only 2-4 feet deep, the River is considered a 'National Wild and Scenic River, and as a result of the abundance in rainbow trout, steelhead and salmon, it is a popular fishing spot throughout the year.
By renting a kayak or canoe, you can go camping, hiking or paddling in the River.
The River is suitable for both amateur paddlers and experts due to its clear waters and steady waves.
Another popular activity that can be done in this natural attraction is wildlife viewing. You can enjoy wildlife viewing at the Bowman Lake Area or Jorgenson Angler trail.
Address: 1755 S. Mitchell St., Cadillac, MI 49601, United States
12. Port of Ludington Maritime Museum
If you are interested in Ludington maritime's history, add a visit to the Port of Ludington Maritime Museum to your list of things to do while in the area.
Port of Ludington Maritime Museum allows you to delve back into the past to learn more about Ludington's maritime history.
The museum is located in a historic landmark, a former US Coast Guard Station, and it educates visitors in an entertaining manner.
The museum's three main exhibits include a scale model diorama from the Elberta railroad yard, a 110-foot panoramic painting of Pere Marquette Lake during the 1800s and the pilothouse for the Pere Marquette22 car ferry.
You can also view interactive exhibits and holograms featuring captains Andy Van Dyke or Nels Palmer in the museum.
The best part about the Pere Marquette 22 car ferry to Ludington's harbour is the chance to pilot it.
Address: 217 South Lakeshore Drive Ludington MI 49431, USA
13. Todd & Brad Reed Photography
Explore a hidden gem and Michigan's beauty at Todd and Brad Reed Photography. The gallery features exhibits from Michigan's Upper and Lower Peninsulas, plus most images from around the area of Ludington.
Todd and Brad Reed Photography offer things like greeting cards, large canvas prints, magnets, calendars, awards-winning books, and many other things you will love to take home.
There is always something for everyone in Todd and Brad Reed Photography as the owners enjoy sharing their experiences and love for photography with everyone that visits the gallery,
Todd and Brad Reed are a father-son fantastic outdoor photography team located in Ludington, Michigan. Todd and Brad are the award winners in the Nikon International Photography Contest. The owners operate Todd & Brad Reed Photo Gallery in downtown Ludington.
The two have been recognized for their photography workshops as they offer five different photography workshops for beginners and seasoned professionals who have been shooting for many years.
The photo gallery opens every Sunday through Saturday from 10:00 am to 6:00 pm. If you're visiting the Ludington area, do well to check out the gallery and say hi to the owners.
14. Jamesport Brewing Company
If you are looking for the best beer in Ludington, the Jamesport Center is where to visit.
This six-storefront late Victorian building now houses a restaurant as well as a bar.
Beer lovers will find it fascinating to visit the complex and see how they brew beer. One lucky visitor may be able to see Pat Saxton, Head Brewer, making beer.
Tom Buchanan, an award-winning brewer, was responsible for brewing before Pat Saxton.
You can enjoy delicious pretzel-crusted whitefish, pasta dishes, chicken pot pie, and sandwiches, as well as strong ales and German-style beer while in the area.
You can also enjoy the stunning outdoor scenery by sitting at a table on an outdoor deck if the weather is good.
Address: 410 S James St. Ludington MI 49431, USA
15. Historic White Pine Village
For some history time, add a visit to Historic White Pine Village to your list of things to do in Ludington, MI.
The Historic White Pine Village, which covers 13 acres and overlooks Lake Michigan, is an outdoor museum that houses more than 30 museums with artefacts or historical items.
For history buffs and bookworms, the Admission Building has a research library that will help you find interesting facts about Mason County.
You will find old photos, newspapers, obituaries and other historical material in the museum.
You can also find locally-made products such as maple syrup, jam, and wooden toys in the gift shop.
The Old Fashioned Ice Cream Parlor is open in Town Hall to provide snacks and ice creams for those who are hungry.
Address: 1687 S Lakeshore Dr. Ludington MI 49431, USA
Georgia has some unique cities you will love to visit in your lifetime, explore Gainesville , and Valdosta during your visit to Georgia.
16. Father Marquette National Memorial
Father Marquette National Memorial is dedicated to Jacques Marquette, a 17th-century French priestess and explorer.
In the wilds of North America, he introduced French culture to Native Americans. The 52-acre memorial is owned and administered by the Michigan Department of Natural Resources.
This is a significant part of Michigan's history. Visitors can visit the memorial from April 1 through November 30.
You can visit the memorial daily between 8 and 10 pm, except when it is extremely cold.
The area houses the memorial, a trail that runs through 15 stations and breathtaking views of Mackinac Bridge.
A visit to Father Marquette National Memorial is one of the best fun things to do in Ludington for some history time.
Address: 720 Church Street, St Ignace, MI 49781, United States
17. Old Hamlin
For a memorable dining experience, add a visit to Old Hamlin to your list of things to do in Ludington, MI.
Combining American and Greek cuisines, this restaurant has been a symbol of good home cooking in Ludington since 1942.
Old Hamlin restaurant serves delicious American cuisine with some elements from Mexican, Italian and Greek cuisines.
This restaurant serves homemade bread, pies and other daily specials to refuel your energy after a day of exploring downtown, Ludington.
You can enjoy breakfast every day, with daily specials. You can choose from a variety of beverages, including wine, cocktails and beers.
This family-friendly restaurant offers discounts for seniors and offers a children's menu.
Address: 122 W Ludington Ave. Ludington, MI, 49431, United States
18. Amber Elk Ranch
One of the best things to do in Ludington for animal lovers is visiting the Amber Elk Ranch.
The main attraction on this ranch is a bull elk of world-class, but there's also a zoo that caters to children. You can visit the zoo and interact with them.
The elk bull, however, is something that draws everyone's attention. Try to see it when you visit Ludington.
There are also over 130 acres of land in the area. To explore the land, you could ride a wagon. Many farm animals can be found freely.
Address: 2688 W Conrad Rd, Ludington, MI 49431, United States
19. Downtown Ludington
Try to slow down for the evening. You don't need to return to your hotel early when there is so much to see and do.
Downtown Ludington blends seamlessly with all modern conveniences. It is possible to spot tourists as well as locals walking or eating in downtown Ludington. These areas are well lit.
You will find a lot of shopping venues and restaurants in the area. Try not to return to the hotel without tasting some of the delicious cuisines prepared here.
It is open all year so that summers can be pleasant. New Year's Eve here is extravagant, and there are many parties in the area.
20. Nordhouse Dunes Wilderness
For some adventure time, add a visit to Nordhouse Dunes Wilderness to your list of things to do in Ludington, MI.
The Nordhouse Dunes Wilderness covers an area of 3,450 acres within the Manistee National Forest.
The Dunes wilderness boasts a 4-mile stretch along Lake Michigan's shoreline and the largest collection of freshwater dunes anywhere in the world.
Open dunes and forested hills flank the shoreline; a footpath runs along the edge of these hills, which was once known as the Michigan Trail.
The Lake Michigan Recreation Area has 99 campsites that can be used for camping in this beautiful wilderness.
They also have hand pumps for water and fire pits. Carry your trash when leaving the area if you decide to camp in the hardwoods.
Address: 8191 Morton Rd. Free Soil, MI 48411, United States
21. Stearns Park
Stearns Park is one of Ludington's finest and largest beaches to have some fun with your friends and family.
People visit the park for several activities as it has lots of free parking space, a family-friendly atmosphere spectacular for playing in the water, with 2,500 feet of sandy shoreline.
You will enjoy swimming, building sandcastles, and also enjoy the scenic view of the Ludington North Breakwater Lighthouse. In Stearns Park, three accessible walkways are at both north and the south sides alongside the middle of the beach.
The walkways will help anyone who encounters difficulties walking through the sand as the walkway leads them straight to the parking lot.
Streams Park features many things, including rentals, beach facilities, a food/snack stand, a playground, and picnic tables and grills. You can as well plan hangouts and picnics with your loved ones.
You're sure to enjoy your time in the park as there are lots of fun things to do and games to play like volleyball, mini-golf, shuffleboard, basketball, and others.
Address: Stearns Outer Drive, Ludington, MI 49431
22. Jam Farm
One of the interesting attractions to visit in Ludington, MI, is Jam Farmand, and it is worth adding to your list of things to do while in the area.
Jam Farm is a well-known name in the region for making homemade jams and dips. They started out making jams using berries from their property. But, as time passed, the Jam Farm grew their business.
You can now even find delicious warm bread to go with your jams, dips, and granola!
The Jam Farm, which is located very close to Lake Michigan's shores, is a mainstay of the region.
These recipes have been handed down from generation to generation, making them even more delicious.
Address: 5075 W Meisenheimer Rd, Ludington, MI 49431, United States
23. JM Galleries
The JM Galleries is a unique, versatile gallery spa e perfect for events, film and photoshoots, and art exhibitions.
JM Gallery provides a prime location ground-level window space alongside its entrance into a 54sqm / 575 sqft of open-plan gallery space.
The JM Gallery also offers custom picture framing, and you can pick your choice from ready-made affordable frames and other expensive custom framing options. The fantastic artworks in the gallery entertain the eye, engage the mind, and promote compelling works in an accessible space.
Chat with the gallery owner as he is friendly and engaging. He will also take his time to explain to you the things you need to know to answer your questions.
Address: 310 W Ludington Ave, Ludington, MI 49431-2026
Want more of Michigan? check out our guide on things to do in Gaylord, things to do in Kalamazoo and fun things to do in Cadillac for a great time in Michigan.
Start planning your trip to Ludington
Tourists visit Ludington, Michigan year-round for recreational purposes such as boating, swimming in Michigan Lake, Hamlin Lake, and other lakes, alongside fishing, camping, hunting, outdoor games, and more.
You will also enjoy scenic drives, delicious served foods, museums, compelling galleries, and photographs, watching the sunset, picturesque and stunning views of the lakes, beach parks, and others.
There are festivals, concerts, and events you wouldn't love to miss in Ludington. There is always something for everyone in Ludington, Michigan.
So why not start now to prepare for your trip to Ludington, Michigan, for an enjoyable and memorable experience.