Bay City is situated on the base of Lake Huron, just at the edge of Saginaw Bay in Michigan. The city in itself is not too large, covering only about 11.2 square miles.
The population here is roughly 35,000 however this makes the area feel like quite a very large city.
Bay city used to be a booming shipbuilding and lumber town, today there are quite some cool things to do in Bay City as this city provides an awesome vacation experience for visitors.
Famous singer Madonna has here as her birthplace, you will get more enticed by its historic buildings, delicious meals, fantastic festivals, libraries, museums and more.
With the weather and seasons providing great outdoor experiences, you wouldn't want to miss Bay City. For fun time here, below are the best things to do in Bay City.
Things Do in Bay City
1. Veterans Memorial Park
Amongst the best things to do in Bay City is a visit to The Veterans Memorial Park, it is the central park of Bay County. This park spreads approximately 97 acres, its size is about 1.2 miles in length and 0.2 miles in width.
This park area encompasses the Veterans Memorial Park ball fields, Santa House, Liberty Harbor Trombley House, Fitness Park and Kantzler Arboretum
You will see the Riverwalk/Railtrail loop here, you will observe enough water depth in the hard-surfaced boat launch, enough to accommodate most boats.
The park plays host to great community events like the River of Time and the 4th of July Fireworks celebration.
More features include: Parking lot, Pavilion, Picnic Areas, Shelters and Tables, a Playground, Tennis Court, Walking track, chemical Restrooms, and more. This park is open 24 hours of the week.
Address: John F Kennedy Dr, Bay City, MI
2. Alice & Jack Wirt Public Library
The Alice & Jack Wirt Public Library is situated in the downtown area, just on the east side of Bay City. It is recognized as the center of the main library for the Bay County Library System.
Aside from housing the greatest collection of materials reckoned with the system, the library has a local history and genealogy room, an outdoor reading garden, a computer lab, a business resource center and core reference collection, a large community meeting room, and multiple studies rooms.
The Alice & Jack Wirt Public Library is strategically built and organized with the administrative offices positioned on the second floor.
Operating hours are: Monday – Thursday (10AM-8PM), Friday – Saturday (9AM-5PM), and Sunday (Sep-May only) 1PM-5PM.
Address: 500 Center Ave, Bay City, MI.
3. Quanicassee Wildlife Area
Quanicassee Wildlife Area is a 1,922-acre habitat located near Essexville, it is home to a diverse variety of wildlife. This area is under the management of the DNR and has a lightly trafficked 3.1 miles out and back trail.
One can fish (though it is seasonal), what you catch depends on your skill level. You can catch a variety of fish like suckers, carp, walleye, sunfish, bass, pike, perch, and catfish.
These trails offer numerous activity options and beautiful wildlife to see.
Address: Hampton Township, Bay City, MI 48706.
4. Bay City Hall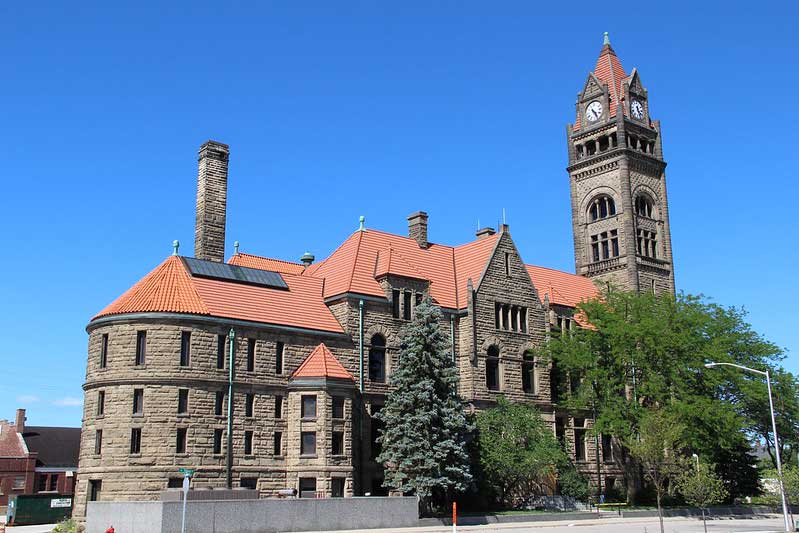 The Bay City Hall is listed in the National Archives of the Smithsonian as one of the most outstanding buildings in the United States. This City Hall was built between 1894 and 1897, it is highly recognized for its historic restoration.
Yes, this building is evidence of the total restoration in 1980 following a fire outbreak. It cost $3.3 million to restore and $5 million for an upgrade and rehabilitation in 2010.
This hall is an example of municipal architecture built in the modern Romanesque style and shows the outstanding input of Bay city in preserving historic places.
Visitors are welcomed to enjoy an awesome 360° panoramic view of the city while on the tower. This makes one of Bay City attractions you should not miss, City Hall is open Mondays through Fridays from 8am to 5pm.
Address: 301 Washington Ave, Bay City, MI.
5. Carroll Park
In the northeast corner of Groveland Road and Park Avenue is situated, Carroll Park. Established in 1885, it occupies 13.7 acres in space and is the oldest park in the city.
Special features you will find in the park include a bridge and duck pond. There are oak trees and a large stand of old maple contained in this park.
Aside from fun, you have a take at history as the park has some historic homes at its borderlands and can be easily accessed through the Riverwalk/Railtrail loop.
Park facilities include equipment, a pavilion, tennis courts, a pavilion, chemical restrooms, picnic areas, and a playground.
Take to visiting this park during your trip to this part of Michigan, this makes one of the fun things to do in Bay City.
Address: Park Ave, Bay City, MI.
6. Center Avenue Historic District
The Center Avenue Historic District is an architectural heritage created by the lumbermen, industrialists, and shipbuilders of Bay City, having built fortunes here in the mid-1800s.
In 1982, the District was listed on the National Register of Historic Places and had an expansion in 2011. This area boasts a total of 936 building collections, of which 879 make the historic character of this neighborhood.
These structures depict an array of styles including some of the finest Gothic Revival, Victorian Italianate, Stick style, Queen Anne, Greek Revival, Richardsonian Romanesque, Tudor Revival, Châteauesque buildings in the city.
You will also note the presence of numerous "Kit homes" on display. They were designed and built by the Aladdin and Lewis & Liberty companies – pioneer manufacturers of kit homes at their base of operations in Bay City.
Visit this area and build the imagination of what it was like when guests were entertained in third-floor ballrooms and driven in horse-drawn carriages.
Address: Bay City, MI 48707
7. Riverwalk Pier
One of the best things to do in Bay City is a view of the Saginaw River on the Riverwalk Pier. This is a charming walkway overlooking the Saginaw River known for its peaceful locale & scenic lookout spots.
Taking a stroll along Riverwalk gives you hints of the exceptional maritime history of Bay City. You can have this incredible view from the walkway overlooking the Saginaw River.
There's a bridge crossing the inlet and cutting into the Saginaw Riverbank. This phenomenon is however not natural. It is a slip made by man and at a time was used to launch Henry Davidson's ships.
You will see remains of some of the 19th-century wooden ships while you walk down the shore. These wooden skeletons were pushed to the banks of the Saginaw River out of the place where they have been hurled several years ago.
Address: S Arbor Street, Bay City, MI.
8. Bay Antique Center
Located at the heart of downtown Bay City, the Bay Antique Center is a two-story multi-dealer building which occupies 60,000 sq ft of space.
You can spend an hour, a day or even your weekend shopping at this large shop. There is a nice selection of antiques, dolls, glassware, license plates, memorabilia, Victorian furniture, china, quilts, pottery, jewelry, bottles, old comics, vintage clothing, trading cards, and much more!
It's indeed a destination for a discerned collection and a show of an antique extravaganza. This long showroom features great merchandise, varieties of antiques, and friendly dealers with good knowledge. It is spacious and covers a vast range of antiques that suit any area of interest.
The Bay Antique Center is family-friendly and is open all year round from Mon-Thurs & Sat 10am-5pm, Fri 10am-8pm while on Sunday 12am – 5pm.
Address: 1010 N Water St, Bay City, MI.
9. State Theatre
One of the fun things to do in Bay City is some movie time at State Theater.
Opened in 1998, the State Theatre was only a vaudeville theatre, but following the roar in movies, a screen was added and the theatre was renamed.
This building saw the transfer of ownership and managerial authority to the city, it is now renovated to display its unique Aztec architecture.
Visitors can check out some of the films and be part of the film festivals organized throughout the year. Also, the State Theatre partners with Wenonah Park (a local park) to show free movies all through the summer months.
But during the rains, these movies and moved to the State Theatre for viewing. Most of the events are currently sponsored by families and local businesses, so you can be part of it.
Address: 913 Washington Avenue, Bay City, MI 48708.
10. Riverfront Grille
The Riverfront Grille does not only offer food and drinks but also some fun and relaxation time.
This restaurant serves Breakfast and dinner, so you can stop by to enjoy with your friends and family while you watch some sports.
Riverfront Grille combines both pub-style and Tex-Mex cuisines. Do not miss out on some of the many Mexican-style foods, like fajitas, the Mexi-Ranch dips, the Big Ten dip, fish tacos, or quesadillas.
For fun initiators, you can try out the southwest egg rolls, smothered fries, pretzel bites, or raspberry delight dip.
More enticing treats are enjoying a mouthwatering burger with a Brioche bun or moving to the classic club.
Address: 1 Wenonah Park Pl, Bay City, MI 48708, United States
11. Hewitt Park
The Hewitt Park is one of the loveliest parks in Bay city. This park is contained on a 6.1 aces space and has as boundaries Hampton Street, Johnson Street, 19th Street, and 20th Street.
The park was renamed from Hewitt Field to Hewitt Park in 1994.
Parks has little with geometry but Hewitt Park is rectangular and features two tennis courts, a playground, and a baseball/softball diamond.
You can also fill your eyes with the beautiful drinking fountain here. Opening Hours is Monday-Friday 7:00 AM- 3:30 PM
Address: 19th St, Bay City, MI 48708
12. Antique Toy and Firehouse Museum
The Antique Toy and Firehouse Museum is one built for kids between the ages of 1-10. This museum is a gem for kids as it combines two things that they love: fire engines and toys.
Upon entry into the Antique Toy and Firehouse Museum, you'll notice the NASCAR room. This room has in its models of almost every car that has graced the Motorsport.
If you are interested in seeing some familiar toys, then you can check up the collection running over 50 years. They include Hess trucks, Tonka toys, and Betty Boop items.
Visitors will see, spread over the museum more than 70 real antique pumpers and fire trucks. And a bonus: it is free for children under age four.
One of the fun things to do in Bay City, MI with kids is a visit to this museum, do consider for your itinerary if they are tagging along.
Address: 3456 Patterson Road, Bay City, MI 48706.
13. Sage Library
The Sage library was in the National Register of Historic Places in 1979, this making this building a special stop for visitors in Bay City. This building was built in 1884 using the Victorian architectural style.
This library house over 110,000 books with visitors given the freedom of touring the two floors of this building.
Visitors are also allowed to using any of the meeting rooms for their group meetings, they can also enjoy the free WiFi and internet service computers here.
The Bay County Library System has four branches of which Sage Library is one of them. They are open only on weekdays.
Address: 100 E. Midland Street, Bay City, Michigan 48706.
Galway makes a great vacation city in Ireland, here is a guide on the best things to do in Galway for a fun time, do take to exploring these fun attractions.
14. Saginaw Valley Naval Ship Museum
A handful of persons who visit Bay City do take to visit the Saginaw Valley Naval Ship Museum, which is sheltered in the U.S. destroyer the USS Edison.
You will have the opportunity of seeing some of the country's naval history unveiled in a ship tour which once had the motto "Three Guns, No Waiting".
Visitors often tour in this 418-feet longship with the intent of improving their background knowledge.
Prepare yourself as you would climb up and down ladders and pass through doorways. Yes, this is a destroyer ship, you know?
If you visit in September or October, you will be lucky to join the fun of Halloween featuring the two themed-attractions: Dismazed or the Edison Incident.
This makes what to do in Bay City, MI if you are fascinated by ships, do consider for your bucket list on things to do in Bay City, MI.
Address: 1680 Martin Street, Bay City, Michigan 48706.
15. Bay City Town Center
Do you have a craving to go shopping, then the Bay City Town Center is one of Bay City attractions you should not miss. Originally known as the Bay City Mall before it was recently renamed.
This shopping center has very popular stores. All categories of individuals, be it, kids, teens, or adults will find their favorite brands and stores in this mall. Some of them are GameStop, Label $hopper, Clarie's, PetSmart, Spencer's, Olie's Bargain Outlet amongst others.
If you wish to do something different, you can get to a Planet Fitness or movie theater, which is right in there.
The Bay City Town Center is mostly attributed to shopping, visitors can have a bite of pretzel as a snack at Auntie Anne's.
Address: 4101 E Wilder Road, Bay City, MI 48706.
16. Lucky's Steakhouse
While in Bay City, it will be nice that check out one of the popular eateries, the Lucky's Steakhouse.
It is named after Lucky Vasilakis, the owner of this restaurant, and promises to treat your tastebuds with chicken, pasta options, steak, and seafood on the menu.
He has gone on to make his name a brand including Lucky restaurants, which features seafood and Mexican in and around Michigan.
Here at Lucky's Steakhouse, do start with Chunky Potato Cheese or Flowering Onion soup, then try an entrée, burger, or sandwich.
If you need more after dinner, you can move to the dessert menu which features cheesecake, key lime pie, and carrot cake.
This makes what to do in Bay City, Michigan for a mealtime, do consider for your itinerary.
Address: 2856 WIlderRoad, Bay City, MI 48706.
17. Bay City State Recreation Area
The Bay City State Park is an awesome place to go if you wish to take a look at some of the wildlife in Bay City. It is exciting to visit especially during the summer.
In the entire Great Lakes region, this park has the largest marsh wetlands and provides a nice habitat for migratory birds and some wetland animals.
In addition to the marsh, meadow, and woodlands, you can enjoy the beach if you have an interest in swimming – though, sometimes the beach is closed on the grounds of safety.
So, if you still want to cill off, there is a splash park built for both kids and adults to enjoy.
Address: 3582 State Park Drive, Bay City, MI 48706.
18. Bay City Farmers Market
Between the 1800s and the early 1900s, Bay City Farmers Market is a beautiful farmer's market in the Bay City area.
That feel has resurfaced today, with a re-imagination bringing the market back to life. This market provides local and fresh produce as well as other products to Bay City.
This market is quite a large one and accommodates 45 stalls with farmers and vendors selling fruits, vegetables, flowers, baked goods, fresh juices amongst others.
You will also find food vendors in this rustic market. They make their foods using local produce.
This market also offers weekly shopping deals in a bid to make this fresh produce available for everyone. They also accept food assistance programs.
Address: 401 Center Avenue, Suite 100, Bay City, MI 48708.
19. Roosevelt Park
One of the best things to do in Bay City is a visit to Roosevelt Park.
Roosevelt Park was originally Broadway Park but was renamed in 1907. In this park, you will see a memorial plaque placed in memory of an American Indian. His remains are underneath the stone and is a timely reminder.
This park is fun with the open space, tennis court, and playground equipment all adding to its beauty
This is one of Bay City attractions you should not miss, it makes what to do in Bay City for a fun outdoor time.
Address: South end of Broadway Ave., Bay City, MI 48708.
20. Wenonah Park
One of the top things to do in Bay City, MI is a visit to Wenonah Park, this park is positioned at the center of downtown Bay City, it occupies 6.1 acres in space.
The park is backed by an amphitheater used for warm-weather festivals and concerts. A pavilion is just here too, it is called the Nickless Family Community Pavilion. This pavilion can be rented for weddings, parties, and special events.
The colder months are not left bare, some fun activities do take place here. The pavilion is converted into an ice rink for skating and vacation fun.
With the park at the edge of the Saginaw River and with boats of diverse sizes moored at the station, you can easily connect with Wenonah Park.
Address: 111 Center Avenue, Bay City, MI 48708.
21. The Historical Museum of Bay County
The Historical Museum of Bay County is housed in a former 1910 National Guard Armory. The museum is listed on the state and national historic registers.
This museum provides an extensive research library for the public and also features diverse galleries.
With two permanent galleries, "Bay City: Seaport to the World" and "Bay County…Trails Through Time", these bring to mind the characteristic heritage of the county as well as the evolution of the booking international port.
This makes what to do in Bay City, MI for museum lovers, do take to having a fun time here admiring historical items.
Address: 321 Washington Ave, Bay City, MI.
22. Ted Putz Nature Area
The Ted Putz Nature Area is situated on the western bank of the Saginaw River. That is, at Ivy Avenue which is in the Salzburg Business District.
This park occupies 4 acres and is one place you should not miss while in Bay City.
You have the opportunity to enjoy the open space area in the park and also admire wetlands along the river floodplain through a boardwalk fixed in here.
Other features of Ted Putz Nature Area include picnic spots and tables which you can relax on with your family and friends. You can also fish in the waters.
It's open 24 hours every day of the week.
Address: South Arbor Street, Bay City, MI
23. Delta College Planetarium and Learning Center
One of the fun things to do in Bay City, Michigan is a visit to The Delta College Planetarium and Learning Center, this is the best place for families who take joy in broadening their knowledge horizon during their travels.
This planetarium and learning center was built by Delta College after they had received a grant of $8.75 million from NASA.
The aim is to concentrate on the wonders of sciences, the celestial bodies, and the universe. The planetarium has a 360-degree screen, so visitors can see one of the numerous high definition science movies or the star show produced for viewing.
There is a rooftop observation deck which allows guest to see real planets and stars at night.
The whole building showcases traveling exhibits of various aspects of NASA and space study, this includes simulated moon rocks.
Address: 100 Center Avenue, Bay City, MI 48708.
24. Dreams of Conquest
Founded due to the need for a game center, Dreams of Conquest has become an excellent location for gamers.
Dreams of Conquest offers a fast D & D game with an opportunity for players to engage in a game fight amongst space marines, allowing them to customize the thief Sherman tank.
The facility provides an exclusive setting where individuals learn something new and master the old ones. They offer a variety of board and card games with numerous novels.
There are several tables that are accessible in the region for members consisting of conference kind of tables for cards or chess games.
25. Bay Valley Resort
Bay Valley Resort offers all the amenities and facilities of a standard resort with a comfortable lodge atmosphere.
The resort has a championship golf course with 18 holes where you can test and master some of your skills.
They can also assist in hosting competitions and trips for groups of various sizes with a packed supplied store.
Bay Valley Resort offers guest rooms with one king-sized bed or two beds. Each of the rooms features a coffee machine with hair dryers and irons. You can also chill in the pool.
26. The Coonan's Irish Pub
If you want a place where you can hang out and relax with a group of friends and family, Coonan's Irish Pub is the best place.
The Coonan's Irish Pub offers guests about twenty craft beers to pick from and so much more.
The bar offers a menu consisting of cocktails, brews, ales, and many more. Visit with your friends and drink all night long.
They offer starters and appetizers, which go well with the drinks served. You can order onion rings, Irish potato skins, jalapeno peppers, parmesan fries, and more.
27. The Krzysiak's House Restaurant
The Krzysiak's House Restaurant is a wonderful restaurant that serves Polish food with various flavors.
The restaurant offers appetizers with authentic American touch featuring onions, cheese sticks, and fried mushrooms.
The entrees and soups served are unique in taste, such as the Czarina, known as duck blood soup.
Make sure you try out the polish sausages, a Philly cheesesteak, or polish Philly with polish aromas and flavors.
28. The Bigelow Park
Bigelow Park, found close to the Saginaw River, is a gorgeous park which makes it an excellent place for fishing.
The Bigelow Park features a pedestrian bridge over the charming river, proclaiming it as an excellent spot for taking pictures.
The park comprises a complete playground with a pavilion where children can play around and have fun with slides and swings.
29. Bay City Games & More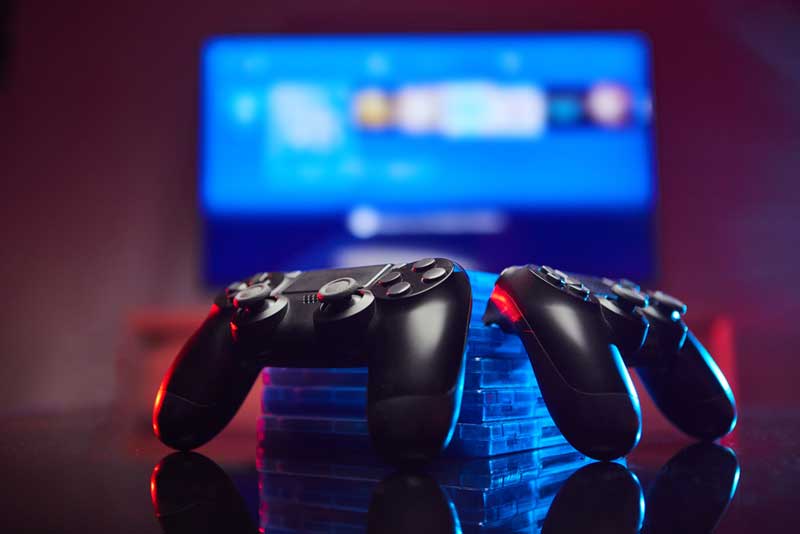 For game fanatics, visiting Bay City Games & More is one of the best things to do in Bay City.
Bay City Games & More houses the highest quality used video game consoles, game console repairs, movies, and video games.
You can visit the center and check out their latest incubatory, as they are usually upgraded. The game center offers an extensive collection of used and new products, including gaming systems.
This place is unique because they sell, purchase, and trade games with always evolving game systems.
Bay City Games & More offers game cube, PSP, Xbox, Sega Genesis, PS4, retro-bit games, Wild, and so much more.
30. Tobico Marsh & Frank N. Andersen Nature Trail
Tobico marsh is one of the state parks in Bay City, having a spread of 1,848 acres; it is strategically placed.
The region is filled with lots of history, with the Tobico hunt club being in existence there since 1907.
The area was occupied by Native Americans up until 1837, with the Frank N. Andersen Nature Trail of 17.5 miles comprising a trail system.
The charming landscape of the trail is one you shouldn't miss, and while at the Bay City State Recreation Region, you will find the Tobico Marsh and Saginaw Bay.
The Frank N. Andersen nature trail's first mile goes to hiking routes towards the west with an observation deck offering views of the bay and marsh.
There are interpretative makers within the route, which teaches you about the trail, and the nature center features numerous displays.
Take to explore other parts of the United States, here is a list of things to do in Fayetteville, NC, and things to do in Pacifica, CA for a fun time.
Plan a Trip to Bay City
Bay City is a historical city in Michigan with mazing endowment and excitement to add more flavor.
Go explore this beautiful area and feed your memory with first-hand feelings.
There is no dull moment in Bay City, with its museums, exciting parks, libraries, stores, galleries, intriguing theaters, and nice restaurants keeping the fun until the last minute.
Start now to plan your next vacation in Bay city. This piece can always act as a guide to things to do in Bay City during your trip.