Montgomery, the capital of Alabama, is referred to as the cradle of the Civil Rights Movement for its exceptional role in American history. Located on the seven hills, east bank of the Alabama River, the city is filled with diverse activities.
Many famous Americans were born in Montgomery, including Zelda Fitzgerald and Nat King Cole; it is also recognized for the 1955 Bus Boycott, which started when Rosa Parks courageously refused to surrender her seat on a bus.
There are historic places and structures, including the First White House of the Confederacy, the Dexter Parsonage Museum, and the 1851 Alabama State Capitol. More activities are at the Montgomery Museum of Fine Arts and Performing Arts Center, the Alabama Shakespeare Festival, and the likes.
Brace up as we explore the best fun things to do in Montgomery.
Top Fun Things to Do in Montgomery
 1. Explore the academia at Huntingdon College
"Enter to Grow in Wisdom; Go Forth to Apply Wisdom in Service" are the parting inspirational world that Huntingdon College leaves with her graduates. And for over 160 years, this college has produced global graduates. Huntingdon College's charter was signed on February 2, 1854, by Alabama Governor John Winston.
The college has a beautiful campus in Montgomery. It was designed by Frederick Law Olmsted (son of the designer of New York's Central Park) in 1908. He also set landscape plans for projects such as Boston's parks & parkways and Biltmore Estate system.
The campus has 70 acres of walkable space and even gets a walking map at the Huntingdon College website.
Address: 1500 East Fairview Ave., Montgomery, AL 36106.
2. Rosa Parks Library and Museum
Situated on the site of the historic Empire Theatre, Rosa Parks Library and Museum exists as part of the Montgomery Campus of the Troy State University. It was close to this very spot that Rosa Park made a bold stand in 1955 which went on to transform the history of the country.
The museum has a multimedia auditorium of 103-seat capacity, an array of permanent and temporary exhibits. It is divided into six distinct areas which tell the courageous story of early civil rights fighters.
Quite a number of the fascinating artifacts are a copy of the city bus on which Rosa Parks stood her ground of not giving her seat to a white man, a restored 1955 station wagon, and some actual historical documents from that period.
The essence of the Rosa Parks Museum is to protect, preserve and interpret material preserve materials associated with the Montgomery Bus Boycott.
Address: 252 Montgomery St, Montgomery, AL 36104
3. Enjoy Ballet in Montgomery!
The Montgomery Civic Ballet has been in the frame for offering community enrichment to the Montgomery community and the state of Alabama since 1958.
The Ballet, since 1987, has been a professional company. It is the only professional ballet company in Montgomery and one out of three in Alabama.
Montgomery Ballet boasts of awesome performances to its name, including the 2016-2017 season "The Nutcracker," "The Messiah, " Sleepy Hollow," and "Two for Love."
One specifically fun performance is the yearly outdoor Ballet and the Beasts performances, held at the Montgomery Zoo.
This makes what to do in Montgomery for a fun time, consider an addition to your bucket list of things to do in Montgomery, AL.
Address: 2101 Eastern Blvd. Ste. 223, Montgomery, AL 36117.
4. Reel the memories at Civil Rights Memorial Center
The Civil Rights Memorial Center is in an open plaza situated in downtown Montgomery and is one of the best things to see in the entire state.
The Civil Rights Memorial is devoted to 41 people who lost their lives in the fight for equal integrated treatment at the American Civil Rights Movement. This movement to place between 1954 and 1968 and was to agitate for equal treatment, not minding the race.
The Civil Rights Memorial Center, which is next to the Memorial, features a classroom, the Wall of Tolerance, a 56-seat theater, and exhibits about the Civil Rights Movement martyrs.
The 20 by 40 foot Wall of Tolerance has a digital display of the names of more than five hundred thousand people who pledged to stand against hate and adopt justice and tolerance in their lives.
You can join other visitors to pledge your stand against hate, intolerance, and injustice and also have your name added to the continuous digital flow of the names.
Address: 400 Washington Ave, Montgomery, AL 36104
5. Attend events at the Garrett Coliseum
The Alabama Agricultural Center is located in downtown Montgomery, about three miles northeast. It a multipurpose complex that occupies 18 acres of space; it as well houses the prominent Garrett Coliseum.
Garrett Coliseum, which has a massive seating of 12,500, has hosted popular acts like Elton John, Elvis, Hank Williams, and Prince. Every year, this coliseum plays host to the Southeastern Rodeo Association Black Rodeo.
Do well to join other visitors of this famed place, it makes one of the top fun things to do in Montgomery, AL.
Address: 1555 Federal Drive, Montgomery, AL 36107
6. Montgomery must-visit: First White House of the Confederacy
The First White House of the Confederacy is a stunning Italianate mansion located in the historic area of downtown Montgomery. In 1861, it served as the Jefferson Davis family, then Montgomery was the Capital of the Confederacy, and its president was Jefferson Davis.
Mrs. Davis received many grand receptions and parties, and during her reign, the house was the social center of the South. Built close to the Alabama River, this charming old house had its location moved near to the Alabama State Capitol.
The house was opened for a public visit in 1921, after a complete restoration. You will see many furniture, personal possessions of the family, including art pieces that Ms. Davis gifted the White House Association of Alabama.
The house is listed on the National Register of Historic Places and is one of the top sights to see in Montgomery.
Address: 644 Washington Ave, Montgomery, AL 36130
7. Go on a River Adventure (Harriott II Riverboat)
If you want some relaxation and, at the same, a step back in time, the Harriott II riverboat is just the perfect fit in Montgomery. It is a 19th-century riverboat anchored beside the Riverwalk Amphitheater and makes the list of Montgomery's premier entertainment locations.
The Harriott II offers live entertainment, dancing, and dinner, so it doesn't matter if you are alone, with friends, or the whole family; there is a river adventure to take on.
Some of the featured cruises are "2nd Saturday Fireworks Cruise", "Getaway Cruise," "4th of July Fireworks Cruise", "Blues Cruise," "Dinner Cruise," "Brew's Cruise," "Mother's Day Brunch or Dinner Cruises" and "Father's Day Dinner Cruise."
You would, however, need to purchase tickets at least two days in advance from the Harriot II website.
8. Things to Do in Montgomery with Kids: Montgomery Zoo
Would you want to experience wildlife like you never expected in Montgomery?
Explore the mountains of Asia, sojourn through the South American jungles, the grassy plains of North America, and the savannas of Africa.
Montgomery Zoo occupies 40 acres of space and is located close to downtown Montgomery. You would see the tigers, monkeys, camels, and zebras all roaming without restrictions in this beautiful space.
This zoo habits over 500 animals from across the globe, and you would love the lush greens between their habitats. You can take a personal tour of the tigers or elephant habitats, ride the enchanting miniature train, visit Connye or baby giraffe.
Lastly, present the kids with the unique gift of getting them enrolled in the Montgomery Zoo Summer Camp.
This makes what to do in Montgomery with kids, consider an addition to your checklist of things to do in Montgomery, AL.
Address: 2301 Coliseum Pkwy, Montgomery, AL 36110
9. Experience the Alabama Shakespeare Festival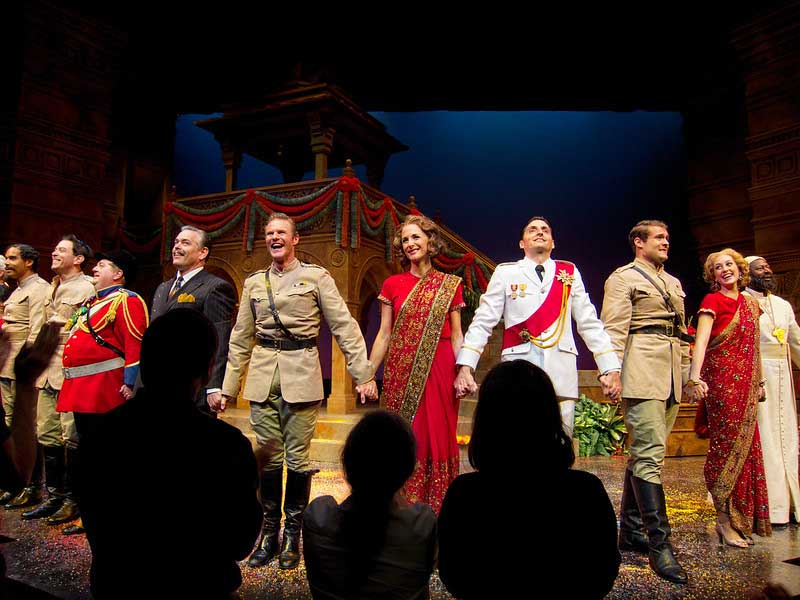 Attending the Alabama Shakespeare Festival is one of the top things to do in Montgomery.
As a complete professional theatre in the Montgomery region, the Alabama Shakespeare Festival releases around ten productions every season with an emphasis on Shakespeare's plays.
In addition, there are also American classics, musicals, and children's theatre produced by the theatre. The company presents 14 top-class performances every year. And when it is out of Bard's classics performance, the Alabama Shakespeare Festival brings the works of playwrights in life. These include Tennessee Williams, George Bernard Shaw, and others.
Don't forget the Shakespeare Gardens as well. This garden is one out of the seven of its kind and is situated around the Blount Cultural Park and contains flowers and plants Featured In Shakespeare's plays.
10. Dexter Parsonage Museum – Dr. Martin Luther King Home
The Dexter Parsonage Museum is a nine-room clapboard home. This house was built in 1912, and between 1920 and 1992, it was home to twelve Dexter Avenue King Memorial Baptist Church pastors.
This included Dr. Martin Luther King and his whole family, and from 1954 to 1960, they dwelled in the parsonage. The house underwent a renovation to resemble the way it was when Dr. Martin Luther and his family lived in it. This includes a bedroom, dining room, living room, and some furniture which l Dr. King used in his studies.
There is an Interpretive Center in this museum and also the outdoors King-Johns Garden for Reflection. Amongst the permanent exhibits displayed here are photographs of the twelve pastors who lived in the Dexter Parsonage, some pictures of Dr. Martin Luther King which weren't published previously, Montgomery ministers who were part of the bus boycott, a wall of Pastoral Wisdom featuring inspiring quotes from various pastors, and many more.
Address: 309 S Jackson St, Montgomery, AL 36104
Visiting Iowa? here is a guide on things to do in Iowa City and fun things to do in Des Moines for a fun vacation time.
11. Hyundai Motor Manufacturing Factory Tour
If you are an automobile enthusiast, Montgomery has something for you.
The Hyundai Motor Manufacturing Factory Tour offers guests the opportunity of having a close-range view of humans and robots working shoulder to shoulder to produce Hyundai's Elantra and Sonata models.
Visitors are shown everything from the stamping of car pieces out of sheet metals by robots to robots doing welding to the installation of carpets by employees and more.
This factory produces 1500 cars on a daily basis, and this tour passes visitors through the entire process from start to completion. There is also an available gift shop at the end of the tour.
This is one of the fun things to do in Montgomery, Auto enthusiast will enjoy the fun this tour has in store.
Address: 700 Hyundai Blvd, Montgomery, AL 36105.
12. Relive history at Alabama Department of Archives & History
The Museum of Alabama was built in 1940 and share a lovely impressive building with the Alabama Department of Archives and History. This museum is situated just across the trailing street of the Alabama State Capitol in downtown Montgomery.
This museum shares Alabama's past (from the present back to the prehistoric times) with the public. There are remarkable permanent exhibitions here which include The First Alabamians and The Land of Alabama. This exhibition tells amazing stories of geology, culture with features of original artifacts and colorful murals.
The exhibit Alabama Voices is the linchpin of this museum – it describes in drama the events of Alabama, from the early 1700s up to this current era. There are hundreds of images and documents and more than 800 artifacts in this museum.
Museum of Alabama plays host twenty-two modern audiovisual programs about the bloody Civil War, the wars over land, the cotton economy, world wars, the liftover civil rights, and more!
Address: 36130, 624 Washington Ave, Montgomery, AL
13. Montgomery must-visit: Montgomery Performing Arts Centre
The Montgomery Performing Arts Centre is located at the Convention Center, just within the Renaissance Montgomery Hotel & Spa. It is an important venue because this 1800-seat capacity theater stands as Montgomery's premier performing arts venue.
The center, yet small, is an ultramodern facility that provides a cherished experience for any kind of performance. The theatre accommodates diverse types of arts and artists as it features Broadway shows, comedy, country and rock concerts, and every other thing.
This makes one of the Montgomery attractions to visit, consider an addition to your bucket list of places to visit in Montgomery.
Address: 201 Tallapoosa Street, Montgomery, AL 36104
14. Visit Alabama State Capitol
Located in downtown Montgomery (a spot formerly called Goat Hill), Alabama State Capitol is a National Historic Landmark in the state. It was built in 1851 in the Greek Revival style with visible Beaux-Arts influences and had its surrounding grounds landscaped in 1889 by Frederick Law Olmsted (a popular landscape artist), and many of the standings were trees planted by him.
This landmark contains the state governor's seat, that of other executive officers, and a museum about Alabama State history and politics.
The Capitol building is revered because, in 1861, the Confederacy government had its seat in the building following its birth at the Senate chamber. Also, the 1965 Selma to Montgomery Voting Rights March ended right in front of this building.
Address: 600 Dexter Ave, Montgomery, AL 36130
15. The National Center for the Study of Civil Rights and African-American Culture
Founded in 1979, the National Center for the Study of Civil Rights and African-American Culture is posed with the mission of standing as an archive for information about the significant role played in the modern civil rights movement and actualization.
Also, this center preserves protects and shares the history and culture of African-Americans in Montgomery. Developed and inaugurated in 2001, the National Center Annex fulfills the task of presenting exhibits, displaying collections, and hosting programs.
The Annex organizes events for all ages, guest lectures, and the chance to see the unique art collection of the Centre.
Address: 1345 Carter Hill Road, Montgomery, AL 36101
16. Meet Arts at Montgomery Museum of Fine Arts
The Montgomery Museum of Fine Arts was established in 1930 and is the oldest of its kind in the state. The museum has permanent collections containing paintings, sculptures, and other artworks created by renowned artists of the region and nation at large.
The most vital part of its American Collection is the Blount Collection of American Art. It features 41 paintings by Winslow Homer, John Singer Sargent, and Edward Hopper.
The Old Masters collection of prints include works by Whistler, Dürer, and Rembrandt. Aside from its permanent exhibits, the museum regularly plays host to different temporary exhibitions where it presents American and international art collections.
Also, the ARTWORKS is an interactive gallery and art studio for kids. It is an essential part of the museum, and you'll love it for your kids.
This is one of the best places to visit in Montgomery, consider an addition to your list of attractions in Montgomery to visit.
Address: 1 Museum Dr., Montgomery, AL 36117
17. Learn about the cattle industry at the MOOseum
While in Montgomery, you can make your kids have a fun-filled learning experience. The Montgomery
MOOseum
offers kids an interactive and fun way to learn about the state's massive cattle industry.
It is great for kids as they would enjoy the comic flexibility it offers. Children can pretend to be a bull at the rodeo, dress in cowboy and cowgirl costumes, meet the cows on this farm, and learn of the cattle industry and its history.
18. Learn of the Scott and Zelda Fitzgerald Museum
The Scott and Zelda Fitzgerald Museum is the only museum in the world to be dedicated to writer F. Scott Fitzgerald and his wife, Selda. Scott is well- recognized for his book, Great Gatsby, while Zelda was an icon of the 1920s (having founded and starred for the "Flapper Movement.")
In 1931, the couple moved to a brick-and-clapboard (two-story) house in the Old Cloverdale neighborhood, a long journey through Europe.
The house was purchased by Julian McPhillips in 1986 and then converted into a museum. It is open for public access, and it hosts many social events, including annual galas. This museum features books, letters, photos, personal possessions, and memorabilia belonging to or associated with the Fitzgerald's.
Address: 919 Felder Ave # 919, Montgomery, AL 36106
19. Participate in the Dragon Boat Festival
Montgomery has a lot of interesting festivals to catch up on; one of them is the Dragon Boat races and Festival. This annual event attracts more than 70 teams from all of Alabama to compete.
This Festival features different competitions. However, its highlight is the boat races. Here, both locals and tourists flock to the water of Riverfront Park to watch the beautiful boats and the impressive costumes worn by racers.
The actions don't end there, however, with the whole day filled with activities including exhibitions, live music, and various kind of food and drinks within the park. So, plan your vacation to Montgomery to synchronize with this yearly Festival.
20. Relax and enjoy matches at Montgomery Riverwalk Stadium
Montgomery Riverwalk Stadium is a minor league baseball ballpark that opened in 2004 and is the home of the Southern League's Montgomery Biscuits baseball team.
It is a modern ballpark incorporated into the historical train station and has a seating capacity of 7,000, and this includes seatings in the right-center field's general admission lawn. It has a video scoreboard with a giant LED screen to give spectators instant replay.
The stadium boasts 20 cozy suites, and its picnic areas (in the third base line and left-center fields) can take up to 4,000 fans. Very close to the third baseline is a children's playground area.
Address: 200 Coosa St, Montgomery, AL 36104
Michigan is not shy of breathtaking attractions and activities, check out this tourist guide on things to do in Bay City and things to do in Kalamazoo for a fun exploration of Michigan.
21. Take a trip to the Alley Entertainment District
The Alley Entertainment District is an exciting area of Montgomery. This area draws comparisons to New Orleans as it hosts a variety of special bars, boutiques, and restaurants.
The Alley was restored and revitalized to its former glory just some ten years ago, and several underground jazz bars and clubs play with respect to the 1920's jazz scene.
You will also find the Montgomery Biscuits Baseball Stadium, the Railyard Brewing Company, and the Fitzgerald Museum, in addition to the bars and eateries.
Have fun in this district, its worth an addition to your bucket list of best things to do in Montgomery, AL.
22. Learn about the legend of music at Hank Williams Museum
The Hank Williams Museum is situated in downtown Montgomery and is one of the must-see places in Montgomery. This museum honors the first country music superstar of America and exhibits how Hank Williams the foundation of blues, Rockabilly, contemporary American music, and Rock and Roll.
Hank Williams was one of the most exemplary figures in American music and was prolific in music, songwriting, and performance. However, Hank Williams died from heart failure at just 29. He died in the back seat of his blue Cadillac
Of all collections in this museum, this legendary blue Cadillac is the climax of Hank Williams' memorabilia. You will also see his records, guitars, portraits, suits, ties, and much more.
Address: 118 Commerce St, Montgomery, AL 36104.
23. Reflect on history at Court Square Fountain
If you are a lover of history, arts, and sculpture, here is something for you – Montgomery Court Square Fountain. It might not really be a great place to have some photos, but it leaves visitors with memories.
Court Square Fountain was established in 1885 with an artesian well as its base. This well was used by native Alabamians way before the settlement of this area.
This unique fountain is situated at the site where slaves were placed on auction – a subtle reminder of America's "not too far" history. The fountain has impressive features, including a statue of Hebe, Cupbearer to the Gods, the Goddess of Youth.
You can join locals and tourists in throwing pennies into the water. This ritual is done in exchange for wishes.
Address: Montgomery, AL 36104, United States
24. Have fun at Riverfront Park
One of the best fun things to do in Montgomery is visiting Riverfront Park. It is positioned on the Alabama River banks and has the Union Station Train Shed, the Harriott II Riverboat, and an Amphitheatre surrounding it.
Riverfront Park is one of the most famous parks in Montgomery. It offers nicely paved biking and hiking trails, baseball in Riverwalk Stadium, a kid's playground, a green picnic area, access to the river through a boat ramp, fishing, kayaking and much more.
The park is usually a base for fireworks displays, and the moment you are here, don't forget to enter the Harriott II Riverboat for a cruise along the river. It is a beautifully restored 19th-century riverboat that presents visitors with dancing, dinner, and live show leisure rides.
25. Eastbrook Flea Market and Antique Hall
Are you someone who picks interest in searching for hidden and buried treasure? If yes, head straight to Eastbrook Flea Market and Antique Hall so you can exhume a hoard of concealed gems.
Packed full of mid-century furniture, estate-sale finds, and rare antiques, searching through the cluster for whatever you are looking for is makes it fun. The upstairs looks like a flea market, while the main floor contains antiques, and the base-floor own occupied with smaller stalls.
And if you feel you aren't yet satisfied with your browsing, there is also a nice thrift store just by the next door for you to check-in. The market is open on Monday- Saturday (10 am–6 pm) and on Sunday (12:30 pm -4:30 pm).
Address: 425 Coliseum Blvd, Montgomery, AL 36109, United States
26. Enjoy the Old Alabama Town
Old Alabama Town is an assembly of original, beautifully restored homes of the 19th and 20th century and other structures like churches, schools, mansions, grocery stores, and taverns.
This town is situated in the heart of downtown Montgomery and covers six blocks. It is a history museum that illustrates the lifestyles and historical architecture of residents of Montgomery. Cutting across the rural pioneers and the wealthy cotton plantation owners in their stylish townhouse, the town is a reflection of the lives of people who lived and settled in central Alabama, irrespective of background.
Old Alabama Town was expanded and is managed by the Landmarks Foundation of Montgomery. Founded in 1967 as a non-profit, they now own some 50 restored buildings, which are all-inclusive in the Old Alabama Town.
Address: 301 Columbus St, Montgomery, AL 36104
27. Visit Dexter Avenue King Memorial Baptist Church
King Memorial Baptist Church is located inside Dexter Avenue. It has got a remarkable mural of Martin Luther King's journey from Montgomery to Memphis.
In 1978, the church was officially renamed in commemoration of Martin Luther King. Between 1954 and 1960, King was pastor of the church and helped in propelling the Montgomery Bus Boycott, starting from its basement.
Very close to the church is the Dexter Parsonage Museum – this was where former pastors used to live.
Addess: 454 Dexter Ave, Montgomery, AL 36104, United States
28. Learn more at the Freedom Rides Museum
Situated in the old Greyhound bus station, the Freedom Rides Museum provides visitors with knowledge about the pivotal events of 1961. Visitors are taken on a guided tour where they learn through a timeline placed on the exterior walls.
You would meet knowledgeable guides who would give you detailed explanations of the Freedom Rides movement, the bus terminal's history There is also a cellphone that works together with the wall displays.
The museum is open for visitation/tours from Tuesday through Saturday between 12 pm and 4 pm CST. So, make the most of it!
This is one of the top fun things to do in Montgomery, AL, its worth an add to your bucket list of attractions in Montgomery to visit.
Address: 210 South Court Street, Montgomery, AL 36104
29. Spend your day at Wynton M. Blount Cultural Park
In diverse ways, the Blount Cultural Park is indeed the cultural Center of Montgomery. It is living proof of Wynton M. Blount, a businessman, and philanthropist who donated his land and built the theater. This was then regarded as the largest individual donation to American theater.
This park is a perfect place for the entire family to have an action-filled day. Wynton M. Blount Cultural Park occupies 250 acres of space and is home to both the Alabama Shakespeare Festival and the Montgomery Museum of Fine Arts.
You will enjoy the park on a sunny day, as there are miles of trails ideal for walking, hiking, running, and biking. There is also a natural amphitheater and some ponds to explore and enjoy.
You can come along with your dogs, so they have their own fair share of fun at the dog parks.
Address: 3 Festival Dr. Montgomery, AL 36117
30. Watch the stars at W.A. Gayle Planetarium
Operated by Troy University, the W.A. Gayle Planetarium is an education facility for astronomy and also a multimedia theatre. It is one dreamland for lovers of planets and heavenly bodies.
The installation of the Super Mediaglobe II makes it the world's first full-color single-lens digital Planetarium. This new technology is an improvement to the experience of visitors to the Planetarium as it allows for the Earth's exploration through the use of regularly updated satellite datasets of the Earth's atmosphere, climate, land, and oceans.
It is the only Planetarium available in entire Central Alabama, and it even has a beautiful park surrounding it. There are public shows offered by W.A. Gayle Planetarium all through the week with no reservations needed.
If you have kids with intrest in science, or you have a passion for space, do consider an add to your list of things to do in Montgomery, AL.
Address: 1010 Forest Ave, Montgomery, AL 36106
31. Montgomery Attractions: Governor's Mansion
Built in the neoclassical style, the Alabama Governor's Mansion has existed for 107 years as home to the governor. The governor's mansion was formerly in another structure until 1950 when it moved to its current mansion. Since 1950, all Alabama's first families had lived here as their home.
Visitors take part in guided tours lasting approximately 30 minutes. Every tour shows the main floor and grounds of the house, and after completion, visitors are bidded into the Governor's Mansion Gift Shop to enjoy some complimentary cookies
Address; 1142 S Perry St, Montgomery, AL 36104.
Map of the Top Fun Things to Do in Montgomery, AL
To aid your navigation through these top Montgomery attractions and activities, below if a map of the top fun things to do in Mongomery, AL.
Plan to explore Decatur during your visit to Alabama, here are the best fun things to do in Decatur during your visit here.
Plan Your Trip to Montgomery
There are a lot of attractions that make Montgomery a great place to visit your vacation, weekend getaway, or even a day trip.
The waterfront, history, politics, art museums, nature centers, libraries, iconic sites, theatres, beautiful parks, and many more make Montgomery a must-visit.
So, start planning and preparing towards making it a reality. You can always fall back in this piece if need be, and don't forget to include your loved ones in this plan too.