Decatur, Alabama is the biggest city in Morgan County. It is located along the banks of Wheeler Lake in the north of Alabama.
Decatur is popularly known as "The River City" and also the "Rhodes Ferry Landing" after Dr. Rhodes – he operated a ferry by the river.
There are a good number of fun things to do in Decatur AL, this includes exploring historic structures in the city such as significant Victorian-era buildings.
This city has a population of just 55,000 and they are accommodating and friendly. There are a lot of activities and places to get yourself involved in while in Decatur.
To plan your trip, here are the best things to do in Decatur, Al.
Things to Do in Decatur
1. The Old State Bank
And here is one of the exciting things to do in Decatur, Al. Visiting here would be a thrilling experience for the financially inclined and others alike.
The Old State Bank had its initial construction in 1833. It started as a home branch to the Bank of the State of Alabama and this was a proactive move to write the city into the books of prominence in Southeastern America.
Though the bank was shut down in 1833 following the nationwide economic depression however a substructure was set up and this is recognized as one of the main reasons Decatur transformed into a modern city form being a frontier village.
All through the 19th and 20th centuries, the bank showed great versatility in its use as a public boarding house, American Legion Hall, and Union Army hospital before its donation to the city of Decatur in 1976.
So, today it is turned into a living history museum and is open to the general public. The interior has the first floor recreated into a banking lobby while the second-floor turned into a banker's apartment.
2. Riverfest
No one takes BBQ more than the Americans.
For more than twenty years, an annual event has been hosted in America, called Riverfest. The event is seen by the state of Alabama as the Barbeque Championship competition, an official event of the state.
Whoever wins Riverfest gets a slot for the America Royal World Championship and receives also an invite to the Jack Daniels World Championship Invitational.
I don't think you will find a better place to watch the competition and as well as enjoy the great meals available than this place.
Participating in this competition is certainly one of the best things to do in Decatur.
3. Big Bob Gibson's Bar-B-Que
Big Bob Gibson's Bar-B-Que, Decatur initially started in 1925 and is nationally recognized as the most prestigious and oldest barbecue joints in the country.
It was opened by Bob Gibson, an employee of L&N Railroad, and is infamous because of Original BBQ White Sauce.
Since its launch, it has received more than 15 World Barbecue Championship awards for its special brisket, pork, rib, and chicken menu.
The restaurant is currently managed by the fourth-generation of the family and has two locations in Decatur (one at the city's Sixth Street and another at Danville Road).
Go in, dine and enjoy the menu options such as barbecue platters, pit barbecue sandwiches, and combination meals.
Address: 1715 6th Ave SE, Decatur, AL 35601
4. Delano Park
Would love to check out the oldest public park in Decatur?. Delano Park is one of the attractions in Decatur.
Delano Park was created in 1887 as a key plan to redevelop the city after the American Civil war ended. Just like you would have thought, this park was named in remembrance of President Franklin D. Roosevelt
The park has undergone massive improvements in recent times as seen in the children's splash pad play area which has rivers and large-scale maps of cities in Alabama featured on its floor.
Also, there were significant rose gardens planted which is now reconstructed to the Delano Rose Garden. And then, the historical concrete bridge is a famous site of photographs, memories, and reflection.
There are more plans for development which include the laid-down trails all through the area, linking the central and western portions of the park.
5. Point Mallard Park
How about visiting a waterpark? A unique one for a fact.
Point Mallard Waterpark is found by the Wheeler National Refuge's border. It spans over 500 acres along the shores of Flint Creek.
This multi-use relaxation park was established in 1970 and is popularly known for the J. Gilmer Blackburn Aquatic Center located here.
This center shows off a 10-meter diving tower, two high-speed water slides, a European-style wave pool, and a lazy river attraction.
You can also enjoy the sporting facilities which include the Bill J. Dukes Athletic Complex (with a focus on baseball), the Point Mallard Ice Complex, the 18-hole Point Mallard Golf Course, and the Jimmy Johns Tennis Center.
There are also batting cages and a golf driving range. You are not done yet. At the T.C. Almon Center are exercise facilities, indoor courts, and a game room then a fixed outdoor pavilion at the Ronald Reagan Spirit of America Fields area.
The 80-seat prayer chapel, a 210-site campground, and the well-covered picnic pavilion (able to accommodate groups of 500) goes on to the versatility of this park.
There are annual events hosted in Point Mallard Park like the September Skirmish Civil War Reenactment, you can get to join one during your visit to Decatur.
6. Whitt's Barbecue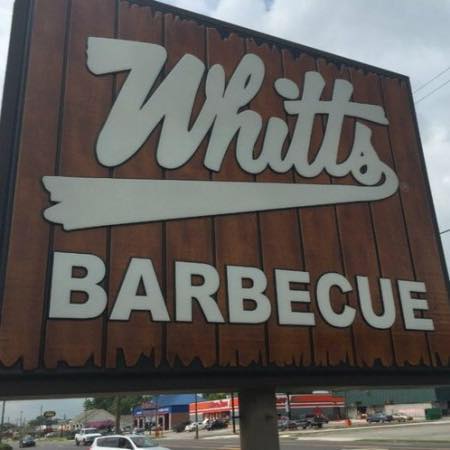 Whitt's Barbecue is the actualization of a vision of Floyd Whitt. Floyd Whitt is a barbecue pit builder who went after his dreams by leaving his bricklaying job and opening his first restaurant in 1966.
And today, there are three Whitt's Barbecue restaurants and stores in operation in and around the northern Alabama region which includes the locations on Sixth Streets and Decatur's Spring.
This business featured twice in the Southern Living Magazine and is trusted for its barbecue menu of beef, pork, rib, turkey etc all smoked with hickory wood.
Enjoy the full plate and family pack option with Brunswick stew, barbecue sandwiches, homestyle side pies, dishes, and cookies. You can host a group of 25 in this place or even go for customizable events.
7. Decatur Farmers Market
Do check out the Decatur Farmers Market. There is no better way of buying food than purchasing it from those who grew it themselves.
The Decatur Farmers Market is accessible from Mondays to Saturdays between April and November.
There are numerous stalls in this market selling fresh fruits and vegetables. So, while in Decatur, visits the market to purchase what you would need., it can be busy at times.
Also every month, a special event is out up to. This event fetes any fruit or vegetable of that particular season.
8. Amberley Suite Hotel
There are numerous places to stay in Decatur, maybe a hotel or one of the play campsites in the city. Would you want to book accommodation? Then, the Amberley Suite Hotel answers all your accommodation questions.
Situated in the center of this amazing historical Decatur city, you are sure to have a beautiful experience here.
You have access to the outdoor pool and can also enjoy the 24-hour fitness center.
The strategic location of this hostel gives you the convenience of the airport and other areas in Alabama.
9. Carnegie Visual Arts Center
Here is something for every lover of art, the Carnegie Visual Arts Center.
Housed by the famous 1904 Carnegie Library (was the city's library for over seven decades), this center is the pivot point as the first art museum and arts education center in the region.
The center occupies more than 4,000 sq ft with exhibit, studio space, and workshop in it. The center also boasts about eight to ten displays of public art.
These include national touring presentations and exhibits like the works of Mose Tolliver and Jimmy Lee Sudath which are displayed on the main level galleries of the faculty every year.
Also, the Daikin America Education Center (at the base) organizes summer camps for children courses and workshops for members of the community of all arts skills.
The Carnegie Visual Arts Center is simply one of the best things to do in Decatur, Al, a place you should consider for your checklist.
10. Alabama Charity Championship Horseshow
Do check up this annual event in the city, the Alabama Charity Championship Horseshow. This is held every year with horses managed and directed competitively.
This occasion pulls out the best Hackney, Roadster, and American Saddlebred horses on the country. This is the number four in terms of biggest Saddlebred shows in America.
Tickets to this event are sold off quickly which massive viewers getting them. So, if you would be visiting Decatur, you might want your trip to fall in line with this event.
Do not miss it, as it makes for exciting things to do in Decatur.
11. Cook's Natural Science Museum
Visiting the Cook Natural Science Museum is one of the best things to do in Decatur. This museum was a realization of the vision of John R. Cook (President, Cook's Pest Control).
This museum was formerly just a private natural sciences collection where supplemental data can be collected and used to train pest control technicians. That's not the story anymore as it is now turned into a world-class natural history collection.
In the museum, you will see over 2,000 specimens and exhibits in a privately-owned collection. Some of the collection categories are wildlife, mounted birds, and in-depth display of rocks, minerals, and corals.
Another exhibition is the Tennessee Valley Lake Exhibit. This shows the native flora and fauna in the region. It is one of the few displays in the US to have both the golden and bald eagle taxidermies.
When you are done looking around the museum, you can move into the auditorium where you can relax and see some natural science films.
This makes what to do in Decatur for a fun time, do consider for your checklist of Decatur things to do during your visit.
Address: 133 4th Ave NE, Decatur, AL 35601.
12. Alabama Jubilee
Let's move to the largest air balloon classic race in the entire mid-South America, the Alabama Jubilee. It makes the list of fun things to do in Decatur, Al.
In 1978, there was an inaugural event hosted to showcase the just-purchased official hot air balloon of the city. Consequently, it was one of the first officials of air balloons in the nation.
In the early years, Alabama Jubilee had close to two dozen balloonists drawn towards it from the neighboring states like Louisiana, Mississippians, and Georgia.
And today, the Jubilee is listed by the Southeast Tourism Society as one of the top tourist activities in the Southeast.
Over 62 pilots from more than 20 states in the country fly into Decatur for the region's annual summer kickoff event.
This event attracts a national audience and led to the Alabama Legislature declaring the city as the "Ballooning Capital of Alabama".
13. Simp McGhee's
Taken after the reputable turn-of-the-century riverboat captain, Simp McGhee. He had exuberant character and he's unusual manner he operated this riverboat which turned him into a local hero before having his piloting license revoked in 1917.
The restaurant is sited on the Bank Street district and offers an old-fashioned tapas. Their special menu includes tuna Lafayette, crayfish eggrolls, and lamb ratatouille.
You can enjoy the beverages, red, fine white, and sparkling fresh wine. There is a pet-friendly sidewalk that is occasionally available.
14. Wheeler Wildlife Refuge
The Wheeler Wildlife Refuge is situated by the banks of the Tennessee River and covers 35,000 acres in space.
This site is an awesome habitat for migrating and wintering birds such as red-tailed hawks and Canada geese.
The refuge was opened in 1938 by President Franklin D and was given its name in remembrance of Major General Joseph Wheeler.
It is managed in a joint administration by the Wildlife Service, the NASA's Marshall Space Flight Center, and the United States Fish and Wildlife Service. They are also in charge of the Refuge's Redstone Arsenal area.
There are different outdoor activities which you can be part of here. With over 700,000 visitors annually engaging in hunting, wildlife watching, fishing among others.
You will find five hiking trails in this refuge, a tower for observing the wildlife, six boat launch spots, and different spotting scope stations offering visitors more variety.
You may also be lucky to meet annual events hosted at the refuge. They include a southern wildlife festival, a summer youth day camp, and a youth fishing rodeo.
15. Pickwick Belle
The Pickwick Belle is a replica paddlewheel riverboat. The 90-foot riverboat offers public and charter leisure cruises by the Tennessee River.
The boast had its name in 2007 and plied out of Pickwick Landing State Park until 2012 when it was docked at the Decatur's Ingalls Harbor.
You get 90 minutes of sightseeing cruises twice a week (Thursdays and Saturdays) and the two-hour dinner cruise on Friday evenings.
At the upper deck, you will have amazing views of the city and river traveling along the waters at a speed of five miles/hour maximum while other guests remain at the base.
Diverse special public event cruises are organized every year, this includes an Elvis-themed concert cruise and a Civil War reenactment cruise.
One can also hire the riverboat for private special events like corporate outings and wedding receptions.
16. Blue & Gray Museum of North Alabama
Would you like some historical exploration during your visit, with Blue and Gray Museum, you have the opportunity to peak into the Civil War in America.
This museum is also known as the North Alabama Civil War Museum, it is known to hold the largest collection of privately owned artifacts of the American Civil War, hence this makes what to do in Decatur AL for lovers of military artifacts.
A visit to this museum will also meet you with a great time getting to know about the history of Decatur through historical exhibits.
If you have kids fascinated by American history through the Civil War, this would make a fun place to visit.
A visit here makes one of the best things to do in Decatur, do take to exploring the Civil War and non-Civil War collections housed by this museum during your visit to Decatur, Alabama.
England will meet you with amazing historic towns, would you love a vacation here, here is a guide on the best things to do in Amersham as well as things to do in Kidderminster for a fun experience in these towns in England.
17. The Princess Theatre
Here is another exciting Decatur attraction, the Princess Theatre.
This theater was originally constructed as a livery stable in 1887 before it was transformed into a multi-act hall and silent film theatre in 1919.
1941 marked another transformation as the building was renovated with a neon marquee and Art Deco-style facade. The interior featured elements like a terrazzo floor map of the state of Alabama and glow-in-the-dark murals.
In 1978, after it was purchased by the City of Decatur, the theatre was revamped into a venue for live art performance and was listed on the National Register of Historic Places.
It is a spacious one with a holding capacity of 667 persons. Over 60,000 visitors come to watch public performances, concerts or engage in tour shows every year.
Address: 112 2nd Ave NE, Decatur, AL 35601.
18. The Old Decatur Historic District
You wouldn't miss this area during your visit to Decatur. The Old Decatur Historic District occupies 116 acres across the city's Albany and some historic areas in Old Decatur and displays the largest collection of preserved Victorian-era buildings and homes in the state.
With a focus on the historic Bank Street (home to the Old State Bank building), which was the commercial nerve center of the city in the 19th century, more development came through the riverboat, railway, and wagon access.
Despite the destruction of the original buildings during the American war and a local fire (1877), these structures had to be rebuilt in the 19th century.
These buildings are recognized as the most symbolic Italianate and Victorian structures in the area.
You would see the Todd house by the Lafeyette stress. It is one out of the remaining pre-Civil War-era structures remaining.
You can get to see them by taking a tour through this area you can as well gain access to them.
Address: Bank St. NE & Gordon Dr. SE, Decatur, AL 35601.
19. Wheeler Lake
One of the fun best things to do in Decatur, Al is visiting Wheeler Lake.
With a surface area of more than 67,000 acres and a length of close to 60 miles, the Wheeler Lake is proudly the second-biggest lake situated along the Tennessee River.
It is a man-made body of water created by the Tennessee Valley Authority to control flood in the region and generate hydroelectric power.
Currently, it has become one of Decatur's famous attractions and has on average more than four million annual visitors.
There are exciting seasonal activities which people take part in when they visit. These include hunting, boating, water sports, fishing, and wildlife watching.
You can camp in the area if you wish to as the visitors center have picnic and overnight camping spots.
With its location adjacent to Wheeler National Wildlife Refuge, more varieties of outdoor activities are available for your enjoyment.
20. Morgan County Archives
In 1995, the Morgan County Commission created the Morgan County Archives to be a permanent depository. This archive was to keep records of the community and inactive government in the region and it maintains major community records as far back as 1819.
These records document the history of civic development in the city and are recognized as one of the major archival collections of the city. They include census, court, and marriage records.
This archive is the most notable public viewing spot where you see original copies of the Harstelle Enquirer and the Decatur Daily local newspapers.
It is made open for public access as they offer microfilm access, public computer workstations, library volumes, and genealogical and community research resource.
Small specialized collections are exhibited periodically which are related to popular historical figures and Civil War history of the city.
Address: 624 Bank Street N.E., Decatur, AL 35601.
21. Trapped
Let's check up something adventurous to do in Decatur, Al. Trapped is an escape room facility and the first of its kind in Decatur.
It challenges visiting groups to work as a team towards figuring solutions or clues on how they would escape from the many trapped rooms.
Each team is given one hour to alive the themed mystery of his to escape from their room, thereby creating a game experience that can be translated to real-life – problem-solving skills and team-building.
There are four rooms in the facility which include Escape From Alcatraz, Treasure of the Emerald Isles, The Morgue of Dr. G. Reaper, and The Bank Robbery.
Visitors play in the public room or some reserved rooms on private booking which includes school functions and corporate team-building occasions.
Address: 209 Grant St, Decatur, Alabama 35601.
22. Historic Railroad Depot
This is a completely restored Decatur Union Depot of 1905. It was the 2015-2016 Historic Preservation Project of the Year for Public Buildings for Alabama Main Street.
This is something every fan of the rails would love. Here you would see many rare model trains and a model train layout too.
They also have a miniature theatre room where you can watch railroad videos. The graphic panels explain the remarkable history of this city's railroad from 1834 till now.
You would also find some rare memorabilia and artifacts of 1905, restored signage, railroad tool, and some devices on display. You would also enjoy the picnic area and the superb viewing platform for trains.
They are free for public visits and are from open Mondays to Fridays while Saturday on appointment.
This is another unique attraction in Decatur, don't miss out.
23. The RailYard
Finally on this list of things to do in Decatur is The RailYard, this is a restaurant set up and operated by Tyler Jones.
It is located in downtown Decatur and has Bill Harden as executive chef. He was among the originators of the farm-to-fork movement in this region.
This restaurant is focused on globally-sought southern food initiatives using fresh and locally-obtained ingredients at every possible time.
They are open for all square meals all through the week and offer diverse dishes in a casual tavern setting.
Favorite menu selections include craft pub-style burgers, specialty sandwiches garnished with local meats, entrees variety with a focus on southern seafood options.
Enjoy the season cocktails of fine liquors and fresh fruit or a choice beer produced by the national or regional microbreweries.
Address: 209 2nd Ave SE, Decatur, AL 35601.
24. Wilson Morgan Park
Wilson Morgan Park is a family-friendly recreational park in the beautiful City of Decatur. It is a lovely hangout spot with varieties of fun activities that you will love to indulge in.
The park is available to the general public and is open throughout the week from 8 am to 10 pm. Amenities to find in the park include a sports complex that has tennis courts, softball fields, and soccer fields.
You can check out their Adventure Park, which can be used by anyone but is based on first come, first served. They have a beautiful, large playground for the kids, so they can also partake in having fun.
You can go strolling on the scenic trail that surrounds the lake. There are also shaded picnic areas close by for you to take some time and relax.
Address: 300 Beltline Rd SW, Decatur, AL 35601, United States
25. Cross-Eyes Owl Brewing Co
Cross-Eyes Owl Brewing Co. is an excellent place to check out for a nice cold beer. It is a craft brewery that welcomes beer lovers to enjoy its great selection of craft beers in its beautiful and cozy setting.
The brewery features 12 beers and four crafted sodas on tap. Popular beers you can try out when you visit include Cream Ale, Black Ale, India Pale Lager, One Shoe Brown Porter, Dragoon Red Ale, or their Lechuza Mexican Lager.
The brewery has an outdoor beer garden that is furry-friendly, but guests are to ensure that their pets are leashed throughout their stay. Their services are top-notch, and they have an amazing staff.
Address: 105 1st Ave NE, Decatur, AL 35601, United States
Would you love to explore other parts of the United States, here is our list of things to do in Ocala and things to do in Sunnyvale, CA.
Plan a Trip to Decatur
Decatur is such a unique city with attractions and activities to keep you engaged. After an exploration, you can't deny its museums, landmarks, markets, parks, rivers, and more are top notch attractions.
So, start planning your vacation to Decatur. Don't forget to pin this guide to come back whenever you need to, have fun, and stay cool.