Sioux Falls is the largest city in South Dakota and has been appropriately tagged as a part of America's fly-over country. Founded in 1856, Sioux Falls is located close to the special fall on the Big Sioux River.
Are you visiting for business or pleasure, Sioux Falls have some breathtaking attractions to give you a fun time, and get you to come back for more.
Sioux Falls provides some beautiful scenery and enough activities. Enjoy the Washington Pavilion of Arts and Science, Sertoma Butterfly House & Marine Cove, and Outdoor Campus, amongst many other attractions.
For a fun time in Sioux Falls, let's explore the top things to do in Sioux Falls, SD.
Top Fun Things to Do in Sioux Fall
1. Do not Miss the Falls
It's no argument at all that one of the top things to do in Sioux Falls is to be at the falls. The Big Sioux River is situated at Falls Park and keels over adorable rock formations.
When you compare them to other falls in the world, Sioux Falls may not be the widest or biggest, but they are firmly in a position of their appeal. The Falls Park stretches to 123 acres and is full of interesting activities and features, including the walking (or biking) trail that shows you the city and its environs.
While you are here, try to check out what remains of the Queen Bee Mill – a structure from the 19th century positioned on the east side of the river. Visiting Sioux Falls is one of the top fun things to do in Sioux Falls, South Dakota.
2. Visit the Sioux Falls Stadium
The Sioux Falls Stadium is situated on Northwest Avenue and is a multi-purpose stadium in Sioux Falls. Popularly known as "the Birdcage," Sioux Falls Stadium is the home of the Sioux Falls Canaries – a professional baseball team and a member of the North Division of the American Association of Independent Professional Baseball.
The 1993 season saw the Sioux Falls stadium first used by the Canaries for their home ties, which led to the adoption of "The Birdcage" as its nickname.
The stadium was open in 1941, underwent several upgrades in 2000, and has a holding capacity of 4,500 people. They can be a part of the several children's programs which the stadium offers. They include Play Ball Announcer and Mini Manager of the Night.
Address: 1001 Northwest Avenue, Sioux Falls, South Dakota
3. A Walk of Sculptures is One of the Romantic Things to Do in Sioux Falls
Every year sees downtown Sioux Falls turned into an art museum with no boundaries. How does it happen? Sculptors from all parts of the globe are welcomed to station their sculptures in assigned spaces along the streets of the city and are left there for a whole year! In the end, City residents and tourists are urged to vote for their picks.
There is a total sum of $15,000 and about 14 awards to be given out; and each artist is given freedom of up to four sculptures. All artistic styles, from traditional to modern to abstract and even representational, are accepted. With great variation in sizes, this open sculpture exhibition is gaining massive popularity since its commencement in 2003.
It is fulfilling the original goal of being a great tourist attraction, but not only that, but it also draws city residents to the streets where they won't only appreciate the arts but also their lovely city. All sculptures are open for purchase by interested persons.
SculptureWalk is a top attraction in Sioux Falls, don't miss out!
Address: 300 S Phillips Ave, Suite L104, Sioux Falls, South Dakota.
4. USS South Dakota Battleship Memorial
Coming into South Dakota, you probably would least direct your thoughts towards ships. The reason is the state itself is at the center of the country, and it has miles of land in its hundreds, separating it from the ocean.
However, this didn't prevent the state from erecting a memorial. South Dakota battleship memorial is perfect proof of it and is one of the unique things to do in Sioux Falls. This memorial is in honor of the USS South Dakota's battleship and places a timely reminder of those who served aboard it.
The USS South Dakota was the most decorated ship of WWII from 1942- 1945, and it was used in every major battle. It destroyed 32 Japanese planes and is in the record books for being the first ship to shoot at the Japanese home islands!
It was impossible to get this whole ship into South Dakota. Hence they salvaged possible parts and poured a foot-high concrete on Sherman Park's ground, where these pieces were combined to form a pseudo-replica. Its see parts like the anchor, a big propeller, the ship's bell, and an original 16-inch gun.
It is open for visitation from Monday to Sunday between 9:30 am and 5:30 pm.
Address: 2705 W 12th St, Sioux Falls, SD 57104, United States
5. Splash the Waters
Located on 466th Avenue in Sioux Falls, Wild Water West was created more than 26 years ago and is the biggest water park in all of South Dakota. Wild Water West is one of the most fun places to visit in Sioux Falls and has features that include a 55-foot long tube slide, a Wave Pool with close to six-foot-high waves, Tornado Alley, and the 65-foot high four-slide Waterslide Complex.
There is a Swim-up Bar available for the adults if you are interested in having a few alcoholic beverages. The kids aren't left out too. They can either of the baby pool or activity pool or even both.
Amenities such as go-karts and batting cages are available for non-water activities, and visitors can also participate in sand volleyball, mini-golf, or paintball.
Address: 26767 466th Avenue, Sioux Falls, South Dakota.
6. Sertoma Butterfly House & Marine Cove is One of The Top Places to Visit in Sioux Falls.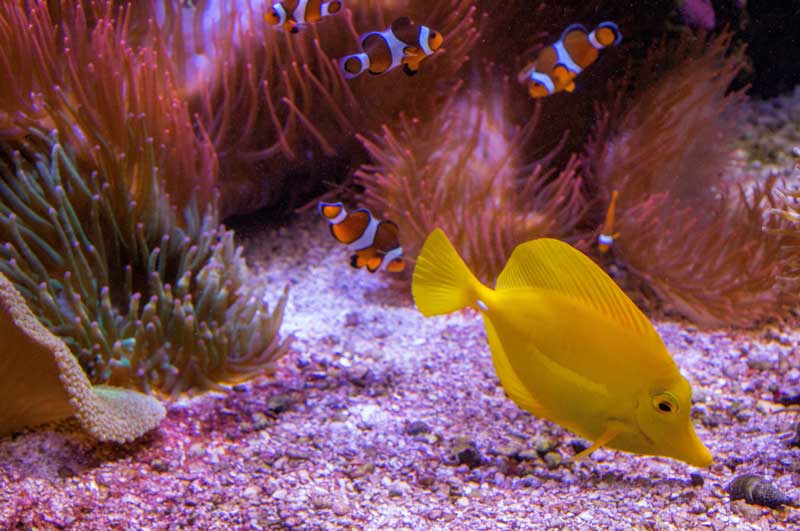 One of the most interesting things to do in Sioux Falls is going to the Sertoma Butterfly House & Marine Cove. It offers you an opportunity to see a blend of wildlife. The Butterfly House & Aquarium is a nonprofit organization that looks like nature conservation. In the Dakotas, they are the only present public saltwater aquarium and proudly one of only a few butterfly houses across the nation.
Covering 3,600 square feet of space, the Butterfly House is a soothing 80 degrees atmosphere for 800 floating butterflies. Unlike some butterfly houses, you won't to limited to native insects of South Dakota alone; instead, you would see insect species from all over the world, including Africa, Asia, Australia, and Latin America.
The Marine Cove is just by the other side of the complex, where there are also hundreds of fish and corals. It is very much possible you can touch a stingray or a bamboo shark!
On the other side of the complex is the Marine Cove, where there are hundreds of coral and fish.
Sertoma Butterfly House & Marine Cove is open for visits from Monday through Sunday between 10 am and 4 pm.
Address: 4320 S Oxbow Ave, Sioux Falls, South Dakota 57106, United States
7. Satisfy your Appetite at Carnaval Brazilian Grill
Carnaval is the only Brazilian steakhouse and restaurant in South Dakota and is famous for its spacious place, soft lighting, and captivating décor.
There are several bright art pieces, green plants, and then the neon blue ceiling, which give rise to a festive atmosphere like that of a real Brazilian carnival. So, if you are thinking of a romantic date, Carnaval is a wonderful place to try.
The restaurant is loved for its salad bar with more than 50 options and the all-you-can-eat "Gaucho Meal" – slow-roasted meats (Churrasco) offered to guests at the table. There is an à la carte menu that includes nice burgers, sandwiches, seafood, and pizzas.
Relish the pleasant patio and regular live music played at this restaurant on weekends. Carnaval is also apt for large groups just as it is for cherished romantic dinner. And once every month, there are food and wine pairing evenings at Carnaval, only available on reservation.
Address: 2401 S Carolyn Ave, Sioux Falls, South Dakota.
8. Washington Pavilion of Arts and Science
The Washington Pavilion of Arts and Science is an art and science center that opened in 1999. It is located on South Main Avenue and consists of a science museum, a concert hall, a large-format theater, and an art gallery.
This center is housed in a neoclassical building – the restored Washington High School- which has its facade made with Sioux quartzite.
The center is the has of many educational institutions, including the Dakota Academy of Performing Arts, the Graham Academy Preschool, and the Community Learning Center. There are as well several organizations linked to the center, which includes the Sioux Falls Jazz & Blues Society, the South Dakota Symphony Orchestra, amongst many others.
A visit to the Washington Pavilion of Arts and Science is one of the best things to do in Sioux Falls.
Address: 301 South Main Avenue, Sioux Falls, South Dakota.
9. Ski the Slopes at Great Bear Recreation Park
Owned and managed by the city of Sioux Falls, Great Bear Recreation Park is loved by the locals and visitors alike. It is often called "Great Bear" and is situated in the northeastern section of Sioux Falls city.
Great Bear Recreation Park was established in 1963 and had its ski area opened with only a rope tow and two runs. Afterward, a lodge was constructed, and more tows and runs were added to the park.
Currently, the park boasts three lifts – a handle tow, a quad chairlift, and a magic carpet – and twelve runs. Skiers can perform aerial maneuvers and other tricks at Terrain Park. Great Bear Recreation Park is open all seasons, and during the warm months, visitors appreciate fantastic views on the walking trials.
Visiting this park is one of the top fun things to do in Sioux Falls.
Address: 5901 East Rice Street, Sioux Falls, South Dakota.
10. See Animals at Great Plains Zoo and Delbridge Museum of Natural History
Great Plains Zoo and Delbridge Museum of Natural History is situated on South Kiwanis Avenue. Opened in 1963, this 45-acre zoo and museum are some of the most interesting attractions in Sioux Falls.
The zoo features over 1000 animals like tigers, primates, giraffes, and others. Whereas the museum has unique exhibit displays such as Asian Cats, Amphibians, Birds, Flamingo Aviary, Bugs, and rare African Rhinos.
You will also see a feeding and petting area called the Hy-Vee Face-to-Face Farm. There are educational programs, including Scout programs, ZooCub classes, ZooCamps, and many more.
The Delbridge Museum of Natural History has 150 mounted animals, of which 38 are regarded as extinction species.
Address: 805 South Kiwanis Avenue, Sioux Falls, South Dakota
11. One of The Best Free Things to Do in Sioux Falls, SD: Sioux Falls Bike Trails
Being a huge system of bicycle trails, Sioux Falls Bike Trails runs through the green spaces and parks of Sioux Falls. This city boasts more than 70 public parks, and the location of Falls Park at the center makes it serve as the nucleus of the park system.
Several other public parks are linked to Falls Park through the bicycle trails. This trail system has its boundaries as Rotary Park on the east, Westward Ho Park on the west, Interstate 90 on the north, and 57th Street on the south.
There are paved multi-use paths (more than 20 miles) shared by bikers with walkers and runners. You would have no option but to love Sioux Falls Bike Trails.
12. Get outside
Located on South Oxbow Avenue, The Outdoor Campus is an outdoor learning center managed and operated by the South Dakota Game, Fish, and Parks. It teaches various outdoor skills and activities such as gardening, fishing, cross-country skiing, and more.
There are diverse programs offered by this campus for both adults and children. As an adult, you can join community programs by being part of a group (maybe a church group) or as an individual. Children of all categories have programs organized for them.
The campus is also proud sponsors of events such as the Outdoor University, which allows family members to enjoy free activities like kayaking, fishing, and touching frogs, turtles and fishes.
Address: 4500 South Oxbow Avenue, Sioux Falls, South Dakota.
13. See Something Unusual

The Earth Resources Observation and Science Center is a very distant research and data center for the U.S. Department of the Interior and the U.S. Geological Survey.
Currently, this center houses one of the biggest computer complexes in the department of the interior with a staff strength of over 600.
The location of this complex is a perfect one because it collects data from Landsat satellites as they travel through the United States.
In the end, you have a bit weird, though very exciting organization, taking you on an interesting tour.
14. Have fun at Terrace Park
Located on West Fourth Street, Terrace Park is a public park operated and maintained by the Sioux Falls Parks and Recreation Department. This park boasts of many amenities and has several sports facilities like baseball fields, tennis courts, basketball courts, walking trails, and more.
You will see available access points for kayaking, canoeing, and fishing. And to highlight the beauty of this park, there are several sculptures, Japanese and formal gardens. Electricity at the playgrounds and picnic shelters makes them very much enjoyable for families and groups.
To cap it up, head to the Terrace Park Family Aquatic Center, where you'll see drop-off slides, a wading area, a looping water slide, and a large swimming pool.
Address: 1100 West 4th Street, Sioux Falls, South Dakota.
15. What to Do in Sioux Falls For Outdoor Lovers: Good Earth State Park
Located southeast of Sioux Falls, Good Earth State Park is a notable cultural and historical site in the state. The site being a unique nature retreat, is one of the ancient sites that bore lasting human habitation in the country.
The river, fertile flood plains, abundant wildlife, plenty of pipestone (catlinite), and shields from winds made this area a significant site for seasonal ceremonies and an important trading center for many tribes from 1300 – 1700 A.D.
Today, there are several activities available for you, including biking (on park roads), Binocular Checkout, Fishing, Birdwatching, Hammock Checkout, Geocaching, Hiking, Picnicking, Walking, and Snowshoeing. Other features are Museum/Visitor Center, Interpretive Signs, and Lawn Game Checkout.
There are usually different kinds of events hosted in this park throughout the year. You can be part of any!
Address: 26924 480th Ave, Sioux Falls, SD 57108
Planning a Michigan road trip? do not miss our guide on Kalamazoo, Bay City and Cadillac for a fun trip in Michigan.
16. Sioux Falls must-visit: Old Courthouse Museum
The Old Courthouse Museum is a building that goes down in the history of Minnehaha County. It is located on West Sixth Street and was the first courthouse in Minnehaha County.
This building was built by Wallace L. Dow (a local architect) between 1889 and 1893 using native Sioux quartzite stone. In the late 19th century, Sioux quartzite stone was a popular local building material.
You'll see many attractive and interesting features inside the old courthouse, which include granite pillars, slate stairs, stained glass windows, and tiled fireplaces. On the walls of the hallways are 16 large murals which relay local nature and early life.
The courthouse was effective until it was projected for demolition in 1962. However, local citizens objected to the move, choosing it remains as a historic building for tours like today.
Address: 200 West Sixth Street, Sioux Falls, South Dakota.
17. Sioux Empire Medical Museum is One of the Unique Things to Do in Sioux Falls
One of the top things to do in Sioux Falls is visiting the Sioux Empire Medical Museum, especially if you have an interest or seek modern medicine knowledge. The museum displays various exhibits relating to the evolution of medicine from the early 20th century forward.
You'll get views of a 1912 vintage operating room, equipment, an iron lung from the 1940s, nursing uniforms, and more.
But you bear this in mind; if you have a phobia for mannequins, you wouldn't want to go here, as you may spot a few glass-eyed sick children and nurses staring at you from a display.
This makes what to do in Sioux Falls for those interested in knowing more about the medical field, consider an addition to your list of Sioux Falls attractions to visit.
18. Visit the Cathedral of Saint Joseph
One of the best places sights to see in Sioux Falls is the Cathedral of Saint Joseph. It is not only regarded by religious but by lovers of great architecture.
The Cathedral of Saint Joseph is a Catholic cathedral and is the Diocese's headquarters of Sioux Falls. There is a beautiful limestone, designed by the popular architect Emmanuel Louis Masqueray, but he kicked the bucket before the cathedral was completed.
Construction of the cathedral finished in 1919, and the other additions followed, like the installation of lovely French stained glass windows in 1947.
On some occasions, the cathedral organizes organ concerts open for public attendance and various conference series on topics related to wider audiences, even non-Catholics.
Address: 521 N Duluth Ave, Sioux Falls, South Dakota.
19. Explore The Center for Western Studies For Fun Things to Do in Sioux Falls
Situated on Augustana University's campus is the Center for Western Studies. If you wish to learn American West and its Past, you can get a handful of such information in this center.
The center features large collections that deal with everything relating to American West. It is open for anyone to stop by and catch views of the displayed artifacts, and the entrance is absolutely free.
Exhibitions of the gallery are always changing, so you should expect something new whenever you visit.
20. Pay Your Respect at the Veterans' Memorial Park
A visit to Veterans' Memorial Park is one of the top things to do while in Sioux Falls. Located on West Bailey Street, Veterans' Memorial Park is a public park established in commemoration of this local's military history area and its people.
It comes into existence after the community and veterans' organizations started grooming the idea of a memorial. It led to the formation of a committee to discuss the project with designers and the public at large.
In the end, a site in the north of Terrace Park was chosen. This area was used by the U.S. Army Air Corps during World War II.
Veterans' Memorial Park was dedicated in 2006 and has amenities such as historical and military memorial displays, walking trails, gardens, and sculptures. The park's entrance is beautified by an amphitheater, flags, walls, and plazas.
Address: 1021 West Bailey Street, Sioux Falls, South Dakota.
Considering a Florida road trip? here are guides on things to do in Gainesville as well as things to do in Tampa and things to do in Destin for a fun time.
21. Embrace Agricultural Education
The Stockyards Ag Experience Plaza and Barn stand as a regional institution and, at the same time, an attraction that exhibits how agriculture affects the locals in Sioux Falls and the world as a whole.
It is one of the best acts in South Falls as kids, and even adults can learn of the role of agriculture in our lives and how it has also played out in history.
Opened in March 2017, this attraction is pretty new but has already gained lots of attention from the public. There are propositions of a holiday exhibition, and you might catch up with it was if you are in luck.
22. Shopping at The Empire Mall
Make your way to The Empire Mall for a perfect feel with each of your favorite brands. You have the options of shopping at Sephora, Coach, Victoria's Secret, and the rest, well also enjoying the dining cravings you have always sought.
You will see flagship stores which include Macy's, Sears, Dick's, and JCPenny, and several other large stores in and around the mall. There are still separate entities, including Toys-R-Us and Gordmans.
There are recent renovations, so expect one of the best experiences of Sioux Falls at The Empire Mall.
23. Enjoying a Good Meal at Camille's is one of The Many Unique Things to Do in Sioux Falls
Camille's Sidewalk Café is situated in Gilrich Village Mall. It is a health food restaurant that offers lovely and lively indoor spaces indoors and an available expansive outdoor patio that is subject to the weather.
At Camille's, they serve sandwiches, fresh salads, flatbread pizzas, and flavorful gourmet wraps. You would enjoy their fruit smoothies which are prepared using fresh fruit and can be consumed with yogurt.
All-day long, Camille's offers breakfast tortilla wraps, and they have a vast range of spiced tortillas like jalapeno-cheddar and herb-garlic. These tortillas are a fit for superbly grilled hot wraps like the Michelangelo with grilled chicken breast, red onions, mozzarella, thyme, black olives, balsamic glaze, and roasted red peppers.
The restaurant also has a nutrition information sheet for each of their dishes, including various gluten-free options.
Address: 1216 W 41st Street, Sioux Falls, South Dakota.
24. Explore Buffalo Ridge 1880 Cowboy Town For Amazing Things to Do Around Sioux Falls, SD
The Buffalo Ridge 1880 Cowboy Town is completely uncanny, and that is what actually makes it great. If you are someone who loves weird travel, then you would like to stop by.
It was built in the '60s as a small attraction and is a street of buildings filled with different robots. It has a Chinese laundry, a haunted mine, a saloon, a fort, and more.
The robots are clothed in the look of period men and women (you would even see a version of Abraham Lincoln), but a majority of them are in serious dilapidation and are crumbling in a very sinister manner.
You can go on a self-guided tour of this town and explore the frightening and almost abandoned eeriness for yourself. Buffalo Ridge 1880 Cowboy Town is open every day of the week, from 9 am to 7 pm.
Address: 46614 W, SD-38, Buffalo Ridge, SD 57107.
25. Local Beer Scene at WoodGrain Brewing Company
WoodGrain Brewing Company is known for making high-quality craft beer using locally sourced ingredients, which includes barley, hops, and special strains of yeast. Visiting this place is one of the best things to do in Sioux Falls, especially for beer lovers.
Stop by to taste their beer and other fun options made available by the brewery, like yoga classes, barbecue feasts, and live music. Their normal menu is not something to push aside, though, as there are many special varieties of pizzas (Mediterranean, taco, breakfast, etc.) and sweet appetizers.
You can enjoy this food, though a different company provides it. Food trucks usually turn up on Fridays and Saturdays, and you are also encouraged to come with yours if you wish.
This makes what to do in Sioux Falls for a fun time, consider an addition to your checklist of fun things to do in Sioux Falls, SD.
Address: 101 S Phillips Ave #100, Sioux Falls, SD 57104.
26. Explore an Endless Collection at Pettigrew Home and Museum
The Pettigrew Home and Museum is one of the most engaging places to visit in Sioux Falls. It was built in 1889 in Queen Anne architectural style home and then handed over to Senator Richard Franklin (South Dakota's first U.S. Senator) for $12,000. This home was transformed by Franklin into what it is today.
The Pettigrew Home and Museum is an awesome tribute to South Dakota's history and offers a great learning experience. Franklin had a hobby of collecting items, and you will find his collection well-displayed in this restored home. There are Native American artifacts, natural history specimens, stone tools, and many artifacts that portray the heritage of Sioux Falls.
This museum is open during summer and winter, but it is closed on major holidays. Admission is free of charge.
Address: 131 N Duluth Ave, Sioux Falls, SD 57104.
27. A Concert at Denny Sanford Premier Center is One of the Fun Things to Do in Sioux Falls, SD.
While putting together your itinerary Sioux Falls, do well to include your visit to the
Denny Sanford Premier Center
. Located at North West Avenue, Denny Sanford Premier Center is an indoor arena in Sioux Falls that plays host to several events.
This arena was completed in 2014 and had a seating capacity of about 12,000 spectators. It replaces the Rushmore Plaza Civic Center and DakotaDome as the biggest indoor venue in South Dakota.
There would always be something interesting going on here, whether you want to check out a sporting event, see a concert, or even a rodeo. This center is open from Monday through Friday from 10 am to 5 pm
Address: 1201 Northwest Ave, Sioux Falls, SD 57104.
28. Swim the Waters at Drake Springs Family Aquatic Center
Visiting Drake Springs Family Aquatic Center is one of the most fun things to do in Sioux Falls, South Dakota, especially for aqua-lovers.
Completed 2009, Drake Springs Aquatic Center has 10,844 sq. ft. of water surface area and was designed with a jungle theme to take care of both competition and recreation. This facility's features include a 4-lane, short course lap pool with 3-meter and 1-meter diving stands.
Moving away from the competition area is the recreation pool which features a large interactive play structure, water basketball, an enclosed water slide, a deck spray area, and a Lazy river.
This center is open from Monday to Sunday, between 1 pm and 8 pm.
Address: 301 S. Fairfax Ave, Sioux Falls, SD 57103
29. Get creative at Creative Spirits
You can get inventive and creative in Sioux Falls by visiting Creative Spirits. Be inspired, ignite fun, and create grey memories through the art classes and workshops offered here. This is one place to go if you have cravings for arts.
Ther are activities for an individual or a group, so you have the opportunity of meeting new friends to work together. You'll be amazed at how good you are at the moment to start-up, coupled with on-ground artists who will guide you through a step-by-step class towards creating an original work of art or completing a selected project.
Creative Spirits is perfect for everyone as no experience is required. There are boards, canvases, and other imaginative projects for all ages!
Address: 1508 W 41st St, Sioux Falls, SD 57105
30. Shop at Luca
Luca – Made in Italy is a locally owned and family-operated shopping mall in Sioux Falls. It was established in 2014 and offers first-class Italian accessories, leather handbags, belts, and cashmere for both men and women.
At Luca, exceptional quality and artistry are key, and human needs are considered using 100% food-derived, cruelty-free materials. There are assorted wares, cosmetics, and InnBamboo products for you to pick.
So, if you want a true Boutique, devoted experience, stop by at Luca, or you can book a private appointment. You can also meet Luca in person, book an Italian dinner, learn about Italy or plan your next vacation in Italy.
Address: 311 S Phillips Ave, Sioux Falls, SD 57104
31. Feel good at Divine Nail Spa
While in Sioux Falls, it is expedient you visit a spa and wellness center in Divine Nail Spa. Get yourself a treatment with the latest spa techniques guaranteed to give you a feeling of relaxation and rejuvenation.
Divine Nail Spa has a comfortable, clean, and relaxing atmosphere and renders first-rate service by professionally trained and certified staff. They exclusively use only the best products in a bid to give customers maximum satisfaction.
You would enjoy a variety of packages and services that will treat both your skin and your senses. And best of all is that these services are blended with friendly smiles from their talented staff.
Address: 6807 S Louise Ave, Sioux Falls, SD 57108-5964
32. For One of The Truly Fun Things to Do in Sioux Falls, SD, Solve mysteries at Sherlock and Co.
Sherlock and Co. provide you with top escapes games that are rated in Sioux Falls and beyond. Real-life escape games, like you know, are very pleasing forms of entertainment. So, try a game with your loved one at Sherlock and Co. It is one of the fun things to do in Sioux Falls.
The game's objective is to find a way out of an enclosed room within a stipulated time limit. You would walk with your friends as a team to discover clues and go by the plot to solve the mystery. Each riddle takes you closer to the eventual escape!
Here, you can place your criteria to get the escape game that will be more suitable. Afterward, you just put in your voucher to play your favorite game. Escape room games are cool for a birthday celebration, a date, a night out with friends, or for team-building!
Address: 1825 S Minnesota Ave Located above Piper Art Gallery, Sioux Falls, SD 57105-2810
33. Sky Zone Trampoline Park
Recall childhood memories by visiting the Sky Zone Trampoline Park. It is also an excellent place to bring your children to have lots of fun.
Sky Zone Trampoline Park was completed in 2003. They provide visitors with Freestyle Jump, Sky Joust, Sky Ladder, Sky Slam, Ultimate Dodgeball, Augmented Climbing Wall, Foam Zone, Free Climb, GLOW, and Lock-Ins!
This family-friendly destination is open to the general public and people of all ages, sizes, or shapes. You can jump all day and try out those flips and tricks you have been practicing at home.
The facility is clean and well-maintained. Their staff are super friendly, welcoming, and always available to assist you if you have any questions or need assistance.
Address: 5129 S Solberg Ave, Sioux Falls, SD 57108,
34. Thunder Road of Sioux Falls
Thunder Road of Sioux Falls is a family-friendly destination filled with lots of fun and exciting things to do.
This place offers a vast selection of activities for people to engage in. Visitors can try out their rookie karts, go-karts, bumper boats, Tilt-A-Whirl, Human Foosball, batting cages, Screaming Dragon Roller Coaster, slick track, double karts, and Euro-Bungy.
Apart from being a fun-filled place, it is also a perfect destination to host your children's birthday parties, office parties, bachelor or bachelorette parties, church get-togethers, and others.
Their staff are super friendly and are always available to help make your stay in the park a worthwhile experience.
Address: 201 N Kiwanis Ave, Sioux Falls, SD 57104,
35. Perry Nature Reserve
If you are a lover of outdoor adventure, one of the best things to do when you visit Sioux Falls is to check out the Perry Nature Preserve.
This nature area provides visitors with the opportunity to enjoy outdoor nature activities. Visitors can enjoy the picturesque landscapes that offer a beautiful backdrop for great photo opportunities.
Perry Nature Reserve is home to various wildlife, drainage ways, ecological environments, and beautiful terrains with natural vegetation, including woodlands, riparian areas, and grasslands.
The Reserve is primarily dedicated to protecting this place's natural features, aesthetics, and rich history. An ideal way to explore this vast Reserve is to go hiking, and you can visit with friends and loved ones.
Address: 1500 S Perry Pl, Sioux Falls, SD 57110,
Map of The Top Fun Things to Do in Sioux Falls
To get around during your trip to Sioux Falls, here is a map of the top things to do in Sioux Falls with markers of the top Sioux Falls attractions and activities.

Take to Exploring cities in California, check out our list of things to do in Simi Valley , things to do in Monterey, and things to do in Solvang for a fun time.
Plan a Trip to Sioux Falls
Sioux Falls is one fun city in the United States. A trip to this city offers you the opportunity to see special museums, unique art and restaurants, historic buildings, and the magnificence of nature.
Start planning your trip to Sioux Falls today. Happy travels!