Looking for the top fun things to do in Reno, Nevada? there are quite many fun Reno attractions and activities to give you a fun vacation time.
Listed among the top 50 vacation spots globally, Reno comprises almost everything a tourist would seek in a city.
Also known as the "Biggest Little City in the World," it has several attraction sites, entertainment options, and lots more, which makes it a perfect place to spend your holiday.
Knowing fully well you will need help while picking out things to do in this city; we have organized a list that could help you.
Here is a list of the best things to do in Reno, Nevada.
Top Fun Things to Do in Reno
1. See Reno Arch
Reno Arch can be found close to Commercial Row and Virginia Street in Reno, Nevada. Reno Arch is not just iconic; it is also one of the wonders of the city.
Erected as a memorial to the Nevada Transcontinental Highway Exposition in 1926, the location of the Reno Arch has been changed twice before it was finally moved to its current location.
Shortly after its creation, the city held a small competition from whence it earned its slogan as The Biggest Little City In The World.
As of 2008, Reno Arch was still decorated using 2,076 incandescent light bulbs. In 2009, the city, in their bid to make the Arch more environmentally friendly, changed it to LEDs.
These LEDs bulbs are quite interesting to watch and coupled with the fact they change regularly with respect to the happenings and seasons, they make the Reno Arch so special.
If you haven't seen Reno Arch physically; there are chances that you might have stumbled on a picture of it on a phone as wallpaper, for it is among the most photographed structures in the world.
Feel to come along with a camera while visiting, to take a picture of the Reno Arch or a picture of yourself standing in front of it.
Address: 155 N Virginia St, Reno, NV 89501, United States
2. Expore Fleischmann Planetarium & Science Center
Built as a part of the University of Nevada, Reno in 1963, The Fleischmann Planetarium & Science Center is the perfect place to start your exploration.
Although this Centre is located inside the University, members of the public can explore it for just a small amount of money.
The Center has a unique structure, and if you are a lover of architecture, you won't mind taking as much time as possible to appreciate it.
The name of the man who designed the structure was Ray Hellman, and he designed it so that the building has a hyperbolic paraboloid shape.
This wonder, which still stands since it was built in The 60s, is regarded as one of the city's landmarks and is also in the county's Register of Historic Buildings.
Inside The Fleischmann Planetarium & Science Center, you will find many exhibits that will teach you all you need to know about outer space.
The Center also has a large dome theatre where the visitors could watch digital planetarium shows that are interesting and fun. These shows are projected through their Spitz SciDome digital projector.
If you are planning on coming with your kids, you can bring them him, and while they check out all the exhibits, they will learn a lot about planets and the solar system.
In addition to the theatre where the solar system is displayed in bright 3D images, the Center has a Science store where you could buy science-related items for your kids. There is also a classroom where it holds its monthly educational programs.
Address: 1664 N Virginia St, Reno, NV 89557, USA
3. Last Chance Joe
Last Chance Joe is a colossal statue of a cartoon character dressed like a cowboy.
This giant statue was first made by Roscoe E. "Duke" Reading for Richard L. "Dick" Graves, who was the owner of the Last Chance Café.
Several years after Richard L. Dick Graves established lots of casino businesses, he gave Mr. Duke the Last Chance Joe's character rights.
With the character rights, Roscoe E. "Duke" Reading partnered with a toy manufacturing company and made Last Chance Joe one of the best-selling toys in the country.
Just like the chicken logo of top eateries like Mr. Bigg, Mr. Graves usually attached a colossal statue of Last Chance Joe in all the casinos he built from 1957 down, for that was his company logo.
When he later sold one of the casinos in 2014, the new owners got the figures removed, and the city, in a bid to save the iconic statue, installed it inside the Sparks Heritage Museum.
It is there for all to see, and if you care to take a picture in front of it, all you need to do is come with a camera.
4. Cycle by the Tahoe-Pyramid Trail
The Tahoe-Pyramid Trail starts from Lake Tahoe and ends in Nevada deserts Pyramid Lake, covering places such as the Sparks, the city's downtown area, and many more.
This trail covering about 116 miles, has not been completed; thus, some part of it is paved, while the other parts are still in their natural state.
There are two major ways to explore this trail, one is by foot, and the other is on a bike.
If you wish to explore the trail on a bike, you need to pass through the Bikeway trail located in the downtown area of the city.
If you don't have a bike with you, there are many shops in the area where you can rent a bike.
The maps and directions to the trail's access points can be obtained from Tahoe-Pyramid Bikeway's website.
Be on the lookout for signposts raised in honor of a city official known as Janet Phillips, who spent more than 20 years advocating for the construction of this unique trail.
Be prepared if you plan on biking the whole trail, for the bikeway has about five sections, all of which have different difficulty levels.
Address: Mystic Rd, Floriston, CA 96111, United States
5. Visit The National Automobile Museum
Every lover of the automobile should check out the National Automobile Museum located in Reno, Nevada.
This museum contains all automobile-related vehicles, including carriages and race cars owned by celebrities.
The total number of cars in this museum is two hundred; some of them date as far back as the 19th century. You might recognize one or two famous automobiles.
Some of the cars in this museum include the Mercury Series 9CM, which was made in 1949, and driven by James Dean in the movie "Rebel Without A Cause".
You will also see the Thomas Flyer, which is the car that won first place in the world race that took place in 1908.
Another interesting exhibit in the museum includes the Dymaxion Car, one of Buckminster Fuller's dymaxion inventions. (Dymaxion stands for dynamic maximum tension).
Mr. Fuller specially designed the Dymaxion car alongside Isamu Noguchi, a sculptor. It has an aerodynamic appearance that is so unique and ahead of its generation.
With the ability to contain 11 passengers and gas mileage of about 30 per gallon, the reputation of this 90 miles per hour car was ruined when it was involved in a fatal accident in the 1933 Chicago World's Fair.
Only four of its kind were ever made: one you will find in this museum and another that was made in 2010, and of the rest, one lost and the other destroyed.
Address: 10 South Lake St, Reno, NV 89501, United States
6. Enjoy Baseball at the Greater Nevada Field
The Greater Nevada Field, located right next to the Truckee River, is the Minor League Baseball arena.
One of the best stadiums around, it was first opened in the year 2009, and since then, it has served as the home of Triple-A Reno Aces, a Pacific Coast Baseball League team.
A fantastic place with incredible mountain views, the stadium is designed to sit more than 6,500 spectators comfortably. The additional standing room just at the right side of the field could increase that number to 9000.
It also had two-party areas equipped with benches and picnic tables, and its dugout suite can house 30 persons.
Other amenities featured here include a club suite for 150 persons and 22 skyboxes.
Even if you are not a fan of baseball, you can still visit this stadium just to appreciate its beauty, or you can partake in the ballpark tour to learn more about baseball and its history.
Address: 250 Evans Ave, Reno, NV 89501, United States
7. Explore McKinley Arts & Culture Center
One of the top things to do in Reno, Nevada is visiting The McKinley Arts and Culture Center which was formerly McKinley Park School.
After the building was renovated in 1999, it was converted to a culture Center, and its spaces were allocated to be used as galleries, workshops, auditorium, offices, boardrooms, and so on. It still has rooms that could be rented out for special events.
As you go round this Center, you will learn, through its exhibits, all about history, arts, and the culture of Reno.
8. Reno Orchestra
It is so thrilling to watch music groups like the Reno Philharmonic Orchestra, Reno Chamber Orchestra, The Reno Pops Orchestra, and Masterworks Chorale as they perform.
All these groups perform in the theatre inside McKinley Arts and Culture Center, and sometimes in other cities.
Most persons find Reno Philharmonic Orchestra, not just spectacular, but also hypnotizing.
This orchestra performs different pieces for different seasons, some of which are richly classical, while others are deeply related to pop music, Broadway, and modern Hollywood works.
The Reno harmonic Orchestra was established in the year 1969, and since that time, it has become one of the best things about Reno, Nevada.
If you are going to be visiting in December, you will get to watch one of their outstanding performances known as the Spirit of the Season.
Address: 925 Riverside Dr, Reno, NV 89503, United States
9. Visit Circus Circus Casino
There are many Casinos in Nevada city, and one could say that casinos are the city's principal source of tourism.
One of the most popular ones in Reno, Nevada, is the Circus Circus Casino, which was set up not only as a house for gambling and excitement only but as a full fun resort with all the amenities the whole family would appreciate.
The Casino has lodgings, quite expensive and classy, but truly worth the hype.
For the kids, Circus Circus Casino has kid-friendly entertainments which involve acrobats, animal shows, and live music concerts.
Apart from the circus acts that hold daily, the circus also has lots of Carnival games that your kids could participate in to win prizes such as stuffed animals.
When it comes to what to eat, the Casino got you covered, for it has six different restaurants all on the same premises, one of which is the lively Dos Geckos Cantina, popular for its beautiful decorations.
Adults in the family can partake in the Casino's card games, table games, and sports betting.
Why don't you visit the Circus Circus Casino today and start enjoying all that it has to offer?
Address: 500 N Sierra St, Reno, NV 89501, United States
10. Watch the National Championship Air Races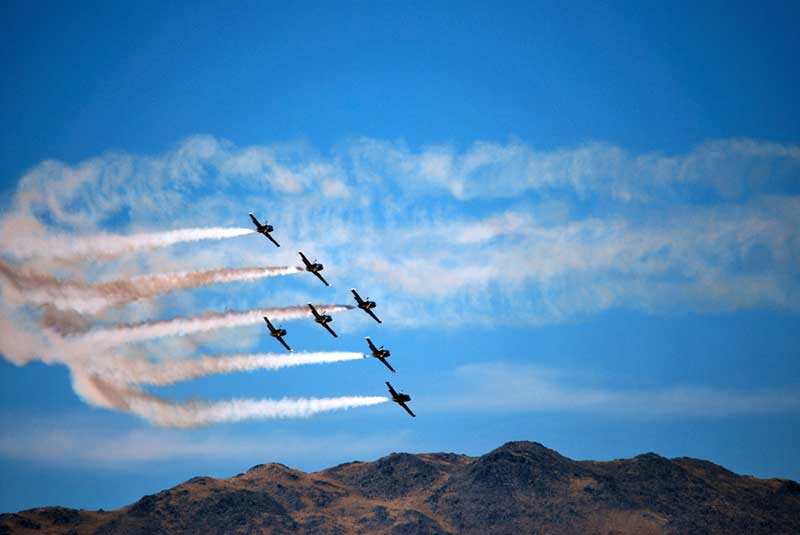 Also known as the Reno Air Races, the National Championship Air Races takes place on a former Stead Air Force Base every September.
This event is the primary reason why thousands of people troop into the city at that time of the year.
Since it started officially in 1964 (when Bill Stead first organized it), this annual event was suspended once in 2001, and that was because of the 9/11 event.
Air racing is arguably the fastest sport in the world, and just like every sport, the National Champions Air Race does not fail in getting the audience high up in adrenaline.
The race is arranged such that six different racing craft (some of which were built personally by the participant while others are even crafts used back in World War II) race each other; thus, you don't only get to watch them race, you will also get to admire them.
If you get hungry during the event, you can buy what to eat from any of the food vendors around the area.
Maine is one of the best places to visit in the United States, during your visit spend some time exploring fun attractions in Bangor.
11. Enjoy Skiing at Mount Rose Ski Resort
Mount Rose Ski Resort should be on your checklist of fun things to do in Reno, Nevada.
You will find this resort covering about 1,200 acres of land, just at the Center of Toiyabe National Forest.
Some of the features of Mount Rose Ski Resort include eight lifts, sixty runs, and lots more.
The Ski Resort's mountain, Mount Rose, is about 8,000-foot high (the highest in the area), with terrain (for skiing) that measures up to 1,800 feet vertically.
If you are just a beginner, you should try out some of the less intimidating slopes, but if you are experienced and highly-skilled, you could even try out the resort's longest slope, which covers 2.5 miles (or thereabout)
If you don't have lodging in the city, you could stay in the Winter Creek Lodge, Mount Rose Ski Resort's lodging.
Note that skiing has its season, so do make sure you plan your visit such that it tallies with this season.
Address: 22222 Mt Rose Hwy, Reno, NV 89511, United States
12. Visit Pyramid Lake
In Reno Nevada, Pyramid Lake is one of the most beautiful places in the area and a perfect place to go on sightseeing.
Nature at its best, you will find pictures of the lake as background wallpaper on some phones.
The lake has several rock formations that are conical in shape, floating at the surface of the lake. It is from this phenomenon that the lake obtained its name.
These conical rock formations are made of limestone, and they tend to rise to the surface of the water, becoming visible as soon as the water at the top recedes.
There is a myth associated with Pyramid Lake, you will learn about it from the natives when you visit.
Another interesting thing about this place is that a rare breed of the pelican is found in the area.
All these make Pyramid Lake an exciting place to visit in Reno, Nevada.
13. Explore Wilbur D. May Museum
Located inside Rancho San Rafael Regional Park, Wilbur D. May Museum is rated by tourists as one of the top 10 cool spots in Reno, Nevada; therefore, even if you don't find the park itself interesting, you will be impressed by the museum.
Wilbur D. May Museum, named after Wilbur D. May, a millionaire, features all that the great explorer and adventurer gathered from his travels.
The story of Mr. D. May is quite an interesting one. He was born in the year 1898, his father owned a chain of department stores, and was to inherit it after his father.
After several trials of running the family business, Mr. D. May couldn't endure the boredom anymore, so he decided to travel to Asia and Africa to hunt games.
After his return, he worked as a volunteer ambulance driver in World War I, and in 1929, after earning so much from the stock market crash, he went into the oil business with all his proceedings, and it was from there his wealth grew rapidly.
As his wealth grew, he began to travel more, bought airplanes, bred terriers and racehorses, funded so many youth exploration groups, became a collector of artifacts, e.t.c. He did everything most millionaires do.
Everything you will find in this unique museum was obtained from these explorations.
Some of the things in the museum's collection includes artifacts obtained from Egyptian tombs, elephant tusks, 200 taxidermy animals, fertility statues he got from Polynesia, Japanese swords, shrunken human head, tribal masks from a native tribe in Africa, fine china wares, antique firearms, American Western art, etc.
As you walk from one end of the museum to the other, you can't help but feel like you are traveling through several continents.
Every year, Wilbur D. May Museum holds several art shows and exhibitions, and you can be a part of it if you wish to.
Contact Address: 1595 N Sierra St, Reno, NV 89503, United States
14. See Animals at Animal Ark
Animal Ark is a wildlife sanctuary established in the year 1981 in Reno, Nevada.
Since its dedication to date, the museum has served as an educational center as well as a haven for wild animals which, for some reason, can't be released back into the wild.
Covering about 38 acres of land, you will find several animals (both native to the place and those that aren't) here.
Each of the Ark's animals is kept in huge enclosures that is modeled such that it looks so much like the animal's natural habitat.
Although the animals are not allowed to breed in the Ark, they are always engaged in activities that will keep them both occupied and happy.
Some of the animals you will find in the Ark include wolves, bears, cheetahs, bobcats, foxes, coyotes, raptors, and several reptiles, most of which are native to North America.
You should visit during one of the yearly events the Ark holds, one of which is the "Cheetah Run" (in this event, cheetahs race themselves through desert terrain).
Note that, even though the Ark is quite similar to a zoo, it is not one. You can spot this difference only when once you pay a visit to it.
Contact Address: 1265 Deerlodge Rd, Reno, NV 89508, United States
15. Check out Natural Selection
Natural Selection is more than just your regular entertainment place; it is an extraordinary one.
In this place, you will find a mixture of taxidermied animals and several kinds of beautiful plants. The most exciting thing about it is that you are allowed to touch them all.
You will find small fossils, carnivorous plants, minerals, bones, moss balls, and lots more among the taxidermy.
Emily Felch, who runs the Natural Selection, and her daughter developed an interest in taxidermy at a very tender age.
From her collection, you will learn all about animals and how they are taxidermied.
Address: 39 St Lawrence Ave, Reno, NV 89509, United States
16. Take your Kids to Terry Lee Wells Nevada Discovery Museum
Another fun place in Reno, Nevada, that you can visit with your kids is the Terry Lee Wells Nevada Discovery Museum, which was opened in 2012.
A science-themed museum, the Terry Lee Wells Nevada Discovery Museum sits on a 67,000 square feet acre property.
Inside this Center, you will find several exhibits, most of which you are allowed to touch.
Apart from its exhibits, the museum has a playground where your kids can play.
Some of the fun activities your kids can engage in this place include viewing the exhibits, joining a day camp, and lots more.
Your kids will learn a lot while having so much fun in this place.
Address: 490 S Center St, Reno, NV 89501, United States
17. Enjoy Nature's Beauty at Idlewild Park
Reno, Nevada, has lots of impressive parks; one of them is Idlewild Park, which is located close to the Truckee River.
This park, which occupies a 49-acre landspace, has many areas that speak volumes of nature's beauty.
The park was established in 1927, and since that time, its popularity and beauty have grown steadily.
Amongst its beauty areas, the most amazing of them all is the Rose Garden, which contains a fine collection of rose flowers.
The park also has a lap swimming pool equipped with a diving board, a skate park, and a duck pond.
For your kids, there are lots of places for plays like the little Lions Club park that is equipped with a train the kids can ride and several other play amenities.
For the adults, the park has fun amenities like tennis courts, a bicycle trail, picnic areas, few lakes, and lots more.
You can buy food from any of the food trucks stationed in the park when you get hungry.
Contact Address: 2055 Idlewild Dr, Reno, NV 89509, United States
18. Explore Minerals at W. M. Keck Museum
Though W. M. Keck Museum is one of Nevada's oldest museums, it is still one of the finest and most unique places in the state.
Named after W.M. Keck, W.M. Keck Earth Science and Mineral Engineering Museum's main aim is to show the geology and the various kinds of minerals in the state.
In the museum, you will find an extraordinary silver collection, owned by John W. Mackay, one of the Bonanza Firm founders. There are 1,250 pieces of silver in that single collection.
Other things you will find in the museum include amethyst, copper, quartz, gypsum, and there is also much gold.
The museum also educates its visitors on the state's history of mining with the aid of mining tools and a map.
You won't regret putting this museum on your list of top things to do in Reno, Nevada.
Address: 1664 N Virginia St, Reno, NV 89557, United States
19. Watch the Great Reno Balloon Race
Another great attraction in Reno, Nevada, is the Great Reno Balloon Race, which is graced yearly by more than 120,000 spectators.
Organized to draw tourists to the city, this family-friendly event is open to all at zero cost.
When the first race was held in 1982, the number of balloons that raced was just twenty. In 2020, that number grew to a hundred.
Great Reno Balloon Race is a "One of a kind" race, and it has won multiple awards, mostly in the category of special events. Its popularity over the years has been on a steady increase.
Great Reno Balloon Race holds during the first week of September for about three to four days; therefore, if you want to watch this year's event, you need to plan accordingly.
Don't forget that since the race depends so much on the weather, the event starts as early as 6:45 am on the first day, and it continues till the evening of the third or fourth day when the balloons land.
While waiting for the balloons to land, you can participate in other events and competitions held at that same venue as the balloons soar through the air.
Address: San Rafael Regional Park, Rancho, Rancho Connector, Reno, NV 89503, United States
20. Explore art through Art Walk Reno
A volunteer organization in Reno, Nevada, known as the Art Spot, Reno offers a two-hour guided art tour once every month to all art lovers.
This walk, known as Art Walk Reno, covers all the art scene in Reno, encompassing even the city's downtown area.
As you move from street to street, you will find walls decorated with murals, of which about sixty of them were drawn by Erik Burke.
When Erik Burke began to sketch his graffiti on this street's walls, his style was unpopular, and therefore, his works were dismissed as unworthy graffiti. Today, his artworks are regarded as one of the best in the city.
Art Spot Reno charges only $10 per person for all those who wish to partake in this intriguing and educational experience.
For a fun time in California, don't miss our list of  things to do in Fremont, things to do in Simi Valley, top fun things to do in Monterey
21. Check out Art on Midtown Art Walk
Like the Art Walk Reno, the Midtown Art Walk is another cool art walk in Reno, Nevada.
In this Walk, both artists and local merchants come together to provide visitors to Reno, Nevada, with fun experiences.
This fun experience covers areas such as art, food, live performances, drinks, poetry, unique stores, and so forth.
With more fun options than every other art walk option in the city, you should add this Art Walk to your checklist of best things to do in Reno, Nevada.
22. Bowling at National Bowling Stadium
If you have seen the Kingpin film which featured Bill Murray and Woody Harrellson and was directed by the Farrelly Brothers, you must have seen the National Bowling Stadium.
The National Bowling Stadium, which is also known as the Taj Mahal of Tenpins, was built in 1995, and it features a five-story structure that can comfortably contain 100,000 spectators.
Inside the 8-acre stadium, you find some clubs designed with bowling-related themes and a movie theatre.
The National Bowling Stadium features all the 78 lanes found in professional and tournament stadiums.
The stadium also has a Computer-Aided Tracking System that points out the errors in your game and shows you how you can improve on them.
You should also check the satellite branch of the International Bowling Museum and Hall of Fame while you are here. They showcase bowling information and memorabilia.
No fee is required for you to gain entrance into this stadium.
For the easy location, pay attention to the roof of the stadium; once you notice a giant bowling ball about 80 feet tall, made of aluminum, then you are at the right place.
Address: 300 N Center St, Reno, NV 89501, United States
23. Visit The Riverwalk
The Riverwalk has a lot to offer, and you are not expected to pay a dime for it; all you probably need is some good music.
The Riverwalk follows the path close to the Truckee River, which is filled with iconic cultural sights.
On this Walk, you are going to stumbling on fun events such as concerts, face painting competitions, and lots more, which are going on in several locations along this path.
Since there is so much to cover, it's better to explore this Walk on a bike.
As you explore, you will find, among many places, local art studios and galleries displaying their fine works, restaurants that serve delicious meals, museums, wine shops, theatres, and lots more.
24. Relax at Atlantis Casino Resort
After you visit Reno, Nevada, if you are asked by a friend to make a list of the top ten things to do in Florida, you will most likely add Atlantis Casino Resort to the list.
Atlantis Casino Resort rated AAA, is a popular 4-Diamond establishment located at the very heart of Reno, Nevada.
Established in the year 1972, this Casino covers about 60,000 square feet, and it offers lots of gaming opportunities to its customers.
The building itself looks stunning and has a small resemblance to the ancient city, Atlantis.
Every amenity in this establishment, including its restaurants, spa, and accommodations, has won lots of awards, all highly praise even its shows and concerts.
Its customer service is one of the best in town, and naturally, it offers lots of gaming opportunities to all that visit its Casino at night.
If you don't mind a little enjoyment, you might consider making this place top on your checklist of things to do in Reno, Nevada.
Contact Address: 3800 S Virginia St, Reno, NV 89502, United States
25. Reno Must Visit: Pioneer Center for the Performing Arts
Established in 1967, the Pioneer Center for the Performing Arts has the best architectural design in town.
Inspired by the Casa Mañana Theater designs by Buckminster Fuller, this Centre, which was designed by Don Richter (who was one of Fuller's students), has a dome shape.
Due to its shape, it is playfully regarded by the natives as The Golden Turtle within Nevada.
The Center got its name from a statue kept in the Centre's Pioneer Underground's venue.
Among many things, the Center serves as a platform for a comedy club and also a stage for some Broadway shows.
It also serves as a venue for Reno Philharmonic shows, Nevada Opera shows public lectures and so many others.
Address: 100 S Virginia St, Reno, NV 89501, United States
26. Watch Animals at Sierra Safari Zoo
Sierra Safari Zoo is an attraction in Reno, Nevada, worth adding to your list of things to do.
A place your kids would love; this zoo established in Nevada has grown into one of the largest in Nevada.
Only a few of the animals it houses are native to the state; the rest were obtained from several places across the world.
Amongst these animals, you will find reptiles, wild cats, primates, and many more.
The zoo also has many aquariums which feature several marine life, and the most popular among these aquaria is the dolphinarium which contains dolphins.
Sierra Safari Zoo is a family-friendly fun place, and you can make it a fun thing the whole family can engage in together.
Contact Address: 10200 N Virginia St, Reno, NV 89506, United States
27. Wall climbing at Basecamp
Basecamp has located downtown Reno, Nevada, inside the Whitney Peak Hotel.
It is the tallest and the best artificial wall for rock-climbing in the area.
According to the Guinness Book of World Records, its height is about 164-foot.
The good thing about this wall is that it is an excellent spot for both newbies and experienced climbers.
Are you wondering what to do at night? You will be glad to know that the Basecamp is open till 10 p.m.
If you are an experienced climber, you should test your strength on the camp's 15-meters speed wall.
Come along with your climbing gear if you have them, but if you don't have one, you can rent one from the camp store for $22.
Address: 255 N Virginia St, Reno, NV 89501, United States
28. Check out The Eldorado
The Eldorado is a famous casino in Reno, Nevada, which was opened in the 1970s.
This Casino, which is a landmark of the city, still maintains so much of its old-fashioned setting.
Living up to its name, the Eldorado is beautified with numerous bright lights which makes it look so much like the lost city of gold.
The Casino itself features table games, slot machines, sports betting tools, and so many other amenities usually found in a casino.
Like most top casinos, the Eldorado has several other establishments in its premises, such as restaurants, cafes, bars, hotels, etc. It is also worth mentioning that Eldorado is an award-winning establishment.
If you are not interested in gambling, Eldorado still has host other fun activities, including concerts, that would interest you.
Consider going on a romantic date with the one you love in any of their restaurants; you will be impressed by their customer service.
There is also a theatre in the building that shows Broadway-style performances.
Contact Address: 345 N Virginia St, Reno, NV 89501, United States
29. Explore Galena Creek Regional Park
Galena Creek Regional Park should be among the top on your list of things to do in Reno, Nevada if what you seek is a peaceful and serene place.
Located close to the Humbolt-Toiyabe National Forest, the park has several trails that span for several miles, passing through a forest.
The trails are different, some are suitable for horseriding, while others are suitable for hiking and cycling, all the same, they are embedded with much fun.
Galena Creek Regional Park has a Visitor Center where the visitor is taught lots of exciting facts about floras and faunas, birds, insects, mammals, and plants.
The park sometimes plays host to children's events such as summer camps and science camps.
This makes what to do in Reno for a fun time, consider an addition to your list of places to visit in Reno, Nevada.
Contact Address: 18350 Mt. Rose Highway, Reno, NV 89511, United States
30. Have a Good time at Rancho San Rafael Park
Rancho San Rafael Park is not just one of the best parks in Reno, Nevada; it is also the latest, covering more than a hundred acres of land.
In the park, you will find different natural areas such as desert landscapes, xeriscape, wetland habitats, mountain landscapes, huge lakes, etc.
The park was formerly a cattle ranch and was only turned into a park after it was bought in 1979 by the County of Washoe.
There are two ranch houses on the grounds of the park, both of which prove that the park was formerly a ranch.
There are lots of fun things to do in this park, and some of them include picnicking, hiking, fishing, playing volleyball, and lots more.
An exciting section of the park is the Great Basin Adventure. In this part, you will find a museum, a nature discovery center, and a petting zoo.
Contact Address: 1595 N Sierra St, Reno, NV 89503, United States
31. See art at Nevada Museum of Art
The only art museum accredited in Nevada, the Nevada Museum of Art, should be on your list of things to do in Reno, Nevada.
This art museum is one of five such museums in America.
The structure that houses this "haven" for history and art is quite a marvel to see, for it is four stories tall and bears all the proofs that it was designed by no other than Will Bruder, a popular architect.
Established in 1931, it is one of the oldest in the United States. The Black Rock Desert design, which it has, was included in the last renovation carried out in the park in the early 2000s.
The museum's primary focus is man's relationship with his environment, and this point of view can be seen from its sculpture gardens, the exhibits in the interior galleries (both the rotating and the static ones) e.t.c.
The total number of artworks here is more than 2,000, some of which date back to the 19th century and some even farther, yet all of them have a common central theme.
You should check out the exhibit labeled Contemporary Collection; it has many items: sculptures, photography, paintings, media installations, and paper works that are worth seeing.
There is also the Center for Art + Environment, in the museum, which is the museum's research department.
Other interesting kinds of stuff to see here include an Archive Collections exhibit that displays over 12,000 different items.
You can be a part of an event the museum holds every month, and don't forget to climb up the suspended staircase inside the museum, for it offers a beautiful view of the city's skyline.
Address: 160 W Liberty St, Reno, NV 89501, United States
32. Hiking at Peavine Peak
Peavine Peak, which is the name of Peavine Mountain's highest peak, is one of Reno's most beautiful locations, Nevada.
The Peavine Mountain range got its name from the many pea vines that grow around the area.
From Peavine Peak, you will see some archaeological sites where Native American tribes like the Northern Watio and Pauite tribes once lived.
The area is common amongst tourists and it has seen its fair share of geographers as well as archaeologists who, at one time or the other, came to study the area and all that was left behind by the native tribes.
You will also find the Peavine Peak Trail, which is located at the Peavine Mountain range.
This trail, which can be hiked, cycled, and explored using off-road vehicles, speaks volumes of the wonders of nature.
The trail is 8.9 miles long, and it is perfect for hiking, bird watching, jogging, and lots more.
Peavine trails lead up to two peaks of the Peavine Mountain from whence you can obtain an extraordinary city view. The view is your reward for climbing the exhausting mountain.
33. Explore Sparks Heritage Museum
Sparks Heritage Museum is a historical site in Reno, Nevada, and among fascinating places to visit in this city.
The exhibit room of the museum occupies a 4,000 square feet land space.
As you move from one exhibit to another, you will gain insight into the city's history as related to immigrant settlers, ranching, mining, and more.
When you visit the museum, you will understand what Sparks and Truckee Meadows were like in the past.
Some of the features of Sparks Heritage Museum include reproduction buildings, permanent indoor exhibits, an immigrant-built railroad bridge, a Pullman car, artifacts, dioramas, a steam engine, and more, all of which are worth seeing.
A visit here makes what to do in Reno, Nevada, for a fun time, consider an addition toyour list of places to visit in Reno.
Contact Address: 814 Victorian Ave, Sparks, NV 89431, United States
Map of Top Reno Attractions & Activities
To get around during your trip to Reno, here is a map of the top things to do in Reno, with markers of the top Reno, NV attractions and activities.
Planning to explore Oregon? here is a tourist checklist guide on  things to do in Salem and things to do in Medford for a fun exploration.
Plan a Trip to Reno
No matter your preferences, be it art, nature, history, music, games, sports, or science, there are several fun things you can do in Reno, Nevada.
As you explore these fun things to do in Reno, Nevada, you will stumble on more Reno attractions worth checking out.