Looking for the top fun things to do in Schaumburg, IL, there are quite some fun Shaumburg attractions and activities to give you a fun vacation time
Located approximately 30 miles northwest of Chicago, Schaumburg is known for its natural beauty, baseball, Woodfield Mall, and scenic parks. Schaumburg is a charming village in the state of Illinois.
Though underrated as a travel location, it has plenty to offer. From galleries to parks, performing arts to festivals, farmers markets to nature trails, sports to shopping malls, all four are not left bare.
The Prairie Center for the Arts, International Sculpture Park, the Schaumburg Park District, and Trickster Art Gallery are some of Schaumburg's favorite tourist attractions.
Let's explore the top things to do in Schaumburg.
Things to Do in Schaumburg
1. Explore Busse Woods
Ned Brown Forest Preserve, also called Busse Woods, is a famous tourist attraction in Schaumburg. It is one of the top places to see in Schaumburg.
This preserve features awe-inspiring greenery, an elk pasture, a big reservoir, vivifying hiking trails, and more. There are various outdoor recreational activities offered by the preserve, such as boating, biking, fishing, and hiking. Swimming is, however, not allowed in Busse reservoir.
Enjoy spectacular views offers by the woods through all four seasons. It is also a part of the greater Cook County Forest Preserve.
Address: Rolling Meadows, IL 60008.
2. Chicago Athenaeum International Sculpture Park
The Chicago Athenaeum is the only independent museum of architecture and design in America. It was established in 1988 with a mission of cultivating public appreciation towards the ways in which design and architecture have benefited man and his environment.
This Athenaeum has its main campus in Chicago but still has operational branches in both Galena and Schaumburg. In Schaumburg, the International Sculpture Park is a 20-acre space containing greens and forest, with sculptures well placed to blend artfully with the park's natural habitat.
These sculptures are collected from recognized American and European artists, and the museum has played host to exhibitions of contemporary art both in the local scene and abroad.
Visiting Chicago Athenaeum International Sculpture Park is one of the best things to do in Schaumburg.
Address: 201 Schaumburg Court, Schaumburg, Illinois 60193
3. Exercise at Meineke Recreation Center
If you want to have a day of exercise and fun, move to the Meineke Recreation Center. This recreation center has plenty of facilities, including a well-equipped fitness center with recent equipment like stair climbers, indoor running track, multiple treadmills, dumbbell and bench area, leg press, gymnasium, and an Olympic-sized swimming pool.
The swimming pool has diving boards and is open during the summer months. Visitors can participate in the personal training sessions and group fitness classes organized by Meineke Recreation Center.
Opening hours are on Mondays through Fridays (5:30 am – 10 pm) while Saturdays and Sundays (6 am – 10 pm).
This makes what to do in Schaumburg, IL, for a fun time with the kids, consider an addition to your bucket list of things to do in Schaumburg.
Address: 220 E Weathersfield Way, Schaumburg, IL 60193
4. Lol at Chicago Improv
Chicago Improv is a top spot for watching stand-up comedy in Schaumburg. The first show of the night provides a dining option, and every Friday and Saturday, it offers late shows.
As a diner for first shows, you must be on the ground 90 minutes before showtime, but the comfortable, big waiting area and bar allow for patrons to relax and pass the time.
The club offers a two-item minimum for every guest, and guests are granted priority seating. Chicago Improv is massive and can accommodate parties and events of close1 to 450 people. There is also an on-site private party room.
Address: 5 Woodfield Rd Woodfield Mall Store K120B Schaumburg, IL 60173.
5. Enjoy Nature at Volkening Lake
Volkening Lake is a great place for canoeing, fishing, paddle boating, and other water-based recreational activities. The lake is situated on Schaumburg Road, close to the Schaumburg Police Station
There is a park around the lake, and it offers scenic views. You can sit on any of the benches close to the lake and read a good book or admire the view. It is perfect if you wish to take a refreshing walk too. There is an open-air fitness area of this park located just next to the lake – it is another spot for wonderful views.
You can rent boats and canoes at this lake and have top fun.
6. Children Fun-Place: FireZone
One of the top fun places to visit in Schaumburg, especially for kids, is FireZone. This kid-friendly spot also caters to adults as well. It doesn't matter if you want a drop-in time slot or an all-inclusive party; your kids can enjoy a safe, interactive, fun time sliding down a fire pole, exploring fire trucks, or getting whooped up the Fire Station playhouse. All these are under the supervision of in-house firefighters.
Also, FireZone offers field trips for kids aged 2 to 12. These trips can accommodate close to 90 children, where they will learn valuable fire safety tips and get involved in fire-fighting-related activities.
Adults are not left behind too. In association with Chicago Fire Truck Rentals, Firezone offers team-building programs to get everyone engaged.
Address: 1100 National Pkwy, Schaumburg, IL 60173.
7. Fun at Atcher Island
As a tropical theme-based water park, Atcher Island is one of the top places to visit in Schaumburg. It contains splash pads, waterslides, a children's playground, a unique circular drop slide, pools, and more. It is one great place to relax and have fun during the summer.
Forget your worries and feel rush as you plunge down the circular drop slide or lounge by the poolside. You can as well enjoy the on-site refreshments and concessions available.
Entry fee costs between $6 and $10 depending on whether you're a local or tourist and on your age. The park also organizes pool parties and is a trendy spot with kids.
Address: 730 S. Springinsguth Road, Schaumburg.
8. Let the Kids Enjoy LEGOLAND Discovery Center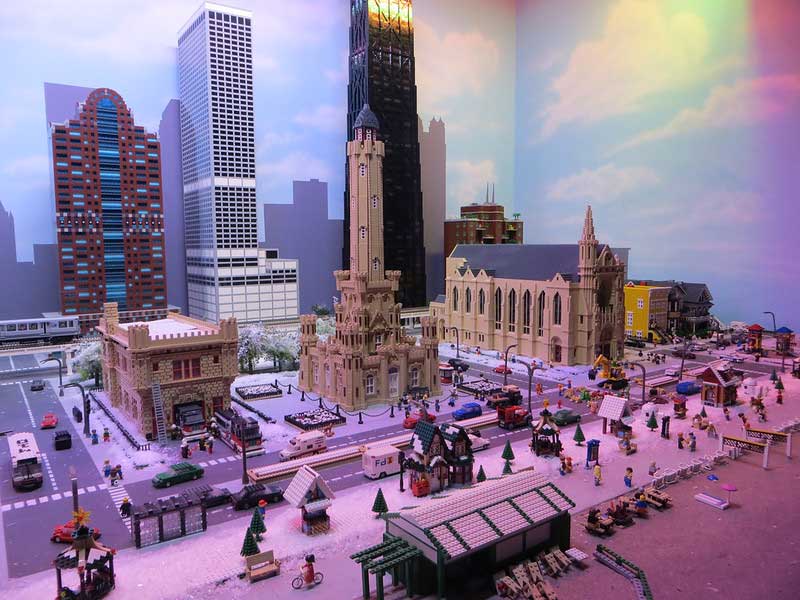 Chicago area's LEGOLAND is located in Schaumburg, and that's something to joy. The Discovery Center takes care of children aged 3 to 10, making it another top fun place in Schaumburg for kids.
Every exhibit and attraction is kid-sized, so you can't gain admission as an adult except in the evenings when you bring along a child. There are build zones in LEGOLAND, two interactive rides (Merlin's Apprentice and Kingdom Quest Laser), unique LEGO exhibits, and a 4D cinema.
Visitors have the privilege of checking the LEGO shop, touring the LEGO factory, and enjoying snacks in the LEGOLAND cafe. On Toddler Tuesdays, children age five or younger can be part of special activities, and you can also hire available birthday rooms for parties.
Address: The Streets of Woodfield, 601 N. Martingale Road, Schaumburg, IL 60173.
9. Buy at Schaumburg Farmers Market
Meet with the local farmers of Schaumburg as they can gather to sell their dairy products, plants, flowers, poultry, and farm-fresh fruits and vegetables at the Schaumburg Farmers Market
The farmers market is situated at the parking lot of Trickster Cultural Centre and draws regional patrons and tourists who come to perform business transactions peculiar to their needs.
You can purchase other available local products, including fresh bakery goods, coffee, lemonade, pasta, olives, and many other items. This market has a lot to offer both visitors and locals alike. It is open every Friday from June to October, from 7 am to 1 pm.
Address: 190 S Roselle Rd, Schaumburg, IL 60193.
10. Back to The Past at Medieval Times
Medieval Times takes visitors back to the Spanish middle ages thanks to an 11th-century style four-course feast served here. Medieval Times is one of the nine locations in North America and is one of the best places to be in Schaumburg.
In addition to the feast, there are knights, horses, falcons, and swords all displayed in a skill tournament. So as to maintain historical relevance, the banquet is eaten using sans cutlery, just as it was in 11th century Spain.
Before the show starts, take a walk in the Hall of Arms, where coats of arms, weapons, and lush medieval decor are on display. Or, if you are audacious, you can look through the Museum of Torture, full of medieval torture device replicas.
Address: 2001 N Roselle Rd, Schaumburg, IL 60195.
For a fun time in California, here is a guide on fun things to do in Simi Valley, things to do in Monterey, and things to do in Fairfield for a memorable vacation
11. Comedy at Laugh Out Loud Comedy Theatre
Situated in the Streets of Woodfield is Laugh Out Loud Comedy Theatre. It is a famous theatre that plays host to live comedy performances and offers classes on improv comedy.
Laugh Out Loud Comedy Theatre has a 6-week program that gives interested individuals the foundation required to performing improv in front of an audience.
This club has featured and still features many upcoming comedians who put up hysterical performances. You would also enjoy the delicious food and drinks served here.
Address: 601 N. Martingale Road, Streets of Woodfield, Schaumburg, Illinois 60173
12. Prairie Center for the Arts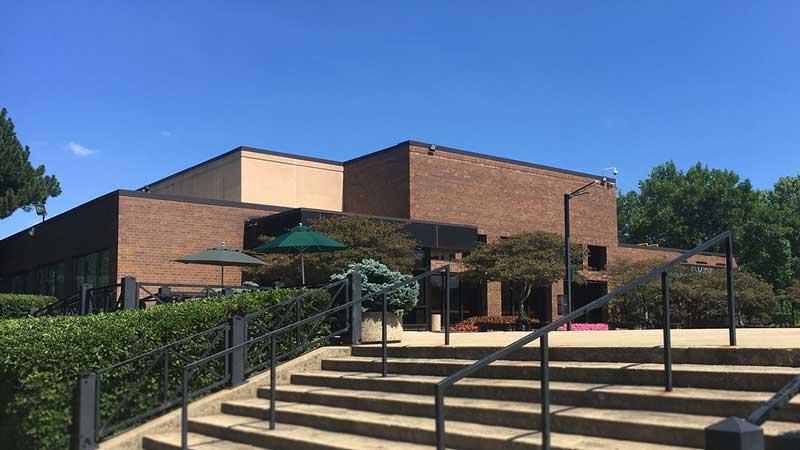 The Prairie Center for the Arts is a top performance venue that boasts of local and international acts in Schaumburg. The venue has a sitting capacity of 442 patrons and offers every one of the excellent views and sound in a confidential concert setting.
There are highlights of free outdoor concerts with the annual schedule featuring music, dance, and theater presentations for every class during the summer season. At the Herb Aigner Gallery, there are changing exhibits (usually every month).
The center organizes youth programming in music (choir and orchestra) and dance, including summer theater. They also have meeting and performance space available for rental purposes. Don't forget to explore the Robert O. Atcher Municipal Center grounds, always nice in cool weather.
Address: 201 Schaumburg Ct, Schaumburg, IL 60193.
13. Attend the Schaumburg Septemberfest
The Septemberfest is an annual Festival in Schaumburg that dates back to 1971. It is celebrated during the weekend of Labour Day in September every year.
Schaumburg Septemberfest is one of Illinois's biggest festivals and attracts people from all parts of the country. Features of this event include arts and crafts shows, a parade, craft beer and wine, beauty pageants, delicious food stalls, talent shows, musical concerts, fireworks, and much more.
Every year, visitors are welcomed to this fest in their thousands. It holds in the Schaumburg Municipal Centre Grounds, and entry to the festival is totally free.
Address: 101 Schaumburg Ct, Schaumburg, IL 60193.
14. Sports at Wintrust Field is One of the Fun Things to Do in Schaumburg, IL
Wintrust Field is home game central for the professional Frontier League baseball team – the Schaumburg Boomers. The stadium has a capacity of 7365 fans, with a designated overflow space accommodating 900 more along the foul lines.
For sports lovers, the Wintrust Field should be a must-visit while in Schaumburg. The stadium has multiple areas to choices for your next outing with your friends. There are the Miller Lite Deck (100-200 people), the Schaumberg Club, and luxury suites (for 18, 25, or 35 people).
Every area rent has a banquet or an all-you-can-eat buffet and offers awesome views of the field. You can also purchase birthday packages as well as catered picnic groups for 25 persons and above.
Address: 1999 South Springinsguth Road, Schaumburg, IL 60193.
15. Sing Karaoke at The Hideout
If you are in Schaumburg and wish to enjoy the nightlife, one of the best places to do is at The Hideout. At the Hideout, you can relax after the day's stress with your loved one while watching a live karaoke performance from the stage.
It is a great spot for an evening date, and you can be directly involved too. You can use their interactive songbook to see, search, and send your songs to the karaoke jockey without moving from your chair.
Users have the privilege of saving their favorites to a list, so they use it as much as they like. The Hideout attracts fun crowds, and they have a very pocket-friendly menu.
Address: 1230 Valley Lake Dr Unit D, Schaumburg, IL 60195
16. Go back in time at Spring Valley
Spring Valley occupies 135 acres of green space and is termed a "living museum." And like some attractions, Spring Valley is up there as one of the top places to visit in Schaumburg.
The park has more than three miles of hiking trails, a log cabin, a replica of an 1880s farm, and a nature center. The visitor center has great features, which include seasonal exhibits on natural history, an observation tower, and a library.
At Heritage Farm, you are offered a glimpse into what life in Schaumburg's rural German farm community looked like in the 1880s. There are historically dressed guides to help you during the wagon rides.
You can also get birthday packages, rent the nature center or log cabin for your next event, or a fire pit for your next picnic; it's usually per hour.
This makes what to do in Schaumburg for a romantic time, a recommended addition to your checklist of fun things to do in Schaumburg, IL
Address: 1111 E. Schaumburg Road, Schaumburg.
17. Lynfred Winery is one of the Things to do Near Schaumburg
Located 6.9 kilometers from Schaumburg is Lynfred Winery. Though not in the city, it is still one of the top places to visit when you are in or around Schaumburg.
Lynfred Winery is the largest and oldest continuously operating family winery in Illinois. Lynfred produces over 70 varietals with 30,000 cases of fine wine annually.
Established in 1979, Lynfred Winery offers visitors gourmet cuisine, luxurious lodging, and the finest vintages. Check out original wines at their tasting room.
Address: 15 South Roselle Road, Roselle, Illinois, 60172
18. Check out the Trickster Art Gallery
Being a scene of contemporary Native arts, Trickster Art Gallery is who of the best things to do in Schaumburg. In addition to arts, there at multicultural programming, touring exhibitions, workshops, and speakers at this Gallery.
There are three spaces at the Gallery with work on display. The permanent collection contains art from the post-1960s era and a garden path showcasing traditional medicinal plants.
You will find books written by indigenous individuals and a 50′ television playing Native media at the library. Students of all ages are allowed school tours, giving them the opportunity to learn about local history and culture, including the significant role played by Natives in the American military.
Address: 190 South Roselle Rd., Schaumburg IL 60193.
19. Go Birdwatching at Salt Creek Park Forest Preserve
Though not in Schaumburg, this site is one of the top attractions to see in Illinois . Salt Creek Park Forest Preserve is situated 16.3 kilometers from Schaumburg and boasts of great fauna due to the Creek.
Amongst the wildlife found here are hickories, Baltimore orioles, bur oaks, red-headed woodpeckers, catfish, black oars, baas, bluegill, and more. It is not void of activities as well, with birdwatching, hiking, canoeing, picnicking, and fishing in the alluring Salt Creek, all part of the popular activities here.
This preserve is the perfect location for snow hiking, skiing, and snowshoeing in winters. It also offers extraordinary views for visitors all through the year.
Address: 18W200 Elizabeth Dr, Wood Dale, IL 60191, United States
20. Schaumburg must-visit: Wood Library-Museum of Anesthesiology
The Wood Library-Museum of Anesthesiology provides a complete set of resources on anesthesiology. This museum houses books, artifacts, equipment, multimedia, and photographs on display, and in peculiar exhibitions, it offers reference services through numerous channels like phone, email, and in person.
The main library is pivoted on anesthesiology history and contains images, biographical works, books, and educational journals. And the John W. Pender Living History of Anesthesiology multimedia collection allows guests to browse through the audiotapes and interview collection.
The book room is a rare closed area, but entry can be granted to visitors upon prior arrangements with the manager of the museum.
Address: 1061 American Lane, Schaumburg, IL 60173.
21. Chill out at The Water Works
The Water Works is a popular indoor water park situated in Schaumburg Park District Community Recreation Center. It is one of the top fun areas in Schaumburg.
This park features several water slides, a pool playground, a hot tub, multiple pools, diving platforms, a lap pool, a family changing room, a rapid water channel, a whirlpool, and more.
The entry fee into the park depends on your age and whether you're a tourist or local. The park also organizes activities like private pool parties.
This is one of the top fun things to do in Schaumburg, IL, consider an addition to your list of places to visit in Schaumburg.
Address: 505 N Springinsguth Rd, Schaumburg, IL 60194.
22. Shop Till you Drop at Woodfield Mall
One of the biggest shopping malls in Illinois is the Woodfield Mall, and it is even one of the biggest in the USA. Every year, visitors are welcomed in their millions.
The shopping center has up to 300 stores. It features a variety of famous brands such as Zara, Apple, MAC Cosmetics, BOSS, Armani Exchange, H&M, Bath & Body Works, Lululemon, Michael Kors, Victoria's Secret, Sephora, Aldo, Levis, and many more.
There are several dining options available, including Chipotle, McDonald's, The Cheesecake Factory, Starbucks, Dunkin' Donuts, Subway, Burger King, and more
The mall is open every day of the week, so go shopping!
Address: 5 Woodfield Mall, Schaumburg, IL 60173.
23. Take a Trip to Mallard Lake
Mallard Lake is located 9.4 miles from Schaumburg and is well-known for birdwatching, boating, hiking, and fishing. A trip to this mesmerizing lake is worth the distance because of the features in and around it.
Mallard Lake is one of the biggest lakes in the area and has a wide variety of wildlife, including beavers, great blue herons, northern pike, catfish, beavers, red-tailed hawks, meadowlarks, and many others.
The hiking trails are 4-mile long goes round the lake. It offers picturesque views of the natural beauty of this region. However, note that you would require a forest preserve district permit to boat in this lake.
24. Schaumburg Golf Club
Schaumburg Golf Club is nestled within Roselle road, and it is known for offering golf players a twenty-seven variety of holes.
The golf course provides users with the kind of challenges they seek and even more, plus its Tournament 9, which is perfect for recreational players.
The Baer 9 and players 9 offer players a more unique experience while they play, irrespective of the holes they choose to play.
Schaumburg Golf Club is characterized by greens, fairways, and tee boxes which are manicured from original bentgrass.
The golf course stands out due to its rolling hills and undulating terrain, providing favorable playing conditions.
25. Cloverdale Playground
An exciting seven-acre fun center, Cloverdale Playground is a great place for little children and adults of various ages.
Cloverdale Playground was acquired from 1972 to 1980, and the facility is free to the entire public, encouraging visitors to come in.
If you want to move around with friends and loved ones or you just want to sweat a little while playing games, this is the best place.
The facility features two playgrounds, one for children from two to five, while the other is perfect for ages from 5 to 12.
Cloverdale Playground comprises tennis courts, a dog park, a basketball court, and an enormous, beautiful green space.
26. Al Larson Prairie Center for the Arts
For lovers of arts who want to get closer to the artistic world, visiting Al Larson Prairie Center for the Arts is the best thing to do in Schaumburg.
Al Larson Prairie Center for the Arts is one of the most popular centers in the city, which hosts concerts, plays, and other performances.
The center offers programs with opportunities for upcoming talents in the area to showcase their abilities and improve.
It is home to the Prairie Arts Festival, which is held annually in May, precisely on Memorial Day Weekend.
The festival features exhibitions by more than one hundred artisans and artists with food stalls, entertaining presentations, art competitions, food booths, and more.
27. Fox & Hound Schaumburg
Fox & Hound Schaumburg is considered a favorite family destination in Schaumburg, where families can have a great time.
The restaurant serves flatbread, burgers, and other delicious American fares, along with cocktails.
They also offer an extensive collection of beer as a spacious restaurant that can accommodate both large and small groups.
Fox & Hound Schaumburg is a combination of a grill and bar constructed for friends, especially game lovers.
This is the perfect place for delicious fries served along with fish and chips, including the deliciously made Nashville chicken sandwiches.
They offer a variety of mixed drinks in large portions with pools, ping pong sports, bar games, and darts for all.
Address: 1416 North Roselle Road, Units 30-32, Schaumburg, IL 60195, United States
28. AMC Streets of Woodfield
If you're a movie fanatic searching for a place to have the most exciting movie time, the top thing to do in Schaumburg is to visit AMC Streets of Woodfield.
AMC Streets of Woodfield is an awesome movie theater, usually called AMC Multi Cinemas or AMC.
Known as the biggest movie theater in America, AMC Streets of Woodfield was founded in 1920.
This is an initiative begun by Maurice Durwood, Edward Durwood, and Barney Durwood, dedicated to making your night unforgettable.
AMC Streets of Woodfield features a great staff; who ensures you have a good time and enjoy delicious snacks.
The theater provides a comfortable seating area with a large parking area available for an affordable entry fee.
Address: 601 N Martingale Rd #105, Schaumburg, IL 60173, United States
29. Volkening Heritage Farm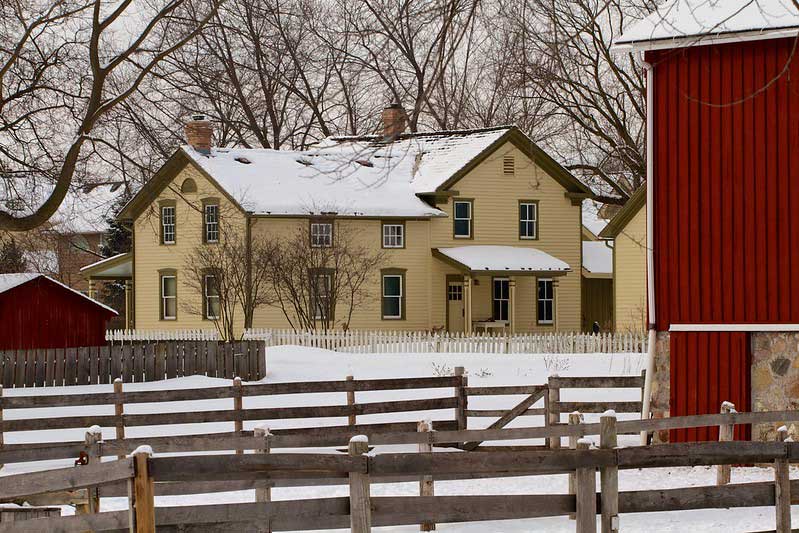 This is a mindblowing open-air museum; Volkening Heritage Farm stretches for one hundred and thirty-five acres.
Volkening Heritage Farm features trails that are handicapped accessible, and the farm is considered a living history from the 1880s.
This is a perfect place for nature lovers, as there are numerous exciting activities for them.
Whenever you visit Schaumburg, make sure you visit Volkening Heritage Farm and experience history.
You can take a walk and enjoy the beautiful environment due to its soothing and quiet feel.
Volkening Heritage Farm features different buildings and spots, which bring back the old ambiance of people who dwelled without power.
Address: 201 S Plum Grove Rd, Schaumburg, IL 60194, United States
30. Dolphin Park Beach Volleyball Court
If you would like to play volleyball in Schaumburg, the best and most outstanding place to visit is Dolphin Park Beach Volleyball Court.
Dolphin Park Beach Volleyball Court is considered one of the top volleyball courts in the town.
The park is an exciting and entertaining place for the entire family, with a fully equipped playground, walking trail, and beach.
There are guards around the area who makes sure that visitors are safe, with food trucks serving delicious meals.
Dolphin Park Beach Volleyball Court is by far a nice place to spend the day with family and friends, irrespective of the season.
Address: Streamwood, IL 60107, United States
31. Terminal 5 Club
Terminal 5 Club is an excellent choice for those who are seeking great fun, especially club fans.
This is a location if you want to listen to great songs and dance the night away while singing at the top of your voice. This spacious spot is 2,406 square feet in a soothing and comfortable setting.
There are friendly and neatly dressed bartenders who are ready to serve you, with the talented Disc Jockey always giving the perfect hits.
If you truly want to get the greatest fun, you definitely have to visit Terminal 5 Club with a group of friends.
You get to enjoy delicious lemonade and beers at this location, with a fantastic atmosphere for you to enjoy. Terminal 5 Club is open only three days a week on Fridays, Saturdays, and Sundays.
Address: 1120 S Roselle Rd, Schaumburg, IL 60193, United States
32. Schaumburg Township Historical Society
You shouldn't live without knowledge of the past; knowing history helps you predict the future and escape some issues that faced the early settlers.
History is undoubtedly important to everyone, and since you're visiting Schaumburg city, why not learn about the past of Illinois?
Schaumburg Township Historical Society is a historic location featuring several exhibits that sends a message.
You get to learn more about the heritage of the United States, Illinois, the first settlers, and ways of life.
Its mission is to inspire the public's passion for Schaumburg and the country's history.
Schaumburg Township Historical Society offers virtual and well-detailed your, including historical videos. The center is open throughout the week, free of charge, from 10 am to 5 pm.
Address: 208 E Schaumburg Rd, Schaumburg, IL 60194, United States
Map of The Top Fun Things to Do in Schaumburg, IL
To get around during your trip to Schaumburg, here is a map of the top things to do in Schaumburg with markers of the top Schaumburg attractions and activities.
Explore other parts of illinois, check out or list of things to do in Peoria and things to do in Naperville for a fun vacation time.
Plan your trip to Schaumburg
Schaumburg is a great place to spend your vacation. There are diverse, exciting activities to get involved in in all four seasons.
From day engagements to nightlife – the several comedy clubs, nightclubs, and themed dining, bars favor this notion.
So, why not start making plans for your trip to Schaumburg? It would be a great experience. Don't forget to include your loved ones, and if you need some assistance, this piece is always available.
Safe travels.