Looking for the best and fun things to do in Ogunquit, ME?
Ogunquit is a city located on Maine's southern coast, United States. Just like other cities in Maine, it is very renowned for its interesting moments like tourist centers and activities where journeymen and families can visit to explore or gain experience. Ogunquit Beach is a long, sandy peninsula featuring grassy dunes that lie between the Atlantic Ocean and the Ogunquit River.
Next to it, is the Marginal Way featuring a cliff walk with coastal views, benches, and a lighthouse. Ogunquit town also features Playhouse Summer Theater, and Ogunquit Museum of American Arts, amongst others. Let's explore the top things to do in Ogunquit, Maine.
Things to Do in Ogunquit
1. Cape Neddick Nubble Lighthouse
Maine is known for its stunning lighthouses on the Atlantic coast. Cape Neddick Nubble Lighthouse, which is one of them, is an excellent example.
The lighthouse is a beautiful and historic landmark that was built in 1879. It also has an attached red-roofed home and outbuildings, which make for stunning views.
Cape Neddick Nubble Lighthouse, made of brick and cast iron, has a 41-foot tower. It is still used to guide ships home from the foggy waters.
The lighthouse and its grounds are currently closed to the public. However, a visit to nearby Sohier Park will give you a great view of this magnificent structure.
Address: Sohier Park Rd, York, ME 03909, United States
2. Perkins Cove
Perkins Cove is formerly a little fishing community and artist's colony. It is an alluring vicinity that is made up of local private shopping centers, restaurants, and scenic outlooks. Surrounded by the Atlantic Ocean and a small harbor on each sides, visitors can picnic on the rocks.
In addition to this, visitors can have fun in the crashing surf, take a walk over the footbridge and explore the boats, enjoy picturesque dining with southern Maine's most wonderful views, or book a fishing or sailing trip to enjoy land views from the ocean.
Being a southern terminus of the Marginal Way, Perkins Cove has a cliff walk that winds for just over one mile through the ocean, while its northern terminus is in downtown Ogunquit. Aside the attractive views of the Perkins Cove, there are lots of things to do in the lively coastal spot.
Considering its art-spangled origin, don't be surprise if you see many galleries that you can browse through. You will also discover some beautiful jewelry and gift shops, such as Sea Glass Jewelry Studio and the Whistling Oyster. Find time to explore the Marginal Way that paved, mile-plus pathway connecting Perkins Cove with Ogunquit Beach to the north.
You can take a walk from the Colonial Inn to the Cove through the seafront lane, scattered with lots of benches and provides beach and tide pool access for the entire family. The city also features wonderful eateries including M.C. Perkins Cove. Perkins Cove is one of the best centers in Ogunquit.
Address: the Colonial Inn, 145 Shore Road, Ogunquit, Maine 03907; 207.646.5191
3. Ogunquit Heritage Museum
Located in a park in Ogunquit called Dorothea Jacob Grant Common, the Ogunquit Heritage Museum is an amazing attraction worth adding to your list of things to do while in the city.
The Ogunquit Heritage Museum is housed in a historic building that is part of the National Register of Historic Places.
The museum is open to visitors from the month of June through October on Tuesdays to Saturdays from 1pm to 5pm.
The museum is open to all and is free of charge. While the house is itself a museum, there are many artifacts within the house.
Visitors will find exhibits about Ogunquit's history and heritage in the museum. Some of its highlights include documents, art, and other items of historical importance.
Address: 86 Obeds Ln, Ogunquit, ME 03907, United States
4. Ogunquit Beach
Try visiting the Ogunquit beach and you'll find out why most people consider it one of the most beautiful and walkable beaches. It features an extra soft sand which looks like fine white grains that are nearly sugary in texture. You can't find any rock in all the land mass in between the tidal river and Atlantic Ocean, as they are all sand.
Whenever the beach undergoes a high tide, it exposes a large number of soft sands, and as the water dries out, it creates eve greater room to explore. Again, while most beaches stretch only two hundred yards and can always be overcrowded, Ogunquit Beach is 3miles long, therefore, creating lots of room for spreading out.
Most times, you can confuse them as three sections, whereas it only consists of one continuous beach. The Main Beach, which is the southernmost portion, located at the edge of the Ogunquit River, but empties during low tide, offers a downtown hotspot, with a parking lot and lots of public facilities.
The Ogunquit Beach offers all family members, irrespective of age, nice relaxation and fun without having to worry about extra complications because it offers the best lifeguards, and local police officers or security agencies that updates visitors on the tides and weather conditions.
Again, the Ogunquit Beach offers lots of thrilling events including the sandcastle contest in July is scheduled around the tides, which invites plastic shovel artisans all over the world to show off skillful creations, and the Kite Festival, part of the weeklong Capriccio Festival in September, featuring many colorful kites flying along the shoreline.
Address: Beach Street, Ogunquit, ME 03907
5. Backyard Coffeehouse & Eatery
Backyard Coffeehouse and Eatery offers a relaxing, casual environment where guests can enjoy a hot cup of coffee or an espresso in a well-made, freshly brewed way.
Backyard Coffeehouse features gleaming wood tables, chalkboard menus, and a cozy atmosphere.
They also offer delicious food. You can have a freshly baked muffin, scone, or other baked food.
For those who are more hungry, you can also enjoy a sandwich, bagel, or one of the many delicious lunch options available, which include sandwiches, salads, and some that are named after nearby attractions or locations.
Address: 178 Main St, Ogunquit, ME 03907, United States
6. The Ogunquit Trolley
To the delight of both locals and tourists, the Ogunquit Trolley has been operating trolleys in the streets of Ogunquit since 1981.
From four trolley carts, the company now has eight. It is an excellent way to experience Ogunquit as it passes by attractions such as Perkins Cove, Ogunquit Beach, and Marginal Way.
Every day, except in inclement weather, the Ogunquit Trolley operates from the end of June to Labor Day.
It runs from 9am until 8pm on Mondays through Saturdays and 9am until 5pm on Sundays.
This gives everyone an opportunity to ride. Private rentals are also available at the Ogunquit Trolley. These are great for events and large groups who wish to explore together.
Address: 48 Bittersweet Ln, Ogunquit, ME 03907, United States
7. Beach Plum Farm
This farm, which covers 22 acres, is located at the northern end of Ogunquit, close to the dunes and the beach.
Beach Plum Farm has over 50 plots that are used for community gardens. Visitors can explore the gardens or walk the loop-style path that runs through the farm.
The farm is vibrant with color during the summer. It's a wonderful place to stroll, walk with friends, or just stop and read a book.
The loop is easy to walk and takes around half an hour to explore. There are benches along the route where you can rest and get a break.
A portion of the area includes a salt marsh where you will find bayberry, beach plums, and many other coastal birds.
Address: Beach Plum Farm Rd, Ogunquit, ME 03907, United States
8. Abacus Gallery
Abacus Gallery was founded in 1971, and houses lots of crafts and jewelries handcrafted by renowned artists. It is one of the best places where you can discover astounding pieces of artwork, attractive jewelries, sculptures and lots more, all made by the best and most skillful artists around.
You can also explore and appreciate its beautiful treasures that were not China-made. Abacus Gallery features Ogunquit's shops which rungs up from touristy souvenir shops, a place where you can purchase several gift materials that were produced from recycled goods, which were found important and useful.
Address: 213 Main Street, Ogunquit, ME, United States 03907-3613
9. The Omelette Factory
The Omelette Factory offers a variety of breakfast options for guests to enjoy before they head off to Ogunquit for a fun-filled day of sightseeing or oceanside activities.
The Omelette Factory is located just north of Ogunquit's center and close to the ocean. It is well-known for its homemade jams and sauces.
They have Maine blueberry sauce, raspberry sauce on French Toast, and delicious jams with every order.
The Omelette Factory also makes its own bread and sauces. The factory is open Tuesday through Friday, 8am to noon, and Saturday, 7am to 1pm. It is closed on Mondays during the off-season.
10. Bread and Roses Bakery
This adorable bakery and cafe on Main Street in Ogunquit makes a great stop for a cup of coffee and a bite to eat.
Bread and Roses Bakery offers a wide range of delicious baked goods, including croissants and quiches, wraps, and pizzas.
They also offer delicious coffees from Carpe Diem Coffee (a local roaster). Bread and Roses Bakery's best-known product is its delicious baked goods.
Every item is freshly baked daily, including their loaves of artisan bread and fresh fruit tarts and pies.
They also make decadent dessert baked goods such as cakes and cream puffs. Bread and Roses Bakery also ships its baked goods so that visitors can enjoy their delicious products even after their vacation ends.
Address: 614 Post Road, Wells, ME 04090, United States
For a fun time in New York, take to exploring our list of things to do in Victoria, things to do in Galveston, and fun things to do in Amarillo for a fun vacation time.
11. Spoiled Rotten
Spoiled Rotten, a charming gift shop in Ogunquit, is full of souvenirs, trinkets, and personal care products.
Spoiled Rotten offers a variety of candles, potpourris, fragrances, glassware, and tableware.
There are also photographs depicting some of Ogunquit's most stunning scenes. You can also find apparel, such as hats and T-shirts, in the store.
The store also sells soaps, lotions, and other toiletries. For dining, you can find gourmet foods and snacks such as nuts, crackers, and honey, sauces, and other products made locally.
Address: 27 Beach St, Ogunquit, ME 03907, United States
12. Ogunquit Memorial Library
Established in 1897, the Ogunquit Memorial Library was designed by John M. Burns, a Philadelphia architect, and considered one of the best examples of Richardsonian Romanesque architecture in Southern Maine. But was finally expanded in 1914, courtesy of a design by Philadelphian Henry A. Macomb.
The quality of the library's design and structuring makes it very difficult to differentiate the renovation from its previous state. The library was donated by Mrs. George Conarroe, a Philadelphian citizen in commemoration of her husband, as has since served as a public library for everyone both in and outside of Ogunquit.
The library was listed on the National Register of History Places in 1983, and is located in the west side of Shore Road in central Ogunquit, a location that features many seaside resort accommodations, and interesting features on offer.
Meanwhile, the library rectangular-shaped structure with formed course fieldstone with a hip roof, and a projecting gabled entrance. A side of the entrance features an attractive round-shaped staircase tower with a conical roof on top of a molded cornice. It has a well-preserved interior with a big fireplace that was originally its only source of heat.
Address: 166 Shore Road, Ogunquit, ME 03907, United States.
13. Don Gorvett Piscataqua Fine Arts Studio & Gallery
Don Gorvett's gallery and the studio are also known as Black Bear Fine Art. His woodcut reduction style images depicting New England architecture and landscapes are well-known.
You can find his Perkins Cove shop at Ogunquit. Black Bear Fine Art also showcases the work of other artists, ranging from fine photography to pen on paper.
Black Bear Fine Art is a place where guests can find unique souvenirs to take home and display in their homes or as gifts to someone special.
Visiting Black Bear Fine Art is one of the best things to do in Ogunquit if you are interested in art.
Address: 100 Perkins Cove Rd, Ogunquit, ME 03907, United States
14. Sweet Pea's
To enjoy some delicious ice cream, add a visit to Sweet Peas to your list of things to do in Ogunquit.
Sweet Pea's is an Ogunquit institution that makes ice cream look so delicious. Sweet Pea's is open from June through August from 11am to 11pm.
Mid-May through June, as well as September through Oct, they are open with varying hours of operation depending on the weather.
Sweet Pea's is located in a charming little blue house on Shore Rd. It's not unusual to see a line out Sweet Pea's front door, full of people eager to order their favorite flavor homemade, delicious ice cream.
Sweet Pea offers a variety of flavors, including vanilla, chocolate, butter pecan, and blueberry pie, as well as unique options like Phantom Berry, Green Monsters, Blueberry Pie, Blueberry Pie, Apple Crisp, and Blueberry Pie.
You don't have to be confused if you find some of these flavors confusing. Sweet Pea's has a board explaining "What's in that Flavor" to newbies. Sweet Pea's offers hot and cold coffee drinks as well as ice cream.
If you are in the city with kids, do add this attraction to your list of things to do in Ogunquit.
Address: 37 Shore Rd Ogunquit, ME 03907, United States
15. The Leavitt Theater
Established in 1923 through the Depression and the Second World War, The Leavitt Theater is Ogunquit's historic cinema was opened for silent film. It offers series of interesting first run movies, classics, live events, craft cocktails and nightly live entertainment, amongst several others.
Meanwhile, there's an opened bar and balcony lounge while the show is going on and even after the show, offering beers, wines and cocktails, along with some light food menus. The Leavitt Theatre has featured classic silent horror movies like "Nosferatu" (1922), and the first screen adaptation of Bram Stoker's novel "Dracula", and lots more.
Address: 259 Main Street, Ogunquit, ME 03907-3216
16. Finestkind Scenic Cruises Ogunquit, Maine
The views from Ogunquit's coastline are stunning, but what about the view from the water? Finestkind Scenic Cruises allows visitors to see the stunning beauty of Maine's shoreline.
This includes historic lighthouses and a beautiful coastline. Experiential guides will be on hand to explain the lobster industry and point out local harbor seals.
These tours are offered on a variety of boats, with each offering something unique, such as the wooden sailboat The Cricket or the cocktails enjoyed aboard the Finestkind III at sunset.
Address: 70 Perkins Cove Rd, Ogunquit, ME 03907, United States
17. Jonathan's Ogunquit
For a memorable dining experience, add eating at Jonathan's Ogunquit to your list of things to do in Ogunquit.
Jonathan's Ogunquit offers a wide range of delicious seafood and steak dishes that will satisfy any appetite.
Jonathan's interior is relaxed and elegant. It features soft glowing white lights that reflect wine through the ceiling beams, warm walls, French doors opening onto a green area, and warm-colored walls.
It also boasts a large concert venue that hosts great performers and musicians.
Jonathan's Farm, South Berwick, Maine, is where a lot of the food is sourced. Visitors can experience the amazing produce that is truly brought to you from the farm.
Address: 92 Bourne Ln, Ogunquit, ME 03907, United States
18. Lobster Shack
The Evans family has owned and operated the Lobster Shack since the 1980s. They offer fresh lobster and seafood to customers.
Customers can enjoy the classic Maine dishes like lobster rolls, clam soup, steamers, and full lobster dinners at the Shack.
All the lobster is freshly caught and kept in ocean water tanks that come from Perkins Cove.
The Shack is located on Perkins Cove Rd. and It's a charming, brown-shingled building.
Ogunquit is home to the lobster BLT, triple-stuffed lobster roll, and family-recipe New England Clam Chowder.
Address: 110 Perkins Cove Rd, Ogunquit, ME 03907, United States
19. Ogunquit Beach District
The Ogunquit Beach District was founded in 1923, and has since being maintained as a public park. It is popularly known as the downtown area of Ogunquit, and is divided into two main locations namely; Ogunquit Beach and Perkins Cove. The latter is a quiet place featuring few restaurants and shopping centers.
While the former features a busier area, with more restaurants and shopping centers, coupled with some beachfront hotels. Nevertheless, both places are connected by the Marginal Way, a scenic, paved path. The Ogunquit is ranked #8 of 45 attractions in Ogunquit.
The Ogunquit Beach District is a beautiful small city featuring great walks, views, restaurants, beautiful lighthouses and the amazing Marginal Way. It is a place where you will have fun and thrilling moments whether alone or with friends and family.
Address: Berwick Road, Ogunquit
20. Cornerstone Artisanal Pizza & Craft beer
Cornerstone Artisanal Pizza & Craft Beer's warm yellow lighting and exposed wood beams create a welcoming and comfortable environment for their guests.
Cornerstone offers a wide range of regional and local craft beers, making it a great place to start your evening.
Their full menu of artisanal Pizzas includes everything you need, including an "Obligatory cheese pizza" and many other innovative options, such as the Cold Picked Lobster Pizza or the Cajun Rubbed Barbecue Pork Pizza.
The hand-tossed dough is light and fluffy, made in-house, and baked in a stone oven.
Customers will also love the variety of food available, including shareable appetizers and delicious entrees made with fresh ingredients.
Address: 228 Main St, Ogunquit, ME 03907, United States
Planning a trip to Michigan, don't miss our checklist of fun things to do in Gaylord, things to do in Saugatuck, and things to do in Kalamazoo for a memorable vacation.
21. Liquid Dreams
Ogunquit's charm lies in its beautiful coastline, where there are many activities that can be done on the water.
While boating, swimming, and Sailing are all very popular activities, there is something else that is equally as appealing, which is surfing.
The waves of the Atlantic Ocean offer great opportunities for this activity. Liquid Dreams Surf Shop offers a variety of equipment for watersports enthusiasts, including kayaks, stand-up paddleboards, wetsuits, and bodyboards.
A 5-day camp session is offered for both adults and children during the summer. This will teach them the basics of surfing.
Individual lessons can also be arranged by appointment. Liquid Dreams Surf Shop also offers sporting events such as Ladies Nights and early morning paddleboard sessions.
Address: 696 Main St, Ogunquit, ME 03907, United States
22. Cove Cafe
The quaint, little breakfast spot is located in an Ogunquit house built in Cape Cod style with distinctive blue awnings above the windows.
Cove Cafe is open from May through October. It serves breakfast every day, starting at 7am and ending at 11am on the weekdays.
On weekends, it opens at 12pm. The Cove Cafe owners have been providing delicious, homemade meals for their guests since 2001.
They also offer beautiful souvenirs and gifts from Maine. While the breakfast menu includes classics like bacon and eggs, Cove Cafe is best known for its Maine-based menu items.
These include Lobster Benedict, Crab Cakes and Eggs, and Lobster Frittata. You can also find fifteen different omelets and great breakfast options like Cinnamon Bun French Toast or Breakfast Sundaes.
Address: 20 Perkins Cove Rd, Ogunquit, ME 03907, United States
23. Silverlining Sailing
Silverlining Sailing offers a great sailing experience to its passengers, and it is worth adding to your list of things to do in Ogunquit.
Silver lining Sailing allows guests to learn how to sail in a classic boat along Maine's beautiful coast.
You can see the stunning cliffs of Marginal Way and Cape Neddick Nubble Lighthouse, as well as Perkins Cove and the beaches at Wells and Ogunquit while sailing.
Guests can either lend a hand on the voyage or relax and enjoy their wine while they watch the sunset over Ogunquit.
Address: 80 Perkins Cove Rd, Ogunquit, ME 03907, United States
24. Footbridge Beach Motel
Another interesting place to explore is the Footbridge Beach Motel which is located not too far from the Ogunquit River (3minute walk) to the Footbridge Beach and right at the Atlantic Ocean. It was previously considered by Rolling Stone Magazine as the no.1 beach in United States.
It offers free beach parking lot, and is lifeguarded during the summer months. Guided fishing tours is the popular activity amongst the Footbridge Beach Motel visitors, and is provided by local fly shops and marinas, sunset cruises, and whale watching and lobsters tours.
You can also chose to spend your day on the fairway comfortably situated close to the many local golf courses. Some visitors enjoy the numerous trails and nature reserves in the area, and check out its amazing rocky sights either on foot, bike or snowshoe. It also features kayak rentals and different cuisine restaurants.
Address: Ocean Street, Ogunquit ME 03907
25. Marginal Way
The Marginal Way is like walking along a tightrope across windy cliffs bordering the Atlantic.
It's the most beautiful and enjoyable way to experience the Marginal Way. The marginal way is named after the 1.25 mile stretch of winding trail that runs between land and water.
The way offers stunning views of Ogunquit as well as the rolling waves of the Atlantic, and it ends at Ogunquit Beach.
Perkins Cove is a charming part of town that has boutiques, restaurants, and candy shops.
There is very little elevation change, and the walk is easy. You can stop at benches along the way to take in the views or rest.
Address: Ogunquit, ME 03907
26. Ogunquit Museum of American Art
Are you an art lover? if yes, add a visit to the Ogunquit Museum of American Art to your list of things to do in Ogunquit.
The Ogunquit Museum of American Art is an interesting museum that has over 3000 pieces of art, including paintings, sculptures, and photography.
The Ogunquit Museum of American Art, the only Maine museum that exclusively focuses on American art and has been educating and displaying modern art since 1953.
The museum has many highlights, including paintings by well-known artists like Walt Kuhn, Yasuo Kuniyoshi, and Marsden Hartley.
There are also some incredible sculptures by Carl Walters and other remarkable works by American artists featured in the museum.
Address: 543 Shore Rd Ogunquit, ME 03907, United States
27. Ogunquit Playhouse
For some theatre time, add a visit to Ogunquit Playhouse Ogunquit to your list of things to do in Ogunquit.
Ogunquit Playhouse was established in 1933 and is now listed on the National Register of Historic Places.
Ogunquit Playhouse, which is part of the Straw Hat Circuit's long-running summer theater series, puts on spectacular, first-rate performances every summer of Broadway musicals.
Ogunquit Playhouse performs every Tuesday through Sunday from May to October. It features local and regional talent performing the best of Broadway.
Ogunquit Playhouse has a complete schedule of performances and pricing information that visitors can analyze before visiting.
Address: 10 Main St, Ogunquit, ME 03907, United States
28. The Tea Space
Tea lovers should not forget to add the Tea Space to their list of things to do in Ogunquit.
The shop is situated in an adorable Victorian-style building on Main Street, Ogunquit.
It sells both bagged and loose teas in all varieties, including Matcha and Darjeeling, as well as English breakfast and herbals.
There are many delicious and unique flavors offered in the shop. Tea paraphernalia such as teapots and tea mugs in various sizes, bone china cups and spoon rests, electric and stovetop kettles, infusers, and other tea accessories can also be purchased at The Tea Space.
You will find tea-themed trinkets and toys, as well as postcards and art for kids, here. The shelves are a true tea-themed area, so browsing the shelves is a part of the fun.
Address: 254 Main St, Ogunquit, ME 03907, United States
29. H & M Crumpets
H&M Crumpets is not to be confused with the similar-named major clothing chain. It was named after its three owners, Max, Homer, and Crumpet.
This boutique sells personal care products for babies, men, and women. H&M Crumpets' shelves are filled with soaps, candles, and air fresheners.
Many of the products for sale are made in Maine by local artisans and businesses. H&M Crumpets' sells more than just the usual products.
They also offer unique items like unique slippers and a 'hangover' skincare kit, beard balm, and soap on a rope.
Add this attraction to your list of things to do in Ogunquit for a memorable shopping experience.
Address: 248 MAIN STREET PO BOX 2064, OGUNQUIT ME 03907, United States
30. Blacksmiths Mall Antiques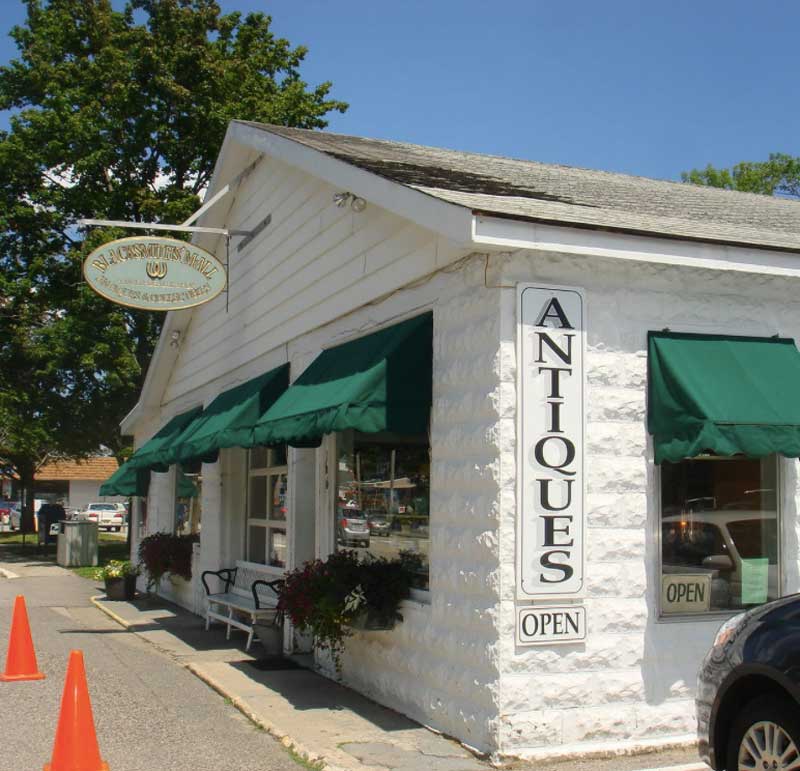 The Blacksmiths Mall Antiques was established in 1840 by Theodore Hutchins in Ogunquit, Maine. He singlehandedly manufactured the shoes and nails with which he shod horses round about, by using his bare hands. He also made the iron work on many of the boats that were locally built.
He continued this handcraft exercise for over forty years even when Joseph Erving, his son, joined in his village Blacksmith Shop. This activities carried on till its closure after the sixth generation in 1990, where David T. Hutchins worked at the dealership. Generally, the building that shelters Hutchins' Antiques has been in the family for more than 100years.
However, it was reopened and renamed The Blacksmiths Antiques Mall with David and his mother, Betty Hutchins, who together has grown the shop over the years that it now features over 80 dealers, and is now managed by David and his sister, Joan, who changed the name to Hutchins Antiques in September, 2013.
The Blacksmiths Mall Antiques, an 8000 square feet building on Route One, now houses multi-dealer shop with more than 70 dealers featuring antiques, collectibles, and decorative. It is considered one of the most popular antiques shops in Southern Maine. You wouldn't want to miss out on touring this amazing place, would you?
Address: 166 Main Street, Ogunquit, Main 03907; Phone: (207)646-9643
31. The Dunes on the Waterfront
Ogunquit Beach was voted one of the top beaches in the US by families. The Dunes on the Waterfront certainly played a role in this award.
The hotel is just 300 meters from Ogunquit Beach, making it ideal for couples, friends, and families who are looking for a vacation on the beach.
The Dunes at the Waterfront is a private property that covers 12 acres. It offers both hotel-style guest rooms and quaint cottages.
The cottages are spread on undeveloped land so guests can have privacy and feel tranquil.
The cottages have modern bathrooms and kitchens, and all rooms offer free Wifi. The rooms and bedding are cozy and comfortable, although it is only a 6-minute walk to the beach.
Address: 518 Main St, Ogunquit, ME 03907, United States
32. Harbor Candy Shop
One of the best things to do in Ogunquit with kids is visiting the Harbor Candy Shop, and it should be added to your checklist.
Harbor Candy Shop is located right next to H&M Crumpets'. It sells a variety of gourmet chocolates, candies, and confections, including basic items like chocolate truffles and caramels.
The shop also sells unusual creations such as tea-infused chocolates and chocolate beach bars. These are decorated with sea salt, seashells, and a range of edible chocolate seashells.
Harbor Candy Shop offers vegan chocolates and fruit and nut chocolates as well as creamy caramels and turtles.
Guests can also choose to make their own gift boxes or pick from a variety of pre-made ones to take home as a memento of their visit to Ogunquit.
Address: 248 Main St, Ogunquit, ME 03907, United States
33. World Within Sea Kayaking
Ogunquit's beach, cliffs, and docks make summer vacations in Maine very appealing.
World Within Sea Kayaking offers guests the opportunity to rent a kayak and stand-up paddleboard and take to the water to experience the island from a new perspective.
World Within Sea Kayaking is open during high tide only. Guests should also take a look on their website at the Wells Harbor tide charts for more information.
The Ogunquit Beach route, with views of the Ogunquit River mouth and beach, is the most popular. The Wells Estuaries route offers a tranquil and beautiful view of the Wells river estuaries.
Address: 17 Post Rd. Wells, ME 04090, United States
Want to check out other cities in Maine? here are guides on things to do in Bangor, for a fun Bangor exploration.
Plan a Trip to Ogunquit
Ogunquit is a city located on Maine's southern coast, ME, United States. It features many interesting events ranging from Playhouse Summer Theater, and Ogunquit Museum of American Arts, amongst others.
You can explore places like Ogunquit Beach, Memorial Library, where you carry out researches on intellectual works of past legends. Then, there's the Abacus Gallery, and the Blacksmiths Antiques amongst others. They are wonderful events that'll make your trip to Ogunquit a memorable one. Happy Travelling!!!