Islamorada is an incorporated village in Florida, it is situated between the saltwater wilderness of Everglade National Park and the bottomless blue waters of the Florida Strait.
For tourists who enjoy more simple vacation pursuits, Shopping in Islamorada is an unrivaled experience.
With a wide range of galleries and retail shops offering crafts, artworks, clothing, and more, there's something for everyone.
Many of the stores in the village are locally owned and managed, adding significance to the economy and helping them remain a lively and carefree community.
Regardless of your shopping needs, Islamorada has shopping options for everyone.
Here are the best shopping centers in Islamorada, FL.
Best Shopping Centers in Islamorada, FL
1. Blue Marlin Jewelry
The family-owned and operated shop has established a name with unique pieces from couture designer jewelry lines like Steve Douglas, Denny Wong, ALOR, William Henry Jewlmer, and Galatea.
The owners handpick a wide range of classic diamond pieces, watches, nautical jewelry, and collectible designer knives in all the best quality metals, such as platinum with precious stones and gold.
After enjoying the local sea life during your holiday, you can carry back home creative pieces with mermaids, sharks, stingrays, turtles, sea horses, and sharks.
For the treasure hunter, they can carry authentic historical coin jewelry, rings, pendants, and bracelets.
The knowledgeable staff can aid you in finding the ideal treasure for a man or woman.
Address: 81549 Old Hwy, Islamorada, FL 33036, United States
2. Sea Turtle Gift & Gallery
The coastal décor shop offers a terrific selection of sea turtle gifts, including wind chimes, glass plates, lights, and more.
The shop's sea turtle décor and home accessories have exclusive designs. The designs include realistic details and striking yet elegant colors.
When you step into Sea Turtle Gift & Gallery, you will discover the owner's unmistakable passion for unique gifts, sea turtles, and her desire to astonish and delight her patrons.
So whether you are searching for sea turtle gifts for your kitchen, sea turtle war décor for your living space, or outdoor décor like a sea turtle wind chime, they have items you will like.
Address: 81650 Overseas Hwy, Islamorada, FL 33036, United States
3. Rain Barrel Artisan Village
The 40-foot-long lobster called Betsy attracts visitors off the Overseas Highway for pictures, but it is the artisan village that renders them spellbound.
The Rain Barrel, founded over 30 years ago, is filled with local arts and crafts. It is undoubtedly one of the top shopping centers in Islamorada, FL.
It is lined with a collection of specialty shops, boutiques, and galleries offering a variety of handmade crafts, local art, custom jewelry, unique souvenir, and fashionable resort wear.
The artists work in various styles to create photography, painting, sculpture, ceramics, collage, jewelry, accessories, and home décor.
Strolling along the shaded paths and window shopping can be lovely, but you will undoubtedly find a gem you want to take home.
Take a photo with Betsy, and the Lobster, walk through their tropical gardens, chat with their artists, and get something to eat at one of their eateries.
There is something for everybody at Rain Barrel Village, so go and spend a few hours or the whole day with them.
Address: 86700 Overseas Hwy, Islamorada, FL 33036, United States
4. Village Square at Trading Post
Village Square at Trading Post tucked away in the stunning enclave of Islamorada, is your one-stop for everything gifts, décor, coffee, and everything you will need during your stay here.
The Village Square, founded by a group of Florida Key residents, is home to five various shops, including the Bohemian Arts Club, Miss Monroe Boutique, Café Moka Islamorada, Bad Boy Burritos and Boo Kee Sue Botanical,
Bask in the sun at Café Moka and unwind while enjoying mouthwatering croissants at the café's serene garden, or head to Bar Burrito to enjoy some of the best-grilled fish taco and guacamole in the region.
After your lunch, ensure to check out Miss Monroe Boutique. Here, you will discover everything to stay stylish in the warm weather, including trendy clothing and accessories, children's clothing, gifts, semi-precious and costume jewelry, and much more.
Boon Kee Sue Botanics has everything from macrame baskets to colorful rugs, crystal, handmade décor, and more unique items to complete your bohemian dream life.
Although this destination is known for shopping, not everything is about shopping.
The destination holds unique events such as wine tastings, art & craft classes, private parties, and its yearly fashion show.
Village's Square at Trading Post's sandy pathways, colorful patterns, and rustic décor make it a must-visit when vacationing in the area.
Address: 81868 Overseas Hwy, Islamorada, FL 33036, United States
5. Ocean Gardens
Ocean Gardens, established in 2012, has top-tier gifts for every occasion and souvenir.
You can get lost for hours browsing through this expansive story that is part boutique, part nautical gallery, and part antique shop.
The owner travels the globe in search of shells and unique artifacts.
Coral shells are obtained from Indonesia, the Philippines, and Vietnam, including nautilus king and queen conch and smooth abalone.
Outside, you will discover a tropical fountain with a koi pond and a garden that is the perfect setting for items such as glass buoys, canons, crab traps, and rusty anchors.
Sea-influenced home décor includes metal and wood sculptures, decorative dishware, paintings, throw pillows, lighted glass buoys, and more.
Address: 82237 Overseas Hwy, Islamorada, FL 33036, United States
6. Lion's Lair Swimwear and Lingerie
Finding the perfect bathing suit can be a problem no matter your size, but Lion's Lair Swimwear and Lingerie can offer a solution.
This little boutique is filled with styles for various sizes, including mix-and-match separates in DD cups and large sizes.
Lion's Lair Boutique was established in 1996 by Kimberly Berger. Over the years, it has grown into a destination store for hard-to-fit women looking for lingerie, swimwear, and clothing.
The knowledgeable workers are hands-on in helping you find the perfect fit in the dressing room.
You will also discover a wide selection of accessories, cover-ups, and gifts at Lion's Lair Swimwear and Lingerie.
Their dedication to customer education, personal fittings, and individual attention has gained this boutique the reputation as a professional in plus and larger cup sizes in the lingerie and swimwear industries.
Address: 82185 Overseas Hwy, Islamorada, FL 33036, United States
7. Otherside Boardsports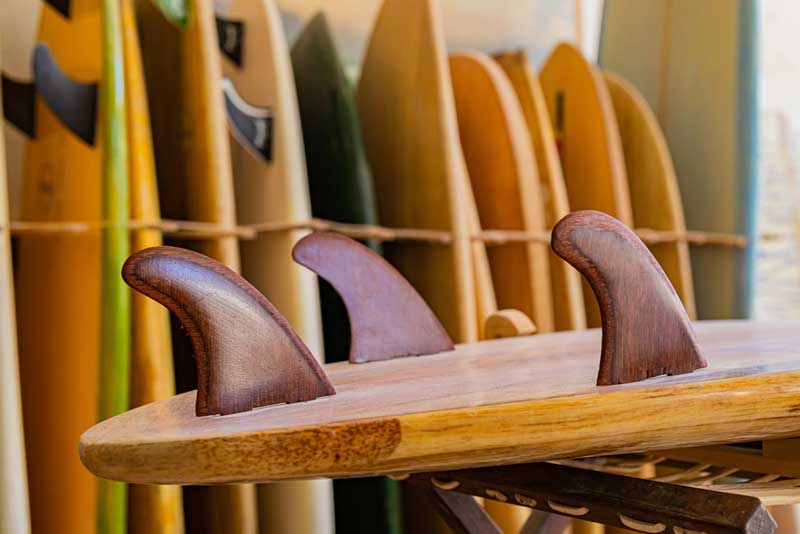 Islamorada is popular for laid-back sports such as snorkeling and scuba diving, but over the years, other sports like paddle boarding, kiteboarding, and kayaking have become well-known.
Otherside Boardsports owners, both kiteboard instructors quickly recognized the trend in 2007. They launched a boardsports retail shop in the center of Islamorada.
Besides the equipment you need, they also have clothing and accessories in name brands, such as Volcom, O'Neill, NP and 1080, Electric, and Rusty.
Otherside Boardsports also offers wakeboarding, paddle boarding, kiteboarding, and skateboarding lessons.
There's an option for equipment rentals for those who don't wish to buy equipment.
Address: 82758 Overseas Hwy, Islamorada, FL 33036, United States
8. Lobster Trap Art Gallery
You can't miss the colorful storefronts of this gift shop and gallery close to Sunset Inn. Island music, bright floats, and comical hands-painted signs will draw you into this shop.
Lobster Trap Art Gallery is chock-full of tropical art from couple Nadine and Glenn Lahti and 20 other local artists.
This is the right spot for you if you are searching for something not produced in large quantities or imported.
Lobster Trap Art Gallery features unique and incredible nautical art, and their frames match any nautical décor, including coastal décor. Many of the artworks feature frames that are hand-made in the key.
If you like, the galley can print out one of your vacation pictures and frame it within hours.
The friendly staff can aid you in selecting the pieces that are perfect for you, and during the week, you may encounter the owners on-site. Their pieces range from small to large at affordable prices
Address: 82200 Overseas Hwy, Islamorada, FL 33036, United States
Florida makes one of the top places to visit in the United States; check out the list of Parks in Palm Bay and things to do in Wellington for a fun time.
9. Seaside Glassworks
Seaside Glassworks is the creation of a married couple, Edward and Stephanie Martin.
Seaside Glassworks specializes in aquatic-themed fused glass jewelry and artwork.
Although this glass art studio specializes in sea life, they also create interior décor, customize portraits, and offer a fantastic selection of glass crafting supplies.
They also enjoy sharing their knowledge, offering different classes ranging from novice to advanced, which are exciting for individuals and groups.
When you visit Seaside Glassworks, you can wander around the studio and admire the glasswork.
Address: 81902 Overseas Hwy, Islamorada, FL 33036, United States
10. World Wide Sportsman (Bass Pro Shops)
World Wide Sportsman is a two-story haven for fishermen that offers one of the most extensive selections of saltwater, freshwater, and fly fishing gear.
World Wide Sportsman, founded in 1967, has a special place in fishing history.
Some of the sport's greatest legends have cut their teeth on tropical tarpon and trout utilizing World Wide Sportsman gear.
Men, women, and kids will discover various outdoor accessories and apparel from famous brands such as Guy Harvey, Timberlake, Costa Del Mar, and Columbia.
Even if you don't buy anything, the store is worth checking out for the saltwater aquarium filled with local fish and a full-sized boat parked in the center of the building.
World Wide Sportsman's gear goes beyond the saltwater experience and can be used for inshore and freshwater fishing.
They have everything from quick-drying fishing shorts to high-tech fishing shirts, fly rods, reels, fly lines, fishing gloves, and nonslip fishing shoes.
World Wide Sportsman is your finest source of technical fishing gear. It is engineered to keep you comfortable and designed to work.
Address: 81576 Overseas Hwy, Islamorada, FL 33036, United States
11. Cigar in the Keys
Cigar lovers vacationing in Islamorada can get their tobacco fix at this shop called Cigars.
The owners, Danny and Sheryl Kolod, have quite the experience with cigars. They purchased the first of their five cigar shops in Cleveland, Ohio, in 1972.
After staying in the Keys for seven years, they wanted a reason to stay longer, so they opened their sixth shop in Islamorada.
Smokey green Cuban tiles cover the wall, Spanish cedar lines the wall and ceiling, and the air is meticulously monitored.
Cigar in the Keys has over 200 brands of cigars, all long-leaf and crafted in places like Honduras, the Dominican Republic, Mexico, the Bahamas, Miami, and Nicaragua.
They also sell imported cigarettes, loose tobacco, and everything related to smoking, such as cases, lighters, ashtrays, and cutters.
If you want a souvenir for a cigar smoker, this is the perfect place to buy one.
Address: 82775 Overseas Hwy, Islamorada, FL 33036, United States
12. The Mystical Mermaid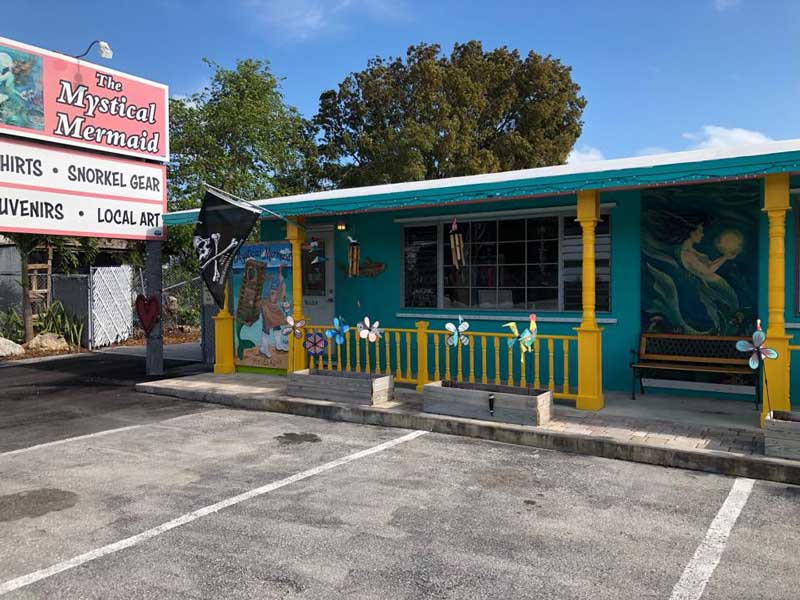 The Mystical Mermaid is a unique store in the center of the Florida Keys. They feature jewelry, mermaid items, local art, and swimmable mermaid tails.
They have souvenirs for all ages and snorkel gear for those who love to look for mermaids.
Other items featured in The Mystical Mermaid include gifts, locally hand-crafted art, candles, healing stones, handmade soaps, and crystals.
Step into the esoteric world of mermaids and unicorns for all your water and worldly needs. This store is one of the top shopping centers in Islamorada, FL.
Address: 82693 Overseas Hwy, Islamorada, FL 33036, United States
13. Drift Boutique
Visit this store to see their gorgeously curated collection of hand-crafted jewelry, home and beauty products, accessories, and resort wear.
You will feel comfortable and at ease in this bright and airy shop.
Drift Boutique captures the significance of the Mediterranean but still feels in place with a relaxing, flowy environment that is the spirit of Florida Keys.
The owner, Fabiana Domiamo, is a native of Uruguay. Her detailed curation of quality pieces and worldly perspective shine from the corner of her shop.
When you walk through the store, Fabiana will give details about specific pieces, where they are obtained, the materials used to make them, and what makes each item unique.
Drift Boutique features fresh linen blended with neutral leather, soft blues, and other natural fabrics.
With everything from accessories to clothes, shoes, bags, and gifts, Drift Boutique has a lot to offer.
Whether you want to shop with your girls, are looking to buy a special gift, or need something to do on a rainy day, you will undoubtedly enjoy Fabiana's outstanding collection.
Address: Front Suite, 86560 Overseas Hwy, Islamorada, FL 33036, United States
14. Old Road Gallery
Old Road Gallery features resident artists Dwane and Cindy King and other local Florida key artists.
This galley, established in 2014, is a secluded sanctuary decorated with native hardwoods and winding paths.
Old Road Galley is also an outdoor sculpture garden. Every day, visitors are welcome to take a tour, walk through winding trails and learn about artistic styles and techniques.
The gallery occasionally hosts wedding receptions, meetings, and birthday parties.
Aside from a gallery offering actual keys-crafted artworks, the owners consider it an educational facility.
Old Road Gallery is for those searching for an authentic artistic experience mixed with a peaceful, natural environment.
Address: 88888 Old Highway, Islamorada, FL 33070, United
15. Sandal Factory Outlet
Since opening in 1990, Sandal Factory has been the deluxe destination for casual and outdoor sandals in the Florida Keys and South Florida.
Select from a wide range of brands, such as Reef, Teva, Merell, Roxy, Billabong, Birkenstock, Guy Harvey, Sanuk, Quiksilver, and more.
Additionally, Sandal Factory offers a considerable selection of closed-toe shoes.
From hiking to boating to exploring the beach or simply lounging by the pool, you will discover all the footwear you need to enjoy endless fun in the sun.
There also offer swimwear, kids' apparel, and Surf lines from top brands at reasonable prices.
Whether you are searching for a quick souvenir or a fantastic place to shop, Sandal Factory Outlet is your one-stop location.
Address: 81917 Overseas Hwy, Islamorada, FL 33036, United States
Florida presents breathtaking attractions and activities. Explore some of its fun cities, here are guides on places to visit in Spring Hill, Cape Canaveral, and Port St. Joe.
Plan a Trip to Islamorada
Walk along the boutiques, shops, and galleries scattered throughout this village.
If it is jewelry you are interested in, many boutique jewelers are located in Islamorada.
Outdoor apparels such as sports clothing, swimwear, and casual outfits are available for guests and residents.
Works from craft people and local artists decorate the shelves in the village's shops and galleries. These hand-crafted items make a suitable keepsake for visiting Islamorada or a perfect gift for a loved one.
Islamorada is the ideal option for a weekend getaway or an extended stay. Explore the various shopping centers for an unforgettable experience.