Looking for the best and most fun things to do in Paris, TX?
Paris city, Lamar's County seat, is situated in Northeastern Texas, United States. It had a population of 24,171 as of the 2020 census.
Paris, established in 1845, has a long history stretching back to its days as a hub for agricultural trade. Paris, France, inspired the naming of this city.
Thomas Poteet, a member of George W. Wright's staff, named this town after establishing the city. It has strong ties to the railroad business.
Paris is northwest Texas and southeast Oklahoma's regional medical center. Paris is revered Texas Crepe Myrtle capital, owing to its abundance in the city.
The city is packed with historic sites and hosts many entertaining events all year. Some notable places in Paris, TX, are the Paris Junior College, The Sam Bell Maxey House, and Eiffel Tower's replica.
Are you planning to explore Paris? Here are the top things to do in Paris, TX.
Things to Do in Paris, TX
1. Eiffel Tower
The Eiffel Tower (a replica of that of France) was built in 1993 in the city of Texas. Since this city has its own, albeit unique, Eiffel Tower, you don't need to travel outside of the USA to take a photo next to it.
The Eiffel Tower in Paris, Texas, is made unique with a half-foot-tall Stetson cowboy hat on top of the 65-foot-tall building, indicating that you're in Texas.
Additionally, when lit by LED lights, it becomes a brilliant show at night. This lovely destination is readily accessible to the general public on any day.
The Eiffel Tower's surroundings are very calm and peaceful, creating the perfect picnic environment. Pets are also allowed around the premises.
Be sure to stop at this destination for some breathtaking pictures and fun moments, as it's one of the best things to do in Paris, TX.
Address: South Collegiate Drive and Jefferson Road, Paris, TX 75460, United States
2. Pat Mayse Lake
Ensure not to miss a trip to this spectacular destination filled with lush natural occurrences if you're looking for what to do in Paris, TX, but are a nature lover,
This natural Lake is home to various fish species. While you wait for your catch at Pat Mayse Lake, enjoy the stunning sunset.
Fish like largemouth bass, white crappie, sunfish, and many others can be found there, making it an excellent place for fishing.
Additionally, you can go hunting for whitetail deer, squirrels, rabbits, birds, and other animals.
Guests can have a picnic with the whole family, take in the sights of the local wildlife playing in the region, and camp here if they wish to spend time In the great outdoors.
There is something for every individual at Pat Mayse Lake.
Address: South of Chicota on FM 197, west of the dam. Texas, United States
3. Lamar County Historical Museum
The Lamar County Historical Museum will transport you back in time so you can see the city both before and after the 1916 fire if you wish to dive into the past era of the city.
A wildfire in 1916 burned for ten hours and destroyed many buildings, decimating the city.
The Museum houses many ancient pictures of the city alongside Countless artifacts, from everyday objects to collections.
For examples of previous styles, look through the collection of shoes for both men and women. The military chamber and the blacksmith shop are worth visiting within the Museum.
Another attractive museum section is the African-American history room which also contains information about notable African-Americans who have contributed to the city's development.
Visit this Museum and catch a glimpse of daily life in the past.
Address: 1009 W Kaufman St, Paris, TX 75460, United States
4. Red River Veterans Memorial Museum
Visit the Red River Veterans Memorial Museum to pay homage to United States heroes reminding us that "freedom is not free" for all veterans.
This Museum holds information about the various wars the country has fought. A helicopter and an armored personnel carrier include the military vehicles on exhibit.
The Gold Star Family Monument honors members of the Gold Star families. At the same time, the War Dog Monument pays tribute to all the canines and handlers who served the nation.
Visit the Ring of Honor to see the names of the brave individuals from Red River, Fannin, Lamar, and Choctaw. They sacrificed their lives to win freedom.
Address: 2035 S Collegiate Dr, Paris, TX 75460, United States
5. Paris Vineyards Winery on the Square
Paris Vineyard Winery on the Square started in 2004 by planting grapes and got a winery permit in 2006.
It started as a hay barn until 2008, when it obtained its second permit for a Tasting Room in town. These Winery vineyards are nestled amongst fifty acres of Texas sandy loam surrounded by open pasture and native oaks.
The Winery is dedicated to handcrafting excellent quality wines in the pioneer spirit of Texas from vines that capture Texas terroir's unique characteristics.
Texas Winery aims to make the best possible wine from Texas grapes. Make sure to enjoy this experience with family and friends.
Address: 2 Clarksville St, Paris, TX 75460-5809, United States
6. Paris Fitness and Aquatics
With more than 27,000 square feet of space designed to give you an excellent workout, this destination will make you sweat out your worries and enjoy a relaxing exercise.
Visit the gym to increase your muscular mass or tone your physique. It is open to guests twenty-four hours a day, so stop by whenever you like.
If you want to experience the excitement of a group, try one of the many programs offered here, including yoga, dancing, kickboxing, and more. Alternatively, you can bring your kids to the Kids Klub, where they can run freely in a secure setting.
For a fantastic calorie-burning activity, check out the spin classes in a separate room.
This facility has two pools, so you can swim laps or relax in one of the two pools that are accessible. The destination sponsors an annual race called Turkey Trot, where runners can compete against one another for prizes.
Address: 1025 Deshong Dr, Paris, TX 75460, United States
7. Sam Bell Maxey House State Historic Site
If you're interested in learning about Sam Bell Maxey's life, look around the Sam Bell Maxey House State Historic City.
The life of Sam Bell Maxey, a Mexican War veteran, Confederate general, and senator, was truly remarkable.
Before becoming a senator, he stayed in this newly built house with his family in 1868. Its interior was restored, preserving various items and furniture that belonged to the family.
The house is chic and well-designed, incorporating a High Victorian Italianate style.
A front porch greets you with columns; inside, you'll find multiple fireplaces, chandeliers, and stylish carpets.
Exploring this destination is one of the top things to do in Paris, TX, especially for historians, as its well-preserved structure and storyline will leave you in awe.
Address: 812 S Church St, Paris, TX 75460
8. Tour de Paris
The European Tour of Texas, which consists of four neighborhood bike rides and features the Tour de Paris, is an excellent option if you enjoy cycling and want to test your limits.
This annual event in Paris, Texas, is meant to support and promote cycling in the town. Bikers traverse the landscapes of Lamar County during this yearly event. Watch the gravel grind competition that takes place concurrently with the event.
If you register, you will also receive a limited-edition jersey. If you are a cycling fan or wish to start building your confidence in cycling, make sure not to miss out on this.
Address: 2025 S. Collegiate Dr. Paris, TX 75460, United States
Planning a road trip in Texas, check out our guide on things to do in Corsicana, things to do in Plano, and things to do in McAllen for a fun time, create your bucket list now!.
9. Paris Community Theater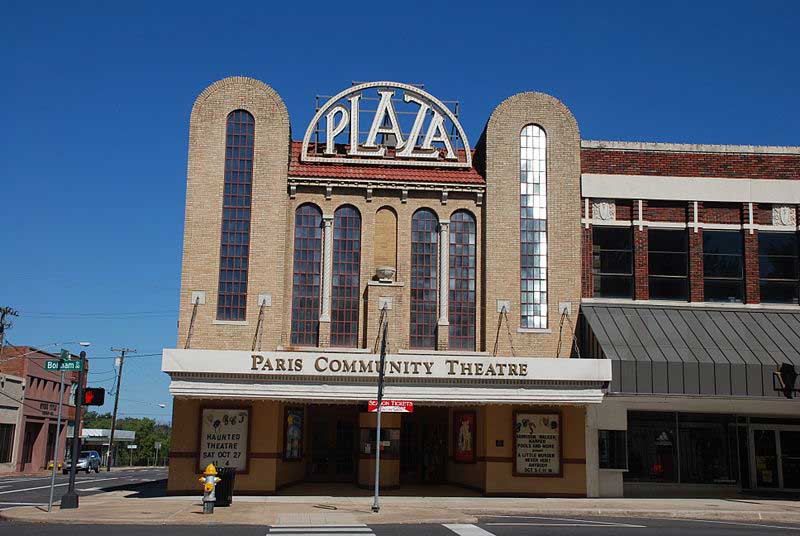 When the
Paris Community Theater
began, a few individuals staged performances at the Paris Junior College.
The Theater, which dates back to 1926, wasn't purchased until 1981, and only then was it refurbished, greatly enhancing its design.
The Paris Community Theater Association genuinely creates its plays and musicals. Still, many other plays and musicals have been performed here.
Additionally, they accept and evaluate your entries through an open call; this is your chance to shine if you love the arts.
If you want to perfect your craft, you can also attend workshops and classes organized by the Theater.
You can join a show at this Theater by simply checking for scheduled shows online and paying for a ticket.
Address: 36 N Plaza, Paris, TX 75460, United States
10. The Depot Bar and Restaurant
The Depot Bar and Restaurant is a famous Grill spot in Paris, Texas, that delights in providing guests with an excellent dining experience. Depot Bar and Restaurant ensure to serve the freshest, highest quality products in a clean, friendly and efficient environment.
This destination offers the best steaks, seafood, grills, and original recipes for pasta sauces, salads, and various soups.
The restaurant's staffs are very hospitable. This destination is known for its excellent menu ranging from mouth-watering appetizers, burger enhancements, pasta, stir fry, etc.
It would be best if you considered visiting this location with family and friends as it also features a menu for children.
Address: 1264 S Main St, Paris, TX 75460-7158, United States
11. Balloon and Music Festival
Attending this festival is one of the fun things to do in Paris, TX. The Balloon and Music Festival provides days of pleasure and excitement and features enormous hot air balloons.
At the festival, there are numerous customized and bright balloons, which together make for enormous spectacles.
With music and food from the food truck vendors, take in the view, examine the market stalls and enjoy leisure.
A live art contest is organized throughout the occasion to display the residents' incredible artistic talent.
This festival is not to be missed, as tourists can purchase any of the masterpieces after the contest if any strike your attention.
Address: 570 E. Center Street, Paris, TX 75460, United States
12. Trail de Paris
Trial de Paris is a three-mile walking trail bordered by luscious trees.
As you cross bridges, this lovely trail passes by a military memorial and famous tourist attractions like the Eiffel Tower. Parks and a butterfly garden are also accessible through the path.
The trail is a well-liked location for bicycling and hiking because it is paved. There are benches along the path if you need to relax.
To gain a good view of the region or to read the informative signs, you can stop by the viewing platforms.
Address: Trail de Paris, Texas, United States
13. The Plaza Gallery
Are you an art enthusiast? Are you wondering what to do in Paris, TX? If your answers are yes, ensure to visit The Plaza Gallery.
The Plaza Gallery is located in the Paris town square; the Gallery captions craft from local professional artists, including painting, photography, ceramics, and custom furniture.
This Gallery is open to the public, from Mon-Fri 8:30-5:00 pm and Sat 10:00-4:00 pm. This destination is a recommended stop when visiting the historic town square.
The passion for nature, wildlife, sport, and pop culture are important aspects of the artists' personalities.
Natural and cultural landscapes inspire the artists as they incorporate unique North American nature with tales from television, film, and advertisement.
Address: 8 West Plz, Paris, TX 75460-5741, United States
14. Historic Downtown Square
The city's Historic Downtown Square makes a fantastic starting point for your explorations. Discover all the incredible places in Downtown Paris, the city's center.
This destination has a magnificent, expertly carved Italian marble Culbertson Fountain available for guests to explore and take photos.
There's a grand theater building at the Paris Downtown Square, where occupants and tourists alike can watch a show.
The striking structure of this theater illuminates at night, creating a lovely ambiance.
You can purchase some antiques or a piece of art In one of the adjacent stores, eat in one of the eateries or have a refreshing beer after sightseeing.
Address: 150 W Main St, Mesquite, TX 75149, United States
15. Red River Valley Fair Association
Numerous events are held at the Red River Valley Fair Association annually, making this location a trendy place.
Visitors can participate in family-friendly activities at this venerable fairground-themed festival.
Watch the competitors in the showcase of creative arts and crafts, featuring sections for fine arts, apparel, quilts, and more.
Get some home improvement advice while viewing the home and garden showcase. There are many vendors and food stands, so make sure to stroll around and explore.
Numerous event spaces may be rented if your interest is triggered.
The 8,600 square feet of space, tables, folding chairs, and outdoor facilities, make the Coliseum ideal for large-scale reservations.
Other smaller areas, such as Building "B" and the Westside Building, have a kitchen, an ice maker, and central heating and cooling.
Use the amenities of the Livestock Barn, which include a show ring, stalls, and bleachers, for a more rural atmosphere.
There are also RV hookups available here.
Address: 570 E Center St, Paris, TX 75460, United States
Texas holds some cool attractions and activities, check out our guides on things to do in the Woodlands, things to do in Lubbock as well as things to do in Brenham for a memorable time here.
16. Paris Yoga Project
Paris Yoga Project is a unique yoga destination that offers classes in their studio, a fantastic way to start the morning refreshed.
This facility is determined to be more than just a yoga studio but also a community where people can learn and grow together through yoga.
Paris Yoga Project also offers rooftop yoga sessions alongside other unique yoga styles. This destination is excellent if you wish to relax your mind.
Address: 109 Lamar Ave, Paris, TX 75460, United States
17. Paris Wine Festival
The Paris Wine Festival is a great festivity that visitors at least 21 years old should attend. Attending the Paris Wine festival is one of the best things to do in Paris, TX.
This festival allows guests to enjoy excellent food and delicious wines from various regions in Northeast Texas in a fun setting.
Since it takes place in Old Paris, you can visit various businesses in the neighborhood while attending. Explore the shops, especially the boutiques and antique stores, for fantastic finds and souvenirs
Address: 135 SE 1st Street Paris, TX 75460, United States
18. Leo St. Clair Music Box Museum
You will enjoy visiting Sulfur Springs Leo St. Clair Music Box Museum if you are a fan of glassworks and antique collections.
This lovely Museum features over 150 unique and rare music boxes with storylines that will leave you in awe.
The Museum is one of the biggest of its type, containing common and ordinary antique pieces. Ensure to make this trip into the world of music.
Leo St. Clair was handed a box by the queen of Belgium when he was in the military, which triggered his love for music boxes. That music box is among the exceptional collection in the Museum.
Address: 611 Davis St N Sulphur Springs Public Library, Sulfur Springs, TX 75482-2621, United States
19. Paris Farmers and Artisan Market
Purchase products around at the Paris Farmers and Artisan Market for local goods and fresh produce.
Buyers can buy some premium meat for upcoming gatherings or many pastries for refreshments. Take home breakfast items like jam and honey or dinner items like veg and fruit.
This fantastic market also sells skincare products like lotions and soaps in addition to food.
You may choose to be romantic and purchase a piece of jewelry for your partner.
Since they are inspected before being allowed to be put up at the market, you can be confident that the arts and crafts sold here adhere to a specific requirement.
Enjoy a relaxing afternoon of outdoor shopping while taking in the aroma of fresh food.
This destination is a superb shopping location and should be considered a stopping point when you visit, as it's among the best places to visit in Paris, TX.
Address: 400 1st St SW, Paris, TX 75460, United States
20. Festival of Pumpkins
Bring the entire family to the Festival of Pumpkins to participate in all the fun events. Attending this festival is one of the fun things to do in Paris, TX. Grab some festival snacks and munch on them while exploring the area.
Guests can prepare fantastic costumes, participate in the competition, or observe as it unfolds.
The festival wouldn't be genuine without pumpkins, of course. There is a contest for decorating pumpkins, and the winner will receive a good prize.
Discover all these things and more while live music is playing. This festival offers so much fun you wouldn't like to miss.
Address: 8760 FM 2243, Leander, TX, United States
21. Evergreen Cemetery
Evergreen Cemetery is an ancient cemetery established in 1866, containing some fascinating monuments, such as a life-size buffalo and Jesus sculpture wearing cowboy boots.
Evergreen Cemetery is the biggest cemetery in Lamar County. It is located in the southeast quadrant of the county within the southeastern city limits of Paris on Highway 19-24.
Visiting this cemetery is like taking a trip back in time and is recommended for history enthusiasts.
Visit and pay respects to fallen natives and past prominent residents.
Address: South Church Street at Jefferson Road, Paris, TX 75460, United States
22. Lickety Split Wine Lounge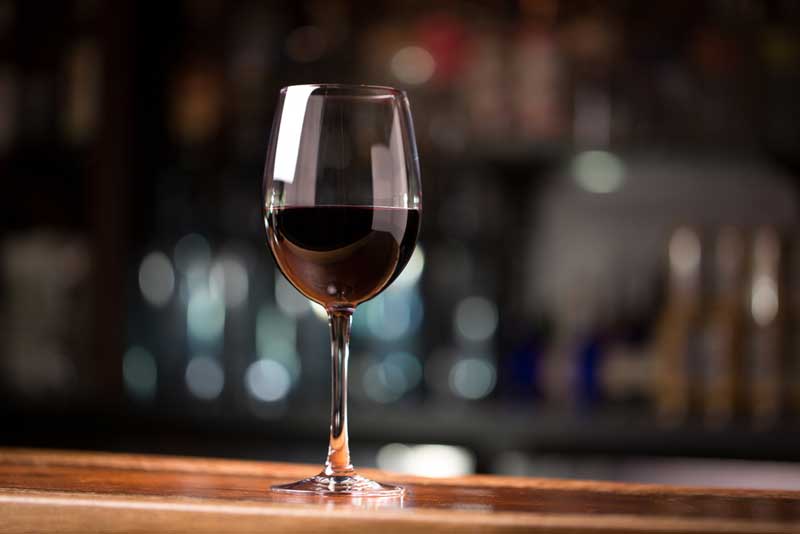 Lickety Split Wine Lounge serves a wide selection of excellent Texas wines. Visiting this Lounge is among the top things to do in Paris, TX, especially if you're a wine lover.
This unique Wine Lounge makes good craft beers like Dallas Blond, Blood and Honey, and Guinness. The Lounge ambiance is comfortable and quaint, allowing visitors to meet new people.
This destination is cozier than a bar with good music; it also creates an environment for guests to meet and make new friends.
They also feature an excellent Catering service that provides food for the wine lounge from 5:30 pm to 8:00 pm daily.
You can contact the wine lounge for reservations.
Address: 15 1st St SE, Paris, TX 75460, United States
23. Valley of the Caddo Museum & Cultural Center Inc.
Visit the Valley of the Caddo Museum and Culture Center to experience the rich history and culture offered by Lamar, Red River, Delta, and Fannin counties. This Center is among the best places to visit in Paris, TX, especially if you want to know more about the region.
This Museum and Cultural Center is very friendly and well kept, featuring much history and antiques worth exploring.
The various sections at this destination include Archeology, Astronomy, Native American Art, and Education.
Guests can visit individually or in groups, as the Museum charges a decent rate.
Address: 1115 Bonham St, Paris, TX 75460-4056, United States
Planning to explore Texas? Get the best of attractions and activities in Stephenville, Mckinney, and Grand Prairie for a fun vacation.
Plan Your Trip to Paris
Paris, TX, holds tons of exciting history and culture that need to be uncovered.
To enjoy the whole experience of the city, you have to partake in its numerous festivals and visit fun destinations, historical attractions, and educational sites.
Start planning your trip to Paris.