In search of the best and fun things to do in Eagle River, WI?
Eagle River, also known as the City of Lakes, is the county seat of Vilas County, Wisconsin. It is a perfect place for tourists and retirees.
Eagle River is called the "City of Lakes" because it has the largest inland chain of lakes globally (28 lakes).
Apart from the many attractions available here, the city also has enough vacation and living spaces. Rental services are available if you want to stay in a hunting cabin, vacation home, or three condominiums.
Over time, many retirees come to this place to chill; it has become a new home for them, with other people looking forward to joining them soon.
A magazine called "Where to Retire" has acknowledged the city as one of the Top 100 Places to Retire in the United States. However, please do not conclude that the city is dull and without energy as it has many vibrant and breathtaking spots for you to explore and see that will revive your tired spirits.
If you're planning on exploring Eagle River, here are the top things to do in Eagle River, WI.
Things to Do in Eagle River, WI
1. World Snowmobile HQ
Aside from being popularly known as the "City of Lakes," this destination is also known as the " Snowmobile Capital of the World."
The title is because, for more than 56 years, the city has organized and hosted the World Championship Snowmobile Derby. The city is also the location for the World Snowmobile Headquarters, with numerous teams whose efforts helped immensely in growing the winter sport.
You will see several displays of snowmobiles inside the building. Other things to find here include the International Snowmobile Hall of Fame, which acknowledges the brilliant men and women who helped immensely in making the sport famous.
The destination also features the Snowmobile Championship Derby Hall of Fame. You can check out the Snowmobiler's Gift Shop to purchase some memorabilia.
" The Flying Femmes," a women group whose efforts immensely helped Snowmobiling in this city, is also honored in World Snowmobile HQ.
Address: 1521 N Railroad St, Eagle River, WI 54521, United States
2. Catfish Lake
One of the best things to do in Eagle River, WI, is to check out Catfish Lake during your trip. Ensure to enjoy the expansive 1,021-acre Lake, which has a depth of 35 feet. The sight of the Lake is beautiful and something you want to see because it is mesmerizing.
However, there is little or no catfish in the Lake due to its location towards the north, making it difficult for fish to survive.
You can join the musky anglers around Indian Point and Deer Point to catch some fish or try going walleye fishing close to the three islands with deep holes. There are several historic houses and resorts to see close to the lakeside.
Address: Address: Catfish Lake, Eagle River, WI 54521, United States
3. Watersmeet Lake
Eagle River is called the "City of Lakes 'not just as a title but because it contains a chain of 28 lakes that provides numerous opportunities for fishing and water activities.
Suppose you eventually want to pick one of the many lakes to visit: a sure place to be should be the Watersmeet Lakes, which occupies 100 acres and has a maximum of 12 feet in depth.
There are four Inlets through which water is supplied to the Lake, creating room for massive currents; make sure to be very careful.
Like Eagle River Lake, Watersmeet offers quality muskie fishing and good walleye. You can also catch other fishes, such as smallmouth and largemouth bass.
Address: Eagle River, WI, United States
4. Eagle River Historical Museum
Most individuals prefer a calm and peaceful trip; if you're one of such, visit the Eagle River Historical Museum.
As you tour the Museum, you will find various documents, records, photos, and personal histories garnered from the city's early residents.
The Museum conducts research, analysis, and documentation to give you exciting and vital information about the region's history.
The Museum comprises a primary collection of artifacts gathered during the city's development period. Admittance to the Museum is free, and group tours are also available.
Address: 1181 US-45, Eagle River, WI 54521, United States
5. Eagle River Speedway
Who would say they do not find fast cars and racing fascinating? Eagle River Speedway is a place to enjoy car racing. It is a must-stop for anyone who finds this sporting activity exciting.
The Eagle River Speedway is a clay course that occupies about 1/3 of a mile and is tri-oval-shaped. Visit on Tuesdays, as that is the primary day for car races. As you watch the cars racing, you can buy some snacks at their on-site concession stand.
This destination is fascinating because it is the only racecourse with the longest clay stock track in the Midwest. The track organizes race championships that consist of Spring 60ps, Late Models, and Pro Truck throughout the year. You can also bring your kids to enjoy.
Address: 3973 Cloverland Dr, Eagle River, WI 54521, United States
6. Eagle River Depot Museum
Eagle River experienced a new development in 1884 when the Milwaukee, Lakeshore, and Western Railroad built railroad lines that linked this city to other parts of the country.
However, the rail depot was built by the Chicago and Northwestern Railway on the west side of the railway line, so anyone coming from Wall Street could see it. An inferno destroyed the rail depot during the 1922 winter, and the railway company constructed another during springtime.
Transportation of people was halted during the 1960s by the railway depot. In the late 1970s, the carrying of freight was also stopped. Then in the 1980s, the railway company removed the Trail.
After its closure, the city turned the building into a city hall. Currently, the place is a Museum and went through refurbishments, including new air conditioning, wiring, insulation, and plumbing.
During your visit, you will also find varieties of displays that showcase the rich history of the Eagle River. You will see recreations of the railway depot grounds, its original tin ceiling, the old coal stove, the depot telephone, and its waiting room bench.
Address: 116 S Railroad St, Eagle River, WI 54521, United States
7. Yellow Birch Lodge
The Yellow Birch Lodge, established in 2013, went through some thorough restoration to provide its customers with the best lodging experience.
The Lodge is a three-story building with lovely views of the Lake and the tranquil forest. This Lodge provides visitors with a luxurious and simplistic lodging experience. If you intend to spend a day or two in this beautiful city, check out the Yellow Birch Lodge.
When you visit the Lake, you will find the Lodge nestled in a serene but vast 3 acres of a wooded area. The estate features a semi-private bay and a 250 feet sandy lakeshore.
This destination is ideal for families, as it has seven bedrooms, four bathrooms, and a huge kiddy sleeping loft. You can enjoy a good time during a cold night with a stone wood fireplace.
During the daytime, visitors can go on a boat tour of the lake and roast marshmallows during the evening.
Address: 1644 McKinley Blvd, Eagle River, WI 54521, United States
8. The Toy Shop
The Toy Shop in Eagle River provides rental and sales services for power sports equipment. It has UTV, Jetski, Boats, Pontoons, ATV, and Snowmobiles for rent or sale.
It also offers repair and maintenance services of power sports equipment in its maintenance and repair section.
They also offer Shrink wrapping, door and outdoor storage, and winterizing. The Toy Shop is recently on Spring Thaw Hours and is open for off-hours appointments.
Their staffs are knowledgeable and friendly and will assist you with all you need with your power sports equipment.
They have a complete service maintenance scope with expert technicians readily available to fix your equipment.
Address: 5045 State Highway 70 W, Eagle River, WI 54521-9033, United States
Planning a road trip in Wisconsin? explore this list of things to do in Prairie du Chien, things to do in Baraboo, and things to do in Waukesha for a memorable road trip.
9. Lake Nokomis Cranberries
The Lake Nokomis Cranberries has been in the business of providing residents and visitors with delectable cranberry products since 1973. Lake Nokomis Cranberries is perched close to the Scenic North Nokomis Lake.
The farm became a popular attraction in this part of the country because of the efforts and hard work of Dave Zawistowski. He was wiring as a staff on the estate but later purchased the property in 1977.
The farm has grown massively, occupying 320 acres of production space, all thanks to Dave's leadership. Currently, the farm has expanded into having a winery and a gift shop, all to make your tour enjoyable.
You can purchase their gourmet cranberry products, original Lake Nokomis wines, and gifts. If you want to learn more about their wines, they come in four different flavors and are made using the farm's cranberries.
Address: 6041 County Hwy D Gift Shop, Eagle River, WI 54521, United States
10. Northwoods Children's Museum
One of the fun things to do in Eagles River, WI, is to visit Northwoods Children's Museum, especially with kids. It has various fun-filled exhibits that your kids can use to play.
The Museum was opened in 1998 with 13 exhibits. Kids can have fun in the Shadow Room, Bubble Station, Imagination Station, Medical Center, and Fishing Pond.
Over time, the Museum has made recent additions to its exhibits, including Snowmobile, Art Center, Reading Tree, and Cozy Cottage.
The Museum also offers rental services for your special occasions, including meetings, birthday parties, and mediated workshops. You can also purchase souvenirs and other unique items at their gift shop.
Address: 346 W Division St, Eagle River, WI 54521, United States
11. Foodstyle Cooking Classes
Have you been looking for a place to augment your culinary skills? You can jump on it when you visit Eagle River by being part of the various available cooking programs.
Cooking parties and private classes are available. You can also try a Dessert Class or French Bistro Class. The types involve demo and tasting and are usually a 2-hour class.
Make sure to learn the procedures involved in preparing these simple but fascinating dishes that are easy to cook. You can also try out other stuff, including conversing and exchanging pleasantries with new people and do well to enjoy the comfort of Cindy's home.
Address: 8468 Evergreen Dr, Eagle River, WI 54521-9606, United States
12. Pirates Hideaway
One of the best places to visit in Eagle River, WI, is the thrilling Pirated Hideaway. It is a family-owned business that provides visitors with sea-related fun.
The Pirates Hideaway offers visitors pirated ship tours on the biggest inland chain of freshwater in the globe. Their other lakeside attractions include a gift shop, a tiki bar, and an ice cream shop.
Here is a great place to have fun with family and friends as you are open to various opportunities to have fun close to the Lake and the many side attractions here.
Take a walk through their lovely gardens or enjoy an ice cream on their 1000-square feet "SkyDeck." Pirates Hideaway is available to the public throughout the summer. Still, tourists can make reservations for their numerous pirate ship rides on the sea.
Address: Eagle River, WI 54521, United States
13. Shady Gardens
During the early 1990s, Kathleen Raygo and Walter Raygo began operations of the Shady Gardens; they continued with the business until late 2002, when Rich and Kitty Swiontek acquired the property.
Shady Gardens has a plant nursery for growing perennial foods; they are grown in gardens near the area. There are over 600 kinds of perennials to find in the six-and-a-half acre garden, including Peonies, Hostas, and Daylilies. In addition, this garden grows shrubs and small trees found in Northern Wisconsin.
If you plan to have a party or any other special occasion where you will need flowers and other ornamentals, make sure to stop by at the Shady Gardens in Eagle River.
Address: 3627 Deerskin Rd, Eagle River, WI 54521, United States
14. Eagle River Twisted History Tours
Experience the history of Eagle River through Eagle River Twisted History Tours if you're wondering what to do in Eagle River, WI.
Lizzy Lumley guides tourists into the history of this great city. Lizzy will share exciting stories concerning the past killings, evil, and madness of the youths in Eagle River.
The one-hour tour takes you on a journey on the negative sides of Eagle River history. You also get to learn about the early settlers in this city, the 20th-century Chicago gangsters, and a lot of wild info about the Native Americans.
Lizzy has lived her entire life all summer in this city, allowing her to learn more about the town. She decided to share the memories this place has given her with everyone who cares to know.
Address: 1957 Otter Ln, Eagle River, WI 54521, United States
15. Kickin Ax Up North
Suppose you are constantly having stress-filled weekends and wondering what to do in Eagle River, WI, head over to Kickin Ax Up North. The experience will surely take your mind off mundane activities and relieve you of your stress.
When you visit, yield an ax just like an actual lumberjack and get yourself in place to learn the art of throwing axes. An hour is a maximum for throwing different axes at a target, but it is your decision what you want to do during this time.
If you want to relieve yourself of stress, you can throw axes as your heart tells you to hit the target. Moreover, you can try to be part of other activities as a group.
The staff at Kickin Ax Up North are experts in the business and will help you learn the techniques to throw an ax efficiently. Safety is of utmost importance, and they will give you a prep talk on safety before any ax throwing session.
Address: 1161 S, US-45, Eagle River, WI 54521, United States
Planning to explore Wisconsin? Get the best of attractions and activities in Ashland, Sheboygan, and Superior for a fun vacation.
16. Northwoods Escape Room LLC
Northwoods Escape Room LLC is among the best places to visit in Eagle River, WI. Don't miss out, as it promises an experience you would not likely forget in a hurry.
Their well-planned games make anyone playing them for 60 minutes feel like the Hardy Boys or Nancy Drew. Here is an ideal place to bring your friends and family. Their rooms are family oriented and friendly and offer the best Escape experience.
You can bring your colleagues from work, so you guys test your skills in team building by solving puzzles and mysteries in 60 minutes.
Northwoods Escape Room is an excellent destination suppose you plan to host any special event, including anniversaries, family reunions, birthday parties, corporate functions, or even a night out.
Address: 1161 US Highway 45 South, Eagle River, WI 54521-9378, United States
17. Eagle Falls Adventure Golf and Laser Tag
Eagle Falls Adventure Golf and Laser Tag, situated in Eagle River, WI, is an adventurous 18-hole miniature golf course that features a fishing camp with a complete fishing cabin, a fishing dock, and a bait shop.
It also has a 116-vest Laser Tag Arena. Their laser tag arena of 3000 square feet has many fun effects, including multi-level play areas, black lights, creative-themed decorations, and fog.
Before the commencement of any game, players are given a brief pep talk and vesting chamber. Players will be split into teams and shown how to use the equipment before the game starts.
Address: 1040 E Pine Street, Eagle River, WI 54521, United States
18. The Franklin Nature Trail
If you love hiking, one of the best things to do in Eagle River, WI, is to go hiking on the beautiful Franklin Nature Trail situated North of Three Lakes and East of Eagle River.
The Trail is a mile loop with a flat surface. The course makes for an incredible hiking experience offering you beautiful views of the Northwoods.
This Trail is interpretative and has a booklet shared at the trailhead. At the 21-stop area along the loop, visitors can learn about this place, including the plants and animals.
The Franklin Nature Trail meanders through Northern Wisconsin hemlock-hardwood forest and pines. Most of the trees to see here are more than 400 years old. It also leads you to Butternut Lake, a few miles from Franklin Lake.
If you want a more scenic adventure route, this Trail links you with the popular Hidden Lakes Trail system. You can make your hike a complete weekend holiday if you intend to make a 15 miles addition to the Trail.
Address: Three Lakes, WI 54562, United States
19. Kartway
Another exciting thing to do during your Eagles River trip is to visit the Kartway theme park. It features many bumper boats, go-kart tracks, mini golf, mini jeeps, water balloon catapults, and others to make your stay incredible.
When Kartway started about 30 years back, the only thing here was go-karts. It was not until its new owner in 2005 that acquired Kartway introduced new stuff and other additions to make the experience scintillating.
Kartay also provides visitors with chips and soda; there is water at their concession stand and many areas for picnicking.
Kartway is available for visits daily from Memorial Day till Labor Day. They have professional staff supervising adult rides, whereas individuals below 16yeaes can enjoy the children's rides.
Address: 1890 Pleasure Island Rd, Eagle River, WI 54521-8980, United States
20. Cranberry Fest
One of the top things to do in Eagle River, WI, is to attend the Cranberry Fest. The small red fruit is celebrated annually during the first weekend of October at the Vilas County Fairgrounds. Make sure to check their calendar, get the family crest and be part of the many opportunities in this part of the country.
There are many vendors on-site with their magnetic products. Aside from just cranberries, other things to find here are craisins, cranberry beer, locally made goods, clothes, music, and arts and crafts: pastries, delicious foods, and others.
Address: Fairgrounds, Ball Park Street, Eagle River, WI 54521, United States
21. Wildwood Outdoor Adventures & Campground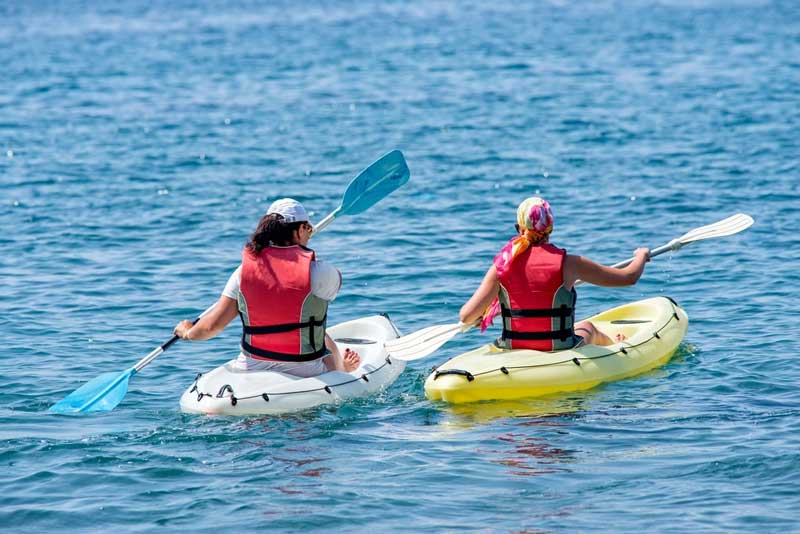 One of the many places to visit in Eagle River is the Wildwood Outdoor Adventures & Campground, which should be on your list of fun things to do in Eagle River, WI; suppose you are a lover of the outdoors.
The destination has been in the business of providing top-notch nature trips to its visitors since 2008. Whether on land or the sea, you will experience nature at its best.
You can also be part of informative tours on land, kayaking along the sea, or spend a day riding the tube floats. They have an excellent staff to guide you towards having a splendid experience and answer whatever question you have in mind.
Here is an ideal site to host your birthday parties, family reunions and gatherings, bachelor/bachelorette, wedding parties, and team-building activities.
Address: 5179 WI-70, Eagle River, WI 54521, United States
22. Track Side
The Track Side is chiefly concerned with Sales, Service, and Rentals. They are involved in carrying snowmobiles from Polaris and Ski-Doo, Personal Watercraft from Sea-Doo, and ATVs/UTVs from Polaris and Can-Am.
They have an expansive rental fleet, offering top-notch experience through their snowmobiles, UTVs, fishing boats, Slingshots, and PWCs.
These UTVs are adequately maintained, and it's easy to learn how to operate them. The Trail begins in front of the shop. Their staff are excellent and swift at discharging their duties and offer great hints while you're on the trails and driving.
Address: 1651 US Highway 45 N, Eagle River, WI 54521-8800, United States
23. The Warehouse Art Center
If you are a lover of art, ensure to visit The Warehouse Art Center. Here is the hub for artists who showcase their creative ideas for the community to explore.
This passion and excitement for art led to the creation of the Warehouse Art Center. It has existed since 2015 and has once been accommodated on Railroad Street in the downtown area of Eagle River.
It offers top-notch education, programs, events, and functions that touch all areas of artistic creation for people of all ages.
Make sure to visit and make purchases of locally produced pottery at affordable prices and provide visitors with a vast range of art classes and music.
Address: 107 S Railroad St, Eagle River, WI 54521-9597, United States
Meet the top attractions in Wisconsin, here is a guide on the top things to do in Bayfield, things to do in Fond du Lac, and the best things to do in Hayward.
Plan Your Trip to Eagle River
If you are seeking a place to have the very best holiday experience, one of the ideal places to visit is Eagle River, Wisconsin. You can enjoy the tranquility of this place by having a good time sitting close to the lakeside.
There are many exciting activities in Eagle River, which you won't want to miss. Enjoy the fun-filled city with your family. Don't hesitate to add the city to your itinerary.