Located in Collin County, Plano is thirty minutes from Dallas in Texas, United States.
Plano is a great city with a population of 288,870, according to the 2020 census.
You cannot list the most amazing cities in Texas without mentioning Plano. It is a city with numerous exciting attractions.
Plano is a perfect tourist destination featuring attractions like Interurban Railway Museum, Angelika Film Center & Cafe, Plano Balloon Festival, Breakout Games, Dallas Vintage Shop, and more.
Get ready to explore everything the city offers, and be sure of having an unforgettable experience.
Let's explore the top things to do in Plano, TX.
Things to Do in Plano, TX
1. Arbor Hills Nature Preserve
Arbor Hills Nature Preserve is nestled just outside the downtown district of Plano, encompassing almost two hundred acres of land area.
This recreational Park is open throughout the year, offering visitors numerous opportunities when they come out to have fun.
There is a collective trail network in the Park featuring unpaved and paved trails excellent for biking, walking, and running.
Most of the trails take users to viewpoints and slight slopes. The Arbor Hills Nature Preserve consists of restrooms and a pavilion.
Arbor Hills Nature Preserve features a massive playground for children to explore with excellent play equipment.
The Park usually provides current information relating to the ecosystem features of the region and the wildlife inhabiting there.
Address: 6701 W Parker Rd, Plano, TX 75093, United States
2. Heritage Farmstead Museum
The Heritage Farmstead Museum is a farmhouse built in the Victorian era in the 1890s, which was formerly the home of a true Plano Family.
The house was fully refurbished and preserved as a historic site, now open as one of Plano's outstanding attractions.
The farmhouse is open to the public. Visitors can tour the property and browse the exhibits featuring well-detailed historical data, Interactive events, and presentations about the families living there.
The Heritage Farmstead Museum allows visitors to participate in a few farm-related activities, such as barn and livestock tours.
You will find this home intriguing as you go through the well-furnished rooms featuring original artifacts left by the previous families.
The Farmstead is a venue for several events throughout the year, including holiday events like pumpkin picking, spring activities, and more.
Address: 1900 W 15th St, Plano, TX 75074, United States
3. Granite Park Boardwalk
Granite Park Boardwalk is a must-visit for every food buff who wishes to enjoy some of the most delicious meals in the region.
The Park comprises eight outstanding waterfront restaurants that offer breathtaking views of the city's waterfront as you dine.
It is located on the southeast side of Sam Rayburn Tollway and the Dallas North, offering patrons a wide variety of dining options.
Granite Park Boardwalk features Edith's French Bistro offering handmade desserts and entrees, including Suburban Yach Club, which serves the best Mexican cuisines.
You can also stop by the Biscuit Bar and Chip's Old Fashioned Hamburgers, where you can grab a quick snack.
There are other spots where you can enjoy a drink, such as the Golden Boy Coffee and Wine Bar, Fork and Fire, and Blue Mesa Grill.
Address: 5880 State Highway 121, Plano, TX 75024, United States
4. Interurban Railway Museum
Commonly referred to as Plano Station, the Interurban Railway Museum is a historic train station in Plano City.
Interurban Railway was the first train station built by the city in 1908. The trains were fully active and used as an efficient means of transportation until 1948, after which the station was deserted until 1990.
In 1990, the city transformed the station into the museum it is today, showcasing the role and significance of the station during the evolution of Plano in the 20th century.
Interurban Railway Museum is open for tours, offering various interactive activities and exciting displays which educate the visitors about the procedures through which the train system functioned and the places it traveled.
Address: 901 E 15th St, Plano, TX 75074, United States
5. Oak Point Park and Nature Preserve
Now, it's the time to get outside and explore the outdoor region, so if you're ready, add a visit to Oak Point Park, and Nature Preserve to your list of best things to do in Plano, TX.
Oak Point Park and Nature Preserve is a destination across eight hundred acres, making it the largest Park in the city.
The Park features more than eight miles of trails, dirt trails of over five miles, and paved paths of 3.5 miles, which are great for jogging, hiking, biking, and walking.
Within the nature preserve, an amphitheater hosts seasonal meetings on the staff's foliage, wildlife, and conservation methods.
Oak Point Park and Nature Preserve feature conducive restrooms and pavilions open to everyone. For more details, check out their event calendar online.
Address: 5901 Los Rios Blvd, Plano, TX 75093, United States
6. ArtCentre of Plano
Among the fun things to do in Plano is to visit the ArtCentre of Plano, located in the Historic Downtown District of Plano.
As an art performing center managed by a non-profit organization, the ArtCentre of Plano is found in an elegant Victorian mansion built in the 20th century.
The ArtCentre of Plano is located in a building that was initially the dwelling place of the Harrington Furniture Store.
The center is open throughout the year, offering a wide array of captivating exhibits to increase the growth and advancement of professional and upcoming artists in the community.
It also hosts several classes, including visual and performing arts courses and music lessons.
The ArtCentre of Plano is a center for many lectures, meetings, and cultural events; you will find all the upcoming events on their online calendar.
Address: 902 E 16th St, Plano, TX 75074, United States
7. Plano Balloon Festival
When you visit the city of Plano, there is no bound to how much you can explore. Attending Plano Balloon Festival is one of the best Plano activities
Plano Balloon Festival is an event where over forty-five uniquely shaped and colored balloons are made to surge high into the air. At the same time, the brave ones also get on them for an amazing ride.
This event lasts for three days and offers not only balloon rides but several other exciting and mind-blowing activities.
The festival features parachute jumpers, martial arts crews, dance teams, and inflatable rides perfect for children of different ages.
Plano Balloon Festival consists of vendors offering enough food and drinks for everyone to enjoy. At the same time, they also listen to live music by local artists and bands.
When you think everything is over, wait until night falls when glowing balloons will be sent up into the air with beautiful fireworks that decorate the sky with gorgeous colors.
Address: 2801 E Spring Creek Pkwy, Plano, Texas, United States
8. Angelika Film Center & Cafe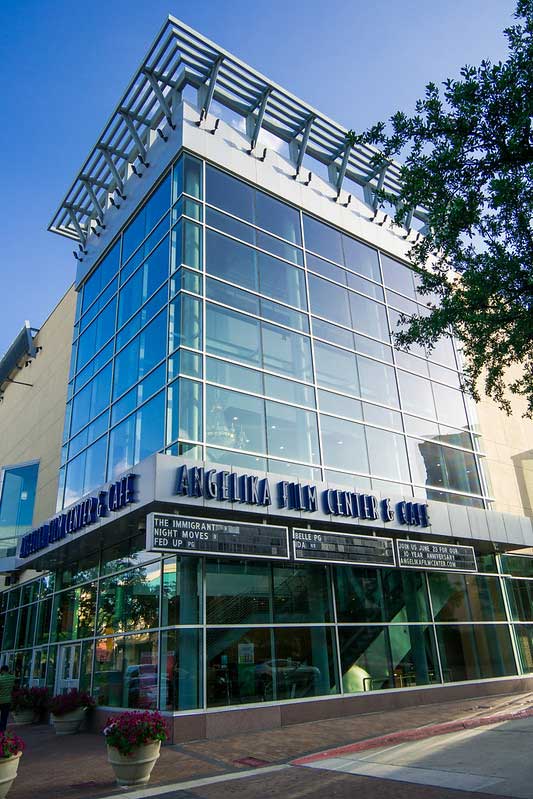 Are you a movie lover looking for a perfect place to watch your favorite blockbuster movie?
Angelika Film Center is a contemporary movie cinema featuring five large screens where visitors can watch the latest movies after visiting some stores.
Angelika Cafe & Bar, a gourmet restaurant that offers delectable meals and delightful drinks, is right above the cinema.
The restaurant, open to everyone, offers delicious light meals such as sandwiches, salads, and soup. You can dine there without having to watch a movie.
One feature that makes the cinema and restaurant stand out from others is the fact that visitors are allowed to take their meals inside the movie theater.
Address: 7205 Bishop Rd, Plano, TX 75074, United States
Check out the top things to do in Corsicana, things to do in McAllen, and things to do in Woodlands for a memorable exploration of Texas.
9. Taverna Rossa
Taverna Rossa, situated in the Lakeside Market of Plano, is a popular destination that serves delicious pizzas.
They offer gourmet pizzas topped with locally grown ingredients in traditional and creative styles.
Aside from pizzas, they also offer the most delicious sandwiches, pasta, and salads which you can't get elsewhere.
Taverna Rossa offers elegantly decorated but simple interiors with rustic designs offering customers warm and homey vibes.
They offer twenty-four beers on tap, an impressive selection of wines, and signature cocktails. Famous mimosas and bloody marys with pizzas are offered on Saturday and Sunday brunch.
There is an outdoor terrace where visitors can relax and enjoy some fresh air during the hot days, while in the evenings, there are live music presentations.
Address: 4005 Preston Rd #512, Plano, TX 75093, United States
10. Pinstack
Pinstack, a family-friendly fun center in Plano, is a fun facility of 50,000 square feet featuring much exciting equipment.
Pinstack features a state-of-the-art bowling section with twenty-eight lanes open to adults and children.
There is a two-level laser tag arena, a 20 feet high rope course, a rock climbing wall, an arcade room with numerous video games, and many more.
The center also has a gourmet restaurant featuring professional chefs committed to serving delicious dishes.
You can also stop by the full-service bar and enjoy various drinks before or after having fun to boost your energy.
Pinstack features private dining rooms, perfect for get-togethers, birthday parties, reunions, and more.
Address: 6205 Dallas Pkwy, Plano, TX 75074, United States
11. Crayola Experience Plano
If you're visiting Plano with kids, include exploring Crayola Experience Plano on your bucket list.
Crayola Experience Plano is an engaging and fascinating family fun center considered the marvel of the amusement centers of Crayola.
The center is dedicated to motivating the creative spirit in children offering both adults and children a platform for them to let loose their spirit of creativity.
They get to do this through the incredible Crayon Manufacturing Show and the 4-D Coloring Adventure.
Crayola Experience Plano allows visitors to show their coloring name or page and wrap their crayons.
Address: 6121 W. Park Boulevard Suite A100, Plano, TX 75093, United States
12. Breakout Games
Breakout Games is an exceptional escape room facility in Plano that offers an unforeseen incredible experience.
This highly recommended escape game center has earned its reputation as a reliable brand that gives you a run for your money.
Every team has approximately sixty minutes to solve puzzles and search for ideas & clues to help them complete the task.
Breakout Games features seven separate rooms with different themes and missions depending on your needs.
Some rooms include the Mystery mansion, the Runaway Train, Do Not Disturb, etc. All the escape rooms are fun and exciting to explore, and they are perfect for the entire family and friends.
Address: 2301 Central Expy Suite 285, Plano, TX 75075, United States
13. Historic Downtown Plano
Visit the Historic Downtown Plano if you want to integrate into the community entirely.
Historic Downtown Plano features numerous buildings constructed during the early days of the city way back in 1896.
Known as an urbanized area, Historic Downtown Plano spans six blocks through the city, featuring cafes, restaurants, bars, offices, downtown housing, and shops.
All these establishments can be found in fully refurbished buildings, so whenever you have some time to spare, do well to visit this area.
Historic Downtown Plano is the center for most of the cultural events held in Plano, including art festivals, block parties, street events, and many more.
Check out the event calendar on their website, as it features seasonal fairs and regular occasions; make sure you don't miss out.
Address: 1099 75074, 1037 E 15th St, Plano, TX 75074, United States
14. The Texas Pool
Since 1961, the Texas Pool has been a relaxation point for hundreds of residents and visitors.
The Texas Pool is a saltwater pool of 168,000 gallons, famous for its distinct shape, designed exactly like that of Texas State.
The Pool was later shut down in 2007, and residents thought it would never be reopened until 2013 when the Texas Pool Foundation was formed as a non-profit organization, which now manages the Pool.
Being an iconic location, the Texas Pool is listed on the National Register of Historic Places. Members of the public continuously visit it during the summer season.
The Texas Pool features gigantic waterslides, a shallow swimming pool for the little ones known as South Texas, and a diving board.
Suppose you want to feel the fascinating history of Plano city and sink into the electrifying ambiance. In that case, the Texas Pool has to be on your itinerary.
Address: 901 Springbrook Drive, Plano, TX 75075, United States
15. The Shops at Legacy
The Shops at Legacy was built as a town center that offers visitors and residents an unforgettable experience.
The streets are beautifully lined by trees, entertainment venues, boutiques, movie theatres, bars, and restaurants.
As you go shopping in some of the businesses in the district, take a stroll through the paths along which you will find Baccus Park, a historic site from 1847 consisting of the Baccus Cemetery.
The Shops at Legacy features three life-sized sculptures of cowboys and nineteen sculptures of longhorn bronze made by Robert Summers, an artist in Texas.
Address: 5741 Legacy Dr, Plano, TX 75024, United States
For a fun road trip in Texas, do not miss exploring our checklist of things to do in Palestine, things to do in Grand Prairie, and things to do in Marble Falls.
16. Dark Hour Haunted House
How brave do you think you are? How will you react when you come face to face with a zombie? If you want to find out, add a visit to Dark Hour Haunted House to your list of fun things to do in Plano, TX.
Dark Hour Haunted House is one of the most visited attractions for spooky and scary adventure fans.
This attraction offers visitors an exceptional experience that sends adrenaline through their veins.
Professional and talented actors are available to offer you a real-life experience with massive props and customs.
Dark Hour Haunted House is uniquely designed to ensure visitors have a memorable time and return for more thrills later.
Address: 701 Taylor Dr, Plano, TX 75074, United States
17. Legacy Food Hall
Legacy Food Hall is the renowned food hall of Plano, featuring a large assortment of artisanal food booths promoting the community's latest and most creative culinary styles.
This Food Hall is inspired by the concept of Food Theater, where there are open kitchens at the booths through which visitors get to watch their meals being prepared.
There are numerous dining spots, such as Freshfin Poke Company, Degenhardt's Brat Haus, Blist'r Naan Wraps, Enter the Bao, and more.
Legacy Food Hall also consists of beverage centers, including Unlawful Assembly Brewing Company, Blush Wine Bar, etc.
At the Box Garden Venue within the hall, live music presentations are offered, including cultural festivals and sporting events.
Address: 7800 Windrose Ave, Plano, TX 75024, United States
18. Windhaven Park
Windhaven Park is popular with many families, including residents and visitors who want to chill and have a great time.
The Park features a beautiful lush green space, making it an excellent place for picnicking with loved ones, plus picnic tables and grills.
There are gorgeous trails within the Park that are perfect for those who would like to go for a peaceful and refreshing walk.
Windhaven Park is a recreational center with several indoor sports facilities such as a soccer field, a swimming pool, and a basket court.
The gigantic playground consists of sterile and adequately maintained play equipment, which makes it a special spot for little kids.
There is also an indoor shopping center fully packed with beautiful souvenirs for visitors to purchase as a form of remembrance of their time here.
Address: 3300 Clark Pkwy, Plano, TX 75093, United States
19. Bob Woodruff Park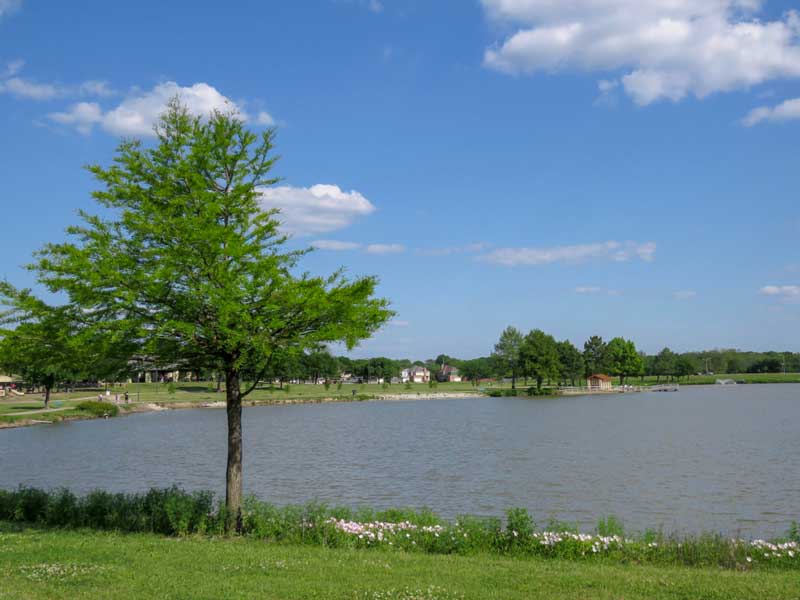 Bob Woodruff Park is a park that offers a variety of fun in just one setting without having to visit different locations.
The Park features paved trails open for biking, jogging, walking, and running, with several shaded spots for those who would like to sit and rest for a while.
There is a small pond with calm and soothing waters where you can go fishing or feed the fish and sit & enjoy the view.
Bob Woodruff Park features a sand volleyball court, a play area, restrooms, and a pavilion.
Bob Woodruff Park is the best choice whenever you want to go sightseeing or enjoy the outdoor views.
Address: 3840 E Park Blvd, Plano, TX 75074, United States
20. Whiskey Cake
Whenever you want to dine with your family and friends, add a visit to Whiskey Cake to your list of the best things to do in Plano, TX.
Whiskey Cake offers a contemporary food menu featuring a variety of mouthwatering entrees, snacks, and salads.
They offer a stylish and laid-back ambiance which offers guests an inviting and comfortable space to feel at ease and dine.
The full-time bar offers an extensive list of liquor consisting of flavorful beers, signature cocktails, and casual wines.
Address: 3601 Dallas Pkwy, Plano, TX 75024, United States
21. Go Ape Zipline & Adventure Park
A must-add to your itinerary is a visit to Go Ape Zipline & Adventure Park, which encompasses approximately eight hundred acres of beautiful landscape.
Go Ape Zipline & Adventure Park comprises zip lines and trails of more than 8 miles encouraging visitors to cultivate the culture of living life like an adventure.
This Adventure Park features treetop discovery and adventure, which offers visitors the excitement and thrills they desire.
There is a course that lasts 2 to 3 hours at the Go Ape Treetop Adventure, which makes it the longest Zipline in the Park, stretching to 423 feet, as well as tree-to-tree crossings and Tarzan swings.
The Treetop Discovery, which lasts for 90 minutes, is perfect for learners featuring tree-to-tree crossings of 246-foot.
Address: Oak Point Park, 5901 Los Rios Boulevard, Plano, TX 75074, United States
22. Dallas Vintage Shop
Dallas Vintage Shop guarantees a unique shopping experience in Plano you won't get elsewhere.
The boutique offers you everything you're searching for, making you spend more time than you intended.
You can shop for beautiful hats, colorful nightgowns, charming corsets, nutty petticoats, 1920s suits, and many more.
Do you wish to buy a pocket watch? They also offer watches, ties, clothing, purses, etc. All the products available here are of excellent quality and for reasonable costs.
Dallas Vintage Shop staffs are always willing to offer assistance to customers, and they also offer suggestions when needed.
Address: 1855 N US 75-Central Expy 1000, Plano, TX 75075, United States
23. The Dog Park at Bob Woodruff
The Dog Park at Bob Woodruff is a fantastic attraction in Plano, especially for tourists visiting the city with their four-legged friends.
As a dog lover, you can take your dog to the Park or stop by the Park to meet and watch other dogs play.
There is ample space for dogs to run around however they want, including a clear pond to swim in.
The Dog Park at Bob Woodruff covers seven acres with double gates for extra security and different areas for small and large dogs.
The Park features water stations for dogs and humans with waste sites and disposal posts, including benches and picnic tables where dog owners can sit and have a snack.
Address: 2300 Shiloh Rd, Plano, TX 75074, United States
Experience more fun in Texas, check out our guides on things to do in Spring, things to do in Lubbock, and things to do in Conroe
Plan Your Trip to Plano
Plano offers tourists an exceptional blend of attractions, from festivity to relaxation.
The city also offers you opportunities to get closer to nature and engage in various outdoor activities like hiking, biking, walking, sightseeing, and jogging, including indoor activities.
You will indeed have a great time in Plano.