Muskegon is a beautiful city surrounded by beautiful forests and freshwaters in Muskegon County, Michigan, United States.
This city is the county seat of Muskegon County, with a population of 37,317 as of the 2020 census. Muskegon is the home of the largest beach in West Michigan.
Muskegon is popularly known as "Port City", as it has the most expansive port on the eastern side of Lake Michigan. It became the main area for the local lumber industry in Michigan during the 1880s.
Many people invested their fortunes in Muskegon's rich pine trees, which skyrocketed the Muskegon Lumber industry. Since then, this place has been famous as the "Lumber Queen of the World ".
The Port and Lumber industry created the way for the fast-developing Muskegon you see today. Muskegon is famous for fishing, pleasure boating, sailing regattas, and as a shipping port.
It is an ideal location for a splendid vacation experience, with numerous fun-filled places to see.
Are you planning to visit Muskegon? Check out the top things to do in Muskegon, MI.
Things to Do in Muskegon, MI
1. Marquette Park
Pere Marquette Park, previously called Lake Michigan Park, is a favorite spot for people who visit this part of the country.
Pere Marquette Park was made available to the general public in 1890. After two years of opening, this site became a well-known tourist destination. As a result, it was expanded and had more structures built.
The Park grew into a significant tourist center as the years passed and was honored for having the most outstanding bathing beach on Great Lakes.
Even with all these achievements and acknowledgments, Pere Marquette Park continues in its work of preserving the beauty of this place and its popularity.
The Park attracts a large crowd annually and has a curated list of activities to pique your interest. The Park features a playground area, restaurants, snack bars, volleyball courts, picnic tables, and an out view at sunset.
Exploring this Park is one of the fun things to do in Muskegon, MI. If you intend to have a great time on the water, you can opt-in for their Jet Ski and paddleboard rental services along Lake Michigan.
Address: 3510 Channel Dr, Muskegon, MI 49441, United States
2. The Monet Garden
The Monet Garden became a reality due to the inspiration to recreate something like the world's most famous Garden in Giverny, France.
It is a small garden located in the downtown area of Muskegon. With the many variant colors to find here due to the flowers in the Garden, this destination is an ideal place for a beautiful photograph. You can bring a camera along to take excellent shots.
The Garden also comes with a small water pond and a Japanese Bridge that helps to access the outstanding beauty of the Park quickly. The most exciting thing about this place is that the flowers here are the same as those in the main Monet Garden in France.
Suppose you are a horticulturist or just a lover of flowers. In that case, this place should be a significant stop for you during your visit to Muskegon.
Address: Muskegon, MI 49440, United States
3. Kruse Park
Norman F. Kruse Park comprises one mile of beach area along Michigan and offers enticing views of the lake and its neighboring dunes.
The upper floor is a famous area for picnicking. The amenities to find here are four picnic shades, restrooms, many parking areas, nature trails, a basketball court, and overlooks that are readily accessible.
A dog beach is available on a portion of the Park's northern coast. The coast also has a beach area, boardwalks, and access to the dunes.
Address: 3205 W Sherman Blvd, Muskegon, MI 49440, United States
4. Mac Wood's Dune Rides
The Mac Wood's Dune Rides is just Forty minutes away from Muskegon and is one place you should try as it has many fun activities that will captivate your mind.
The Maywood Dune Rides started as a family engagement in the 1930s and has since been a great attraction for the whole of Michigan.
Visitors enjoy a beautiful 40-minute ride along the sand mountains at the Mac Woods Dune Rides.
Safety is of the utmost importance in this destination. The ride is available for everyone, no matter your age range.
The tour is usually halted due to bad weather conditions, including heavy rainfall or high winds. Make sure to bring your cameras to take lively photos of the Scenic views as you drive past Silver Lake.
Address: 629 N 18th Ave, Mears, MI 49436, United States
5. Michigan's Adventure
Another interesting item on our list of fun things to do in Muskegon, MI, is visiting Michigan's Adventure. This destination is the largest water and amusement park in Michigan.
Michigan's Adventure offers breathtaking roller coaster rides and adventurous water adventures. If you enjoy having lots of fun, you can have a ride at the Thunder, a 120 feet tall inverted roller coaster. If you want the water slides, try out the Funeral for Fear.
The destination offers visitors a ride on a raft with three more people. You can have a good time hanging out with your family and friends. Michigan's Adventure is also famous for having a Wildwater Adventure Park, which comprises the pools formerly known as the "Tidal Wave" and water slides.
There are many memories to create here due to the many outdoor opportunities. Check out this place when you visit.
Address: 4750 Whitehall Rd, Muskegon, MI 49445, United States
6. The Hearthstone Bistro
Hearthstone Bistro has provided delicious, locally sourced, and well-prepared fresh food since 1975.
Their modern cuisine comprises several classics and American cuisines, such as macaroni, burger, and cheese. You can also try their soups, sandwiches, and salad, prepared with the best homemade ingredients.
You can still try your hands on their steak, seafood, and pork entrees, giving enough room for croissant bread pudding or crème Brulee.
Patrons can also have some drinks from their bar menu. During summertime, visitors can enjoy diners on the garden terrace, which has lots of fresh air.
Address: 3350 Glade St. Muskegon, MI 49444, United States
7. Fire Barn
The fire barn is a historic memorial in Muskegon, Michigan, dedicated to the gallant firefighter of Muskegon County. It is also a place of abode for a massive collection of artifacts related to firefighting.
The Museum consists of ladders, LaFrance Firetruck, call boxes, and hooks. The upper room of the Museum comprises photographs and uniforms and even a model of the firefighter's resting quarters.
The renovation of the C.H Hackley Hose Company building in 1875 and the Fire Barn Museum in 1989 turned the site into Michigan Lakeshore Museum.
The public can access the Museum from May to October. Here is an ideal place to visit if you want to learn more about the history of our gallant men and women of the army. Touring this destination should be on your bucket list of the best things to do in Muskegon, MI.
Address: 510 W Clay Ave, Muskegon, MI 49440, United States
8. Muskegon Museum of Art
Another museum to check out during your visit is the Muskegon Museum of Art, which showcase different types of visual arts.
During the peak of the lumber exploration, about 50 sawmills were built around Muskegon Lake. Charles Hackney was one of the very few who stayed back when things turned haywire.
He brought in some innovative projects, including art. Shortly after, the Hackney Picture Fund was founded. A house close to the Hackley Public Library was paid for, which became the beginning of this art collection.
The Museum is available for visits from Tuesdays to Sundays from 11 am till 8 pm. Brace your sleeves as you enjoy the history of Muskegon through the arts.
Address: 296 W Webster Ave, Muskegon, MI 49440, United States
Michigan makes one of the top places to visit in the United States, check out the list of things to do in Escanaba, things to do in Bay City and things to do in Midland for a fun time.
9. Northern Edge Snowsports
Another item on our list of top things to do in Muskegon, MI, is visiting Northern Edge Snowsports. It is a family-owned and operated business that provides top-notch services to meet your winter vacation.
The Northern Edge Snowsports also provides tuning for your skateboard and skis. Andre Horton, the owner, has been tuning skateboards and skis for more than 30 years.
In addition to the fantastic packages available at this place, they have a kiddies ski lease program. Kids can rent ski deals at affordable prices, such as boots, poles, skis, and equipment maintenance.
This lease program makes the winter tour affordable and accessible for kids and families.
Address: 2669 Holton Rd, Muskegon, MI 49445, United States
10. Dune Climb Stairway at Hoffmaster State Park
Hoffmaster Park is a place of abode of the famous Dune Climb Stairway and a great addition to your list of the best things to do in Muskegon, MI.
These trails will guide you to one of the most expensive dunes in the State Park. It consists of about 193 steps; climbing these steps can be very tiring, but the good thing about it is the incredible views you get to see while on top.
If you want more Adventure after a long time of climbing, you can take a walk on the closeby trail for a swim on Lake Michigan Beach.
Address: 6585 Lake Harbor Rd, Norton Shores, MI 49441, United States
11. Muskegon Heritage Museum
The next item on our list of the top things to do in Muskegon, MI, is a visit to Muskegon Heritage Museum. This Museum is a great destination if you want to have a vacation with lots of historical experience, so make time to check out this place during your visit.
Muskegon Heritage Museum is in the business of preserving and sharing the history of famous products, companies, and industries in Muskegon.
One of the oldest stuff you want to check out when you visit the Museum is the 100 years old print shop that is still in complete working condition to this day.
It also features a vintage bowling alley that you can try out. Their opening hours are from Thursday to Saturday from 11 am till 4 pm and are available from mid-May till mid-October.
Address: 561 W. Western Ave., Muskegon, MI 49440, United States
12. Heritage Landing
Heritage Landing is located in the downtown area of Muskegon along the coastline of Muskegon Lake and Lake Michigan.
Here is a great place to have fun as it holds many events for you and your loved ones to enjoy. It features an outdoor concert pavilion, an expansive playground for kids to play, fishing areas, a tall ship dock, and picnic pots.
Other things to enjoy here are the carnival rides, firework displays, and musical performances at the waterfront during the summer.
Heritage Landing also organizes numerous Festivals, including the Unity Christian Music Festival and Michigan Irish Musical Festival. The Park has become a recreational gym on West Michigan Shoreline.
Address: 1050 7th St, Muskegon, MI 49440, United States
13. USS Silversides Submarine Museum
Aside from the history of the lumber boom, Muskegon has the history of veteran heroes well preserved. If you get excited about war facts, the USS Silversides Submarine Museum should be an excellent pick for you, if you're looking for what to do in Muskegon, MI.
The Museum was established to tell the stories of the famous Silversides submarine. The Museum has been in that line of business for so many years.
The Museum consists of a well-maintained World War II submarine and exhibits of World War II artifacts. There are also activities and events that you can join at the Museum.
One famous activity in the Museum is the overnight encampment, where visitors can go on a trip back in time by staying the night on one of the vessels owned by the Silversides Submarine Museum. This activity is only available for people from 6 years and above.
Address: 1346 Bluff St, Muskegon, MI 49441, United States
14. Muskegon State Park
The Muskegon State Park was founded in 1923 and was purchased by a lumber milling company. It occupies 1233 acres of land and features a sand beach having a distance of 2 miles on the coastline of Lake Michigan.
The State Park was burnt down in 1960 and had a dummy in its place. The Park also has a boat launch and fishing pier, which were also built on site.
Visitors can indulge in fishing, picnicking, camping, and swimming in the Park. Visitors can enjoy ice fishing, cross-country skiing, and ice skating during winter.
Some modern and semi-modern campsites feature mini cabins and electrical services. You can also observe the beautiful view of how the sun connects with Lake Michigan at sunset.
Address: 3560 Memorial Dr, North Muskegon, MI 49445, United States
15. USS LST 393 Veterans Museum
Only two Landing Ship Tanks survived from the 1,051 tanks built during the time of the Second World War, and one of those two was the LST 393.
Through the USS LST 393 Veterans Museum, this iconic warship is available to the general public. When you visit, you can opt-in for a guided tour, which takes about an hour to complete.
You can tour the warship by yourself with a map that the Museum will provide to help you navigate the whole area properly. Make sure not to miss out on one of the most significant warships in history when you visit Muskegon.
Address: 560 Mart St, Muskegon, MI 49440, United States
Considering a Michigan road trip, check out our guides on things to do in Midland , things to do in South Haven, and things to do in Manistee for a memorable trip.
16. The Frauenthal Center
There are many tour opportunities to explore in Muskegon, ranging from nature to art performances and history. This place is a must-visit if you want to be enlightened about the city's history.
Volunteers formed the Frauenthal Center from the community in 1929. The center has been a significant spot for several live performances and events.
It has grown over time to become a significant spot for entertainment in Muskegon, showcasing musicals, shows, and exhibits.
Aside from the features mentioned earlier, this place also hosts special events such as birthdays, weddings, meetings, and other unique events.
If you are a fan of art performances, Frauenthal Center is one of the best places to visit in Muskegon, MI.
Address: 425 W Western Ave STE 200, Muskegon, MI 49440, United States
17. Muskegon Luge Adventure Sports Park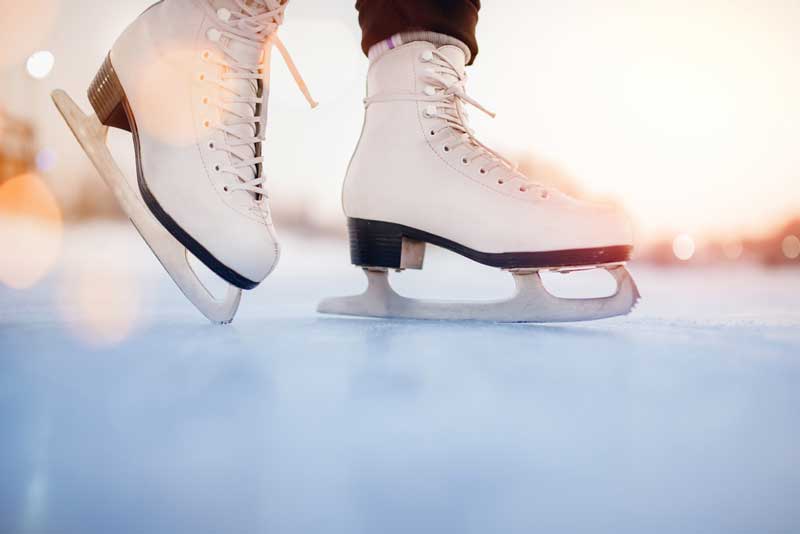 One of the best places to visit in Muskegon, MI, is the Luge Adventure Sports Park. Although Muskegon takes the applause for being a famous destination for your summer holidays, this destination is an ideal stop for every vacationer.
During winter, cross country is an enjoyable sport in the Sports Park. The X-country trails are available to everyone no matter your skill level, whether you are a novice, intermediate or professional at skiing, these trails last for about 20 to 70 minutes, depending on the difficulty level.
Visitors can even engage in winter activities such as snowshoeing or skating on an outdoor ice-skating rink. There are also activities to be part of during warm seasons in the Muskegon Adventure Sports Park.
You can also be part of their wheel luge classes and brace your sleeves for a one-of-a-kind experience in the Park during the winter season. It doesn't matter what time of the season you visit; make sure to include this place on your bucket list.
Address: 462 N Scenic Dr, Muskegon, MI 49445, United States
18. SS Milwaukee Clipper
The Juanita was put into use by the Pennsylvania Railroad in 1905. Before 1937 the 361-foot passenger steamship traveled between Buffalo, New York, and Duluth, Minnesota.
The retired passenger ship flouted the recent safety regulations of the Coast Guard and was sold. The vessel was restored to an automobile ferry for the Great Lakes and was renamed the SS Milwaukee.
Before now, the ship could sail with about 900 passengers on board. In ideal weather conditions, the passenger ship can sail two round trips between Milwaukee and Muskegon and nearly four times on weekends, all for boilers running. In the winter season, the vessel transport cars.
Address: 2098 Lakeshore Dr, Muskegon, MI 49441, United States
19. Hackley and Hume Historic Site
Apart from the numerous outdoor areas and parks to find in Muskegon, there are many outstanding museums for visitors to explore.
The Hackley and Hume Historic Site was established during the 1880s. It comprises two unique homes and has a unique history and beauty.
The landlords of these two homes were famous lumber barons by the name of Charles Hackley and Thomas Huge, which was how its name was carved out.
Both houses were designed using the Queen Anne Style by architect David Hopkins. Here is an ideal place for visitors who love history and architecture. The site is listed on the National Register of Historic Places.
Address: 484 W Webster Ave, Muskegon, MI 49440, United States
20. Tootsie's Diner and Catering
If you're wondering what to do in Muskegon, MI, then stop by Tootsie's Diner for some exciting dishes to satisfy your food Cravings. This restaurant has once been featured on MLive's Youtube channel as a great foot spot to check out in Muskegon.
Over the years, Tootsie's Diner has been in the business of providing delectable homemade meals. Still, their popularity is even more due to their concentration on the original Muskegon specialty known as stuffed hashbrowns.
Driving your stay in Muskegon, you will see numerous kinds of hashbrowns. Still, nothing as compared to Tootsie's buffalo chicken stuffed hashbrowns.
The restaurant is focused on helping its clients enjoy the comfort of homemade meals in a pleasant, friendly atmosphere and at an affordable price.
Address: 1125 W Hackley Ave, Muskegon, MI 49441, United States
21. Fricano's Place
The Fricano's place was used as a curtain roll factory for about a hundred years.
It was later repurposed into a commercial center, leading the Fricano family to rent a space for their local pizza parlor.
The Fricano family took ownership of the entire building in 2009 and renovated it, retaining all the initial architectural elements.
They had a storage room transformed into the Hideaway in remembrance of a 1920s speakeasy. The 1000-square-foot ballroom is an Event Center having a 35-foot bar and 500-capacity seating. The Fricano's Pizza restaurant can house 250 diners.
It has the Sweet Shoppe ice cream and desserts operating downstairs.
Address: 1050 W. Western Ave., Muskegon, MI 49441, United States
22. Hackley Public Library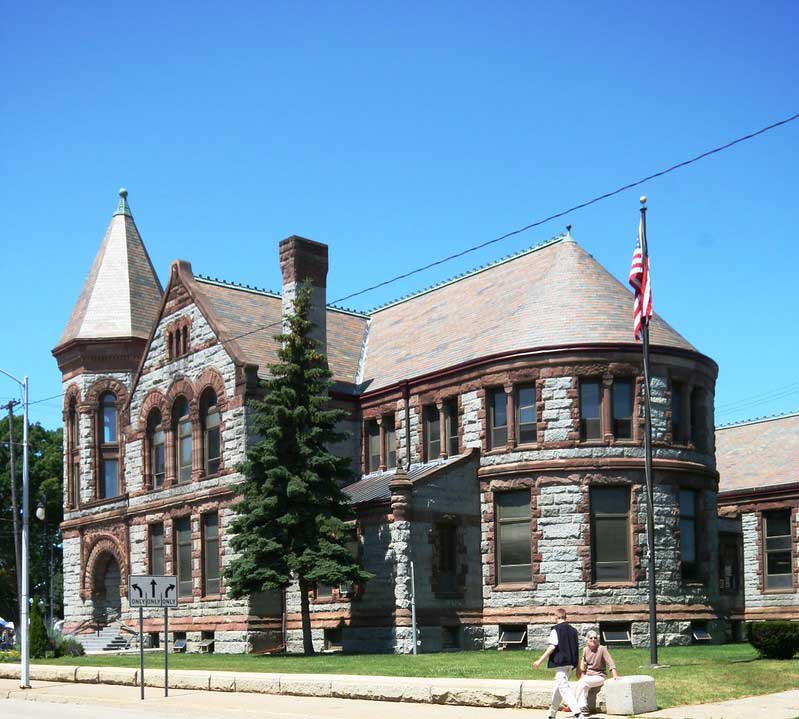 If you love to read books, visit the outstanding Hackley Public Library in Muskegon, MI.
Lumber baron Charles Hackley built the Library in 1890. The Library is owned and run by Muskegon Public Schools, while the Friends of the Hackley Public Library maintain the Library.
There are many fascinating features to find in the Library, including a glass floor, antique furniture, iron trim, an Italian marble mosaic floor, and ornate fireplaces.
One of the many large stained glass windows has portraits of William Shakespeare, Giants, Wadsworth Longfellow, William Hickling Prescott, and Johann Wolfgang von Goethe.
Hackley Public Library also owns the Torrent House adjacent to the street where historical records are preserved. It is a 31-room mansion constructed in 1891.
Address: 316 W Webster Ave, 49440 Muskegon, MI 49444, United States
23. The Lakes Mall
The Lakes Mall is an indoor shopping mall located on the southern side of Muskegon, close to the junction between Interstate 96 and US Highway 31.
Lakes Mall, previously an outlet mall, was redeveloped to have a more expansive space that accommodated Barnes and Noble.
It has three anchor stores: JCPenney, Bed, Bath and Beyond, and Dick's Sporting Goods. It has about 63 retail stores, including seven eateries and a food court.
There are a few kiosks to find in the walkways. It has a kiddie's play zone featuring a nautical theme. The Lake Mall is available for weekly visits. It has everything you need to have an ideal shopping experience for your groceries.
Address: 5600 Harvey Street, Muskegon, MI 49444, United States
Check out more cities in Michigan, here is a list of things to do in Flint, things to do in New Buffalo, and fun things to do in East Lansing for a fun time
Plan Your Trip to Muskegon
If you are searching for a place to have good memories with family and friends, visit Muskegon, Michigan. This place has many features you will enjoy, including fun activities, historical tours, and recreational activities.
Marvel at the city's beautiful landscape with natural adornments. You will undoubtedly have a remarkable vacation in Muskegon, Michigan.