In search of the best and fun things to do in Manistee, MI?
Sitting on the Lower Peninsula of Michigan, the city of Manistee serves as the county seat of Manistee County.
It takes its name from the Ojibwe indigenous people and is linked with the county's primary river.
Manistee, Michigan, sits on the state's Lower Peninsula, serving as the county seat of Manistee County. The city used to be the base for lumber barons who competed with each other for infrastructure, leading to the rise of Victorian buildings and mansions and buildings on the streets of Manistee.
Today, the streets of Manistee brim with museums, restaurants, historical attractions, shops, theaters, lodgings, bars, and more.
Manistee is affordable, navigable, and friendly with a vibrant downtown that is also near to the heart of the natural world of Michigan.
Are you planning an exploration of Manistee? Here are the best things to do in Manistee, MI.
Things to Do in Manistee
1. Catch a Movie at Vogue Theater
Built in 1930, Vogue Theater is a historic movie theater located in the heart of the city's downtown. It makes our list of top things to do in Manistee, MI.
At the time of construction, the building was the most modern structure and the highlight of design with deluxe sound systems and projection.
This venue was almost razed in 2005, but the locals picked up the task of saving and renovating their beloved theater. Today, this cinema still boasts of its original neon signs and superbly renovated interiors with a grand retro atrium and great outside façade
It is a lovely place with eupeptic and friendly employees ready to give a fun movie-going experience to the entire crew.
Watch great classic and up-and-coming movies at Vogue Theater.
2. See History at Manistee County Historical Museum
Manistee County Historical Museum is a local 19th-century museum that contains both permanent and rotating historical exhibits as well as a pedigree collection.
The building used to house A.H. Lyman Drug Company, a merger of Manistee's three-drug companies. After the death of Lyman in 1896, business continued under pharmacist F.W. White, but in 1961, his family gave the building over to the museum.
At the museum, you can view pioneer exhibits, antiques, houseware, costumes, maritime and genealogy research, Civil War mementos, and so much more.
Also, you will see a special drug exhibit in the Lyman building, a maritime exhibit, a life-size log cabin, period rooms that include a business office, several Victorian rooms, and one of the most extensive Victorian antiques in the state and photograph collections.
The museum displays three exhibits annually that trace back the rich history of Manistee. This museum is a hidden gem of Manistee County's history and is a must-visit for anyone looking for bizarre old-time exhibits and discoveries.
Address: 425 River Street Manistee, MI
3. Go Fishing with Michigan Sport Fishing Company, LLC
Michigan Sport Fishing Company, LLC provides visitors and residents with some of the finest Great Lakes sports fishing in Manistee, MI.
The company has a 100-ton Master's License issued by the United States Coast Guard led by Captain John Milbourne.
He has 30 years of fishing experience under his belt, fishing from Jamaica to Minnesota to Canada and for the past 20 years, he has been devoted to fishing in Lake Michigan.
The fishing company offers half-and full-day charters for up to six people, specialising in freshwater charters on Lake Michigan to fish for brown trout, king salmon, steelhead, coho, and lake trout.
You would have an enjoyable adventure laying hands on some hands-on fun fishing, setting the gear, catching the fish, and learning the ropes from more experienced anglers.
Improve your understanding of the fishing sport and have a fulfilling and exciting trip on Lake Michigan.
Going Fishing with Michigan Sport Fishing Company, LLC is one of the fun things to do in Manistee, MI and it is worth adding to your checklist.
Address: 378 River Street, Slip #2 Manistee, MI 49066
4. Hang Out on Fifth Avenue Beach
Considered one of the most beautiful ones in Manistee, a visit to Fifth Avenue Beach is one of the best things to do in Manistee, MI.
If you are searching for charming shoreline views on the lengthy North Pier, this is the place to visit. Interestingly, the lighthouse is not far from the beach.
This pretty shore is a wonderful place to fix a date because you can view a classic lake Michigan sunset while watching the ships.
You would have a good time searching for shells, strolling on the sands, splashing around in the water, surfing in the waves, and fishing on the pier.
If you have some energy to expend on dry land, there are tennis courts for the grown-ups and an excellent playground for the kids to run around.
There are also concession stands if the walking and playing ignite your hunger and some clean public bathhouses for a wash off as you ready for your trip back to town.
5. Check Out Manistee North Pierhead Lights
Let's start with Manistee Pierhead Lights – a famous landmark in the city. Manistee Pierhead Lights are two marine navigation guides on the north and south side of Manistee Harbor, Michigan.
In 1875, a lighthouse was built on each pier, and in its many years, there have been several moves and renovations.
The current tower on the north pier is made of cast iron and it is 39 feet in height. It has a white cylinder body and a ten-sided steel lantern which can be seen from 12 nautical miles.
You would also observe an elevated walkway crafted for access to the keeper during stormy weather; it has undergone modernization several times.
Get down this tranquil lighthouse, soak up the warm Manistee weather on the beach, and enjoy the beautiful views as you hear the crashing sound of the waves on the walkway.
6. Play Golf at Manistee Golf and Country Club
Michigan is a haven for golfers and one of the most beautiful states for playing the game of golf. Established in 1901, Manistee Golf and Country Club is one of the oldest courses in the state with scenic views of the beaches, the jaw-dropping scenery of piers, and the backdrop of Lake Michigan.
You would enjoy playing golf at this historic course on the shores of the lake. The lakeside breeze and the several holes directly overlooking it are a challenge to every skill level.
Don't be distracted by the seemingly short length of the courses, because the undulating terrain and water hazards would issue an even more challenge than the keen golfer's eye may see.
Have a rich day challenging your family and friends on these well-shaped greens, and don't forget to beckon on the friendly staff if you need their help.
Afterward, get in dining and eat a delicious and traditionally prepared meal as you finish up your day.
Manistee Golf and Country Club boasts some of the best fun things to do in Manistee, MI for golfers, do add it to your checklist.
7. Orchard Beach State Park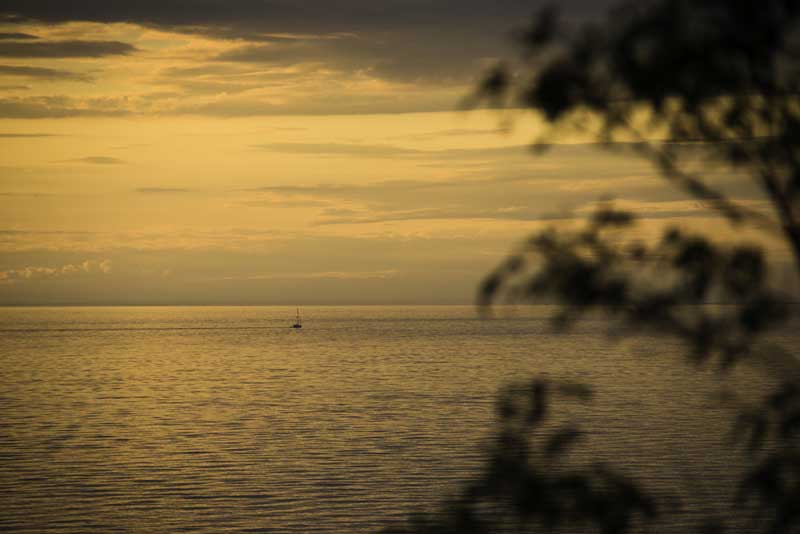 Proudly making our list of fun things to do in Manistee, MI is a visit to Orchard Beach State Park, a public recreation area in the city.
Situated on a bluff three miles north of the city of Manistee, the park covers 201 acres on the shore of Lake Michigan in Manistee Township, Manistee County, Michigan.
The state park offers hiking trails, camping, self-guided tours, and scenic views over Lake Michigan and its beach.
The park also permits boating and fishing, with a separate playground and picnic area. Orchard Beach State Park is open from Monday through Sunday (8 am – 10 pm).
Address: 2064 N. Lakeshore Rd. Manistee, MI 49660
8. Have a Family Day at First Street Beach
First Street Beach is the biggest city-owned recreation area in Manistee with so much to offer for visiting families.
There are basketball courts, volleyball nets, tennis courts, playground equipment, ball fields, bike racks, a dog run, fishing areas, a boat launch, and a fish-cleaning station.
The fine sugar sand provides a perfect setting for diverse recreational activities, especially volleyball. Not only can you go swimming, boating, surfing, parasailing and kite-flying.
You would even have a concert site for live music where visitors can listen to vibrant and entertaining musicians by the lakeside.
Come with your family for a picnic on the sand, gazebos or pavilions and repose in lovely views of the lake and tpier. You can also take advantage of the fire rings set up for a cookout at night while absorbing the cool breeze from Lake Michigan.
Check out more cities in Michigan, here is a guide on things to do in Bay City and fun things to do Cadillac in for a fun time
9. Hike North Country Trail
If you are looking to go on an adventurous run, especially if you are a hiking lover, you should not miss the North Country Trail.
Situated along the Manistee River, the North Country National Scenic Trail is the longest in the National Trails System.
It stretches 4,800 miles across eight states from North Dakota to Vermont, bossing sandy soils and a pine-hardwood forest, traversing farmlands and forests, remote terrain, and nearby communities.
The trail can be used for biking and hiking and offers access to the Hodenpyl Dam Pond and the river. It doesn't matter if you're looking to day-hike a few miles or go on a longer overnight backpacking trip, there are many hiking opportunities and diverse landscapes waiting for you.
Address: Manistee, MI
10. Follow the Manistee River
Originating at the sandhills of Antrim County, the Manistee River is a wide water body that flows smoothly 190 miles through the northwestern peninsula of Upper Michigan, emptying into Lake Michigan at Manistee.
The sandhills of Antrim County produce a steady flow of cold and clean water all through the year, making it a nice place for fishing.
It is currently regarded as one of the best trout and salmon spots in the country. It is also an ideal river for rope swinging, casual paddling, and hanging out at the sand bars.
Even if you are a beginner paddler, it is still very much ideal as long as you remember the tight turns and strong currents.
Manistee River is perfect for boating, sightseeing, and swimming in the beautiful blue waters. One can also choose to go for an idyllic tubing session: starting from the Hodenpyl Dam up to the Bear Creek or Red Tube access down to Rainbow Bend for a fun morning or afternoon trip downriver.
The waters of Manistee are a popular destination that supports various recreations, so don't miss out!
11. Northern Falls Mini Golf
Northern Falls Mini Golf offers traditional putt-putt golf for both visitors and locals of Manistee. It, therefore, makes the astounding list of best things to do in Manistee, Michigan.
This family-friendly entertainment center features 18 holes inside a rock garden and water-based fountains a small concession stand and snow cones.
This place is a must-visit for lovers of sports, especially golf enthusiasts.
Address: 765 E Parkdale Avenue Manistee, MI 49660
12. Explore the S.S. City of Milwaukee
Built in 1931, the S.S. City of Milwaukee is a historical Great Lakes railroad car ferry that traveled on Lake Michigan, between Milwaukee, Muskegon, Michigan, and Wisconsin.
She was built for the Great Trunk Milwaukee Car Ferry Company and remains the only surviving ship of her type from the pre-1940s era.
She was mapped as a National Historic Landmark and is presently a museum ship, a caravansary, and an events venue right on the waterfront of Manistee Lake.
Here, you will learn about how a massive ferry of this size spent several years on the waters of Lake Michigan. Take a tour inside the shop and take a detailed look at its mechanicals, learning about how they worked and lived in the past.
It might surprise you that some of their daily tasks had specific dangers from long ago. Plan to try to catch the ship in October, that's when she is all decked out for frights and spooks as a Ghost Ship.
Turn the hand of time at this historic ship, the last railroad car ferry on the lakes which remains unaltered.
Address: 99 ARTHUR ST (US31) Manistee, MI
13. A M Galleries
One of the top things to do in Manistee, MI for art lovers is visiting A M Gallaries.
Though not in Manistee, A M Galleries is a beautiful gallery in nearby Ludington. It is worth the visit, distance is not a barrier.
A M Galleries exhibits the work of several regional artists and displays both abstract and modern pieces in its collection.
They are a boutique brand and online store with a specialization in fashion propelled by the goal of helping everyone grow and be comfortable in a world full of fun, color, and freedom.
The gallery is devoted to helping everyone enjoy the things they love most, irrespective of age.
You will find a range of accessories, sportswear, jewelry, and fashion at very competitive prices. The gallery is also available for rent if you have private events like weddings and company parties.
Address: 115 West Ludington Avenue Ludington, MI
14. Watch Shows at the Ramsdell Regional Center for the Arts
The Ramsdell Theatre is a historic opera house, and playhouse built in 1903 by Thomas Jefferson a lawyer and philanthropist
Located in downtown Manistee, the building is a classic colonial redbrick structure with six giant columns supporting the portico above the main entrance.
The theatre is a classic cultural center in Western Michigan and was marked as a Michigan Historic building.
The center offers top-class entertainment and creates almost 20 theater, music, and dance performances every year.
Here, you can watch ballets, live music, operas, family performances, instrumentals, cultural presentations, contemporary music, vocal groups, etc.
You would also have the opportunity to view exhibitions that contain artworks relevant to the history and growth of Manistee, reflecting on the need for diversity and inclusivity in the community.
Address: 101 Maple Street Manistee, MI 49660
15. Manistee Recreation Association
Amongst the top things to do in Manistee, MI is taking a break for rejuvenation, which the Manistee Recreation Association brings to both visitors and locals.
With a commitment to providing various activities, the association promotes health and wellness throughout the community.
It provides year-round scheduling when some programs including basketball and swimming for adults, CPR training, T-ball, and soccer clinics for local youth.
Address: 30 Jones Street Manistee, MI 49660
Are you planning an exploration of Michigan and wondering what to do? here is a guide on things to do in Ludington, things to do in Kalamazoo and fun things to do in Gaylord for a memorable time.
16. Have a Ride with Orchard Beach Aviation
Brace up for an exciting aerial sightseeing tour with Orchard Beach Aviation while in Manistee. All you need is to choose three companions to invite on this four-seater plane, let the pilot know about your sightseeing goals, and anticipate total amazement.
Your flight typically flies over a couple of routes: Portage Lake area, downtown Manistee or the M-22, and the Lake Michigan shoreline.
The pilot is usually friendly and would make everyone safe and comfortable while dishing out information on the landmarks and areas as you fly over them.
Head up the skies as you see Northern Michigan in its glory at the time of the year when the earth is changing from vibrant green to calm and bright colors.
While on this flight, you will see the foliage embracing the Lake Michigan beaches and marvel at the sight of warm-hued fields and varicolored forests.
Fall color flights take place in October, and you may be in for a ride during a brickle morning, a warm mid-day, or a lovely sunset.
Go on this fun and memorable airplane tour, you will be enraptured by the side of Michigan that you've never come across.
17. Stop at the Secret Garden
Though not in Manistee, the thing on our list is the Secret Garden.
The Secret Garden is a seasonal art gallery that features artwork made by over 200 American artists.
This gallery focuses on artists from Michigan and seeks to express their views about history, art, nature, existence, and many more spheres.
The Secret Garden gallery is located in a nineteenth-century storefront and provides art pieces and other merchandise for sale.
Address: 10206 W Front Street Empire, MI 49630
18. Enchanted by Magoon Creek Natural Area
If you are a lover of the outdoor seeking views of aqua-blue water, lovely shorelines, and a sweeping lakeside panorama, Magoon Creek Natural Area is the place to be.
Magoon Creek is awesome for a picnic the outdoors, offering stunning views of Lake Michigan and benches on a high bluff under evergreen hemlock trees.
While going down the shore, you can allow the kids to play at the nearby clay cliffs and in the sparkling water in the creek outlet.
The Magoon Creek Beach has many hidden treasures such as agate, jasper, Petoskey stones, and beach glass – be sure to wear water shoes for beachcombing and bring a bag for your finds.
Take a hike on the 1.5-mile hard-packed loop trail and meander through upland wooded areas, up-and-down terrain, shoreline, dunes, farmland, and a marshy creek area.
Magoon Creek is a good spot for a refreshing afternoon jaunt and quiet recreation with your family.
Address: Manistee, Mi
19. Relax at Ludington Waterfront Park
The Ludington Waterfront Park is a five-acre park on Pere Marquette Lake, nestled between two marinas to view the car ferry dock.
The park was unveiled in 1999 and has been a focal point in Ludington. It is also a favorite backdrop for that perfect photo you desire.
The expansive playground keeps the young folks entertained, and parents can watch the S.S. Badger car ferry sail into port while sitting on a comfortable bench.
You can have a picnic at one of the tables in the park while letting the breeze off Pere Marquette Lake cool you on a hot day.
Take a walk on the scenic pathways and absorb some history from the nine bronzed sculptures fixed throughout the five-acre park.
Additional features which bring people of all ages to Waterfront Park include restrooms, night lighting, and an amphitheater for summer concerts.
Ludington Waterfront Park boasts some of the best fun things to do in Manistee, MI for a memorable outdoor time.
Address: 1122 S William St Ludington, MI
20. Find Books at Happy Owl Bookshop
Happy Owl Bookshop is situated in the downtown Manistee district. It is a small and independent bookstore with a mission to keep conversations between book enthusiasts alive and grow and groom a community based on books.
The book shop is full of educational toys, cards, gifts, newspapers, and plenty of new books.
Check through their carefully curated collection of the classics, the latest award winners, educational material, childhood favorites, and other books that will excite readers.
You can stay and read at the bookshop and don't forget to bring your kids to the cozily-crafted reader's nook, it encourages read-aloud bonding.
Also, if you can't find what you are looking out for on their shelf, the book shop will be glad to place special orders at no extra cost.
If you need a good book to settle with after your roamings, Happy Owl Bookshop might have just what you need.
21. Explore the waters at Insta-Launch Campground & Marina
Insta Launch is a family-friendly campground located on the Big Manistee River and the north end of Manistee Lake.
It has boating access to Lake Michigan with full hook-up sites, free WiFi, and river float trips. The waters feature Steelhead and Chinook (King Salmon) fishing at its best! There is excellent fishing for Lake Trout, Coho, and Brown Trout.
As well as good fishing for Small Mouth & Large Mouth Bass, Walleye, Panfish, Perch, and Northern Pike.
The Campground and Marina takes care of families and fishermen who wish to enjoy some of the many recreational opportunities in the area, like canoeing, boating, fishing, golf, kayaking, swimming, tubing, and sightseeing.
Address: 20 Park Avenue Manistee, MI 49660
22. Walk Manistee Riverwalk
Manistee Riverwalk is a popular boardwalk that follows the Manistee River 1.75 miles through downtown Manistee. You can take a walk beside the river starting from the center of Manistee to as far as Lake Michigan.
The path is designed to be accessible by both the handicapped and pedestrians, with interpretive signs, charter fishing docks, private docks, benches, multiple businesses on the way, and vessels sliding through the river as you pass by.
You will observe markers on the path which educate you on how the river shaped the development of Manistee over the years.
There are stairs leading from the riverwalk to restaurants and shops, and some sections direct visitors to picnic areas with grills and bench swings.
There are lights installed at the east end of the riverwalk to go for a well-illuminated stroll even after dark.
Take a stroll down Manistee Riverwalk for revitalizing exercise that will help you know the city from a new perspective.
23. Cruise with Manistee Harbor Tours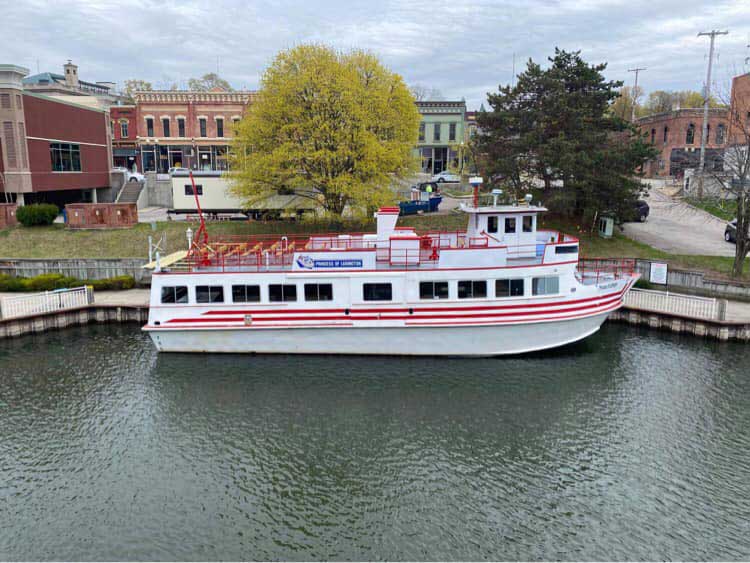 Manistee Harbor Tours is a boat tour agency that provides private event excursions, sightseeing tours, and sunset cruises on Lake Michigan via boat tours every summer in Manistee.
These cruises hold in The Princess – a 65-foot all-aluminum vessel that runs out of Manistee into Lake Michigan and steers the Manistee River into Manistee Lake.
Their most popular excursion is the Sunset Cruise, where you will find awesome photo and sightseeing opportunities as they cruise during the sunset.
Depending on the weather conditions, the Manistee Day Cruise takes it to Lake Michigan, cruising either north or south. A north cruise is a 1 ½ hour trip to the Onekama harbor and the Portage Lake entrance while a south cruise will be a 1 ½ hour trip towards Big Point Sable.
You can decide to book a private boat charter on the Princess for unique events – with padded bench seating along with the interior and perimeter and open spaces for catering and dancing.
You would be in for an unforgettable special occasion with your companions. Bond with tourists, locals, and staff aboard the Princess, as you see the beautiful lake and shoreline as well as the daring waterways around Manistee.
24. Manistee Historical Museum
Manistee County Historical Museum, a non-profit organization in Manistee Historical Museum, is owned and managed by the Historical Society of Manistee County.
Manistee County Historical Museum features highly knowledgeable staff, including a secretary, executive director, and volunteers.
It is found in Historic downtown Manistee right in the Lyman Building, which was originally known as the Russell Memorial Building.
The building has experienced no changes since it was built in 1907. A.H. Lyman Co. was known as the biggest drug corporation by 1890 in the northern part of Grand Rapids.
The company was the combination of three early drug firms in Manistee, and it expanded and occupied 425 River along with a school book department.
The white family donated the building as a museum in 1960 with a unique pharmacy display showcasing the store's history.
Address: 425 River Street, Manistee, MI. United States
25. Lake Bluff Bird Sanctuary
One of the fun things to do in Manistee is to visit Lake Bluff Bird Sanctuary, an amazing treasure in Manistee.
Lake Bluff Bird Sanctuary is home to more than 1,500 feet of Lake Michigan Frontage on a land space of seventy-three acres.
This Sanctuary was initially created as an arboretum with several preserved specimens like Ginko, California Redwood, Sycamore, and huge Sequoia.
You will also find different species of birds dwelling and traveling through the region, including shorebirds, bald eagles, and migrating warblers.
The Lake Bluff Bird Sanctuary features nice trails that offer you the opportunity to view the unique Michigan paintings.
Address: 2890 Lakeshore Rd, Manistee, MI 49660, United States
Have more time in Michigan?, check out our list of things to do in Port Huron, things to do in Saugatuck, and things to do in New Buffalo for a memorable vacation.
Plan your trip to Manistee
For anybody looking for a grand old time in the lower peninsula, Manistee boasts of so many hidden surprises.
This lakeside destination has new pleasures for you and your family as well as draws you closer to nature and the exciting hub of Michigan.
Feel free to check back here anytime you need some guidance in making your checklist of fun things to do in Manistee, MI.