Are you looking for the best & fun things to do in Show Low, AZ?
Located in Navajo County, Arizona state (USA) is a small city of around 10,000 people called Show Low. Its population makes it a bit more quiet compared to other busier cities.
Show Low was established in 1870 and then incorporated in 1953. There is a legendary belief that Show Low after a game of Poker between two partners in a large ranch (Corydon Cooley and Marion Clark;), who wanted to disengage after they couldn't work together again.
The city is home to the mountains, famous for its fishing and hunting front. There are various restaurants with various cuisines, where you can eat, stop by Show Low Bluff Trail, shop for unique souvenirs at Lazy Bear Decor, and more.
Let's explore the best things to do in Show Low, Arizona.
Things to Do in Show Low
1. Visit the Fool Hollow Lake Recreation Area
The most popular activity in this area is to visit Fool Hollow Lake Recreation Area. Visiting this place is one of the best things to do in Show Low.
This wonderful natural park is situated in the Apache-Sitgreaves National Forest, and if you are an outdoor enthusiast and lover of mountain scenery, this place is for you.
You can fish, take a boat ride, camp, watch the wildlife, hike along the lake or just enjoy a picnic. The park is equipped with bathroom and bathroom facilities.
Fool Hollow Lake Recreation Area is a beautiful place, and it is close to the city, which means you can head back at any time. But when you are here, you still have the feeling that you are far away from the bustles of the city and engrossed in nature.
Take a leisure walk in the evening and explore the pine woods and their unquestionably clear scent. Visitors of age categories always love this place and often tip it with high ratings.
Address: 1500 Fools Hollow Rd, Show Low, AZ 85901
2. Catch a movie at WME Theatres
Have you been waiting patiently for an upcoming Nicholas' Sparks adaptation or Marvel movie? What if it premiers during the period you are in Show Low? You need not worry about that because WME Theatres has got covered.
It is a modern movie theatre where you can catch various exciting movies. This theatre features five separate cinemas, which show different films at the same time.
WME Theatres also has a top-of-the-line sound system, and it screens up-to-date movies. So if you are a movie enthusiast, you can watch them so comfortably.
A visit to WME Theatres is one of the best things to do in Show Low.
Address: 1850 S White Mountain Rd, Show Low, AZ 85901
3. Ride A Horse at the Porter Mountain Stables
Horse riding is one unique and fun activity that the entire family can enjoy. Porter Mountain Stables offers visitors and locals of the city to get familiar with horseback riding.
There is an expert on the ground to guide and teach you everything you need to know. He will also take you on a nice, relaxing ride along some lovely paths.
Of all the activities here, the sunset ride is probably the best of all, where you will cherish elegant vistas as the sun goes down.
As you can see, the city has lots of exciting things to choose from, and the Porter Mountain Stables is definitely one of the top attractions to visit in Show Low.
Opening hours are every day from 8 am to 7 pm.
Address: 1498 Flag Hollow Rd, Lakeside, AZ 85929
4. Take A Walk in the Show Low City Park
Another place to relax and enjoy outdoor activities is the Show Low City Park. This place is added to our list of best things to do in Show Low.
Show Low City Park is a well-maintained park that provides everything you need to have a great time. The park has beautiful trails for you to walk on and incredible scenery for you to enjoy.
You can play basketball or have a picnic while you allow the kids to run around the playground. There is even an area mapped out for man's best friend; a lovely dog area
In addition, the park is used for the hosting of various events during summer and sees different vendors coming with unique local foods.
Address: 1100 W Deuce of Clubs, Show Low, AZ 85901
5. Do some Shooting at The Hub
Whether you are enthusiastic about archery or firearms or you simply want to lay your hands on something new, you can stop by The Hub. Visiting the Hub is another interesting thing to do in Show Low.
Here, you can try out some target exercises in their indoor shooting range, even if it is your first time. Of course, there is an expert on the ground who will teach you all there is to know.
You will also find a wide variety of guns for sale at The Hub. They also offer pawn services, so you can also sell your own as well.
6. Check out the Show Low Museum
Whether you are old or young, whether you have a passion for history or not, whether you are a visitor or local, one thing is sure: you will love the Show Low Museum.
The museum features 16 rooms, with each of them having a peculiar theme. These rooms present the history of the area to visitors in a fun and entertaining way.
Some of the featured historical topics in the rooms include EB Lewis Room, the Jail Room, the McNary Room, and The Rodeo Chedeski Fire.
And you know what? Entry into the museum is absolutely free of charge. Show Low Museum Room 15 is indeed one of the best places to visit in Show Low.
The museum is open from Wednesday to Saturday each week between 10.00 am and 3.00 pm. The kids will love the Train Room!
Address: 561 E Deuce of Clubs # 3, Show Low, AZ 85901
7. Shop at The Burly Bear
The Burly Bear is situated in the white mountains of Arizona and is your best spot shop for rustic home decor, including top-class bathroom décor, chainsaw art sculptures, kitchen décor, and much more.
If you are looking to buy something more than just a little souvenir in remembrance of your visit to Show Low, you can stop at the Burly Bear for various kinds of home décor items and furniture.
At Burly Bear, you'll find a complete selection of cabin bedding sets in different themes and styles to compliment any rustic home or rental.
There are many options to pick from, all at reasonable prices. So, get the most enjoyable and entertaining experience you can think of.
Address: 1545 S Adair Dr, Pinetop, AZ 85935
8. Play Golf at the Bison Club
Now here is something for golf lovers – Bison Golf Club. Located in Show Low, playing in its course is one of the best things to do in Show Low.
Playing golf is a fun and relaxing activity for every member of the entire family whether you have passion for the game or you simply want to try something new,
You would not only play this wonderful game, but you'll have the opportunity also to enjoy the fascinating scenery. You would fancy the grand meadow, an area well- surrounded by tall pine trees and other lovely views.
The entire golf course contains 18 holes and gives players sufficient teeing freedom. Aside from a pine-filled landscape, Bison Golf Club houses a pro shop and a clubhouse with on-site fitness and dining center.
So, take your time and play out everything.
Opening hours are between 7:30 am and 6 pm every day
Address: AZ-260 & 1 N. Bison Preserve Dr, Show Low, AZ 85901
Georgia holds some amazing attractions and activities for your exploration, here is a list of things to do in Valdosta for a fun time.
9. Visit a pumpkin patch at Willis Farm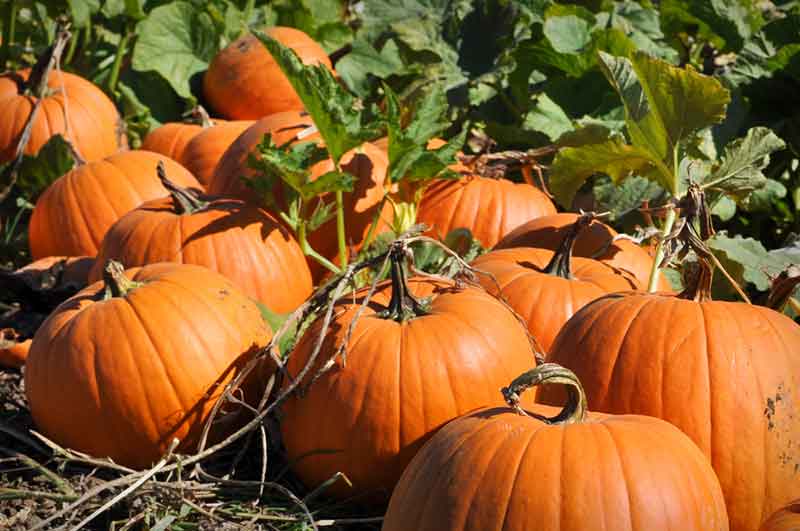 Located in Snowflake, Willis Farm is another lovely place to visit whether you are in or around Show Low. The farm is a beautiful agricultural area available for tourists (and locals) to see.
The Willis Family established this farm in 1926 as the owners. Not only is this site a farm, but it is also a tourist attraction that is way lovelier during the Halloween season.
You will see special features, including a game zone, a beautiful sunflower garden, pumpkin patches, an agri-fact maze, laser tags, meadows, corn plantations, and creeks.
The farm is also home to diverse animals such as alpacas, turkeys, and cows.
Willis Farm is open from Monday to Thursday (1pm – 8pm), Friday (1pm – 10pm) and Saturday (10am – 10pm).
Address: 381 S. 1st E. Street Snowflake, AZ 85937
10. Grab a Beer at the Black Horse Brewery
What happens after all the golfing and hiking? There are high chances you would be exhausted, hence the need to visit the Black Horse Brewery.
It is a family-owned business that makes some amazing varieties of beer using natural, local ingredients. This brewery offers guests good local beer and adds to our list of top attractions in Show Low.
This place is also very kid-friendly as it serves various types of snacks and homemade soda. So, you can bring the younger folks along.
There is a grill available to visitors, so you can even bring your meat and cook it here. You never thought of that, did you?
In general, Black Horse Brewery is a wonderful place for you to have a fantastic time with your loved ones. But if you are alone, you can also visit. Everyone here is welcoming and very friendly.
Address: 1058 Burton Rd, Show Low, AZ 85901
11. Go on a fishing adventure at Silver Creek Fish Hatchery
Would you want to do some fishing or take a hunting adventure? If yes, pick up your gear and head over to Silver Creek Fish Hatchery. It adds to our list of best things to do in Show Low.
This hatchery boasts an 840-ac (340-ha) wildlife area, and it is a paradise for hunters. Silver Creek Fish Hatchery welcomes everyone to hunt, whether you are a tourist or a local.
There are facilities for breeding fish, like Gila, Apache, rainbow trouts, speckled dace, and bluehead sucker. Every year, up to 80,000 fish can be gotten in this natural park.
Silver Creek Fish Hatchery is not just about fish; you might also find elks, rabbits, raccoons, deers, teal, gadwall, and mallards too.
Address: 8800 Hatchery Rd, Show Low, AZ 85901
12. Ski at the Sunrise Ski Resort
If you visit Show Low during winter, pick out a day or two and go to the Sunrise Ski Resort. The Sunrise Ski Resort is a nearby spot that provides comfort and entertainment to visitors and locals of Show Low.
Even if it doesn't look like the best winter and there is little snow in the city, you need not worry because there will be much of it at the resort.
The reason is that they have ten new, state-of-the-art snow guns that will create the perfect environment for snowboarding, skiing, or other winter sports and activities.
The resort has a hotel with a nice restaurant. Other facilities would definitely make you have a good time with your loved one and family.
So, do come with them as Sunrise Ski Resort is one of the top things to do in Show Low.
13. Treat and relax at Pure Relaxation the Sunshine Spa
Maximize your vacation in Show Low by treating yourself to a spa day at Pure Relaxation the Sunshine Spa. This Spa joins our exciting list of things to do in Show Low.
This unique spa is a favorite spot for locals and tourists alike who wish to relieve stress, specializing in hypnotherapy, reflexology, medical massages, chakra balancing, and a lot more.
Other services offered by the spa aside from therapeutic services include manicures, pedicures, many types of piercings, and more.
You will also love each member of Pure Relaxation the Sunshine Spa as they are friendly, professional, and warm.
Their operational hours are as follows: Monday – Friday (9 am- 8 pm) and Saturday – Sunday (9 am – 7 pm)
Address: 391 W Deuce of Clubs # B, Show Low, AZ 85901
14. Visit the Unity of the White Mountains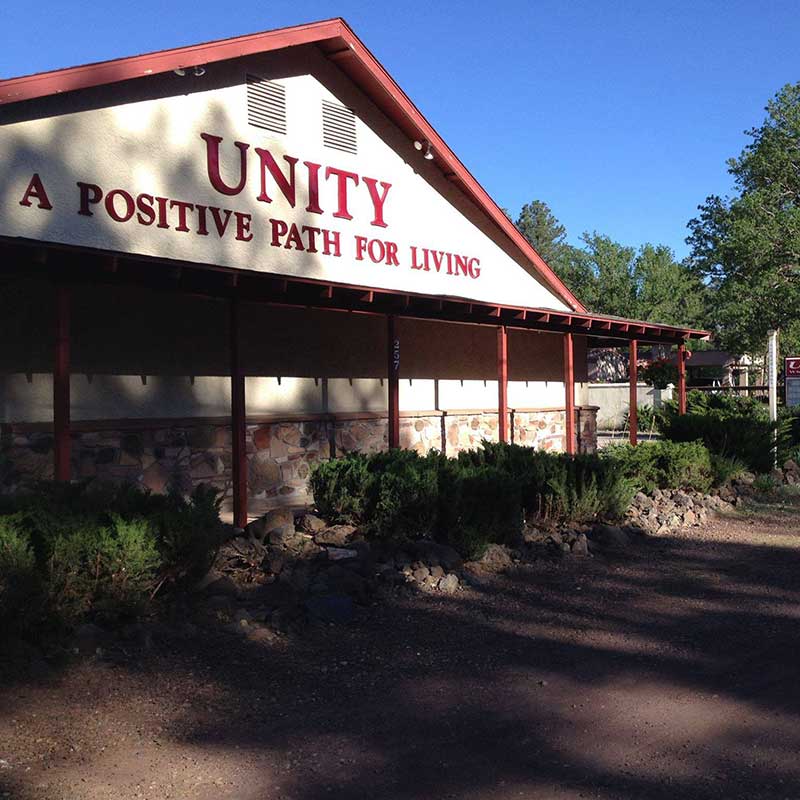 Next on our list of top things to do in Show Low is the Unity of the White Mountains. It is an organization set out for people who enjoy spirituality more than religion.
At this place, you can pray, sing, celebrate, and learn with/from other people to better understand yourself and your purpose on Earth.
Here is very much spiritual, positive, and open as it welcomes individuals from various races and different parts of the world. They also organize visits to sacred places nearby as well as various hike activities.
You would enjoy the sights of trees and mountains amidst the white clouds.
When you're done capturing your beauty selfies, head for a dish at some of the restaurants here. The Chinese eatery called Lotus Garden is particularly good. At the same time, Peaks Restaurant in Greer is another excellent option.
Address: 257 N Woodland Rd, Lakeside, AZ 85929
15. Admire creative masterpiece at AAWM Center for the Arts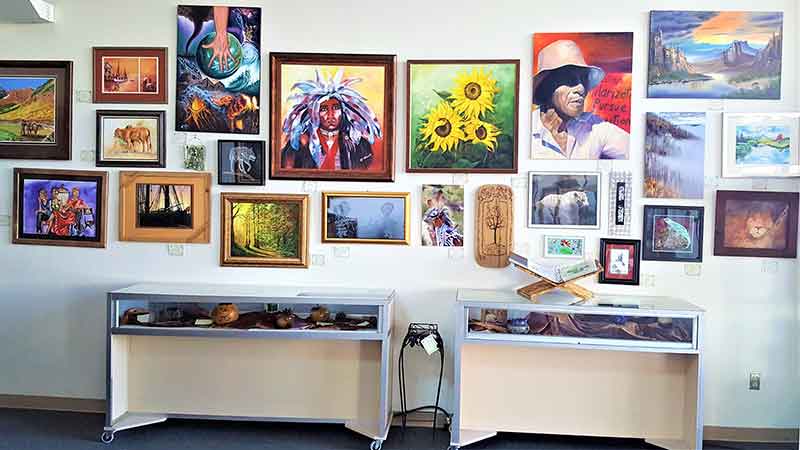 Are you a sculptor, a photographer, a painter, or just a person who loves and appreciates arts?
It doesn't matter if you have the talent or simply the taste for creative pieces; AAWM Center for the Arts does justice to all of the options.
This fantastic gallery has many stunning exhibits for you to browse and features bright interiors with plenty of natural light.
The gallery highlights the diverse art forms, including paintings, sketches, photography, art installations, sculptures, and even artisan crafts.
Also, AAWM Center for the Arts plays hosts various fun-filled events, like The Native Flute Circle, the After School Kids Art Program, and Paint with Friends.
Opening hours for the gallery are from Thursday – Saturday (10 am – 4 pm), while it is closed from Sunday to Wednesday.
Address: 251 Penrod Rd, Show Low, AZ 85901
Planning a road trip in Arkansas, here is a list of fun things to do in Texarkana, things to do in Jonesboro and things to do in Little Rock for a fun Arkansas trip.
16. Get A Nice Gift from Lazy Bear Décor
While you are in Show Low, you would like the city and some specific places. You might want to have some memories from Lazy Bear Décor and even get some cool gifts for your loved ones or family at home.
If you want to keep such memories, you can pay a visit to this gift shop. Lazy Bear Décor adds to the list of best things to do in Show Low.
Though small, it is a cute gift shop with many interesting items that some people compare to a museum. Here you will find all kinds of rustic home décor.
They also have themed products related to elks, deers, bears, or other animals in the area.
You will also love the owners and employees here. They are very friendly and helpful and are always available to guide you towards locating the right souvenir or gift.
17. Books N Treasures
Books N Treasures is another beautiful place to visit in the city. They are a used bookstore guided with a purpose, and it adds to the list of best things to do in Show Low.
The environment here is safe and accepting and welcomes people to come to hang out, check out for items, and enjoy themselves.
Books N Treasures is community-driven and aimed at the dedication to the written word. It continues the old tradition of picking up a book of interest and then experiencing what those ahead of you have read.
Have a memorable reading experience.
Address: 1150 E Deuce of Clubs Ste F, Show Low, AZ 85901-4902
18. Walk on the Show Low Bluff Trail
Taking a quick hike along the Bluff Trail is yet another fun and enjoyable outdoor activity in the city; hence it makes our list of top things to do in Show Low.
It doesn't matter what fitness level you have; the trail is an easy walk for anyone. So, irrespective of age category, you can try it out.
Depending on your strides and how fast you walk, the trail is about 1-2 hours to walk. You could also hike or bike here.
While walking the trail, you would see a lovely open meadow, a bridge that crosses the Show Low Creek, various flowers and plants, frogs, and finally, a wooded bluff.
Show Low Bluff Trail could make for a great, relaxing afternoon activity for the whole family. So, just go at your own pace and enjoy the scenery.
19. Go-Kart at White Mountain Family Fun Park
If you have ever thought that Arizona is all about upscale golf courses and deserts, then you are wrong. There are lots of attractions that every member of the family will surely enjoy.
Although not in this city, a good example is the White Mountain Family Fun Park which adds to our list of top things to do in Show Low.
Situated in the lovely countryside, White Mountain Family Fun Park is a recreation destination that will treat you to many exciting games.
On the outside are a minigolf course and fantastic go-kart tracks, while the inside has arcade games for you to play to your heart's content. There is also the laser tag, so you can test your family's teamwork by playing against other families.
In addition, White Mountain Family Fun Park has on-site dining and party rooms available for rent. Opening hours is on Friday (12pm – 8pm), Saturday (10am- 8pm) and on Sunday (11am – 7pm).
Address: 4725 W White Mountain Blvd, Lakeside, AZ 85929
20. Second Knoll Target Range
Situated in the Apache-Sitgreaves National Forest in the White Mountains of Arizona, Second Knoll Target Range is an Arizona Game & Fish Range to provide the shooting public with the highest shooting experience they can think of.
To achieve this, they ensure a clean and well-managed environment that is family-friendly and safe.
They have a 100-yard all-purpose range for public use for pistols and rifles. In addition, the range complex offers other facilities that are available through different affiliated club activities.
You will see a 20-point 50 yd. Range, a 20-point 100 yd. range, and four 20 yds. X 25 yd. Training/competition bays.
The Second Knoll Target Range is accessible to the public on Saturday, Sunday, and Monday (depending on the weather). While range hours are 10 am – 4 pm during the Winter and 9 am – 5 pm during the Summer.
This makes what to do in Show Low for a fun time, do consider an addition to your bucket list of Show Low AZ attractions to visit.
Address: Forest Service Rd 206 X US 60, Show Low, AZ 85902
21. Visit the Pintail Lake
Although it is not a huge lake, Pintail Lake is still an excellent way to spend an hour or two. Visiting this lake would be loved by visitors of this city, especially those that genuinely appreciate mother nature.
This lake has paved and well-accessible trails that will lead you to an observation deck. From this deck, you will be able to watch various birds and other animals, all to your satisfaction.
It is indeed a tranquil and peaceful place, where you can be separated from the city's bustling life, relax, and forget about your problems.
22. Eat at the PerSNIKKIty's Cafe & Bakery
PerSNIKKIty's Cafe & Bakery is probably the most famous café and bakery in Show Low. It started in 2011 with a limited menu featuring freshly baked pastries, a few gourmet salads, coffee, and sandwiches.
Over time, the cafe has evolved to deliver more items as guests requested more items. Currently, the menu includes an extraordinary variety of fresh, healthy, irresistible foods.
They create food and serve guests with the mentality that everyone has their own nutritional needs and wants. So, you'll find a wide variety of exciting foods made from the freshest of ingredients, including gluten-free options.
PerSNIKKIty's Cafe & Bakery also offers hand-pressed home-prepared Certified Angus Beef Burgers with delicious toppings and unique sauces. Some of these amazing recipes are the BBQ Chipotle Chicken and the Pineapple Sandwich.
Address: 1650 E Deuce of Clubs, Show Low, AZ 85901
23. Relish a steak at the Cattlemen's Steakhouse
Cattlemen's Steakhouse offers some of the best prime ribs you can find in the city. As a visitor who intends to explore all facets of Show Low, this is another lovely place to visit.
In addition to the ribs here, they have a wide variety of steaks and other dishes. You will also observe that the portions are large, and they are obtained at affordable prices.
It is a real treasure of food haunt with fantastic service. The steaks are cooked perfectly and if you feel like you need extra greens, get down to the salad bar.
Cattlemen's Steakhouse even bakes their own bread, so you are sure to have a great time here.
Address: 1231 E Deuce of Clubs, Show Low, AZ 85901
24. Show Low International Film Festival
One of the most well-known festivals in Arizona honors both individual performances by actors and entire movie franchises at the Show Low International Film Festival.
The festival uses about 100 well-known critics to choose which movies and performers deserve prizes for their great work.
Viewers can see many movie stars and other celebrities working on a range of artistic mediums during the program, and kids can use the opportunity to get autographs of their movie favorites.
Hollywood comes to the White Mountains for the Show Low International Film Festival, usually on the third weekend of October in Lakeside, AZ, at the WME Village 8 theaters.
The dance and music entertainment, as well as the music and dance performances, make this a fantastic weekend getaway to escape the heat.
Address: 1501 W White Mountain Blvd, Lakeside, AZ 85929, USA
25. Frontier Park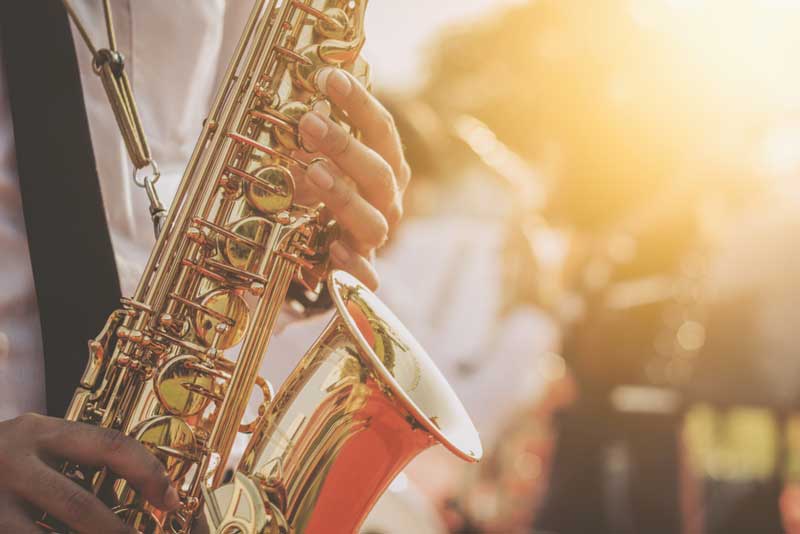 Frontier park is one of Show Low's fun-filled destinations where the entire family can unwind or engage in different entertaining activities.
Like many other parks, Frontier Park offers natural and artificial qualities; the green grass and trees in the area tend to provide shade and make the atmosphere comfortable.
There are benches where you can sit while you read your favorite book or take in the beautiful scenery of adults and kids having a good time.
Frontier Park is often used as a venue for different events; sometimes, you might catch a live music performance from regional musicians.
The park features courts for different sports and a concession stand for light snacks and other essential amenities. However, the park's most sought-after feature is its playground.
Children of all levels will enjoy the Frontier Park Playground, which features vibrant colors to inspire imagination and creativity! Two clubs have been integrated into the unique design as a tribute to the myth that gave the City its name.
The playground has inclusive play elements, such as a Silent Grove, where children who might become overwhelmed on the playground can calm down before returning to play when they get comfortable.
Address: 650 N 9th Pl, Show Low, AZ 85901, USA
26. Torreon Golf Club
The Torreon Golf Club, seated amidst tall pines in the White Mountains, fits perfectly with the deluxe private club setting with the allure of a mountain hideout.
Torreon Golf Club is one of Show Low's pristine golf clubs. It features a 36 pine-perfect holes golf course and other essential, relaxing, and entertaining activities.
Two of Arizona's top mountain golf courses are carved into the land's rolling hills and stunning shapes. The Torreon course features the best mountain golf.
The late Robert von Hagge and partners Richard Baril and Mike Smelek are responsible for the outstanding design of the golf course. The Torreón golf course's undulating surface offers a fair challenge to golfers of all skill levels.
You can unwind at the clubhouse pool, enjoy s'mores by the fire pit, or unwind with a cold beer on the terrace of The club's Grille after a strenuous trek.
After a game of golf with your friends you can walk into the facilities restaurant to refuel with a delicious meal. Aside from holding, some other members visit the club to use the in-house gym facility.
In the facility's outdoor area, there are many recreational activities available, a green field to run and play or have a picnic and a pool to cool off after a heated game of golf.
Address: 651 S Torreon Loop, Show Low, AZ 85901, USA
Have more time in Arizona? Check out our list of things to do in Flagstaff, and things to do in Yuma for a fun Arizona trip.
Plan your trip to Show Low
Truly, Show Low is a place with some really interesting nature parks and a great view of the mountains to dig into. There is something for everyone as it offers diverse indoor and outdoor activities.
You will love every spot as well as the lovely members dwelling there. So, if it is a night camping, a little bit of history, and a great steak that you are after, start making your reservations for Show Low.
Prepare for your next vacation is in Show Low because you'll return home with loads of memories and some souvenirs too!