Looking for the best & fun things to do in Eureka, CA?
Eureka is the largest seaside city between San Francisco and Portland, the westernmost town and Oregon. Eureka is the central city and county seat of Humboldt County in the Redwood Empire region of California.
Eureka is a beautiful city located in Northern California, and it is home to guided boat cruises, Sequoia Park, museums, wineries, antiques, artworks, and other recreational centers.
The beautiful city is on US Route 101 on the shores of Humboldt Bay, which is 100 miles south of the Oregon border & 270 miles north of San Francisco.
Planning to explore Eureka? Here are the best things to do in Eureka.
Things to Do in Eureka
1. Clarke Historical Museum
Clarke Historical Museum specializes in Humboldt County history with numerous Native American artworks.
Explore the beautiful Clarke Historical Museum to discover unique items, research and learn more about Humboldt County.
The Clarke Museum proudly showcases the great history of Humboldt County, including the lumber industry, livelihoods and farming wrung from the sea, prosperous ranching, the Native American cultures, gold rush settlements, locally-made crafts, and many others.
The staff in the museum is friendly and helpful. Clarke Historical Museum opens every Tuesday through Saturday from 10:00 am to 6:00 pm and from 11:00 am to 4:00 pm on Sunday.
The museum aims to celebrate the rich history of Northwestern California by sharing, preserving, and interpreting the past in ways that will expand knowledge, engage the mind, stimulate the imagination, and enrich the spirit.
This is a top Eureka attraction, a perfect addition to your list of things to do in Eureka, CA.
Address:240 E St, Eureka, CA 95501-0433
2. Sequoia Park Forest & Garden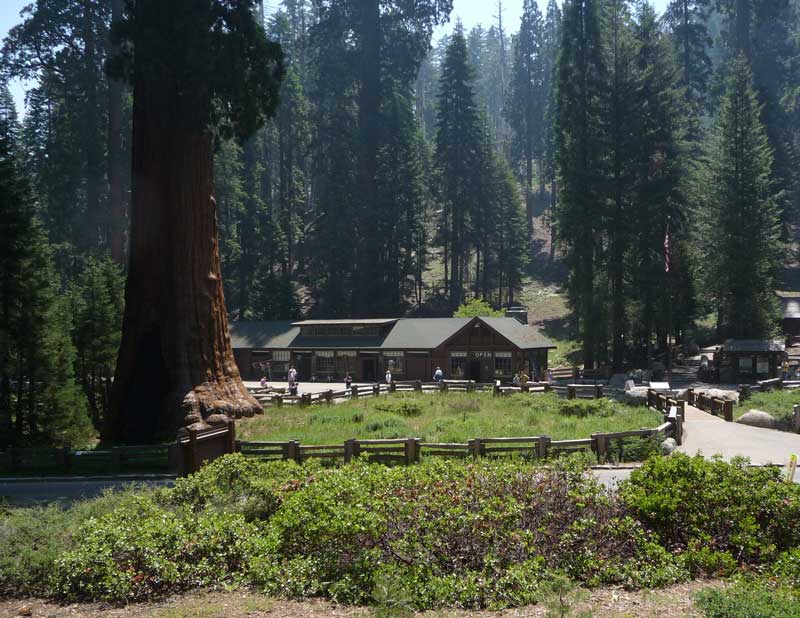 The Sequoia Park Forest & Garden, an area of 67 acres that is surrounded by the Sequoia Park Zoo, is a treasure trove of green space.
There are many trails that can be used to hike and bike through the park, including beautiful creeks, beautiful ponds, meadows and redwood forests.
There are also picnic tables, playgrounds and a gazebo bandstand. You will feel as if you are deep in the green space.
Spend a day relaxing and enjoying the beautiful trails of the Sequoia Park Forest & Garden. A visit to Sequoia Park Forest & Garden is one of the best things to do in Eureka, CA for nature lovers.
Address: Eureka, CA 95503, United States
3. Redwood Highway
Redwood Highway is a world-famous scenic drive along California's stunning coast which was named after redwood trees that are abundant along the California coast.
Redwood Highway runs from Oregon to California, with numerous state parks and reserves along the way.
Eureka is located on the beautiful and charming highway. This magnificent and impressive route is a great way to enjoy the California coast and lush greenery. You can also take long drives and get fresh air.
4. Carson Mansion
One of the historical structure that is worth adding to your list of things to do in Eureka, CA is the Carson Mansion
Carson Mansion was built in 1884 and is one of the most stunning examples of American Queen Anne architecture.
This magnificent mansion is one of America's most impressive Victorian homes. It was designed by Samuel Newsom and Joseph Newsom.
It was once the home of William Carson (a lumber baron), and it is now the most photographed Victorian house in California, and possibly the United States.
The mansion has been made a private club. Visitors must be members of the Ingomar Club (a private, non-profit club). Members can enjoy fine dining and even stay at the historic mansion.
It is worth visiting Carson Mansion when you are in Eureka. This place is truly a treasure trove of detail and craftsmanship.
Address: 143 M St, Eureka, CA 95501, United States
5. Lost Coast Trail
Lost Coast Trail provides one of the few seaside wilderness hiking experiences in the US. You will love the picturesque view of a beautiful array of wildflowers covering the bluffs and the hillsides.
Hikers in Lost Coast Trails get to enjoy a wildlife viewing opportunity such as elephants, seals, eagles, starfish, bobcats, sea lions, birds, sea urchins, river otters, deer, and many more.
You will also love to plan your hiking experience as it takes three days to cover the northern half of the trails. Each stop reveals a picturesque view of the beach, ocean, and wildlife.
Lost Coast Trails also offers overnight campings that require a permit.
Visit the Lost Coast Trails to enjoy the scenic view; an excellent hiking and beach experience with your friends and family.
This answers what to do in Eureka, CA, for an exploration time, do add to your list of places to visit in Eureka.
6. Fort Humboldt State Historic Park
Fort Humboldt State Historic Park was established in Eureka in California in 1853. It is situated on a cliff overlooking Humboldt Bay and offers breathtaking views.
The park features a hospital building which was abandoned in 1870 and is now the only structure left in the park's historic park.
Inside the hospital building is a museum. It houses artifacts and collections about the military installation which was established in the mid-1800s to resolve the conflict between Native Americans and White settlers.
These exhibitions are educative. To learn more about how Native Americans fought to protect their land against the settlers, make sure you visit to see the exhibits.
The Fort Humboldt State Historic Park, in addition to being a fantastic museum, is a great place to have a picnic or fly a kite among the greenery of the park.
Address: 3431 Fort Ave, Eureka, CA 95503, United States
7. Humboldt Bay Tourism Center
The Humboldt Bay Tourism Center, a modern information center that provides information about Eureka and its surrounding areas, is state-of the-art.
This site provides valuable information about the best places to visit in the area.
Visitors can view the tourist centre's list of attractions, accommodation and other things to do in the area by using iPads.
A tasting room is also available at the centre, which features local kombucha, ciders and beers as well as wines and locally made cheeses.
Every Sunday, Humboldt Bay Tourism Center hosts local chefs, artists and brewers. They then display their work to the public.
You can find information and check out what's happening in the area at the tourism centre.
8. Lost Coast Brewery Taproom
Lost Coast Brewery Taproom opens every Wednesday through Sunday from 1:00 pm to 7:00 pm.
Lost Coast Brewery Taproom is an award-winning craft beer brewing company. In 1989, Wendy Pound and Barbara Groom established Lost Coast Brewery. The brewery produces year-round and seasonal beers.
The finest wines produced by Lost Coast Brewery are the Great White, Tangerine Wheat, Downtown Brown, Alleycat Amber, 8-ball Stout, Watermelon Wheat, Raspberry Brown, Strawberry Wheat, Scotch Ale and other seasonal selections.
With their finest wine, Lost Coast Brewery Taproom has continued to grow and attract visitors worldwide to come to taste their great wine.
Address:1600 Sunset Dr, CA  Eureka,95503-2401
California have some unique cities you will love to visit in your lifetime, explore Santa Barbara, Santa Cruz, Irvine, and Burbank during your visit to California.
9. Humboldt Bay National Wildlife Refuge
Humboldt Bay National Wildlife Refuge is located only 20 minutes from Eureka, Loleta. It preserves wetlands for various species of birds and other wildlife.
It extends over 4000 acres, and is home to a wealth of lush nature.
This city is a must-see for migratory birds, and also houses many other species. Birdwatchers will find this place a paradise.
This is a popular spot for photographers and hikers. You will feel refreshed after a peaceful walk through the inlet.
Add a visit to the Humboldt Bay National Wildlife Refuge on your list of things to do in Eureka, CA if you have an interest in wildlife.
Address: 1020 Ranch Rd, Loleta, CA 95551, United States
10. Explore Old Town Eureka
One of the best fun things to do in Eureka, CA is exploring the Old Town Eureka and it is worth adding to your checklist.
Old Town Eureka in Eureka, California, is listed on the United States National Register of Historic Places.
This renowned area contains 154 buildings, most of them from the Victorian era. This area has a well-maintained commercial district that dates back to the late 19th century. This district includes museums, historic buildings and shops.
If you're a history lover, an architecture lover, a shopaholic, or even a foodie, the historic old town of Eureka makes a great place to spend a whole day.
11. Blue Ox Millworks Historic Park
Blue Ox Millworks Historic Park, a living history park in Eureka is a hidden treasure of the town.
The park also contains a Victorian jobshop and a fully functional sawmill, which is used for intricate designs and stunning architectural millwork.
They can reproduce historic work and are over 100 years old. This amazing place will transport you back in time.
If you are a lover of handcrafted artisan work in wood or ceramics, this rustic and authentic piece is for you.
Address: 1 X St, Eureka, CA 95501, United States
12. Morris Graves Museum of Art
Are you an art lover? if yes, add a visit to Morris Graves Museum of Art to your list of things to do in Eureka, CA.
The Morris Graves Museum of Art is located in Eureka's heart in the Eureka Carnegie Library Building.
The museum features the work of actors, musicians and historians as well as ceramists. It is an integral part the local community.
The museum was named for Morris Graves who founded the Northwest School of Art, in the Pacific Northwest. There are seven galleries which display both Morris Graves' and local artists' work.
Outside the museum is a lovely courtyard sculpture garden where you can sit and enjoy the natural beauty of the garden.
A gift shop is also available at the museum, which contains beautiful old books. This art museum displays the work of Eureka's local artists and an addition to your bucket list of things to do in Eureka will open you to hidden Eureka arts.
Address: 636 F St, Eureka, CA 95501, United States
13. Bayshore Mall
Are you in search of the perfect mall to go shopping with your friends and family? Visit the
Bayshore Mall
, as there are excellent selections of different things to purchase.
Bayshore Mall was named for its nearness to Humboldt Bay as an indoor shopping mall. The large mall is the only major mall situated on the coast of the San Francisco Bay Area.
The establishment of Bayshore Mall took in 1988, and the initial anchors are Gottschalks on the west end, Mervyn's on the south end, JCPenny on the east end and Sears on the north end.
Recently the Bayshore Mall has had more than 60 stores and is the largest shopping complex for more than 200 miles.
Other stores you will find in the mall are Kohl's, Walmart, TJ Maxx, ULTA Beauty, Sports Authority, Ray's Food Place, C&K Markets, Ross Dress for Less, Petco, Bed Bath & Beyond and others.
Bayshore Mall provides a variety of services and amenities to make sure you have an enjoyable shopping experience.
Address: 3300 Broadway, Eureka, CA 95501-3833
14. Headwaters Forest Reserve
Headwaters Forest Reserve was established in 1999. It preserves and protects redwood groves along the northern California coast near Humboldt.
The reserve is managed by the Bureau of Land Management and it covers approximately 7,472 acres.
Humboldt's redwood groves are the last remaining old-growth redwood forest. This reserve is home to both wildlife and plants.
It shelters many species, including the northern spotted owl and the marbled murrelet.
Two hiking trails are available in the reserve for those who want to hike while being surrounded with lush nature.
To see and feel the beauty of California's redwood forests, visit the Headwaters Forest Reserve.
Address: Palco Road 1, Fortuna, CA 95540, United States
15. Old Growth Cellars
Old Growth Cellars is a unique boutique winery in South Eureka that features a fantastic tasting room and a winemaking process of varieties of wines in Humboldt County.
Enjoy wine tasting with your friends in a friendly atmosphere. The handcrafted wine offers three tastings at a very affordable price.
You will also get to see the process of producing different varieties of wines and the procedures of pressing grapes.
The owners are nice and are willing to answer questions asked by the visitors. Old Growth Winery offers about ten wines to taste, and all the wines are fantastic.
Old Growth Winery offers wonderfully crafted wines made by one of the owners from old Growth Redwood. If you need a spectacular place to host your events, you can do that in Old Growth Winery, as there is an available centre for events.
Old Growth Cellars opens every Thursday through Saturday from 1:00 pm to 7 pm & on Sunday from 12 pm to 6 pm. For some wine tasting, add Old Growth Cellars to your checklist of things to do in Eureka.
Address:1945 Hilfiker Ln, Eureka, CA 95503-5711
Planning a Pennsylvania road trip? we have compiled a list of things to do in Bethlehem, things to do in Hershey and fun things to do in Erie for a fun trip.
16. Restaurants in Eureka
Eureka is home to a wonderful food scene, with delicious seafood that will satisfy your every craving.
The city is situated on the California coast and boasts a bounty of fresh seafood.
You can find amazing restaurants all around the city that offer mouthwatering cuisine and an unforgettable dining experience.
Sea Grill, Restaurant 301 and Chalet House of Omelettes are some of the top restaurants in town. Gill's By The Bay is another great option. Brick & Fire Bistro is also a good choice.
These restaurants offer some of the finest food in town, as well as a variety of vegetarian and vegan options.
17. Cafes to See in Eureka
There are many cafes in Eureka where you can enjoy a cup of tea or coffee while taking in the stunning view of the ocean.
Los Bagels Eureka and Cafe Nooner are some of the most popular cafes in town. Ramone's Bakery & Cafe is also located on Harrison Avenue. Golden Harvest Cafe is another great option.
These cafes can be found in the town. They serve delicious, healthy food from local produce and have a relaxed atmosphere.
These cafes are a great place to grab a quick bite or a cup of tea.
18. Humboldt Bay Harbor Cruise – Madaket
One of the top fun things to do in Eureka is joining the Humboldt Bay Harbor Cruise. Humboldt Bay Harbor Cruise – Madaket offers 8.5-mile one-hour cruise tours along the Eureka Waterfront.
The Bay Harbor Cruise- Madaket is the oldest passenger vessel in continuous service in the US.
Walter C. Coggeshall and NELLIE C purchased the Bay Cruised in 1931. The Indian word "Madaket" was given to the fleet, and the word came from the East Coast's Nantucket Island.
Madaket is the last vessel of the seven vessels fleet that initially transported workers and families around Humboldt Bay, including hundreds of dockers and mill workers employed by timber companies.
Humboldt Bay Harbor Cruise was a reminder of the bays maritime past kept for the future, which has also become an essential part of the local heritage tourist industry.
Explore the various sites and areas as Humboldt Bay Harbor Cruise offers scheduled tours, including bay cruises, 75-minute narrates cruises, an hour non-narrated Cocktail Cruise, and others.
The narration includes discoveries of Humboldt Bay, wildlife, shipping, Indian history, timber industry, maritime history and activity and others. The Bay Harbor Cruise tour offers an excellent opportunity to discover the Humboldt Bay Area.
19. Arcata Community Forest
Arcata Community Forest is located 9 miles from Eureka, in the city Arcata. It's a lush forest with small redwoods ferns that covers 622 acres.
It is a popular place to cycle and hike in the Arcata Community Forest trail network. This place is a great way to connect with nature and get away from the city hustle and bustle.
If you are a lover of nature, this attraction should be added to your list of things to do while in Eureka, CA.
Address: Arcata, CA 95521, United States
20. Relaxation in Eureka
After a long day of exploration, a drink to quench your thirst at the end is all you need. There are many bars, clubs and breweries in Eureka.
The Speakeasy and The Shanty are the best places to grab a drink in Eureka. These places offer the best drinks in town and a relaxed, laid-back atmosphere.
Eureka, a beautiful seaport on the Californian Coast is a charming town with lots to do.
21. Doe Flat Trail
Doe Flat Trail is a great place for hiking, and it covers approximately 2.5 hours from Eureka along the Oregon border and in the Six Rivers Forest.
You will discover Doe Lake, an excellent picnic spot and good campsite en route to Devil's Punchbowl on the same trail. Have fun swimming in the clear lake.
Doe Flat Trailhead features trail access through the eastern part of Smith River National Recreation Area, Six Rivers National Forest, Coast Ranges, Siskiyou Wilderness, and Klamath Mountains, CA.
From HWY 199, take Little Jones Creek Road, located north of Patrick Creek Resort; then follow the blacktop, which is approximately 15 miles to the Bear Basin turnoff (14N04), then turn left as you follow the winding, gravel road to the low-quality Siskiyou Pass Road.
You would need to turn left again and proceed to the parking area at the Wilderness boundary. As you drive, you would discover the South Fork of the Smith, Siskiyou Mountains, and the most prominent northern sub-range of the Klamath Mountain range.
The Doe Flat Trail starts at 3,400 feet elevation and reaches a height of 4,700 feet at Devil's Punchbowl, where trees pave the way to subalpine scrub and breezes cool the air.
22. North Coast Repertory Theatre
Visit the North Coast Repertory Theatre with your friends and family to enjoy the live performances of talented and creative local actors and other artists, including poetry readings, comedy, concerts and others.
Watching spectacular live performances with fantastic creative sets and an atmosphere of good vibe is a unique way to spend the afternoon or evening with your friends and family.
North Coast Repertory Theatre is committed to creating an avenue where audience and artists experience the intimacy of love theatre, strengthen their imagination, nurture and embrace the diversity and variety in our lives.
North Coast Repertory Theatre is a non-profit organization that has grown to be one of the area's leading performing arts centres. North Coast Repertory Theatre is a theatre recognized for its unique works and commitment to excellence.
The theatre features year-round performances of an award-winning primary stage season to more than 40,000 visitors in its intimate 194-seat setting.
North Coast Repertory Theatre consistently displays high artistic quality and is known for the diversity of its great works.
For theater lovers, North Coast Repertory Theatre should not be missing on your list of things to do in Eureka, CA. The theatre offers directors, local actors, and designers featuring seven main stage performances each year, drawn from contemporary and classic theatre.
Address:300 5th St, Eureka, CA 95501-0306
Want more of California, check out our guide on Lake Arrowhead, San Bernardino, Simi Valley, and Monterey for a memorable exploration.
Start Planning your Trip to Eureka
Eureka is a lovely city in Northern California and an exciting place to go for a vacation.
Eureka is home to excellent parks, historical museums, arts, crafts, theatres, antiques, shopping malls, lakes, fun and engaging outdoor activities, restitution, and many more.
There is always something to do and places to visit in Eureka as it has something for everyone, both young and old.
The places listed above are some of the best places to visit in Eureka. Start now to plan your next trip to Eureka, California.