Yuma is a city in the southwest of Arizona, United States, Its population is over 93,064 and is not shy of attractions and activities that would keep you busy in the Yuma County.
The city has got a very rich history in addition to their local heritage, arts and culture and should be number 1 on your travel list. Yuma is also the sunniest place on earth (thus making it perfect for outdoor activities) and has attraction points for tourists, visitors, and locals.
There are of course lots of fun things to do in Yuma AZ, these features Annual events Recreation and fitness centers, Shopping malls, Museums and Attraction sites, Dining spots, Entertainment, Rivers, parks, and landmarks. Let's explore the best things to do in Yuma, AZ.
Things to Do in Yuma, AZ.
1. The Yuma's Territorial Prison State Historic Park
Have you ever imagined what the prisons looked like in the 1800"s? Well, the Yuma's Territorial Prison State Historic Park gives us a fantastic feel of that physically and creates that wonderful image in your mind. You would certainly want to see the old holding cells and those creepy dark rooms.
The prison is no longer in use but has its memories live on even in the minds of even younger generations, I guess you've seen the movie 3:10 to Yuma.
The infamous prison, which began operation in 1876 was built strategically by its initial group of prisoners. Its location across the bank of the Colorado River and with the desert surrounding it show added caution put in place against jailbreaks which were common at the time.
The prison was in operation for 33 years and recorded 3,069 prisoners – 29 of them were women. 111 inmates died while serving though no one was executed during the period.
The Yuma Territorial Prison is a part of the historical Old South West and was shut down for overcrowding in the year 1907.
There is a mirror (which created a front and back in a single photo), be sure to have your mugshot before leaving.
Location: 1 Prison Hill Rd, Yuma, AZ 85364, Phone: 928-783-4771
2. Imperial National Wildlife Refuge
Do you love views of the river, desert, mountains, or wetlands? Can you image imagine what scenery it would look like when the four are combined? That is what is obtainable at the Imperial National Wildlife Refuge. An absolute scenic beauty that is well protected and cuts into the Arizona, Yuma County, and Imperial County.
The vast region of this habitat is the wetlands (though it is located in the Sonoran desert) which perfect makes it a perfect place for wildlife.
Aside from the dazing beauty of nature, you would not want to miss the boat trips, fishing, and hiking, or even camping, would you?
3. Imperial Sand Dunes National Recreation Area
One of the best things to do in Yuma is a visit to Imperial Sand Dunes National Recreation Area, taking your position to the west of Yuma, about 20 miles, is the incredible Imperial Sand Dunes.
Alternatively known as the Algodones Dunes, it stretches over 40 miles and with a height of about 300 feet and is the joy of most off-road zealots- despite the heat this wonder records over 1 million drivers every year as visitors
They are the largest in California and is famously used asset for some movies due to its appealing scenery. Have you seen Star Wars: Return of the Jedi?
I bet you would want to see for yourself, are you in Yuma or planning to be. They've got multiple camping sites, with all of them having conveniences and their parking pads. These include Gecko, Grays Well, and the Buttercup, so, you are covered!
Location: State Historic Park, 201 N. 4th Avenue, Yuma, AZ 85364, Phone: 800-293-007
4. Wild World Zoo and the Camel Farm
During your visit, do not miss the Wild World Zoo and the Camel Farm, this makes one of Yuma AZ points of interest.
Seeing wild animals is one fascinating experience we don't want to forget or would like to encounter. This comes especially when you can feel them directly.
The Saihati Camel Farm is one center of attraction located in the outskirts of Yuma. It is a farm with a specialty in the breeding of one-humped camels. There is also a petting zoo –this fascinates children the most- which houses and cares for about 200 exotic animals and domestic desert animals.
It's normally fun when families visit the farm with kids seeing some funny-looking animals such as the camels, Patagonian cavy, miniature donkeys, huge ostriches, zeedonk, water buffalo, sheep, a llama, giant tortoise, kinkajou, emu, ibex, hedgehog, wallaroo, and others. Visitors are also allowed the privileged of feeding animals.
Why don't you give your children this treat, they will certainly love it!
Location:15672 S Avenue 1 E,Yuma, AZ 85365, Phone: 928-627-7511
5. Castle Dome Mine Museum & Ghost Town
Add a visit to Castle Dome Mine Museum & Ghost Town in your checklist of things to do in Yuma, AZ.
What was the then buzzing mining town in the year 1878 is the remains of utter emptiness, The castle dome town which is larger than Yuma was a location of the early miners who breed fortune from copper and silver.
The ghost town as it is called now is surrounded by mountains and looks frozen in time though some structures still preserve the Old West history. Deserted since over 20 years ago, this town remains untouched by the hands of modern technology.
You would see original structures like the church, the five saloons, the boardwalks, the stamp mill, the original boiler, the mills, and many others.
These historical places show that her residents must have been very brave and rugged. The post office workers, the miners, the supervisors, the bartenders, the artisans who ply the trade there, customers, and the miners.
Would you have survived such a busy and noisy environment? I bet you go take a look at yourself.
Location: Castle Dome Mine Rd, Yuma, AZ 85365, Phone: 928 920-3062
6. Yuma River Tubing
During your visit to add spending some time at Yuma River Tubing to your list of fun things to do in Yuma with loved ones, this makes what to do in Yuma AZ for a family fun time.
Pretty sure you know that from April through September, the weather is often sunny in Arizona. You would need to cool off after having a hot day.
One popular and fun-filled way is river tubing, It could be a bit of trouble as you may be faced with questions such as how do we access the tubes? Who is going to drive? How do we move with our box? Is there a route to the car in the end?
Yuma River Tubing answers all these questions and more, offering a unique alternative to the same feeling you experience in the Colorado River.
Irrespective of your person you can or how old you are, the freedom of journeying through this floating journey is all yours.
Highlights may include the upstream to the ocean bridge, under the Ocean, and finally to the West Wetlands Park. It is normally a one-hour activity (you are welcomed to come with your refreshment) and is best enjoyed amongst family and friends. Hey, do not forget the pet!
If you a lover of surfing or even if you are not, I bet you try it out. But, you would need to reserve your space as spots are often quickly filled up.
7. Gateway Park
One of the fun things to do in Yuma AZ is a visit to Gateway Park.
Yuma has got over 35 public parks, but here we bring to you the Gateway Park situated by the Yuma Territorial Prison at the end of Madison Avenue.
And hey, there is a refreshing river beach close to the coast of the Colorado River. It is sandy and so adoring, the perfect place for your swimming and relaxation, most especially in the summer.
A little description of this awesome piece includes the kids' playground which has two well-placed fishing docks. I'm sure your kids would want to build their sandcastles – It's a whole world to children.
They've got the beautiful picnic spots graced with three shelters ('ramadas' as they are called), strategically positioned are to give the park a purposeful arrangement are the barbecues, picnic tables, and benches. They've still got restrooms and showers to give your that end-of-business feel.
Another beautiful thing is that you can get a full view of the historic Ocean to Ocean Bridge, yes!
It was built in 1914 and its initial design was for the bridge to connect the Ocean to Ocean Highway and it accommodated only pedestrian and bicycle traffic for 14 years. However, it was allowed vehicular access in 2002 after renovation.
The bridge was renovated and reopened to vehicles in 2002 after 14 years of pedestrian and bicycle-only traffic.
8. Colorado River State Historic Park
During your visit to Yuma, add a visit to Colorado River State Historic Park on your checklist of things to do in Yuma, Arizona, this makes one of the top Yuma attractions.
Yuma Quartermaster Depot State Historic Park contains the old U.S. Army Quartermaster Depot and the Yuma Crossing National Heritage Area. This is area house some of the oldest buildings in Arizona and is a full blend of history with some fun exhibits for specially preserved for children.
The park is located on a high ground of the Colorado River- which crossed through Yuma- since the Old West time.
Between 1864 and 1883, the Yuma Quartermaster Depot acted as a cogent source of lifeline for the various military posts scattered across Texas, Arizona, Utah, Nevada, and New Mexico. Usually, a 6-month provision of clothing, food, ammunition, and any other necessary materials needed for the soldiers of the US Army were kept in the warehouses.
At first, Ocean vessels ply the Gulf of California route with goods carrying the needed goods. They are then loaded into speedboats heading to Yuma through the Colorado River.
In 1883 the site was closed but continued to function in varying capacities as a telegraph and weather station and even a customs office. In the early 1900s, the Bureau of Reclamation kicked off the construction of some notable irrigation projects.
These projects targeted and covered a great portion of the Yuma County and California by employing dams, siphons, and drains thereby assuring a successful year-cycle farming.
So, you see, aside from your kids, you can learn more about the Yuma project, this makes what to do in Yuma AZ for historic artifacts lovers.
Location: 201th 4th Ave.Yuma, AZ 85364. Phone: (928) 329-0471
9. Yuma Art Center
Do you appreciate modern art? Are you are fan of distinguished art theaters and museums? Then, you would certainly love the Yuma Art Center, this makes what to do in Yuma AZ for arts lovers.
The center is kept in operation by the City of Yuma Parks and Recreation Department, It features 650-seat Yuma Theatre, Four Visual Art Galleries, studios for locals and visitors.
The center has got everything you think of, the architecture, the displays, name them! They are all captivating, giving you an awesome experience in the world of arts.
It is free for visitation all you need do is check up their website.
Location: 254 S Main St, Yuma, AZ 85364-1425. Phone: +1 928-373-5202
10. Balloons over Yuma
What viewing the scenic beauty of the city of Yuma in a hot air balloon flight.
Balloons over Yuma is the area's only commercial balloon flight operator. They are a member of the Yuma Visitors Bureau (tasked with marketing the travel and tourism industry to the public), with about 300 others.
Flying in hot air balloons is, to say the least, exciting. An average flight can be between 45 minutes to an hour depending on the winds. Why don't you relax in a flight, seeing the farmlands, treetops, and hills and having the birds for company?
Can you create this image of stepping into a basket flying about 75 feet high, with an illuminated balloon over your head and the cool breeze swinging your entire body with the world at your feet? That wants you to stand to experience, especially in a carnival.
Location: Yuma, AZ 85365. Phone: (928) 343-2218
11. Martha's Gardens Date Farm
One of the best things to do in Yuma, AZ is a visit to Martha's Gardens Date Farm.
In 1990, Nels and Martha Rogers put their hands to serious work by creating an oasis out of rough desert land. It stretches about 10 miles of the desert with 8,000 date palms.
Looking at it from a distance, under the sun, and at an inclined angle creates something of a mirage, and today it is one of the largest date farms in Yuma, spanning an area of 130 acres. There is also a mega store of Medjool date palms.
This singular farm has made Yuma (and Arizona in extension) every popular. It is not surprising seeing that Yuma holds the credit of being the sunniest place of the world and date palms need continuous sunshine for proper growth.
Need we remind ourselves that 1992 marked that beginning of date industry in the United States? Walter Swingle, a USDA scientist brought 11 shoots of dates to Nevada from the African country, Morocco. So, the whole palms in America originated from these shoots.
You would definitely want to see them yourself, and probably get their famous date shake from their farm or even other products. Check it out!
 Location: 9747 S Avenue 9 3/4 E,Yuma, AZ 85365, Phone: 928-726-8833
10. Yuma Crossing National Heritage Area
Yuma  Crossing National Heritage Area is one of Yuma attractions you should not miss as you take a trip to explore Yuma, AZ.
Just outside of today's Yuma, there are two massive granite rock outcroppings on the Colorado River that significantly narrow the river. For more than 500 years, these rocks provided the only river crossing for more than a thousand miles, affecting the history of the entire area.
This crossing was important for the lives of the local Patayan and Quechan tribes, Spanish explorers, adventurers traveling to the Wild West, and for those joining the California Gold Rush. Fort Yuma Crossing was built in 1848 to protect emigrating travelers from Indians.
Today declared as a National Heritage Area, the Yuma Crossing includes two state historic parks, the Yuma Crossing National Historic Landmark, two beautiful new riverfront parks with trails and paths, an interpretive plaza with signs that tell the story of the Yuma Crossing, and 350 acres of restored wetlands.
Location: 180 W 1st St,Yuma, AZ 85364, Phone: 928-373-5190
12. Yuma Conservation Garden
Do you know how beautiful a well-cultured and groomed a flower garden can be?, their exotic nature, lush and blooming scenery, distinctive scents and colorful environment is what you see, this and more are evident in Yuma Conservation Garden
It is a 28-acre land mapped out to create a botanical garden. It is secluded about 4 miles outside of Yuma and features magnificent desert plants.
You would see on site the enticing Sonoran desert vegetation, a pond (built to accommodate domestic and wild waterfowl), you would also see a watershed model and range of old farm equipment on display.
This masterpiece is an educational hub for groups and individuals who wish to take a field trip to the garden, you can also extend your hand of hospitality in feeding the ducks!, this is one of Yuma attractions worth seeing during your visit.
13. East Wetlands Environmental Restoration Area
Fancy checking another reclaimed site? Then, the East Wetlands Environmental Restoration Area is there and it's not quite far from the Yuma Prison.
Restoration began in 2002, by the Bureau of Reclamation with workers planting over 200,000 native species (trees, shrubs, and plants), removal of over 330,000 cubic yards of dirt and trash, and creation of water channels.
This has brought about a tremendous increase in the population of birds and wildlife with estimation tipping it to provide habitat for over 330,000 species.
There several trails and paths you can walk through, though there are no restrooms or drinking fountains you'll find benches for rest.
Location: Along the river east of the Ocean-to-Ocean Bridge Yuma, AZ 85364
14. Yuma Visitor Information Center
How about you get to know Yuma from a local before exploring this sunny city, visit the Yuma Visitor Information Center for this experience.
Here you will get to meet with a Yuman and have a chat about this city, this will get you to know first-hand history of the area as well as guide your exploration through it.
You as well get to pick brochures, maps as well as any necessities which all aim to give you a fun stay in this city.
Here you can also get to rent a bike and get souvenirs in their gift shop for loved ones.
Location: 201 N. Fourth Avenue, Yuma, Arizona 85364. Phone: 1-800-293-0071.
15. The "Official" Center of the World
Just a little drive (about 8 miles) from Yuma in Imperial County, Felicity California is a globally known point established in the 1980s by the French-American, Jacques-Andre Istel.
The Californian state and the French government officially approved and declared this spot as the "Center of the World"
You'll find some interesting exhibits of note is the monumental spiral staircase leading to nowhere, it is a section -of the original 13- of the Eiffel Tower.
Other things you would find are pyramids made of granite, depicting human existence, a church, and a plaque.
This spot is free and open from March to December, with a visitation certificate issued to you.
Location: 1 Center of the World Plaza, Felicity, CA 92283 Phone: (760) 572-0100
16. Waylon's Water Park
Well, this is a place for total relaxation and fun, Waylon's Water Park has got several attractions and over 15 slides there never a dull moment in the park.
You will still find a mini-golf course, a very nice on-site restaurant. So there is everything to cater for all gender and age bracket.
Let your family enjoy that perfect moment on a hot day!
Location: 4446 E County 10th St, Yuma, AZ 85365-3615
17. Historic Downtown
Ever heard of Historic Downtown? You are in Yuma, looking for a place to have some snacks, shop, or even dine? If you are in any of these situations, then this is the location.
Once a place of flooding but now rejuvenated to a place of life even at night, though the history still lives. In the 1920s, here was attacked by floods and most of the buildings remind us of those series of occurrences.
You can spend any phase of your day at the Downtown, exploring the shops & dining places and street entertainment. This area is often used for fairs and music shows throughout the year
What do you need to do?
Park your car and take a stroll around the courtyard and patios. You would find very pleasant surprises and a good way to enjoy your leisure.
18. Party Ponies Yuma
I remember my first ever ride on a horse, that particular experience can never be forgotten. The trots and gallops passed signals from the hoofs through the back to my spine. It was very glorious and I felt like a royalty.
Pony rides that cover all age brackets with ponies of varying sizes-small, medium, and large- is what is offered here. And they are hand walked. Here, they can tour around the ranch, through logs around citrus trees, through tracks, up and down hills all under proper guidance to your kids.
Pretty sure your child or children would want to take responsibility and if they can, why not? They can ride on their own.
Why don't you make your children's parties and special events a dream come true? All for some bucks, you can get this done.
The horseback riding experience is one that surely delights children, so give your children this gift of a lifetime at Party Ponies Yuma.
Location: Yuma, AZ. Phone: 208-290-7423.
19. Martinez Lake
"In the end, there was the best-dressed angler to ever fish Martinez Lake.
I am pretty guilty of that. It was too much to resist. No boat? No angling attire? No matter! I couldn't resist fishing."
That was the confession of Lee, who was part of a team of officials that visited the city and decided to go on leisure.
The Martinez Lake is in the southwestern corner of Arizona, by the Lower Colorado River. It has an area of about 300 to 500 acres and this varies with the boundary of the Colorado River at the time.
Fishing at Martinez has become the joy of Anglers in recent times as they often find many opportunities to cross their path.
Some species of seafood you can find in the Martinez Lake include: Bluegill Sunfish, Bullhead, Bullfrogs, Carp, Catfish (Channel or Flathead), Crappie, Green Sunfish, Largemouth Bass, Redear Sunfish, Smallmouth Bass, Striped Bass and Tilapia.
Do you know that several Bass fishing tournaments are held in the area every year? There are also a handful of private docks set up to give kids similar privileges.
Aside from the fishes, this lake has become an attraction for migratory birds. Over 200 species of birds have taken this habitat as a place of refuge.
So now, what is keeping from having a sight of aquatic beauty?
Location: Martinez Lake, AZ 85365
20. The Pivot Point Interpretive Plaza
Do you want to take a stroll down to history? This park is stationed at the exact site where the first railroad train entered Arizona in 1877.
It was established as an outdoor exhibit in 2010 with a 21st-century audio system recreating the sounds of a steam locomotive and the train still in its original tracks.
This makes one of Yuma attractions you should not miss during your visit, it makes what to do in Yuma AZ for a fun time viewing historic sites.
21. Sanguinetti House Museum and Gardens
I seriously love flowers on a personal level, maybe not just because of their aesthetic nature because of their tenderness.
The adobe home of E. F. Sanguinetti, built in the 19th-century is nothing less than charming and to see its location in the heart of the historic Yuma goers further to buttress his extraordinary legacy.
Eugene Francis Sanguinetti "Merchant Prince of Yuma" was born in Coulterville, California, on May 16, 1867. He however visited Yuma just aged 16 where he resided until he died in 1945. He wasn't just that way as he accomplished some feats, one of them being this edifice surrounded by elegant gardens. He was a vast businessman and impacted Yuma in his days.
Currently operated by the Arizona Historical Society, you would love to treat yourself to such a tour. There is also a refreshment point at the Garden Café, sure you would care about that.
Location: 240 S Madison Ave, Yuma, AZ 85364.
22. McPhaul Swinging Bridge
One of the fun things to do in Yuma, AZ is a visit to McPhaul Swinging Bridge, this makes one of the best places to see in Yuma.
Formerly known as Yuma, Arizona's "Bridge to Nowhere", it is located 18 miles north on Highway 95. The McPhaul Bridge is a suspension bridge constructed by Yuma County and the State of Arizona in 1929.
The bridge back then was used to carry a section of U.S. Route 95 (US 95) over the Gila River and has a span of 798 feet.
Later on, it was judged as not being adequate for modern transportation needs and hence replaced in 1968. Wirth the river course redirected, a dam and bridge were constructed as a replacement.
What makes the McPhaul Bridge standout to date is despite the fire damage in 1990, it still outlasted its replacement which in 1993 was demolished by flood.
Go checkup this awesome structure of ancient engineering.
23. Dome Valley Raceway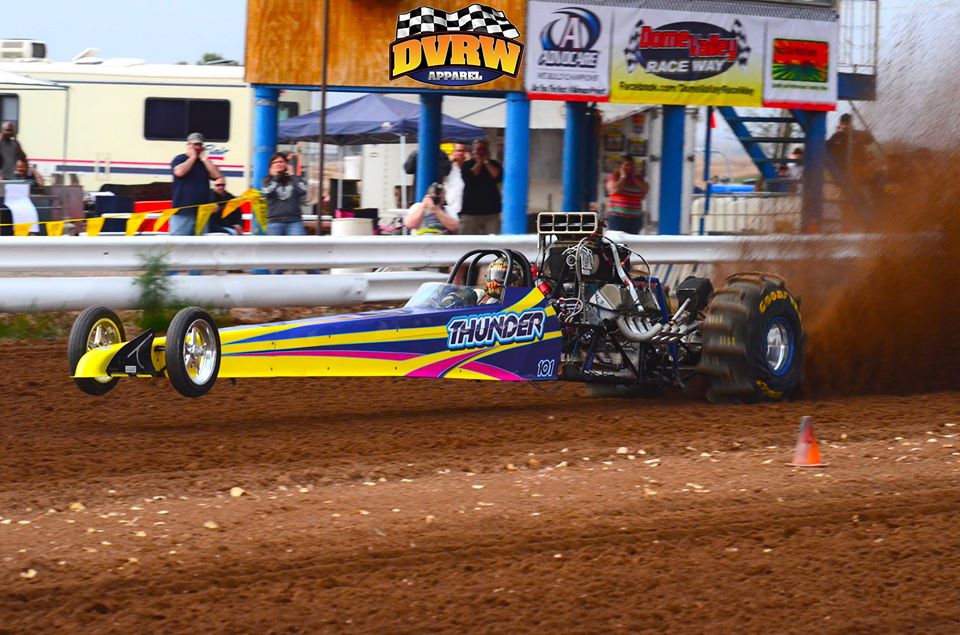 Are you a lover of the car racing sport? You've got favorite drivers who have caught your fancy – may be due to their skills or off-track personality- in Formula 1? Do you want to see a similar repeat of your favorite event on sand? You have it here.
The Dome Valley Raceway is a 300-foot racetrack that is undoubtedly equipped with a feel of professionalism. They've got convenience facilities and also concession stands.
Attend the Dome Valley Raceway, you might be seeing another Hamilton!
Location: 18725 E. CO. 7th St. Wellton, AZ 85356. Phone: (928) 304-5422
24. Robert G. Fowler Statue
Every sculpture you've come across has a history and most times their place of erection tell a more significant story, this is one of Yuma attractions you should not miss.
On October 25, 1911, Arizona for the first had the wheels of an aircraft touch its ground. That plane landed in Yuma and was piloted by Robert G. Fowler. The Wright Model B biplane (also known as a "Cole Flyer") had a weight of 800 pounds and an ability to attain a maximum speed of 45 MPH.
The story had it that Mr. Fowler's flight began from Santa Monica, California with its final destination target, the East coast. During his course, however, he touched down in Yuma and continued after four days. He arrived in Miami, Florida after forty-nine days.
That particular spot has a statue of Robert G. Fowler, sculpted by Artist Laurie Cleaning of Tucson. And 52 years, Fowler returned to the unveiling and dedication of the monument which was built in his honor.
There are parking sites, with a restaurant and restrooms. The Yuma Landing Bar & Grill is decorated with photos all relating this historic occurrence and the state at large
How many statutes do you have the record as viewed? Why don't you add this one to your list of Yuma things to do during your visit.
A great place for a vacation in Canada is Windsor, Windsor presents lots of fun attractions and activities to give you a fun time here, here are some of the best & fun things to do in Windsor Canada.
25. Yuma Armed Forces Park
Would you like to know what to do in Yuma AZ, do not miss to honor those who serve the United states at Yuma Armed Forces Park.
The Yuma Armed Forces Park is a beautiful place built to preserve the memories of those that served the United States of America through the Armed forces.
The arrangement and decoration would certainly wow. It is just a one-acre park, at the site of the old railroad depot and you would find multiple walls with black granite plaques in honor of Yuma-area veterans, they are in number over 2,000.
All service emblems of the nation's armed services – Air Force, Army, Coast Guard, Marines, Merchant Marines, National Guard, and Navy- are all duly represented on polished granite tables.
There is another table set honor those who were missing in action and prisoners of war. You would also love the circular outdoor arena which a capacity of about 200 people.
The park is indeed a place where you, your family and friends can come and reflect over life and previous experiences.
Location: 291 S Gila St, Yuma, AZ 85364-1463
26. Cocopah Museum
There is a certain tribe in India, the Cocopah, they portray an absolute gem of beauty in cultural and historical heritage. And in other to preserve that culture and history, the Cocopah Museum was established in 1996 on the West Cocopah Reservation.
The museum is a federal repository that showcases the Cocopah family structures and cultural depictions. Visitors see exquisite traditional attires, tribal tattoos, pottery, beadworks, musical instruments, warrior displays, veteran clothing.
The museum is surrounded by a 1.5-acre park flanked with Sonoran trees and plants, this luxurious view is a perfect replica of a traditional Cocopah dwelling and Ramada.
Guests are also allowed the freedom of purchasing some original artworks, beadworks, jewelry, and other native items of choice from their gift shop.
Interestingly you'll also find the Cocopah Speedway complex which was purchased by the Cocopah Indian Tribe in June 2005. The speedway is located at Highway 95 and County 15th Street.
Do you love history, arts, and culture? If yes, then here is certainly a place to visit in Yuma.
Location: 14533 S Veterans Dr, Somerton, AZ 85350, Phone: 928-627-1992
27. The Farmer's Market
It is said that "a hungry man is an angry man" and "a healthy man is a healthy mind".
Enjoy the atmosphere of Yuma's Farmer's Market where you can obtain everything you need to eat healthier. There you'll find fresh produce, a homemade pasta, and every other agriculture-related item.
The market is located at the Yuma Palms Shopping Center
Location: Yuma, AZ 85365, United States
28. Adair Park
Exercise is an important prerequisite in keeping the body and mind fit. You wouldn't want to be so weary, would you?
So, here comes the Adair Park located off Highway 95 east of Yuma, about 3/4 mile past the Gila River bridge. The park houses the Adair shooting range, outdoor facility for sports and fitness. They are a nonprofit corporation.
Adair shooting range is operated and maintained by the Yuma Area Shooting and Recreation Clubs who merge forces in making these ranges safe for all to enjoy.
Some of the activities which go on there include: Archery, Big Bore (1,000 yds.), Black Powder Range, Camping Area, Pistol Range, Police Combat ( For Law Enforcement Only), Recreational Complex Rules, Silhouette range, Small Bore, Trap and Skeet
Why don't you brace up in your gear and go have a quick session with other folks, I bet you would not regret it.
Location: Adair Park RD, Yuma, AZ 85365. Phone: (928) 726-0022
29. Los Algodones
Come on, let's go for a ride, yeah! And this time, we are going west!
Los Algodones, Baja California, Mexico is a small town in Mexico, located at about 16 miles of the West of Yuma, Arizona. Also known as Vicente Guerrero or Molar City – the former its official name and the latter its unofficial name. It has a population of about 6,000 persons.
In the town, you would find interesting restaurants and merchandise shops. Did you wonder why it is called Molar City? The reason is simple. They have cheaper medical health care especially dentists.
So locals and visitors in the United States go over there for some regular checks.
Before you leave, there are parking lots at the border allowing visitors to walk through the street and not having to stress their selves with the hassle of having to bring in your vehicle back into the state.
Location: Algodones, BC MX
30. Valley of the Names
This is another art of rocks brought into existence by the collective efforts of various individuals. It's a site located in the desert north of Yuma, a visit here is worth an add to your checklist of things to do in Yuma, AZ.
It is said that during World War II, some soldiers who trained in the Yuma desert used rocks to write their names on the white sand of the desert. They called this their decoration site the "Graffiti Mesa". This process continued even after the war and you know what? The whole area has grown and grown with graffiti, covering over 1,200 acres of land.
The "Valley of the Names," is filled with messages, initials, dates, signatures, and designs. But, of special note are the earliest names. They are gracefully arranged with black lava rocks, making them stand out from others. Though some people bring in bricks or even sprayed bricks from home.
And it adds to the unending proofs that whatever man set his mind to do, he can always archive.
Do you have a name or even a message which by all means need to be unveiled in the desert? Why not? You can! But you would need to get yourself a 4-wheel drive vehicle to gain access to the area.
After then you have the endless possibility of driving around the hills and through this rock arts. And do not forget to come with your rocks as you add to this history created over 60 years ago.
Location: Imperial County, CA
31. Kofa National Wildlife Refuge
The Kofa National Wildlife Refuge established in 1939 is a 665,400 acres of desert that is the home to the California Fan Palm (the only truly native Arizonan palm tree).
You have the opportunity to see some notable wild animals such as foxes, badger, desert tortoise, kit fox, and the desert bighorn sheep (this is the major popular attraction and is the largest herds in the Southwest), deer and rabbits.
Bird species you would also observe at Kofa include American kestrel, cactus wren, the cougar, northern flicker, Say's phoebe, orange-crowned warbler, phainopepla, and the white-winged dove.
Also, the existence of a variety of plants attracts botany enthusiasts to the refuge. They include the special Kofa Mountain barberry (a plant found only in Southwestern Arizona).
You're always certain to find something to do given the large expanse of land available. One bit of disappointment for you maybe the lack of camping areas in the park but it wouldn't count as there is a "Leave No Trace" guidelines.
My little advice for you before you leave is that you come with a high clearance four-wheel-drive vehicle, so you can navigate a couple of rough spots in the area.
Location: Kofa NWR, AZ. Phone: (928) 783-7861
32. Bike Ride Through Yuma
The Yuma city has a got a wonderful atmosphere over time and is conducive for biking and hiking, this makes a nice addition to your checklist of things to do in Yuma, Arizona for some outdoor time.
The numerous paths make it a bike-friendly city and are one of the many ways to explore a new city and catch some fun too!
During your visit take to exploring this part of the world on a bike, you can rent one with Mr. B's Bicycles.
Would you love to explore other parts of the United States?, check out these guides on things to do in Salem, Oregon as well as things to do in Burbank, CA for a good exploration of these places.
Plan Your Trip to Yuma, Arizona.
Yuma is a great city and one of the nicest places to be. Just as you've observed, there are several fun things to do here. These areas coupled with the friendly people in the city would make your visit worthwhile.
Would you be visiting? This guide can always help in your choice of things to do in Yuma, AZ during your visit.