Flagstaff is a city in Arizona, United States of America, with a population of about 72,402 as of 2019.
The city is at an elevation of 2,106 m above the ground and surrounded by deserts, mountains, and ponderosa pine forests.
Home to Humphreys Peak, Arizona's tallest mountain, Flagstaff boasts many fun tourist attractions such as Snowbowl ski resorts, museums, observatories, forest reserves, and many more.
If you plan to visit Flagstaff for your next vacation, here are the best and fun things to do in Flagstaff, AZ.
Things to Do in Flagstaff
1. Wupatki National Monument
The Wupatki National Monument is an American native archeological site located in north-central Arizona, very close to Flagstaff.
The park was created to preserve the natural and cultural resources and values of the communities.
The park centers welcome up to 318 million visitors every year from all over the world.
"The rangers are very helpful and friendly and offer a junior ranger program at the visitor centers."
The Park Service cooperates with partners to extend the benefits of natural and cultural resource conservation and outdoor recreation throughout this country and the world.
Visit Wupatki National Monument to see some of the oldest archeological reserves in a well-preserved environment while in Flagstaff. This makes what to do in Flagstaff, AZ, for a fun exploration time.
Address: 25137 N Wupatki Lane, Flagstaff, Arizona 86004, United States
2. Arizona Snowbowl
Arizona Snowbowl is a Super fun Mountain with 777 skiable acres where you can learn to ski, sky, and have fun. It is said to be one of the best Ski resorts in Arizona.
The Snowbowl is located at the San Francisco end of North Arizona and about 7 miles from Flagstaff.
Decorated with fresh snow, Snowbowl is one of the best places to enjoy winter.
Even if you are not familiar with snowboarding, Arizona Snowbowl Ski and Ride School offer some of the best and easy to understand industry-leading instruction for first-time skiers and snowboarders.
The new Gondola, high-speed skiing, and snowboarding experience at Snowbowl will amaze you.
There are lodging facilities with fireplaces, kitchen and living rooms as well as restaurants around to wine and dine if you cannot make your meal.
This makes one of the fun things to do in Flagstaff, consider an addition to your list of places to see in Flagstaff, AZ.
Address: 9300 N SnowBowl Road, Flagstaff, Arizona 86001, United States
3. Lowell Observatory
Lowell Observatory was founded in 1894 by an astronomer and a mathematician from Boston's Lowell Family known as Percival Lowell.
Lowell Observatory is the oldest astronomical observatory in Flagstaff city and was added to the National Historic Landmark in 1965.
The dwarf planet Pluto was discovered by Clyde Tombaugh in this observatory, which makes many recognize it as one of the most important places in the world.
The observatory was established to aid the study of the solar systems and it's evolution, as well as astronomy in general.
The observatory receives more than 100,000 visitors each year from all over the world to enjoy its guided tours.
The guided tours feature telescope viewing, multimedia shows, exhibits, and many more for visitors to enjoy.
How much would you love to see notable planets in the solar system and experience what space looks like more closely?
The Lowell Observatory is a great place to get started with your quest to understand the solar system more.
Address: 1400 W Mars Hill Road, Flagstaff, Arizona 86001, United States
4. Flagstaff Extreme Adventure Course (FLG X AZ)
Flagstaff Extreme Adventure is Flagstaff's signature adventure, featuring mind-blowing obstacles crossing and zip line adventures. This is one of the best things to do in Flagstaff for a fun time.
It was initially established to provide a safe, fun, and unique blend of outdoor experiences, all in the tops of the trees.
For those who want to be challenged to their limits, overcoming fears in a supportive environment, FLG X is one of the best places to do so in Flagstaff.
FLG X creates an opportunity for friends and family reunions while leaving the feeling of a sense of accomplishment at the end.
It promotes safety, develops courage, encourages trust through effective communication amongst guests and staff, builds mutual respect, and creates environmental Consciousness amongst all her guests.
Being a unique experience and adventurous activity, FLG X is the activity of choice for tourists who visits Flagstaffs from all over the world.
While in FLG X, you will be thrilled by the beauty of the Flagstaff terrain from a great view up in the trees while enjoying a unique adventure pushing and pushing yourself beyond limits.
Enjoy hours of tree-to-tree adventure featuring obstacles, action elements, and zip lines when you enroll in the adventure course in FLG X.
The adventure Zip Lines features hours of tree-to-tree adventure in a 32 zip line for people of age 16 years and above.
To qualify for the adventure and Adventure Zip Line course, visitors must be above 12 years of age and above. In addition, they should be above to raise their palm 5'11" height while their feet are flat on the ground.
However, visitors between the ages of 12 to 15 must play in their parent's or guardians' company before they can be allowed to play.
Kids of age 7 to 11 years are not left out in fun, there is a dedicated Kid's Course for kids to also challenge themselves by completing obstacle zip line, but adults must accompany them
Address: Fort Tuthill County Park, Flagstaff, Arizona 86001, United States
5. Riordan Mansion State Historic Park
The Riordan Mansion State Historic Park was originally built in the year 1904 for two Riordan families.
The mansion was designed by the famous Charles Whittlesey, who had also designed the Grand Canyon's El Tovar Hotel.
The art and crafts style architectural edifices feature volcanic stone arches and hand-split wooding shingles, amongst other amazing features that gave the mansion an amazing look.
The historical park, located in the Kinlichi Knoll neighborhood, has 40 rooms and about 13,000 square feet of living area and servants' quarters.
Due to the historic nature of the mansion park, it is one of the tourist attractions in Flagstaff, and you too can explore it.
Enjoy the stunning view of the mansion and its environment when you tour the home, or take a self-guided tour of the entire environment to leave a memorable experience during your vacation in Flagstaff.
Address: 409 W Riordan Road, Flagstaff, Arizona 86001, United States
6. Meteor Crater Natural Landmark
Meteor are pieces of rocks from outer space that hit the earth's surface; at night, you can visibly see the bright lines it forms while falling.
I bet you will love to see the spot where such fall landed on the surface of the earth in one of your vacations, and we have here one of the fun things to do in Flagstaff to meet that craving.
Formally known as the Canyon Diablo, the Meteorite Crater Landmark is a meteorite impact spot that happened about 37 miles east of Flagstaff many years ago.
The impact created a massive 3,900 feet diameter spot, which is 560 feet with interesting squared-off outline features to visitors' amusement.
The landmark Discovery Center Observation Deck features Four Lookout Points offering spectacular views of Meteor Crater and a very interesting desert landscape.
You can choose to enjoy the outdoor view through the discovery center, walk on the edge of the crater, or from the incredible view of the inside air-conditioned discovery center.
Learn about the history and Impact Science behind the incredible 500 000 years old geological impact of the natural landmark from the Meteor Crater tour guides.
The guided tour is a 45-60 minute hike and where you get to learn about the impact that had changed the earth's surface forever.
There is also a visitors' gift shop for you to buy your needs while in the crater spot.
Address: Interstate 40, Exit, 233, Winslow, Arizona 86047, United States
7. The Arboretum at Flagstaff
The Arboretum at Flagstaff is a 200-acre arboretum that was founded by Frances McAllister in 1981, it makes one of the best things to do in Flagstaff.
The arboretum, which was the original residence of Francis McAllister, now houses more than 750 species of native and drought-tolerant adapted plants.
The arboretum also boasts of being one of the most elevated public gardens in the United States of America.
The Arboretum is home to the largest and most extensive regional collection of the Penstemon genus.
The annual Penstemon Festival is held every year in the Arboretum due to its popularity in the collection of Penstemon genus.
The Arboretum is also known as the Transition Zone Horticultural Institute dedicated to research and also serves as a tourist attraction over the years.
The Arboretum at Flagstaffs promotes understanding and conservation of plants as well as plant communities in the Colorado Plateau.
The Arboretum is a premium destination for local and international visitors who are interested in horticultural activities.
Address: 4001 S Woody Mountain Road, Flagstaff, Arizona 86001, United States
8. Lava River Cave
Lava River Cave is the longest lava tube in Arizona, located in the Coconino National Forest, northern Arizona.
The cave was discovered by some lumbermen in the years 1915 and is about 0.75 miles long.
The lava tube cave was created about 700,000 years ago due to a volcanic eruption of molten rocks.
Lava River Cave is freely accessible by the general public to explore the wonderful work of nature.
Visitors to the cave are advised to dress appropriately in warm clothes and sturdy shoes because the rocks are sometimes slippery due to ice and water droplets.
Inside the cave can be very dark, one mile from the closest sources of light, and as such, visitors are also advised to come with more than one source of light in case one fails.
Some people consider the Lava River Cave as a natural museum due to the stunning cave created by nature.
Lava River Cave is a great place to stop by and tour to give you and your family a memorable experience.
This makes what to do in Flagstaff for adventure seekers, do consider an add to your bucket list of fun things to do in Flagstaff, AZ.
Address: 171B Forest Road, Flagstaff, Arizona 86001, United States
9. Fort Tuthill County Park
Fort Tuthill County Park is an approximately 15 acres Airforce Recreation Area in Coconino County Coconino National Forest, where the world's largest Ponderosa Pine Forest is located.
The Park is decorated by the beautiful Ponderosa Pine Forest, giving visitors access to exceptional views of the surrounding mountains.
There is exceptional and very friendly staff in the park to help you feel at home while in the park, including recommendations of eating and dining areas nearby.
The park features trails for hiking, running, and mountain biking, fairgrounds, and numerous adventure course for your enjoyment.
There is also an amazing disc golf course for golf lovers offering you a fantastic scent of the pines, in addition to the entertainment by the golf game itself.
There is accommodation with attentive services, including a laundry facility, bathhouse, tubing hill, Wi-Fi in the lobby, and the accommodation is pet friendly also.
In addition, there are horseshoes, basketball court, sand volleyball court, fire pit, pool table, bike shop, ski shop, retail shop, video rental, and meeting & event facilities to meet all your needs during the outing.
Address: 2446 Fort Tuthill Loop, Flagstaff, Arizona 86005, United States
10. North Pole Experience
North Pole Experience is one of the most loved Santa Experiences in the peaceful, beautiful, and very impressive ski/summer destination resort in Flagstaff.
Enjoy the magic of the unforgettable holiday season experience at the 400-year-old Santa workshop.
Enjoy the amazing experience in Mrs. Claus' Bakery, Santa's Sleigh Hanger, Elf University, and family time and photos with the famous St. Nick. Join us for an unforgettable North Pole experience inside the toy factory.
North Pole Experience has been voted by AZ Foothills Magazine in 2016, 2018, 2019 and 2020, as the best holiday experience, especially for young ones.
Normally, visitors to the North Pole Experience by taking Santa's Magic Trolleys at the stunning Little America Hotel.
The Trolley ride will then take you through the Magic Portal to the Santa's Massive Workshop of the North Pole destination in the middle of the forest.
Visitors also stop in Santa's famous Toy Hall of Fame and then proceed to participate in building toys for children around the world by working side by side with Santa's Elves.
Address: 2515 E Butler Avenue, Flagstaff, Arizona 86004, United States
11. Museum of Northern Arizona
Established in 1928, the Museum of Northern Arizona is a private and nonprofit museum where the materials and natural history specimens from the Colorado Plateau are preserved.
It was founded by the zoologist Dr. Harold S. Colton from Philadelphia and an artist Mary-Russell Ferrell Colton from Pennsylvania.
The museum inspires a sense of love and responsibility towards the beauty and diversity of the Colorado Plateau artifacts.
It is a place that supports and gives voice to the region's diverse culture through its state-of-the-art facilities.
There is a lot to learn from their beautifully presented and inspiring educational programs exhibits.
Great collections, super creative and enthusiastic staff, and volunteers, and well stock gift shops all to give the visitors a good treat.
Address: 3101 N Fort Valley Rd, Flagstaff, AZ 86001, United States
12. Coconino National Forest
The Coconino National Forest is a massive 1.856-million acre forest in northern Arizona.
The forest reserve was established in 1898 with the name San Francisco Mountain National Forest Reserves.
The forest features ponderosa pine forests, deserts, flatlands, mesas, volcanic rocks, and alpine tundra.
This forest surrounds Flagstaff and Sedona and also shares borders with four other forests.
Visitors will have the opportunity to explore mountains and canyons, hike through lazy creeks, and fish in small lakes.
The Cinder Hills area of the historic forest northeast of Flagstaff serves as the astronaut's Apollo Training Field, where astronauts trains to do fieldwork on the moon.
Enjoy a hike or ride through the Jacks Canyon Trail connecting the Mogollon Rim and Munds Mountain and the scenic views of Red Rock Country.
The Red Rock Rangers District offers fee-free days during holidays and special events at the Red Rocks Pass Fee Program sites each year. Check their websites for updates on the next fee-free day.
Address: Lake Mary Road, Flagstaff, Arizona 86001, United States
Planning a road trip in North Carolina? check out our pick on top Charlotte attractions and Fayetteville attractions to visit during your trip.
13. Fort Tuthill Military History Museum
Fort Tuthill Military History Museum is a museum dedicated to military history and located 3 miles south of Flagstaff, Arizona.
The museum was built in 1929 and named after General Alexander M. Tuthill.
The museum was formally a field training site for the 158th Infantry Regiment of Arizona National Guard.
When you visit the museum, you will have a feel of the Regimental Headquarters Building of the 1940s.
The Museum was created to preserve and present Arizona military history. It features exhibits from the inception of the state's military regiment to the present.
Guided tours are provided for visitors who want to learn about all military history in the US state of Arizona.
The tours of the museums are only available on Saturdays and Sundays from 10.00 AM to 4.00 PM, and children under the age of 12 years are admitted for free.
If you wish to visit the museum any other day aside from the official opening hours, you need to contact the museum to check their availability.
This is one of the best places to visit in Flagstaff for some history time, do consider an addition to your checklist of things to do in Flagstaff, AZ.
Address: 2446 Fort Tuthill Loop, Flagstaff, Arizona 86001, United States
14. Alpine Pedaler
Alpine Pedaler is a fleet of 3 human-powered pedal bike with two trolleys and a smaller 6 passenger's bike owned and operated by an experience Flagstaff's native who knows and understand the community.
Alpine features five excellent drivers, tour guides, and excellent DJ's to make your tour a memorable one.
Each of the trolleys is equipped with a sound system, LED lights, complimentary water, cup holders, and a cooler, and you are also allowed to come with your own beer if you want to further spice your tour up.
The bikes are also known as the crab bike, is also fully equipped with a driver, a guide, a stereo, complimentary water, and an umbrella for sunny days.
The 2 hours tours allow three stops in locations determined by the visitors when they arrive at Alpine.
Each trolley is a 14 seater capacity and can carry a minimum of 7 people per tour, while the Crab has the capacity to carry 6 people with a minimum of 4 people per tour.
Address: Irish Pub, 113 East Aspen Avenue, Arizona 86001, United States
15. EagleRider Flagstaff Motorcycle Rentals & Tours
Eagle Rider is a dedicated motorcycle and design tour for men and women of all levels of experience in biking.
If you are a bike lover, you can add adventure to the fun by riding in one of the extensive fleets of major brands of bike in EagleRider.
Popular brands of bikes in their fleet include Harley-Davidson, Indian, BMW, Moto Guzzi, Royal Enfield, Triumph, Ducati, and many more.
The rides are readily available for long and short-term rental, including escorted or self-guided rides.
Eagle Rider boasts of being the world's largest motorcycle rental and tour services.
Tour your favorite or even undiscovered locations in Flagstaff while enjoying a comfortable ride for an amazing vacation experience.
Address: 800 W Historic Rte 66, Flagstaff, AZ 86001, United States
16. Elden Pueblo Archaeological Site
Elden Pueblo Archaeological Site is a historic and ancient site of Sinagua village, which was said to have been inhabited from A.D. 1070 to 1275.
Archeological evidence such as macaw skeletons from as far south of Mexico and many others shows Elden Pueblo has been part of a major trading system.
Elden Pueblo, through its annual Public Archaeology Days, offers the general public the opportunity to participate in tours that include excavation, artifact washing, and analysis.
Visitors can also try their hand at using ancient hunting weapons during the event.
There is also the Primitive Technology Expo and the last Public Day of the year, which is part of the annual Flagstaff Festival of Science for visitors to enjoy.
The site is also open all-year-round for visitation, and visitors can get brochures for a self-guided tour on-site.
Address: US-89, Flagstaff, Arizona 86004, United States
17. The Artists' Gallery
The artists' gallery is a fine arts and crafts cooperative dedicated to collecting and presenting diverse works of local artists in historic downtown Flagstaff.
Through the artists' gallery, the general public is given the opportunity to view local artists' unique works in the city.
The gallery features professional artists in painting, ceramics art, stoneware, photography, jewelry, sculpture, textile designs, stained glass, metalwork, and woodworking.
Whatever your taste in art is, you are sure to find the one you like in the Artists' Gallery.
The gallery holds a reception for the artist of the month every first Friday of the month to celebrate the overall best artist for that month.
Visitors get the chance to tour the amazing galleries downtown, meet the artist of the month and enjoy snacks and refreshment during the first Friday art walk.
Address: 17 N San Francisco St, Flagstaff, AZ 86001, United States
18. Sawmill Multicultural Art and Nature County Park
Sawmill Multicultural Art and Nature County Park is a 2 acres brownfield project, converting one of Flagstaff's first sawmills into an art park.
Today, the park serves as a top tourist attraction, offering recreation and educational opportunities to thousands of visitors from all over the world.
Experience a magnificent transformation of an old contaminated industrial site into an aesthetics amenity.
The park is one of the 30 wildlife attraction sites within 30 miles in Flagstaff, where visitors get to view amazing wildlife in close range.
The park features a backyard habitat demonstration gardens, performance stage, and art wall for community painting and sculpture walk for visitors to enjoy.
There is also provision for visitors' comfort, including a playground, benches, picnic tables, restrooms and drinking fountain, lawn area, and landscaped gardens & community art center.
Address: 703 E Sawmill Rd, Flagstaff, AZ 86001, United States
19. Flagstaff E-Bike Tours
Flagstaff E-Bike Tours is owned and operated by Todd Davis, who is a professional in the recreation industry and manager of Arizona E-Bike Tours.
Have fun riding and see the beautiful outdoor areas in and around Flagstaff when you participate in the e-bike tour.
The tour will take you to see the pines, parks, and pathways while helping you learn about the Flagstaff Urban Trail System.
The tour usually lasts for 2.15 hours and covers a distance of about 10 miles to give you an unforgettable experience.
The e-bikes feature a pedal-assist feature to help you ride up to 7,000 feet elevation without having to worry about not making it up a hill.
Address: 1515 N Main Street Suite H, Flagstaff, Arizona 86004, United States
20. Walnut Canyon National Monument
One of the best things to do in Flagstaff, AZ is an exploration of Walnut Canyon National Monument, this is an American National Monument that passes through 25 cliff dwelling rooms constructed by a pre-Columbian cultural group known as the Sinagua.
The National Monument is located about 10 miles southeast of downtown Flagstaff in Arizona.
The Native American Cliff Dweller was responsible for building the Walnut Canyon from 1100-1250 AD.
Walnut Canyon National Monument offers more than 100,000 people the opportunity to explore, admire and learn from history every year.
There are about 69 species of mammals, 28 species of reptiles and amphibians, and 121 species of birds in Walnut Canyon to see.
Popular animals you can see in the Walnut Canyon National Monument include cliff chipmunks, mule deer, rock squirrels, pinyon jays, elk, mountain lion, antelope, black bear, coyotes, and many more.
Address: 3 Walnut Canyon Road, Flagstaff, Arizona 6004, United States
21. Wheeler Park
Wheeler Park is a fun and beautiful park located in the popular Aspen Avenue just in Flagstaff City Hall. A visit here makes one of the best things to do in Flagstaff.
The park is beautifully adorned with acres of refreshing trees to give you an atmosphere of peace and enjoyment.
The park features lots of picnic tables and sitting benches to go round, and it is accessible most times.
You can clearly hear and see live music echoing the sound of some of America's finest music, giving you a feel at home feeling.
The park area is decorated with stunning arts and crafts works, making the area even more welcoming.
Lots of food and drinks to wine and dine as much as you can, and the park also features free concerts every week as well as local events most times for you to enjoy.
Address: 212 W Aspen Avenue, Flagstaff, Arizona 86001, United States
22. Grand Falls, Arizona
Grand Falls is a natural waterfall system located in a very remote Nevada land area, about 30 miles northeast of Flagstaff.
Grand Falls is an incredible phenomenon and a sight to see during your next vacation in Flagstaff city. It gives you the same feeling, just like the chocolate waterfall in the movie Willy Wonka.
The fall is popularly known as the chocolate fall because of its color. History has it that the fall was formed from a volcanic runoff from the Merriam Cracker that created a lava dam.
The water in the fall comes from the snowmelt and rainfall from a popular mountain known as the White Mountain.
If you plan to visit the fall, the best time is around March and April because the fall is seasonal, and there is the best time to see the full action of the fall.
The area is very remote, and it will be best if you drive while visiting the fall. The roads are in great condition.
Hiking to the fall is less than a half-mile, and you can choose to hike down if you have the strength.
23. Thorpe Park Center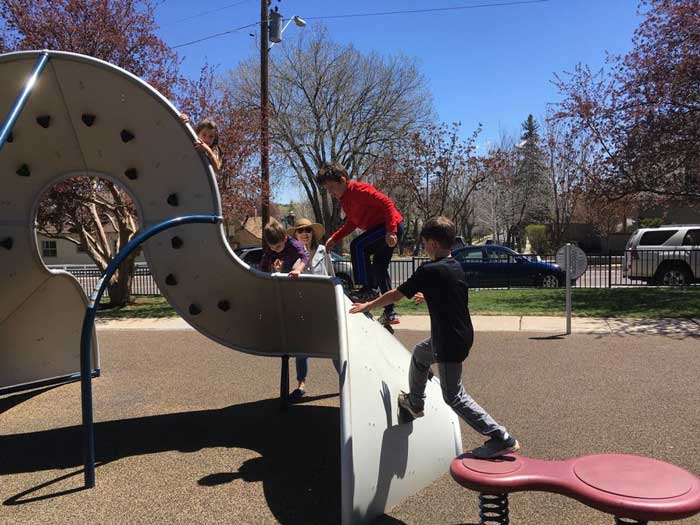 If you lodge close to the west of downtown Flagstaff, there is a cool park known as Thorpe Park to enjoy.
The park is dog friendly, and there is a playground to go around all visitors at any instant.
Aside from the regular playground, there is a basketball, racquetball, lighted tennis, and volleyball court for sports lovers to have a good time in the park.
There are beautifully paved trails providing access and also for hiking and biking and a ramada and picnic areas to provide shelter for visitors.
The park also houses northern Arizona's premier disc golf course to enjoy.
Address: One E. Route 66, Flagstaff, Arizona 86001 United State
Do you have plans to explore Florida? check out our list of things to do in Gainesville, things to do in Destin, and things to do in Tallahassee for a fun vacation.
24. Buffalo Park
Amongst the top things to do in Flagstaff is an exploration of Buffalo Park.
Buffalo Park is a massive 215-acre park that offers a 2-mile hiking loop trail, picnicking space, and verse wildlife to see.
One of the main features of the park is a historic bronze sculpture of a buffalo and the inscription "Buffalo Park" at the entrance, which welcomes nature lovers of all ages to the park.
The park is one of the community's favorite parks in Arizona.
Visitors are admitted from all over the world for recreation purposes, and guided tours are also provided to guide the visitors to see the wildlife in the park and also show them around.
Address: 2400 N Gemini Road, Flagstaff, Arizona 86004, United States
25. Pioneer Museum – Arizona Historical Society
The Arizona Historical Society was created to collect, preserve, interpret, and share the history of Arizona and the West at large for the future generation to learn from.
The Pioneer Museum is home to the Arizona Historical Society and features exhibits on the historical development of the region, including the early livestock ranching, homesteading, and lumbering, and many others.
Some of the featured exhibits include a Baldwin articulated locomotive, an iron lung, a tortilla making machine, a Santa Fe RR caboose, and many more.
Guided tours are organized for visitors with very knowledgeable tour guides to educate you on some of the exhibits and their history.
Address: 2340 N Fort Valley Rd, Flagstaff, AZ 86001, United States
26. Flagstaff Visitor Center
If you are new to Flagstaff, you might want to check out the Flagstaff Visitor Center to get useful travel information.
There are also a series of events hosted in the center that you can explore while in the center.
The amazing and unique gift shops will give you an amazing opportunity to get beautiful souvenirs of Flagstaff origin only.
The center provides maps, brochures, and other means of information to guide you in your stay in Flagstaff.
This makes what to do in Flagstaff for more information about the area, do consider an addition to your bucket list of things to do in Flagstaff, AZ.
Address: 1 E Rte 66, Flagstaff, Arizona 86001, United States
27. Bushmaster Park
The Bushmaster Park is another cool spot to relax and have fun with friends and families during vacation.
The park is characterized by mature pine trees and well-kept playgrounds for all to enjoy.
Also available in the park are tennis courts, four lighted basketball courts, a fenced park, and picnic ramadas with grills.
There is also a skate park, horseshoe pits, sand volleyball court, and an outdoor fitness area to meet the family's needs. Bushmaster has amenities for the entire family.
The park also hosts several concerts and children's music festivals during each summer of the year, which you can attend.
The park is well maintained to give your photograph an amazing background also.
Address: 3150 N Alta Vista Drive, Flagstaff, Arizona 86004, United States
28. Peaks View County Park
The Peaks View County Park is another great place to have fun with your family and friends on your next vacation in Flagstaff.
Located in the stunning San Francisco Peaks, Peaks View County Park is an awesome park north of Flagstaff
The park features walking trails, an equestrian arena, and playgrounds, including football, basketball, and baseball pitches.
The park also offers an amazing panoramic view of San Francisco Peak. The conveniences are always super clean and easily accessible by all visitors.
They're a very convenient picnic area and shades for relaxation by groups and families to enjoy.
Address: 8805 Koch Field Road, Flagstaff, Arizona 86004, United States
29. Canyon Ministries
For those who want to go spiritual about during their vacation, Canyon Ministries provides daily creation-based Rim tours dedicated to upholding the scripture from the very first verse.
The ministry has been offering guided day hikes and days of river trips in the popular Grand Canyon National Park since 1997.
The tours are life-changing Christian tours offered to several people from different parts of the world.
There are very knowledgeable and enthusiastic guides to guide you both in the science and word of God in all the tours.
If you want to learn about the geology of the Canyon, including information on the plants, animals, and other amazing features, a tour with Canyon Ministries is the best way to get such information.
The highly recommended sunset tour will give you an adventure you will live to remember.
Address: 2727 W Historic Rte 66, Flagstaff, AZ 86001, United States
30. Ponderosa Trails Park
Ponderosa Trails Park is an 8 acres community leisure park located in the South Wild west.
The park is one of the coolest family relaxation sports, best for leisure classes, all kinds of programs, entertainment, and other special events.
The park has provision for the accommodation of groups of up to 30 people, and it is also handicap accessible.
It features two picnic tables under a well-kept ramada for family and group relaxation and picnic.
It also has one playground and a portable and clean restroom for visitor's convenience. Consider an addition to your bucket list as this makes one of the best things to do in Flagstaff, AZ.
Address: 3875 S Wild West Trail, Flagstaff, Arizona 86001, United States
31. Arizona Handmade Gallery
Arizona Handmade Gallery is an amazing art gallery in downtown Flagstaff showcasing George's glass art and some stunning artworks from some of the state's best artists.
The gallery was created to promote the work of artists in downtown Flagstaff and Arizona at large. The type of art promoted by the gallery includes paintings, woodcuts, fiber art, glass art, ceramic art, jewelry, lithograph and intaglio prints, and many more.
Arizona Handmade Gallery is seen as an art gallery with a deeper meaning, striving to preserve the old methods of creating art and crafts.
Explore the Arizona Handmade Gallery to see the wonderful work of art been put together by amazing artists from all over the world, or even buy one for yourself.
Address: 13 N San Francisco Street Suite 100, Flagstaff, Arizona 86001, United States
32. Raymond County Park
Raymond County Park is a 12.5 acres rural themed park established in 1972 for relaxation and sports in Flagstaff.
The park features a restroom building, a ball field, two ramadas, a basketball court, and a platform where visitors can view wildlife.
The ball field has terrace seating, a climbing wall, two playgrounds, and a basketball court of high school dimension.
There is a pond very close to the watchable wildlife viewing platform and a drinking fountain for the visitors to enjoy.
There are also sparkling clean restrooms and two parking areas for visitors' convenience.
Address: 3305 Kachina Trail, Flagstaff, Arizona 86001, United States
33. NAU Art Museum
The North Arizona University Art Museum is an art museum located inside the north campus of North Arizona University.
Visitors will have the opportunity to explore both the North University campus and the museum of art when they visit.
The University is the leading cultural institution in Northern Arizona. It engages in the acquisition and exhibitions of contemporary art for the good of the community.
The museum believes in the priceless roles art plays in creating an excellent educational experience and, as such, promotes the work of art through teaching and exhibitions.
This Northern Arizona University Art Museum exhibits fine art, including modern paintings, sculptures, and many others.
If you are intrigued by the work of art, NAU Art Museum is a good place to explore modern and contemporary art in Flagstaff.
This makes what to do in Flagstaff for a fun time, do consider an addition to your list of Flagstaff attractions to visit when you are in the area.
Address: 620 Knoles Drive, Flagstaff, Arizona 86011, United States
34. Victorian Moon Antiques & Enchantments
In the center of Flagstaff, Arizona's historic downtown, sits Victorian Moon Antiques & Enchantments, an antique store, pharmacy, and magical haven.
This antique store has beautiful silver, china, finery, and vintage clothing; in addition to antiques and apothecaries, local artwork, unique charms and potions, and jewelry are also available.
The lovely small tea shop at the rear end of the Victorian Moon Antiques & Enchantments, where you can grab some tea and nibbles to go with it, is a genuinely fantastic addition.
Victorian Moon Antiques and Enchantments also feature lovely curiosities, vintage apparel, and candles infused with fresh herbs and spices.
A broad selection of divination tools and items, such as Tarot cards, pendulums, incense, resins, and ingredients, such as sage wands and resins, are available. The store also makes its sprays and Custom oils.
The vintage store provides gorgeous clothing, accessories, caps, goes, and shoes. In-house millinery is performed for unique creations. There is a section with bow ties and cufflinks for the guys, and the jewelry is neat.
Please do not miss the chance to have a spectacular experience when you visit Flagstaff because there is so much more to be discovered here.
Address: 13 N San Francisco St, Suite 100, Flagstaff, AZ 86001, United States
35. Aspen Valley Golf Club
Aspen Valley's Ponderosa Pine Forest is a private 18-hole golf course built around the recognizable Río De Flag, just east of the city center known as Aspen Valley Golf Club.
The 6,889-yard layout highlights the site's undulating topography. It provides unrestricted views of Mount Elden, which is close by, in the foreground, and the San Francisco Peaks, which can be seen from a distance.
The golf club's membership has prioritized creating a culture that honors golf's traditions since it was founded in 1993. When you play on this course, you play the old fashion way.
The course is void of any frills, pomp, or circumstances; instead, it is a well-maintained, walk-friendly golf course with enough food and drink to go with each round.
If you are a fan of golf, you will enjoy playing a round or two with your loved ones or against total strangers at Aspen Valley Golf Club, the atmosphere on the course is always friendly.
Address: 1855 N Continental Dr, Flagstaff, AZ 86004, USA
Do you have more time to spend in Arizona?, here is a list of things to do in Yuma for a memorable exploration. Also, check out our guide on things to do in Tennessee and things to do in Missouri for a fun time
Plan a Trip to Flagstaff
Flagstaff is a great city to spend a holiday or vacation, however, for beach and water sports lovers, Flagstaff is not the best for you, but you can also enjoy the amazing swimming pool available in most hotels and relaxation spots.
Like most US states, Flagstaff can be chilly, and you might need to prepare appropriately for the different seasons.
Ensure you check updated information about your place of interest before you embark on your journey to Flagstaffs. More information is available through the center's website.