Founded through the efforts of William Hardy and the hard-earned fortune of Civil War veteran Joseph Jones, Gulfport is now the second largest city in Mississippi and the co-county seat of Harrison County, alongside Biloxi.
The city had a population of 71,660 as of 2020. As a result of the city's location on the Gulf Coast, the city is renowned for having many water recreation areas.
Gulfport also features attractive beaches, lively parks, casinos, theaters, and exquisite cuisine.
There is something for the kids, from exciting amenities like zip lines and waterparks to educational experiences at museums and wildlife exhibits.
Planning an exploration of Gulfport? Here are the best things to do in Gulfport, MS.
Things to Do in Gulfport, MS
1. Joseph T. Jones Statue
First on our list of top things to do in Gulfport is to see Joseph T. Jones Statue – a statue erected in honor of a well-respected philanthropist and pioneer of the city.
Joseph Thomas Jones, who gathered his fortune as an oil producer, co-founded the City of Gulfport. In 1883, he was the largest crude oil producer in the US and, through his wealth, established Gulfport with William H. Hardy.
Gulfport, as a city, honors Joseph Jones through this bronze sculpture. The sculpture is one of the essential things to see in Gulfport, MS.
Do well to drop by and pay respects to the man behind many of the city's founding structures. It is free of charge!
Address: 1300 21st Avenue, Gulfport, MS 39501, United States
2. World's "Largest Rocker."
The World's "Largest Rocker" in Gulfport is a fun roadside attraction that is fitting for the whole family.
This 35-foot beast of a porch rocker was built in 1995. It was knocked from its rockers by Hurricane Katrina ten years later but quickly restored.
World's "Largest Rocker" is displayed in front of the Dedeaux Clan Furniture store and will rock your world when you see it in person.
The attraction is an amazing place to stop, take silly pictures with the gang, and have fun. Come and see this first-class piece of craftsmanship with the kids.
They have a story to tell all the other kids at school that they've witnessed the giant chair way out there!
This space is open Monday to Saturday, 7 am – 8 pm, but it is closed on Sundays.
Address: 11451 Canal Rd, Gulfport, MS 39503, United States
3. The Institute for Marine Mammal Studies
The Institute for Marine Mammal Studies, established in 1984 as a research organization, is dedicated to the conservation and research of marine mammals.
The Institute for Marine Mammal Studies works to cater to sick and injured animals. There are many fun things to do in Gulfport, and the IMMS offers some.
The establishment provides exciting, engaging exhibits, entertaining shows, and activities. It is a terrific place to explore, learn, and play.
You will meet dolphins, watch birds, touch rays, and witness sea lions and dolphin shows!
A family tour is a great option. It allows visitors to encounter marine wildlife, from sharks to fish and crabs, and explore the interactive Museum.
Guests can scavenge for a shark tooth in the fossil dig, which can be kept as a souvenir!
Suppose you are a lover of nature or someone enthusiastic about water animals.
Address: 10801 Dolphin Lane, Gulfport, MS 39503, United States
4. Lynn Meadows Discovery Center
Would you love your kids to explore history and experience nature called off with fun? Search no more.
This Center is housed in an elementary school built in 1915. Lynn Meadows Discovery Center opened its doors in 1998.
Today, the Center offers 15,000 square feet of hands-on exhibits indoors and six acres of outdoor play space. Lynn Meadows is the best place for parents seeking the top things to do in Gulfport, MS, with their kids.
The numerous activities kids can engage in at Lynn Meadows Discovery Center include discovering different cultures, creating a miniature art masterpiece at the art studio, boarding a mini train, and climbing the playhouse in the trees.
They can also explore a little town, tap a tune in the outdoor musical garden, and play with friends.
Address: 246 Dolan Avenue, Gulfport, MS 39507, United States
5. Ship Island Excursions
Have you thought about surfing the waters while in Gulfport? Would you like to tour on water? Ship Island Excursions has got you covered in that area.
Owned by the Skrmetta family, Ship Island Excursions has been in the business of transporting visitors to and from Mississippi's islands.
Since the late 1800s (for almost 100 years), the Skrmetta family boat has been delightfully serving both visitors and locals of the city.
Ship Island is a largely undeveloped and historical island that boasts fantastic beaches, a boardwalk, a historic fort, and a little snack bar.
Get set to enjoy the island adventure and ready yourself for plenty of stuff to do along the gorgeous beaches of Ship Island.
Don't forget to explore the Civil War fort for an experience back in time.
Address: 1040 23rd Avenue, Gulfport, MS 39501, United States
6. Crosby Arboretum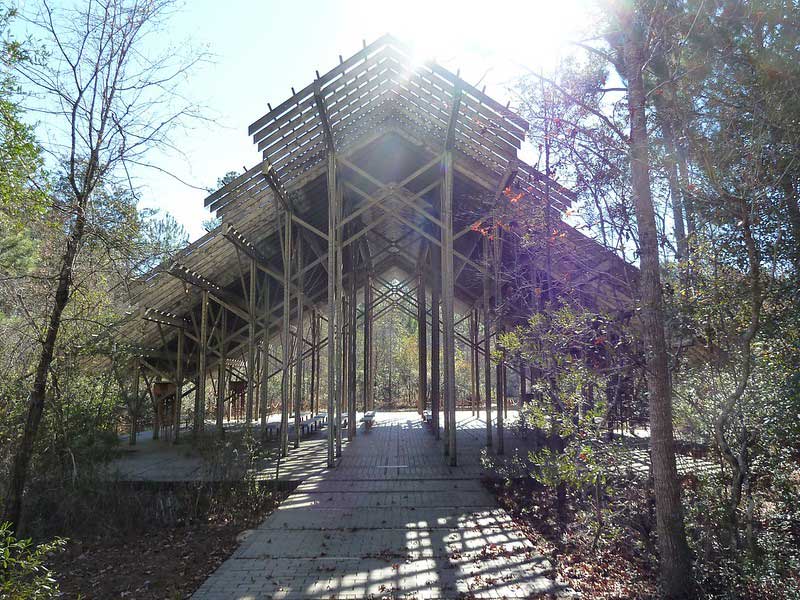 What is better than taking a stroll while breathing in sweet fresh flower scents in a relaxed and breezy environment?
Situated about an hour from downtown, Crosby Arboretum is another amazing place to visit during your vacation in Gulfport.
This nature ground occupies 764 acres of space and accommodates over 300 species of indigenous plants. This arboretum boasts stunning nature sights and is one of the most romantic places to visit.
You would see more than 300 species of native wildflowers, trees, shrubs, and grasses at the arboretum. Also, visit their essential information center to learn more about the indigenous plants in the area.
Address: 370 Ridge Road, Picayune, MS 39466
7. The Gulfport Little Theatre
The Gulfport Little Theatre is a non-profit community theatre founded in 1948 to groom and develop community members and other interested persons' artistic talents and skills.
Their goal is achieved through theatrical workshops, productions, cultural events, allied education, and other activities, and for over 71 years, the theatre has showcased incredible plays and musicals.
Gulfport Little Theatre is recognized as one of the most diverse theatrical venues on the Coast. It has grown from its low beginnings in Jones Park to programs including shows of every size for every taste.
A highly diverse variety of shows, from intimate dramas to large-scale musicals (involving performers of all ages), means there is something for everyone.
Fact is, many of the actors and performers are youths and children. Head in for a show, have some popcorn, and interact with the actors after the play!
As a plus to an active performance schedule, Gulfport Little Theatre provides performance opportunities to upcoming theatre artists. It boosts the appreciation for arts through school performances, youth programs, and community outreach.
Address: 2600 13th Ave, Gulfport, MS 39501, United States
8. Mississippi Coast Model Railroad Museum
Your trip to Gulfport will be incomplete if you don't stop at the Mississippi Coast Model Railroad Museum.
The historic Mississippi Coast Model Railroad Museum accumulates close to 200 years of railroad history within the confines of its walls.
It is a famous museum presenting visitors with the state's largest LEGO(R) railroad display. So, you can get yourself acquainted with the knowledge of railroads in and around Gulfport.
More exciting features include scale model train layouts, outdoor garden displays, interactive layouts for kids to operate and enjoy, and actual trains to ride on!
You can explore history through the fun railroad displays of trains in the Museum, Jurassic Park, and even Futurama. Don't also miss out on the mini train ride, as it would suit the entire squad.
Two hundred years of railroad history is a lot of learning and fun! Don't hesitate to add a visit to this attraction to your checklist of fun things to do in Gulfport, MS.
Address: 522 Pass Road, Gulfport, MS 39507, United States
Check out our list of things to do in Ocean Springs , things to do in Oxford and things to do in Natchez for a fun Mississippi trip
9. Windance Country Club
Windance Country Club is one of Mississippi's top resort golf courses in the city.
Island View Casino Resort owns the golf course. It features a beautiful lake, state-of-the-art irrigation systems, driving range, Pro Shop, practice facility, restaurant, locker rooms/showers, Olympic-sized pool, native areas, and decorative stonework.
This 18-hole championship course, designed by Mark McCumber in 1986, features 6,660 yards of challenging golf, complete with a rolling surface, average-sized and level greens, and very tight fairways.
It is moderately bunkered with many water hazards.
Windance Country Club was voted one of America's "Best Courses You Can Play" by GolfWeek magazine five years in a row. It also has a star rating by Golf Digest magazine
The public is welcome to experience the game of golf like never before!
Visit anytime between Monday and Saturday (7:00 am – 7:00 pm)
Address: 19385 Champion Cir, Gulfport, MS 39503-7707, United States
10. Beauvoir – Jefferson Davis Home & Presidential Library
Visiting Beauvoir will give you the same feel as though you've traveled back in time.
The Jefferson Davis Presidential Library and Museum is the presidential Library of Jefferson Davis, President of the Confederate States, from 1861 to 1865.
The Library was designed by Larry Albert of Albert & Associates Architects and is located within the Beauvoir historical site in Biloxi, Mississippi.
Each visit is guided by an amiable docent dressed in mid-19th century attire for a great authentic lesson. You will follow the guide through the Museum as he tenaciously takes you on a crash course in the history and culture of Mississippi in the late 1800s.
The docent will also assist you in making the most out of the Presidential Library and the stories of Jefferson Davis and Confederate soldiers.
Get to the gift shop for unique souvenirs, gifts, and toys! The Library is open from Monday through Sunday between 9 am and 5 pm.
Address: 2244 Beach Blvd, Biloxi, MS 39531, United States
11. Wut Sup Standup Paddle Boards
Wut Sup Paddle Boards was started in 2011 by a family who fell in love with paddle boarding. The location is cherished by visitors who love paddle boarding.
Being on the Gulf Coast means water activities galore. Thanks to the available water activities, there is no way you would have a dull moment.
Wut Sup Standup Paddle Boards offers standup paddle boards, pontoons, kayaks, jet skis, and bikes. This destination is the city's only equipment rental shop with beach access.
So, enjoy water fun with Wut Sup Paddle Boards and the free lessons with each rental!
Follow up on their social media pages for weekly events like sunset paddles, summer camps, outdoor movies, and dragon boat races.
Address: 13247 Seaway Road, Gulfport, MS 39503, United States
12. Zip'N Fun Adventure Park
In contrast to the usual coastal attractions of Gulfport, Zip'N Fun Adventure Park guides wanderers through Gulfport's treetops. Going on an adventure in the Park is one of the best things to do in Gulfport, MS.
At Zip'N Fun Adventure Park, nature lovers are offered a stimulating experience through guided, self-paced obstacle courses across different difficulty levels.
Gather everyone and zip on to this Park for the biggest and best ropes course in all of Gulfport!
You can engage yourself in climbing, swinging, and crawling through tight ropes. You can also swing logs, zip lines, unstable rope bridges, and other elements, including conquering Zip'N Fun Adventure Park's challenges within the woods.
Get your blood pumping, and have some fun with the entire family. There is no better way to do both other than this.
Take advantage of the available courses for adults and kids of varying difficulties and the spectacular views of the beautiful woods and wetlands above the forest.
It is truly a fun thing to do in Gulfport, Mississippi.
Address: 17200 16th Street, Gulfport, MS 39503, United States
13. Gulfport Premium Outlets
Are you a shopping freak, or would you want to go shopping while in Gulfport? Shopping in Gulfport Premium Outlets is one of the best things to do in Gulfport, MS.
Famously known as the city's premiere outdoor shopping destination, Gulfport Premium Outlets is another exciting thing to do in Gulfport.
It is nestled right between New Orleans and Mobile and offers more than 70 outlet stores. You would see designer brands all over its vintage storefronts, in addition to family-friendly amenities and restaurants.
Here, you can shop more for fair costs and refuel from whichever cuisine matches your fancy.
Relax and watch the little ones burn excess energy at the playground.
Address: 10000 Factory Shop Boulevard, Gulfport, MS 39503, United States
14. Island View Casino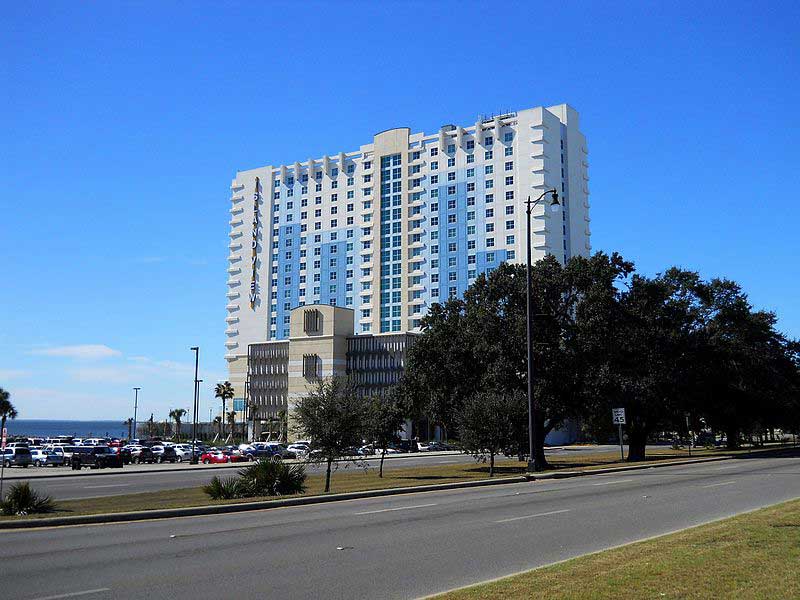 Set right on the beautiful Mississippi Gulf Coast beach, Island View Casino is among the fun places in Gulfport, MS.
With 2,600 state-of-the-art slots, 974 rooms, 49 table games, two hotel towers, two sports books, pools, and astonishing gulf views, Island View Casino is the foremost destination for adult entertainment in Gulfport.
Spend at least an hour at the casino's table games, poker tables, slot machines, sports books, and more to feel that adrenaline and dopamine surge.
Get to their Island View Hotel filled with all the amenities you deserve and thrilling gaming and delicious dining just steps away
If you are the type that can't lay your money on the line, absorb some relaxation at the resort, bar, spa, and resto.
Opening hours are Monday to Sunday (12:00 am – 11:59 pm).
Address: 3300 W Beach Boulevard, Gulfport, MS 39501, United States
15. Half Shell Oyster House
While in town, it would be no worse if you tried exquisite treats for your belly. Gulfport has a handful of lovely restaurants and dining houses you can try. Half Shell Oyster House is one!
Locals of the city rave about Half Shell Oyster House's legendary charbroiled oysters, prepared over an open flame with barbecue, special herbs, and more.
The atmosphere at Half Shell Oyster House looks like that of the French Quarter, but it sells fresh local oysters and seafood in Gulfport flavors plus classic American menu offerings.
After you have experienced some of the best things to do in Gulfport, MS, reward yourself with a dish of Half Shell Oyster House's specials.
Check-in over the weekend, Half Shell Oyster House closes at 11 pm on Saturdays.
Address: 2500 13th Street #1 Gulfport, MS 39501, United States
16. Mississippi Aviation Heritage Museum
One of the newest places to visit in the city is the Mississippi Aviation Heritage Museum. If you are a lover of history or enthusiastic about aviation.
The Museum looks at the origin of aviation around the Gulf Coast, teaching and expanding your knowledge of the system.
Mississippi Aviation Heritage Museum is located right next to the airport. It features artifacts and educational exhibits about the state's accomplishments in pursuing flight to the clouds or stars.
Apart from engaging displays, the Museum also beams with interactive exhibits that the kids can enjoy, like a theater that looks like the interior of an airliner, a flight simulator, touch tables teaching aviation, and so much more!
Watch your children have fun while learning.
Address: 429 Pass Road, Gulfport, MS 39507, United States
17. Mississippi Aquarium
Mississippi Aquarium
tells the story of the unique connection that binds all of the state's natural resources and the incredible story of all of Mississippi's aquatic resources from the Delta to the coastline.
The Aquarium features the roaring waters of the great Mississippi River and the wetlands and marshes of the quiet bayous, including the warm waters of the Gulf of Mexico and beyond.
Never has the story of Mississippi's natural resources been ever told in this extraordinary way.
The Aquarium understands that life in Mississippi is about the outdoor experience and the relationships of its people. Thus, it provides visitors many opportunities to be entertained and fully engaged in the aquatic wonder Mississippi offers.
Get to Mississippi Aquarium, as there is something fantastic at every turn!
Members enjoy discounts on food, events, and retail, as well as unlimited visits. Become a member today to enrich your adventure.
Mississippi Aquarium is open Monday to Sunday (10:00 am – 5:00 pm).
Address: 2100 E Beach Blvd, Gulfport, MS 39501, United States
18. Banana's Mini Golf & Arcade
If you're looking for something fun to do with the family in Gulfport, MS, Banana's Mini Golf & Arcade is the place to go!
Established in 2016, Banana's Mini-Golf is a thrilling, outdoor, tropical, 18-hole miniature golf course that provides players with a challenging yet relaxing atmosphere.
This family gaming center provides various activities that will keep everyone entertained.
You can play a round of mini-golf, relish classic arcade games, or test one of the many redemption games on the ground. Just enjoy some gaming fun!
They also have two mister stations and umbrellas to keep you cool.
Banana's Mini Golf & Arcade is open from 11 am to 10 pm every week except on Sundays when they close by 8 pm.
Address: 2251 E Pass Rd, Gulfport, MS 39507, United States
19. Altitude Trampoline Gulfport
When the weather is cold or when it is raining, one of the best indoor parks to go to is Altitude Trampoline Gulfport.
There are plenty of activities that will thrill you here. These include trampoline basketball, dodgeball, rock wall, a toddler area, trapeze, foam pits, and free jump areas.
Altitude Trampoline Gulfport is a fun place to while away an hour. So, you can pick any activities or even all of them to maximize your visit.
If you want to go wild with your squad or the kids without getting hurt, take out an hour or so for Altitude Trampoline Gulfport.
Jump and crawl as much as you want!
Address: 9444 US 49, Gulfport, MS 39503, United States
20. Westminster Presbyterian Church
While in Gulfport, you must connect your spirit too.
Westminster Presbyterian Church offers visitors to the more significant Mississippi Gulf Coast a place of worship and a place to find warm hospitality while away from home.
The church is located in the Center of the historic Bayou View neighborhood, across from the Bayou View Park and playground – a family-friendly attraction.
On other days, you can go in to have a quiet time and commune personally with the heavenly realms while meditating on the future or the words you hear.
The church is open all through the week, 9:00 am – 2:00 pm except on Saturdays
Address: 5005 Lawson Ave, Gulfport, MS 39507-4445, United States
Considering a Mississippi road trip, check out our guides on things to do in Starkville, things to do in Hattiesburg, and things to do in Bay St. Louis for a memorable trip.
21. Splash at Gulf Islands Water Park
Next on our list of top things to do in Gulfport is visiting the Gulf Islands Water Park – the largest water park on the Coast.
If you are looking for kid-friendly activities in Gulfport, Gulf Islands Waterpark is all about summer fun!
This destination in Gulfport should never be exempted if you want a thrilling and loving family vacation experience.
Gulf Islands Water Park features miles of slides and an island theme. It also offers celebrity meet and greets with stars from Disney and Nickelodeon, satisfying treats, and special events.
Have a blast with the pools, wild rides, and water slides in the Park. If lucky, catch unique shows involving sea lions, frisbee dogs, or celebrities!
Also, experience the Horn Island Blaster slide. It is the Gulf Coast's first and only water roller coaster and takes you through 500 feet of twists and drops!
Address: 17200 16th Street, Gulfport, MS 39503, United States
22. Chandeleur Brewing Company
Visiting Chandeleur Brewing Company is one of the top Gulfport activities, especially for lovers of beer and good drinks.
Established by two brothers with a great passion for craft beer, Chandeleur Brewing Company opened its doors in the '90s and has since grown in leaps and bounds.
The building in which Chandeleur Brewing Company is housed has been a fixture of Gulfport's downtown scene.
Currently, it is a hotspot for beer lovers and live music.
Are you looking for what to do in Gulfport for couples? Why not celebrate companionship with a toast of ales, porters, or stouts in Chandeleur Brewing Company?
You would enjoy the handcrafted drinks with local music and cuisine.
Address: 2711 14th Street, Gulfport, MS 39501, United States
23. Fishbone Alley
Fishbone Alley was originally a utility alley used for trash and maintenance. The Alley was conceived to be not just a destination for visitors, but a hub in the middle of downtown Gulfport, attracting the community to the public spaces in and around downtown.
Fishbone Alley is located directly across the street from another community attraction, Hancock Bank's Lighthouse Park, a beautiful green space that fosters the coming together of the community, be it lunch or afternoon coffee.
Both the Alley and Park create a social interaction of space that brings the entire area together and outlines communities and neighborhoods.
Artists and non-artist from all over the coast "leave their mark" in the Alley, using panels, murals, and the shutter program.
The Call to Artists is a continuing program utilizing Alley's organic nature through our community's eyes.
Visit from Monday through Sunday 12:00 am – 11:59 pm
Address: 1301 26th Ave, Gulfport, MS 39501-1908, United States
24. Stennis Space Center
Though not in the city, Stennis Space Center is a must-see attraction in the region. The Center is a great arena to check in, especially if you are interested in space and rocket science.
The Stennis Space Center was NASA's largest rocket engine test facility as of 2012, making it one of the best in the industry.
NASA carries out rocket propulsion and flight certification and systems here, and a large area has been devoted to enthralled visitors.
Here, you will discover what the United States' vast space program has achieved through interactive exhibits at the space center's INFINITY Science Center.
Take a bus tour to meander throughout the entirety of the massive facility.
Address: One Discovery Circle, Pearlington, MS 39572, United States
25. Jones Park
Jones Park is positioned on 60 acres at the south end of Highway 49, the Center of the City of Gulfport adjacent to the Mississippi State Port.
This park/harbor facility is the "Front Yard for the State of Mississippi."
Features of Jones Park include a 23,000 square-feet Barksdale Pavilion, 319 Slip Marina and Promenade Walk, Marina Services Building, Splash pad and Playground area, Leo Seal Educational Plaza (8,000 square feet), and Replica Lighthouse.
There is also an amphitheater stage area with flanking pavilions, an 86-mike walking track, fuel dock and bait shop, and asphalt parking for 450 vehicles and 60 boat trailers, amongst others.
Address: 2250 Jones Park Drive, Gulfport, MS 39501, United States
26. The Pecan House
You can get homemade pastries in The Pecan House so that you don't miss home.
The Pecan House are specialists in homemade candy and cakes with the best pecans. It is a family-owned business owned by Phyllis and Billy Shoemake.
They have been on for years with the original location, McHenry, MS, founded by Phyllis' mother, Barbara, in 1984.
The family initially sold a few flavored pecans, and the products diversified into fruit cakes and home decor items.
In 2015, Phyllis and Billy Shoemake opened a second location of the Pecan House in Gulfport, MS. Today, the Pecan House business sells a vast range of products, including fudge and clusters, almonds and peanuts, sugar-free products, caramel products, handmade creations, coffee items, special, and unusual gifts.
Visit from Monday to Saturday, from 9 am – 5:30 pm.
Address: 8930 Lorraine Rd Suite A, Gulfport, MS 39503-4184, United States
27. Shaggy's Gulfport Beach
This restaurant is a family and dog-friendly restaurant founded by Ron Ladner.
The restaurant serves quality cuisine and loads of fun to its patrons. The restaurant has over 400 employees with five waterfront, indoor/outdoor locations, and growing.
Shaggy's Gulfport Beach is one of Shaggy's Restaurants that were voted Best Outdoor Dining in Mississippi. Their menu contains fresh gulf seafood dishes, sandwiches, burgers, and vegetarian and gluten-free options.
Also available are wines, cocktails, cold beer, and more. Dining in this restaurant is one of the best things to do in Gulfport, MS. Come and experience the #ShaggysFun.
Address: 1724 E Beach Blvd, Gulfport, MS 39501, United States
28. Gulfport Dragway
What about getting to look out for something outdoors? Make your way to Gulfport Dragway, and if you are enthusiastic about sports, this would be a plus.
Gulfport Dragway has a quarter-mile drag strip, which features races, performances, and other events.
Sunsets attract daredevils in Gulfport together for a night of suspenseful drag races, with thousands of dollars up for grabs.
Whether you are a man or a woman, young or old, there is an equal opportunity to win cash prizes!
All you need is to register for a fee if you have the courage, or sit back and relax and watch how racers do their thing.
Address: 17085 Racetrack Road, Gulfport, MS 39503, United States
29. Harrison County Fairgrounds
Harrison County Fairgrounds is a multipurpose comprehensive sports and entertainment complex in Gulfport. This beautiful facility sits on 640 acres and offers a unique combination of leisure activities, from world-class sporting events to family picnics.
The Harrison County Fairgrounds has 46 RV sites with water & electricity, eight regulation-size soccer fields, and three permanent outdoor arenas.
There is also a covered arena with 130' x 250' floor space – having one acre of covered seating with fixed bleachers, a large warm-up area, eight pads for temporary stalls with electricity & water, a PA system, Concession Stand, Lighting, and Restrooms with Showers.
Harrison County Fairgrounds hosts national events such as The Gulf Coast Winter Classics, horse shows, rodeos, motocross, and concerts.
The fields adapt quickly for driving ranges, model airplane flying, rugby matches, and more.
The complex is situated 8 miles north of Interstate 10 off Exit 28 and is under the operation of the Parks & Recreation Department of Harrison County.
It is open from Monday to Friday, 7:00 am – 6:59 pm
Address: 15321 County Farm Rd, Gulfport, MS 39503-8220, United States
30. La Dolce Vita Cruises
Whether you want an intimate cruise for two or want to cruise with a group of friends or family members, La Dolce Vita Cruises accommodates your needs.
This adventure may include island cruises, sunset cruises, dinner cruises, wedding ceremonies, vow renewals, birthday celebrations, a day on the water, or whatever reason to celebrate life aboard a luxury yacht.
La Dolce cruise out of Gulfport Harbor and can travel to Ship Island, Cat Island, Deer Island, Ocean Springs, Biloxi, Bay St. Louis, Horn Island, and other destinations.
If you've ever just dreamt of spending some time on a yacht cruising the Gulf Coast, this is your chance!
The tour can be 2.5 hrs, 4 hrs a half day, or 6 hrs all day, tailored to meet your needs and budget. It's not just a Boat Ride; it's an Experience!!!
Address: Gulfport, MS, United States
Check out other cities in Mississippi, here is a list of things to do in Meridian, things to do in Southaven, and fun things to do in Vicksburg for a fun time
Plan Your Trip to Gulfport
Gulfport makes one of the best places for a fun vacation. Its kid-friendly activities in Gulfport will make your next vacation trip extra memorable and a lot more relaxed.
Start planning your trip to Gulfport by making a bucket list of places you will like to explore.
Have a great trip!