Looking for the best and fun things to do in Vicksburg, MS?
Vicksburg was established in 1811 and incorporated on January 29, 1825; it has grown as a center for commerce, agriculture, and river traffic.
Vicksburg is a beautiful town in Western Mississippi, United States. Vicksburg city is best known for its immense contribution to American history as it played a part in the Civil War.
The Mississippi River has long played a significant role in Vicksburg's economic, historical, and residential development. The Mississippi River has so far played a role in Vicksburg's historical, economic, and residential development.
Below are the best things to do in Vicksburg, Mississippi.
Things to Do in Vicksburg
1. Explore Vicksburg National Military Park
The military park is designated as a U.S. National Military Park. It is also enlisted on the U.S. Register of Historic Sites.
This park preserves the Vicksburg Campaign and the American Civil War Battle of Vicksburg.
The National Park Service was given the park in 1993 by the War Department. Since then, it has managed the same.
This military park also contains the Vicksburg National Cemetery. It includes 1325 historical markers and monuments, along with 20 miles of earthworks, historic trenches, and a 12.5-mile walking trail.
There are also 144 emplaced guns, two antebellum houses, the Grant's Canal site, and the restored USS Cairo in the park.
It's not wrong to say Vicksburg National Military Park can be your one-stop source for information about this fascinating town's history.
Address: 3201 Clay St, Vicksburg, MS 39183, United States
2. Vicksburg Riverfront Murals
The Vicksburg Riverfront Murals consists of series of beautiful murals painted on Mississippi River flood walls in Vicksburg.
The Vicksburg Riverfront Murals depicts the city's historical significance alongside its envisioned future role in the region's culture, commerce, religion, history, and technology.
In April 2002, the City of Vicksburg opened its first riverfront mural by notable artist Robert Dafford located on the Levee Street mural.
The artist's 32-life-like pictorial murals feature periods of history in Vicksburg. Pleasantly, it recognizes three important arteries feeding Vicksburg's diversity: the railroad, the river, and the highway.
The mural also showcases the Grove Hill mural. A 55 ft. mural was to be painted on the Grove Street flood wall, across the street from the Levee Street murals, in 2012.
These murals add to the ambiance and beauty of the downtown Vicksburg surroundings, and there are suitable parking spaces to stop and view them with good restaurants in the area.
3. Home Tours
Your visit to Vicksburg is incomplete if you don't see the historic homes. Vicksburg is home to everything from Victorian Italianate to Greek apertures.
You will learn more about the lives and housing conditions of the eras as you follow the history of these homes.
It is easy to tag this tour because there are more than 13 homes to discover. Exploring this many houses is one of the best fun things to do in Vicksburg.
4. McRaven House
McRaven House was established in 1797 by Andrew Glass in a city named Walnut Hills, now Vicksburg, Mississippi.
Mr. Glass would rob people traveling the Natchez Trace and hide out in McRaven. His shocking death became the beginning of McRaven's haunting.
The house is known as a hunted place in Mississippi.
Another story of Sheriff Stephen Howard, who built a portion in McRaven to live in with his wife in 1836.
He lost his young wife, Mary Elizabeth, after childbirth, and her ghost moves and plays pranks on visitors in the house. Other people once lived in the house, and their items and belongings are still there, left untouched.
Today McRaven consists of quality museum antiques as the room demonstrates the way of life of those who once lived there.
McRaven House organizes History Tours and Hunted Tours, and Halloween Tours. The History Tour starts every Monday through Saturday from 10:00 am to 4:30 pm and on Sunday from 12:00 pm to 4:30 pm.
Explore the McRaven House on a guided tour as the tour guides are friendly and knowledgeable, plus the tour is educative, exciting, and entertaining.
Address: 1445 Harrison St, Vicksburg, MS 39180-3637
5. Ameristar Casino Hotel
Ameristar Casino Hotel is one attraction that is worth adding to your list of things to do in Vicksburg, MS, for entertainment.
This riverboat casino, which is operated by Penn National Gaming and owned and managed by Gaming and Leisure Properties, has a unique reputation.
Ameristar is a place that engages its guests with more than 1400 slot machines and 30 table games, and 149 hotel rooms.
It could also serve as an entertainment and gaming center for tourists. It was established in 1994 and had been operating successfully ever since.
Address: 4116 Washington St, Vicksburg, MS 39180, United States
6. USS Cairo Museum
This museum is famous for its historic role as a place of repose for the USS Cairo, the first ironclad warship.
Although the career of The Cairo was brief, it had a significant impact. Although the ship was lost and forgotten at first, it was later found and salvaged from the bottom of the Yazoo River in 1956.
Unfortunately, it has continued to degrade due to constant exposure to air, vandalism, and bird droppings.
Other artifacts recovered from the ship included personal gears, naval supplies, weapons, and ammunition. They are all available in the museum.
Address: 3201 Clay St, Vicksburg, MS 39183, United States
7. Jesse Brent Lower Mississippi River Museum and Interpretive Center
The Lower Mississippi Museum is the first of its kind in the United States as it is the first and only museum to maintain and house a fully restored, dry-docked riverboat.
Visit the outdoor scaled model to discover a section of the Mighty Mississippi River. The flood model allows visitors to view how several factors can change a river. Visitors can also become acquainted with the names of sites along the river close to Vicksburg.
Explore life in the Mississippi River as you discover how several communities, exciting history of the river farming families, and the US Army Corps of Engineers have utilized the river,
You will also discover how a family in the city survived a flood in 1927, plus some of the river's fishes in the 1,515-gallon aquarium. You would love to tour the adjacent riverboat as you choose your adventure on the river with the Mississippi.
Jesse Brent Lower Mississippi River Museum and Interpretive Center is open every Monday through Saturday from 9 am – 4 pm and from 1:00 pm to 4:00 pm on Sundays.
Address; 910 Washington St, Vicksburg, MS 39183-2562
Planning a Nebraska road trip? also, check out our list of things to do in Lincoln, for a fun Nebraska trip
8. Old Vicksburg Bridge
This relatively old bridge has been added to the U.S. National Register of Historic Sites. Don't let its age fool you.
The bridge is still in use, and it allows a railroad line to cross the Mississippi River to reach Delta, Louisiana.
It is classified as an arch bridge with a single service lane. Old Vicksburg Bridge was initially opened for motor vehicles, but later this function was transferred to a bridge further downstream.
11. H.C. Porter Gallery
H.C. Porter Gallery is a unique gallery of the Mississippi visual artist H.C. Porter. H.C. Porter Gallery is located in the heart of historic downtown Vicksburg, and it also displays contemporary works by visiting national artist.
The grand gallery consists of limited editions of original paintings and prints by the award-winning artist, which depicts the everyday life in Mississippi for the past two and half decades.
The unique artist displays and sells mixed media originals, photography, serigraphs, giclees, posters, fine art books, and many others.
Visit the beautiful gallery to discover beautiful paintings, photographs, and printed works.
Address: 1216 Washington St, Vicksburg, MS 39183-2962
10. Vicksburg National Cemetery
The Vicksburg National Cemetery is located within the park. It contains 18,244 interments, with 12,954 unidentified.
The cemetery covers a total of 116 acres and serves as a final resting spot for all those who have served their country to the end.
11. Anchuca Mansion
Anchuca is a historic Greek Revival house situated in Vicksburg, Mississippi, known as the Victor Wilson House. The name means "happy home" in the Choctaw language. Anchuca Mansion was built in a Federal-style in 1840 by a local politician, J.W. Mauldin.
Victor Wilson, who is a local merchant bought the house in 1840, and he and his wife had a two-portico which was added to the front of the mansion to depict the Greek style,
The Anchuca Mansion is open for dining. Explore the house to enjoy some seasonal southern delicacies, including the delicious shrimp and grits and the finest filet mignon in the city.
It also offers full-service bars like specialty drinks, wine by the glass or bottle, and Mississippi craft beer. Tour the Anchuca Mansion, Vicksburg's first Columned Mansion, as it opens every Monday through Sunday from 9:30 am to 4:00 pm,
Enjoy a walk in the footsteps of many famous Americans to discover the opulent interiors with beautiful antiques, unique collections, and arts as it is affordable.
You will also find friendly tour guides willing to share stories and things you need to know about the Anchuca Mansion.
Address; 1010 First East St, Vicksburg, MS 39183-2513
12. Biedenharn Coca-Cola Museum
Biedenharn Coca-Cola Museum is an interesting museum that is worth adding to your list of things to do in Vicksburg, MS.
This was the first location of Coco-Cola's first bottling center. The building has been transformed into a museum that displays original, antithetic Coco-Cola bottles.
This exhibit explains in detail how the first Coca-Cola was made, bottled, and the equipment used.
The museum also includes the history of the Biedenharn family. Be sure to check out the Coca-Cola souvenirs before you go.
Address: 1107 Washington St, Vicksburg, MS 39183, United States
13. Pemberton Headquarters
The Pemberton's Headquarters, also known as Willis-Cowan House, was built in 1836.
The house was declared a National Historic Landmark in 1976. This eventually led to its inclusion on the U.S. National Register of Historic Places.
After visiting Vicksburg National Military Park (of which the house is part), visitors can see the beauty of the house.
The house is situated on a higher ground than the street and sits majestically as an impressive two-story building. William Bobb was the first to build the house.
Address: 1018 Crawford St, Vicksburg, MS 39180, United States
14. Old Courthouse
The Old Courthouse is where the first two trials of the pivotal Dred Scott case in 1847 and 1850 happened alongside other issues. You would love to tour the historic structure and visit the restored courtrooms to learn more about the 19th-century judicial system.
The Old Courthouse can also be called the "St. Louis' Old Courthouse," listed in the National Park Service's National Underground in Railroad Network To Freedom. The courthouse has a link with the story of the Underground Railroad and slavery as a property associated with legal challenges to slavery.
The courthouse was a public forum as well as a courthouse. The Old Courthouse was the site of many suits for freedom, while Dred Scott's decision that slaves were property and had no right to sue fastened the start of the Civil War.
The Old Courthouse was established as a combination of federal and state courthouses in St. Louis, Missouri, and designed by the firm of Laveille and Morton.
Visit the Old Courthouse as it features Vicksburg history, memorabilia, artifacts, antiques, paintings, old maps, and many others.
The Old Courthouse opens every Monday through Saturday from 8:30 am to 5:00 pm and on Sunday from1:00 pm to 5:00 pm.
15. Murals at Vicksburg's Riverfront
The murals on Vicksburg's riverfront are a beautiful tribute to its rich history. Robert Dafford, an American artist of international fame, created these murals.
Vicksburg Riverfront Murals were first unveiled on April 12, 2002.
These murals can be found all over the South and up and down the Mississippi River. They are worth seeing for anyone who visits Vicksburg. These murals reflect the past and present of the city.
It shows a picture of Vicksburg's role in America's commerce and culture.
Address: 1201-1299 Levee St, Vicksburg, MS 39180, United States
Visit tourist attractions in Missouri, check out this list of things to do in Joplin, things to do in Branson and fun things to do in Kansas City for a memorable exploration
16. Margaret's Grocery and Market
The promised land, Margaret's Grocery & Market, is a proud testament to true love and faithful promises. It is worth your time, even though only the ruins of the original structure are left.
Margaret's husband died in a tragic accident that took place in a grocery store. Five years later, Margaret married Preacher Dennis, the man who gave the place its symbolic look.
According to legend, he promised Margaret that he would build a new "castle" for their love if Margaret married him. The preacher continued to work on the building after their marriage while Margaret opened the shops again.
This building is a landmark in folk art, decorated with beautiful mosaic and pastel colors.
It also serves as a symbol for Preacher and Margaret's love and efforts. Margaret's Grocery and Market continues its amazement on tourists and visitors.
It also symbolizes the everlasting love and bond between its creators.
Address: 4535 N Washington St, Vicksburg, MS 39183, United States
17. Catfish Row Children's Art Park
Catfish Row Children's Art Park is an excellent place for kids to have fun and enjoy exciting and engaging outdoor games.
In the colorful Catfish Row Children'Art Park, you will discover a playful area, a garden, splash fountain, eye-catching artworks, unique exhibits, and murals. The several artworks displayed on the park's wall are mini-masterpieces that decorate the garden, and they are the lovely works of local school children.
The Catfish Row Children's Art Park is not only a charming play area. It also pays tribute to the Mississippi River and the trade that previously took place on the famous waterway.
Catfish Row Children'Art Park opens every Monday through Saturday from 9:00 am till sunset.
Address: 1200 Levee St, Vicksburg, MS 39183-2950
18. Yesterday's Children
If you are looking for things to do in Vicksburg with kids, add a visit to Yesterday's Children museum to your checklist.
Yesterday's Children is a well-known toy museum that specializes in doll collections.
It is not uncommon for tourists or visitors to seek out a doll museum rather than a museum.
This museum has many dolls from different countries, categories, and ages. Some dolls date back as far as 1843. It is an absolute delight for both doll lovers and kids.
This museum was featured in several prestigious magazines. It is worth a visit.
We highly recommend the shop for souvenirs and dolls. The museum is open to the public from June through August, between the hours of 9:30 AM and 4:30 PM.
You can reserve a day between Monday and Saturday to visit this wonderful attraction.
Address: 1104 Washington St, Vicksburg, MS 39180, United States
19. Levee Street Market Place
Are you in search for a good and exciting market to buy some things in Vicksburg, Mississippi? You would love to visit Levee Street Market Place.
The Levee Street Market Place is an excellent spot that features unique antiques, jewelry, art, snacks and drinks, vintage, collegiate, refurbished items, clothing boutiques, souvenirs, homemade treasures, and lots more.
The Levee Street Market opens every Monday through Saturday from 9:30 am to 5:30 pm. If you are in Vicksburg, Mississippi, do well to visit the market as there are lots of nice things to buy, and the owners are friendly and helpful.
Address: 1001 Levee St, Vicksburg, MS 39183-2568
20. Old Depot Museum
The Old Depot Museum offers 3-D viewing of Vicksburg's history.
You will find a variety of interesting things here, including memorabilia about railroads, Herb Mott's original paintings, models of railroad lines, and a diorama depicting the Siege of Vicksburg.
There are also videos and photos of citizens adopting tracks during the Siege.
Finally, there is a collection of Civil War model gunboats. This fusion of entertainment and information is a hit.
A visit to the Old Depot Museum is one of the best things to do in Vicksburg for individuals interested in history.
Address: 1010 Levee St, Vicksburg, MS 39183, United States
21. Vicksburg Battlefield Museum
One of the best things to do in Vicksburg is visiting the Vicksburg Battlefield Museum.
The Vicksburg Battlefield Museum preserves Civil War's history by having the most extensive collection of Civil War model gunboats, an 8×20 foot Siege diorama, and 30 Inland Water War-themed original paintings.
You can watch "Vanishing Glory," a 30-minute documentary that explains the history of the area.
22. Attic Gallery
This remarkable gallery is an independent gallery that is believed to be one of the oldest in Mississippi.
The Attic Gallery is a great place to start if you love contemporary fine art, southern folk arts, glass, jewelry, and handmade pottery.
The gallery is also known for its "outsider art." Attic Gallery celebrated its 50th anniversary on October 2, 2021. This milestone is not something every independent gallery can witness.
This is one of the top things to do in Vicksburg for lovers of art, do add to your bucket list of places to visit.
Address: 1101 Washington St, Vicksburg, MS 39183, United States
23. Old Courthouse Museum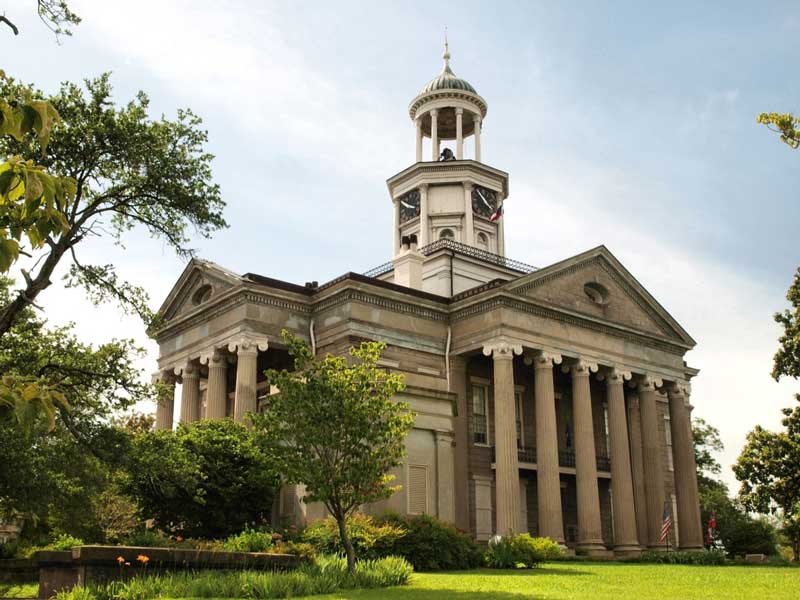 If you are a historian, one of the best things to do when you visit Vicksburg is to check out the Old Courthouse Museum. There is a lot of history to explore in this place.
For more than 74 years, the Old Courthouse Museum has been dedicated to displaying the rich cultural history of Vicksburg. The museum was originally established in 1858 and acted as Warren County's Courthouse; not until 1938 that construction of the New Courthouse was carried out fully.
A historical society was created in 1946, all thanks to Mrs. Eva Whitaker Davis, to convert the deserted building into a local museum.
The museum contains historical items with cultural importance ranging from beautiful portraits to pre-Columbian artifacts, exquisite furniture, clothing, toys, Confederate flags, china and silver, antebellum apparel, and many other artifacts.
This structure, a National Historic Landmark, has entertained speakers and visitors like Ulysses S. Grant, Teddy Roosevelt, William McKinley, Booker T. Washington, and Jefferson Davis.
Address: 1008 Cherry St, Vicksburg, MS 39183, United States
24. Vicksburg Historic Downtown
Exploring the Historic Downtown area of Vicksburg is a perfect way to have a great time outdoors with your friends and loved ones. It offers limitless outdoor opportunities ranging from beautiful local restaurants to historic museums.
If you are searching for souvenirs and gifts to take back home as memorabilia, you can explore the mini stores around that offer unique treasures.
You can also visit any of the popular eateries around the area to have an amazing dinner experience after having a great time exploring the many galleries and shops in downtown Vicksburg.
Vicksburg was founded in 1811 and officially turned into a city in 1825. If you would like to know more about its rich history, then do well to check out the many local museums.
Address: 2422 Washington St, Vicksburg, MS 39180, United States
25. Waterview Casino & Hotel
Get the very best of indoor entertainment and comfort when you visit the Waterview Casino & Hotel. If you have this feeling of luck in Vicksburg, then you play the casino games to win yourself a jackpot.
It has 122 comfortable rooms, some of which offer great river views. All rooms are well equipped with top-class bedding, air conditioning, and complimentary WiFi.
Other additions include free self-parking, vending machines, an elevator and luggage storage, and a seasonal outdoor pool.
It is well known for its casino floor, which features over 30,000 square feet of poker machines, 658 slot machines, five casino gaming tables, and a sportsbook. It is a square-foot event room to host fascinating events, from high-quality performances to upcoming talents.
There is also a space for hosting small and big occasions. After playing several casino games, enjoy a great meal at their restaurant or relax at their bar and lounge.
Address: 3990 Washington St, Vicksburg, MS 39180, United States
26. Clear Creek Golf Course
Clear Creek Golf Course is an 18-hole golf facility in Vicksburg that is unique for all skill-level golfers. Whether you are an avid golfer, an amateur, or an expert, here is the perfect place to check out while in the city.
Clear Creek Golf Course was made available to the public in 1977 and was designed by Watermark Golf LLC/Nathan Crace. The Clear Creek golf course has a course rating of 71.8 and a 118 slope rating on Bermuda grass.
You should visit with your friends and loved ones and have a great time playing golf together. They have the best practice facilities, a convenient clubhouse, and a pro shop that contains all the gear you need for golfing.
Address: 1566 Tiffentown Rd #7497, Vicksburg, MS 39183, United States
Want to check out other cities in Mississippi? here are guides on things to do in Hattiesburg, for a fun Mississippi exploration.
Start Planning your trip to Vicksburg
Explore the magical and beautiful city as it is rich with cultural richness, films, artworks, crafts, famous museums, notable artists, unique theatres, performances, exhibitions, art shows, and many more.
Vicksburg, Mississippi, to enjoy performing arts like good music, dance, storytelling, tasty foods, great restaurants, parks, and other recreational centers you will love to visit.
Start now to plan your next vacation to the charming city of Vicksburg, Mississippi, with your friends and family, as it is worth the trip!