In search of the best and most fun things to do in Bay St Louis, MS?
Bay St. Louis is a city situated in Mississippi, on the west side of the Bay of St Louis, on the Gulf Coast. Its dominant Creole culture is a mix of French and African influences.
In 2005, Bay St. Louis was affected by the devastating Hurricane Katrina, the most defining event in recent history.
The storm surge peaked at 30 feet destroyed many structures and wreaked havoc. Among those damaged were the public library, several seafront properties, and the Bay St Louis Bridge which disintegrated into segments. Many people were evacuated however some did not return.
The city is now rebuilt and rekindled by tourism. As a result, there are exciting places to explore and plenty of activities to engage in.
Are you planning an exploration of Bay St. Louis? Here are the top things to do in Bay St. Louis, MI.
Things to Do in Bay St. Louis
1. Take a Breather at Bay St. Louis Beach
Spending a day at the beach would always be a good idea. The beach is perfect if you want to have fun and enjoy the outdoors, lounge, relax, or have fun.
Bay St. Louis Beach is one of the best beaches in town.
The beach is pet-friendly and a warm and welcoming space where you can bring the whole gang, including all your furry friends.
Have quality time by the water and don't forget to bring some blankets and snacks if you intend to stay long.
Lie down, enjoy the warmth of the sand and listen to the calming sounds of the waves hitting the shores. If you are short on time, and couldn't come with food, there is no need to worry as there are several restaurants near the beach that you can try.
When you are done eating, take a stroll and see the shops nearby. They are locally owned shops, selling items you can bring back home to remember this beautiful city.
2. Schedule a Tee Time at The Bridges Golf Club
The Bridges Golf Club welcomes everyone who wants to experience their well-designed golf course including travelers who want to have the game of golf during their weekend getaway.
Designed by Arnold Palmer, the golf course is a famed attraction for guests who are fans of the sport. It has a challenging course, ideal for visitors who want to test and improve their skills while enjoying the beautiful outdoor views.
While you are here, you will notice how the course was built such that way they can preserve the natural habitat of animals in the area.
There are no houses here, only eye-catching sceneries that feature wildlife, swamps, and well-maintained greens. So, you can take up the challenge of playing and playing a beautifully designed course.
Open Monday to Sunday (7 am to 7 pm).
Address: 9000 S Gale Ridge Rd, San Ramon, CA 94582, United States
3. Explore the Alice Moseley Folk Art and Antique Museum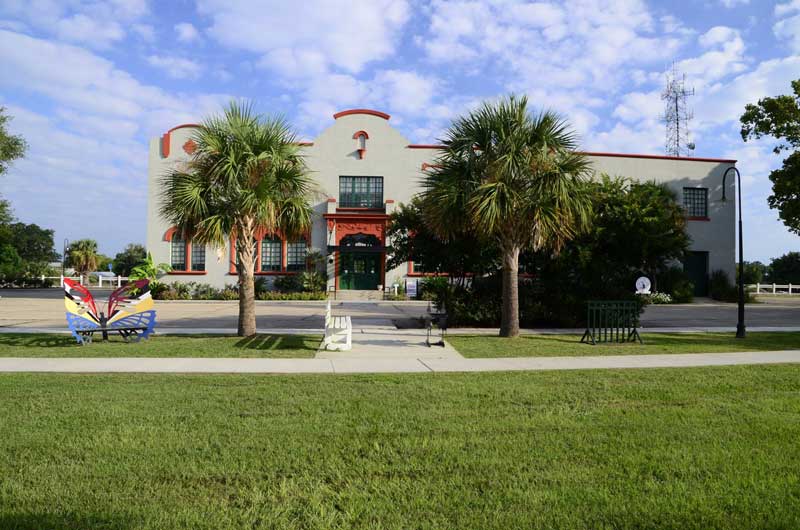 The next place to tick on your bucket list of things to do in Bay St. Louis is Alice Moseley Folk Art and Antique Museum.
It stands in memory of a woman, Alice Moseley, who was lauded as an artist in the idyllic folk art genre.
Alice died at the age of 94 and up until she died in 2004, she painted rural Southern life as she wanted it would be.
Her son started the museum in her home, the Blue House, but it was later moved to its present location at the Bay St Louis Railroad Depot.
Alice Moseley Folk Art and Antique Museum offer tours of her work as well as the selling of prints at the museum shop and online.
Admission is free and the museum is open every day of the week except on Sundays
Address: 1928 Depot Way, Bay St. Louis, MS 39520
4. Worship at Our Lady of the Gulf Church
Our Lady of the Gulf Church is a magnificent church building in Bay St. Louis. This structure was built in 1908 following a tragic fire outbreak that destroyed the previous complex.
It has a phenomenal beauty with the high altar made of Italian Carrerra marble and you'll observe q large picture of Jesus and his mother, in her role as Our Lady of the Gulf right behind it.
The painting is a representation of the 17th-century sailing ships near the shore. There are very beautiful German-made stained-glass windows fixed on the walls.
The church takes daily mass and weekly confessions.
They also engage in community outreaches including making dinners and blankets for the poor, especially those affected by Hurricane Katrina.
Address: 228 South Beach Blvd., Bay St. Louis, MS 39520
5. Go for collectible items at Antique Maison, LLC
Are you in the search for one-of-a-kind finds in Bay St. Louis? You have the solution in Antique Maison, LLC – an antique store that offers diverse kinds of collectibles you can choose from.
Whether you want local stuff, small trinkets, or collectibles, you will surely find what you seek in this shop.
Here is a good place with great selections to enjoy for those looking for antique furniture for their homes. The shop also sells accessories and clothes, perfect for funky travelers looking for something local to include in their wardrobe.
The items here are also at fair prices, so you will definitely enjoy your visit. The store is open Monday to Friday (10 am – 5 pm).
Address: 111 N 2nd St, Bay St Louis, MS 39520, United States
6. Attend an event at 100 Men D.B.A. Hall
One of the fun things to do in Bay St. Louis, MS is a visit to 100 Men D.B.A. Hal.
In 1894, there was a coalition of twelve African American men came together and formed the 100 Men Debating Benevolent Association.
Part of what bonded them was the pledge to friendship, care, and burial of all members. They worked consciously and continuously on these goals, and in 1922, they built an outdoor pavilion and hall to preserve the musical history of the founders.
Then, the venue was on the Chitlin Circuit where many famous gospels, jazz, and R&B artists were hosted. Currently, it is on the Mississippi Blue Trail and still organizes open mic evenings and fundraisers for the burial of its members.
The 100 Women DBA raises money for scholarships and the preservation of the building. One can rent the hall for private functions as it is available.
Address: 303 Union Street • Bay St. Louis, MS 39520
7. Taste different flavors of Daiquiris at Daiquiri Shak
If you are searching for a place to step down and enjoy delicious and rejuvenating drinks, you can check out Daiquiri Shak.
Here, they have 13 daiquiri flavors that come in different sizes.
Probably you've not had a daiquiri before, but you can try it for the first time by ordering a drink in their 12oz cup.
Something interesting about this shop is that they offer daiquiris in a mini jug, half a gallon, and a full gallon, allowing guests to bring their drinks home and share them with their loved ones if they wish.
Even if you are unsure which flavors to get, do not worry, they have very friendly and helpful staff who would ensure that you get what matches your taste.
You can also ask their staff to allow you to sample the flavors for a more fun experience.
Address: 112 Court Street, Bay Saint Louis, MS 39520
8. Bay St Louis Little Theatre
If you want to see great movies or have a nice date, you should consider the Bay St Loius Little Theatre. It makes our list of top things to do in Bay St Loius.
The first building of this theatre was formed out of two army surplus barracks, one positioned vertically for the audience and the other placed horizontally for the stage.
The structure lasted for over half a decade until it was razed down by Hurricane Katrina in 2005.
However, the theatre company rescued and restored the desolate building which had enjoyed a brief moment of glory in a film named, 'This Property is Condemned'.
It was reopened in 2010, and seats were completely sold out for two years. The theatre has received many awards and releases new productions every month.
Add this item to your list of fun things to do in Bay St. Louis, MS.
Address: 398 Blaize Avenue, Bay St. Louis, MS 39520.
Mississippi makes one of the top places to visit in the United States, check out the list of things to do in Meridian, things to do in Southaven and things to do in Tupelo for a fun time.
9. Attend a Yoga Class at Treehouse Yoga
If you want to maintain your fitness levels while on vacation, you can go to Treehouse Yoga. Yoga does not stop at being a good exercise, it can also help calm your mind and also revitalize your body.
Treehouse Yoga is a studio that offers classes every day and one can make payments through cash, venmo, and even cheque to ensure ease for all guests.
While coming to the class, bring with you a mat and blanket. Kindly relax your mind if you are a newbie, the classes here are beginner-friendly.
You can check out their website before going to the studio, so you can bear in mind what to expect in the classes.
Address: Carlos Lazo, Centro – Supmza. 001, 77400 Isla Mujeres, Q.R., Mexico
10. The Sycamore House
Next is the Sycamore House, a bi-functional structure that acts as both home and workplace for the couple team, Michael and Stella.
The two are chefs and as husband and wife, they moved to the area in 2002 and started a restaurant in this historic building on Main Street.
The structure, formerly known as the Mauffrey Boarding House, combines two mid-19th century cottages to form one dwelling.
It has two dining rooms and an outdoor porch and patio. You can stay under the nature oaks, providing a much more welcome shade.
The food here is globally inspired with New York-style pizzas and seafood dishes as highlights.
Address: 210 Main St, Bay Saint Louis, Mississippi.
11. Watch a Live Performance at Bay St. Louis Bay Theatre
Are you looking for a place to have fun with your friends and family on a night out in town? If yes, Bay St. Louis Bay Theatre is a great choice.
Though a small theater, it features original productions that showcase talented local artists in poetry, music, and plays.
They also host award-winning shows, so visiting the theatre is always interesting because of the variety of shows they offer.
Bay St. Louis Bay Theatre an exciting place to visit, one of the top things to do in Bay St Louis, MS.
Address: 398 Blaize Ave, Bay St Louis, MS 39520, United States
12. Go on a Ghost Cemetery Walk Tour with Mystic Ghost Rides
Mystic Ghost Rides provides tours where visitors can learn about legends and real ghost encounters in the city.
So, if you want a unique and memorable experience with your loved ones, check out Mystic Ghost Rides. Have fun with your team as you get to learn more about why Bay St. Louis is regarded as one of the most haunted coastal communities in America.
If you have some nerves, you can get involved in their Ghost Cemetery Walk tour. Get set to hear tales of the past and real-life bizarre stories while on this tour.
They also offer other tours, such as Voodoo Valentine Love Boat Tour, Creepy Christmas Boat Tour, and Haunted Bayou Tour.
You may buy a closed container of alcoholic or non-alcoholic drinks and snacks, which you can consume while exploring with the group. It would be a more enjoyable experience.
Address: 6149 Central Ave, Bay St Louis, MS 39520, United States
13. Stroll around Jimmy Rutherford Fishing Pier
Located on Beach Boulevard, Jimmy Rutherford Fishing Pier is an amazing place for travelers who love fishing.
If you want to fish, you can come here any time of the year.
Get set to catch some trout where you come and during summer, red snappers can be caught here as well.
Even if you don't want to fish, you can still come here, as their pier is a great place to take a stroll and enjoy the beautiful view of the harbor and the fresh air.
A parking lot is available here if you're traveling via private car.
Address: 100 Jody Compretta Dr, Bay St Louis, MS 39520, United States
14. Marvel at the Beautiful Costumes at Bay St. Louis Mardi Gras Museum
If you want to make the most out of your visit to L&N Train Depot, ensure that you drop by the Bay St. Louis Mardi Gras Museum.
Located on the first floor of the L & N Train Depot, you will see some Mardi Gras costumes used by the Krewe of Nereids.
Carter Church designed these costumes and it takes a whole year to design and create them. This is because they are hand-made, with some costumes requiring glued-on appliques, making them more unique and special.
The displays in the museum change every year, occurring three weeks after the Mardi Gras season. This is indeed a wonderful site to visit, especially for people who have a passion for arts and fashion.
This museum is always something to look out for when you're in the city.
15. Buy Fresh Flowers from French Potager
One of the top things to do in Bay St Louis, MS, is to visit French Potager. Would you like to purchase locally made products in this town? If yes, French Potager is a lovely shop to visit.
Upon entering, you will be greeted with the fragrant smell of different fresh flowers in the shop. You can order custom floral arrangements as a special gift from this shop to your loved ones.
You just need to inform them of the kind of arrangement you want and they will gladly help you. They also deliver daily, so in a case of a last-minute gift, just give them a call.
However, if you are looking for something different, there are t-shirts, home goods, and stuff for plants that you can buy here too.
Open Monday to Saturday between 10 am and 5 pm.
Address: 213 Main St, Bay St Louis, MS 39520, United States
For a fun road trip in Mississippi, do not miss exploring our checklist of in things to do in Starkville, things to do in Oxford and things to do in Tunica.
16. Visit the Historic L & N Train Depot
For any traveler visiting Bay St. Louis, L&N Train Depot is a must-see for travelers. a designated "Mississippi Landmark" and
L&N Train Depot is a designated "Mississippi Landmark" with the iconic two-story building featuring mission-style architecture. This makes it the perfect subject for photographers who want to give others a pinch of the city's beauty.
It would interest you to know that Bay St. Louis Mardi Gras Museum, and Alice Moseley Folk Art Museum are home to Hancock County Tourism. The depot is one of the most popular attractions here with a great variety of activities that you can do.
If you need some space outdoors, the depot is encompassed by park-like grounds where you can sit back, relax and enjoy.
For people who want to tour the surrounding area, visit Depot Row. It is just across from L & N Train Depot.
Explore the numerous shops here and you can also satisfy your hunger in one of the restaurants.
17. Play in the sand at Waveland's new beachfront
Recently dedicated in Waveland, this 1.9 million USD lighthouse pavilion finally provides a beautiful anchor for this stretch of beach with much-required public restrooms.
There are truckloads of sand brought in already, and the citizens are desirous for warm temperatures and school vacations so they can spend nice days swimming, sunbathing, and playing here.
The town leaders have to expand across the street with the intention of making this even more popular in the years to come.
18. Eat great at Trapani's Eatery
Like many other businesses in Bay St Louis, Hurricane Katrina caused heavy devastation for Trapani's Eatery.
The restaurant was run by Jolynne and Tony as a beachfront restaurant since 1994 and was recognized for its hospitality.
Following Katrina, they moved to a temporary ground but decided to rebuild on the original spot in Old Town. In 2012, they got back to a strong two-story building that has a balcony bar upstairs.
Guest can book customized catering services for large or intimate occasions. You have the option of two venues for private parties.
Trapani's is open every day of the week.
Address: 116 North Beach Blvd., Bay St. Louis, MS
19. Ride the waves at Buccaneer Bay
Buccaneer State Park is a serene and comfortable place to park an RV or camp when you visit Waveland and Bay St. Louis, but the major cause for attraction is the Buccaneer Bay – its wave pool and water park.
Some features that attract visitors from miles around include the Pirate's Lagoon Wave Pool which contains 460,000 gallons (that's1741289.42 liters) of water with 8 different wave patterns.
Pirate's Plunge is a body slide full of twists and turns while Pirate's Plank is an enclosed water slide. Also check the Lil' Smuggler's Cove, a shallow water playground with tipping buckets.
Do well to see Sea Dog Galley as well. There is plenty of shade and lots of concessions for hungry swimmers. Do add to your bucket list of fun things to do in Bay St. Louis, MS.
20. Discover the Mississippi coast's space contributions at Infinity Science Center
Located in Hancock County's Pearlington, Mississippi, Infinity Science Center is the official welcome center for NASA's (National Aeronautics and Space Administration's) Stennis Space Center.
Visitors are welcomed to enjoy bus tours of NASA's rocket-testing facilities, different rides, and state-of-the-art exhibits.
Among many activities is that you can learn about hundreds of carnivorous plants or use building blocks to design your own inventions in the Science Express Gallery.
In Science on a Sphere, you'd see what is involved in tracking hurricanes or inspecting the surface of the sun or Mars. It is a new theater that boasts a full slate of three-dimensional movies with great sound.
There is a cafe and a gift shop open Monday through Saturday from 9:00 am to 4:00 pm. Entrance is 18 USD for adults but there is a discount for senior adults, military personnel, and children.
Address: 1 Discovery Cir, Pearlington, MS 39572, United States
21. Stay and play at Hollywood Casino & Resort Gulf Coast
Do you want a more posh stay coupled with some exclusive Bay St. Louis activities? Hollywood Casino & Resort Gulf Coast is one you should definitely consider for your list of things to do in Bay St. Louis, MS.
This 14-story waterfront hotel is situated near Old Town and offers comfortable accommodations and smooth access to fun attractions.
There is a 24-hour casino, hot tub, and on-site fitness center for guests. You can also chill in the lazy river or enjoy swimming in the outdoor pool.
After a day full of fun activities, savor a good rest in your room that comes with air conditioning, flat-screen cable TV, a coffee machine, unlimited access to WiFi, and an en suite bathroom with a hairdryer.
Enjoy delicious meals from any of the three restaurants on the premises, which include a steakhouse, a buffet, and a 24-hour pizza and burger grill.
You'd also see a bakery where bread and desserts are served. There is an arcade and a gift shop in the main lobby, so there's a lot to enjoy.
Address: 711 Hollywood Blvd, Bay St Louis, MS 39520, United States
22. Shop in Old Town Bay St. Louis
It is no surprise that most shops in Old Town Bay St. Louis have bay-themed names – Bay Elements, Bay Books, Bay-tique, Bay Life, etc.
But your surprise would be the number of great shops near Main Street that attract customers with unique wares.
In addition to the clothing and shoe stores, you'll find paintings, jewelry, pottery, and a vast selection of home decor for both indoors and outdoors.
The Social Chair, in particular, is a very appealing shop among them. Do well to visit, it is open every day of the week.
This answers what to do in Bay St Louis, for a fun time, do consider for your bucket list of things to do in Bay St Louis, MS.
Address: 201 Main St, Bay St Louis, MS 39520, United States
23. Stay in a quaint B&B
There are three B&Bs in Bay St. Louis, many small hotels, and two large hotels with casinos. But Bay Town Inn Bed and Breakfast in particular is an amazing B&B.
It is owned by Nikki Moon – a survivor of Hurricane Katrina. She narrowly scaled through by clinging to a tree for hours with her little pet dog after being displaced from her 100+-year-old home when it sunk due to the powerful surge of gulf waters.
She was motivated and built on the same spot, just across the harbor. The inn is next to restaurant 200 North Beach and has ten guest suites, each with a kitchen and living area, a bedroom with a king bed, and a full bathroom.
The fridge is stocked with water, yogurt, juices, and sodas with snacks on the nearby counter.
They deliver continental breakfast to the rooms from Monday to Friday, but a full, hot breakfast gets through on the weekends.
Address: 208 N Beach Blvd, Bay St Louis, MS 39520, United States
24. Twisted Tiki Tours
One of the best things to do in St. Louis is to go on a tiki tour.
Twisted Tiki Tours is a 50-foot tiki-themed pontoon boat featuring sound systems, a dance floor, a restroom, and a tiki bar.
Admire the gorgeous Gulf Coast from the water as you unwind with your buddies and make new ones on their public cruises or rent the whole boat for a private occasion.
There are three cruises to pick from, and they include the Historical and Ecological Cruise, the After-Hours Cruise, and the Sunset Cruise.
Although all the cruise varies, they have some things in common. For example, all the cruises last two hours, resulting in beautiful Gulf Coast Vistas. Outside food is welcome.
Each cruise has something amazing to offer, but if you want to let loose and have a fun time, your best option will be the After-House Cruise.
The After-Hours Cruise, a floating nightclub, is designed for grown-ups of 21 years and above.
Regardless of which cruise you pick, you must come with a photo ID to buy drinks from the bar.
Address: 100 Jody Compretta Dr, Bay St Louis, MS 39520, United States
25. MS Gulf Coast Scenic Byways
Mississippi is famous for housing many scenic byways, ideal for a calming drive or day trip with your loved ones.
The Gulf Coast Scenic Byways starts in Hancock County and has 13 miles of beaches and 30 miles of trails, scenic drives, and waterways.
One of the scenic Byways is the Beach Boulevard Scenic Byway, which is memorable because of its historical sites, different attractions, and miles of beachfront.
The Beach Boulevard Scenic Byway has been considered one of the best places to catch the best view of Mississippi because of its breathtaking scenery and picturesque landscapes.
The relaxing drive along the Beach Boulevard Scenic Byway, which stretches from Waveland to Bay St. Louis, is approximately 30 miles long and runs similar to Mississippi's coastline.
Along the way, you will discover several beautiful places in Mississippi, and some include historic and artistic amenities, a 3-mile walking and biking trail, casinos, restaurants, unique stores, and others.
If you plan well, you can take a break from the drive to admire some of the best views the city offers while fishing.
Also, for those who love to take pictures, you can bring your camera to snap some insta-worthy photos.
Going for a drive on MS Gulf Coast Scenic Byways is undoubtedly among the best things to do in St. Louis, MS.
Address: 100 S Beach Blvd, Bay St Louis, MS 39520, United States
26. Betsy Ann Riverboat
Anchored in Biloxi, the Betsy Ann Riverboat is an authentic old-fashioned paddlewheel boat. It is one of the last remaining real stern-of-wheel paddle boats in America.
The Betsy Ann Riverboat offers different tours and cruises, but one of the most popular is the hibachi dinner cruise.
This two hours cruise is offered from March to October, including a fantastic hibachi dinner made by the Chef.
The hibachi meal is a traditional dish, and the menu includes fried rice, egg drop soup, vegetables, and your preferred selection of chicken and shrimp or steak.
Besides the menu, the Betsy Ann Riverboat has a full bar. There are also snacks you can buy on the riverboat.
Address:100 Jody Compretta Dr, Bay St Louis, MS 39520, United States
Check out more cities in Mississippi, here is a guide on things to do in Hattiesburg, and fun things to do Vicksburg for a fun time.
Plan a Trip to Bay St. Louis
This city boasts a unique charm you wouldn't find in any other coastal city. The amazing spots, lovely galleries, unique experiences, theaters, and the community's friendliness will make you want to stay longer than planned.
Prepare to make this city your next vacation destination. Start planning your trip to Bay St. Louis.
Have a great experience!