Cleethorpes was known to be just a fishing village. In the 19th century, its narrative changed as It was transformed into a resort town where fun-seekers visit for a vacation.
Are you considering a visit here, there are sure quite some cool things to do in Cleethorpes for a great time. These are not limited to its boating lakes, big beach, seafront gardens which are well-kept, pier and promenade, and lots more.
During the summer season, you will find locals and tourists in this are either playing golf, relaxing in the sunshine, enjoying some ice cream and chips, or engaging in one fun activity or another. You will also not miss those using the trails in the town for hiking and cycling.
One of the best places to visit while you are in this town is its miniature railway which was built around 1948. This railway is among the best in the United Kingdom.
To guide your checklist, here are the best things to do in Cleethorpes.
Things to Do in Cleethorpes
1. Cleethorpes Pier
Cleethorpes Pier was first opened in the year 1873. During its launch, it had a height of about 365 meters.
There was a huge difference between the low and the high tide that occurred in the estuary, hence, the height was chosen to compensate for this difference.
However, when the Germans fought the world in the Second World War, the height of the pier was seen as a vulnerability, leading to about 100 meters removed from its height.
As years went by, part of the structure got destroyed by fire leaving only the pavilion.
The pavilion has been used for varying purposes like an amusement arcade, nightclub, and an exhibition hall.
Today, it is occupied by a branch of one of the top fish and chips shops in the United Kingdom – Papa's Fish and Chips.
How about a fun time at Papa's Fish and Chips as you enjoy the beautiful view of the sea? Perfect for a family day out.
2. Cleethorpes Country Park
Cleethorpes Country Park is a very large area close to the Cleethorpes gold club. Formerly, this area was an open farmland. However, things changed in 1988 when a seven-acre lake was dug out of its center.
Every day of the week, you are free to explore the trails on this farm which covers up to 153-acre space.
If you will be visiting during the winter, you can take out time to watch the beautiful birds in this area at that time of the year (they are often visitors though).
One of these birds is the Skylarks which you can easily identify for Its distinctive red crest, you will find it mostly in the grassland area of this park.
Other fun activities you can engage in while you are in Cleethorpes Country Park include boating, fishing, and pond dipping.
You will also find an area in the park where dogs are allowed to swim. So, if you have a dog, do come along with it.
This park promises a fun time for outdoor lovers, definitely a place to cross off your bucketlist while in the area.
3. Jungle Zoo
Jungle Zoo is situated near Cleethorpes Boating Lake. This zoo is an animal attraction that was designed having the aim of bringing kids together with harmless creatures and allowing the kids to play with them.
Some of the animals you will find in the Jungle Zoo includes Kune Kune pigs, pygmy goats, meerkats, capuchin monkeys, and ring-tailed lemurs. You will also find lots of birds such as barn owl, macaws, and Amazon parrots.
There is also a terrarium which has in it some reptile species such as softshell turtle, chameleons, variety of frogs as well as a Burmese python.
The Jungle Zoo has a timetable for feeding the animals. There are also specific times for talks and demonstrations by the keepers.
If you would love a fun time admiring animals as well as having an up-close view of them, this will make a perfect addition to your checklist of things to do in Cleethorpes.
4. Treasure Trail Cleethorpes
Mystery Treasure Trail in Cleethorpes offers you an avenue to explore Cleethorpes in a fun-filled way.
The trail is Murder Mystery themed. As you follow the trail route, you will find riddles that you can solve by following the sneaky clues hidden in monuments, existing buildings, and other permanent features in the area.
The Mystery Treasure Trail starts from the Tourist Information Center at Alexandra Road and from here, it follows a circular route passing through Sea View, and places like High Street and St Peter's Avenue.
You will also be led down to the pier as you follow this route.
The route changes yearly, but for those who are interested in following this path, you can purchase the Trail guide when you get to Cleethorpes.
Note that the adventure is self-guided, this makes what to do in Cleethorpes for an adventure experience, one you should consider taking.
5. Cleethorpes Beach
How about spending some time on the beach during your vacation in Cleethorpes.
At Cleethorpes seafront, you will find by the beach gardens, promenade, amusements, and cafe's where you can get an ice cream or enjoy a cup of coffee.
While you are here, you will notice the sloppy nature of the beach. During low tides, you will also notice that the area has much of mud.
How about touching a 4,000 years old stump? these are remains from the forest that grew here years ago.
Note that if you visit the beach during the summer holiday, you will most likely find the beach, especially the pier area filled up.
If what you seek is some relaxation, walk towards the south of the beach for some peace, this makes what to do in Cleethorpes for some beach relaxation time.
Planning on coming with the kids? they can enjoy themselves too playing on the sand or the donkey rides in the area.
6. Cleethorpes Coast Light Railway
A visit to Cleethorpes Coast Light Railway makes one of the best things to do in Cleethorpes. You will find this small railway along the Seashore of Cleethorpes.
An unassuming railway, the Cleethorpes Coast Light Railway has been around for more than 70 years now.
You can choose to ride any of the diesel or steam locomotives. There are about twelve here with the oldest among them built in the year 1933.
Check out the main station at Lakeside Central. This station has an inn called the Signal Box Inn and a cafe and pub.
This pub is quite small as it can only accommodate four customers per time.
Also, check out the Kingsway station, here you will find the railway's gift shop. Purchase a souvenir to keep the memory of this visit fresh.
7. Grimsby
While you are in the area, do not fail to stop by Grimsby which is known to be a traditional fishing port.
Fishing makes one of the major economic activities of the town, however, it is worth noting that the fishing industry in this area is not the same as it was before the middle of the 20th century.
This was as a result of the Cold Wars which this area had with Iceland in the middle of the 20th century.
One notable landmark you should check out while you are here includes the Dock Tower which was built in the year 1852, it is about 61-Meters long.
This tower was designed like Siena's Palazzo Pubblico using the Renaissance-style facade, It gives hydraulic power to the machinery you will find in the docks.
Other points of interest worth checking out include Victoria Mill which is quite large, the Grimsby Ice Factory, and the Corporation Bridge.
Also, check out the Grimsby Fishing Heritage Centre to learn the story of this town as related to fishing.
8. Cleethorpes Leisure Centre
Cleethorpes Leisure Centre is a fun center located in Cleethorpes. This center has a swimming pool which has its wave machine, an aqua slide, and other facilities. There is also a baby look just beside it.
Spend some relaxation time at the Health suite section where you can either use the Sauna, Jacuzzi, Steam room, or showers for some relaxation time, this is a perfect way to pass some time after workout in the fitness suite which is stacked with facilities for a perfect body workout.
You can also decide to engage in the numerous indoor sports activities in squash court, this will make a great recreational time for the family, do consider adding to your checklist of things to do in Cleethorpes.
A trip to Helsinki will meet you with lots of fun attractions and engaging activities, here is a guide on the best things to do in Helsinki for an amazing time in this part of Finland.
9. Cleethorpes Boating Lake
Cleethorpes Boating Lake is located towards the Southside end of the resorts. It is two lakes connected by a narrow channel.
Cleethorpes Boating Lake is mainly used for boating, many also engage in fishing activities here. If you don't have a boat you can rent a boat or rowboat from the boathouse at the south end of the area.
Also, check out the illuminated fountain in the center of this area.
There is a trail next to the water which you are free to explore. Along this trail, you will find trees such as a Lombardy-poplar, Corsican pine, a copper beech, Monterrey pine, fruit trees, and so many others, all of which give a scenic natural view.
10. Waltham Windmill
Waltham Windmill is a mill situated in the pastoral countryside of Lincolnshire, not so far away from Cleethorpes.
The windmill erected in this place was built in the year 1666. The environment has some ancient scenery as you will find structures here dating as far back as 1878.
Waltham Windmill was last used in 1963, as a result of a damage. It wasn't until 2013 that it was restored. Today, it's caps are in good condition, and the same is also said for its sail. From time to time, the mill is used to grind flour.
Other Cleethorpes attractions you will find in this site include a cafe which was formerly operational in the Great Northern Railway carriage, a miniature railway, and a museum that is solely dedicated to telephones.
Considering a vacation in the United States, do check out this guide on fun things to do in West Covina for a fun time in this part of California, United State.
11. Ross Castle
Worth seeing in this town is the Ross Castle. This Castle was built in the year 1863 by Manchester, Sheffield, and Lincolnshire Railway.
One significant feat about the castle during its construction is its location the highest point of a cliff.
Its design was made by Edward Ross, featuring a design that looks just like a Medieval ruin. Edward Ross was the railway company's Secretary.
Some of the things you will notice about the structure include a flagpole (on which the Blue Flag flies), a stonework which is just a perfect art, and lots more.
This castle also has the best view of the Pier Gardens, beach, and the pier.
Do spend some fun time exploring this architecture during your visit, its a place to cross of your bucketlist of things to do in Cleethorpes.
12. Armed Forces Day Parades
Armed Forces Day Parades holds in Cleethorpes on June's last weekend at the town's waterfront. This event is aimed at celebrating the Armed Forces of this area.
Some of the features of the event include fireworks, parades, remembrance ceremonies, live music performed by the military bands, air displays, and many other fun activities.
If you will be visiting this town at this time of the year, you might as well join in the fun.
13. Lollipop Train
One of the best things to do in Cleethorpes is a ride on the Lollipop road train, this will meet you with some of the best Cleethorpes attractions.
Having paths which can be easily accessed by wheelchair and pushchair, no one is left out from the fun. The kids are also given a lollipop before the ride.
Lollipop land train is owned by Mr Nejrup Borge.
You are free to come along with your dogs as long as you keep them on a short leash.
As you take a fun ride on this train, you will come across some of the beautiful views of this town some of which feature the sea, the beach, and flower beds.
The duration for a ride is 30 minutes, the train follows a route that runs through the promenade close to the pier before passing the light railway and the leisure center.
The cost for each ride is £1 for kids above two years (for those below two years it's free) but for adults, it is £1.50.
14. Cleethorpes Discovery Centre
Are you looking for a place where you can grasp the local culture of this town? Then, this is the right place to visit.
Cleethorpes Discovery Centre is located along the shores of Cleethorpes Boating Lake. The Center has two floors. On one of the floors, you will find the Exhibition Gallery and in the other, you will find the Community Gallery.
In these galleries, you will get to see contemporary exhibitions which tell so much about the town's history. You will also see works of local and international artists on the display.
Besides the Discovery center is the Lakeside Cafe whose terrace faces the boating lake. Also, you will find the Associated British Ports Humber Observatory (known as APB) just a little distance away.
15. Weelsby Woods
In the 1950s, Boston Deep Sea Fishing and Ice Company gifted Weelsby Woods to Grimsby. You will find Weelsby Woods at the boundary of Grimsby and Cleethorpes.
Weelsby Woods is a very spacious park, a manor house once stood here.
Some of the features of the park include tended lawns, woodland, and meadows.
You will also find a pair of ornamental stone statues of lions guarding the Woods entrance. These statues were paid for by a local fishing merchant in 1876 but it wasn't donated to the community until in 1915.
16. Greenwich Meridian Line
Most tourists come to Cleethorpes to see this little town that is at the 0° Longitude on the Prime Meridian. The Greenwich Meridian Line grazes this town as it heads towards the Humber Estuary.
You will find this line by the south end of the Boating Lake as you follow the coastal path.
The Meridian Line is represented on the ground by a bronze marker. It is just next to the benches that look over the estuary.
Aside the meridian line, you will find signpost along the path which gives direction and also the distance to far places such as the South Pole (which is at about 9,919 miles away), a New York (which is about 3,418 miles away), and close distances like London which is just 143 miles away.
17. The Magical Castle Soft Play
Are you considering what to do in Cleethorpes for a fun time with the kids?, a visit to The Magical Castle Soft Play is just perfect.
The Magical Castle Soft Play is situated just at the Cleethorpes Seafront. This Castle offers lots of fun to kids of all ages through their many indoor play facilities.
Some of these fun amenities include: bouncy castle, hamster wheel, dizzy discs, a ball pool that has a ball blower, slides and tunnels, a four-story play structure, a balance beams, and many more.
If your kids are old and brave, they could try out the tunnel slide known as the "Black Hole".
The park is open all year round. You will be required to pay a little fee before your kids can use the facility.
18. Tetney Marshes
Tetney Marshes is located down the coast, just close to Thorpe Park Holiday.
Managed by the Royal Society For The Protection of Birds (RSPB), the Tetney Marshes is one of nature's reserves on the Humber Estuary.
You will find lots of birds on this site, giving an amazing experience for bird lovers.
Between September and October, the number of waders on Tetney Marshes is approximately 30000.
Some of these waddling birds include godwits, common sandpipers, sanderlings, curlews, ringed plovers, and redshanks.
You may even spot rare birds in this area such as the American white-rumped sandpiper.
If you are a bird watcher, this will make a fun experience for you during your visit to Cleethorpes.
19. Dolphin Gardens
Dolphin Gardens is a place for nature lovers, you will find it located along the Cleethorpes Beach, close to the Central Promenade.
Dolphin Gardens is a seafront park and also a perennial Green Flag winner. Dating as far back as the 1860s, you will find in this garden carpet lawns and flower beds, the garden is also filled with shrubs, hedges, and rocks.
There is also an ornamental waterfall just in the middle of the garden which is quite a view to behold.
Besides the ornaments, you will find the putting greens and a golf course here.
You will be able to see beautiful views of places at a distance such a the Humber Estuary and Ross Castle which is at the southern end of the garden.
20. Fishing Heritage Centre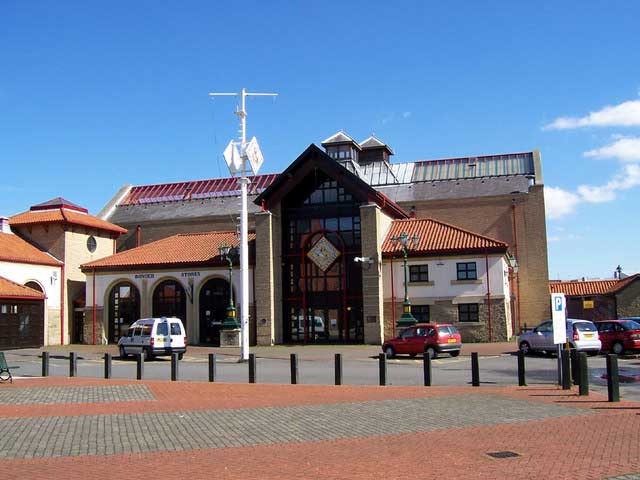 Located in Grimsby very close to Cleethorpes, Fishing Heritage Centre gives you a picture of what Grimsby was like in the 1950s when it was still a small fishing village.
In the Center, you will find original trawlers and fish traps. There is a boat, a fish line, different hooks, nets, and other equipment used by the town for fishing.
The Heritage Center is open all through the year except on Mondays and holidays.
21. Saint Peter's church
One of the places to visit while in Cleethorpes is Saint Peter's church. It is situated in St Peter's Avenue, which is in the center of the town. This mighty edifice has history and is synonymous with this town.
Saint Peter's church has its history traced back to Reverend William Price Jones and his appointment. His appointment to Cleethorpes came in 1850 at the age of 29.
As a young man with bountiful energy and zeal, he showed tremendous determination to bring this little Church of England community a new life despite the dominance if the Methodist in the area. From a starting 1,000, it is currently about 40,000 in population.
You will love the plan of the architectural mark which includes aisles, a south porch, a chancel, a nave, a tower, and a narthex at the west end. There are some beautiful arches of stone with alternating blocks of ashlar in white colors.
Do well to visit this church as you would love what you see. You can also worship with them during your stay in Cleethorpes.
22. Blundell Park
Here is one place for sports lovers especially soccer fans. You would love the atmosphere and history even if you are not a lover of soccer.
Blundell Park is home ground to Grimsby Town Football Club. This stadium was built and opened in the year 1899. Unfortunately, in the stadium, you will find only one of the original stands remaining. This is significantly a reflection in the seat capacity of this ground, about 9,052.
The relatively small attendance capacity is due to the several relegations experienced by the club in previous years. This saw the drop from a whooping 27,000 to 12,000 and after the expansion seating was taken off as a result of more relegation woes, the capacity dropped to what we have currently.
Despite these, the club has good history as it featured matches against topflight clubs like Manchester United and Wolverhampton Wanderers.
Go, enjoy a game with your loved ones here, you'll be happy you did.
23. Remembrance Gate
Last on our list of awesome things to do in Cleethorpes is visiting the Remembrance Gate. This is a monument put up in remembrance of the Armed Forces for the exploits they made in serving their nation.
Remembrance Gate is a significant one and is impossible to hide. Made of a stainless steel arch mounted between stone pillars. On the arch is a crest that shows the crossed swords of the Army, Royal Air Force eagle and at the center is a Naval anchor.
On each pillar are stainless steel plaques, beautifully placed at each side are granite plaques. There are recycled ornate lamps that lit up the arch.
Visiting here is something you should do as it leaves you with sweet memories of bravery and patriotism.
Take to exploring other parts of England, here is a guide on things to do in Huntingdon as well as things to do in Basildon for a fun time.
Plan a Trip to Cleethorpes
This is a little town that is situated on the 0° Longitude on the Prime Meridian, Though not as flashy as big cities like London, Cleethorpes is a blessed part of England.
This town offers so much more than what's expected of it. From its parks to the historical landmarks, its water bodies, and more.
What next? start making planning your trip to Cleethorpes today. Be sure to pin this article as a guide as you explore this amazing town.