The picturesque city of Cedarburg, roughly 20 miles north of Milwaukee, is in Ozaukee County, Wisconsin, United States.
There are quite some fun things to do in Cedarburg, MI. You will quickly become accustomed to its serene environment and tree-lined streets, dotted with early 19th-century houses with distinctive brick and marble architecture.
Around 11,000 people call Cedarburg home, primarily German immigrants who arrived in the middle of the nineteenth century. In the formative years of the town, there were numerous woolen mills. Most of these buildings have been transformed into commercial spaces and museums.
Due to its historic brick and limestone structures, touring this city feels like being in a charming European village.
In Cedarburg, over a hundred structures from the 18th and 19th centuries are still standing. Nine of these structures are already recognized on the National Register of Historic Places.
In addition to preserving historic structures, Cedarburg residents enjoy festival celebrations. There are plenty of things to do and places to see in Cedarburg.
Numerous restaurants, boutiques, and other intriguing attractions can be found in the city, which is guaranteed to catch your attention. The charming town is bordered by gorgeous scenery along the alluring Cedar Creek. This town is an ideal location for a relaxing outing.
Here are the best things to do in Cedarburg, WI
Things to Do in Cedarburg, WI
1. Ozaukee Interurban Trail
Ozaukee Interurban Trail is a 30-mile paved trail that spans the whole of Ozaukee County. It is one of the best places to visit in Cedarburg, WI.
The Ozaukee Interurban Trail, constructed in the early 1900s, was first an electric railway from Sheboygan to Milwaukee.
The pathway spans more than 30 miles and passes through the municipalities of Cedarburg, Brown Deer, Grafton, Thiensville, Port Washington, Cedar Grove, Belgium, Sheboygan, and Oostburg. It gained popularity after it was deactivated in 1951.
The path, one of the few public leisure trails in the state, is open all year round to all users.
This family-friendly Trail has been dubbed "The Great Wisconsin Birding Trail" due to the abundance of wildlife sightings along the woodlands, wetlands, creeks, rivers, and Lake Michigan.
Popular activities include biking, skating, running, walking, and cross-country skiing. Along with bicycling and jogging, the route provides a variety of thrilling outdoor excursions, with hiking being the most well-liked.
The Pioneer Road to Bobolink Avenue in Cedarburg is where the Ozaukee Interurban Trail entryway is located.
The Interurban Trail is still being maintained by the City of Cedarburg Parks and Forestry Department to protect its history.
Address: Ozaukee Interurban Trail, Wisconsin, United States
2. Cedarburg Covered Bridge
One of Wisconsin's many wooden covered bridges that are still in use today is located in Cedarburg.
This 120-foot bridge that spans Cedar Creek was built in 1876. It is currently used as a local historical site. However, it is still accessible to pedestrians.
The pine and oak Bridge was added to the National Register of Historic Places in 1973.
Visitors can view the Cedarburg Covered Bridge using a car by driving over a more contemporary bridge constructed only a few yards distant.
In Waushara County, a duplicate of this famous bridge was constructed in 1997.
Visitors can unwind in Covered Bridge Park when exploring the bridge and engaging in activities.
The Covered Bridge is currently a well-liked outdoor location in town where you can enjoy walking, picnicking, boating, and fishing because it is no longer accessible to vehicles. The Cedarburg Covered Bridge is one of the best places to visit in Cedarburg, WI.
Address: 1728-1784 Covered Bridge Road, Cedarburg, WI 53012, United States
3. Cedar Creek Winery
Cedar Creek Winery, founded in 1864 as a textile mill, is an acclaimed, family-run winery. The mill operated for 105 years before being forced to close when synthetic materials gained popularity.
In 1972, a local winemaker bought the mill and transformed the site into a winery known for its cherry wines.
Numerous accolades have already been given to this well-known Winery in Cedarburg for its outstanding bottles of wine.
The wines of today are barrel-aged and grape-focused in stone wine cellars. The main floor offers regular tours and sampling.
Even more intriguing is the Cedar Creek Winery's location in the old Cedar Creek Settlement in the center of Cedarburg.
It's like going back in time to visit this Winery. The Winery was subsequently purchased by the Wollersheim family in 1990 and has been recognized as the Cedar Creek Winery ever since.
You can have an exceptional and distinctive wine-tasting experience at the family-run winery. Discover the winery's typical red wine, blush grape wines, and a variety of sweet-to-dry Cedarburg-produced wine types if you don't know what to do in Cedarburg, WI.
Award-winning pink, white, and red grape wines are available for purchase in a wine shop on the property.
Address: N70 W6340 Bridge Road, Cedarburg, WI 53012, United States
4. Wisconsin Museum of Quilts & Fiber Arts
With the intention to preserve the artistry and history of quilting, quilters established The Wisconsin Museum of Quilt and Fiber Arts in 1988 as The Wisconsin Quilt Project Inc.
The Wisconsin Museum of Quilts and Fiber Arts, situated east of Cedarburg's historic center, offers a unique art tour emphasizing fiber and quilts.
The Museum, housed at the Hoffman-Boeker homestead, presently boasts more than 8,000 quilts, each of which has a unique narrative dating back to the 1850s.
The location is ideal for art enthusiasts who want a closer look at works created using contemporary, modern, and traditional techniques on quilts and fibers.
The Museum of Quilts and Fiber Arts is a non-profit organization. It hosts artist exhibitions, workshops for kids and adults, classes, talks, meals with artists, special events, and fundraisers.
For art enthusiasts, a leisurely afternoon spent in the Museum is one of the best things to do in Cedarburg, WI.
This Cedarburg attraction is open from 10 am to 4 pm.
Address: N50 W5050 Portland Rd., Cedarburg, WI 53012, United States
5. Historic Shops of Cedar Creek Settlement
The Washington Avenue Historic District in Cedarburg is home to Cedar Creek Settlement, a collection of stores, eateries, and a winery housed in five pre-Civil War structures.
An 1864 woolen mill now serves as home to The Shops of Cedar Creek Settlement. The location is on the National Register of Historic Places.
You will see beautiful treasures from its vibrant stores and boutiques selling clothing, antiques, jewelry, gifts, and food rather than pursuing history-related products.
There is also a winery, two craft brewers, a café, and two eateries. Most of the town's events occur in the Shops of Cedar Creek Settlement. Most residents spend their free time there as well.
The shopping center comes alive during the weeks leading up to Christmas when visitors are treated to fun entertainment every Friday, such as live music, cookie baking for the holidays, wine and food sampling, and prize drawings.
Address: N70 W6340 Bridge Rd, Cedarburg, WI 53012, United States
6. Cedarburg History Museum
You can take a memorable journey through time at the Cedarburg History Museum while admiring an extraordinary collection of antiques and memorabilia that chronicles the background of Cedarburg and Ozaukee County.
The Museum shares space with the neighborhood visitor center in the historic Hilgen and Schroeder Mill Store in downtown Cedarburg. The structure of the Cedarburg History Museum was rampant in the past.
It was constructed in 1846 but was initially the Hilgen-Schroeder Mill Store. Today, the ruins of the old Mill Store are left in the Museum.
The intriguing tales about the city and its inhabitants in the past make a trip here worthwhile, even if you're not particularly interested in history.
The Museum hosts temporary exhibitions highlighting significant historical facts of Cedarburg and its county and permanent collections like the Port Washington State Bank General Store Museum.
You can get a closer look at the vintage Roger Christensen General Store Museum Collection at the Museum. The Museum is tucked away at the intersection of Columbia and Portland Roads if you intend to visit. As a visitor, touring this destination is one of the top things to do in Cedarburg, WI.
Except on Tuesdays, the Cedarburg History Museum is open from 10 am to 4 pm, and entrance is free.
Address: N58 W 6194 Columbia Rd, Cedarburg, WI 53012, United States
7. Cedarburg Cultural Center
The Cedarburg Cultural Center, ideally situated in the center of Cedarburg's historic Downtown, is a community gathering space where local cultural skills are fostered and shown.
For more than 30 years, the Center has nourished and inspired generations of artists and performers while bringing the vitality of live performance art, music, and culture to the Cedarburg neighborhood.
The Center regularly hosts events worth attending, including juried art exhibits, music concerts, comedy shows, and live stage plays.
On the first Friday of every month, the Center also offers its well-liked First Friday entertainment lineup, which includes performances, music, and dancing.
Address: W62 N546 Washington Ave, Cedarburg, WI 53012, United States
8. Cedarburg Art Museum
A historic home built in 1898, the Cedarburg Art Museum contains lovely red brick that displays numerous architectural styles, including Romanesque, Classical, and Queen Anne.
You see many museums there because the community's rich history provided the foundation for their development.
The Cedarburg Art Museum is a must-see location for its attractions and the mansion it is housed in. The home was once used as a multi-tenant residence before becoming a Museum.
Visitors still stroll on the Museum's original oak flooring beneath wonderfully restored hand-painted canvas ceilings.
Fortunately, its original elegance and woodwork have been perfectly preserved, as can be seen throughout its interior.
A large portion of the original stained glass is still present. The attraction offers views over Cedarburg's Historic Center.
Forty-nine artworks were given to the Museum by The Ozaukee Bank in 2007 and are now on display.
Address: W63 N675 Washington Avenue, Cedarburg, WI 53012, United States
Also check out the best of attractions and activities in Racine and Prairie du Chien for a fun vacation in Wisconsin.
9. The Fermentorium
The Fermentorium originates in a backyard home brewery, like many local beer breweries nationwide.
Craft beer enthusiast and brewer Kristopher Volkman's hobby quickly developed into a passion, which led to the establishment of the Fermentorium in 2016.
Since then, the brewery has grown steadily. Today, customers can look forward to sampling more than 24 local beers, ranging from classic varieties to innovative and creative creations.
While enjoying your favorite beers with the company, you may also have some delectable snacks, hotdogs, pizza, and other foods.
Address: The Fermentorium, 7481 WI-60 Trunk, Cedarburg, WI 53012, United States
10. Cedarburg Creek Farm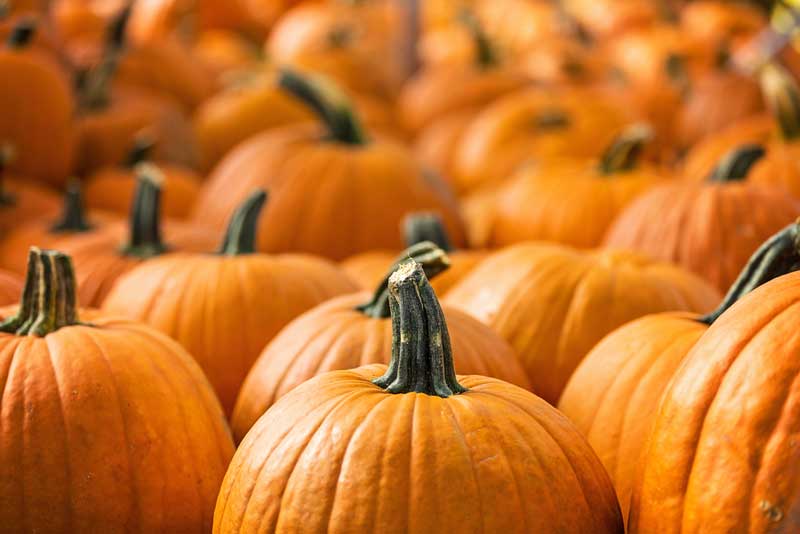 Giant pumpkins are grown at Cedarburg Creek Farm, which gets its name from the nearby creek. The farm offers many fun activities for the whole family in the summer and the first few weeks of autumn.
Free hayrides, a petting zoo with admission included, a bounce house, a barrel train, a corn maze, and other family-friendly activities are available at the family-run farm.
Every season, the property hosts several farm festivals featuring live musical performers, singing impersonators, and family-friendly entertainment.
In addition, visitors can pick their pumpkins to take home, cut down a Christmas tree, or buy fall-themed decorations and flowers from the on-site store.
Address: 649 Hwy 60 Cedarburg, WI 53012, United States
11. Cedarburg Pond 121
The town's most well-liked fishing spot is Cedarburg Pond 121. Depending on the time of year, the entire pond measures 13 acres and has a depth of about 10 feet.
This destination is the perfect location to unwind and admire Cedarburg quietly while sitting in the shade of a tree.
Popular fish species, including Rock Bass, Pan Fish, Northern Pike, and Largemouth Bass, are among those that you can capture.
Fishing in Cedarburg Pond 121 is one of the fun things to do in Cedarburg, WI.
Address: Edgewater Drive, Cedarburg, WI 53012, United States
12. Historic Washington House Inn
German immigrant Conrad Horneffer opened the doors to the Washington House Inn far back in 1846.
When Horneffer arrived in Cedarburg in 1843, he decided to live there permanently. So he built the renowned Washington House as a strap store.
The Washington House was a residence, shop, and meeting place for the Knights of Columbus before turning into a hotel.
After being acquired by a new owner in 1983, the structure underwent extensive renovations before becoming the Washington House Inn.
The old Inn now has more than 30 guest rooms, with the majority of the original architecture remaining present. You should stop by or reserve a room at this renowned medieval Inn.
Address: W62N573 Washington Ave, Cedarburg, WI 53012, USA.
13. Cedarburg Performing Arts Center
The Cedarburg Performing Arts Center has been presenting a top-notch performing arts season to Ozaukee County since its formation in 1999.
They are constantly working to spread awareness of the benefits of seeing and participating in live theater productions among the general public, focusing on the young people of Ozaukee County.
Every season, Cedarburg hosts a New Visiting Artists Program that brings world-class performers from other cities to perform live shows in their small, cozy theater.
To better introduce young audiences to the thrill of live performance art, master seminars and workshops are offered. In addition, their website provides online ticket sales.
Address: W68 N611 Evergreen Boulevard, Cedarburg, WI 53012, United States
14. Jonathan Clark House
The Jonathan Clark House in Cedarburg is brimming with valuable antiques and historical relics from the 1800s. The home is historically significant to the community. It was added to the National Register of Historic Places in 1980.
The Clark Family owned the Jonathan Clark House, which was constructed in 1848. The mansion impacted the community of Cedarburg because it was where people gathered in the city's early years.
Peter Turck, William Bonniwell, and Clark's father-in-law designed Cedarburg's township. The house withstood the test of time and maintained a local landmark for Cedarburg's history and legacy over the years.
Address: 13615 N Cedarburg Rd, Mequon, WI 53097, United States
15. Amy's Candy Kitchen
Amy's Candy Kitchen is a 19th-century open-concept kitchen and retail establishment in Wisconsin's historic downtown Cedarburg.
Since its inception in 1996, this facility has remained an engaged community member, participating in many of the well-known Cedarburg celebrations, including Strawberry Fest in June, Harvest Fest in September, and Winter Fest in December.
Driving straight down Washington Avenue, the main thoroughfare will bring you to the retail location of Amy's Candy Kitchen.
All the facility's award-winning items are made in Amy's kitchen and available for pick-up or delivery.
When visiting Cedarburg, you must stop here. They have the finest caramel apples ever! The most delicate fruits and chocolate have ever been used. Visiting Amy's Candy Kitchen is among the top things to do in Cedarburg, WI if you want to satisfy your sweet tooth.
Address: W62N579 Washington Ave, Cedarburg, WI 53012-1941, United States
Check out the top things to do in Fond du Lac, and things to do in Stevens Point for a memorable exploration of Wisconsin.
16. Stilt House
The Stilt House, an iconic eatery and brewery, has a second floor elevated on stilts.
When a cunning tavern owner discovered a means to get past the municipality, denying his request for permission to add a second level to his bar, the building was erected on stilts in 1900.
Craft beers, wine, and small plates are available at the present restaurant and brewery, which opened in 2013.
There are more than 30 wines, dozens of bottled beers, a rotating menu of draft beers, and unique "secret stash" offers. In addition, both small plates and substantial meals are available on the menu.
Address: W62 N630 Washington Avenues, Cedarburg, WI 53012, United States
17. Cedarburg Chamber of Commerce and Visitor Center
Getting information from a destination's visitor center is one of the most innovative things you can do to make the most of your trip here.
Cedarburg Chamber of Commerce and Visitors Center is the ideal location to learn about the suggested sites to visit in the area, the clubs to join, and the activities to participate in.
The Cedarburg Chamber of Commerce and Visitor Center is accessible from Wednesday through Sunday, 12 pm to 4 pm; it is closed Mondays and Tuesdays.
Address: N58 W6194 Columbia Rd, Cedarburg, WI 53012, United States
18. Tomaso's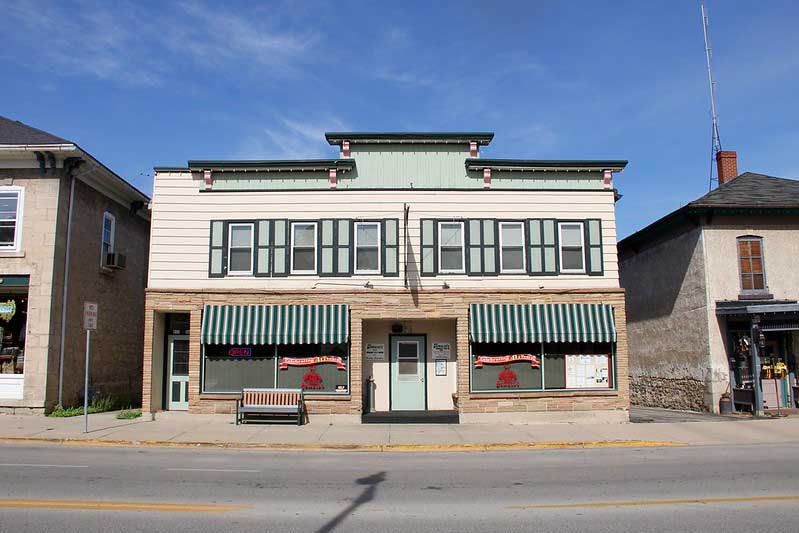 In the heart of Cedarburg, there is a family-run pizzeria called Tomaso's. The eatery is renowned for its high-quality, always-fresh ingredients and distinctive method of piling toppings with cheese on the bottom.
Tomaso's has received numerous accolades, including Milwaukee Magazine's Best Pizza and Ozaukee County's Best Pizza.
They provide options for whole wheat or gluten-free crust for their delectable deep dish and thin crust pizzas.
Other items on the menu include sandwiches, pasta, salads, and chicken dinners. In addition to pizza, this casual dining establishment offers franchises and clothing.
Address: W63 N688 Washington Ave, Cedarburg, WI 53012, United States
19. Brandywine Cedarburg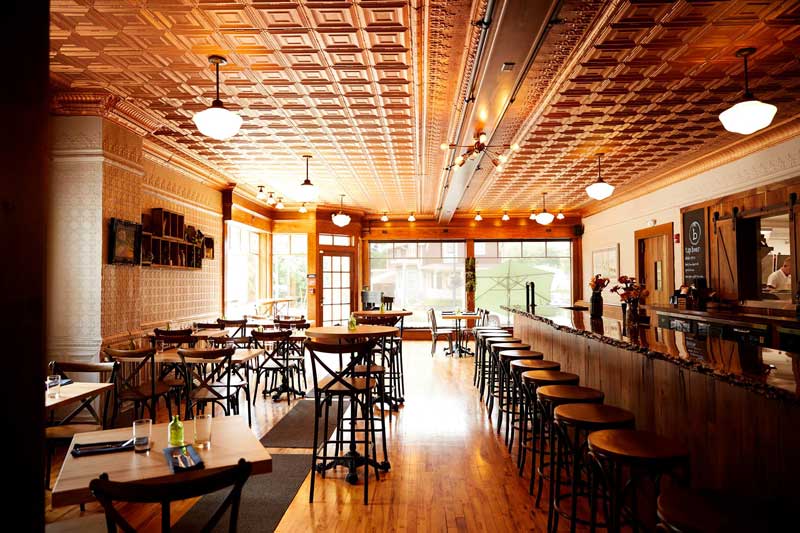 Visit the Brandywine Cedarburg to learn about the city's history while dining. The cafe is situated in a historic structure constructed in 1862, just like most commercial buildings in Cedarburg.
One of the most well-liked restaurants for locals and tourists to eat at is Brandywine, a family-run establishment. They are well renowned for serving Italian cuisine made with seasonal, local ingredients.
They provide a large selection of delectable meals and small dishes as well. But, of course, it would be best if you didn't miss their hand-made pasta.
The restaurant is only open from 5 pm until 8:30 pm, serving dinner, and is locked on Sundays and Mondays.
Address: W61N480 Washington Ave, Cedarburg, WI 53012, United States
20. The Rivoli Theater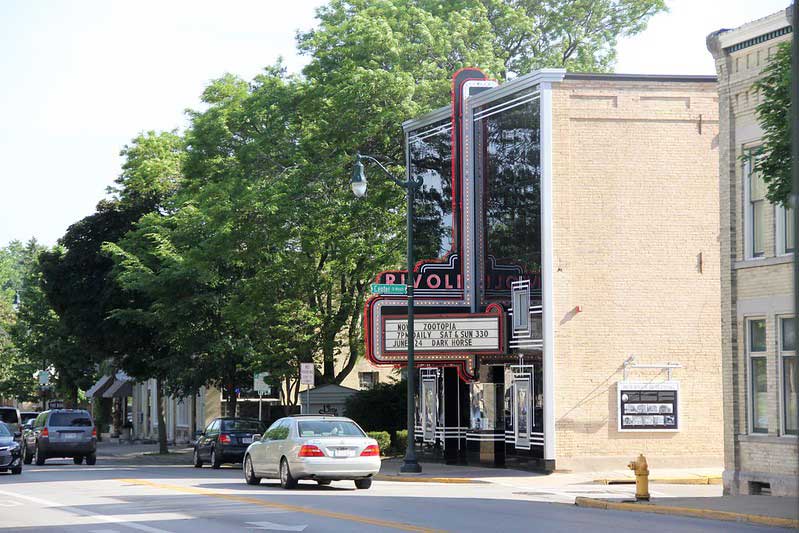 The Rivoli delivers an excellent cinematic experience, with lots of free parking available in the quaint downtown of Cedarburg.
The theater has various current releases, including excellent comfy seats and welcoming volunteer staff. In addition, the pricing is unbeatable, especially on $2 Tuesdays. Why pay top dollar at a cinema when you can wait a few weeks and see your preferred film at the Rivoli for far less?
The "feel" of the event is the best part; people in the neighborhood smile at one another, and there is a warm atmosphere in the theater. So if you want to see a fantastic movie, go to the Rivoli Theater.
Address: W62N567 Washington Ave, Cedarburg, WI 53012-1968, United States
21. Cedar Creek Park
Visit Cedar Creek Park if you want to get some fresh air and see where most folks go for their outdoor recreation. This Park in Cedarburg is located along Portland Road, east of the city center.
There are parking spots, picnic places, a sizable children's playground, and restrooms.
Everyone is welcome to participate in water-based sports, including kayaking, canoeing, and fishing, because the Park is located on Cedar Pond 121's southernmost point.
The Park is famous among locals, as it is the location of significant city events like concerts and festivals. Therefore, a visit to this Park should be added to your list of fun things to do in Cedarburg, WI.
Cedar Creek Park is accessible every day from 6 am to 11 pm,
Address: W63 N645 Washington Ave. Cedarburg, WI 53012, United States
22. Cedarburg's Festivals
Every year, Cedarburg celebrates more than just the usual holidays. The neighborhood also hosts its unique festivals.
The Winter Festival is observed every third weekend in February, while the Strawberry Festival is every fourth weekend in June.
The third weekend in September is also the time for the Wine & Harvest Festival. Since most of Cedarburg's residents are of German heritage, Oktoberfest is observed here over the first weekend in October.
The entire community participates in the Cedarburg Christmas Festival from November to Christmas Day.
These celebrations demonstrate the colorful culture of Cedarburg's neighborhood and how they value traditions and express gratitude for all they possess.
Visit the Cedarburg Chamber of Commerce webpage for more information if you intend to attend either of these festivals. If you're indecisive about what to do in Cedarburg, WI, ensure to attend at least one of Cedarburg's festivals.
Address: N58 W6194 Columbia Rd, Cedarburg, WI, United States
23. Handen Distillery
The Handen Distillery, notable for its unusual name, "Handen," serves the best alcohol you can find in Cedarburg.
In German and other Northern European languages, the word for hands is "Handen." It is a tribute to Wisconsin's Northern European influences in general and Cedarburg's Germanic influences in particular.
More importantly, it denotes the Distillery's emphasis on creating its visitors' spirits by hand. The Distillery offers a comfortable atmosphere and a nicely furnished parlor.
Handen is renowned for its excellent, attentive service and expert tastings. When in Cedarburg, visit the Handen Distillery for a fantastic experience.
Address: W62N590 Washington Ave, Cedarburg, WI 53012-1943, United States
24. Ozaukee Skateland
Ozaukee Skateland has Speed Skates, Roller Blades, and Quad Skates, so take your pick and start gliding.
Put on your favorite skates and enjoy their expansive maple wood skate floor, latest sound system, fantastic light show, and great company.
You will feel right at home at this skating center, whether a novice or a professional.
Even if you are a novice or bringing your toddler to try skating for the first time, Ozaukee Skateland has got you covered.
They also rent different skate mates for children, so you will likely find something that will fit your kid.
The skate mates give children the boost and confidence to get on the floor and do their thing.
Besides skating, kids can spend a long time exploring, bouncing, climbing, and swinging in the Playland.
Kids below ten can get free play at the Playland but still have to pay for the skating.
Address: 7084 Sycamore Dr, Cedarburg, WI 53012, United States
25. Circle B Recreation
Circle B Recreation, Owned by Mark Klotz, is a deluxe family recreation place for Cedarburg, Mequon, Grafton, Slinger, West Bend, Wisconsin, Jackson, Thiensville, and Port Washington.
The destination is a bowling alley with food, beer, and video games from the 80s.
In addition to being a bowling alley, they host many bowling, horseshoe leagues, volleyball, bowling lessons, tournaments, company events, and birthday parties for every age.
Circle B Recreation's bar has a striking shape and a pleasant-sized flat-screen TV.
Their live music and efficient bar staff ensure the party never stops.
Do well to check back frequently because there is always something new in Circle B Recreation.
Address: 6261 WI-60 Trunk, Cedarburg, WI 53012, United States
Take to exploring other cities of Wisconsin, check out our list of things to do in Sturgeon Bay, things to do in Eau Claire, and things to do in Green Bay.
Plan Your Trip to Cedarburg
The gorgeous vistas of Cedar Creek, the inhabitants' friendliness, and the old buildings that have essentially not altered throughout the years give Cedarburg its small-town charm.
The attractions in this article will undoubtedly make your family travel excursions spectacular. You can't afford to miss a first-hand experience of all that the city offers. Make it your next stop.