The gorgeous city of Calistoga, incorporated in 1886, is peacefully located on the northern edge of lush Napa County, California, United States. Calistoga had a population of 5,346 persons during the 2021 census.
The city is a renowned tourist location in Wine Country because of its extensive vineyards and is famous for its wineries, mud baths, and hot springs. Calistoga's central area comprises Petrified Forest and Old Faithful Geyser, which erupts from time to time.
Works of Italian-born artist Carlo Marchiori are showcased at the Ca'toga Galleria D'Arte, in town.
The city also features attractions such as the Palisade Cliffs, vinegar, serene rolling hills, and Mt. St. Helena.
Visitors can have a walk through gorgeous downtown Calistoga, take various wine tasting tours and, go biking in Napa Valley, enjoy lovely views from the hot air balloon, check out the speed raceways or brewery.
Are you planning on exploring Calistoga? Let's explore the top things to do in Calistoga, CA.
Things to Do in Calistoga, CA
1. Old Faithful Geyser of California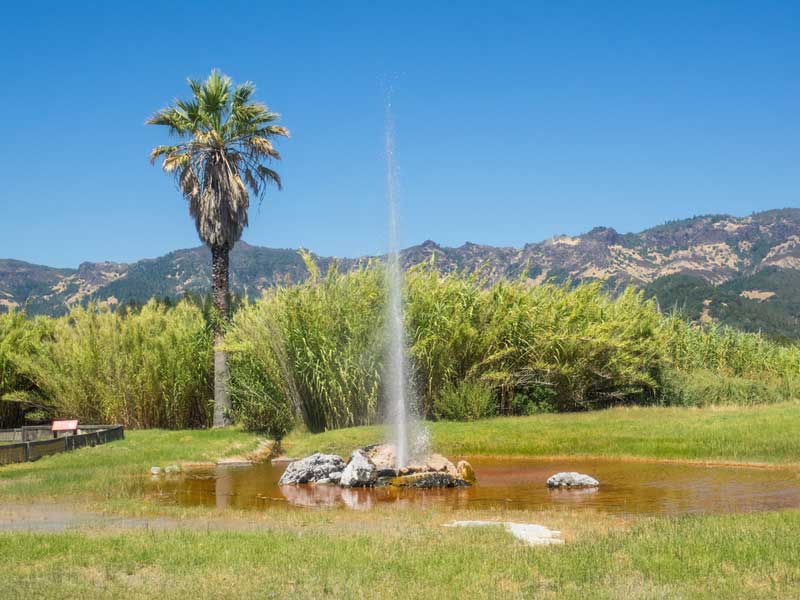 One of the best things to do in Calistoga, CA, is to visit the Old Faithful Geyser of California, located in Old Faithful Park and Garden. The Geyser is the center of attraction in the Park and the most photographed site in California.
This location is one of the three geysers to be found in the world, having the status "faithful," which depicts that it erupts regularly. Therefore, an eruption should be expected every 20 to 30 minutes.
If the eruption does not occur, it indicates that there might be an earthquake in a few weeks in the area. Ensure to come along with a camera to get hold of important moments, as it's a picturesque scene.
The Park also has a goat farm, gardens, a top-notch picnic area having bocce courts, a gift shop, and a geology museum.
Address: 1299 Tubbs Lane, Calistoga, CA 94515, United Stat
2. Petrified Forest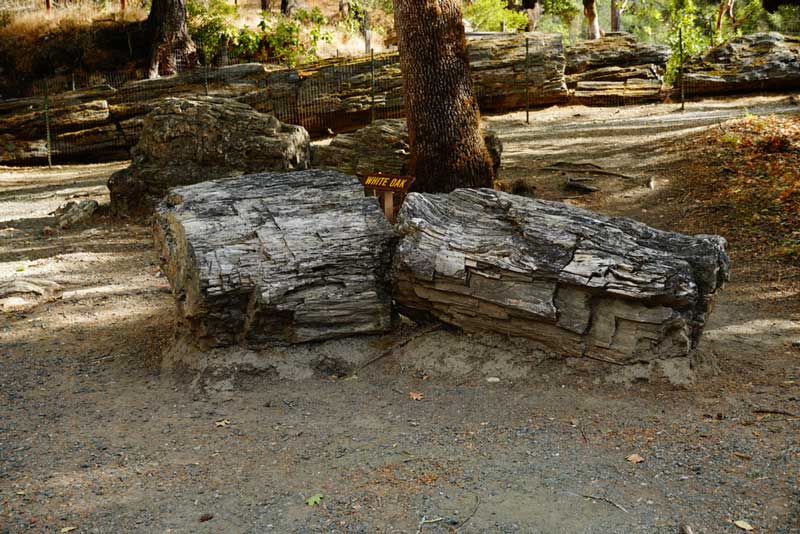 In 1870, Charles Evans discovered the Petrified Forest, also known as Petrified Forest Charley, which has been a theme for numerous researchers since then.
This 3.4 million-year-old forest got petrified due to a massive volcanic eruption, and the lava transformed this old Forest into rock.
Many years of per mineralization formed the well-planned petrified wood, which visitors can see today. Apart from the many academic documents, information about the Forest can be found in a book by Louis Stevenson called "The Silverado Squatters."
For centuries these lands have been preserved by the Bockee family. Visitors can have a 1.5-hour docent stroll on the two-half-mile route or opt-in for the self-guided strolling trip. Exploring this Forest is one of the top things to do in Calistoga, CA.
Address: 4100 Petrified Forest Road, Calistoga, CA 94515, United States
3. Bothe-Napa Valley State Park
Bothe-Napa State Park
is nestled in the center of the lush Napa Valley and provides an excellent site for tourists to have a picnic, camp, hike trails, and swim.
Beautiful sets of tanoaks, coastal redwoods, and Douglas firs with great height can be found on the hiking trails and thus forms a serene environment.
Visitors can have a lovely walk in Ritchey Canyon by taking the Redwood pathway, and they will be able to see a natural fern display and listen to the sound of water running down the rugged creek bed.
The Park also has a swimming pool ideal for warm days and camping choices such as funky Yurts and cabins. Exploring this Park is one of the top things to do in Calistoga, CA.
Address: 3801 St. Helena Highway North, Calistoga, CA 94515, United States
4. Indian Springs Calistoga
The Indian Springs in Calistoga give you this feeling that you are in Hawaii. So many palm trees are at their entrance, and it is a beautiful sight to behold.
If you are searching for spectacular, this destination should be on your itinerary. The resort occupies a land area of 16 acres and is a combination of ancient Hollywood and Hawaii together with the scintillating vibrant nature of the Napa Valley.
They have an excellent pool in this resort, available until midnight seasonally, and you sure would like to have some dips. Here is an ideal place to spend with your partner or still have your honeymoon.
Address: 1712 Lincoln Ave, Calistoga, CA 94515, United States
5. Castello di Amorosa
Wine tasting is an exciting activity to be part of when you visit Calistoga, and the one place to enjoy a perfect wine experience is the Castello di Amorosa. This location should be on your bucket list of the best things to do in Calistoga, CA.
The Castello di Amorosa is available for everyone to visit and offers tourists the chance to explore its two floors; a five top class wine tasting menu or a tasting menu for a six wine reserve.
If you want in-depth knowledge and experience, you can take a guided tour and tasting, encompassing the Grand Barrel Room, a Torture chamber, a stroll through the armory, and a private wine tasting.
Also available in Castello di Amorosa is a Royal Food & Wine Pairing Tour, Napa Valley Wine Train & Tour, and Cheese and Wine Pairing Tour.
Address: 4045 Helena Highway, Calistoga, CA 94515, United States
6. Indian Springs Art Gallery
The Indian Springs Art Gallery is situated in the Indian Springs Resort, and the art gallery is available to all and sundry as a free place to visit in Calistoga.
This countryside gallery showcases modern and contemporary artworks such as paintings, pottery, sculptures, and lots more.
The gallery also showcases rotating and permanent exhibitions; often, guests are allowed to have a one-on-one conversation with the exhibiting artists, and you can watch as they work in the studio.
Most art collections included intricate sculptures using glass and wire, unclad and semi-nude photographs, and abstract paintings.
Address: 1506 Lincoln Avenue, Calistoga, CA 94515, United States
7. Calistoga Spa Hot Springs
The Calistoga Spa Hot Springs is located in the center of the beautiful downtown area of Calistoga, and it is a perfect destination to have a laid-back experience as you get soaked up in the beauty and nature of Napa Valley.
Calistoga Spa Hot Springs comes with an incredible spa experience that is ideal for a romantic vacation or an excursion on wine tasting.
Visitors can, first of all, have a good time in their restored modern rooms with in-room kitchenettes before having the incredible spa experience from the hotel.
Tourists can revive the state of their bodies by using their geothermal mineral pools, get relieved of stress through the volcanic ash mud massage, or be part of the shaded outdoor mineral whirlpool with temperatures up to 104 degrees.
Address: 1006 Washington Street, Calistoga, CA 94515, United States
8. Villa Ca'Toga
Carlo Marchiori is an Italian Mural artist famed in the list of top five global muralists. He comes from Venice, Italy, and took ownership of the land where Villa CA'TOGA currently sits after 30 years of departing for the USA.
This man, on arrival, quickly started recreating the Verona and Venice aura with the architectural elements of Palladian coupled with the building of the Villa.
The well-trimmed grounds consist of columns, a Roman theater, Greco-Roman ruins, a hot tub, fountains, a sculpture courtyard of carving, and a Roman pool. An exploration of Villa Ca'Toga is one of the top things to do in Calistoga, CA.
Visitors can see six themed rooms and a main salon inside the Villa. In addition, the world-famous Marchiori art, located at 1206 Cedar Street, accommodates the CA'TOGs art gallery. Tours for the Estate come seasonally and happen on Saturday mornings.
Address: 3061 Myrtledale Road, Calistoga, CA 94515, United States
Are you considering more exploration of California? Here is our list of things to do in Bakersfield, things to do in Del Mar, and things to do in Ojai, for a fun vacation. If you are visiting Murrieta, check out the best restaurants in Murrieta.
9. Calistoga Balloons
This unique attraction offers an exciting hot air balloon adventure to the public. Guests who visit this city are overwhelmed by the experience. Going on the Balloon ride is one of the fun things to do in Calistoga, CA.
This attraction was founded in 2002 and has been a tourist attraction point, especially for tourists seeking a way to relax and reconnect their mind, body, and soul.
This Balloon adventure is under the control of an experienced chief pilot, so your safety is assured. The ride also gives people the chance to equally enjoy the breathtaking views of this region as they glide.
Address: 1458 Lincoln Avenue, Suite 15, Calistoga, CA 94515, United States
10. Calistoga Speedway
The Calistoga Speedway, a center for car racing, officially opened as a tourist attraction in 1937 after Fancy Pants, who was a promoter, encouraged locals in Castiloga to change their horse racing fairground to a horsepower drive road.
This idea originated when the Model A started moving heads and dominating America's roadways.
His brilliant idea was executed, and it has drawn many car race enthusiasts even after 70 years.
The Calistoga Speedway was a starting point for celebrities such as Figone, Normi, and Pacheteu; till today, this speedway is used mainly by sprint cars who drive at 120 miles per hour while participating in yearly tournaments such as the 10th Annual Louie Vermeil Classic.
Address: 1435 North Oak Street, Calistoga, CA 94515, United States
11. Tank Garage Winery
Tank Garage Winery, which resides in a 1930 repurposed gas station, boasts of a collection of "one-off" wines that showcase the lifestyle and taste of the owner.
Be part of their 45-minute wine tasting experience in their lubrication bar, where you can also check out four of their exclusive California wines.
The Tank Garage Winery also offers a top secret back room experience and organizes exclusive large parties and private functions, which goes with reservations as the Winery.
The Tank Garage Winery also organizes wine tastings for recent owners and workers of Napa Valley Wines and Local Sonoma, tour drivers, vineyard farmers, restaurants, tour drivers, and others affiliated with the industry. Apart from their latest wine release, here is a fun place.
Address: 1020 Foothill Boulevard, Calistoga, CA 94515, United States
12. Bale Grist Mill State Historic Park
Bale Grist Mill State Historic Park, which separates St. Helena from Calistoga, was once a social field activity center for county residents due to the water-charged grist mill.
The local mill with a 36-foot wheel was built initially to mesh into flour and meal their corn and wheat; the mill was revamped in 1846 and is known to be a massive landmark in the state.
The Park comprises the first church of Napa valley, a two-mile hiking trail that links Bothe Napa Valley State Park, and a cemetery. Individuals are always welcome to enjoy the Park and participate in weekend milling and historic tours.
Address: 3369 St. Helena Highway North, St. Helena, CA 94515, United States
13. Heibel Ranch Vineyards
The Heibel Ranch Vineyard was established in 2002 and is a family-owned and run vintage winery perched in the county. The vineyard is focused on sustainability as they provide guests with top-notch wines such as their Petite Sirah, Sauvignon, Zinfandel, and Cabernet.
They provide visitors with incredible wine tastings in a recently opened Tasting Car, and it is a one-of-a-kind experience to be part of as you hop on board the rail car, with varieties of wine such as the 2013 Captain Bubba Napa Valley red.
Visitors can be part of their Black Country tour where they have a stroll in the 185-acre ranch together with guide Trent and his pet dog Chachi as you sip delectable wine and eat a countryside cheese, olive assortment, and salami.
Address: 1241 Adams St #1043, St Helena, CA 94574, United States
14. Fleetwood
You can't afford to visit Calistoga without checking out the remarkable Fleetwood. Treat your stomach to the diner foods served by this new restaurant perched on holy moly and Calistoga Motor Lodge & Spa property.
Their whole foods are wood-fired. But patrons can visit during happy hour for cocktails and bites or Castilian-style pizza with toppings such as buffalo mozzarella and truffle oil.
Be sure to have their Brussels sprouts and their unique desserts. Their polenta cake is out of this world and should be a must-try when you visit.
Address: 1880 Lincoln Ave, Calistoga, CA 94515, United States
15. Chateau Montelena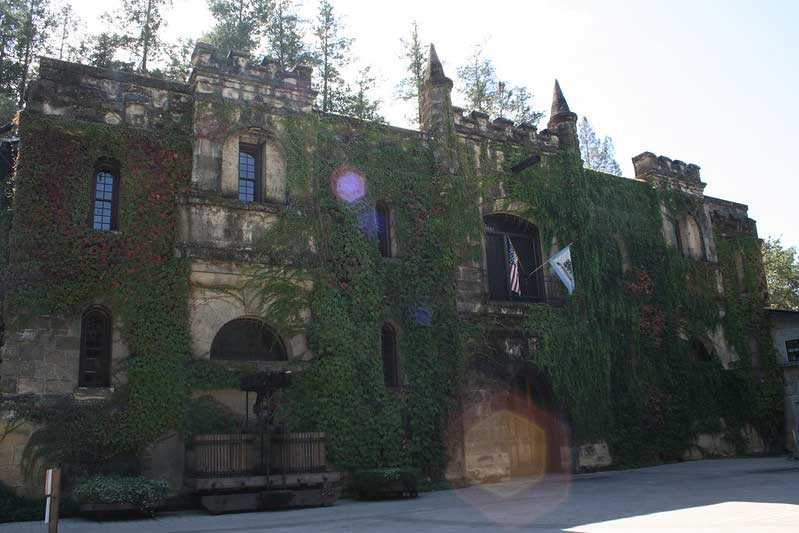 Chateau Montelena has a credible history, and the Judgment of Paris is just a part of it. However, winemaking is on a different level here and, therefore, a must-visit for anyone visiting Calistoga.
The surrounding areas of this lovely property are just so beautiful. The grounds are richly verdant and have a gorgeous lake with towering trees.
This destination makes up for a beautiful backdrop to take lovely photos. The wine tasting here is a one-of-a-kind experience. Exploring this destination is one of the best things to do in Calistoga, CA.
Here is a beautiful place to host your special events such as weddings, birthdays, and corporate functions.
Address: 1429 Tubbs Ln, Calistoga, CA 94515, United States
Check out the top things to do in West Hollywood, things to do in Salinas, and things to do in Yuba City for a memorable exploration of California.
16. Huge Bear at the Bank Tasting Saloon
One of the best things to do in Calistoga, CA, is to visit the Huge Bear Winery, which is focused on commemorating the California spirit, but most significantly, it brings the rich history of Knights Valley and Sonoma Valley to life via their delicious wines.
They are famous for serving properly prepared wines with fruit concentration in a vibrant ambiance.
Every wine to have here is homemade and is produced in small batches to maintain the bear's rugged spirit, which is to be enjoyed with family and friends.
Tourists are most welcome to visit the Bank Tasting Salon to drink varieties of wines such as Pinot Noir, Sauvignon Blanc, Chardonnay, and Cabernet Sauvignon.
Address: 1373 Lincoln Avenue, Calistoga, CA 94515, United States
17. Calistoga Inn Brewery
After Prohibition ended, the Calistoga Inn Brewery became the first beer-producing company established in 1987.
The brewery has four unique flavors of beers such as Calistoga Pilsner, Wheat Ale, Porter, Red Ale, and different seasonal beers that are produced annually like the German Kolsch, Dugan Oatmeal Stout, and others.
Annual production of 450 barrels is done in the brewery, and they make sales of 22-ounce hand-filled bottles produced in their seven barrels using their gas-fired brew house.
The beer company has been nominated for awards ranging from bronze to gold. The brewery is open for visits from Mondays to Fridays throughout the year.
Address: 1250 Lincoln Avenue, Calistoga, CA 94515, United States
18. Napa Valley Winery Bike Tour
The Napa Valley Winery Bike Tour offers visitors the chance to be part of their self-guided, private group, guided, and corporate team-building biking.
Many people see biking as an ideal way to enjoy the country's wine as it is an enthralling experience.
Bikers can be part of the daily guided tours such as the Classic Napa Valley Bike Tour, which has a detailed tour guide that shows you through the Winery.
If you can do this tour on your own, be sure to rent a bike and pick up a map available by the shop, and cycle on your own on their accessible Napa Valley Trail or their top nine local rides.
Address: 6500 Washington St, Yountville, CA 94599, United States
19. Calistoga Bike Shop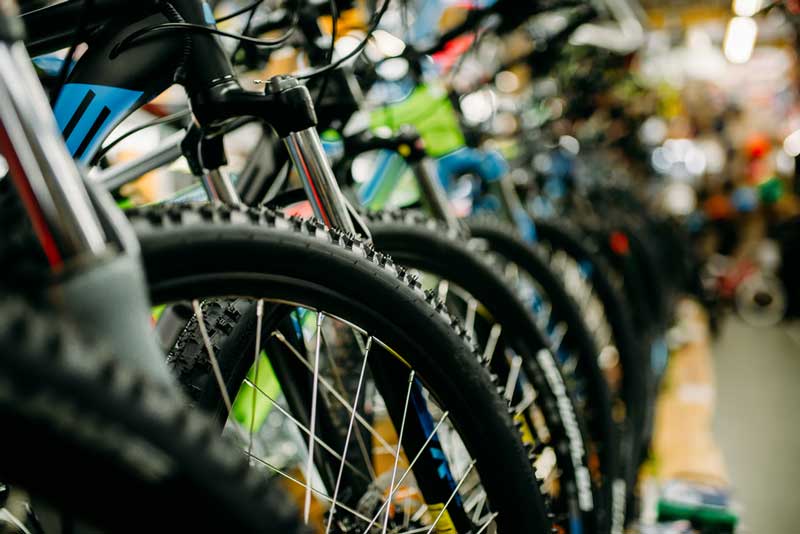 Calistoga Bike Shop provides self-guided wine tours and different customized trips throughout Calistoga.
The bike shop offers bike rental services; their wine tour is fully self-guided, allowing visitors to choose whichever road to follow and check-in times without having to go through the stress of following a schedule.
When you reach the bike shop, the bike shop gives you everything you need to start with, from fully fitted bikes, gear, and wine tasting wristbands for free for the wineries you choose to visit. In addition, there is a map to help you locate these wineries.
If you love biking, one of the fun things to do in Calistoga, CA, is to go on this Bike Tour.
Besides the guided biking tour experience, they also provided customized wine and mountain biking tours.
Address: 1318 Lincoln Avenue, Calistoga, CA 94515, United States
20. Sterling Vineyards
The Sterling Vineyards is a well-known Winery with a comprehensive collection of outstanding wine resulting from the ten single vineyard properties they occupy.
This iconic Winery comprises beautiful contemporary stucco architecture covered by two towers with the restored St. Dunstan Church's bells in East side London that goes on the quarter hour.
Visitors can decide to enjoy the three levels of wine tasting in this Winery coupled with a self-guided winery tour and recently released wine tastings, enjoy the limited-release wines with local Charcuterie and cheese, or have a one-hour meal with wine tastings and others.
Every wine tasting experience kicks off with tide from the parking lot to the aerial tram in Napa Valley.
Address: 1111 Dunaweal Lane, Calistoga, CA 94515, United States
21. T-Vine Winery
Another item on our list of top things to do in Calistoga, CA, is visiting the T-Vine Winery, a significant attraction in this part of the country established in 1992.
The Winery has built a legacy of producing classic wines in small batches from ancient vines that are gotten from seasoned growers. The tradition of this Winery led to its purchase in 2009 by wine merchants James Harder and Jim Regusci.
The Winery maintains its focus on producing the best of fruity, juicy wines and is always searching for exceptional vineyards that will be great to add to its collection.
If you love great wines, visit this attraction as they have a delectable wine selection coupled with a scintillating environment.
Address: 810 Foothill Boulevard, Calistoga, CA 94515, United States
22. Sam's Social Club
The dining experience is Sam's Social Club is exceptional and makes for an ideal place to bring your family and friends to have a delectable dinner.
The Calistoga Sam's Social Club offers options for outdoor dining and is generally open to serve breakfast, lunch, and dinner in a friendly and beautiful atmosphere.
Have a feel of the beautiful outdoor dining experience staying under their picturesque tent, which has clear visibility so visitors can see the lovely nature of the Napa Valley. Be sure to wear warm clothes.
Enjoying the incredible dining experience Sam's Social Club offers is one of the best things to do in Calistoga, CA.
The Sam's Social Club also hosts special events and private dining that you will find worthy of attending. This attraction promises to give the best dining experience under their tent. There are numerous fresh blankets and heaters to make you cozy.
Address: 1712 Lincoln Ave, Calistoga, CA 94515, United States
23. Davis Estates
Davis Estates is a family company devoted to a reliable environment for premier wine production.
The gorgeous broad view of the northern Napa valley and the Estate can be enjoyed by sitting on the outside terrace.
Davis Estates offers a private degustation of wine and food, a library, and a historical tour.
To enjoy the luxury of this Estate, visit the VIP units; there, you will experience a full view of the Estate, fine wine, and bites for wine fanciers and food buffs, all in the VIP Crush Room.
Address: 4060 Silverado Trail, Calistoga, CA 94515, United States
24. Napa Valley Wine Train
Suppose you are a newbie in wine tasting and would like to make your first time an unforgettable experience, be sure to visit this place. There is an available tour guide to aid you all through your wine tour experience.
The delightful degustation of wines in the outstanding Napa Valley Wine Train located in the downtown area of Napa is one of the best things to do in Calistoga, CA. Although it involves going out of Calistoga, it will surely be worth the time and drive.
The tour entails going on board a historic train that takes you around to several wineries along the valley. Visitors are to check out these wineries, get involved in tasting wine and romantic wine tours, and then come back on board to see the vineyards past them as they make their way to the following site.
The train ride is one safe and ideal way to enjoy wine tasting without using a car. In addition, meals are served during most tours on the train.
Address: 1275 McKinstry St, Napa, CA 94559, United States
25. Brian Arden Wines
Brian Arden Wines is a vineyard that sits beside the Silverado Trail at the corner of Calistoga and the bottom of the Palisade Mountains.
The vineyard was constructed in 2008 and was available for use in 2014 when it began producing delectable wine for everyone to enjoy.
Their building is an excellent architectural building coupled with a hospitality center that was available in 2015 and started providing a one-of-a-kind wine tasting experience that features their 2008 Cabernet Franc.
Visitors are welcomed to have a wine tasting experience of 45 minutes which entails having 5 to 7 of their wines. In addition, a guided tour is available to walk you through this wine tasting experience.
Address: 331 Silverado Trail, Calistoga, CA 94515, United States
Check out more cities in California. Here is a guide on things to do in Beverly Hills, things to do in Vacaville, and fun things to do Redlands for a fun time.
Plan Your Trip to Calistoga
The fascinating Calistoga city, which is part of the wine country, shouldn't be missed, especially by wine lovers, as there are varieties of delectable wines for all and sundry.
Apart from visiting the various wineries on site, visitors can enjoy the hiking trails and parks, or you can still check out the historical attractions that form a considerable part of the city.
A momentous adventure awaits you!