Looking for the best and fun things to do in Beverly Hills, CA?
Beverly Hills, California, is the epitome of fame, luxury, and wealth. The city was originally established in 1914 as a Spanish ranch and has been the residential choice of the tinsel town for several years.
Many Hollywood stars reside in Beverly Hills, and you can take a tour of the star's homes as it is one of the most popular activities here. Do visit the famous Beverly Hills Hotel or the historic Greystone Mansion, amongst many others.
Let's explore some of the best things to do in Beverly Hills, California.
Things to Do in Beverly Hills
1. Drive the Rodeo Drive
Wherever Beverly Hills is mentioned, two things immediately come to mind – shopping and Rodeo Drive.
Rodeo Drive is a two-mile-long street filled with entertainment, fashion, and luxury and exists as one of the top Beverly Hills attractions.
You will see popular landmarks such as the statue "Torso," Beverly Wilshire Hotel, and the House of Bijan. You will also find stores devoted to Gucci, Dior, Tiffany & Co., and others.
Even if you are no fan of shopping, the history of this area and its figure in pop culture has elevated it to one of the most visited streets globally.
Vivian Ward spelled some immortal words about this place, calling it a "big mistake" if you miss a chance to shop on Rodeo Drive.
2. Beverly Hills must-visit: Mulholland Drive
Mulholland Drive has gained a world reputation as the home of Hollywood celebrities. Visiting this Drive is one of the best things to do in Beverly Hills.
Mulholland Drive is a 21-mile long road that will lead to the Hollywood Hills from the Santa Monica Mountains. It offers astonishing views of the San Fernando Valley, the Los Angeles Basin, and the popular Hollywood Sign along the way.
These homes are often hidden behind gates and tall trees, but you can have a glance at several luxuries, some of which are the most expensive homes in the world.
Different tour companies will show you the houses of celebrities and tell you the history of Mulholland Drive.
Mulholland Drive should be an essential part of the itinerary for any trip made to Beverly Hills.
3. Greystone Mansion and Gardens
One of the best things to do in Beverly Hills, California, is visiting Greystone Mansion and Gardens – the 1927 home of billionaire Ned Dohne Jr. and his wife, Lucy
It is a 55-room mansion sitting on 16 acres of land and is an astounding example of the English Tudor Revival. Check out the extensive gardens with beautiful flowerbeds, fountains, and towering trees.
Tours are held inside here on Saturdays, and they sell out months in advance.
The mansion is a famous filming location and is the acclaimed Chilton Academy in Gilmore Girls and Rachel's house in The Bodyguard.
Visiting the gardens is free of charge, so why not spend an hour or more in this simply amazing setting.
Address: 905, Loma Vista Drive, Beverly Hills, California.
4. Visit Frederick R. Weisman Art Foundation
The Frederick R. Weisman Art Foundation is devoted to making the private art collection (both modern and contemporary) of Frederick R. Weisman available to the public.
The Foundation features over 400 works on display, and you will see the works of Picasso, Warhol, and Kandinsky, along with many other acclaimed artists.
Frederick R. Weisman Art Foundation provides a guided tour to visitors in appointment, allowing them the opportunity to visit not only the foundation but also the foundation estate, annex, and the encompassing gardens.
The exhibition here is dynamic, so every visit promises a different experience.
Address: 265 N Carolwood Drive, Beverly Hills, California.
5. Relax in Virginia Robinson Gardens
Next is taking a trip to the Virginia Robinson Gardens. You need to head back outside to this six-acre property as it makes the list of top things to do in Beverly Hills.
Located in the city's center, Virginia Robinson Gardens will take your breath away. It features many gardens, with each having a specific style and theme.
A walk in the Italian Renaissance Terrace Gardens offers magnificent views of mature trees, gardenias, camellias, and azaleas.
Wander amongst the Kitchen Garden overflowing with herbs and vegetables, or head to the Rose Garden with heirloom roses. The gardens, pool pavilion, and mansion are available to view only by a guided tour.
You could also visit the home of Beverly Hills first lady for an experience of some of the affluence of the early 1900s.
Address: 1008 Elden Way, Beverly Hills, California.
6. Check out Will Rogers Memorial Park
Constructed in 1912, Will Rogers Memorial Park is a public park located in the city's heart. Though small, the park has been popular amongst families ever since, and it is a heavily visited tourist spot.
As you wander through the winding paths, you will see a big pond with an impressive fountain in the middle. It is dedicated to the first owner of the Beverly Hills Hotel – Margaret J. Anderson.
The park boasts rose gardens, spacious lawns, and palm and dragon trees.
The Will Rogers Memorial Park is the ideal place to stop by and take some rest after concluding your shopping trip on Sunset Boulevard.
Address: 9650 Sunset Boulevard, Beverly Hills, California
7. Enjoy Franklin Canyon Park
The Franklin Canyon Park is the hidden gem of Beverly Hills and adds to our teeming list of things to do in Beverly Hills, CA.
Nestled between Beverly Hills and the San Fernando Valley, the Franklin Canyon Park occupies 605 acres with hiking trails, chaparral, lakes, grasslands, and oak forests.
The trails are ranked according to difficulty, with easy loop trails. This makes a visit to Franklin Canyon Park very much open to everyone.
Be sure to check out the Sam Goldman Amphitheatre, the Eugene and Michael Rosenfeld Auditorium, and the Sooky Goldman Nature Center.
You will see the duck pond and lake, which houses over fifty birds, both exotic and native. You can download a free bird-spotting booklet and let the entire family go on a unique treasure hunt.
Address: 2600 Franklin Canyon Dr, Beverly Hills, CA 90210.
8. Dine at Tempura Endo
Adding to our list of top things to do in Beverly Hills is Tempura Endo, a small classic tempura bar in the city. It has eight chairs in the small Zen-like dining room and more than eight overlooking the kitchen.
This import from Kyoto serves tempura just the way the Japanese eat it, with a stream of tiny morsels of rare uni, wagyu, uni, or king crab breaded in a batter containing deep-fried and California chardonnay in giant copper vats, offered in omakase-style.
They have a fixed menu containing a seasonal appetizer, hashiyasume (a side dish to refresh your palate), sashimi, rice, and a special salad.
While watching the events unfurl in front of you, grab a drink with anything from imported Japanese beer to high-priced champagne, a respectable wine selection, and a massive selection of hot and cold sake.
They got a dinner à la carte menu too.
Address: 9777 S. Santa Monica Blvd, Beverly Hills, CA 90210
Have California on your list of places to explore? be sure to check out our guide on places to visit in things to do in Burbank, things to do in Eureka, and things to do in Ventura.
9. Beverley Hills must-see: The Gottlieb Native Garden
Existing as one of the most acclaimed private gardens in California, the Gottlieb Native Garden is housed on the one-acre private property of Susan and Dan Gottlieb.
The garden is not open to the public as an attraction throughout the year. Nevertheless, visitors can view at select times during the year as part of special events, like the annual Theodore Payne Foundation Annual Garden Tour each spring.
Over 200 native plant species are exhibited throughout the garden, including over 400 documented wildlife species, placing it as a thriving haven for nature just in the heart of Beverly Hills.
The garden is mapped out as a National Wildlife Federation-certified Backyard Wildlife Habitat for its luxuriant, distinctive ecosystem.
You can directly schedule a private tour of the garden through the Gottliebs for researchers, scholars, and nonprofit groups.
10. Mr. Chow
The Chinese cuisine took 5000 years to develop, striking a fine balance between art, science, and tradition. Every meal is essential, and every ingredient has an important role to play and is selected carefully.
Mr. Chow makes our list of top things to do in Beverly Hills as they bring the best of Chinese cuisine to his modern, exclusive restaurant where contemporary décor, interesting touches, and a high ceiling enhances your dining experience.
Here, you will enjoy the best Beijing duck in the world and watch the local Handmade Noodle Show just by your table.
Every dish is served by the award-winning Executive Chef Yi Jia Qian and Master Chef Eddie Wong and have a perfect balance of colors, fragrances, tastes, and textures.
Anticipate a memorable gourmet experience.
Address: 344 N Camden Dr, Beverly Hills, California.
11. Nerano
Opened in 2016, Nerano is a hip, contemporary Italian restaurant set up by owners Andy and Carlo Brandon-Gordon in Beverly Hills. They were inspired to do this following their trips to the beautiful Amalfi Coast.
Nerano is an upscale restaurant that offers lunch, dinner, and aperitivo hour service every day, with reference to tasty Mediterranean-influenced gourmet fares such as garganelli al ragu, spaghetti vongole, and tagliolini al limone.
There are wood-fired Neapolitan pizza options like margherita and classic bianca variants. At the same time, land and sea entrees include wagyu New York strip steaks, Gulf spot prawns, and Mediterranean branzino filets.
They have an extensive wine list and specialty signature cocktails with a spotlight on small-batch and infused liquors.
Address: 9960 South Santa Monica Boulevard, Beverly Hills, CA 90212
12. Enjoy Classic Treats at Nate 'n Al
If you want to catch the sights of celebrities in Beverly Hills, you don't need to go on popular home tours. All you need is to come to get some hot dogs at Nate 'n Al.
Established in 1945, this Beverly Hills institution is where waiters attend to several popular personalities on a first-name basis.
It is transgenerational as people who used to be here for corned beef sandwiches with their grandparents now come with their grandchildren.
Whether you are a tourist, Oscar winner, or someone who lives around the place, Nate 'n Al just makes you feel welcome. They usually present you with your favorite, turning you into a regular in no time.
Some come for the atmosphere, but of course, everyone comes for their world-class hot dogs, lox and bagels, corned beef, potato salad, burgers, matzo balls, and short ribs, among other treats.
Address: 414 N Beverly Dr, Beverly Hills, CA 90210.
13. Jump on board Beverly Hills Trolley Tours
You can give that your aching feet a breather with a Beverly Hills Trolley Tour as it adds to our beaming list of top things to do in Beverly Hills.
You would enjoy this 40-minute tour through downtown Beverly Hills as you would see famous sites such as Mulholland Drive, Rodeo Drive, and the Beverley Wilshire Hotel.
It is a fully narrated tour and gives you a summary of the art, architecture, culture, and history of this vibrant city.
A trolley tour is the best way to gain insight into a city before moving out on your own. So, what are you waiting for? Jump on board!
14. Eat great cuisines at Tagine
Tagine offers you a whole lot!
You can curl up among plushy pillows on a long ottoman, relax in a cozy, confidential atmosphere encompassed by flickering candles and exotic Moroccan lamps, and see which delicacies Chef Ben Benameur has to offer.
Ben learned the art of cooking in his mom's kitchen, and he set out to inculcate tradition to the 21st century and the buzzing world of Beverly Hills.
His creative, modern approach to the centuries-old Berber cuisine produces treats such as Lamb tagine in honey sauce with cinnamon, dates, and prunes or Berber couscous with seven veggies.
If you are not into Moroccan cuisine, head for the tasting menu and have a bit of everything. For wine lovers, Tagine also has an exceptional, well-stocked wine cellar.
Address: 132 N Robertson Blvd, Beverly Hills, California
15. Beverly Hills must-visit: Polo Lounge at the Beverly Hills Hotel
Polo Lounge is a legendary establishment in Beverly Hills that you must visit while in town.
Over the years, it has been a spot for relaxed Sunday brunches, power breakfasts, and afternoon drinks for all Hollywood shakers and movers, business tycoons, and politicians.
It has three dining rooms and an outdoor space covered in bushes and flowering vines.
The restaurant is modern and luxurious, and there is always wonderful live music. Their contemporary Mediterranean and American cuisine will not disappoint you. Make the most of this welcoming atmosphere by coming for Sunday jazz brunch.
You will enjoy their lovely Vol au Vent Benedict with lobster, mushrooms, baby kale, poached egg, and làemon Hollandaise sauce or mimosa or Kir Royal with treats such as Almond-crusted French Toast.
Address: 9641 Sunset Blvd, Beverly Hills, California.
Planning a trip to California?, don't miss our checklist of fun things to do in Monterey, also check out our list of things to do in Irvine for a fun California trip.
16. Spago Beverly Hills
Another lovely thing to do in Beverly Hills is stopping at Spago for a meal. Spago is a legendary, award-winning restaurant under the co-ownership of celebrated chef Wolfgang Puck.
This restaurant stands out amongst others and sets the pace to follow. It was recently renovated to depict modern esthetics with simple lines, an inside-outside feel, and natural elements, making the restaurant an absolute visual delight to enjoy even before you see the menu.
Wolfgang Puck is famous for initiating the revolution in modern eateries by maintaining local, fresh, and seasonal ingredients.
Chef Lee Hefter (an award-winner of James Beard) applies this philosophy to create ingenious seasonal menus that deliver the best of farmers, fishermen, and ranchers in California.
And if you want to have a bit of everything, your best pick with the best pick would be the California Tasting Menu. Spago has over 30,000 bottles of wines, a tip of their extensive and spectacular wine list.
Address: 176 N Canon Dr, Beverly Hills, California
17. Eat Lawry's The Prime Rib
Established in 1938, Lawry's The Prime Rib has been a dining favorite for both locals and visitors of Beverly Hills. You don't need to check the menu upon arrival – just go for their famous, succulent, and delicious roasted prime rib.
The entire scenario of eating ribs at Lawry's looks more of a ritual: you settle at ease into a classy dining room with exquisite décor and spectacular mural, and the chef rolls a silver cart with a freshly roasted rack of prime rib to your table.
The only business you have is to decide which cut you want: you can choose from an extra thick Diamond Jim Brady cut bearing a rib bone down to the thin California cut.
Whatever be your choice, it comes with Yorkshire pudding, mashed potatoes, Spinning Bowl Salad, and whipped cream horseradish.
You are sure to have a complete feast!
Address: 100 N La Cienega Blvd, Beverly Hills, California.
18. Margaret Herrick Library
Get down to the Margaret Herrick Library and watch the world of motion pictures make real meaning before your eyes.
Take a walk amongst thousands of books, photographs, periodicals, scripts, and unique collections gathered since the early 1900s.
The Graphic Arts collection holds more than 42,000 items representing some of the earliest films ever made, including recent releases and everything in between.
Margaret Herrick Library houses over 10 million photographs, including candids, stills, and behind-the-scenes production shots. You will be captivated for hours as you see and encounter each era in filmmaking.
A visit to the Margaret Herrick Library is one of the top things to do in Beverly Hills as it would make the perfect day out for any movie enthusiast.
Address: 333 South La Cienega Blvd, Beverly Hills, California.
19. Try exquisite dishes at Villa Blanca
Villa Blanca is an elegant, romantic, and exquisitely decorated restaurant that offers an amazing fusion of Asian, Italian, and Mediterranean cuisines.
It has a relaxed ambiance with soft music adorned with crisp, white tablecloths. There is original art hanging on the walls and lots of fresh flowers around the dining room.
If you are looking for a place to bring a guest you want to impress or where you can often rub elbows with one or two celebrities, Villa Blanca perfectly suits in.
However, the best reason to come here is the food, and they are simply amazing.
Taste their Ahi Tuna Tartare – raw tuna with avocado, scallions, aioli, cucumber, and balsamic reduction, served with capers, truffle chips, tomatoes, and basil.
They provide an awesome Sunday brunch, where they serve everything from pizzas to smoked salmon scramble to steaks with a mimosa or two.
Address: 9601 Brighton Way, Beverly Hills, California.
20. The 9/11 Memorial Garden
The The 9/11 Memorial Garden was built in memory of the tragedy of the terrorist attacks in 2001. It is owned by the fire department and was inaugurated on September 11, 2011.
There are representations of the Pentagon, the Twin Towers, and the field in Pennsylvania where those massacres took place.
This memorial has a purpose – to honor those who lost their lives in the bombing, those who uphold security in the country, and those to believe in the right to life and equality, the pursuit of happiness and liberty.
The 9/11 Memorial Garden can be accessed by the public every day of the week, and it can lead to realization, thanks to private donations of money, time, and materials.
It holds a special place in the life of every well-meaning citizen.
Address: 445 N Rexford Dr, Beverly Hills, CA 90210, United States
21. Tomoko Spa
Beverly Hills offers the best of everything you can think of, especially their outstanding pampering services. Tomoko Japanese Spa is one of those and adds to our list of best things to do in Beverly Hills.
Founded in 1999 by Tomoko Kurono, a minimalist spa that provides treatments that help remove all forms of negative energy from your body.
The spa focuses on providing the ideal Japanese hospitality services (i.e., Omotenashi) using an accommodative cultural approach.
There is a private room (filled with all kinds of Japanese reliefs) to receive various kinds of treatment. You can even customize them to your choice!
There is an accompanying complimentary footbath (i.e., Ashiyu), ginger tea, and mochi for every treatment. Tomoko Spa, just like you've learned, will soothe your body as well as your soul.
Address: 141 S Beverly Dr, Beverly Hills, CA 90212, United States
22. Cienega Park
Considered the "crown jewel" of Beverly Hills, Cienega Park is another interesting place to check out and makes our list of top attractions in Beverly Hills.
Here, people can engage themselves in diverse sports, and the children can even have fun in the playground. You will see three baseball diamonds (of which two seasonally convert to soccer fields).
There are picnic tables, grill stations, and a snack bar.
The park also has a Community Center, which hosts special events. There is a convenient 2-hour free parking space at the nearby Tennis Center (325 S. La Cienega Blvd).
The park is open every day of the week from 6 am to 10 pm.
Address: 8400 Gregory Way, Beverly Hills, CA 90211, United States
23. Beverly Hills Farmers Market
Beverly Hills Farmers Market never stops working whether the clouds are thundering or the sun is shining. So, you can always check in whenever you are in the city.
What makes it even more spectacular is a certified farmers' market and features products from local vendors and farmers, a petting zoo, and live music.
You will find the best of locally-grown fruits and vegetables, baked items, specialty items, delicious coffee, and juices, among others.
The kids are also taken care of as you shop, thanks to the child-sized carts, pony rides, the petting zoo, and the regularly organized activities in the market.
The market is open from 9 am to 1 pm every Sunday and hosts special events all year long. It is one place to spend your Sunday, isn't it?
24. Saban Theater
Let's turn our attention to something completely different, the Saban Theater (8440 Wilshire Boulevard). Formerly known as the Fox Wilshire Theater, this theater dates to 1930.
It is built in the Art Deco style and has awesome interiors. It has a capacity of over 1,800 spectators and was officially declared a historic building in 2012.
Saban theater has a well-packaged and diverse schedule of events. Attending a show here is a great experience and is recommended to those visiting Beverly Hills. You will love it too!
Get your tickets ready; they can also be purchased online.
Address: 8440 Wilshire Blvd, Beverly Hills, CA 90211, United States
25. The Beverly Hills Hotel
The Beverly Hills Hotel stands tall on Sunset Boulevard and is classified as one of the most famous hotels in the world.
The hotel was established long before the city came into existence and is a stylish affair sprinkled with elements from Hollywood's Golden Age.
Beverly Hills Hotel occupies more than 12 acres of space and contains over guestrooms and bungalows. It is painted a signature pink with blending green shades.
Aside from being the first choice for Hollywood celebrities, it is also regarded for its beatific Polo Lounge.
This place is famed for celebrities, and famous personalities are often seen enjoying their Sunday under a canopy of flowers.
Beverly Hills Hotel is indeed a complete package!
Address: 9641 Sunset Blvd, Beverly Hills, CA 90210, United States
26. Spadena House
There is actually a Witch's house in Beverly Hills – don't be scared, no witches dwell in it!
Located at the intersection of Carmelita Avenue and Walden Drive, the Spadena house is another interesting thing to do in Beverly Hills.
Spadena House is a storybook house with characteristics of an intentional ramshackle structure and distinct, appealing vibes.
Harry Oliver, a popular Hollywood art director, constructed this house in 1921 for Willat Studios in Culver City. It was to serve as a place for its dressing rooms and offices.
When the studio was shut down, the Spadena family claimed the house and relocation it to its current spot. Thanks to its fairy-tale features, it was called the Gretel House and quintessential Hansel.
Since it's private property, there is no tour access, but you can get nice views from sidewalks and streets!
Address: 516 Walden Dr, Beverly Hills, CA 90210, United States
27. Beverly Hills City Hall
The Beverley Hills City Hall stands tall on the North Rexford Drive as a historic façade in the middle of swinging palm trees.
Beverly Hills City Hall was opened in 1932 and was designed in a type of Spanish Revival Architecture. It was then renovated in 1982 and spans 49,000 sq. ft. to 67,000 sq. ft. its entrance was also moved from North Crescent Drive to North Rexford Drive.
You will observe the eight-story towers, marble walls, and gilded cupola, which has led the city hall to become an appealing city landmark.
The hall holds the city's administration, including the Mayor's office. Also, Gere Kavanaugh's Municipal Gallery is housed in this hall.
Beverly Hills City Hall charmingly captures the city's administration and history, making it one of the top things to do in Beverly Hills.
Address: 455 N Rexford Dr, Beverly Hills, CA 90210, United States
28. Beverly Garden Park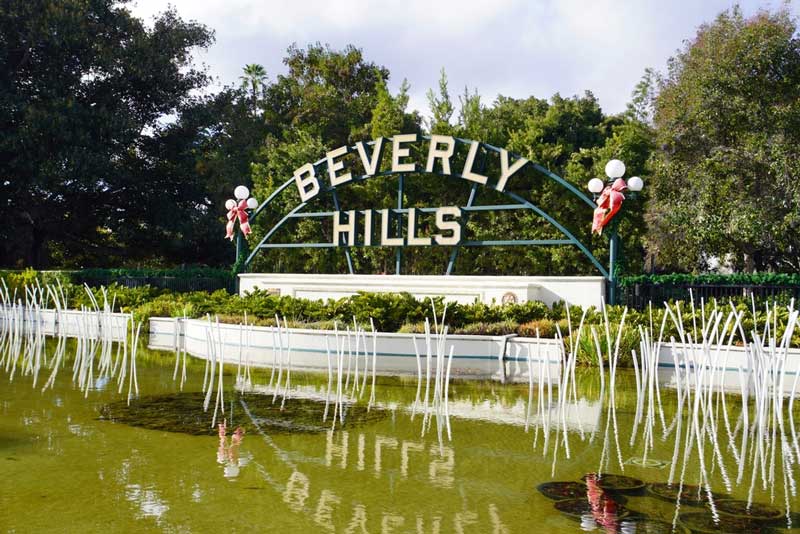 Beverly Garden Park is one of the best places to visit in Beverly Hills, CA. Beverly Gardens Park is a trademark outdoor space in Beverley Hills.
The 1.9-acre linear park extends from Willshire Boulevard to North Doheny Drive, close to Santa Monica Boulevard.
A compact gravel footpath navigates the entire park, linking numerous art installations, two embellished fountains on both ends, and gardens.
The Beverly Hills Sign is the most popular sight at the park. This famous sign sits on top of a lily pond encircled by the biggest section of Beverley Garden Park.
Here a courtyard and picnic benches provide a stunning view of the art pieces and sculptures in the area.
You will also find the Electric Fountain on the western end of Beverly Garden Park. Decorative mosaics surround the historic fountain.
Further outstanding attractions of the garden are the historic cactus garden and another water fountain called the Doheny Fountain.
Additionally, the garden is home to some popular community events, including the Beverley Hill Art Show held in spring and fall.
Address: 9439 Santa Monica Blvd, Beverly Hills, CA 90210, United States
29. Melting Pot Food Tour
Melting Pot Food Tours have existed in Beverly Hill since 2008. The tours offer mouthwatering food-tasting tours all over the Southern California area.
These tours and events strive to kindle in their participant a love and appreciation of Southern California as a well-known culinary destination.
If you want to explore the Original Farmers Market, rediscover the colorful past of Old Pasadena, or enjoy a fantastic guided tour through the East Village Long Beach, Melting Pot Food Tour is ready to be your guide.
All the tours and events feature sampling and trying cuisines. Most tours are suitable for all ages and all events, and they are excited about sharing all their secrete.
Melting Pot Food Tour promises an authentic and memorable experience that will make you happy.
Address: 8484 Wilshire Blvd #515, Beverly Hills, CA 90211, United States
30. The Golden Triangle
Another best place to visit in Beverly Hills is The Golden Triangle. The Golden Triangle in the City of Beverly Hills is among the reputable retail addresses worldwide, drawing shoppers from around the world.
The area is famous for its shopping. The numerous boutiques here feature high-end designer brands. The prices of items at this luxury brand are affordable to most shoppers.
The stores in this area tend to be smaller and more stylish. The most popular stores in this area include Brook Brothers, Harry Winston, and Ralph Lauren.
Furthermore, the area is also popular for its bars and high-end restaurants.
Address: 9800 Wilshire Boulevard, Beverly Hills, CA 90212, United States
Have more time in California?, take to exploring other cities, here is our list of things to do in Costa Mesa, things to do in Fort Bragg , and things to do in Santa Ana for fun exploration.
Plan your trip to Beverly Hills
As you have seen, Beverly Hills is a city of "gold" with so much luxury and riches. This city is a top pick for every tourist as it has many intriguing attractions and places to visit.
You can shop at Rodeo Drive, relax at the spas and eat at the fabulous restaurants. Join the rest of the world in enjoying a visit to this mesmerizing city by making it your next place of vacation.
You can also explore its top-notch attractions on a day trip or weekend getaway.
So, start making plans for your trip to Beverly Hills, and if you need a guide, this piece is always available.
Safe travels!