Lying in the heart of Colorado is Telluride, an amazing town created in 1878. At that time, it was referred to as Columbia, but in 1887, it was changed to Telluride to avoid confusion with the existing Columbia in California.
Telluride, the county seat of San Miguel County, is the most populated town in the County, with a population of 2,059 in 2020. In 1964, the Telluride Historic District was added to the National Register of Historic Places.
The town is famous for its skiing resort, having one of the best skiing grounds in the United States. In addition, Telluride is rich in waterfalls, gourmet restaurants, hiking trails, boutiques, mountains, and art galleries, among other attractions that will make your visit worthwhile.
Are you planning an exploration of Telluride? Here are the top things to do in Telluride, CO.
Things to Do in Telluride
1. Telluride Ski Resort
One of the top tourist destinations in Colorado is the Telluride Ski Resort. The Ski Resort, which opened in 1972, covers several mountains, 2000 acres of skiing space, and nineteen lifts at its numerous downhill trail extending to about 1,349 meters. Visitors can enjoy the breathtaking view while skiing along the steep and rugged terrain.
The attraction is open to everyone, whether you are an expert or novice in skiing, as there is a ski school for learners. There are also slopes specially designed for beginners to make it easier for them. Telluride Ski Resort also features ground parks and bowling alleys open to visitors for a more exciting experience.
The resort becomes a destination for golfing, biking, and rafting during summer and spring. However, Telluride Ski Resort is open all through the year. You can't afford to miss this intriguing attraction. Exploring Telluride Ski Resort is one of the top things to do in Telluride, Colorado.
Address: 565 Mountain Village Boulevard, Telluride, Colorado 81435, USA
2. Bear Creek Preserve
The Bear Creek Preserve is a unique attraction encompassing 325 acres managed by the San Miguel Conservation Foundation and Telluride. The Preserve is widely known for its waterfalls and trails. Situated in Bear Creek Canyon is the majestic Bear Creek Falls.
This Telluride attraction is one of the famous day hike locations in the town. You can get to the 70ft waterfall through a 5-mile trail. The downpour of water over the cliff is a spectacular sight that attracts many visitors. The trail extends to a height of about 1100ft.
Visitors enjoy picnicking or hiking in the meadow, which offers a great view of the waterfall. Another popular activity along the trail is horseback riding. Adventuring at the Bear Creek Preserve is one of the best things to do in Telluride, Colorado.
Address: Bear Creek Falls Trail, Telluride, CO 81435, USA
3. The Telluride Brewing Company
When you're talking about beers with excellence, you can't skip The Telluride Brewing Company beers. The world-renowned Company has attracted people from far and wide to the town of Telluride. Established in 2011, the Telluride Brewing Company is among the list of biggest microbreweries in the country.
The Telluride Brewing Company started with one artisanal brew but currently produces fourteen brews and ales. The Brewery has won several awards in the World Beer Cup, including three gold medals and a bronze medal. The Company still strives to improve its products.
The brewery is open for tours where visitors can also learn about its short history and plans. In addition, you get to taste their excellent beers alongside a tasty, juicy steak and other food combinations. You can't afford to miss a visit this establishment, whether you're a beer lover or not.
Address: 156 Def Society Drive, Telluride, Colorado, 81435, USA
4. Telluride Historical Museum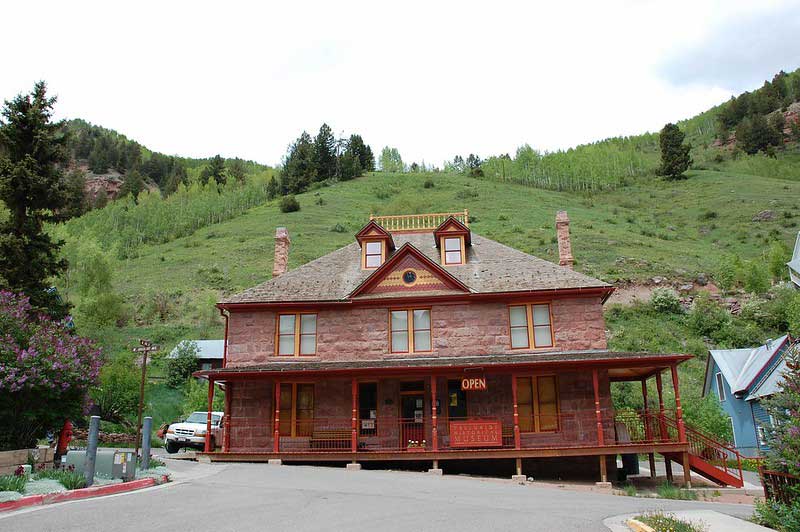 A fascinating property of this Museum is that it's located in a historical building, so the building is also an artifact. The outstanding Telluride Historical Museum was established in 1966 but lay in an old 1896 miner's hospital.
The Museum features the culture, history, and heritage of Telluride and the region, such as information about the lifestyle of the first inhabitants of San Juan Mountain life, Telluride's active mining history, and the advent of the Telluride's railroad.
The Historical Museum also houses an array of Ute Native American artifacts. In addition to the artifacts, the Museum is home to historical instruments, artworks, images, and archeological discoveries. One of the Museum's fascinating attractions is the ancient Telluride Blanket which the Puebloan ancestors weaved hundreds of years ago.
The Museum has a 3D rotating gallery display which is captivating and enjoyable for all age groups. There are several fun activities, even for children, such as digging for gems. Exploring the Telluride Historical Museum is one of the best things to do in Telluride, Colorado.
Address: 201 W. Gregory Ave., Telluride, CO 81435, USA
5. Rustico Ristorante
If you want to dine with class, don't miss the distinguished Rustico Ristorante in Telluride, Colorado. This excellent Italian restaurant utilizes a family tradition passed down to prepare delicious handcrafted meals and fine wines.
This excellent restaurant has won numerous awards, so you're sure to receive only the best. Satisfy your taste buds with outstanding treats, including steamed clams, focaccia, risotto ai porcini, Tuscan bruschetta with fresh tomatoes, calamari and carpaccios mozzarella, Carta musica, etc.
The restaurant boasts of more than 1000 Italian wine variants from across Italy. The destination is also open for hosting events such as birthdays, dinners, corporate events, weddings, etc. The restaurant can also offer off-site catering. Ensure you try out this excellent Italian cuisine when you visit Telluride.
Address: 114 E Colorado Ave, Telluride, CO 81435, USA
6. Mountain Lodge Telluride
As a tourist, a lodge is one of the first things you check out before exploring the town. Mountain Lodge Telluride is an upscale resort with many modern facilities and amenities, perfect for a great getaway.
Nestled within San Juan Mountain Surroundings, this luxurious resort has comfy rooms and suites and serves classic tavern cuisine, cocktails, grills, beer, etc. While relaxing, you can enjoy the magnificent view featuring pristine ski terrain, very high peaks, etc. Some of the facilities in the resort include a swimming pool, fitness center, free shuttles to Telluride Mountain, etc.
Visitors can enjoy skiing during winter and rafting during summer. Occasionally festivals are held in the destination. Mountain Lodge Telluride is also available for hosting events, including weddings, retreats, etc. Their staff can also help you organize your adventures. Don't hesitate to check it out when you visit Telluride town.
Address: 457 Mountain Village Blvd, Telluride, Colorado 81435, USA
7. Free Gondola – Telluride Station
The amazing free Gondola is in between Telluride and Mountain Village. This Gondola is the first and only free public means of transport of its kind in the Country, which was established in 1996. The primary objective of building the Gondola was to mitigate air pollution caused by car fumes. The Gondola moves 10,500 feet from ground level, enabling a fantastic view of the nature below.
You can see the San Juan Mountain range while cutting across several other places. The ride, which usually takes about 13 minutes, shows the way to hiking and biking trails during summer and ski slopes during winter.
The Free Gondola is available every day during winter and summer, but during late spring and fall, when it undergoes maintenance, it is temporarily closed. You can't afford to miss this breathtaking adventure. Riding the Free Gondola is one of the best things to do in Telluride, Colorado.
Address: W San Juan Ave, Telluride, CO 81435, USA
8. San Miguel River Trail
This fascinating Trail is one of the famous walking paths in the town and is perfect for a family outing, even with kids and pets, as it is pretty easy to climb. The San Miguel River Trail, roughly 4.5 miles, runs the length of Telluride town but only elevates to 170 feet.
It takes approximately 2 hours to journey to and fro along the Trail. There are many unique attractions along the trail, including the panoramic Box Canyon. The trail also leads to the Pandora Mill and the Telluride Idarado Legacy Trail, possessing historic mining significance.
Visitors can enjoy mountain biking, swimming, hiking, bird watching, and fishing along the River Trail. The Trail is best visited from March to October. Ensure you add it to your checklist of things to do in Telluride, Colorado.
Address: San Miguel River Rd, Colorado 81435, USA
Planning a trip to Colorado, don't miss our checklist of fun things to do in Greeley, things to do in Trinidad, and fun things to do in Montrose.
9. Tasting Telluride Food Tour
Since its inception in 1972, the fascinating Tasting Telluride Food Tour has been an exciting adventure. The Tour, led by two Telluride locals, Lois and Howie Stern, offers people the opportunity to taste a variety of Telluride and Colorado famous foods and meet their creators. You can't afford to miss out on their barbecue.
This three hours walking tour which takes place every summer involves heading to several Telluride exceptional restaurants. At the restaurant, you get to sample their famous dishes and learn about the dishes and their origin from the chefs and owners.
The tours usually take place every Tuesday, Wednesday, and Thursday. You can check their website for contact details. Participating in the Tour is one of the best things to do in Telluride, Colorado. Go on a culinary journey while enjoying the town's scenery.
Address: Telluride, Colorado 81435, USA
10. Alta Lakes
One of the fascinating attractions you shouldn't miss out on includes the Alta Lakes, which is just 6 miles south of Telluride. Comprising the Lower Alta Lake, Upper Alta Lake, and The Third Lake, Alta Lakes is situated in the Uncompahgre National Forest.
T'he mountain Lakes vicinity is bustling with so many activities during summer and spring. The region offers beautiful views of the Telluride Ski Resort, Bald Mountain, and Silver Mountain. Hiking is an everyday activity here.
Some other activities visitors can engage in include camping, canoeing, horseback riding, fly fishing, and bicycling. Some of the camping spots are equipped with restrooms and cooking grills. Alta Lakes offers a memorable experience- don't miss out!
Address: Alta Lakes Rd, Telluride, CO 81435, USA
11. Black Bear Pass
The Black Bear Pass adventure is not for the faint-hearted. Also referred to as Black Bear road and officially Forest Service Road 648, the dangerous jeep trail begins on U.S highway 550. The Pass, which is at an elevation of 3.915m, is winding and quite tricky to navigate and, for this reason, is only open from late summer to early fall.
The road is only traversed downhill from the Red Mountain Pass, but an exception is made during the yearly one-day Jeepers' Jamboree. The unpaved route is one of Colorado's highest mountain roads.
Several scenic views, such as the Bridal Veil Falls are along the route. The Pass is inhabited by Kermode bears, black bears, and glacier bears, so visitors are advised to be careful. The road is mainly hiked, jeeped, and biked. A thrilling experience awaits the brave on this notorious jeep trail.
Address: Forest Service Road 648, Telluride, CO 81435, USA
12. Ah Haa School for the Arts
If you're an art enthusiast, you will surely love Ah Haa School for the Arts. Ah Haa School for the Arts was established in 1991 and has been an art haven for many. The School offers art classes to people of all ages.
The art classes are offered as part of a therapy session or to increase one's art skills. The series of classes encompasses lessons in painting, visual arts, ceramics, sculpting, etc. You can opt for a one-time class or a short series of classes since you're only visiting the town.
The school's building is on the National Register of Historic Places due to its historical significance as it was once a train depot. Brush up your art skill at this location. Don't hesitate to check it out during your visit.
Address: 300 South Townsend St., Telluride, CO 81435, USA
13. The Michael D. Palm Theatre
How will you go on a visit without enjoying some theatrical performances? Established in 2004, The Michael D. Palm Theater is Telluride's premier art venue open to the public and has attracted tourists from across the Country for many years. The theater, which encompasses 30,000 square foot, can accommodate 667 people.
This Theater is also equipped with state-of-the-art facilities and equipment, including a Meyer performance sound system, full acoustic shell, widescreen cinema with dual 35mm projectors, Harlequin dance floor, large format digital projector, and Steinway Grand piano.
Visitors can enjoy top-notch live performances ranging from Broadway musicals to dramas, concerts to dance shows. Several Telluride annual events are held in The Michael D. Palm Theater, such as The Telluride Jazz Celebration, Telluride Fim Festival, and Telluride Chamber Music Festival.
Parking space is available, and the cost of admission is affordable. The Theater is also open for rent to host several activities. A visit to The Michael D. Palm Theater is one of the best things to do in Telluride, Colorado.
Address: 721 West Colorado Avenue, Telluride, CO 81435, USA
14. Wizard Entertainment Store
Wizard Entertainment Store has been the only entertainment store in Telluride, Colorado, for more than 20 years. The establishment offers a wide range of services you can choose from based on your preference.
The Entertainment Store features movies and video games. As the only Ticket outlet in Telluride, you can buy tickets to all local theatrical performances. Also available in the location are computer accessories, and electronics, among others. In 2009, a new section was added, The Custom Framing, which specializes in hand framing.
You can also access a wide range of posters encompassing both vintage and new ones. Many items in the store are offered at discounted prices, so you don't need to break the bank when you visit. Don't hesitate to add the Store to your Telluride checklist.
Address:126 E Colorado Avenue, Telluride, CO 81435, USA
15. Telluride's Town Park
Telluride Town Park is a beautiful 36-acre community park encircled by the San Juan Mountain Range and attraction sites. The Park offers several recreational activities for all seasons and is home to Telluride's sporting events and music festivals.
Telluride Town Park features a soccer field, a sand volleyball court, an outdoor basketball court, three baseball fields, two tennis courts, a swimming pool, and a fishing pond. In addition, visitors can have fun in the skate park possessing two ice rinks.
The Town's Park also features an onsite campground, a golf course, dog park, Frisbee Park, picnic areas, and a barbecue pit. Younger kids are not left out as there is a playground and an imagination station specially designed for them in the Park. Visiting Telluride Town Park is one of the fun things to do in Telluride, Colorado.
Address: 500 E. Colorado Avenue, Telluride, Colorado 81435, USA
Planning to explore Colorado? here is a list of things to do in Westminster, things to do in Lakewood and fun things to do in Crested Butte for a memorable vacation.
16. Bridal Veil Falls
Visiting Bridal Veil Falls is one of the best things to do in Telluride, Colorado, as it offers a spectacular sight. The Falls, situated in eastern Telluride at box canyon's end, is revered as Colorado's tallest free-falling waterfall.
The waterfall is two-pronged and measures a height of 365 foot. An addition to the scenic view is an old power plant. Visitors can enjoy hiking, cycling, and driving to the cliff's summit. The site is panoramic, and your camera will come in handy because you can't afford to leave without taking some pictures.
Address: Telluride, Colorado 81435, USA
17. Ajax Peak
When it was said Telluride is rich in hiking trails, it wasn't a bluff. Ajax Peak is another elevation in the town of Telluride, Colorado. Three miles east of Telluride, one could see the spectacular Ajax Peak. Ajax Peak, which lies on land governed by the Uncompahgre National Forest, is 2,785 feet above ground level.
As you advance to the mountain summit, you will be embraced by the picturesque views of the valley facing Telluride. Surrounding the elevation are Savage Basin, Silver Lake, Bridal Veil Basin, Imogene Pass, etc. Visitors visit the landmark primarily for hiking.
The hike is not too challenging and can be traversed without rock climbing equipment but ensure to wear solid shoes and thick clothing because of the cold weather in the area. A memorable experience awaits tourists in the scenic Ajax Peak.
Address: E. Colorado Avenue, Telluride, CO 81435, USA
18. Allred's Restaurant
Alfred's Restaurant is one of the best places to have dinner in Telluride, Colorado. This Restaurant is Telluride's top restaurant, offering the most outstanding and delicious mountaintop dining experience.
Visitors have to take the free gondola ride to the mountaintop to access the restaurant. Alfred's Restaurant serves contemporary American cuisine, including elk, steak, seafood, and lamb. There are also a vast array of top-quality wines for your consumption.
In addition to meals, visitors can enjoy the breathtaking view from the restaurant. Although the restaurant only serves dinner, visitors can come a bit earlier or decide to stay after dinner to enjoy a fabulous hand-crafted cocktail. Experience excellence at its peak at this Telluride restaurant.
Address: Telluride Resort Lodging, Mountain Village, CO 81435, USA
19. La Marmotte
We all want to try something unique when we visit a new place. La Marmotte is one French restaurant that shouldn't be missed. La Marmotte is located in a historic ice house erected in 1893, but the restaurant was established in 1988. For more than 30 years, La Marmotte has served its patrons locally and internationally sourced wines with the finest French cuisines.
La Marmotte, which has an old-fashioned charm, has bare brick walls, striking artworks, a 12-person picture-perfect table covered with white linen table cloth, and a patio offering majestic views of mountains, among others.
The restaurant serves various dishes, but the menu is altered according to micro seasons. Some fares patrons can enjoy in La Marmotte include steak au poivre, truffled curried mussel chowder, and molten chocolate cake. Why not give your taste buds a treat?
Address: 150 W San Juan Ave, Telluride, CO 81435, USA
20. Telluride Outfitters
For a more easy tour around Telluride Town and nearby communities, Telluride outfitters are here to serve visitors. Owned by Mike Doherty, Telluride Outfitters for more than 25 years, offers tourists guided adventures of Telluride, Colorado, all through the four seasons. The tours allow visitors to learn about the town and its inhabitants.
The Outfitters' services align with their mission, which is to deliver a fun, comfortable, educational, and safe outdoor experience. Some of the activities visitors engage in during the tour include fly fishing, snowmobiling, paddle boarding, mountain biking, ATV riding, and RZR tours.
The Telluride Outfitters tours cover primarily three areas, namely, Alta Lakes Ghost Town, Barlow Creek, and Dunton Hot Springs. The Outfitters have knowledgeable guides and quality gear combined with their experience to give visitors a memorable adventure. Going on a tour with Telluride Outfitters is one of the fun things to do in Telluride Outfitters.
Address: Town Hall Plaza, 456 Mountain Village Blvd., Telluride, CO 81435, USA
21. Jud Wiebe Trail
One of the best things to do in Telluride, CO, is to go hiking at Jud Wiebe Trail. This Trail is one of the famous hiking trails in the town. One perk of the Trail is that it offers breathtaking views of Bear Creek, canyon bedrocks, and Ajax Peak.
The Trail is named after Jud Wiebe, a former Forest Service manager who schemed the trail during the 1980s but died from cancer before it was completed. The Trial is a 3.2 miles loop with an elevation of 8,900 ft at the Trailhead but a maximum elevation of 10,000 ft.
The loop can be hiked from any direction, but it is most recommended visitors begins in Aspen Street and advance in a clockwise direction. The trail is suitable for dog walking, so don't hesitate to come with your pet. Along the open hillside, there are few benches where hikers can take a break when tired.
Address: R1010089020, Telluride, CO 81435, USA
22. Pekkarine Building
One of the prominent historic buildings in Telluride, Colorado, is the Pekkarine Building. The Pekkarine Building is one of Colorado Avenue's oldest buildings that hasn't changed much. The Building was erected in the late 1800s by the Pekkarine family, who immigrated from Finland.
The two-story building's basement was used as a boot shop, the first floor as a mercantile shop, and the top floor as the family residence. In the 1970s, much of the family's items were donated to the Telluride Historical Museum. Learn about the Pekkarine Family history and how their end in the beautiful abode.
Address: 1880s. 222 W. Colorado Ave. (between Oak and Fir sts.), Telluride, CO 81435, USA
23. Brown Dog Pizza
This nationally renowned diner serves the best pizza in Telluride, Colorado. Brown Dog Pizza was the winner of the 2015 Pizza World Championships, showing you are dealing with pizza with excellence. Jeff Smokevitch, the owner of Brown Dog Pizza, started this award-winning restaurant in 2001.
The Pizzas served here include Detroit Square pizza, Sicilian style pizza, American Classic pizza, etc. In addition to the varieties of pizza, the Brown Dog serves American, Italian, and local cuisines in its cozy ambiance. Kid's menu, Vegan, Vegetarian, and Gluten free options are also available. The diner also has a bar serving different beers on tap.
The Brown Dog Pizza has an onsite gift shop where visitors can purchase customized t-shirts, hats, hoodies, gift cards, stickers, etc. Having a Pizza in Brown Dog Pizza is one of the top things to do in Telluride, CO.
Address: 110 E Colorado Ave, Telluride, CO 81435, USA
Colorado presents breathtaking attractions and activities, explore some of its fun cities, here are guides on things to do In Castle Rock, Buena Vista, and Loveland.
Plan your Trip to Telluride
Telluride, Colorado, is an excellent hub for several outdoor activities, making it a perfect vacation ground for outdoors enthusiasts. Come along with your family and experience a very adventurous and exciting visit.
Start planning your trip to Telluride today, and do have a fun one!