In search of the best and most fun things to do in West Hollywood, CA?
Known for its vibrant nightlife, you are sure to get the very best of vacation from West Hollywood City, nestled in Los Angeles County, California.
The city is called WeHo and is famous for its nightclubs, restaurants, rock clubs, and Sunset Strip.
West Hollywood was previously called Sherman. It was established in 1896 by the Los Angeles Pacific Railroad partner Moses Sherman as a residential area for railroad staff.
Sherman, in time, created an environment that was less restrictive, lively, and liquor friendly, especially during the year of Prohibition, which led to the vibrant nature of this city. The city recorded an official head count of 35,506 during the 2020 census.
The city's name Sherman was changed to West Hollywood in 1925 via the decision of its residents who wanted their city to share the same harmony with their beautiful close town called Hollywood.
West Hollywood is an exciting place to be, and from this well-curated list of top things to do in West Hollywood, CA, you are promised a great stay.
Things to Do in West Hollywood
1. Santa Monica Boulevard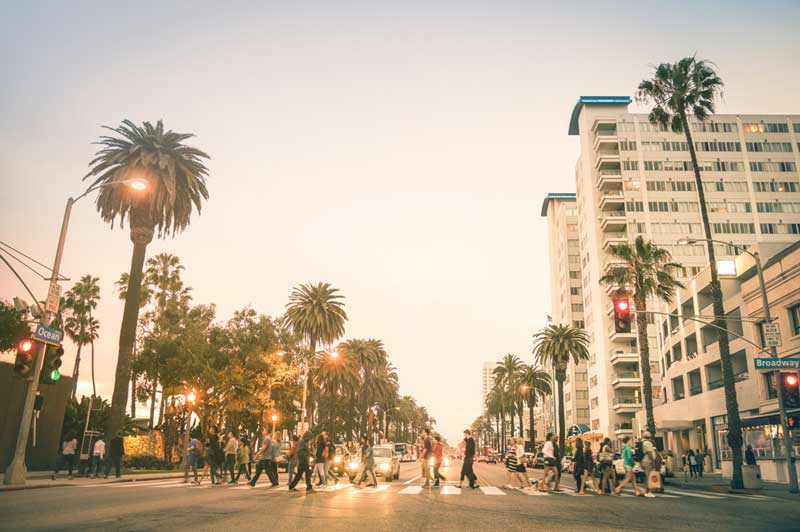 Santa Monica Boulevard is at the center of West Hollywood, the core area of LGBTQ nightlife in Los Angeles, and is a welcoming attraction for all and sundry.
The Boulevard is a place of abode for top-notch restaurants where celebrities are always seen, Boystown bars and clubs, and the debaucherous Halloween Carnaval, a street festival you should be part of.
There is not a week without night partying on Santa Monica Boulevard, especially between La Cienega Boulevard and Doheny Drive, and having more of it between Robertson Boulevards and La Cienega.
AddresSantanta Monica Blvd, Los Angeles, CA, USA
2. Sunset Strip
There are affordable lodgings on West Hollywood's famous Sunset Strip. You can choose to stay at the Best Western Sunset Plaza Hotel as they serve complimentary breakfast.
By staying here, be sure you are a few steps from being part of the real fun that this attraction has in place, especially when it has to do with dining, entertainment, and shopping.
There is much to enjoy here, especially after having a delicious breakfast in this laid-back Mediterranean hotel. Visitors can also go swimming in the pool available here.
Equal enjoyment can also be attained at a pricey rate at the boutique hotel Grafton perched in Sunset.
The hotel features old photos of Hollywood icons and also has funky-designed leather seating chairs for your comfort and relaxation.
Other exciting things to find at Grafton on sunset are a cocktail lounge with a guitar-like bar, a free shuttle service area, and a cocktail lounge.
Address: 9040 W Sunset Blvd, West Hollywood, CA 90069-1851
3. West Hollywood Library
If you love reading books, one of the best things to do in West Hollywood, CA, is to visit the West Hollywood Library. It is a significant worldwide attraction, and it started operations in 2011.
Everything to find here is interesting, ranging from the murals created by famous artists that beautified the entire edges of the parking structure and its entrance to the crafted wood ceiling that decorates the second floor. It has eye candy everywhere as well.
West Hollywood Library also has an ideal place to relax and use their free internet WiFi, and even the incredible views of the Pacific Design Center to see when on the second floor.
The kids are not left out as there is a kiddies' space, a study room, and a household battery recycling site.
Address: 625 N San Vicente Blvd, West Hollywood, CA 90069, USA
4. Melrose Rooftop Theater
Another interesting item on this list of fun things to do in West Hollywood, CA, is the Melrose Rooftop Theater. This classic outdoor cinema is close to the rooftop E.P. & L.P. restaurant.
You can readily access this destination via North La Cienega Boulevard in the heart of West Hollywood's design district and fashion.
The unique theater showcases new movies and even classic cult movies. To maximize user experience, the Melrose Rooftop Theater makes available for visitors wireless headsets.
With this new development, visitors can enjoy movie screenings and relaxation, and fun while enjoying a delicious cocktail.
Address: 603 N La Cienega Blvd, West Hollywood, CA 90069, United States
5. The Historic Plummer Park
Historic Plummer Park is a significant site for visiting West Hollywood. The park is on Santa Monica Boulevard and features tennis courts, picnic areas, and a community center.
This destination was previously an expansive ranch that spans the entire area that is surrounded by current Santa Monica Boulevard, La Brea Avenue, Gardner Street, and Sunset Boulevard.
The people who first settled here were the initial settlers and owners of this ranch and relinquished the property in 1877 to the Plummer family.
The Plummer family started on the initial park site, a building registered in 1935 as a State Historical Landmark. The iconic building was moved in 1983 to the Leonis Adobe site at Calabasas.
Every Monday morning, a farmer's market is held at the north parking area of Plummer's park; this is done in remembrance of the times when the family of Plummer cultivated vegetables in the parking area for residents to come by.
Address: 7377 Santa Monica Blvd, West Hollywood, CA 90046, United States
6. AMC Sunset 5
Another interesting item on this list of fun things to do in West Hollywood, CA, is visiting the most famous movie theater in Los Angeles that provides visitors with high standard film experience.
The seating pattern to meet here is excellent to give you that comfortability and magical film experience as it has luxurious recliners or roomy rocking seats that will make you so relaxed you might mistake the theater for a living room.
The theater also has a bar on site known as the MacGuffins Bar, where visitors can purchase incredible and delicious cocktails and cold homemade beer, together with delicious bites. The theater is open daily from 11 am until 11 pm.
Address: 8000 Sunset Blvd, West Hollywood, CA 90046
7. MAK Center for Art and Architecture
The MAK Center for Art and Architecture is a modern, practical, and multi-dimensional center for architecture and art.
The center has its headquarters in three different architectural buildings designed by Rudolph M. Schindler, an Austrian- American architect.
MAK Center for Art and Architecture was established in 1994, and it is a voluntary organization with the California satellite of the Mak, a museum of Applied Arts, Vienna that is in partnership with Friends of the Schindler House.
Here is an interesting spot to see when you visit West Hollywood and should be on your checklist of best things to do in West Hollywood, CA.
MAK Center for Art and Architecture is nestled between two buildings on North King Road, a building designed by a Vienna contemporary artist named Rudolph M. Schindler.
The 1922 studio and home of this architect now accommodate the MAK Center for Art and Architecture, a center for art that organizes lectures, concerts, exhibits, and various events focused on architecture.
Address: 835 N Kings Rd, West Hollywood, CA 90069, United States
8. West Hollywood Design District
One of the best places to be in West Hollywood is to visit the urban shopping District, situated on one side of Melrose Avenue and Beverly Boulevard and is hosted by the Pacific Design Center (PDC).
The West Coast's top decorating and furniture market is organized by the Pacific Design Center.
The center is a 1,600,000 square foot multiplex facility meant for community use and has showrooms and even private and public areas. Another site in the West Holy Spirit Design District is the Hamilton-Selway Fine Art.
This modern and pop art gallery showcases various exhibits by Andy Warhol and other famous artists. Over 250 International iconic visionaries and prominent figures have resided in the West Hollywood Design District.
Address: 8687 Melrose Ave, West Hollywood, CA 90069, United States
California makes one of the top places to visit in the United States, check out the list of things to do in Salinas, things to do in Yuba City and things to do in Ojai for a fun time.
9. Veterans Memorial
Another important site worth checking out is the Veteran's Memorial site. This attraction is adorned with beautiful Redwood and Laurel trees.
This attraction is dedicated to honoring the efforts of war veterans. The veterans memorial is a serene display of four standard flagpoles well-furnished, a row of gleaming shields that displays the various branches of the US Armed Forces.
It also has a beautifully designed dedication
plaque seated in a gorgeous greenery park setting. It also has a trickling water fountain that creates a relaxed vibe to the serene ambiance and increases tranquil reflection.
Address: 8441 Santa Monica Blvd, West Hollywood, CA 90069
10. Schindler House
Another item on this list of top things to do in West Hollywood, CA, is visiting the Schindler House; it is an architectural building constructed in 1992 and is a place of abode for the MAK Center for Art and Architecture.
The Schindler House is nestled on North Kings Road and is a practical study on community living amongst households. The outlook of this residence is due to the effort of a couple named Rudolph and Pauline, who designed it, so they share it with husband and wife Clyde and Marian Chace.
A trip around the rooms is fascinating as they have their uniqueness. Similarities are identical for the community gathering areas in Schindler, the shared kitchen, and the outdoor sleeping porches on the roof.
Moreover, the MAK Center for Art and Architecture provides visitors with an annual event rundown of exhibitions and events at the Schindler House.
Address: 835 N Kings Rd, West Hollywood, CA 90069, United States
11. Heroes Golf Course
The Heroes Golf course is about eight miles before you get to the west of West Hollywood; it is a well-designed and built public golf course situated on Wilshire Boulevard, Brentwood, in Los Angeles.
It is a nine-hole golf course built in 1946 close to the Hillcrest Country Club as a tribute to the World War II soldiers who returned.
Enjoy a great deal of golfing playing in this straightforward layout which is par 27 over 1,144 yards, with its most extended tee, which has a course rating of 27.1 and a slope rating of 82.
The golf course is open all through the year, and it has a clubhouse for everyone golfing here, a snack bar, a master view deck, a beautiful pro shop in a Quonset hut, and a golf TV.
Golfer increases their skill in the game with the help of the PGA pro golf instructors.
Address: 11301 Wilshire Blvd, Los Angeles, CA 90025, United States
12. Catch LA
One of the great places to be in West Hollywood is visiting the restaurant on Melrose Avenue, an ideal spot for dating couples due to the romantic sceneries this attraction offers.
This destination has a rooftop space and open areas if you want to sit out. The restaurant's interior design is excellent for having romantic dinners, so be sure to bring your partner along.
Lush vegetation inside the Catch LA with beautiful chandeliers illuminating the verdant trees radiantly.
The excellent view makes for a beautiful background, where you have a cold bottle of whatever you order, a trio of tartar for an unforgettable date, and a crisp rosé.
Address: 8715 Melrose Ave, West Hollywood, CA 90069, United States
13. Have Sushi at Ajisai
Another significant restaurant to check in during your stay is the Sushi Joint perched on Palm Avenue, and it is a simple, easy-going place and affordable as well.
The sushi foods to eat here are augmented via a vast range of well-prepared Japanese cuisines coupled with sake and beer.
Apart from their salmon rolls, one of their signature foods is the spicy tuna on crispy rice cakes. These foods are cooked with the best Japanese ingredients, with flavors from Ajisai's unique recipes, and showcased in the "Sushi on Fire" style.
Address: 809 Palm Ave, West Hollywood, CA 90069, United States
14. Streetwear at Maxfield
Maxfield is a deluxe boutique located on Melrose Avenue, a dealer of first-grade luxury brands, and is also into selling streetwear.
Over the years, Maxfield has been in the business of providing fashion needs for numerous celebrities, fashion extremists, and others.
This destination also organizes various rotating kind of installations and exhibitions that showcases top tier designers such as as
Virgil Abloh (Off-White), Alessandro Michele (Gucci), Jerry Lorenzo (Fear of God), and many others.
This exhibition unfolds the creative minds of these designers in the most exclusive and vibrant ambiance. This setting also allows fashion fans and shoppers to have face-to-face conversations with their favorite fashion brands on a more sync level.
The fashion experience at Maxfield is outstanding, earning one of West Hollywood's most sort after boutiques books and vintage furniture are also sold
Address: 8825 Melrose Ave, Los Angeles, CA 90069, United States
15. Whisky a Go Go
Whisky, a Go Go, is situated on Sunset Boulevard and prides itself as the First Main American Discothèque.
This destination has a perfect and beautiful setting and has become an excellent nightlife spot due to the many live rock bands and acts that perform here.
This club, fondly called "The Whisky," has contributed earnestly to the stardom of America's bands such as Led Zeppelin, AC/DC, Doors, Led Zeppelin, Guns N' Roses, KISS, and Metallica.
Alice Copper recorded a live album in Whisky in 1969. This club fused a lot of beats and vibes in the clubbing scene visible in the Go-Go dancing, which earned a lot of popularity back then.
Address: 8901 Sunset Blvd, West Hollywood, CA 90069, United States
Considering a California road trip, check out our guides on things to do in Redding , things to do in Rancho Cucamonga, and things to do in Mount Shasta for a memorable trip.
16. Be part of "Happy Hour" at Beaches WeHo
Enjoy "Happy Hour" with friends and family at an affordable price which comes in two waves, the restaurant on Sta. Monica Boulevard and an LGBTQ-focused hybrid lounge.
The first wave is usually from 2-7pn with drinks prices below the usual Beaches for WeHo's Boilermaker and frozen block tails, a combination of beer and shot.
The next begins from 10 pm till 12 midnight when the entire double drinks are sold as singles.
Beaches WeHo features a two-story space, VIP seating, and two complete bars. You sure want to be in the main room where all the vibe and energy are; it is equipped with an excellent lighting and sound system coupled with a DJ booth with top-notch mixers and a sound projection system.
The food menu to meet here is an incredible California Cuban cuisine that goes on to attract myriads of people to this destination.
Address: 8928 Santa Monica Blvd, West Hollywood, CA 90069, United States
17. Comedy Store
There are three different stages to choose from in the Comedy Store, which kicked off operations in 1972 at Sunset Boulevard.
This excellent comedy house was established by late stand-up comedian Sammy Shore and is also a unique venue that hosts professional comedians and upcoming talents.
The comedy house began operations in 1973 and was run by Sammy's ex-wife, Mitzi Shore, and she took ownership of the building in 1976.
She quickly revamped and expanded the comedy house to make an additional 450-seat capacity main room as time passed.
Address: 8433 Sunset Blvd, Los Angeles, CA 90069, United States
18. Relax at E.P. & L.P.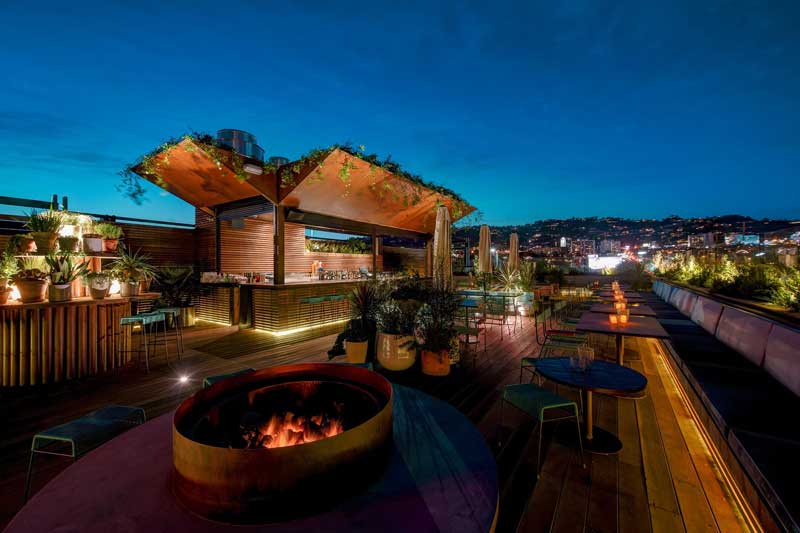 Be sure not to miss out on the E.P & L.P restaurant located on north LA Cienega Boulevard and a rooftop restaurant that provides visitors with scintillating city views, especially at sunset.
This rooftop restaurant was founded in 2015, and its name was drafted from "extended play and long play," a typical example of the 7inch vinyl records and 12-inch.
The restaurant has a lovely environment and features daybeds, lounge space, and fire pit offering catering services to Southeast Asian Cuisine. Here is an ideal stop destination for all your needs about food and drinks and a great place to relax after the day's stress.
Have an excellent time relaxing even as you enjoy sipping their locally made cocktails while still enjoying the scenic 360-degree rooftop.
You can opt-in for their classic liquor, especially their "Where Love Lives" cocktail prepared with passion fruit, lime, guava, damiana, mezcal, "Bad Medicine, and Thai Chili, which make up for a nice drink.
Address: 603 N La Cienega Blvd, West Hollywood, CA 90069, United States
19. Pacific Design Center
Another essential item on this list of fun things to do in West Hollywood, CA, is visiting the Pacific Design Center; it is widely known as the most significant home to more than 70 plus showrooms worldwide.
The Pacific Design Center represents more than 2000 top-tier manufacturers focused on providing the best in the business and residential interior, resource information, and educational and network opportunities.
The Design Center features one green, red, and blue contemporary exterior structure. The Pacific Design Center is something to reckon with when you visit West Hollywood.
This multiplex facility has grown to become a significant city monument in this city and is an ideal place to be; check out its colorful and vibrant design and incredible architecture. The facility has everything you have in mind, from luxurious showrooms to unique workshops and beautiful eateries.
Address: 8687 Melrose Ave, West Hollywood, CA 90069
20. The Formosa Café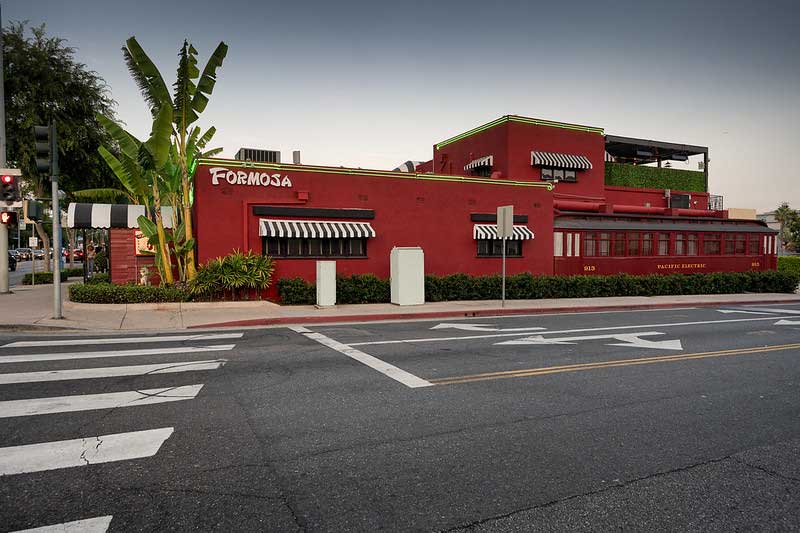 Another exciting place to see when you visit this city is the Formosa Cafe. This Cafe was constructed in 1939; it is a vintage-style restaurant and watering hole nestled on the Sta. Monica Avenue provides its guests with Asian cuisines.
The vintage restaurant exudes nostalgia as it features a massive collection of vintage portraits from the early stages of Hollywood; these portraits are beautiful, hanging on the walls
Individuals such as Elvis Presley, James Dean, Humphrey Bogart, and Frank Sinatra often stopped by. Another essential patron of this historic cafe was JohnnWayne, who got caught preparing scrambled eggs due to excessive indulgence in bodily pleasures.
The Formosa Cafe, despite being a historic attraction, is filled w h plenty of excitement and is generally known as the best Chinese restaurant to visit in Los Angeles. Its guests can stay in the vintage railroad dining car, the large rooftop bar, or the circular booths.
When you check in, foods to look out for include cucumber salad, Asian greens, and pork belly.
Address: 7156 Santa Monica Blvd, West Hollywood, CA 90046, United States
21. Hollywood
One of the many things you want to get involved in during your vacation visit is checking out Hollywood, which should be on your bucket list.
This attraction is a place of abode to numerous classic playhouses and theaters, showcasing modern and original works of art.
It does not matter if you are into multicultural acts orLGTBQ+ productions; be sure to visit and watch the craft of these actors as they improve on them and learn even more new stuff. You will be excited at the perfect choices available in Hollywood. Other interesting spots to see are the intimate Coast Playhouse and Actors Studio.
22. Sunset Plaza
One of the best things to do in West Hollywood, CA, is to visit one of the most OK commercial hubs perched in West Hollywood and Sunset Boulevard for over 90 years.
The North borders the Sunset Plaza by Holloway drive, which features over 45 retail stores and various service providers such as shops, cafes, salons, and boutiques.
For your dining experience, visit the Bossa Nova Brazilian Cuisine Restaurant & Bar for your stomach cravings. In addition, you can try out their Coxinha, an appetizer that is cooked with well-cut chicken and filled with fried mashed potato balls.
For gorgeous footwear, visit the Sun Plaza's Boot Star Los Angeles. There are many lovely items to choose from, including belts and shirts.
In this shoe store, you will find a range of urban-inspired designs not only in its boots but also in shirts, belts, and other leather goods.
Address: 8623 Sunset Blvd, West Hollywood, CA 90069, United States
23. Troubadour
Troubadour is filled with a history of rock 'n roll; it began operations in 1957 and is a private well-attended nightclub that features the best of classical and exceptional music.
The list of Previous performers who showcased their craft here is long and famous, prominent musicians such as Neil Young, Bruce Springsteen, Bob Dylan, and even comedians like Richard Pryor and Lenny Bruce.
The first show by the heavy metal band known as Guns N' Roses Roses was done at Troubadour; this band was established by David Geffen, who also founded Geffen records.
Address: 9081 N Santa Monica Blvd, West Hollywood, CA 90069
Check out more cities in California. Here is a guide on things to do in Beverly Hills, things to do in Vacaville, and fun things to do Redlands for a fun time.
Plan a Trip to West Hollywood
There are lots of fun things to do in West Hollywood, CA, that will pique your interest, and this list of things to do allows you to choose the best places to visit during your vacation here.
Start planning a visit to this beautiful city; do save this piece as a guide to refer back to while making your itinerary.