In search of the best and most fun things to do in Del Mar, CA?
Located on the Pacific Coast, Del Mar is a laid-back beach town just about 20 minutes from San Diego, CA.
Del Mar is popular for its beautiful beaches, upscale living, wonderful weather, and world-known racetrack. There are also great historic sites.
It is a place you can spend the day on the beach relaxing or engaging in non-stop activities.
Are you planning an exploration of Del Mar? Let's see some of the best things to do in Del Mar, CA.
Things to Do in Del Mar
1. Watch the sun go down from Sunset Seat
The Sunset Seat is one of the most picturesque locations to watch a sunset in San Diego and Southern California as a whole. It is an old Torrey Pine carved into an artistic bench where visitors can sit while watching the sunset.
This piece of artwork combined with the steep bluffs of Camino Del Mar and the cliffs and railroad running along the state beach also adds unique photo opportunities and provides a lovely view at any point of the day, especially during Sunset.
While you might need to stay in a queue to take a photo at this Del Mar attraction, the views you see and capture will make your wait worthwhile
Sunset Seat is open 24 hours a day.
Address: 130-210 S Camino Del Mar, Del Mar, CA 92014, United States
2. Have fun at Del Mar Beaches
Del Mar has about two-plus miles of fine sandy beaches, making it perfect for walking, sunbathing, or having a picnic.
The most popular is Del Mar Beach, and its northern part between the River Mouth and 15th street is regarded as the best in the whole San Diego area, boasting moderate surf and great swimming.
The southern side of the beach is lined by bluffs, and several trails are leading down to the beach. Going across the racetrack, you would see a popular dog-friendly beach called Dog Beach.
It is situated where the San Dieguito River empties into the sea, creating a large expanse of sand ideal for volleyball.
The strong currents and shallow sandbars, do not make it best for swimming however, it is protected from the wind and is perfect for making sand castles.
For some fun time add visiting Del Mar Beaches to your list of best things to do in Del Mar, CA.
3. Explore the Crest Canyon Loop Trail
Nestled in the western corner of the San Dieguito River Park is the Crest Canyon Open Space Park Preserve – a gem in Del Mar.
This canyon was threatened by development in the 1970s but became secured as an open space when the local citizens convinced the cities of Del Mar and San Diego to purchase the land instead.
This small park is positioned among the residential developments in Del Mar Heights and allows you to escape the crowds and bustle on a tranquil hike.
The views of the city offered by this short loop trail will make you daze any day.
Address: 2250 Del Mar Heights Rd, San Diego, CA 92130, United States
4. Visit Torrey Pines State Nature Reserve
A hike through Torrey Pines State Natural Reserve would give you an imagination of how California looked before humans transformed it to their liking: wild, unspoiled, untamed, uniquely beautiful, and rich in plant and animal species.
Located on the rough cliffs above Torrey Pines State Beach, the Torrey Pines reserve is a 1,750-acre reserve established to preserve the Torrey Pine tree and other ingenious plants and animals in their natural habitat.
The reserve has about 3,000 of America's rarest pine trees- Pinus torreyana. This tree does not grow or survive anywhere except in the reserve and on Santa Rosa Island near Santa Barbara.
The reserve also secures one of the last Southern California salt marshes and waterfowl refuges.
Walk about eight miles on the challenging hiking trails, as it takes you through this spectacular magnificent coastal wilderness of sandstone canyons and pine trees. Every turn offers another magnificent view of the ocean.
Visiting Torrey Pines State Nature Reserve is one of the best things to do in Del Mar, CA.
Address: 12600 N Torrey Pines Rd, La Jolla, CA 92037, United States
5. Run along Dog Beach with your pooch
The famous Dog Beach in Del Mar, also known as North Beach is one of San Diego's best pet-friendly beaches.
It is very popular because it's the only place dogs run about off-leash on Del Mar city beaches. You would see owners running around the sands while their dogs run freely.
Typically, many volleyball courts are fixed in the wide flat part of the beach. As a surfer, you can break on sand bars near the river mouth and reefs north of it.
There is also a trail that leads up to an overlook at James Scripps Bluff Preserve just above North Beach and it is worth exploring.
Address: 3200 Camino Del Mar, CA 92014
6. Attend a race at Del Mar Race Track
Bearing the slogan, "where the turf meets the surf," Del Mar racetrack is a Del Mar Thoroughbred Club horse racing track situated in the beautiful beach town of Del Mar, just about 20 miles from San Diego. A
With a capacity of 44,000 spectators, it is one of the largest horse racing venues in the country.
Since the venue opened its doors in 1937, the races have become major social events in the country with the racing season running between July and September.
The racetrack also hosts different concerts on the Seaside Stage, and admission tickets to the racetrack are free. Kids under 17 get to enjoy free games, rides, and activities while their parents have fun at the racetrack.
Address: 2260 Jimmy Durante Blvd, Del Mar, CA.
7. Picnic at Seagrove Park
Seagrove Park is a beautiful grass park situated on a bluff overlooking the pristine Pacific Ocean. The park is nestled between giant palm trees and encompassed by panoramic ocean views, making it the ideal spot for an afternoon picnic.
The location's proximity to the residential area allows primarily wedding ceremonies, rather than full receptions.
The park also has beach access, so you can come with your bathing suit to enjoy dual-packaged fun things to do in Del Mar, CA in one day.
The park is open every day of the week between 7 am and 10 pm.
Address: 15th St & Coast Blvd, Del Mar, CA 92014, United States
8. Meet the locals at Del Mar Farmers Market
Though small, Del Mar Farmer's Market is a robust farmer's market positioned at the south end of Del Mar Village.
You would find most of the traditional farmer's market fare here at DMFM0, including fruits, vegetables, honey, and flowers.
In contrast to many other markets, however, this one is popular for its international cuisine, and meats; seafood in particular is something that is not often found at a farmer's market.
The antipasti offerings and cheeses are also worthy of note.
If you are a visitor to the San Diego area, you might want to stop at the DMFM to buy some items for a picnic basket and then go down to the beach for a delightsome lunch with a view.
Address: 1050 Camino Del Mar, CA 92014
Meet the top attractions in California, here is a guide on the top things to do in Ojai, things to do in Redding, and the best things to do in Stockton.
9. Go shopping at Del Mar Plaza
Del Mar Plaza is a shopping complex that exists as one of Del Mar's primary shopping and dining destinations.
It is a high-end, dog-friendly destination that offers shops, restaurants, salons, specialty boutiques, and musical events experience
Here, there is nothing short of entertainment as you'll find beachfront eateries, specialty boutiques, and live music that'll make you want to shop till you drop.
This shopping plaza is open Monday to Sunday from 10 am.
Address: 1555 Camino Del Mar, Del Mar, CA 92014, United States.
10. Go to the Coya Peruvian Secret
Next on this list of top things to do in Del Mar, CA is a visit to Coya Peruvian Secret; an attractive family-owned open-air Peruvian restaurant.
It is located in the heart of Del Mar's European-style downtown and is popular for its traditional ceviche and gorgeously, warm atmosphere.
Literally on the street, this restaurant has its tables surrounded by an abundance of blooming bougainvillea and lovely Peruvian traditional textiles.
The simple and unassuming aesthetics let the food shine more. If you have never had Peruvian food, Coya Peruvian Secret will open and bless you.
Start with Ceviche Mixto with fresh jumbo shrimp, local fish, octopus, calamari, Peruvian scallops, and New Zealand Green Lip Mussels.
The main course may include Aji de gallina, parmesan, aji, and a pulled chicken breast in aji sauce with walnuts,
If you still have space, try Quatros leches with strawberries and meringue. There is no way you wouldn't love Peruvian food once it is prepared just the right way, like in Coya Peruvian.
Address: 1140 Camino Del Mar, California 92014
11. Escape to North Bluff Preserve
Among the fun things to do in Del Mar, CA is visiting North Bluff Preserve.
North Bluff Preserve is a park in San Diego County with an elevation of 89 feet. It is situated near Del Mar Dog Beach and close to Training Track.
The nature preserve overlooks North Beach spreading over a wild stretch of land. This overlook was saved from demolition and construction in the 1970s and today it stands as a top coastal photography spot.
It is somewhat of a hidden gem in Del Mar, but will surely give you a photo gallery.
Address: Del Mar, CA 92014, United States
12. Enjoy Magical Adventure Balloon Rides
If you would like to see the beauty of Del Mar from a slightly different vantage point, you should consider a trip with Magical Adventure Balloon Rides.
Throughout the year, this company provides balloon tours of Del Mar, and they welcome guests to enjoy a romantic ocean sunset balloon flight over the golf courses and elegant homes of the region.
Making the price is a one-hour or 4-mile balloon ride, juice, mimosa toast, champagne, a commemorative flight certificate, and a souvenir picture.
They offer several special packages, including a sunset engagement or re-commitment flight, and a sunset private basket flight.
13. Stroll along Camino Del Mar
Camino Del Mar is maybe the most visited street in the city of Del Mar. It makes our list of top things to do in Del Mar, CA.
It is a shopping and dining destination where Del Mar residents and tourists are entertained every day.
You have an out to see and explore, so come with your camera for some photographs.
Visit on an empty stomach to dine at Beeside Balcony then go, and discover other places to visit in Del Mar, CA over the weekend.
14. Take lessons at Del Mar Surf School
Next on our list is the Del Mar Surf School, an institution that provides visitors to the San Diego area an opportunity to experience the excitement of riding the waves.
This surf school is prepared and covers everyone, whether it is your first time on a board or you need a refresher.
Potential surfers can pick from Private Lessons, Semi-Private Lessons, Small Group Lessons, or Group Lessons. They all come at different price points to accommodate just about any budget.
Lessons include on-land and in-water instruction, use of a surfboard and wetsuit, real wave surfing, whitewater practice, and photos to keep the memories of your experience.
15. Grab fresh fruits and veggies at the Solana Beach Farmers Market
If you are in this beach city on a Sunday, you may want to go to the Solana Beach Farmers Market between 12 pm and 4 pm.
Solana Beach Farmers Market is an old market in the region, with this attraction offering everything from hummus and baked goods to vegetables and potted herbs. You wouldn't want to miss out on the arts and crafts.
The Solana Beach Farmers Market is a certified and non-profit farmers' market that supports California farmers by providing opportunities to sell directly to the public.
You will also find pesticide-free seasonal fruits and vegetables, orchids, eggs, seafood, international cuisine, cheese, bread, honey, kettle corn, and fruit juice.
The Market operates year-round on Sundays, 12 pm – 4 pm.
Address: 105444 South Cedros Avenue, Solana Beach, CA 92075
California holds some cool attractions and activities, check out our guides on things to do in San Pedro, things to do in Merced as well as things to do in Sonora for a memorable time in California.
16. Have fun at Jimmie O's
After an activity-filled day in Del Mar, grab a local craft beer or perhaps have a bite at Jimmie O's.
With customer-acclaimed food and patio seating, Jimmie O's is within walking distance from the shops of Del Mar, Power House Park, the dog beach, the Thoroughbred Club, and the San Diego Fairgrounds, as well as most hotels in Del Mar.
Jimmie O's has got Fish Tacos and Cajun fries which are highly recommended. It does not only have big-screen TVs for watching sporting events, but also a DJ a dance club, and karaoke.
Address: 225 15th Street, Del Mar, CA 92014
17. Visit Fletcher Cove
Fletcher Cove Beach Park is an expansive coastal park situated above a plateau overlooking the Pacific Ocean. It features a unique viewing deck, picnic tables, wide-open grassy spaces, a children's playground, and a basketball court.
If you want to spend the day picnicking, this is a great place to be as you can enjoy the water, or spend quality time relaxing by the ocean with family and friends.
There is another amazing park in Del Mar, the nearby Powerhouse Park. It boasts a swing set, a playground, and a large picnic area.
Fletcher Cove opens by 6 am and closes by 10 pm every day.
Address: 111 S Sierra Ave, Solana Beach, CA 92075, United States
18. Feed the birds at Free Flight
If you want an educational and enjoyable adventure, consider a stop at the Free Flight Bird Sanctuary.
Located in Del Mar, this sanctuary has a mission of re-socializing and re-homing parrots in need, while also sensitizing the public about these beautiful and exotic birds.
Visitors are free to walk among the birds in the sanctuary, talk with them, and help feed them.
The staff members are available to assist in handling those birds who like to be handled and teach visitors about parrot care.
While human visitors enjoy the experience, this daily routine helps the parrots become acquainted with the environment and gives them a greater chance to be re-homed, thereby creating a profitable situation for all.
Bird lovers should add a visit to Free Flight to their list of fun things to do in Del Mar, CA.
Address: 2132 Jimmy Durante Blvd., Del Mar, CA 92014
19. Trek the Coast to Crest Trail
The Coast to Crest Trail is one of the best hikes in San Diego, and should not be skipped. It is amongst the fun things to do in Del Mar, CA.
The route is usually heavily trafficked but is wide and offers hikers enough room to trek without feeling choked up.
The Coast to Crest Trail starts from the San Dieguito Lagoon and stretches to the San Dieguito River's headwaters at Vulcan Mountain in Julian.
The views are extraordinary, and you can make the most of this fun place in Del Mar by unwinding on the beach at the end of the trail.
20. Eat great at Poseidon on the Beach
The Poseidon on the Beach is an embodiment of the Southern California lifestyle – through laid-back it is sophisticated.
Executive Chef Mourad Jamal brings with him a world of experiences and recipes while coming to the Poseidon by way of Morocco, Southern France, and Disney World. They are very much reflected in the extensive menus.
The available culinary options are impressive whether guests are around for bar food, lunch, brunch, dinner, dessert, or just to enjoy a local craft beer while absorbing a view of the famous Del Mar sunset.
One dish to note is the Mini-Taco menu available Mondays and Thursdays.
Address: 1670 Coast Blvd., Del Mar, CA 92014
21. Join the San Diego County Fair
If you happen to visit during the summer months, you should not miss this seasonal event. The San Diego County Fair is a county fair that holds every summer at the Del Mar Fairgrounds in Del Mar.
This fair is a major draw for San Diego County residents and tourists as it has recorded attendance figures above a million annually. In 2016, the event hit a record attendance of 1,609,481 participants.
It features diverse performances on stage by different bands, the lineup for the Summer Concert Series, tributes, and other kinds of entertainment.
Come for the food, stay put for the atmosphere, and have fun on your Ferris wheel ride!
Address: The Del Mar Fairgrounds, 2260 Jimmy Durante Blvd, Del Mar, California 92014
22. Test your golfing skills at the Del Mar Golf Center
Now, this is something for lovers of golf in particular and sports enthusiasts by extension.
Whether you are a beginner or have experience playing golf, they have an expert team of PGA professionals who would be happy to help you achieve your goals.
Pro and mini golfers enjoy spending time at the Del Mar Golf Center. You can play a friendly game with your family, sign up for a lesson, and watch professionals score a hole-in-one.
Reservations are unnecessary as mini-golf and range use is on a first-come, first-serve basis.
It is open every day of the week from 8 am to 9 pm, so do well to check out this cool Del Mar attraction.
If you are interested in golfing add a visit to Del Mar Golf Center to your list of fun things to do in Del Mar, CA.
Address: 15555 Jimmy Durante Blvd., Del Mar, CA 92014
23. Dine at Jake's Del Mar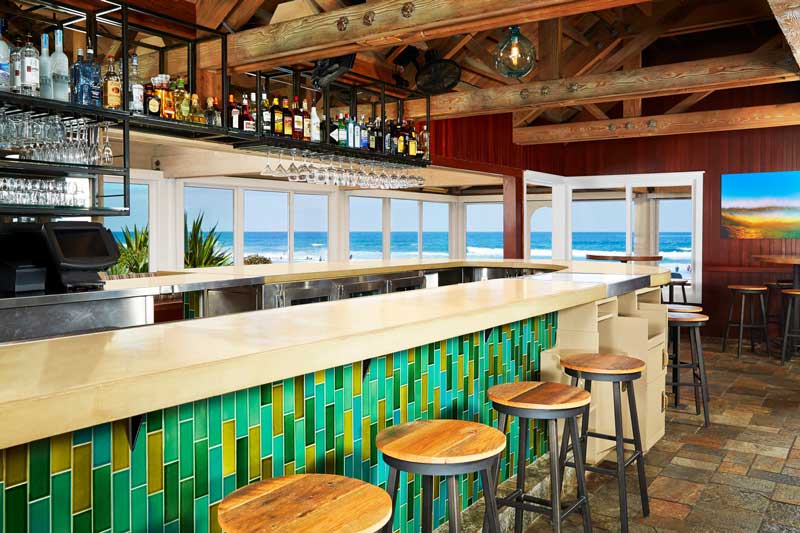 Jake's Del Mar is another dining option in the Del Mar area. It is part of a family of restaurants in the Southern California area and offers lunch, dinner, and bar menus however, the restaurant is most famous for its numerous Sunday brunch offerings.
They have a nice breakfast selection of brunch, including favorites such as Banana Stuffed French Toast, Lemon Ricotta Pancakes, and Langostino Lobster Omelet.
But the most spectacular is the Eggs Benedict where you can choose ten different toppings. But if you are looking for something more related to lunch, you may try the Lobster & Shrimp Rajas Tacos or Mac & Cheese Stuffed Meatballs.
Address: 1660 Coast Boulevard, Del Mar, CA 92014
Check out more cities in California, here is a guide on things to do in Capitola, things to do in Corona, things to do in Chula Vista, and fun things to do Truckee for a fun time
Plan your trip to Del Mar
Del Mar would give you the ultimate tour of the oceanside city. With plenty of adventures al fresco, picnics during sunset, and eateries by the shore there is nothing more you could ask for while on a getaway.
Start making plans on visiting this city as your next vacation destination. It is a very promising and exciting place to be. If there is any need for guidance, this piece is always available.