The city of Burlington in Carolina was established in 1857, and it was named Burlington in the 1850s.
The city was built to promote offices and shops for the North Carolina Railroad Company, and it turned out to become a huge tourist destination in North Carolina.
Located in Alamance County, Burlington boasts nature reserves, historical attractions, and parks that feature many outdoor recreational opportunities.
There are numerous attractions to see here, and from our list of top things to do in Burlington, NC, be sure to have a splendid vacation.
Things to Do in Burlington, NC
1. Cedarock Park
Cedarock Park is an expansive nature park founded in 1975 by Alamance County. Poly and John Garett established the nature Park in the 1800s, and it occupies a land area of 500 acres.
This destination is a famous site in Burlington where outdoor activities such as horseback riding, sports, and hiking are done. The park also has a footgolf course and many disc golf courses.
In addition to outdoor and sports, it makes up for an ideal site for taking lovely photos. You can take fantastic pictures at the waterfalls and ponds in the park, and it also has camping grounds, canoe rentals, picnic tables, and others. The Park is open every day from morning till afternoon.
Address: 4242 R Dean Coleman Rd, Burlington, NC 27215, United States
2. The BMX Track
Amongst the exciting things to do in Burlington, NC, is a visit to the BMX Track. If you are a rider, you sure want to see and enjoy the destination's enormous excitement.
The BMX Track is available for riders of all skill levels, where you get to ride on one of the most iconic tracks in the country. The cycling activities carried out here include single-lap racetracks and sprint bicycle tournaments done off the road.
The cycling events are done from February till early December if the weather condition is okay. This sport is backed up by the American Bicycle Association(ABA); the excitement and fun here are top-notch.
No matter your skill level in racing, whether you are a novice, intermediate, or a professional, you need not worry, as BMX racing has everything in place to suit your level.
Address: 1450 Graham St, Burlington, NC 27217, United States
3. Lake Mackintosh Park & Marina
Mackintosh Park & Marina was founded in 1993 and is the primary water source in Burlington City. The park is filled with beautiful attractions you do not want to miss.
The Marina Park has a 150 acres perched on a 661-mile lengthy shoreline. It has two tributaries that supply water to the lake, the Greater Alamance creeks and the Little Alamance, the primary sources of stock fishing in the lake.
The lake is perched along the Huffman Mill Road, outside the city's outskirts. Aside from paddling and fishing, this Park provides visitors with many recreation opportunities. However, since this destination is the primary water source in the town, the parks administration does not permit people to move with their boats on the lake or swim.
When you visit, the major attractions to look out for include a large playground, Bank and Pier fishing, Kayak and rowboat rentals, Boat Ramps, Outdoor shelters, and others.
Address: 2704 Huffman Mill Rd, Burlington, NC 27215, United States
4. Visit the Ace Speedway
If you are a fan of racing, one of the many fun things to do in Burlington, NC is to check out the Ace Speedway perched in Elon, NC, 10 miles north of Burlington.
This destination organizes a short-term racing competition that features notable and local racers in North Carolina every week.
Ace Speedway features an oval racecourse that is quarter-mile paved and is a ground for hosting most championships that range from stock, modified, UCAR division, late models, limited late models, and mini stocks
The ground can house over one thousand individuals, and be sure you will enjoy the exuberant experience this place offers. Apart from the regular race events, there are other side attractions such as car shows, tractor pulls, and go-karts. This place is also a place of abode for several notable NASCAR drivers.
Address: 3401 Altamahaw Racetrack Rd, Elon, NC.
5. Charlotte Hawkins Brown
You want to check out the Charlotte Hawkins Brown museum if you are a history lover and get a tremendous experience learning about the history of a well-known Black woman who geared her efforts towards helping many African American lads during her time on earth.
This destination was established in 1902 by Hawkins Brown and is perched right inside the Palmer Memorial Institute. Therefore, the environment to meet here is unique for you to explore the history of this place, its heritage, and its charity.
It has an expansive collection of artifacts related to the history of African Americans, memorabilia, photographs, and documents.
A significant amount of the collection to find here gives detailed information about women's history, social history, the many contributions and efforts of African Americans in this area, and education.
The museum is available for visits from Tuesday to Saturday, morning to afternoon hours, and is just a 10-minute drive from West Burlington City.
Address: 6136 Burlington Rd, Gibsonville, NC 27249, United States
6. Alamance Battleground State Historic Site
When you visit Burlington City another attraction to check out is the Alamance Battleground State Historic Site. This destination honors the Battle that happened in Alamance between the British Imperial Army and some locals.
Numerous historians assume that the battle of Alamance caused the American Revolution. So, for lovérs of history, here is a brilliant step to exploring this site that honors the crucial war that helped define United States history.
One of the attraction's central points is the Allen House. The Log Cabin to be found here is well maintained to show how a significant number of the backcountry farmers carried out their activities back then in North Carolina.
This destination is open for visits every day from morning to afternoon and visiting here is one of the best things to do in Burlington, NC for anyone who loves history.
Address: 5803 NC-62, Burlington.
7. City Park
A visit to Burlington is incomplete without visiting the City Park. Here is a great family event center with an amusement park coupled with a rail car ride and a mini train, with options for a tractor, fire truck, a boat ride, a police car, and a Jeep.
The Dentzel Carousel is currently going through renovations to be completed soonest. The National Historic Register acknowledged the museum as it attracts many people from different parts of the country.
It also has a vast playground area that features swings, slides, and climbing equipment opposite the beautiful fountain.
Guests can have a nice picnic at the park or rent a pavilion for special events. If you love nature, you can have a lovely stroll beside the trails in the garden and the bridges that cut through the little Almanac Creek.
City Park boasts some of the best fun things to do in Burlington, NC, and it is worth adding to your checklist.
Address: 1388 Main Street, Burlington, NC 27215
8. Textile Heritage Museum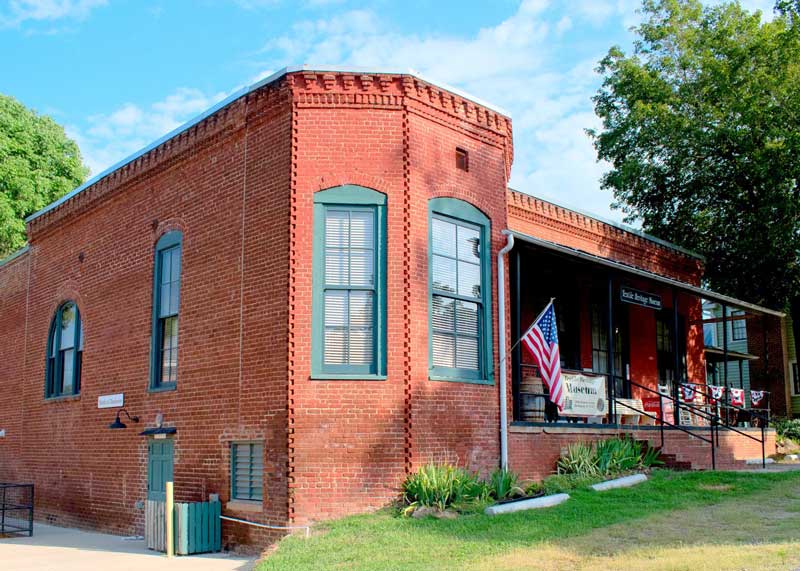 The Textile Heritage Museum was established in 2002 by good men and women who wanted to protect and preserve the history of the textile industry.
The Museum was created to teach guests the processes involved in cloth making, especially for the US Military during World War 1. When you visit, items to see in the museum include a textile machine, clothing that was produced, and the various fabrics formed at the mill.
Admission to the museum is free, and visitors can opt-in for a guided tour or check out the museum and its surrounding environment at their convenience. You will take one or two hours to go through the entire property.
Address: 2406 Glencoe Street, Burlington, NC 27217
Also check out our list of things to do in Southport, things to do in Morganton and cool things to do in Cashier, if you are planning a North Carolina road trip.
9. The Great Bend Park
Another iconic place worth checking out is the Great Bend Park, perched beside the Haw River. It consists of a 30-acre forested area where locals gather near the Glencoe Dam.
Visitors can also see excellent trails to have a good walk, and you can have a fantastic hike by having a stroll on the one-mile Highland Trail that takes you to the scenic forested area and the riverfront.
As you walk furthermore, the track will take you to the Haw riverfront, a unique site for fishing. Finally, if you are still fit for a more lengthy hike, this trail cuts through the Haw River and occupies 80 miles, thus leading hikers to Rockingham-Guilford County.
The park is available for visits from 8 am till 6 pm when it is closing time, be sure to visit and enjoy your stay here.
Address: 350 Greenwood Dr, Burlington, NC.
10. Haw River Trail and Paddle Trail
Another fascinating item on our list of things to do in Burlington, NC is the Haw River Trail. This destination has over 20 miles of hiking trails beside the picturesque Haw River. Visitors get the chance to see the beautiful plant ecosystem and forested animals while in the area.
Furthermore, visitors can go fishing or picnic in areas besides the crystal clear waters. Visitors can also opt-in for some fun by going kayaking or canoeing, and the place is open for all and sundry, not minding your experience or skill level.
The paddle trail and Haw river form an integral part of the community's objective to foster the protection of the conservation of the various historical natural resources.
Due to this outstanding initiative, the results have been tremendous, and the ecosystem for both water and other habitats has been superb.
Address: 3916 R. Dean Coleman Road, Burlington, NC 27215,
11. Dine at the Grill 584
To celebrate the history of this city, this restaurant was established and got the name "Grill 584," which provides visitors with delicious meals such as tacos, sashimi, and steaks, and you can eat at their salad bar.
The 584 was given to the restaurant as it was derived from an expression termed "excellent" which was commonly used during the era of Burlington's railroad.
The restaurant was also built to remember its residents who resided in this city amidst the challenges they faced when the railroad company stopped operations in 1886.
Currently, the restaurant is a famous destination for people to gather and eat good food while still having a good time socializing in this beautiful city.
Address: 584 is located at 710 Huffman Mill Rd, Burlington, NC.
12. Zack's Hotdogs
If you love good food, one of the top things to do in Burlington, NC is to dine at Zack's Hotdogs, and it should be a primary item.
This eatery is owned and operated by a Greek Immigrant named Zack Touloupas who has been serving the locals and visitors tasty hotdogs since 1928.
Before now, the eatery had just eight barstools and four-four desks when it started operations in its early days but gradually grew into a top-notch destination in this city.
The eatery is famous for its hotdogs, and its sweet and savory breakfast foods include hamburgers and sandwiches. The restaurant is available for visitors to check-in from 6:30 am to 9 pm every day.
Address: 201 W Davis St, Burlington, NC
13. Glencoe Mill Village
For lovers of history, one of the best things to do in Burlington, NC is to visit the Glencoe Mill Village; here is a fantastic destination to explore the rich history of this city.
It is a cotton mill complex in the United States. The attraction has over 50 buildings and structures constructed in 1880, and the estate comprises cotton mills and a textile complex.
The Glencoe Mill Village has a residential area where staff and employees live. The whole property occupies a land made of 105 acres beside the Haw River. You can explore the entire estate to get a close-up look at the old structure and buildings or, more still, explore the area from your car.
You can end your tour experience by going to the Textile Heritage Museum to see the exhibits that showcase the remnants of the history of this place.
Address: 2320 River Rd, Burlington, NC.
14. Shallow Ford Natural Area
The Shallow Ford Natural Area is a famous camping area for folks who love the outdoors, and it is an exciting place that it is worth adding to your checklist of fun things to do in Burlington, NC.
The site has a land area of 200 acres and has lots of fauna and flora. The primary activity you can be part of at this destination is hiking. However, you can also check out other attractions such as the Wildflower Meadow, the Haw River, and the Mountains to Sea Trail.
The Shallow Ford Natural Area is close to the Shallow Road, and it is an iconic river crossing to find in North Carolina. From the 1800s until the 1900s, the intersection formed an essential part of the Northern Alamance County's Access route.
Address: 1955 Gerringer Mill Rd, Burlington, NC
15. Children's Museum of Alamance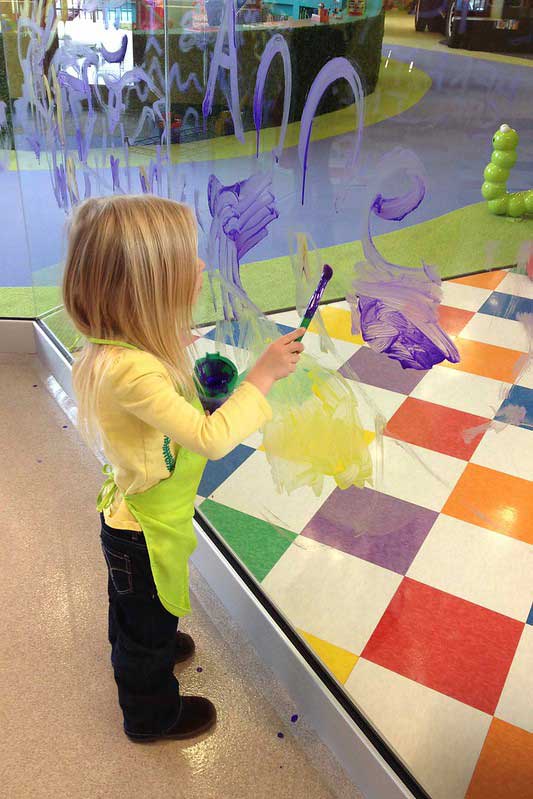 This destination is a nine-minute drive from east Burlington City. Here is a great place to bring the kids tots of fun and learn a lot.
If the kids want to tag along, you should bring them as well, as this is an ideal place for them to be creative, increase their curiosity to learn new stuff, and be creative and imaginative.
The museum features a classic environment for parents and kids to enjoy and have fun with the various themed activities and exhibits here. There are many activities for children, such as science, reading, history, science, etc.
Address: 217 S Main St, Graham, NC.
16. Granddaddy's Antique Mall
If you are a lover of antiques, one of the best things to do in Burlington, NC is to visit Granddaddy's Antique Mall, which should be a must-see for you when you call.
The Antique Mall has a landmass of two acres that features treasure hunting activities coupled with the 230 booths of collectibles and antiques.
The Antique mall also takes you to old times as it has Pop and Mom General Shop. The mall also has an expansive collection of many antique items that range from numerous store knick-knacks, unique advertising signage, clothing and toys, vintage items, and a plethora of antique art items and memorabilia.
The Granddaddy's Antique Mall was initially established in 1997 and is one of the largest malls in this part of the country for not-average home decor and classic gifts.
Address: 2316 Maple Ave., Burlington, NC 27215,
Planning to explore North Carolina? Get the best of attractions and activities in Statesville, Jefferson, and Black Mountain for a fun vacation.
17. Burlington City Park Amusement Area
Burlington City Park Amusement Area is a famous site in the 76-acre city of Burlington City Park. The favorite area of the park is the 100 years old Dentzel Menagerie Carousel which was placed in the town in 1910.
Efforts and contributions were put in place by the Government of Burlington to fix the famous carousel. The aim is to maintain its significance in the area.
Apart from the carousel, this destination features other side attractions, including an amusement ride, aquatic center, kiddies playground, picnic areas, sports facilities, an amphitheater
Aside from the carousel, the park has other attractions you can visit, such as the aquatic center, amusement rides, sports facilities, picnic grounds, amphitheater, gazebo, and a children's playground. The park is available for visits on weekends
Address: 1338 S. Main St. Burlington, NC.
18. The Alamance County Historical Museum
An iconic attraction to look out for when you visit Burlington City is the Alamance County Historical Museum, where visitors can explore this region's rich and fascinating history.
The Burlington Museum is not your regular museum to find in a building. Instead, the museum occupies a land area of 1700 acres and is perched on a 19th-century grain plantation.
Nevertheless, many of the artifacts and exhibits to find here are accommodated in a two-story plantation homestead constructed in 1790. Apart from the regular things to find in a museum, the museum features a parlor with well-cared-for bedrooms that has a history way back to the early 1900s.
Moreover, you can tour the old grain plantation, consisting of a corn crib, a granary, a daily cemetery, and a carriage house.
Address: 4777 South, NC-62, Burlington, NC.
19. Paramount Theater
If you love theatrical performances, one of the best fun things to do in Burlington, NC is visiting the Paramount Theater. This destination was in the business of rendering quality to locals in Alamance County and Burlington in 1929.
It was previously known as the Grand Theater. It went through some massive restoration initiated by the Burlington City Government and was later renamed the Paramount Theater.
The theater was reopened in 1998 after an entire renovation on the property. In 2021 the theater was acknowledged as a historic entertainment attraction and an institution in Alamance County.
The theater has organized numerous religious events, community events, movies, stage plays, musicals, and concerts. It has a seating capacity of 398 seats that are well placed close to the stage, and the facility has a lovely environment making it ideal for musicians to perform.
Address: 128 E Front St, Burlington, NC,
20. Burlington Athletic Stadium
The most loved sport in Burlington City is baseball. The Burlington Stadium was built to show its love for sports. Here is an exciting landmark to check out and should be on your to-do list.
The Athletic stadium has a seating capacity of 3500 and was initially constructed in Danville, Virginia, which later moved to Burlington. This destination is where the Kansas City Royals play in Major League Baseball and the Burlington Royals play in the Minor League.
Here should be a sure place to see for anyone planning a vacation in the city due to the incredible experience to witness here. You can also watch league actions for different teams. So if you love this sport, be sure to visit.
Address: 1450 Graham St, Burlington, NC.
21. View Large Cats at the Conservators Center
One of the top things to do in Burlington, NC is visiting the Conservators Center, in the lush forest of the city where you get to see about 70 different species of cars, such as lions and tigers.
These big cats are held outdoors and in special compartments and are allowed to move freely within these enclosures. In addition, the Conservators Center was established for the general public in 2007, and it acts as a home for exploited and homeless undomesticated animals.
Here is the place to bring the kids along with you so they see for themselves this wild animal; there are different types of big cats to see, such as tigers, mountain lions, cougars, lions, and lynxes.
Their professionals on site are well trained to give you a great experience while taking you throughout the whole facility. The facility is available for visits from 9 am to 5 pm during weekends.
Address: 676 E. Hughes Mill Rd, Burlington, NC.
22. Michelle's Kitchen and Table
Burlington, the City, has some exciting restaurants you want to look out for when you visit, and one of them is Michelle's Kitchen and Table; if you love good food, be sure not to miss out on this restaurant.
Michelle's Kitchen and Table was started by a local named Michelle Morton in 2007, whose incredible cooking and baking techniques earned her restaurant a massive spot in the community.
As a result of the restaurant gaining popularity and high recommendation causing an influx of guests, they had to move to a more prominent location to be able to give its visitors maximum comfort and satisfaction
Furthermore, the current location provides visitors with a delicious farm-to-table menu from locally sourced ingredients. Featured items include southern fried chicken and waffles, brisket with apple slaw, and chocolate chess pie.
Address: 2461 South Church Street, Burlington, NC 27215
23. Hursey's Pig Pickin' Bar-B-Q
Hursey's Pig Pickin' Bar-B-Q is a family-owned and operated business that turned into a spot and became the first wholesaler for barbeque in North Carolina in the year 1949.
Before its popularity, the Hursey's Pig Pickin' Bar-B-Q started operations in 1946 in Sylvester, and Daisy Hursey's backyard, who served their delicious hickory-smoked pork to daily and friends.
Currently, the restaurant smokes more than 1200 pork shoulders weekly and numerous hams. The catering menu to find here consists of a wide selection of dinner plates of chopped pork with coleslaw, chicken and rib dinners, hushpuppies, and sandwiches.
The restaurant also provides its guests with fried seafood platters of shrimp and flounder. It also consists of quaint bread pudding, apple turnovers, lemon pie, and handmade cobbler.
Address: 1834 South Church Street, Burlington, NC 27215
24. Lake Cammack Park & Marina
Another place worth visiting in Burlington, NC is Cammack Park and Marina; a fantastic place to be with family and friends and should be on your checklist.
This destination is an exciting place to be, perched beside Union Bridge Road on the north side of Burlington City. It occupies more than 800 acres of landmass, and its shores stretch more than 50 miles.
The main offers recreational activities for its guests, such as anglers, walkers, paddlers, and boaters. For lovers of nature, you will be able to see deer grazing close to the lakeside or enjoy the views of eagles hovering in the sky.
It also provides outdoor shelters, boat ramps, a building, a swimming pool, rental services, and a playground area. The Park operates from 8 am until 5 pm, excluding when the schedule changes.
Address: 4790 Union Ridge Rd, Burlington, NC 27217, United States
North Carolina presents breathtaking attractions and activities, explore some of its fun cities, here are guides on things to do In Charlotte, Asheboro, Fayetteville, and Rocky Mount.
Plan A Trip To Burlington, NC
Burlington city is a town filled with fascinating and thrilling activities suitable for every tourist.
The city has many lovely sites, attractions, and recreational Parks that will make your stay here exciting and fun-filled.
Start planning your trip to this wonderful city; pin this article as a guide to easily fall back to while making your list of fun things to do in Burlington, NC.