Looking for the top fun things to do in Cleveland, Ohio?
Cleveland is a lively and culturally diverse city in Ohio. Full of unique wedding venues, top-rated museums, beautiful parks, free attractions, historical landmarks, you wouldn't want to miss out.
Visit the Museum of Contemporary Art, the International Women's Air & Space Museum, explore the vibrant University Circle area, and more. Even the kids aren't left behind. There is the Greater Cleveland Aquarium and the Cleveland Metroparks Zoo for them.
For a fun time in Cleveland, here are the top things to do in Cleveland, Ohio
Top Fun Things to Do in Cleveland
1. Check out Cleveland City Hall Rotunda
Cleveland City Hall Rotunda is a very special event venue. For any bride who wishes to have a fairy-tale wedding in a Cinderella-style ballroom, this historical Grand Hall is a place to bring this wish to reality.
This 1916 landmark building has a Rotunda of 5,500 sq ft with two-story Botticini marble walls and Doric columns extending to an ornate barrel-vaulted sky-lit ceiling.
You will observe the glittering floor made of polished marble and lovely space lit up with distinctive floor lamps made of bronze. The Rotunda can comfortably accommodate 225 seated guests in the case of a dinner air wedding event.
Cleveland City Hall Rotunda has A Taste of Excellence as their exclusive caterer as well as expert wedding planners who specialize in complete wedding planning, starting from the rehearsal dinner down to the cocktail hour and to the final wedding reception.
Address: 601 Lakeside Avenue, Cleveland, OH,
2. Visit Cleveland Museum of Art
Cleveland Museum of Art was founded in 1913 with the objective of "the benefit of all the people forever" and is one of the most renowned cultural institutions in the country.
This museum is one of the top Cleveland attractions, and visiting the museum is one of the best things to do.
The Cleveland Museum, Housed in a gorgeously-preserved neoclassic building of white Georgian marble, art is settled in the middle of the city's Fine Arts Garden, that's is north of the Wade Lagoon.
There are over 30,000 fantastic works of art collected at this museum, with collections from ancient Egypt, popular masterpieces from Africa, Asia, and Europe.
There are special exhibitions, films, musical programs, and lectures filed on the museum's calendar, all in a bid to maintain the mission of bringing art to the people of Cleveland, Ohio. There are also performing arts series and community-based programs hosted by the museum too!
Address: 11150 East Boulevard, Cleveland, OH.
3. Buy at West Side Market
West Side Market is the oldest public market in Cleve and has more than 100 artisans, producers, and vendors selling their wares. The market stalls are stocked with succulent seafood, fresh fruits and vegetables, fresh flowers, dairy products, spices, nuts, charcuterie, and meats.
West Side Market was built in 1912 as a replacement of the original Pearl Street Market and is the last standing market out of the initial three construction to serve the teeming immigration population of Cleveland in the early 20th century.
It boasts of bakers who sell homemade pastries, baked bread, and other baked goods, as well as artisan cooks and chefs who provide sumptuous meals. And till today, this market offers a shopping experience of originality and cultural diversity to both the locals and visitors alike.
Indeed, West Side Market is one of the best things to do in Cleveland, especially for food-lovers.
Address: 1979 West 25th Street, Cleveland, Ohio.
4. See Bohemian National Hall
Built in 1896, the Bohemian National Hall is a Czech cultural center that still stands tall today. You will love a visit to the Bohemian National Hall as it is one of the best things to do in Cleveland.
After undergoing lovely restoration touches, this hall now boasts modern amenities. You will like the second-floor ballroom, which has an antique chandelier, gold accents, cream-colored walls, a balcony, gold accents, and a stunning proscenium stage.
There is a grand staircase that leads to the ballroom, but you can also try the elevator. Adjacent to the ballroom is a kitchen. There is also a bar and a dining room on this second floor.
The ballroom has a sitting capacity of 150 dinner guests and a dance floor capacity of up to 300 guests for a kaffeeklatsch-style reception.
Address: 4939 Broadway Avenue, Cleveland, OH.
5. Spend time at University Circle
Covering a square mike, University Circle is a popular urban district that is home to some of the top arts, cultural, education, social service, religious, and health care institutions in Cleveland.
The area is located near downtown Cleveland, on Euclid Avenue, and is recognized for its vibrancy. You'll love your time spent among the bars, residences, restaurants, and the many retailers.
Learn of some history by strolling along the streets of Bellflower, Ford, Juniper, and Magnolia, where you'll see attractively preserved 19th-century mansions now transformed into trendy coffee shops and hip hotels.
You can also go through the Euclid Corridor for a short ride to the modern arts and cultural district at Mayfield and Euclid.
6. LockKeepers
LockKeepers is an incredible art and crafts building situated in the Cuyahoga Valley, just between the historic Erie Canal and the Cuyahoga River.
LockKeepers was opened in 1992. Since then, it has been treating its guests with quality, fresh Italian cuisine, including freshly baked pizzas, local handmade pasta, top-tier steaks and seafood, and quality wine selection.
Being such a beautiful restaurant with shiny mahogany millwork and floor-to-ceiling windows which overlook the river, LockKeepers is the best intimate venue for wedding receptions, rehearsal dinners, or bridal showers.
The second floor has a well-decorated Grand Ballroom, which can accommodate up to 140 guests. You have the privilege of choosing from their large menu selection with the attention of their highly experienced staff to take care of every detail.
This gives you and other guests a cherished time and is one of the best things to do in Cleveland, Ohio.
Address: 8001 Rockside Rd, Cleveland, OH 44125.
7. See Cleveland Cultural Gardens
The Cleveland Cultural Gardens was set up by students and scholars at Cleveland State University as a "peace garden" and is a living memorial of the rich history of twentieth-century America.
The gardens are 29 in number and are designed to tell stories of the stories if the major crises that shaped that century, including notable events like World War I, World War II, and the Cold War.
Also, the gardens provide awareness of the economic, social, cultural, and political upsets that affected the country during the previous century. Gardens like the Albanian Cultural Garden, the Slovenian Garden, the Armenian Garden, the Czech Garden, and The Polish Garden are among the famous featured gardens.
Go on guided tours through the gardens, and gain more background information about these gardens!
Address: 750 East 88th Street, Cleveland, Ohio
8. Fix your wedding at Lake Affect Studios
Lake Affect Studios is a perfect wedding venue for any stylish urban couple who wishes to create their dream on a clean sheet. This popular event space occupies 5,000 square feet. It features white-washed exposed brick, natural wood floors, many windows, an industrial-style ceiling fixed with Edison lights, a sound system and stage, an outdoor courtyard, a full bar, and an espresso bar.
There is no other place to compare such an edgy urban style as much as this reused warehouse. You will find table and chair rentals here at Lake Affect Studios, or as a couple, you can use your own rental vendor.
They also provide a vetted preferred vendor list for you to take a pick. However, they also welcome vendors chosen by couples
Address: 1615 East 25th Street, Cleveland, OH.
9. Cleveland must-visit: Greater Cleveland Aquarium
Opened in 2012, the Greater Cleveland Aquarium covers over 70,000 sq ft (6,500 square meters) of exhibition space. As part of the features are eight newly-built exhibition areas, diverse, intriguing exhibits displaying both local and exotic species of fish, and a massive 230,000-gallon tank with a special walk-through acrylic glass shark tunnel.
Take a walk through the numerous exhibitions, including the Indo-Pacific Zone, Lakes and Rivers of the World, Coastal and Coral Reef, and Discovery Zone.
Also, there is a 53-meter shark tunnel that provides panoramic views of countless marine life. This Aquarium aims to educate, inspire, and encourage visitors to pick up interest in the aquatics and offers educational programs to that effect.
Address: 2000 Sycamore Street, Cleveland, Ohio.
10. Eat Exquisite Dishes at Marble Room Steaks and Raw House
Marble Room Steaks and Raw House is located in the renovated and carefully restored National City Bank building, which is on Playhouse Square in Downtown Cleveland.
Marble room is an amazingly luxurious restaurant that maximizes the grandiose old bank interior. The giant marble pillars, velvet booths, crystal chandeliers, and an ornate cathedral ceiling are part of this high-end chophouse setting. They offer gourmet classics like oysters Rockefeller, lobster, fresh sushi, and prime steaks.
Marble Room has a respectable large wine list, and the cocktails are unusual and unorthodox. It is a well-known wedding party location as well as the destination for special events.
While in Cleveland, do well to visit Marble Room!
Address: 623 Euclid Ave, Cleveland, OH 44114.
11. Learn about Women in Aviation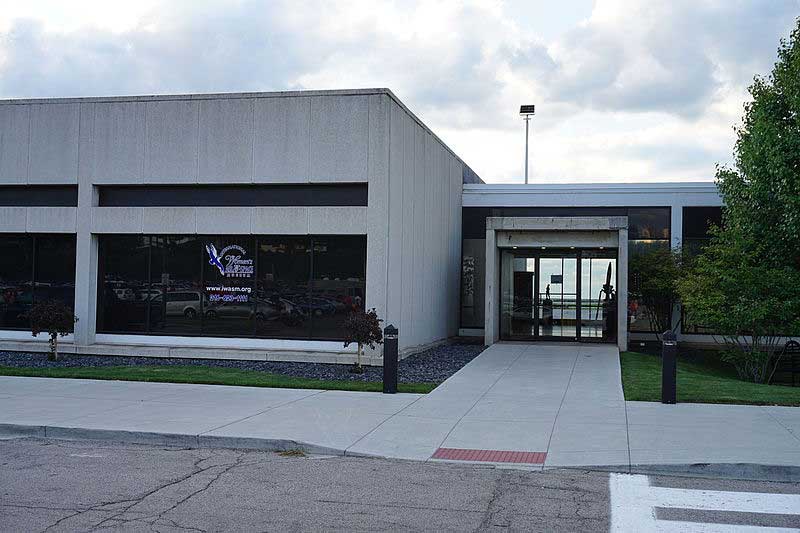 The
International Women's Air & Space Mueusm
(IWASM) is dedicated to celebrating women in the fields of space exploration and aviation. It honors their contributions, accomplishments, and successes in the industry over the past years.
This museum is situated in the terminal building of Burke Lakefront Airport. It features a luxury of historical artifacts and memorabilia assembled by the Ninety-Nines – an international women pilots' organization formed in 1929.
The museum displays popular aviation women to have graced history. You can enjoy the available guided tours led by instructors in this museum to explore both the permanent and temporary exhibitions here.
The museum is open from 8 am to 8 pm every day, and admission is free of charge.
Address: Burke Lakefront Airport, Cleveland, Ohio.
12. Get to Metropolitan at the 9
Located in downtown Cleveland, Metropolitan at the 9 is an iconic hotel that harmoniously blends art, history, and luxury into its daring design. It is one of the top things to do in Cleveland.
Metropolitan at the 9 is a real definition of technology and sophistication and offers couples the ideal venue for a romantic wedding. It doesn't matter if the preference is a lavish event or an intimate gathering; you simply get the best here.
They provide modern options of unique event spaces that include a grand ballroom, a rooftop patio with awesome skyline views, and a speakeasy lounge.
The Mint Ballroom occupies 5,122 square feet of space and is perfect for big weddings. This space is designed in a classical manner with sparkling chandeliers and high ceilings as some of its features, and it can be completely changed using special lights, colorful decorations, and flowers.
Address: East 9th Street, Cleveland, OH.
13. Check out Art at Museum of Contemporary Art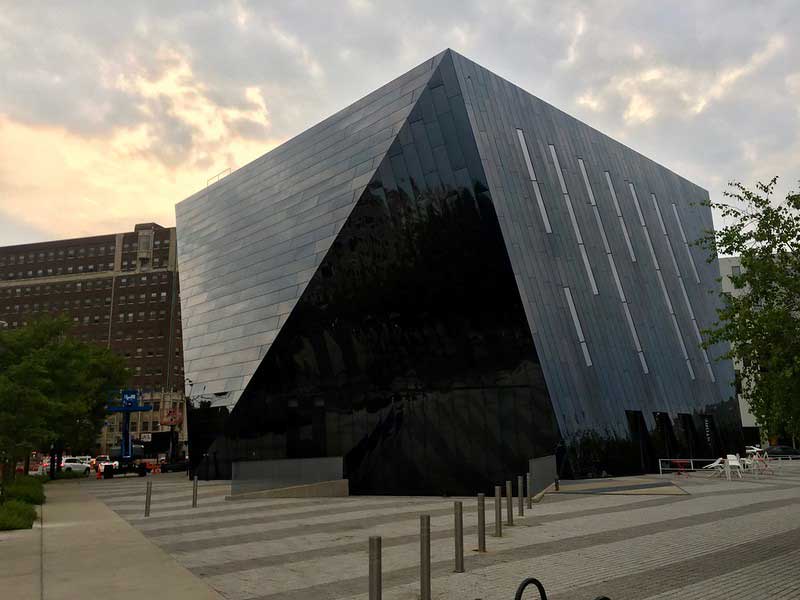 Cleveland's Museum of Contemporary Art (MOCA) is the only contemporary art museum in the region devoted to displaying recent and contemporary art passing through a range of evolving modern exhibitions.
Museum of Contemporary Art (MOCA) is a non-profit organization established in 1968 and has played an important role in Cleveland's cultural topography for more than 45 years.
There are works of over 2,000 artists in this museum, including permanent and traveling exhibitions and even artists' first solo shows. This museum aims at challenging, inspiring, and teaching a wide range of audiences more about modern art.
For art lovers, the Museum of Contemporary Art is one of the best things to do in Cleveland, Ohio, as it creates a special and dynamic space that fires the imagination and fosters creativity.
Address: 11400 Euclid Avenue, Cleveland, Ohio.
14. Enjoy English Oak Room at Tower City Center
Existing as the historical former Cleveland Union Terminal, the English Oak Room at Tower City Center is a cozy venue that features ornate ceilings, hand-carved English oak panels, shiny polished floors, etc vintage lighting.
These make it an ideal location for a graceful evening, vintage or romantic wedding. English Oak Room has a seating capacity of 250 dinner guests and has Executive Caterers as the exclusive wedding caterer – arguably the best catering company in Cleveland.
They have modern wedding planners, award-winning chefs, and a distinctive floral design team, which all work together to give you a memorable wedding experience.
Address: 230 West Huron Road, #7273, Cleveland, OH.
15. Cleveland must-see: James A. Garfield Monument
The James A. Garfield Monument rests in the Lake View Cemetery and stands in honor of James A. Garfield, the 20th President of the United States. He was laid to rest at this spot.
The monument was constructed of Berea Sandstone and had its design done by architect George Keller. The monument is 180 feet tall and has elements of Gothic, Byzantine, and Romanesque styles of architecture.
Stained glass windows, marble gold mosaics, and granite all represent the original 13 colonies and War and Peace and are used to adorn the ornate Memorial Hall beautifully.
You will see a statue of the President sculpted on the main floor of the memorial. And from the upper outdoor balcony, you will also enjoy amazing views of Lake Erie.
Address: 12316 Euclid Avenue, Cleveland, Ohio.
16. A Romantic Time at Glidden House
For couples looking to get great romantic time, the Glidden House should be on their list.
Situated on Case Western Reserve University campus, Glidden House is a historic 1910 French gothic boutique hotel and is listed on the National Register of Historic Places.
This recent Juniper Room occupies 2,200 square foot space and features an incredible chandelier, lovely French doors, with all four walls having fixed windows on them. These windows create an indoor/outdoor aura as well as an opening towards the picturesque surroundings.
You will also see a tented patio, a unique garden, and a gazebo for receptions and outdoor ceremonies. There are still smaller banquet rooms that can accommodate intimate receptions and rehearsal dinners. Glidden House has catering services exclusively done by Marigold Catering.
Address: 1901 Ford Drive, Cleveland, OH.
17. Cleveland must-visit: Playhouse Square
Playhouse Square is another interesting thing to do in Cleveland. It is the second-largest performing arts center in the whole country and features diverse kinds of entertainment, events, performances, and shows to the amazement of audiences from all parts of the world.
Playhouse Square is a non-profit organization that produces various music concerts, plays, readings, operas, and dance performances.
It also offers workshops, programs, and educational classes to inspire the public to pick up interest in the performing arts and groom their local fine arts skills.
A highlight is the GE Chandelier – the world's biggest outdoor chandelier, standing 20-foot tall.
Address: 1501 Euclid Avenue, Suite 200, Cleveland, Ohio.
18. Ignite your Sporting Spirit at Progressive Field
Progressive Field is an ultra-modern urban ballpark and is home to the Cleveland Indians – a Major League Baseball team. It provides a modern and comfortable environment for fans to watch their home team play.
You can join other visitors in enjoying guided tours of this world-renowned facility while capturing unique back scenes.
These tours take visitors to the batting cages, the dugouts, the visitor's bullpen, party suites, Club Lounge, and the fan caves. You can also visit the Heritage Park Indians Hall of Fame to learn more about the history and achievements of the Indians.
Address: 2401 Ontario St, Cleveland, Ohio.
19. Relax at North Chagrin Reservation
North Chagrin Reservation is a 1,700-acre wildlife sanctuary situated in Mayfield Village, Gates Mills, and Willoughby Hills. It features many outdoor recreation areas, wildlife reserves, picnic spots, and walking trails.
This Reservation was established in the 1920s, and the Reservation has been attracting visitors to enjoy the outdoor activities, wildlife, and beautiful scenery.
You will like the Sanctuary Marsh and Sunset Pond as they are perfect for bird watching. The Reservation house a nature education building and nature center where classes, workshops, and community-based programs are held.
Address: 4101 Fulton Parkway, Cleveland, Ohio.
20. Enjoy Kimpton Schofield Hotel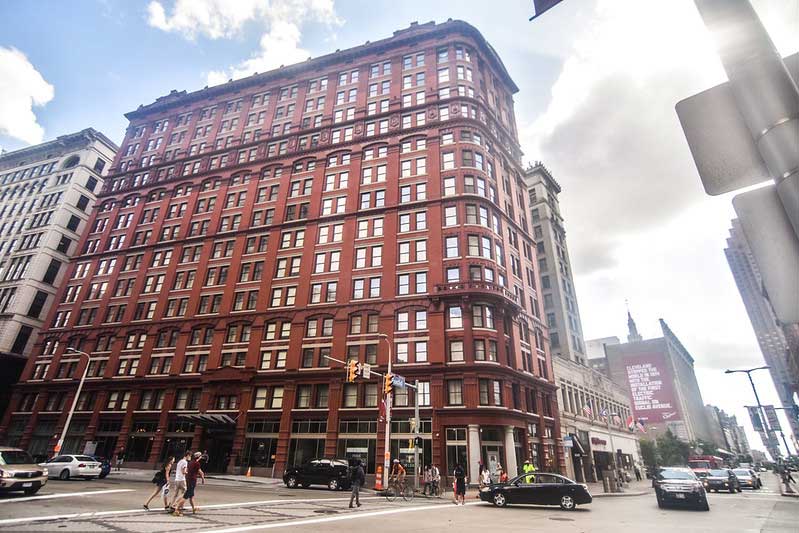 Located in the historic Schofield building of downtown Cleveland is Kimpton Schofield Hotel. It is one of the most interesting places to visit in Cleveland.
This renovated hotel has several preserved Victorian-era elements, and they've included live plants in honor of Levi Schofield – a building architect and nature enthusiast.
Couples can anticipate a modern urban interior with lots of light and attractive inside and outside backdrop options which photographers love. There is also a 3,000 sq ft Levi Ballroom. This modern space can accommodate 80 guests for a wedding dinner and 120 cocktail-style reception guests.
Address: 2000 East 9th Street, Cleveland, OH.
21. Cycle by the Ohio and Erie Canalway
The Ohio and Erie Canalway was constructed in the early 19th century, and for more than 40 years, it conveyed cargo traffic across the state into the emergence of the railroad.
It served as a source of water for the various towns and industries later on. Currently, the National Park Service is responsible for managing this canal which serves various recreational purposes, including bicycling, birding, hiking, and horseback riding.
There are parts of the canal delegated as special National Heritage Areas, like the Ohio and Erie Canal Historic District.
22. Visit A Christmas Story House and Museum
Best recognized at the residence of Ralphie Parker's in the 1983 film "A Christmas Story," the Christmas Story House is a 19th-century Victorian house now purchased by a private developer and is restored to its past movie glory.
Situated across the road from the house, the Christmas Story Museum is open for public visits. It features original props, memorabilia, and costumes from the film, including the famous family car, the toys from the Higbee's window, and Randy's snowsuit.
Step back in time by checking behind-the-scenes photos and cap it up with memorabilia shopping at the museum gift shop. The is open every day of the week and throughout the year.
Address: 3159 W 11th Street, Cleveland, Ohio.
Planning to visit Columbus? Why not check out some of the top things to do in Columbus, Ohio.
23. Tour the Steamship William G. Mather
The Steamship William G. Mather was built in 1925 as grain, coal, iron ore, and Stine carrier. It got the nickname "The Ship That Built Cleveland" as a result of her constant voyages to the steel mills of Cleveland through the Great Lakes.
Today, this retired and restored 618-foot ship can be explored exhaustively on private or guide tours. Have an experience of what life looked like on this historic flagship, and get yourself wowed by the engineering masterstrokes that made the ship popular.
Check out the big cargo holds, age-old pilot house, four-story engine room, and the beautifully preserved guest quarters. Also, wade through exhibits of the Great Lakes Story for interactive experiences detailing the Great Lakes' formation.
Tjis makes what to do in Cleveland for a memorable time, consider an addition to your bucket list of unique things to do in Cleveland.
Address: 601 Erieside Avenue, Cleveland, Ohio.
24. Explore Edgewater Park
You might not really expect to find Paradise reality anywhere near Cleveland, but Edgewater Park, amongst other points of interest in Ohio, proves this notion wrong.
This park occupies more than 147 acres, and this includes a delightful and relaxing shoreline of about 9,000 feet. There is a lot to do here, like enjoying some water sports, looking over Lake Erie, and taking a walk down the beautiful sands of Perkins Beach or Edgewater Beach.
You may also decide to go cycling or boating, enjoy fishing with other anglers, or catch some planned events (during certain times) in action. There is also a homey beach house where you can buy tasty local brews while enjoying the beautiful waterside location.
You can also go with your pets – dogs are permitted in this park, there is much space to explore!
25. Get Scared at Franklin Castle
Franklin Castle
is a very special yet engaging building that's amassed a great amount of history, thereby making it one of the most mysterious things to explore in Cleveland, Ohio.
This old palace boasted Victorian architecture and was built in the 1880s. It is owned by Hannes Tiedemann, a banker who started his life as a grocer. Despite being very comfortable in terms of wealth, he had a fair portion of tragedy.
His mother, the wife, and 15-year-old daughter, including many other close relatives, passed within the confines of this house – leading to circulating rumors that the building was being haunted.
Currently, this house is filled with many turrets, large commanding iron gates, and lots of scary stories to reel in. Franklin Castle may not be the most recognized place for activities in Cleveland, but it a castle to ponder on.
Address: 4308 Franklin Blvd, Cleveland, OH 44113, USA
26. See animals at Cleveland Metroparks Zoo
If you are a lover of animals and wildlife, then the Cleveland Metroparks Zoo is one of the best places for you to visit in Cleveland. This zoo houses a massive 600 varying species of animals. Up to 3,000 individuals, reptiles, mammals, and other kinds of creatures survive on this Ohio grounds.
Visitors often pick interest in the famous carousel and the Elephant Crossing, but there is more to that in this zoo. Information instructors provide valuable and fascinating pieces of knowledge for a family-friendly experience or educational purpose. You can as well take advantage of the numerous entertainment programs on the ground.
Visitors are allowed to feed certain animals, go on night hikes, stay overnight in safari tents, or listen to interesting tales around a fire while enjoying s'mores, and more.
Don't forget to head over to the gift shops before you leave the Cleveland Metroparks Zoo or even stop for a meal at the on-site dining spot.
Address: 3900 Wildlife Way, Cleveland, OH 44109, USA
27. Explore Little Italy
If you are looking for something cool to do in Cleveland over the weekend, Little Italy is the perfect place to go. It is home to more than twenty-five engaging galleries, twenty delicious restaurants, and an await pleasant culture.
Originally created over 130 years ago, this location was resurrected to life from Mayfield Road. This turnaround architect was Joseph Carrabelli, an Italian sculptor who started to create artworks from the area's marble and granite.
Little Italy plays host to some interesting events which take place at certain points of the year. They include Art Walks, bocce tournaments, and more.
These events are in addition to the fascinating streets at the disposal of your exploration!
28. Games at Superelectric Pinball Parlor
One of the most fun things to do in Cleveland, Ohio, is a not-so-common gem, the Superelectric Pinball Parlor. If you have an interest in pinball games or just want to add a bit of spice to your Ohio trip, then this is the best place to go.
There are over 20 different games in this pinball parlor, some several dating decades and some very modern. You can purchase some play tokens for the machine or simply choose to sit in their restaurant area and enjoy the atmosphere.
On some special nights, free tokens are offered by the establishment allowing guests to buy drinks and catch fun. Look to grab such an opportunity.
This makes what to do in Cleveland, Ohio, for fun, a great addition to your checklist of places to visit in Cleveland.
Address: 6500 Detroit Ave, Cleveland, OH 44102, USA
29. Watch Detroit-Superior Bridge at night
The Detroit-Superior Bridge was completed in 1917. Though it is not up there with other popular tourist attractions in Ohio, this bridge is a highly significant and historic location in downtown Cleveland.
Detroit-Superior Bridge was the first bridge to provide automobile access across the Cuyahoga River. More interesting is the streetcar deck under the topmost level of the bridge.
It was abandoned in the 1950s, lying inoperative and thereby creating an uncanny environment that seems out of the usual places anywhere near Cleveland. Tours are sometimes conducted, and it was a one-time use for the Ingenuity Fest of the region.
Explore this quiet location if you are in Cleveland for a weekend.
30. See the World's Largest Rubber Stamp
What's about seeing a unique, world-record-breaking, unusual item as part of the fun things to do in Cleveland. It is a rubber stamp of 49 feet!
Commissioned in 1985 by Alton Whitehouse (CEO of Standard Oil of Ohio), the rubber stamp has the inscription" Free" across the bottom. It honors the Soldiers' and Sailors' Monument of Cleveland as it faces the house.
This gigantic piece was created by Coosje van Bruggen and his wife, Claes Oldenburg (both were famous sculptors) to add a color pop to the greyscale appearance of the Sohio Building. In 1991, this stamp was brought out of a warehouse in Indiana and placed in Cleveland.
Currently, in Willard Park, it is one spotlight you shouldn't miss.
Address: Willard Park, Cleveland, OH 44114.
31. Meet Nature's Sculpture at Frozen Cleveland Lighthouse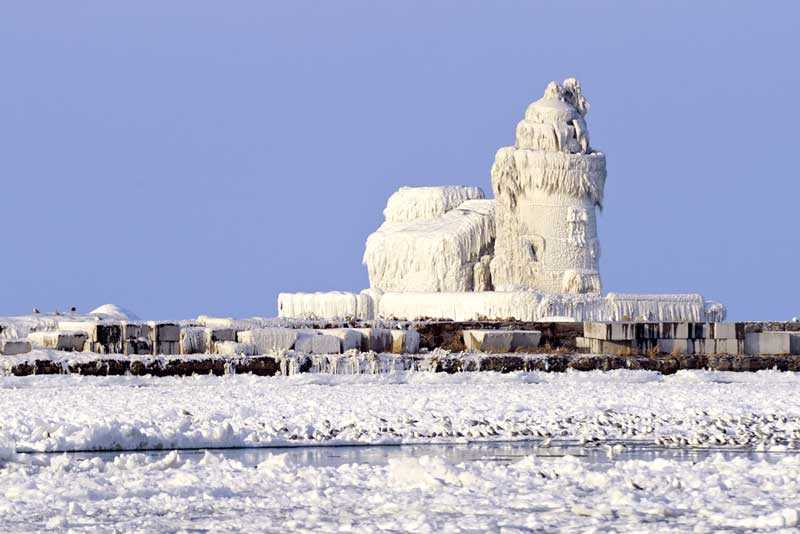 One of the most underappreciated tourist attractions in Ohio as a whole is the Frozen Cleveland Lighthouse. This phenomenon started in 2010 and can be seen a few distances from Lake Erie.
The water from this lake plunged upwards in the winter, and its continuous splashes resulted in the freezing of the lighthouse. Now, the Frozen Cleveland Lighthouse is completely covered by snow during the colder months.
This structure even tilts a little to the right and a wonder that keeps people in awe of the sculpturing skill of Mother Nature.
Although the lighthouse was originally built in 1911, this remarkable event makes it worth a visit.
Address: 2800 Whiskey Island Drive, Cleveland, OH 44102.
Map of Top Cleveland Attractions & Activities
To get around during your trip to Cleveland, here is a map of the top things to do in Cleveland, with markers of the top Cleveland, OH attractions and activities to visit.
Planning to visit Akron? Be sure to check out our list detailing things to do in Akron, Ohio
Plan Your Trip to Cleveland
Cleveland is full of interesting and engaging attractions. The museums, landmarks, hotels, gardens, trails, monuments, parks, waters all unique in their ways. All these and more make Cleveland a place sought after for a perfect vacation experience.
So, why not start planning toward your visit to Cleveland. You can always fall back to this piece as a guide to your preparations.
Have a wonderful travel experience!