Daly City, California is located in the San Francisco Bay Area.
Though not as popular as some of the big cities in the United States, it will surprise you to know that Daly has lots of hidden gems, all of which are waiting to be uncovered by her visitors.
What is it that captures your interest? Is it exploring, archery, axe throwing, dining, or shopping? Do you like indoor fun stuff or are you an outdoor person?, Daly City has something for you.
To help you plan your trip, here are 32 best things to do in Daly City.
Things to Do in Daly City, California
1. Mussel Rock Park
Known for having a rocky coastline, Mussel Rock Park is worth adding to your checklist of things to do in Daly City.
In this park, you will find several trails which are great for hiking, jogging and cycling. The park also boasts of scenic views of the Pacific Ocean, and Sandy Beaches.
Mussel Rock Park gots its name from a unique rock formation called the Mussel Rock.
The Mussel Rock is made up of many small rocks and one very large rock, all of which are in a stack.
You will find the historic Mussel Rock just offshore from San Mateo County's Daly City adjacent to the Mussel Rock Park
Another thing to know about Mussel Rock is that the spot where it stands is the epicenter of San Francisco's 1906 earthquake.
Address: Skyline Dr and Westline Dr, Daly City, CA 94015. Phone No: 650-991-8000
2. Thornton Beach State Park
Located towards the south of the City, just beneath the tall bluffs, Thornton Beach State Park is one of the most frequented remote beaches in the area.
The state park is quite popular in the Daly City area due to its equestrian and hike trails. You will find these trails along the bluff terraces.
Among so many features, the park also has a platform that offers some great views of the Pacific Ocean.
Thornton Beach State Park is connected to some fun places in the city, If you take a walk along the Thorton beach in the park, it will lead you to Phillip Burton Beach and from there, it is easy to locate Fort Funston beach access.
Also, If you walk towards the south of Thornton Beach, you will get to the Mussel Rock Park.
Note that Thornton Beach can be very windy, so don't forget to wear a jacket while coming.
Address: John Daly Blvd and Skyline Blvd, Daly City, CA 94015. Phone No: 831-335-6318
3. Mar Vista Stables
Situated right in Daly City, Mar Vista Stables offers horseback rides to her customers, especially those heading towards the Thornton State Beach.
They also offer rides through the rolling hills in the region and along the city's scenic oceans.
Riding a horse is exciting, If you are experienced, you are free to rent a horse for an hour or two and go exploring by yourself, if you are not, the stables offer horseriding lessons to get you started.
You can visit the garden any day of the week from 8:30 a.m. to 3:00 p.m. Due to the rush, advanced reservations are required, and it can only be made with cash.
If you are a novice in horse riding, and you are opting in for a guided trail rides, note that the guided trail rides take place at 8:30 a.m. and 10 a.m., with another section starting by 12 p.m. and 2 p.m.
Address: 2152 Olympic Way, Daly City, CA 94105. Phone No: 650-992-422
4. Epic Limousine
Founded in 2012, Epic Limousine offers customers living in the area of San Francisco Bay with fast and easy access around the area with an affordable limousine service and chauffeured transportation services.
The carefully selected fleet of cars which Epic Limousine uses to transport her customers around the area includes sedans, limo coach party buses, full-size motor coaches, stretch SUBs, and super stretch limousines.
The fact that Epic Limousine renders an excellent service all the time and is recognized in the limousine service and Transportation can be traced to its long history of working in the transportation industry.
You can hire them for private transportation to any place within the area for any special event like proms, corporate events, conventions, weddings, and much more.
It is also a good idea to hire Epic Limousine for a tour around Daly City. Like riding as king through Daly City, that's going to be the height of fun experience.
Address: 1618 Sullivan Ave, Daly City, CA 94015. Phone No: 415-749-2049
 5. Bay Area Soaring
Located in Daly City, Bay Area Soaring provides both locals and tourists with exhilarating tandem paragliding experience.
With Bay Area Soaring, you will get the chance to soar through the sky like a bird. Sound fun right?
You don't need to be experienced in paragliding to be able to have a fun experience here, Bay Area Soaring assigns a professional Tandem Instructor to every guest.
The whole fun experience starts first with a quick briefing of the instructions to be followed, after that, the instructor makes sure that you are fastened into the comfortable paragliding harness. Then the ride.
As you soar through the sky, you will be able to see sea lions as they sunbathe on the rocks below. You will also get to see wildlife in their habitat and other nature's beauty.
Address: 120 Westline Dr, Daly City, CA 94015. Phone No: 650-733-9359
6. Pacifica Archery
Located at about ten minutes from San Francisco in Daly City, Pacifica Archery is a family-owned and managed business that was established in the year 1998.
At Pacifica Archery, you will find a full-feature archery pro shop that offers archery facilities, beginner instruction, equipment rentals, youth programs, archery leagues, and in house repair.
Pacifica Archery can take care of any service or product related to archery you may need. Some of the things you can buy from the store include Longbows, recurve bows, and so on.
You can get a compound bow which is meant for hunters and target shooters here.
Pacifica Archery has an indoor archery range which requires that you sign a liability waiver before you will be allowed to use it.
Address: 2995 Junipero Serra Blvd, Daly City, CA 94014. Phone No: 650-756-4868
7. Paragliding San Francisco
Paragliding San Francisco answers to man's wish to fly like a bird. So, if you have ever wished to fly, not in a plane, but like a bird, Paragliding San Francisco will help you fulfill that dream.
This paragliding company offers tandem paragliding flights over the Bay Area.
The company is open every day of the week, thus, you are sure to find them anytime you come visiting the area.
Unlike other companies, Paragliding San Francisco accepts booking the same day as the flight without making reservations before time. They also accept bookings in advance.
Even if you have not paraglided before, you need not worry as you are safely in the hands of an experienced tandem pilot. So relax and enjoy the thrill.
Address: 120 Westline Dr, Daly City, CA 94015. Phone No: 530-263-7558
8. Bad Axe Throwing
This is a place an adventurer would love, Bad Axe Throwing is located in Daly City, California, It is the largest urban club in the world dedicated to axe throwing.
The club aims to bring back to the City, and the country at large the exciting thrill of a traditional backyard pastime, a game the men were proud of, axe throwing.
It will surprise you to know that thousands visit this place yearly to participate in the fun.
If you are not skilled in axe throwing, you need not worry, at Bad Axe Throwing, there are axe throwing coaches who are passionate about teaching people how to throw an axe.
Bad Axe Throwing offers very excellent services to her customers. They can be called upon to make leagues, birthday parties, and other private parties interesting.
Address: 30 Hill St, Daly City, CA 94014. Phone No: 888-435-0001
9. Original Joe's Westlake
After being closed down for two years, the iconic Joe's of Westlake in Daily City was reintroduced and was revitalized as Original Joe's Westlake.
Still following the traditions of the Original Joe's, Westlake serves some of the best old-school, unpretentious Italian-American cuisine you have ever tasted.
The lovely thing about this restaurant is that the kitchen is open for all to see, so believe me when I say that each meal is prepared with the freshest of locally sourced ingredients.
When you get to Original Joe's Westlake, you will be given a menu which is a hybrid of both the past Joe's and what is expected of the New Joe's.
Try out the old first, and then the New to make your choice of which version is better. Regardless, you will be impressed with how delicious their dishes are.
Some of the dishes on the menu include Calamari Steak Dore, and Steak ala Bruno, this makes what to do in Daly City California with a loved one for a romantic dayout.
Address: 11 Glenwood Ave, Daly City, CA 94015. Phone No: 650-755-7400
10. Boulevard Cafe
Located at the corner of Pancetta Drive and John Daly Boulevard, The Boulevard Cafe is a restaurant that deserves a visit during your vacation in Daly City.
Boulevard Cafe offers a variety of classic American cuisine to her customers. They as well have vegan options too.
With a lovely environment that makes all her customers feel at home, it is not surprising that the restaurant is frequented by both the locals and visitors of this City.
The restaurant is open for breakfast, lunch, and dinner every day of the week, you may consider eating all your meals here throughout your stay in Daly City.
All meals in their menu are made from scratch including sauces, dressings, and soup, so catch any of the meals on their menu during your trip to Daly City.
Address: 2 Pancetta Dr, Daly City, .CA 94015. Phone No: 650-755-3400
11. Cow Palace
An arena that is located at the border of the city very close to San Francisco, Cow Palace is one of the best venues in Daly City.
Cow palace plays host to a lot of concerts shows and live events which holds throughout the year.
In the area, you will find a range of restaurants that sell meals, snacks, and drinks to those who come to the arena to watch a show.
Check out for upcoming shows in this arena as you pay a visit to Daly City.
12. Serramonte Mall
If you are seeking for a place that has both dining and shopping opportunities all packed in a building, then you need to get down to Serramonte Mall.
Serramonte Mall is one of the best malls in Daly City when it comes to shopping. A place recommended by the locals, this makes one of the best places to visit in Daly City
At Serramonte Mall, you will find a wide range of shops that you can choose to patronize. One lovely thing about this mall is that you can find anything you are looking for here, whether it is high-end brands or something that can be gotten from local boutiques.
If you get hungry after shopping for a while, you can try eating a meal served by one of the restaurants in this mall.
13. Off The Grid
Off The Grid is a traveling food market that promises to offer you a dining with a difference. This market lets you experience American's fine Culinary tradition through their food trucks.
Off The Grid operates every week and it holds in the parking lot of Serramonte.
When it's time for the market, a variety of rotating food trucks from all over the California region come to Daly City for business.
When they arrive, the area becomes packed with chairs and tables. This way, the customers can enjoy their meal while enjoying some Daly City breeze.
It's amazing to know that you will get some of the best dishes in Daly City in this semi-market.
Also be on the lookout, you will notice one or two trucks displaying the awards they won for their culinary prowess.
14. Daly City Farmer's Market
Having been in operation for more than 20 years, Daly City Farmer's Market is like a historical gem to the residents of this area.
A market held only twice a week, this market presents the best of local produce from the area. Daly City Farmer's Market is particularly famous for the fresh vegetables and crisp fruits sold here.
Apart from fresh farm produce, you can buy locally baked goods from this market. You will also find honey from the region to purchase.
If you don't wish to buy you can take out time to visit this lovely market which has both enriched and fed the community for the last 20 years during your trip to Daly City.
15. Classic Bowling Center
If you wish to participate in a little Bowling sport while in Daly City, then head down straight to the city's Classic Bowling Center.
A visit to the Classic Bowling Center is one of the best things to do in Daly City. Classic Bowling Center is more than your normal bowling center, It is a bowling center with class.
The center has 60 impressive lands as well as a comprehensive arcade which is full of old-school games.
Classic Bowling Center also has a cafe where you can enjoy a full meal if you get hungry after a competition. If what you fancy is a drink, check out the sports bar.
As the center stays open even late into the night, you can stay out late before going back to your hotel. Its also a great place to check out if you are looking for things to do in Daly City at night.
16. San Bruno Mountain State Park
One of the fun things to do in Daly City is to hike on the grounds of San Bruno Mountain State Park.
San Bruno Mountain State Park is one of the top parks in the Daly City area. Quite a large park, the park stretches from the edges of Daly City to the Neighbouring Santa Cruz mountain range.
Some of the hiking trails in this park are not named yet, you can discover them as you explore the park.
The park also offers opportunities to its visitors to experience the gorgeous Vista over the San Francisco area and even the wider Central Bay Area.
If you plan to do some bird watching in Daly City, San Bruno Mountain State Park got you covers as this park is visited all year round by a large number of species of birds.
17. Palisades Park
One of the well-known parks in Daly City is the Palisades Park. Palisades Park is well known in Daly City for its gorgeous views of the neighboring beach. For this reason, many locals and tourists flock to this park, daily.
Another reason why it's highly frequented is it's walking trails. Palisades Park trails runs through the coast, making it a great place to go for a hike.
Other features of the park include, a dog park, a children's playground, and so many other fun features the whole family can enjoy.
18. The Hideout
If you wish to experience the nightlife in Daly City, you need to head straight to the Hideout. At The Hideout, you will find one of the city's premium bars.
You can request for food and drink at the Hideout, and as evening gradually turns tonight, you can relax and enjoy the music playing as the DJ does his thing.
The Hideout also has another room with projectors that screen sporting events and games. Depending on your mood, you can decide which of the rooms to visit.
19. Century 20 Movie Theater
As indicated by its name, this theatre in Daly City called the Century 20 Movie Theater has twenty screens which are both massive and impressive.
Properly situated, right along the streets of the theatre, you will find restaurants with eclectic dining options.
You will surely enjoy this theatre, for the theatre offers comfortable seatings along with a long choice of films including all the newly released ones.
While waiting for the movie to start, you can visit the cafes and ice cream parlors around the theatre for a treat, this makes what to do in Daly City California for some theater time.
Take to exploring other parts of the United States, check out this guide on things to do in Downtown Orlando to guide your exploration of this area.
20. Westlake Shopping Center
If you prefer to shop outside rather than inside a building, then try out Westlake Shopping Center.
Located in a leafy area, Westlake Shopping Center is made up of a series of shops in different spots but the same area, unlike shopping malls which are both indoor and in one building.
The center had supermarkets as well as boutiques. You will find high-end retail outlets here too.
You can spend an afternoon here in this center strolling from shop to shop looking for what to buy.
In case you get hungry after shopping, visit one of the coffee shops and restaurants which you will find within the center.
21. Westlake Park Community Center
Westlake Park Community Center offers to its visitors a wide range of exercise activities in the Daly City area.
Owned by the City Parks Department, Westlake Park Community Center is dedicated to providing a variety of programs to both the locals from the community and visitors alike.
Some of these programs or classes include dancing, sports, crafts, arts, and so on. They also hold classes for quirky activities like tumbling.
The center has jogging tracks, where you can go jogging. There are also indoor sports facilities like squash courts which can be booked for private events.
22. Daly City History Museum
Located in Daly, Daly City History Museum is aimed at educating the people of Daly City in the history of the city and the surrounding area.
At the museum, you will get to learn about the earliest inhabitants of the area, the Ohlone Indians, who built the first villages on Mussel Rock's Coast.
You will also be told how the early leaders of the city began to supply their dairy products to the people of San Francisco and the whole country.
Furthermore, there are exhibits of photographs and artifacts in this museum. These exhibits shows you a glimpse of what the early streetcars, railroad and schools looked like.
Other things in the museum which you should check out include original documents that date back to the 1880s, hundreds of vintage photos, high school yearbooks, and lots more.
There is also a 1907 hand-pulled fire wagon and a cowbell used at the John Daly dairy.
Let a visit to the Daly City History Museum make your checklist of things to do in Daly City.
Address: 6351 Mission Street, Daly City.CA 94014.
23. Colma Necropolis
Colma Necropolis is situated very close to Daly City.
During the last century, the city of San Francisco was booming, for it has as of that time a railroad called Silver and Gold.
However, San Francisco had a problem, which was where to bury their dead.
In previous times, the town reserved lands in remote and undesirable corners of the city. But as the city grew, the burial space began to be insufficient.
The problem became more severe when the city was hit with the bubonic plague in the year 1900. While the city was yet to recover, then came the 1906 earthquakes which caused destruction, fire, and death.
With both the struggle by land developers to use even the corners reserved for burial for community projects and the residents who began to fear that a cemetery in the city will harbor diseases, the city moved for the cemetery to be relocated.
Within 20 years, all the dead in the city were relocated to Colma. And this makes Colma Necropolis one of the largest relocation of the dead in history
During your visit to Daly City, you can take to viewing this site.
24. Broderick-Terry Duel Site
Broderick-Terry Duel Site is situated in a small park behind a golf course. This site is the site of the final legally sanctioned duels on the American soil.
Also called "the site of the last notable Ameican duel", you will find two pillars named "Broderick" and "Terry". These pillars are exactly 10 paces apart.
The Broderick-Terry Duel took place on September 13, 1859, and it was between David C. Broderick, a United States Senator, and David S.Terry who was an ex-Chief Justice of the Supreme Court of California.
These men were once friends and allies in politics, and also members of the same party.
The reason for the duel was because of a disagreement over the topic of slavery, for Broderick was against it while Terry was in support of it.
As personal and political tensions which is between kept on increasing till one day when Terry challenged Broderick to a duel.
During their first attempt to fuel, the police came in, so they both decide to reschedule the case off, this time around, they thought it best to hold the duel in a secluded spot.
During the duel, Terry seriously wounded Broderick, and three days later, he died. Upon his death, Broderick became a martyr for the anti-slavery movement in operation during those times.
On February 22, 1917, two granite shafts were erected on the spots where these combatants stood by the Native Sons of the Golden West.
They also erected a bronze plaque which not only commemorates the duel, it also explains the significance of the event.
On June 1, 1932, the duel site became a California Historical Landmark. When the plaque built by the Native Sons got lost, it was replaced in the year 1949 by a California Historical Landmark Plaque.
As you get close to the site, you will find a directional marker that guides the visitor to the actual point of the duel.
Note that the site can be visited most days of the year, but it's best if you visit a group, for coyotes and other wildlife in the area are sometimes seen in the park.
25. Cayuga Park
Cayuga Park is a small park located not too far away from Daly City at the borders of San Francisco. You will find the park next to the BART tracks.
As a result of efforts made by some persons, the park is today one of the most beautiful parks in the country.
The park is decorated with wood carvings and gardens in a combination that is so elaborate that one can see the God and religious themes used in the design.
Throughout the park, you will find tiny pathways that weave through the park. One of those pathways is the 'Path of Hope'.
As you explore the park, you will get to see more than 50 carvings, some of which are small, while others are large.
You will also find many carvings that were made upon dead stumps protruding from the ground.
Check out the carvings that give allusions to Jesus or Virgin Mary, or you could go see the few assembled wicker benches which are surrounded by totems and other stuff like it. Cayuga Park is truly a place of wonder.
Check out the gardens which were developed by a San Francisco park employee Dimitri. The same person who carved the 150-odd statues in the park.
Dimitri, a Philippine immigrant got the seeds that he used to plant the trees and shrubs in the garden from seeds given to come by park enthusiasts in the 1900's.
26. Colma Historical Association
Located a mile away from Daly City, Colma Historical Association is not a historical association or just a museum, it is an experience.
The entirety of the Colma Historical Association is spread out over four buildings which are the Old Colma Railroad Station depot, the Freight Shed, the Blacksmith's Shed, and the main museum.
Therefore, if you wish for a complete tour, it has to cut across all these places.
At the main museum, you will find among the "loose count" display historical embalming equipment, a collection of hair jewelry, and a portable undertaker's table.
There is another display which showcases historical household equipment.
Other interesting things you will find in the museum includes a collection of vintage typewriter, a collection of vintage political buttons, railway equipments, blacksmithing equipment and lots of other things.
If you are interested in the history of both Daly and how it relates to Colma, then you need to visit this place.
27. Emperor Norton's Grave
Joshua Norton was a businessman and landowner who lost his fortune in the 1850s when speculating on rice prices.
When he lost his wealth, he became gloomy and went on destitute self-exile for so many years.
Later, on September 17, 1859, Mr. Norton came and publicly declared himself "Norton I, Emperor of the United States". Months later, he added "Protector of Mexico" to the title.
Having received support from the local newspapers, Mr. Norton issued so many public decrees on matters of public issues, just as an Emperor would.
Soon after, Norton issued his currency which was widely accepted in the San Francisco area.
Norton enjoyed privileges an Emperor should enjoy, he owned an army, he also wore a uniform befitting his status as Emperor. On local theatres opening night, he was provided with seats.
All through this period, Norton wandered the city streets, slept in a flophouse, visited local clubs, and so on.
Though his condition is depressing, that doesn't change the fact that his occupation was officially listed as emperor in the 1870 census along with a note that states he doesn't have the right to vote, for he is insane.
Even though the people of the region considered insane, they still celebrated his regal presence and also proclaimed his famous orders, one of which is that the United States Congress be dissolved by force (both the army and the Congress ignored him).
After his "reign" which lasted up to 20 years, on the 8th of January 1880, Norton collapsed at a street corner and died before he could receive medical attention.
Norton was buried in the presence of 10,000 people in the Masonic Cemetery.
Later on, in 1934, his remains were transferred to Woodlawn Cemetry. You will know his resting place when you see it for it is inscribed "Norton I, Emperor of the United States and Protector of Mexico".
28. The Sutro Egyptian Collections
Located outside Daly City in San Francisco, The Sutro Egyptian Collections is made of more than 700 antique objects gotten from old Egypt.
Among the things here, you will find two intact mummies, a mummified hand, and three mummified heads, all of which were purchased by Adolf Sutro in the year 1884.
Most of these mummies date as far back as 21-22 Dynasties, which is more than 3500 years ago.
One of the mummies, Nes-Per-N-Nub is believed to have been a doorkeeper in the temple of Amun and jail from Thebes.
The other mummy unnamed is female. It is called the Yellow Mummy due to her sarcophagus' brilliant color.
The Sutro Egyptian Collections is a place any archaeologist or researcher who wishes to study the times of old need to visit.
29. Gellert Park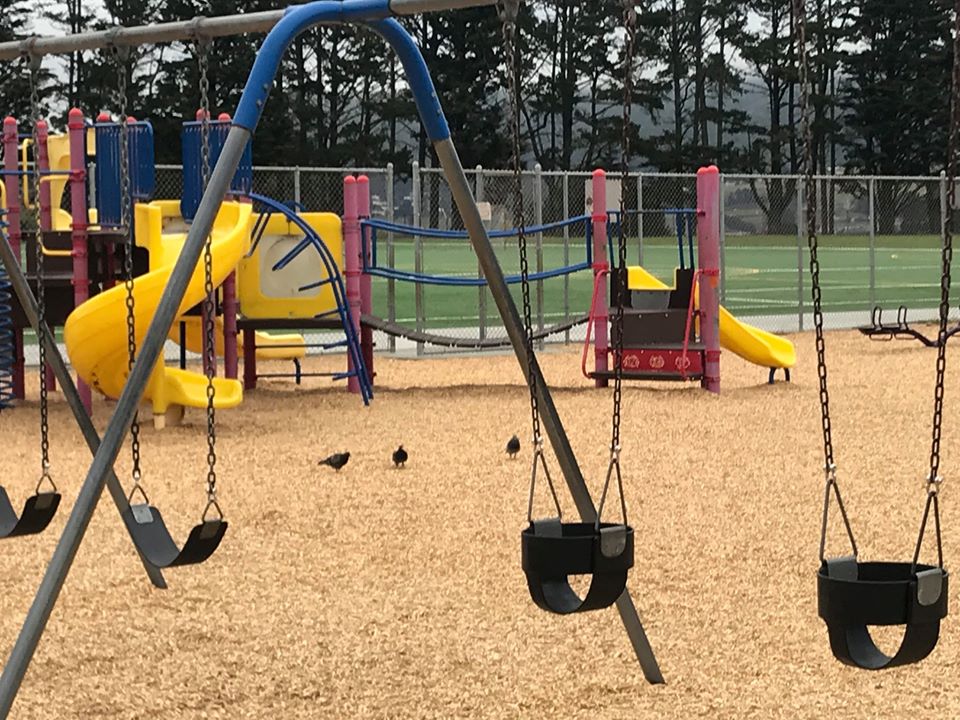 Gellert Park is a well-maintained outdoor spot. It features sports facilities like the basketball court and the lawn tennis court. Therefore, if you wish to play basketball or table tennis, head down to this park.
Other things you will find in the park include a playground that your kids will love to play on.
This makes what to do in Daly City California with kids, if you are visiting with the young ones, do add things on your checklist of fun things to do in Daly City.
Address: 50 Wembly Drive, Daly City, CA 94016
30. Mission Hills Park
Mission Hills Park is a small neighborhood park that features a children's playground. The park playground is equipped with swings, slides, and even a climbing wall.
Other features of the park include park benches, a drinking fountain, and a lighted basketball court.
If you would want some outdoor recreational time, do well to add this on your list of what to do in Daly City California.
Address: Mission Hills Drive, Daly City, CA 94014
31. Edgewood Park
Edgewood Park is a family-friendly community park that is situated in Daly City.
One of the best parks in the region, Edgewood Park features various slides designed for different age groups.
If you are looking for a site where you can work out, the park has an area for that too.
Address: 173 E Vista Avenue, Daly City, CA 94014.
32. Giammona Pool
Located in Daly City, Giammona Pool is one of the fun places to visit while you are in the city and should be on your list of things to do in Daly City.
Giammona Pool is a large swimming pool which features an active lifeguard, changing facility, and a clean shower.
The pool hosts swimming lessons for all ages. It also offers diving and open swim sessions.
In case you need it, you are free to rent the pool as it can be used as venues for private events like birthday parties.
Address: 131 Westmoor Avenue, Daly City, CA 94015.
Would you love to explore other parts of California?, check out this guide on things to do in Burbank as well as things to do in West Covina.
Plan Your Trip to Daly City
Daly City is filled with lots of unique things to do. It will surprise you that you won't be able to experience half of it even if you spend months in this small city.
With its proximity to the ocean, you can as well take to walking its beaches, this city is worth the visit, start planning a visit today, you can always refer back to this guide during your visit to remind you of interesting points in this city.